[]
If you're new to Facebook business options or want to add something new to your current Facebook marketing plan, this page is for you.
Here, you'll find articles and resources to help beginner, intermediate, and advanced marketers use Facebook pages, profiles, groups, ads, Live video, analysis, contests, and more for business.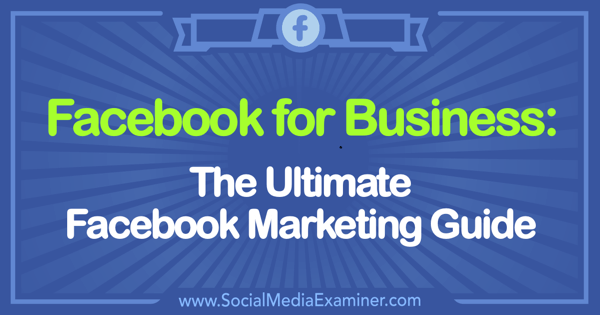 Understand the Facebook Algorithm
The Facebook algorithm decides when and where a business's organic page posts and ads appear. The constantly changing and evolving algorithm often has marketers wondering what to expect and the newest changes are no exception. Learn what you need to understand the algorithm and make informed decisions that affect your entire Facebook marketing plan.
Build visibility and maintain engagement with audiences on Facebook.
Put My Business on Facebook
There are a number ways for businesses to create a presence on Facebook: Facebook business pages, location pages, public figure pages, and groups. It's important to understand the features, pros and cons that each option offers so you can decide which will best suit your business goals. Fin out how to build an effective Facebook marketing channel.
Explore the options open to business owners on Facebook.
Create, optimize and protect the right type of Facebook Page for your business.
Optimize your personal Facebook profile to support your business.
Support and market your business with Facebook Groups.
Advertise on Facebook
Facebook ads make it possible for businesses of any size to promote their products and services to local and global audiences. Whether you are a beginner or an experienced marketer, you can create a Facebook ad campaign to collect leads, drive website traffic, generate sales or increase brand recognition.
Find a Facebook advertising guide for marketers.
Promote Events on Facebook
Facebook Event pages give your business a way to include fans, followers and customers in any number of events – a webinar, product launch, grand opening or other live celebration. They can even effectively drive on-platform ticket sales.
Create and promote Facebook Events.
Integrate Facebook Messenger & Bots
Emerging tools make it easy to create Messenger bots that improve customer care, collect and score leads, and automate funnels. Add to that the ability to serve ads inside Messenger and it's no wonder Facebook Messenger has moved to the forefront of many marketers' marketing plans. Combine Messenger and bots, and you'll have an effective and efficient marketing channel that's always working for you.
Build your first Facebook Messenger bot.
Use Facebook Messenger to Improve customer care and communication.
Create Facebook ads that open in Facebook Messenger.
Install the Facebook Messenger Customer Chat plugin on your website.
Analyze Facebook Marketing
Facebook Insights and Facebook Analytics help marketers analyze and report on the performance of their marketing efforts. Using these tools, you can see how your Facebook audience responds to your marketing, reveal users' interactions with advanced goal paths, event shed light on your CLV (Customer Lifetime Value.) Find out how to assess your Facebook marketing.
View and download data in Facebook Page Insights.
Start using Facebook Analytics.
Google also has some helpful reporting tools for Facebook marketers. Both Google Analytics and Google Data Studio can be used to measure traffic and conversions that originate from clicks on Facebook ads. It's also possible to create Facebook marketing report templates that are easy to update quickly. Learn how to use Google Analytics and Google Data Studio to analyze your Facebook campaigns.
Market With Facebook Video
Video lets you connect with prospects and customers on an intimate level. On Facebook, that intimacy is multiplied via personal interactions in the comments on both native and live video. The key is make sure your video is watched completely, and to capitalize on the audience your video attracts by converting those viewers into leads.
Get longer Facebook video watch times.
Broadcast with Facebook Live.
Develop warm leads with Facebook Live video.
Run a Facebook watch party to watch videos with your Facebook Group.
Click here for our latest Facebook marketing articles
.
More Helpful Facebook Marketing Articles
Tune in to Stay Current With Facebook Tactics and News
Social Media Examiner offers two weekly audio podcasts and a weekly live video talk show to help boost your marketing skills and keep you up to date with the ever-changing world of social media.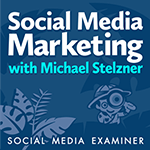 The Social Media Marketing podcast, a top 10 marketing podcast on iTunes, is a weekly 45-minute interview show hosted by our founder, Michael Stelzner. To discover how successful businesses employ social media, learn new strategies and tactics, and gain actionable tips to improve your social media marketing, subscribe to the podcast on iTunes/Apple Podcast | Android | Google Play | Stitcher | TuneIn | RSS.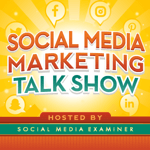 The Social Media Marketing Talk Show is a weekly one-hour live video show that features expert commentary on the week's top news in social media and what it means for marketers. Broadcast on Crowdcast, the show is simulcast each Friday to Facebook Live, Periscope, and YouTube. You can also listen and subscribe to the podcast version on iTunes/Apple Podcast, Android, Google Play, Stitcher, or via RSS.