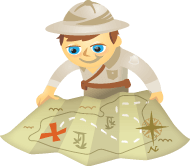 Want to provide better customer service on Facebook?
Wondering how Facebook Messenger can help?
In this article, you'll discover how to use Facebook Messenger as a valuable social customer care tool.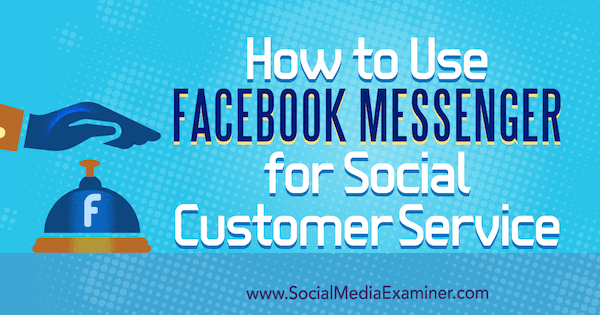 Why Messenger for the Front Lines of Customer Care?
According to USA Today, Facebook views Messenger for Business as a venue for "conversational commerce." As head of Facebook Messenger David Marcus states, "…for so long, doing business was always conversational. Web (e-commerce) is truly an anomaly. It feels good to have a more human relationship when you're buying things…"
Indeed, messaging apps are the perfect avenue to engage with customers and prospects. Customer care flows naturally out of those one-on-one conversations.
Facebook's view arises from a trend: messaging could eventually replace social networking as the favorite online pastime. In 2015, the number of registered messaging app users was 25% larger than that of social media. In late 2015, 2.5 billion people registered to use at least one messaging app, and technology and strategy consulting firm Activate expects the number to increase to 3.6 billion by 2018.
Facebook Messenger is at the forefront. In April 2017, the mobile Messenger app had 1.2 billion monthly active users worldwide. That places it second (behind WhatsApp) among mobile chat apps globally. Facebook Messenger is now overshadowing even China's WeChat, which has dominated the Chinese messaging market with 600 million monthly active users.
Facebook Messenger is fast, mobile, and efficient, which makes it a great tool for business/customer interactions and a valuable platform for customer care. KLM leverages Messenger effectively for customer interactions. The airline created a multilingual plugin that allows their audience to use Messenger to receive travel information, booking confirmation, boarding passes, and more.
Chatbots Can Improve Customer Care Efficiency
Businesses are starting to embrace Messenger bots to enhance customer care. Not all chatbots are created equal though. The simple ones we've become accustomed to work like an automated phone operator: "Press 1 for business hours, press 2 to get directions to our store." More sophisticated bots like Uber's allow Facebook users to request a ride without even opening the app.
The Conference You've Been Waiting For
As a small business marketer, you can probably only pick one or two events to attend each year. Get an unbeatable conference experience and expert training at Social Media Marketing World in sunny San Diego, California—from your friends at Social Media Examiner.
🔥 As a valued reader, you can save $750 if you act now! Sale Ends Tuesday! 🔥
CLICK HERE TO LEARN MORE
One obvious benefit of chatbots is that they can augment your online availability. With audience expectations of 24/7 accessibility on social channels, businesses have turned to automation to meet the demand.
You may be able to reduce labor costs associated with customer care by up to 30% by adding a chatbot to handle simple requests for information and initial interactions when your business is closed. Chatbots can also increase your customer base. For example, 1-800-Flowers acquired 70% of their new customers through chat.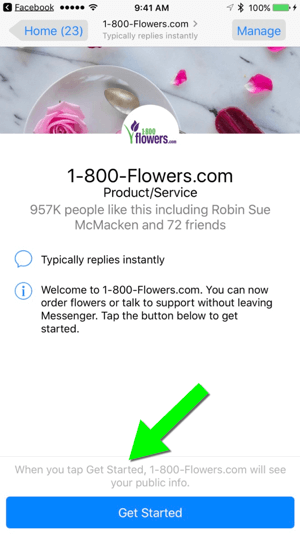 Chatbots should be approached cautiously, though. They require an investment of time and resources to get right.
How to Leverage Messenger for Customer Care
The good news is you don't have to create your own plugin. You can do a lot to improve your customer care simply by using the features of Messenger itself.
First, you can use Messenger to initiate a private conversation with anyone who posts on your page or comments on your posts. This relatively new feature allows your customer care team to stay on the lookout for ways to start private conversations.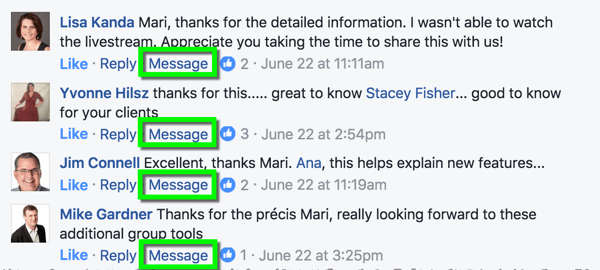 Facebook also recently added the option to include a clear notice when you respond privately to a comment or post. This lets anyone viewing the public content know that you've begun a private dialog. This certainly is a very helpful feature if ever there's a need to handle a situation offline.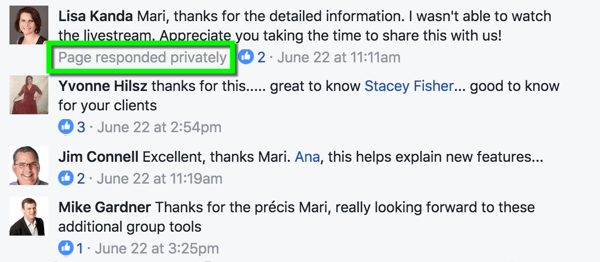 You can also use Messenger to respond to anyone who sends you a message that goes into your business's Messenger inbox. Whether on mobile or desktop, this is a separate message inbox from your personal Messenger app.
Use Facebook's Updated Inbox to Listen for and Manage Customer Conversations on Messenger
If you receive a large volume of messages, one of the challenges of online social care is listening for and managing messages across platforms. That's even more challenging given 42% of consumers posting a complaint on social media expect a 60-minute response time.
A helpful timesaver is Facebook's unified inbox for business pages that includes reviews, comments, and messages sent via Facebook, Instagram, and Messenger, on both mobile and desktop. The inbox brings all messages into one stream that's easy to filter and sort.
Note: You may not have the unified inbox on mobile yet; it seems Facebook is still rolling this out to page admins.
This unified inbox within the mobile Facebook Pages app includes the ability to reply to public wall post comments inside the inbox and mark them as 'Done' or 'Follow Up.' You can even assign them to users or teams.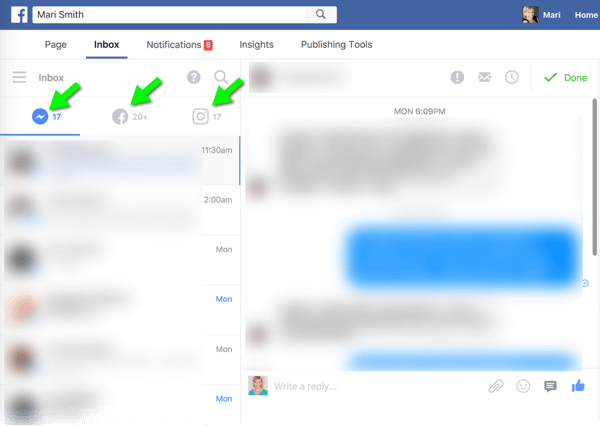 You can also personalize engagement by using the unified inbox as a basic social CRM tool. The inbox allows you to view a limited amount of public information about the customer for your Facebook page comments, Instagram comments, and Messenger conversations, so you can personalize your response. Tools such as Notes and a follow-up folder are also available.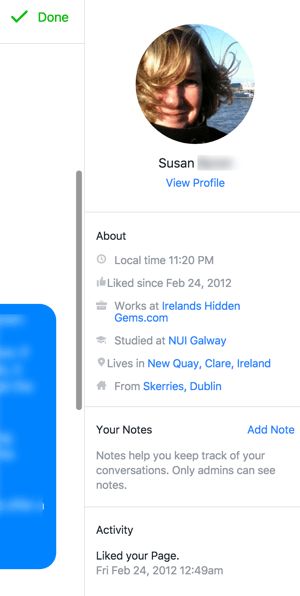 Facebook reviews appear alongside all of your other messages within the unified inbox, allowing you to better manage your business's online reputation.
To take advantage of the full functionality of the inbox, you'll need to associate your Facebook page with your Instagram account. You've probably already done that if you're promoting posts or running ads on Instagram.
Once your Facebook page and Instagram account are associated, tap the messaging icon on the Pages Manager mobile app to open your inbox.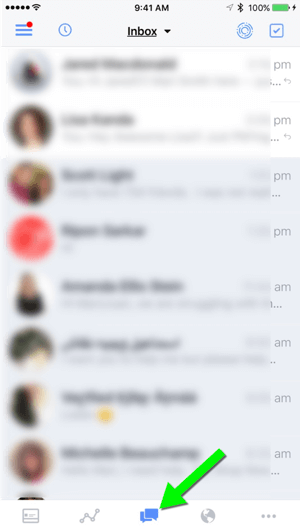 Consider Third-Party Tools to Increase Efficiency of Handling Customer Care
In addition to the unified inbox, you can also monitor customer service activity on Facebook using listening tools such as Hootsuite, Buffer Reply, and Sparkcentral. You have the option to move conversations to Messenger if they can't be easily resolved in the public forum of your Facebook business page.
Other third-party tools include AgoraPulse, which is excellent for small- to medium-sized businesses and brands. This tool works well for assigning team members to messages, comments, and posts. You can even add tags to identify superfans and other groups of interest.

For large businesses, enterprise-level solutions include Sprinklr and Falcon, which combine all networks on one platform.
Find a Balance Between Technology and the Human Touch
All the technology in the world won't help you build better relationships with your customers and resolve important issues if you don't also emphasize the human touch. People quickly get frustrated when a real person isn't available. (Just think of how annoying those long phone menus can be when they take you around in circles and put you on hold for a long time.)
Use a custom Messenger bot only to begin the customer care journey, but then quickly assign a trained customer care team member for that critical human touch.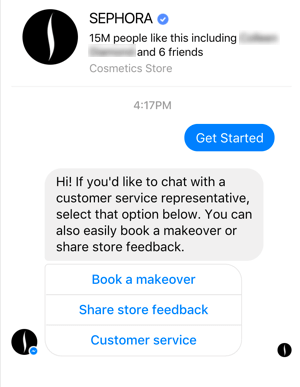 Provide Proper Training for Community Managers
To ensure consistent and effective social customer care, companies should create a clear process for handling complaints. This process may include internal checklists, chat scripts, and a list of FAQs with a variety of helpful answers for each question.
Here are three specifics to consider:
Determine which of your team members will review incoming comments.
Outline which comments should be resolved publicly. These include page posts or reviews on Facebook. Provide examples.
Define which conversations should become private and by which method: private message, email, or phone.
Ideally, ensure social customer service representatives are empowered to make their own smart decisions up to a certain point. Zappos has done extremely well with this approach, encouraging team members to provide stellar customer service, which really helped put Zappos on the map. They're often cited as the benchmark of social customer care.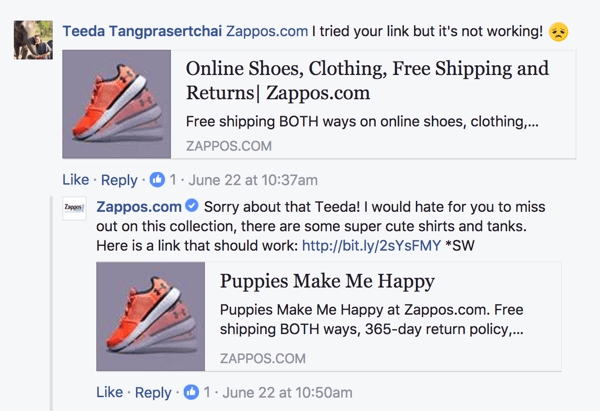 Another great example of empowering customer service reps is in Derek Sivers' book, Anything You Want: 40 Lessons for a New Kind of Entrepreneur. Sivers talks about the system he created for his business, CD Baby, to effectively delegate to his team and empower them to make their own decisions.
Attention Agency Owners, Brand Marketers, and Consultants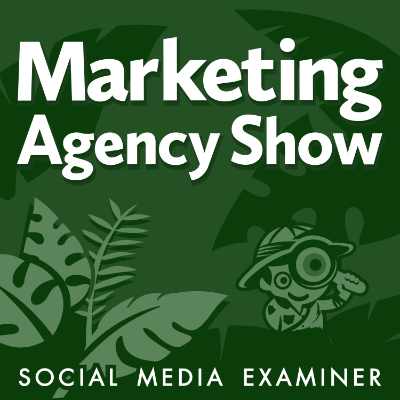 Introducing the Marketing Agency Show–our newest podcast designed to explore the struggles of agency marketers.

Join show host and agency owner, Brooke Sellas, as she interviews agency marketers and digs deep into their biggest challenges. Explore topics like navigating rough economic times, leveraging AI, service diversification, client acquisition, and much more.

Just pull up your favorite podcast app, search for Marketing Agency Show and start listening. Or click the button below for more information.
CLICK HERE FOR THE DETAILS
When a customer support question or issue that the team hadn't faced before came up, Sivers would go through this five-step process with them:
Gather everybody around.
Answer the question and explain the philosophy.
Make sure everyone understands the thought process.
Ask one person to write it in the manual.
Let everybody know they can decide this without him next time.
After a period of two months, there were no more questions and CD Baby had a comprehensive manual with documented customer care procedures that everyone on his staff understood.
If you're a solopreneur or work with a small team, adopting a process similar to Sivers' could help you significantly grow your company and gain a strategic advantage over your competitors.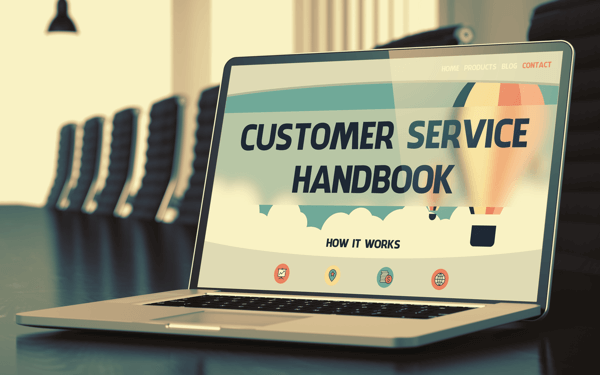 Best Practices for Social Customer Service
Personal engagement is vital and there's an optimal approach for social customer care. Here are nine recommended best practices:
1. Respond Promptly
Your response time can literally gain or lose you customers and revenue. Customers expect rapid responses on social media in general. The effects of slow response times are significant for customers who raise a concern:
56% will never use the company again (that's right – you'll lose half of the customers who have a complaint if you don't respond quickly)
52% will tell family and friends about their experience
54% will escalate the issue to a supervisor
They may also complain publicly and even use another channel to escalate their concerns.
Remember, Facebook displays your company response speed right on your page. To get the "Very responsive to messages" badge, your page must have achieved a response rate of 90% and response time of 15 minutes within the last 7 days.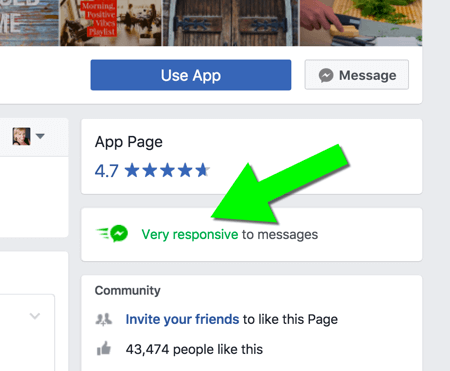 Messenger bots and customizable Away messages can be valuable tools for serving customers quickly and effectively.
2. Aim for 100% Response
Respond to as many questions, comments, and messages as possible. Aim to acknowledge every post, review, or check-in. Customers want to be heard. No reply is equated with ignoring a customer. Just as you wouldn't leave someone standing without attention in your store, you shouldn't leave a comment online unattended.
To help you do this more efficiently, create pre-written replies to streamline the process. Customers want personal attention, so customize the reply from there. Restate the customer's concern to show them you've heard it, and then address it as best you can. Your replies should always be clearly written so your meaning isn't misunderstood.
The goal is to help customers feel part of your business's community. You may need to deploy more trained community managers to achieve the 100% response goal. This is one of the single most profitable investments you can make in your company. It's also the one key area in which even the smallest business can compete with giant global brands and win new customers for life.
Your strategy for responding may vary depending on the size of your business. For small businesses, the focus is always on building community so reply to everything. For larger businesses, you may choose to simply "Like" a positive comment and spend more time turning negative comments into positive experiences for the customer.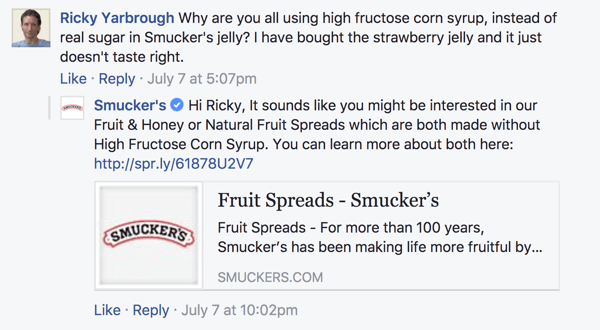 3. Always Be Courteous
Becoming angry or frustrated in a response will only escalate the customer's negative feelings or impressions of the company. It's important to empathize with the customer, respond calmly, and be polite.
Create a process for dealing with unusual situations where customers become belligerent or abusive. Immediately move to private mode. Develop replies to call out the behavior in a professional manner, and involve a manager if it continues. If your customer care representatives are effective in mirroring and acknowledging concerns, it will go a long way toward preventing these situations.
4. Use People's First Names
Did you know a person's first name is the sweetest and most important word in their entire vocabulary? Rapport can quickly develop from the simple act of using a person's first name.
Use the @ tag for comments when possible to alert the person that you've responded. Usually, Facebook will notify users when they receive a reply to their individual comment; however, including the @ tag of their first name can increase the likelihood that they'll see your response.
This is particularly important when responding to a series of replies to a comment, such as in the example below. (By the way, to remove someone's last name, just hit backspace once.)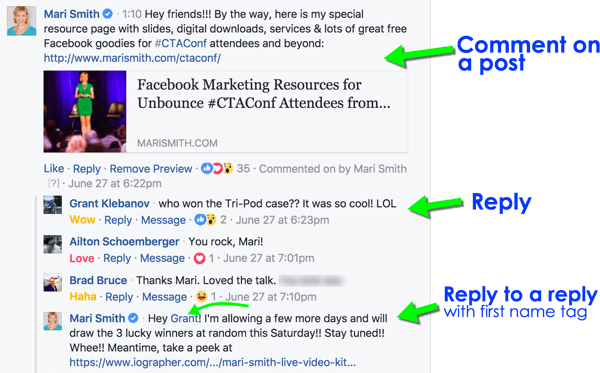 5. Have Moderators Sign Off With Their First Name
To further build rapport and create a friendly online culture, make sure your moderators use their own first names when signing off. It goes a long way toward humanizing the interaction. It tells customers that an actual person heard them. People don't relate to a logo, building, or company name. People relate to people.
Plus, if and when your audience members respond back, they have someone to speak to directly.

6. Know Which Social Media Posts Should Be Resolved Publicly and Privately
You can't please everyone. The inevitable negative comment or complaint will happen. If a situation looks like it will escalate, take it offline or private as quickly as possible. That way, you can respond effectively without others seeing an increasingly frustrated customer.
Your process for handling customer service on social media should include identifying situations that need to be moved to private communications. Consistent implementation of this process will strengthen your brand.
Remember that unfortunately, in today's viral digital world, it doesn't take much to rapidly escalate a customer service issue. The better your company and team are informed, the better you can provide prompt and helpful responses to resolve the issue.

7. Look Up a Customer's Record Instead of Relying on Standard Questions
Take care not to undermine your personalized approach with the same cut-and-paste standard reply on public posts; for example, "Please message us your phone number so we can look up your account."
Today's forward-thinking businesses utilize reliable CRM systems with social integration where possible to allow quick access to customer information. This approach can easily impress your customers or prospects when they don't have to provide the same basic information each time they contact your business.
8. Maintain the Perspective That the Customer Is Always Right
The old saying that "the customer is always right" applies even more online. A business may feel defensive in the face of a negative comment. That serves no one. When a customer complains on social media, it's possible that all of your customers will see it!
Instead, remain positive. Hear the customer out and show empathy. Acknowledge what's true and address what isn't diplomatically and kindly (never defensively). Not only is this approach more likely to resolve the problem, your previously upset customer may inspire other fans to rally around the business.
9. Look for Opportunities to Wow Customers, Prospects, and Audiences
To build a strong following and loyal community, look for ways to impress your audience, including customers and prospects. How can you provide really great customer care? How can you surprise and delight people?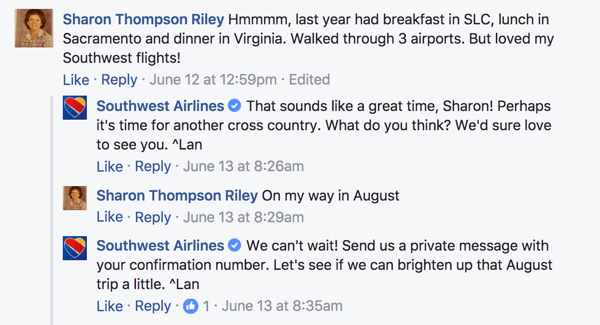 Keep an updated list of your best customers so you can give them special attention. Find ways to surprise and delight them on social and offline.
This might include sending something in the mail such as a handwritten note, gift card, sample products, theater tickets, and so forth. And online, this can involve spotlighting individuals on your Facebook page, featuring a customer's story in your video, or even a simple private message on Messenger to say you're thinking of the person.
In fact, what if someone on your team was assigned to look for certain key celebrations happening in your top customers' and prospects' lives? Imagine sending a personalized congratulatory message on a birthday, anniversary, or meaningful win.
Convert Your Customer Care From a Cost Center to a Profit Center
Sales is a vital skill to integrate into customer care team training to realize and measure additional profits from your investment in extensive social customer care. Train your customer care team in the art of closing and upselling in authentic and personal ways.
For example, I was on GoDaddy.com not long ago looking to request a domain backorder and I had some questions. The live chat agent popped up and I began a dialog with him. I was very impressed right away with the colorful chat widget and the friendliness of the agent.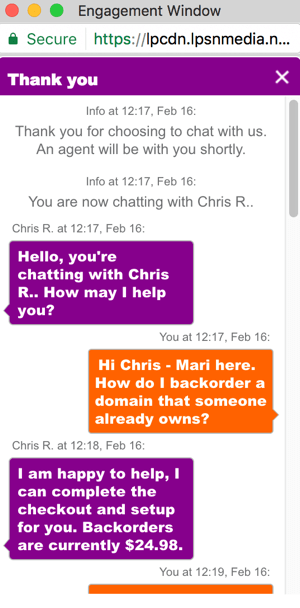 He walked me through the full process, answered my questions, and ensured I properly placed my order.
With the original question I asked, he could have just answered and moved on, or directed me where to find the answer. But I could tell he'd been properly trained in sales and was taking great care of me to ensure I completed my transaction. I didn't feel pressured. I felt taken care of and it was a wonderful experience.
Want more like this? Explore Facebook for Business!
Conclusion
Make customer care part of your overall social media strategy. Use Messenger as a valuable tool and incorporate best practices to make your customers feel good about doing business with you. Ultimately, as the Temkin Group points out in this video, "How a customer FEELS about an interaction is the most significant driver of customer loyalty."
Customer care on social media plays a valuable role in building a loyal and engaged community for your business. Many consumers use social media to reach out for customer service. With 24/7 expectations, some automation can be useful, but never forget the human touch!
Incorporating customer care best practices and putting clear processes and training in place will help your team engage with customers to resolve issues. It can also help close more sales and provide upsell opportunities. And that's money in the bank!
What do you think? Do you have any tips for using Facebook Messenger to provide customer care? Please share your thoughts in the comments below.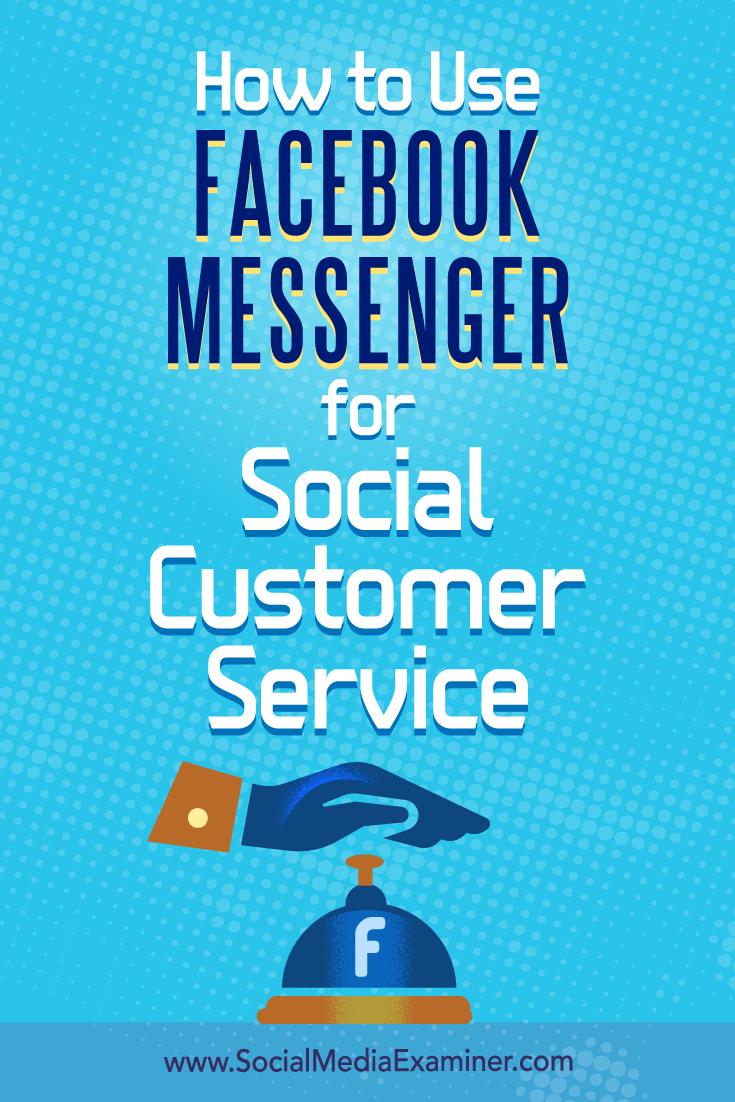 3 Days of World-Class Training—Zero Travel!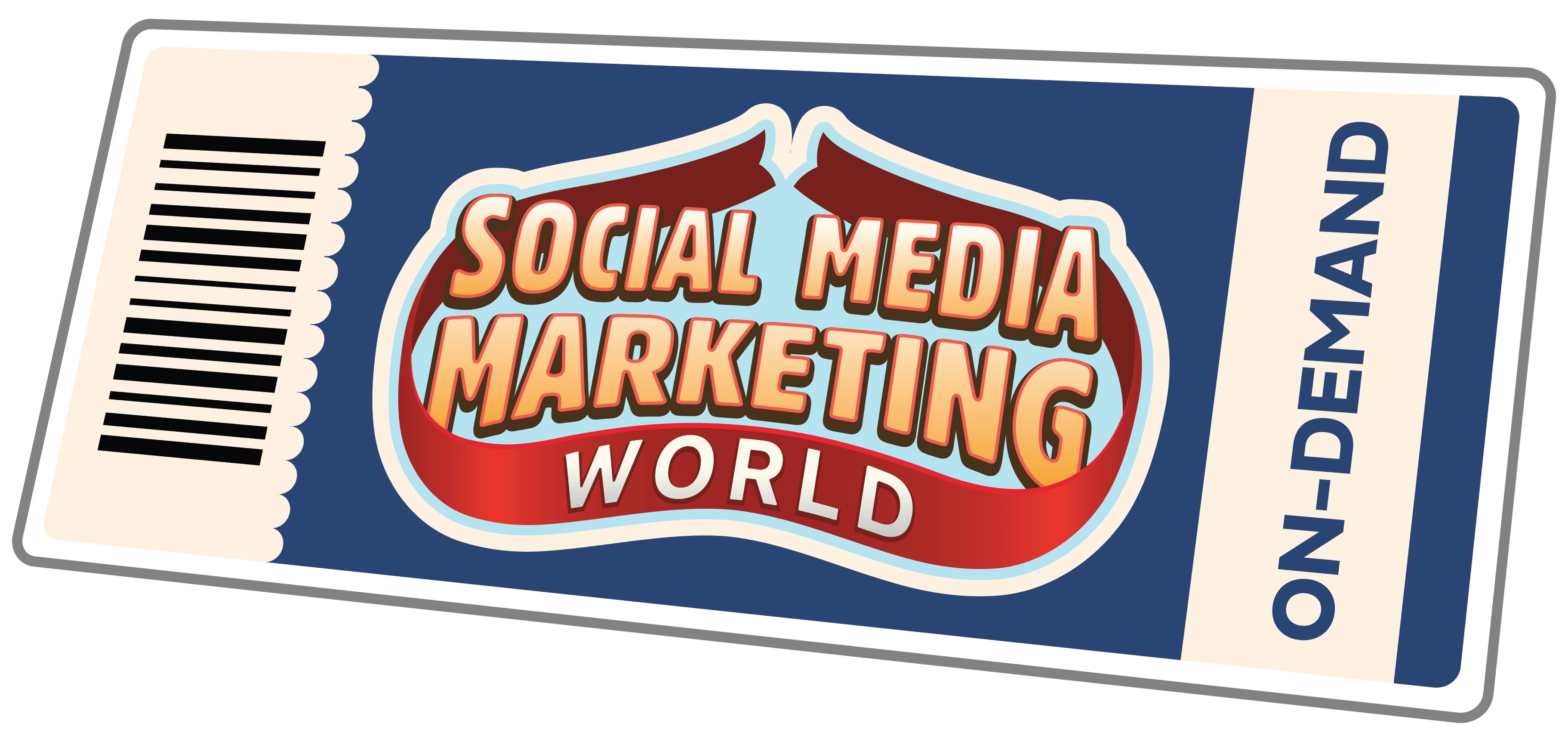 Travel to Social Media Marketing World off the table? Get all of the great content at a fraction of the price with an On-Demand ticket.

That's full access to recordings of every keynote, workshop, and session—the ones people travel thousands of miles to see. Don't wait. Get your On-Demand ticket and enjoy actionable content that you can watch anytime, anywhere.
GET YOUR ON-DEMAND TICKET NOW