Are you looking to take your social media learning to the next level?
This page contains social media marketing events and conferences you might be interested in – please check back regularly to see updates as we add/revise events:
STRONGLY RECOMMENDED EVENTS: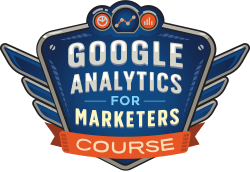 The Google Analytics for Marketers Course is ideal for the marketer who wants to measure their marketing efforts with certainty. You'll stop the leaks in your ad spending, justify your marketing spend, gain the confidence you need to make better marketing decisions, and know what's working at every step of the customer journey. Let the world's leading analytics pro show you the way. Check out our new Google Analytics for Marketers course from your friends at Social Media Examiner..
LEARN MORE – SALE ENDS DECEMBER 1ST!
div
EVENTS BY MONTH:
November 2020
State of Social Conference (November 24-25, Perth Western Australia)
Digital Summit Austin (November 30 – December 2, Online Event)
December 2020
MadconNYC (December 1-3, Online Event)
Gartner Marketing Symposium/Xpo (December 1-3, Online Event)
Social Fresh (December 8-10, Online Event)
ParDreamin (December 8-11, Online Event)
Digital Summit Seattle (December 9-11, Online Event)
Digital Summit Philadelphia (December 15-17, Online Event)
T&C360i  (December 13- 15, Online Event)
Combin Instagram Growth Webinar (December 16, Online Event)
2021 Q1 Events
Vimeo Festival and Awards (January 14, Online Event)
Social Media Marketing World 2021 (February 28 – March 2, San Diego, CA)
Affiliate Summit West (February 2-4, Las Vegas, NV)
B2B Marketing Expo California (March 3-4, Los Angeles, CA)
Marketing Impact Live (March 15-17, Orange County, CA)
2021 Q2 Events
Advanced Search Summit (April 7-9, Napa, CA)
EiQ: The Intelligent Email Gathering (April 15, Atlanta, GA)
Hello Conference (April 15, Whitehouse Station, NJ)
Youth Marketing Conference (April 28-29, London, UK)
DigiMarCon New York (May 6-7, New York, NY)
Interact20 (May 17-18, Columbus, OH)
DigiMarCon Canada (May 20-21, Toronto, ON)
DigiMarCon South (May 26-27, Houston, TX)
#DMWF Global (June 2-3, London, UK)
DigiMarCon Midwest (June 9-10, Chicago, IL)
DigiMarCon West (June 16-17, Los Angeles, CA)
Social Media Week Lima (June 16-17, Lima, OH)
Hero Conf (June 28-29, Austin, TX)
2021 Q3 Events
MAICON (July 13-15, Cleveland, OH)
Utah DMC Digital Marketing Conference (August 27, Salt Lake City, UT)
Growth Marketing Summit (September 2, Frankfurt, Germany)
Traffic & Conversion Summit (September 13- 15, San Diego, CA)
MarketEd.Live (September 20, Notts, UK)
FinCon (September 22-25, Long Beach, CA)
Want your social media event listed? More details here. To schedule your listing email [email protected].