Thinking about sponsoring the world's largest podcast exclusively dedicated to marketing?
If so, keep reading…
An introduction to the show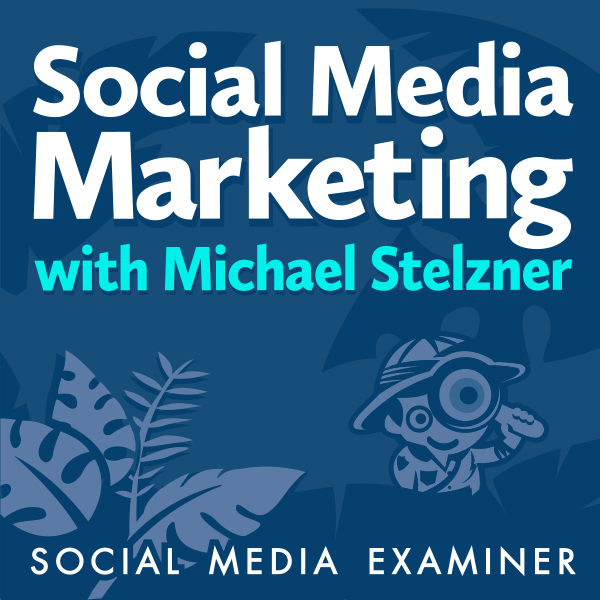 The Social Media Marketing podcast is a 45-minute weekly show hosted by Michael Stelzner—the founder and CEO of Social Media Examiner.
This interview-based show has been an important companion for marketers since 2012.
The audience—marketers and entrepreneurs—discover how to successfully employ marketing strategies, learn new tactics, and gain actionable tips to improve their marketing.
Here's what a few loyal listeners have to say:
"I have been listening to this podcast for years and I am way overdue in telling the world how enjoyable and informative your podcasts are. I get tremendous value out of the podcast. Thank you!!" – Sam.
"I love Michael's approach and this podcast. You have an excellent lineup of top-rated guests and solo episodes with priceless tips, suggestions, and advice! I have implemented SOOOO much of these nuggets of wisdom to my business and it's been amazing." – David.
Why sponsor the Social Media Marketing podcast?
#1: Exposure: Get exposure to the largest marketing audience in the podcasting world.
If you want exposure to people looking for advice and resources to improve their marketing, there's no bigger audience. Every Friday, tens of thousands of marketers look forward to new episodes of the podcast.
Social Media Examiner emails more than 400,000 marketers each week, promoting the newest episode of the show. We also create detailed articles from each episode that often rank in Google search.
Your sponsorship becomes the first, and last, message heard in each episode of the podcast for one month.
Continuous exposure to this audience will help your brand become top of mind for influential marketers all around the world.
#2: Affiliation: Affiliate your brand with Social Media Examiner.
The Social Media Marketing podcast is the only content produced by Social Media Examiner to offer integrated, host-read ads that deliver like an influencer campaign.
Social Media Examiner is a trusted media brand for millions of marketers and entrepreneurs around the world. If your audience is among the large demographic that Social Media Examiner attracts, being a regular sponsor of this show is a smart marketing investment.
Who listens to the show and what are their interests?
Marketers and entrepreneurs from around the world regularly listen to the show. The majority work for a small business (with less than 100 people) in a marketing role, targeting business-to-consumer (58%) and business-to-business (42%) audiences. The majority also read Social Media Examiner's articles (68%).
Here are the topics listeners are VERY interested in:*
✅ Marketing on Instagram, YouTube, Facebook, LinkedIn, TikTok, and Twitter
✅ Content marketing
✅ Email marketing
✅ Search engine optimization
✅ Creating videos (short and long-form)
✅ Analytics
✅ Community development
✅ Copywriting
✅ Visual design
* The above data is based on a study we recently conducted.
Here's a sample of some of our more recent podcast episodes:
How many people listen to the podcast?
As of June 2022, the Social Media Marketing podcast has been downloaded more than 33 million times, with the average person listening for 42 minutes each week (according to Apple).
The show is distributed via Apple Podcasts, Google Podcasts, Spotify, Pandora, Amazon Music, iHeartRadio, and all other major podcasting distribution channels.
How we promote
Each month Social Media Examiner organically adds tens of thousands of email subscribers to its email list. After 10 days, we invite them to subscribe to our podcast and encourage them to download multiple podcast episodes on topics that interest them. This ensures a steady stream of new listeners to the show.
It's not uncommon for new subscribers to go back more than a year and download past episodes.
In addition, due to our high ranking in the Apple Podcast directory, we are often promoted under "Shows You Might Like" to people interested in marketing topics.
We create a comprehensive article from each show that often ranks in Google search traffic. We also email more than 400,000 email subscribers each week with direct links to the podcast.
The average number of downloads per month ranges between 350,000 – 400,000 downloads in a 30-day period.
Are you ready to get your product in front of our audience?
Isn't it time you explore this opportunity to dynamically present your solution to loyal listeners of one of Social Media Examiner's most valuable media properties?