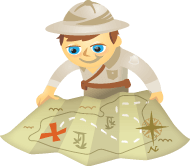 Looking for a new way to connect with customers and prospects on Facebook?
Have you considered Facebook Messenger?
Messenger for business pages makes it easy to offer instant one-on-one customer service, while keeping a record of the conversation.
In this article I'll explain how to use Facebook Messenger with your business page.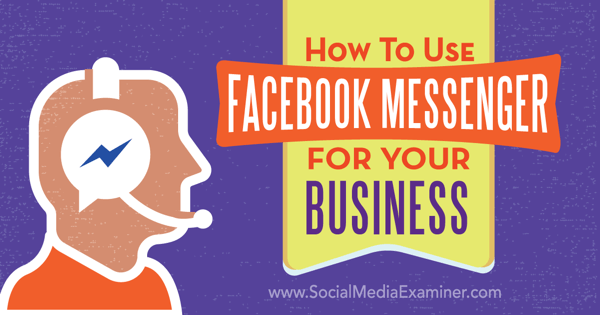 Listen to this article:
Where to subscribe: Apple Podcast | Google Podcasts | Spotify | RSS
Why Facebook Messenger for Business?
There are 800 million people who use Facebook Messenger each month. The instant messaging service is available to anyone, whether they have a Facebook profile or not.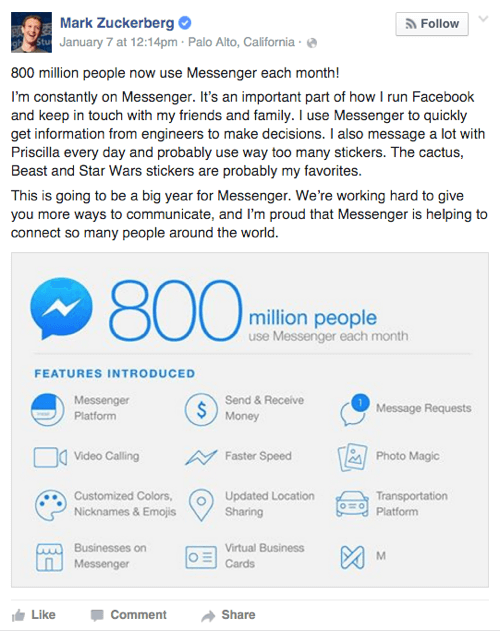 When Messenger first became available for business pages, Facebook users could message page owners and the page owners could reply.
Now, page owners can respond to anyone who has commented on their page, privately or publicly. To keep privacy levels in check, businesses can't download the email addresses of fans nor can they initiate conversations with users.
The ability to direct message your audience is extremely powerful, especially since Facebook would rather have users stay on their platform (rather than jumping over to email).
More than 89% of users access Facebook on their mobile devices and they check Facebook 14 times a day. Those people have an intimate relationship with Messenger. When your company starts conversations with users, you're befriending them on that level. This is how to change business relationships into personal ones.
Globally, Facebook continues to roll out Messenger features designed to help businesses efficiently manage their communications.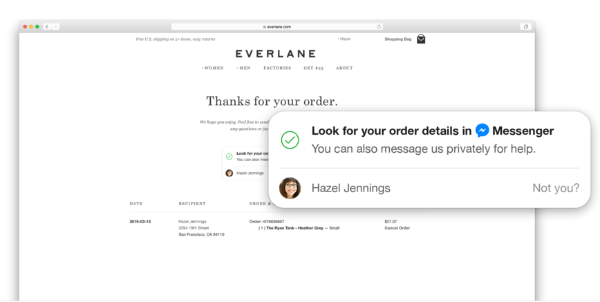 Note: With the number of Messenger users hurtling towards the milestone of its first billion, look for Facebook to monetize Messenger sometime soon.
Mark Zuckerberg has said in the past that Facebook likes to wait until its products grow to one billion users before focusing on driving revenue. As the demand for more ad inventory increases, Facebook needs to remain nimble with its core products and offer additional ways for advertisers to reach their audiences.
Why Send Private Messages?
Get Everything You Need to Become A Better Marketer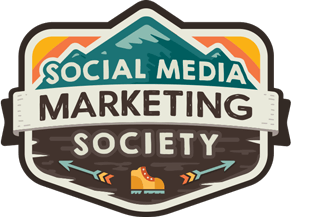 Looking for a one-stop-shop for marketing greatness? Try the Social Media Marketing Society to boost results and become a better marketer through deep-dive training and an always-on community of marketers. The path to better marketing begins in the Society.
START YOUR TRIAL TODAY
Some of the biggest benefits to being able to private message your customers are related to social customer care.
Answer questions about products or services. Prospects who are looking to make a purchase might want to ask you questions privately first. Encourage prospects to contact or message your business so you can give them the information they need to pull the trigger on their purchase.
Have real-time conversations giving customer support. If customers are having an issue with their purchase, Messenger is an immediate way to assist them. You can also send customers order confirmations and shipping info, and invite them to check out related products.

Private support is especially important if your business is in a highly regulated industry (such as finance and insurance) where you can't discuss certain topics publicly. Messenger is also helpful when customers need to give you their private information to resolve an issue.
Handle complaints. This is one of the top reasons Facebook introduced the ability to private message people who comment on your page. When you get negative comments from users, Messenger allows you to take the conversation offline on the same platform and defuse them pretty quickly.
#1: Enable Messages on Your Page
Your page can accept and send messages only if you've enabled Messenger.
To turn on Messenger for your page, go to Messages under General Settings and then click Edit. Select the option to allow messages to your page, and click Save Changes.

If you find that you're getting more Facebook messages than you can handle, you may want to consider turning the feature off until you're able to appoint more moderators. Another option is to make use of the 'Away' setting (see below for more on this).
#2: Configure Message Settings
There are two settings to adjust for your business Messenger: Response Time and Instant Replies. To access them, go to Settings and then Messaging.
Display a Response Time
Your page's average response time (how long it takes you to reply to a message) appears in the About box on the left side of your page.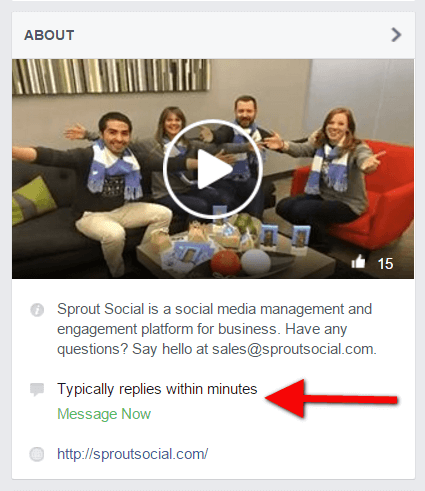 To set the response time for your page, go to Settings and Messaging. Then click Automatically Show Your Average Response Time for Messages or select another option. (Response time will only show up if you visit your page at least once a week and answer 90% or more of your messages.)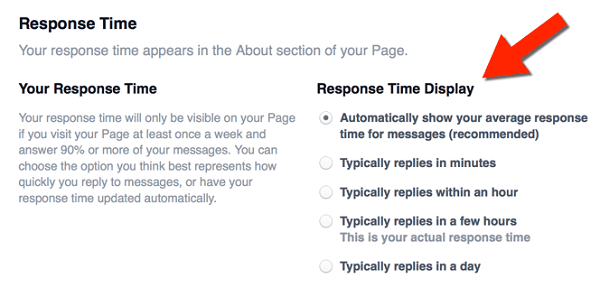 When your business is closed, you can set your messaging status to Away, so it doesn't reflect your response time stats.
To enable this feature, go to your page's Messages and click Away in the upper left.

Now it will say Away rather than Response Time in your page's About box. Your messages will remain off for 12 hours, but you can turn the feature back on sooner if you want.
Send Instant Replies
You can set Instant Replies to go to people the first time they message your page. This feature is located below Response Time under Messaging.
Write a message of up to 250 characters, save it and then click Use Instant Replies to enable it.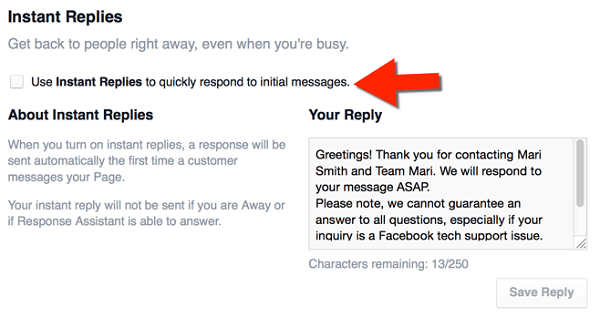 This autoreply won't be sent to users if your messaging status is set to Away.
Put Google Analytics to Work for Your Business (Online Training)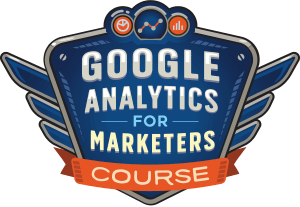 Ever thought, "there's got to be a better way" when it comes to tracking your marketing activities? Are you forced to make decisions based on limited data? With the right training, you can use Google Analytics to measure all of your marketing efforts with certainty.
You'll stop the leaks in your ad spending, justify your marketing spend, gain the confidence you need to make better marketing decisions, and know what's working at every step of the customer journey. Let the world's leading analytics pro show you the way. Check out our new Google Analytics for Marketers course from your friends at Social Media Examiner.
CLICK TO LEARN MORE: ANALYTICS TRAINING
#3: Create Saved Replies
Writing messages ahead of time is a great time-saver that makes you look professional and efficient. It also helps you and anyone on your team easily and quickly reply to anyone who contacts your business.
To streamline your Facebook communication, write and save several replies so even if you're busy, you can click and send a message quickly. Also, if you find your business keeps answering the same questions over and over again, you can create form responses to personalize.
Facebook gives you two default saved replies to start: "I can't chat right now" and "How can I help you?"
To use a saved reply, click the message you want to reply to and click on the dialog bubble at the bottom right. Then click a saved reply to add it to your message.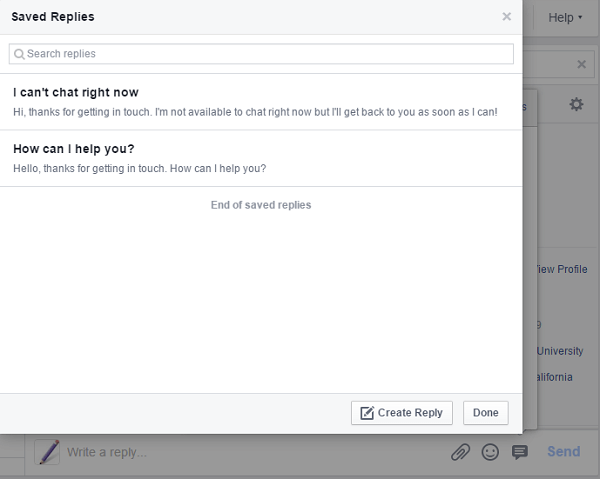 To edit or create a saved reply, click on Manage Replies and then select a saved reply or click Create new reply.
You can also add an image to your reply, such as your company logo or a product.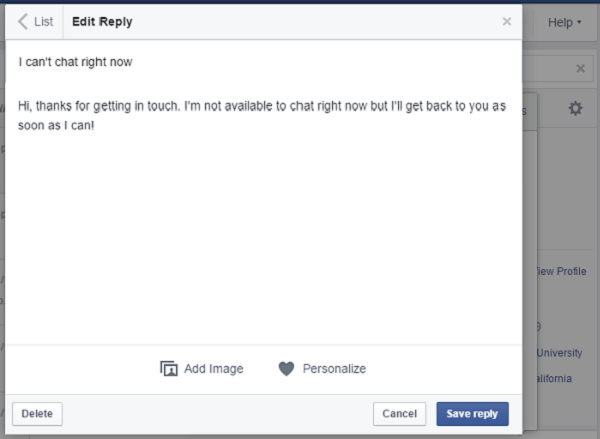 To personalize your messages automatically, place your cursor where you want to add the user's name, the admin's name or your website URL. Then click Personalize at the bottom.
Next, select what you'd like to add to your message.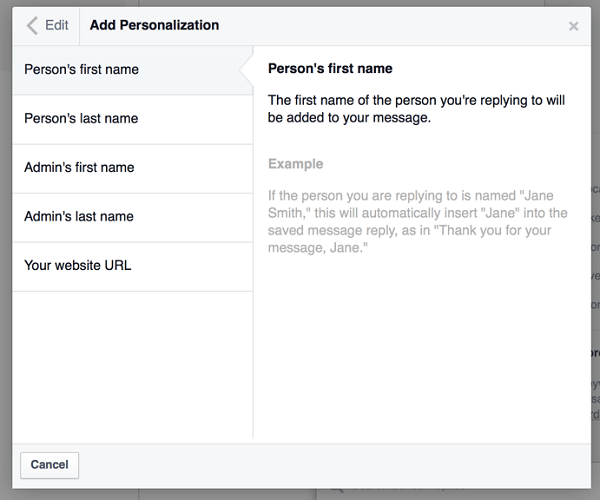 Then save your reply. Repeat these steps for as many replies as necessary.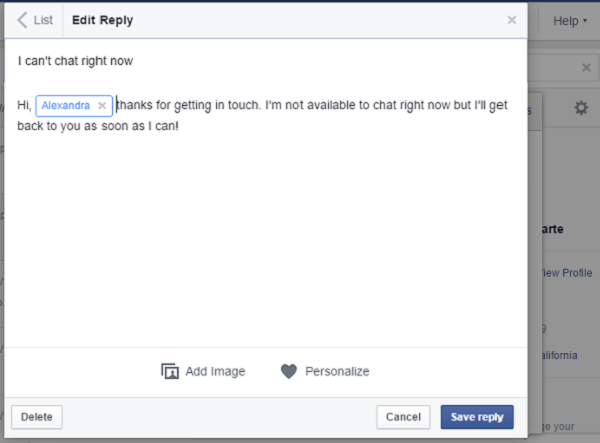 #4: Learn About Users Who Message You
Facebook makes it easy to personalize your communications by displaying personal details of the people messaging you to the right of their message. Facebook links to their profile and tells you if the person has liked your page and when, any previous communication between you and where they work, went to school, live and are from.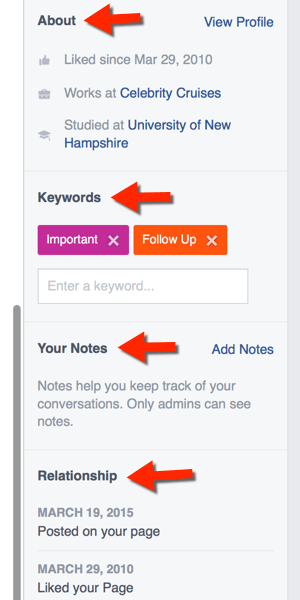 See what ways you can make an extra connection with whomever you're messaging.
Perhaps they're from the same town or went to the same school as you. Or maybe you have a friend who works at their company. You can also look through their profile and wish them well on any recent milestones or thank them for being a fan for so many years.
Go the extra mile and you're bound to generate extra loyalty.
#5: Add Keywords and Notes
Messenger allows you to add keywords so you can easily manage conversations. Click on Enter a Keyword. Then, either scroll down to Important or Follow Up, or add your own keywords as identifiers.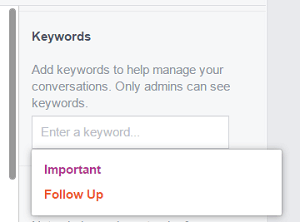 You can also click Add Notes to keep track of details about your interactions. Once you type in the information and confirm, your note will show up in that section.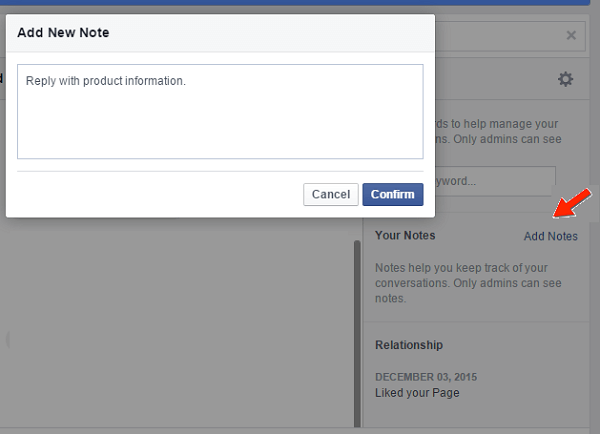 The notes function is especially important if you're troubleshooting an issue for a customer, so you can document the process. Plus, if you have multiple admins managing customer care on your page, notes can be invaluable in ensuring a seamless experience for the customer.
#6: Add a Messenger Box to Your Website
Encourage your website visitors to contact you on Facebook with the new and improved Page Plugin.
Add a box to your website that showcases your page's timeline and upcoming events, along with the ability to private message your page.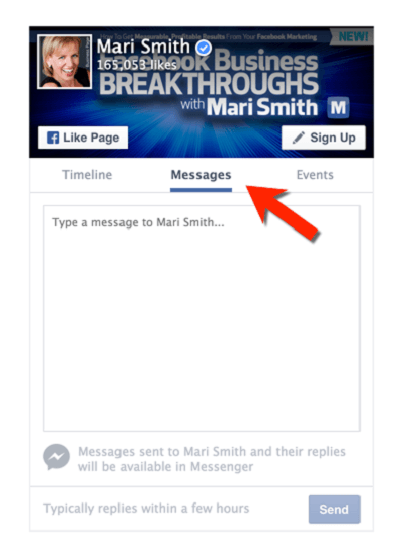 In fact, you have the ability to add this plugin with only the Message tab. Just enter Messages in the code settings under Tabs.
Businesses on Messenger
Facebook started rolling out Messenger integration with websites to allow companies to offer even better customer service. For example, when people check out your website, they can sign up to connect with you in Messenger. Then you'll be able to send them personalized updates.
At Facebook's f8 conference in March last year, the company launched Messenger Platform and announced Businesses on Messenger. Facebook product manager Lexy Franklin shared an update on the Developer blog:
"In addition to Messenger Platform, we've also announced and previewed the first steps we're taking to bring businesses on Messenger with the goal of enhancing how people and businesses communicate. Businesses on Messenger enables things like the following: During the checkout flow on a business' site, a person can choose to start a conversation with a business; receive updates from that business on things like order confirmations and shipping status updates; and ask the business free-form questions about the order, receiving quick responses."
Imagine the possibilities of instant communication with a customer who has just made a purchase on your website. You can offer an upsell or upgrade. Plus, with more F-commerce coming, customers will be able to one-click purchase right from Messenger.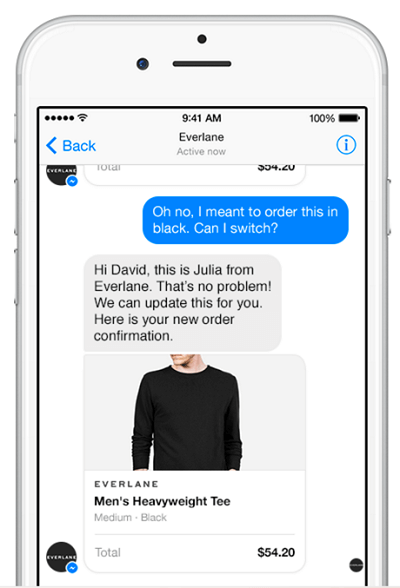 If you're interested in adding the Businesses on Messenger feature to your website when it becomes available, go to messenger.com/business.
Final Thoughts
Messenger for Business is an excellent tool for instant contact and connection with prospects and customers.
Keep an eye out for the new Comment tab, where you can flag comments that need follow-up via message. No doubt Facebook will continue to improve Messenger for Business and add new features. Submit your ideas for new features here.
Learn your way around Messenger, explore the different settings and write custom messages for your prospects and customers. The more you know about Messenger, the better you'll be able to use it for your business.
What do you think? Are you using Facebook Messenger for Business? Have you created saved replies? How is Messenger helping your customers? Please share your thoughts in the comments.