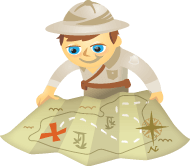 Do you manage at least one Facebook business page?
Are you using all the admin features?
Facebook pages include many tools to help marketers and business owners get the most out of their business presence.
In this article I'll share how to use Facebook's features, tools and settings to manage your business page effectively.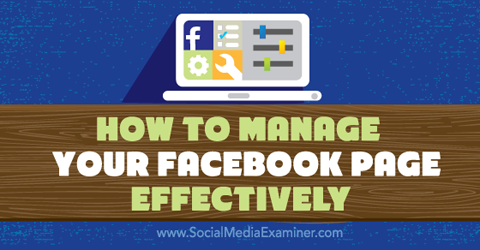 Listen to this article:
Where to subscribe: Apple Podcast | Google Podcasts | Spotify | RSS
#1: Access Your Facebook Pages
There are a few ways to access your Facebook pages. To see all of the pages you are linked to as an administrator, editor, moderator, advertiser or analyst, go to your Pages bookmarks. From there, click on the link to the page you want.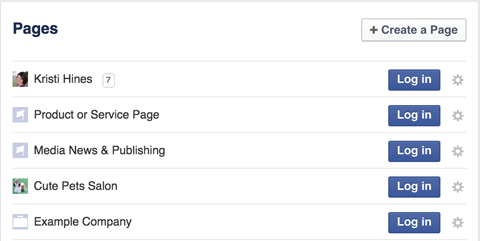 To use your Facebook page to like other Facebook pages or comment on posts, click to log in as your page. Plus, select the settings wheel icon to add specific pages to your favorites in the left sidebar of your Facebook screen.
Alternatively, access your pages using the drop-down arrow in the menu at the top of your Facebook screen.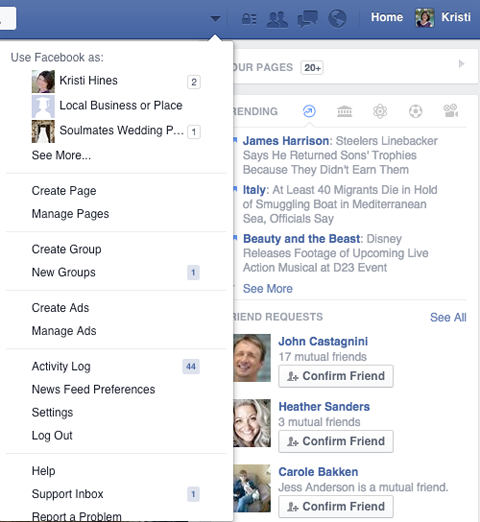 #2: Navigate Your Page Menu
At the top of your Facebook page, there's a menu to direct you to the main features of your page. You should see this menu when logged in as your personal profile or as your page.

The first item in the menu, Page, will take you back to your Facebook page from your Messages, Notifications, Insights, Publishing Tools and Settings.
Here are the rest of the features.
Engage With Users Privately Through Messages
If you'd like, enable Messages in your General page settings. This will allow Facebook users to send private messages to your page.

Note: You can only reply to messages your page has received. You cannot send messages (as your page) to people who have not messaged you.
The Conference You've Been Waiting For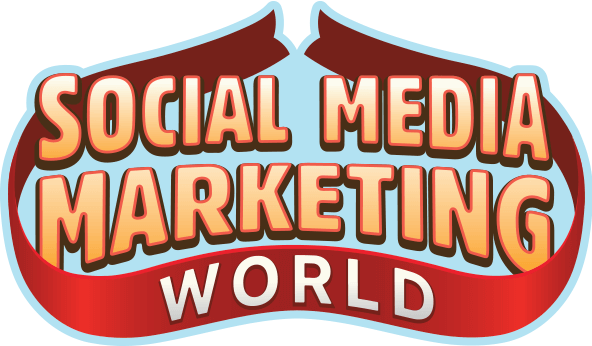 As a small business marketer, you can probably only pick one or two events to attend each year. Get back into the game with an unbeatable conference experience and expert training at Social Media Marketing World in sunny San Diego, California—from your friends at Social Media Examiner.
🔥🔥 As a valued reader, you can save $640 if you act now! Sale Ends Tuesday!
CLICK HERE TO LEARN MORE
A great feature in Messages is saved replies. Create a template for common responses you can easily personalize to send through your page's private messaging. Click on any of your messages create a new reply.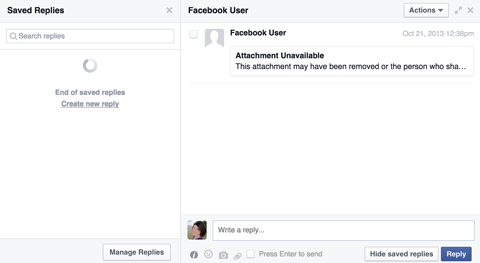 Check Notifications for Recent Engagement
Notifications give you a quick summary of people who have engaged with your page, as well as their interaction.

If someone asks for your contact information using a prompt on your Facebook page, like the one shown below, you'll find it in Requests under the Notifications section.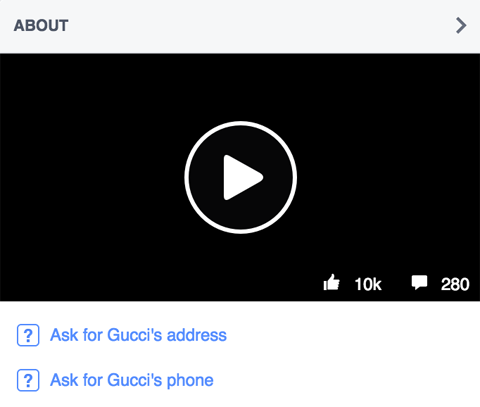 See a full timeline of activity related to your page, including when other people or pages mention your page and when others share your page's posts, under the Notifications section in Activity.

Review Your Analytics With Insights
Insights are your Facebook page's analytics. This is where you'll learn more about your fan page audience growth and engagement.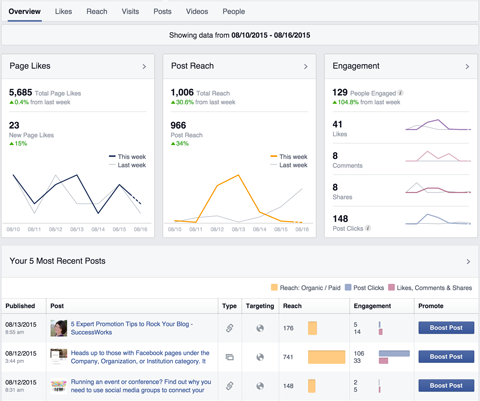 Insights show you which page posts get the most engagement, and whether your fans match your ideal customer base (age ranges, gender and location). Plus, learn how people discover your page by clicking the Visits tab.
Schedule and Publish Posts Through Publishing Tools
The Publishing Tools feature lets you create Facebook updates to be published immediately, schedule posts to be published at a future time and draft posts to save for later.
To publish a status, photo, video, offer, event or milestone immediately, go to the Published Posts section and click the Create button at the top right.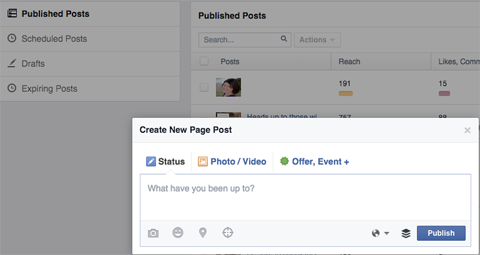 To schedule a status, photo or video post, go to the Scheduled Posts section and click the Create button at the top right. Use the drop-down next to the Publish button to get schedule, backdate or draft options.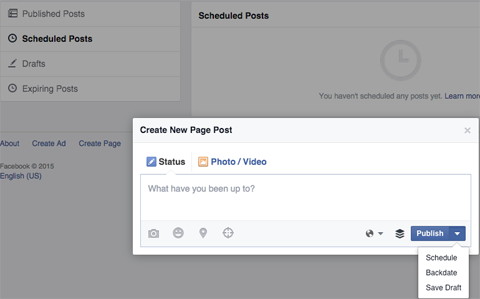 Be sure to review your analytics on the Published Posts tab as well. Search by keyword for specific updates to see their statistics. In addition to reach, it includes the name of the application used to publish the post to your page.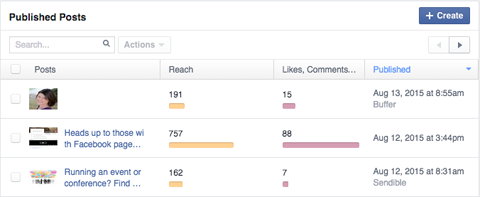 Use this data to see which posts have the most engagement, and determine if posts shared through your page have more reach than those shared through third-party tools.
#3: Configure Page Settings
Your page's settings allow you to control everything from visibility to admin roles and more. Access settings on the right-hand side of the top page menu.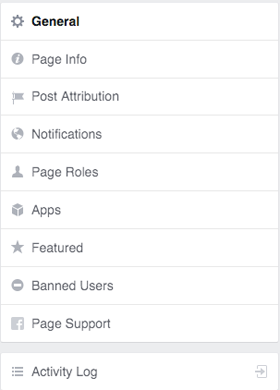 Here's a look at each section of your page settings.
Configure General Settings
The General settings for your Facebook page let you configure options for your page's visibility, private messaging, tagging permissions and comment moderation.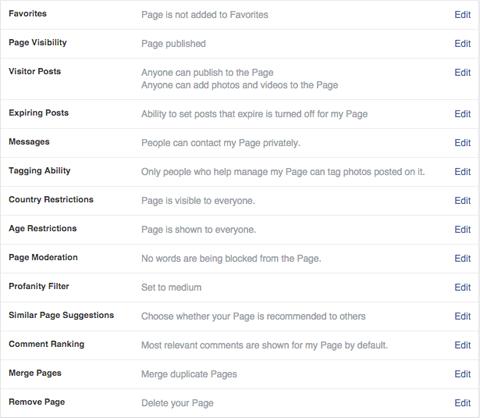 Click the Edit button to alter any of these sections.
Get Expert Social Media Marketing Training from the Pros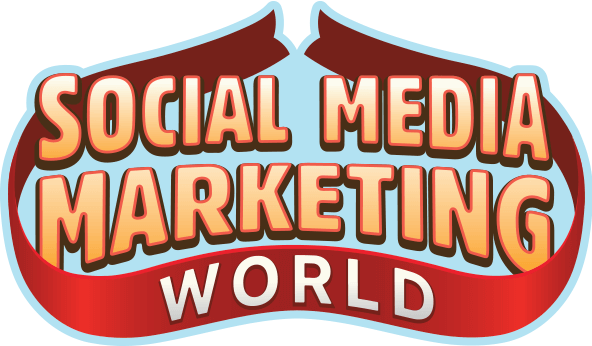 Want to get ahead of the competition and learn how to diversify your social marketing strategy?
Learn from the industry's most trusted experts, rub elbows with other smart marketers, and take your marketing to the next level during this 3-day event in sunny San Diego, California.
CLICK TO LEARN MORE
Update Page Info
The Page Info setting redirects you to the About tab on your Facebook page. This will allow you to update your page category, name, location, description and other fields specific to your type of page.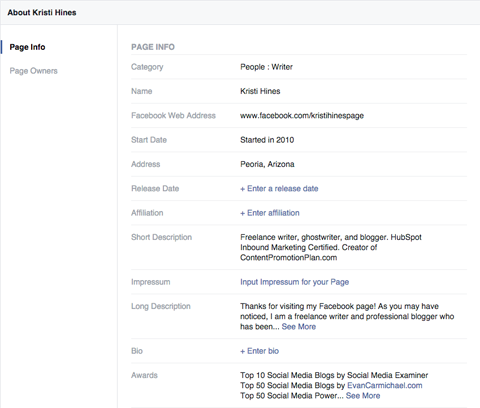 To edit the items in your About tab, mouse over a specific section and the Edit button will appear.
Determine Post Attribution
Select whether you want posts attributed to your page or to your personal profile in the Post Attribution setting.

Most businesses will want to have posts attributed to the page. As you publish updates, you still have the option to switch the attribution to your personal profile.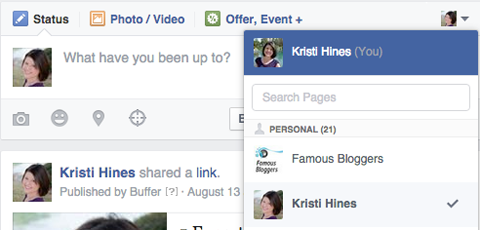 You can also change the attribution for comments, if you'd like.
Decide What Notifications to Receive
The Notification settings allow you to configure how and when you want to be notified about specific activity related to your page.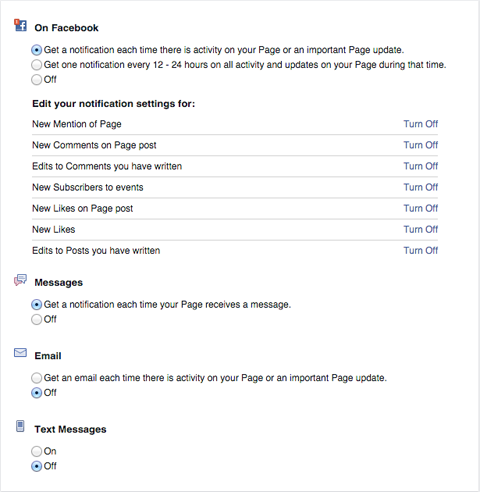 Depending on the amount of activity you receive and how quickly you need to respond, you may choose to turn notifications by email or text on or off. You will get all notifications via Facebook.
Add and Edit Page Roles
Add users to your Facebook page, and edit their roles if need be, in the Page Roles setting.
Note: You only want to give admin privileges to those you trust 100% with your business. They have the power to add, remove and change other users' roles, including yours.
Reference this chart from Facebook's help page to learn more about permissions for each role.
The chart should help you determine which team members should be added to your page, and under what role.
Configure Apps
App settings let you configure the custom tabs that have been added to your Facebook page.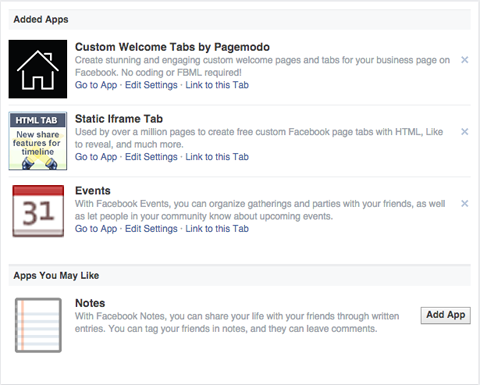 Your Facebook apps create the custom content that appears in the menu below your cover photo, as well as what's in the Apps box in the left sidebar of your page.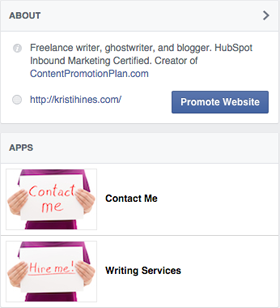 Determine Featured Settings
Featured settings for your page allow you to publicly display other pages that your page likes, as well as your personal profile, since you are the owner of your page.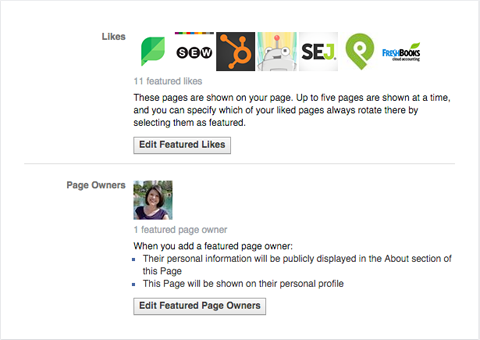 Featured Likes appear in your page's left sidebar. Use this section to highlight other pages owned by your business, vendors and partners, as well as featured customers. This section can be reordered to appear above or below your apps, photos, videos and visitor posts.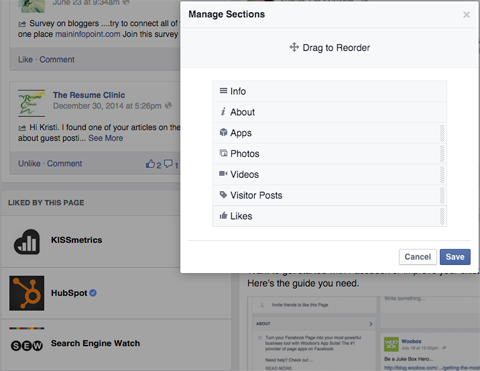 The Featured Page Owner(s) appear on your page's About tab.

Aside from when you post to your page on your personal profile, this is the only place your profile can be linked to the Facebook page.
Check Your Banned and Other User Settings
The Banned User settings not only show the people you banned from your page, they allow you to browse through the people who like your page, the pages that like your page, subscribers and admins of your page.

Click the settings icon next to names of people who like your page to assign them specific page roles, if you want them to help manage your page. The settings icon next to names you have banned allow you to revoke your ban.
Make Requests Through Page Support
If you asked for support for your page, those requests will appear in the Page Support section. Support requests must be made through appropriate links in the Help Center.
View the Activity Log
The Activity Log allows you to see full details of all activity on your page. You have the ability to filter it to your own posts, posts by others, notes, events and other activity types.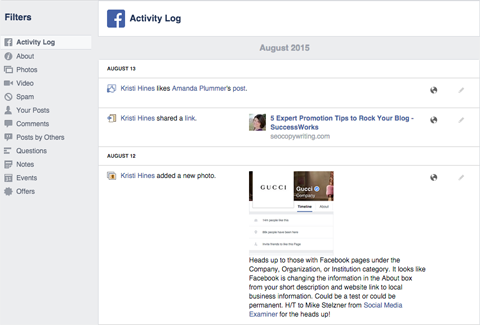 Depending on the type of post, click on the pencil icon for options to highlight, hide or delete a post.

These options also allow you to hide posts from others from your page or untag yourself from posts.

Click the date under an activity to view the Facebook post, see specific engagement and respond to any comments.
In Conclusion
As you can see, Facebook offers a great number of features, tools and settings to help you manage your Facebook business page. Review all of these options to determine which ones will be the most helpful for your Facebook marketing.
What do you think? What tips do you have to help people manage their Facebook page? Do you manage your page directly on Facebook or through third-party tools? Please share your experience and recommendations in the comments!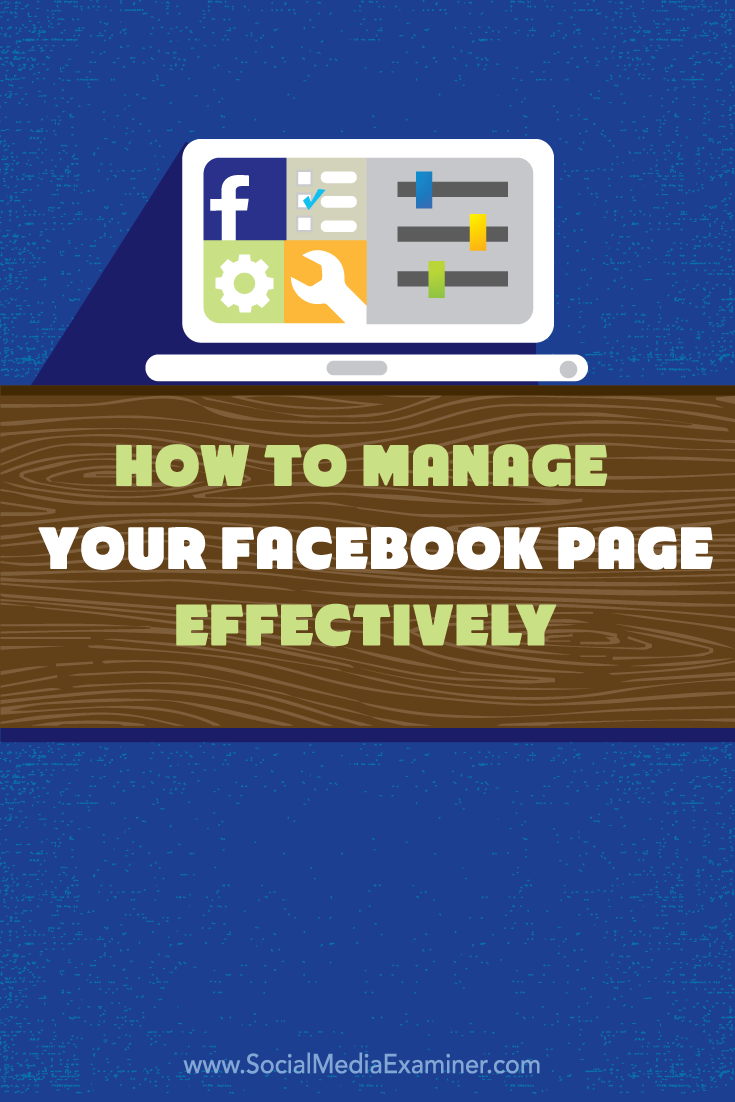 Curious about Web3?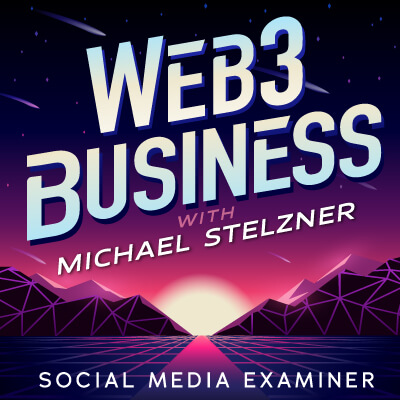 Follow the Web3 Business podcast to find out how Web3 will affect your business in the near future.

Every Friday, host Michael Stelzner interviews leading industry experts about what works right now in Web3 and what to expect in the future, so you can prepare your business for the shift, even if you're a total newbie.
FOLLOW THE SHOW