[]
Advertising on Facebook is available to businesses in many formats. Ads can be as simple or as sophisticated as they want. No matter the scope, the reach is wide: Businesses have the ability to market to two billion people on Facebook every month.
The process is easy.Facebook allows users to target audiences through self-serve tools and it gives them analytics reports that track the performance of each ad. The reach and visibility can help level the playing field for an independent business that wants to compete with companies with much larger budgets.
Through Facebook's Business Manager platform, businesses have a one-stop shop for all their marketing and advertising needs. Additional resources like access to Instagram and product catalogs are part of the mix.
To fully conquer Facebook advertising requires perseverance and a deep understanding of how the platform works in all its dimensions. Lucky for you we have created the ultimate guide to get you started.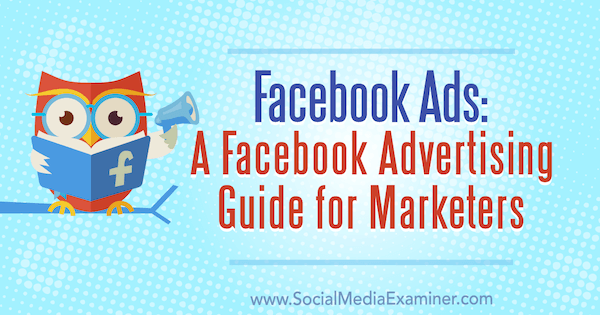 How to Set Up Your Facebook Advertising Account
The first step is an easy one: Set up a Facebook Advertising account. This is a fairly straightforward process and involves the following four steps:
Set Up Facebook Business Manager. First, you create a Facebook page for your business. From there you can create a Business Manager account that allows you to run ads for that page. To start go to the home page for Business Manager and click "Create Account" — Then log in using the email and password you used to set up your business page account.
Install the Facebook Pixel. Go to your website and install the Facebook pixel that allows Facebook to identify people who visited your website, create custom audiences comprised of those visitors, and then show ads to them.
Create Audiences to target users. This tool allows you to create and save audiences that are most relevant to your brand. Go back into Business Manager and select the "Audiences" option from the assets column.
Create a Facebook Ad from a Facebook post. Now you can try it out. First decide what you want to accomplish — do you want more clicks, sales, video views, or leads?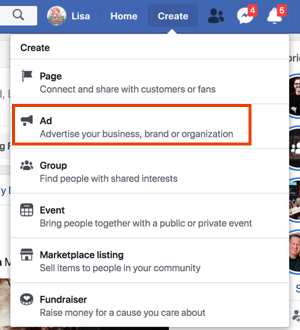 Facebook Ads Manager is the primary tool for creating and analyzing your Facebook ad campaigns. Creating the ad itself just involves selecting "Create Ads" from the drop-down menu in the upper right of your business page.
When you open the main menu, you'll see five sections: Plan, Create and Manage, Measure and Report, Assets, and Setting. Knowing how each tool works is essential to shaping your campaign.
Plan. The Plan section contains tools that help you learn things about your audience and give you creative ideas for running your ads. With the Audience Insights tool, you can find out a lot of information about different audiences on Facebook.
Create and Manage. Here you find tools for creating your ad and managing your campaigns.
Measure and Report. When you want to analyze how your ads are performing, check out the tools in the Measure and Report section. For example, here you can create those custom conversions to track whether ads are meeting your business goals.
Assets. This section gives you quick and easy access to key assets that you've used to build your ads, including audiences that you've saved for ad targeting, images you've used, your Facebook pixel, and more.
Settings. The settings area is where all of your account information is stored. Go here to update payment information, your email, and so on.
The Facebook pixel is a tool that helps you run highly targeted campaigns, so it's important to install it before running Facebook ads. Each ad account gets one default pixel to use. The code is made up of two main parts: the pixel base code and event code. The pixel base code tracks all of the traffic to your site. Event codes are additional pieces of code you can add under the default pixel code to specific pages of your website that allow you to track certain actions on those pages.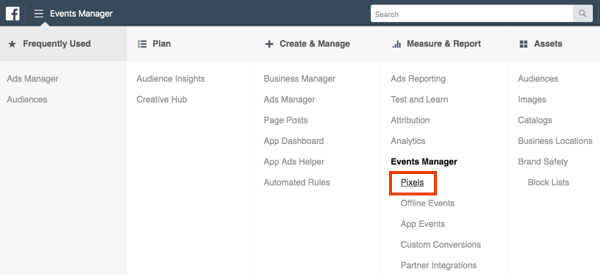 As you go through this process it's important to provide sharing access to Google Analytics, Facebook, ClickFunnels, and other lead page assets because each platform has its own account setup structures and sometimes involves multiple setups. The reason why this is important is twofold:
You can remove liability under the General Data Protection Regulation (GDPR), the European Union (EU) law that gives greater protection to an individual's personal information and how it's collected, stored, and used. If you collect clients' customer data in your own account, you can find yourself in the position of being the data processor or data controller and thus liable under GDPR.
You protect your reputation. Clients may not intimately understand the nuts and bolts of data and digital funnels when they start working with you, but eventually they will understand. If they feel taken advantage of at the end of your relationship, they won't speak highly of you to their fellow business owners.
How to Get Started With Facebook Ads
Understanding the Facebook Ad algorithm is important because it identifies ads that provide a good user experience.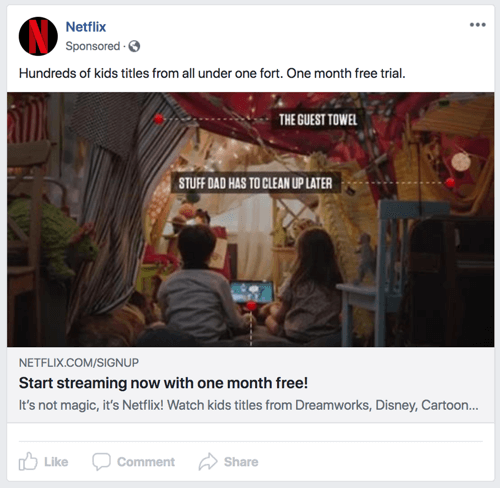 The Conference You've Been Waiting For
As a small business marketer, you can probably only pick one or two events to attend each year. Get an unbeatable conference experience and expert training at Social Media Marketing World in sunny San Diego, California—from your friends at Social Media Examiner.
🔥 As a valued reader, you can save $650 on an All-Access ticket if you act now! Sale Ends Tuesday! 🔥
CLICK HERE TO LEARN MORE
In doing so, the right settings can help optimize your budget. There is a practical reason why the algorithm exists: If advertisers monopolize the news feed, Instagram, the right-hand column, or whatever you're using to advertise on Facebook, people won't return to Facebook. That means your ads need to provide value because Facebook wants to create a positive user experience with meaningful interactions.
Ad transparency is important for figuring out the algorithm. The ability for any user to see exactly what ads a Facebook page or Twitter account is running is particularly useful for marketers and businesses. There are three key ways that marketers can leverage this information to their advantage:
Research competitor campaigns and consumer markets. Seeing all the ad campaigns your competitors are running is invaluable as you consider your own campaign. Visit their landing pages and assess their call to action. What special offers are they running? How long are their videos? Are they trying to attract clicks, drive purchases, or just create awareness?
Get inspiration for using new ad features. New ad features roll out all the time on Facebook and Twitter. Look to major brands like Home Depot, Target, or Airbnb to see how they're using new ad features; it's a good way to see what each feature does and how it works without investing your first dollar.
Share active campaigns with customers and prospects. Because users can engage with the ads in the same way they would if the ad appeared in their news feed, customers and prospects now have an opportunity to begin a purchase or a signup they might have missed out on.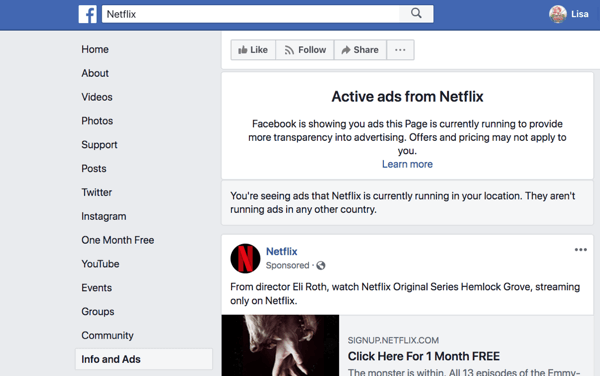 So how do you build an effective Facebook advertising campaign? First you need to have a plan of action. Otherwise, you'll be flying blind with no clear idea of where you want to go. To see consistent results, identify where in your sales funnel you can leverage Facebook ads. Answer these four questions to help define your strategy:
What's your objective for Facebook advertising? For example, do you want to generate new leads for your business, sales for your ecommerce store, or subscribers to your blog?
Do you have existing or consistent website traffic?
Do you have an email list? If so, is it active and how many people are on your list?
Can you create unique content about your business/industry?
Based on your answers, there are three Facebook advertising strategies you can use to take the next step forward:
Provide free content to warm up your audience. Content marketing is one of the most effective ways to differentiate your business and warm up cold audiences. Provide free valuable content that entertains, educates, or inspires your ideal customer. You could use videos, lead magnets (guides, checklists, coupons, etc.), or blog posts, for example.
Engage people on your email list. Delivering your message via your Facebook ads and email marketing is twice as effective. Customers will see your message in their inbox and when they browse Facebook.
Retarget website visitors. If you install the Facebook pixel on your website, you can target people who have recently visited your site.
Facebook Marketplace is the place where you can reach local audiences with your product and services.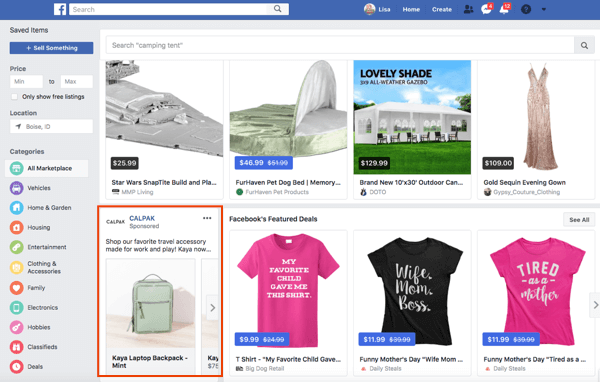 Think of it as the Facebook equivalent of eBay and Craigslist — Here's where everyday people can post any number of items or services for sale. Currently, Facebook says it has over 800 million users in the Marketplace. The plus of Facebook Marketplace is that it's where people are actively looking for a specific good, which means you have immediate access to an audience that is looking for you.
Create a campaign objective. Marketplace offers five objectives: reach, traffic, conversions, catalog sales, and video views. Once you pick one you can give your campaign a name.
Choose placement. Where do you want the ad to appear? Scroll down to the Placements section and pick the settings.
Create a video ad. In the Ad Creation section you can upload images as well as a video. Videos tend to outperform static images in Marketplace, so that might be your best option.
Analyze placement results. Check out how your ad is performing in comparison to other placements. You can do this by filtering your ad reports by selecting "Placement" from the Breakdown drop-down menu.
How to Incorporate Facebook Ad Funnels
You can also create a sequence of Facebook ads based on your email marketing funnel. Most sales funnels include an email follow-up sequence, which is a series of pre-written emails that are automatically delivered on certain days in the funnel. Each sales funnel is different and can include a sequence of a few emails to many emails. To create a dynamic ad sequence, you replace the emails with Facebook ads for each topic. Part of this process is creating the type of ad. Among your choices:
The Hook Ad. The goal of the hook ad is to draw your ideal client into your community. Think about what you can offer for free to provide value to this audience. A checklist, video series, challenge, coupon code, or webinar are all helpful pieces of content you can promote to help hook your ideal client into the solution you provide.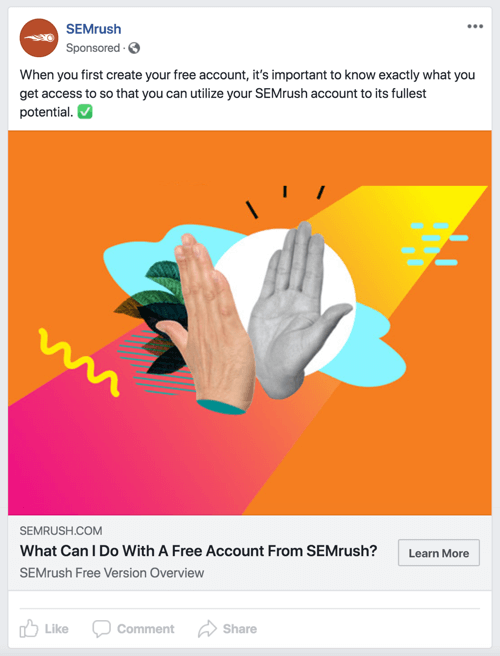 The Nurture Ad. This is where the dynamic sequence kicks in. The only people who'll see this ad are those who opted into the hook ad. This audience is now warmed up to you because they received your freebie, training, or challenge. Use this ad to provide even more value to new leads.
The Testimonial Ad. Do you have a client who has achieved something great with your solution? Were you included in another authoritative publication or podcast? Now is the time to tell your new community about it through a testimonial ad.
The Ask Ad. Now that your new leads are primed with valuable content and a sense of your expertise in the field, it's time to make them an offer. This offer needs to be the next best step in solving the problem that got them opting into your lead magnet in the first place. This audience is now ready to take advantage of the new paid strategies you will provide.
Once set up, your ad funnel can target people at every stage of the customer journey. It takes an actionable plan that attracts people who have engaged with your social media posts within the last three months.
The first step is serving a website conversion ad to people who are similar to those who have already purchased from your store based on their age, demographics, interests, values, and more. That will require setting up a Facebook pixel to track those who made a purchase from your online store or visited your website.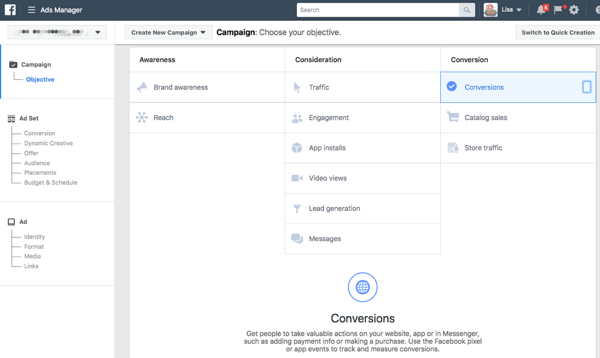 From there, build brand and product awareness via ads served to people who engaged with your social media posts within the last three months. You then need to create carousel ads to target people who visited your website within the past 30 days.
You can also use case studies and testimonials to create a Facebook funnel campaign.
The reason why both are effective is because they not only build awareness, they build trust.
Case studies are based on personal stories and detailed information that convince people your product has value.
Testimonials are firsthand accounts by people similar to your targeted audience about why your product helped them overcome a challenge.
After you build audiences that demonstrate an interest in your case studies and testimonials, you can then offer a trial, demo, or discount that will confirm your product or service works for your prospects and thus overcome their remaining doubts.
If you have a sizable Facebook following with whom you regularly engage and share valuable content, you can build a Facebook funnel based on case studies and testimonials with three campaigns, each of which targets a warm audience. With this funnel in place, you can maximize the results you achieve with your Facebook ad spend.
How to Improve Facebook Ad Targeting With Custom Audiences
The real impact of Facebook fans on your business is not just about the size of your audience; it's how engaged they are with your content. Previously, the only way you could target your audience with ads was either as a whole audience or by creating segments with basic demographic and interest targeting.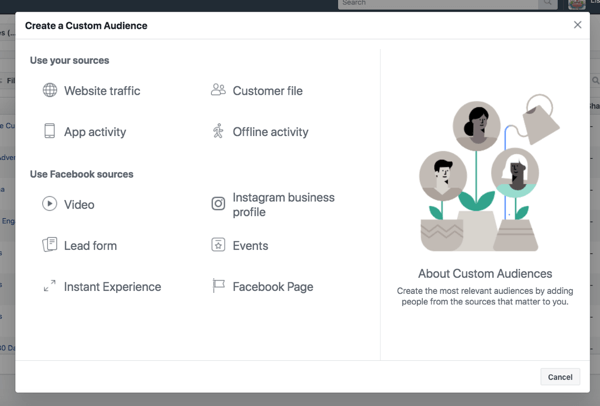 Since there were no dynamic targeting options, your target audience would include a large number of people who like your page but don't actually interact with any of your posts or ads.
With the introduction of page engagement custom audiences, you can now segment and build audiences based on the interactions people have with your Facebook page and ads. This allows you to target only the most engaged people who will be hyper-responsive to your ad campaigns.
Facebook events are also a good tool to target new audiences. Do you want to target Facebook ad campaigns to people who actually attended your event? If you collect information from people while they're physically at your event, you can use that data to create a custom audience based on offline activity. To get a little more specific about the people you want to target based on their engagement with your Facebook event, you can set up a custom audience for Facebook event engagement.
What if you want to retarget website visitors with ads for products they viewed but didn't purchase? The answer: dynamic product ads.
Dynamic product ads let you target customers who have visited your website and browsed a range of your products but left before completing the purchase. This is a very hot audience so it's important to target them to encourage them to convert.
With dynamic product ads, you can create a tailor-made ad for each person with the products they've viewed on your website and a range of other products. They'll see these ads on their Facebook feeds the next time they log in.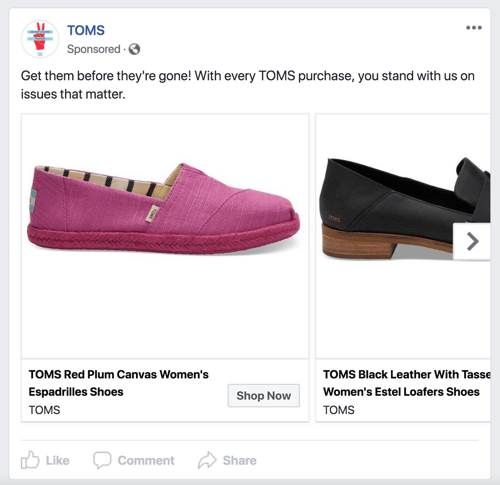 The benefit of dynamic product ads is that you minimize the number of conversions lost at the last stage of the sales process. The ads remind customers of your products and increase the likelihood of a website visitor returning to your website to buy something. You can also spotlight offers, show product reviews, and tell users about delivery time or other key points.
Facebook also allows businesses to retarget prospects based on their activity with your website, product, or landing page. The Custom Audiences tool allows you to create a list of these contacts and target them with highly relevant ad campaigns.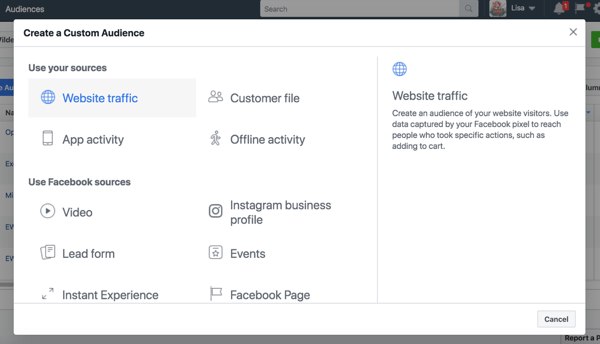 Here are seven types of audiences you can target:
Everyone who visited your website.
This is the default option and a good one for smaller businesses that don't have enough website traffic to target people by page views.
People who visited a specific product page but didn't purchase.
This is an advanced website custom audience that combines a URL condition with an event action.
People who viewed your lead magnet landing page but didn't opt-in.
Similar to the previous website custom audience, you can use this next audience to target Facebook ads to people who visited your lead magnet landing page but haven't opted in yet.
People who viewed your contact page.
This next audience is ideal for service businesses that want to target people who are interested in working with them. This audience groups people who have visited your contact page but haven't completed your contact form.
People who started the buying process but didn't complete it.
This next audience uses your event actions and is very effective for ecommerce companies. Creating this audience allows you to group people who have visited your website and started the buying process, such as adding a product to the basket or initiating checkout.
People who previously purchased from you.
One of the best ways to increase your revenue is to drive repeat purchases from existing customers. You can introduce new product offerings and exclusive discounts to encourage further purchases.
People who read your blog.
If you have a blog, this website custom audience is for you. This is a hyper-responsive audience to which you can run offers or even just promote more content to build stronger brand awareness and deepen your relationship.
How to Control Facebook Ad Spend
When setting up these campaigns you need to have a budget. But for how much? Estimating a Facebook ad budget is important because it should be based on the amount of revenue you want to generate. To do this requires the next few steps.

Set a target revenue goal.
Defining a revenue goal for your campaign seems like a simple move for an established business or marketing professional, but you'd be surprised how often people skip this step. There's nothing wrong with this approach as long as the "see how it goes" part is strategized, tracked, and optimized.
Create a custom conversion path in ads manager.
Once you have a revenue goal in place, configure Facebook Ads Manager to show you the data you need.
Create a two-part ad campaign.
When you calculate cost per lead, your audience, ad creative, and funnel strategy can have a huge impact on the results.
Monitor your results and adjust your ad campaign.
After you run your ads for a while and gather conversion data, go to the Ads Manager to take a look at your costs. To see the relevant data, you'll need to configure your columns to show custom conversions.
Facebook's Budget Optimization tool uses an algorithm to automatically optimize your budget distribution across ad sets so you can find way to save money. As with most aspects of Facebook advertising, the most effective way to identify what's working best for your business is through testing.
Attention Agency Owners, Brand Marketers, and Consultants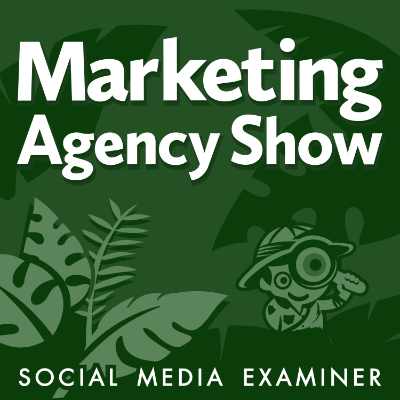 Introducing the Marketing Agency Show–our newest podcast designed to explore the struggles of agency marketers.

Join show host and agency owner, Brooke Sellas, as she interviews agency marketers and digs deep into their biggest challenges. Explore topics like navigating rough economic times, leveraging AI, service diversification, client acquisition, and much more.

Just pull up your favorite podcast app, search for Marketing Agency Show and start listening. Or click the button below for more information.
CLICK HERE FOR THE DETAILS
The same is true for identifying your ideal audiences to save money. By setting up multiple ad sets, each targeting a different audience, you can gather data that will help you determine which audience is performing best within your current campaign.
When you're running ad sets with different audience sizes, it's recommended to set budgets proportionally based on individual audience sizes. This helps ensure that your budget has equal potential with each audience.
Need to lower costs further?
Building engagement on your posts sends positive signals to the Facebook algorithm, which can boost your reach, increase the size of your warm audience, and ultimately lower your advertising costs. Here are three tips for building engagement that delivers better ad results.
Reuse successful tactics from posts with high engagement rates.
The engagement rate is the percentage of people who enjoy your content so much that they interact with it (react, comment, share, click) after seeing your posts in their news feed.
Create content with conversation in mind.
If you want better results from your campaigns, build your Facebook page authority while creating community. Teach, ask questions, and engage in a dialogue on your page. The more people who interact with your Facebook posts, the more relevant the algorithm will find the content, ultimately serving it up to more people and growing those warm custom audiences for retargeting.
Supercharge the conversion with engagement looping.
To supercharge these tips, try a little trick called "engagement looping." When responding to comments on your posts, encourage more dialogue with your Facebook page audience. When you do this, Facebook will begin showing your page content organically to the friends and family of the people interacting with your content.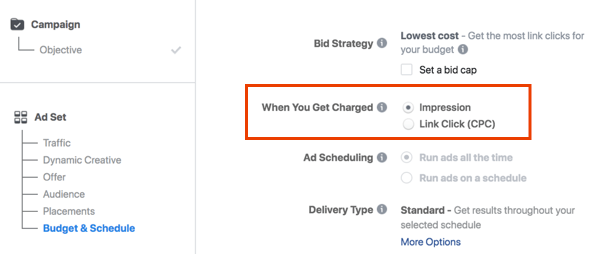 One way to manage costs is to choose whether you get charged by the cost per click (CPC) or cost per mille (CPM).
When you opt to be charged by link click, you'll be charged by CPC. This means you'll only get charged when someone clicks a link in your ad. When you opt to be charged by impression, you'll be charged by CPM. This means you'll get charged every time an impression of your ad is shown, with the price calculated per 1,000 impressions.
Which is right for you?
You only get charged when someone clicks your ad, so in theory, if your ad doesn't get many clicks, you'll initially be getting thousands of impressions for free. This charge type also acts as a safeguard against paying lots of money if your ad isn't performing well.
The downside is that if your ads perform well and you get a high click-through rate, you'll pay for every click. Your CPM will rise and you'll be paying a high price for that great performance.
If you're not spending a lot of money and aren't running experiments with different audiences, sets, and ad variations, and are putting a lot of effort into optimization, choosing Link Clicks is likely a good option.
Facebook's Automated Rules feature is another way to manage your Facebook ad spend more effectively.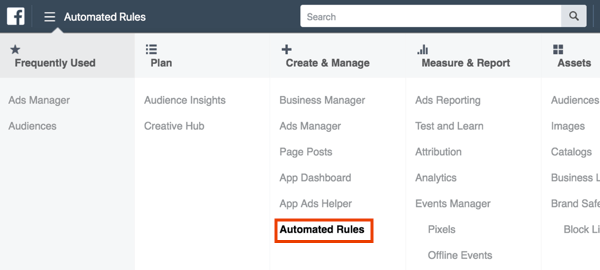 Facebook's automated rules feature is a hidden gem for improving Facebook ad performance without relying on manual optimization. It can save busy Facebook advertisers time, energy, and resources.
By combining different KPI metrics when defining rule conditions, you can design your custom automation workflow on Facebook. It may require some trial and error to find the right automated rules, but it's worth the investment.
With automated rules, you set predefined conditions for key performance indicators (KPIs) such as likes, reach, and leads, and ad campaign elements (campaigns, ad sets, ads, etc.) in your Facebook ad accounts. Facebook will check the condition you set at specific time intervals, and when a campaign meets that criterion, it will take your predefined action, essentially saving you time and money.
How to Test Facebook Ads
The Facebook Dynamic Creative ad tool is an effective way to test Facebook ad variations automatically.
The tool delivers the best combinations of your ad creative assets. It runs different combinations of your ad components, such as images, videos, titles, descriptions, and calls to actions, across your target audience to determine which combinations produce the best results.

Before the introduction of this feature, you had to create fully formed ads individually and test them manually to find the most effective ad creative and the best ad-to-audience fit. Dynamic Creative automatically randomizes ad variations for you, making it easy to show the right ads to people. Facebook lets you use up to 30 creative assets, including:
Five title/headline variations.
10 images or 10 videos.
Five text variations.
Five descriptions.
Five CTA button variations.
Sometimes, improving your Facebook ad performance means making sure your ads don't overlap audiences.
A byproduct of this phenomenon is ad fatigue — What happens when your audience has seen your ad too many times, which can reduce its effectiveness. Some reactions are as harmless as ad blindness, where your ad simply becomes a constant in their ever-changing news feed. Other times, users get annoyed to the point that they're blocking or leaving negative comments on your ads. The three ways ad fatigue can happen are:
When you oversaturate a small audience.
Social channels allow you to build specialized audiences around certain demographics, interests, and so forth. But that level of control can sometimes affect performance. It's much easier to oversaturate an audience of 2,000 people than a group of 200,000, or 2.1 million in a 1% U.S. lookalike audience.That's not to say you should only target audiences with hundreds of thousands or millions of users. Sometimes highly targeted, smaller audiences can be very valuable. But it's important to scale your daily budget to relative audience size.
When your ads are not overly creative.
Not refreshing creative is the biggest cause of ad fatigue. Even if you're marketing to the same audience, do an updated round of creative. It can go a long way toward preserving your audience's patience.
When you do a poor job of audience targeting.
A person might have visited your site, had the interests you're targeting, and was put in your lookalike audience by Facebook. If you don't take any action, this person could see your ad three times as often as someone in only one of the audiences. Preventing audience overlap takes some planning, a few handy tools, and patience, but it can make a big difference in campaign performance.
How to Establish Facebook Messenger Ads
Facebook's Messenger app allows for one-to-one messaging between users. It's also another potential platform for your company's advertising. Facebook ads can be displayed inside the Messenger app on the Home tab, which increases the likelihood that people will interact with your brand or business.
You can also export user data from your Messenger app subscribers to create custom and lookalike audiences that you can later use to serve targeted Facebook ads. These users are typically highly engaged and super-familiar with your business and content, making them an ideal audience for marketing your products. When you target warmer audiences, you'll find you convert at a higher rate and your ads cost less.
You can also create a lookalike audience based on your custom audience. While the custom audience is a near-replica of your subscribers, the lookalike audience is made up of people who are very similar to your subscribers. Targeting this lookalike audience can help you grow your subscriber base with like-minded users.
How to Combine Facebook Ads with Facebook Video
Like Facebook Messenger, Facebook video is another platform within Facebook to host advertising for your company. Facebook Live allows users to broadcast streaming video as it happens in real time to other users within their network. A good strategy looks like this:
Start with at least four Facebook Live videos.
These Facebook Live videos need to provide valuable content that helps your target market. First you need to research what people want to watch via a Facebook poll.
Develop a warm audience by boosting live video posts.
It costs about $1 per day. Keep in mind that these low-cost ads will save you even more money when the reach of your videos allows you to retarget warm leads later in this process.
Drive organic video views from other channels to augment your warm audience.
Promoting a post helps, but you should expand your reach through organic methods too. Expand the reach of your live video by posting it in Facebook groups and other social networks.
Create a lead magnet landing page.
After you post several Facebook Live videos and follow the steps to promote those videos on Facebook and beyond, you should have an established (or warm) audience. Your next step is to convert them.
Create free content such as an ebook, guide, webinar, or another piece of collateral.
Make sure the collateral you create relates back to the Facebook Live videos. Doing so improves your chances of snaring leads interested in your offer. Then create a landing page where anyone interested enters their name and email address to receive a file, clicks a button to sign up for a webinar, or otherwise takes action to accept your freebie.
Deliver your offer via a Facebook ad that retargets your warm audience.
The final step is to create a retargeted Facebook ad that drives traffic to your landing page. The people you want to retarget are those who saw your previous Facebook Live videos.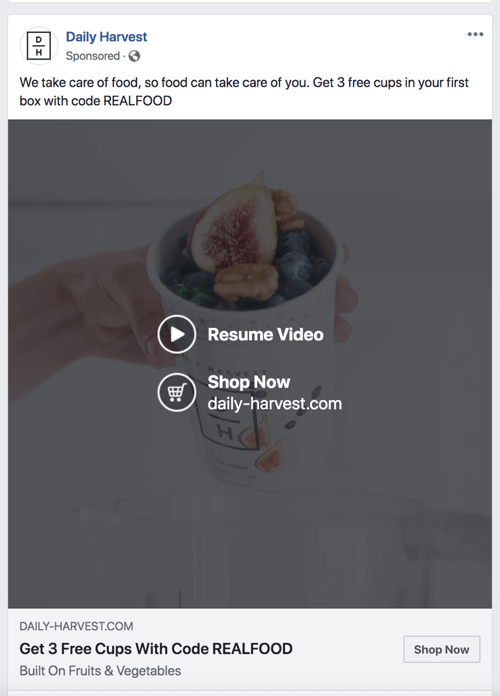 Of course your video makes no impact if viewers don't watch it all the way through. Among the ways to make sure viewing reaches completion every time is to optimize your video's text and thumbnail attributes and determine the right day and time when you release the video to the public.
Facebook In-Stream Video Ads might just represent the most impactful form of video advertising. This kind of ad placement lets you show mid-roll video ads to viewers who are watching video content from select creators and publishers such as ESPN, VICE, CNN, The New York Times, and others. The ads can be 5-15 seconds in length and not skippable by viewers.
Your ads are delivered to a targeted audience that has been viewing a video for at least 60 seconds, meaning they're engaged and more likely to pay attention to your message. If you combine this feature with well researched and targeted audiences, it could be an effective ad type for you.
In addition to the Facebook news feed, you can select the Audience Network placement to reach a targeted audience outside of Facebook.
How to Analyze and Improve Facebook Advertising
Analytics are key to understanding which ads work and which ones don't. Facebook Analytics is a robust tool that lets marketers explore user interaction with advanced goal paths and sales funnels for Facebook ads.
Facebook Analytics is a free tool, but it's designed to work with Facebook Ads which do have a cost attached to them.

In the past, Facebook allowed you to see only the last touch point in your funnels. For example, if someone interacted with seven of your posts but purchased on the eighth interaction, only the final interaction would be given credit for the conversion. Now you can see the full interaction path to the conversion, rather than just the last touch point.
Google Analytics works with Facebook to measure conversions from your Facebook ads. In other words, tracking where people are coming from before they land on your website. You can also use Google Analytics to track the actions people take while they are on your website. Those actions can include:
Subscribing to an email list.
Viewing product pages.
Adding to their shopping cart.
Viewing your landing page.
The goal is to apply these insights into your advertising via Facebook and to track your return on investment for the ads themselves.
Google Data Studio is a good way to report on and visualize your social media campaign. You can use this tool to create easy-to-update reports on your website, Facebook, or other social media marketing campaigns. Google Data Studio is free. You can share reports with clients and team members, and import data from multiple sources to gain a holistic, 360-degree view of your digital activities.
To get started with Facebook Analytics itself, all you need to do is select your Facebook pixel, which will start providing you data. Then you need to create an event source group, or ESG, which connects your Facebook business page and Facebook pixel, so you can draw from more data sources like a Messenger bot. The dashboard shows real-time aggregate data of all your sources and you can see how they work together.

During this process it's important to understand how Facebook Attribution works. When people interact with your Facebook ads, their actions — watching a video, visiting your website, etc. — are recorded. Each time your ad leads to a conversion, Facebook will credit, or attribute, the ad in Ads Manager so you can see how well your campaign is doing and determine if you are reaching your targets.
If you have a campaign that is working well, it's time to scale up to net more customers. The way to do that is to set up your Ads Manager dashboard to ensure you're viewing the most up-to-date data. The most ideal time window is over the last seven days. From there you can see which ad sets have high customer acquisition costs. Pause any ad sets with a cost per result that's at least double your expected costs.
The best way to monitor performance of your Facebook ads is to generate reports through Facebook Ads Manager. The reports will reveal which ads are working best in reaching your targets and which ones are falling behind. By analyzing your campaign performance on a consistent basis, you'll be able to quickly spot fluctuations in campaign metrics that signal a need for testing refreshes or reveal winning Facebook ads you should scale.
Analyzing four core metrics — cost, relevance, frequency, and cost per mille, or CPR — helps you identify and assess the performance of your campaigns and the ads within them.
Cost per Result
This cost metric isn't your overall spend or amount spent on each of your campaigns; it's your cost per result based on your campaign objective and ad set optimization. If you've set a daily budget and aren't scaling your campaigns, and you see your cost per result decreasing, your campaign results will be increasing.

Relevance Score
The next metric to look at is relevance. A relevance score is a rating from 1–10 that Facebook gives to each of your ads. This score reflects the ad-to-audience fit and how well people are responding to your ad. This metric can be viewed only at the ad level of your campaigns.
If your relevance score increases over time, you'll typically see your cost per result decrease and your campaign performance rise. On the flipside, when your relevance score is decreasing, you'll find your cost per result increasing, indicating your campaign performance is decreasing.
Frequency
The third metric to look at is frequency. Frequency is a delivery metric that tells you how many times on average someone has seen your ad. Your frequency will always start at 1 and increase over time as you spend more of your campaign budget and reach more of your target audience.
As your frequency increases to 2, 3, 4, 5, and so on, you'll notice that it impacts your cost per result and relevance score. The higher your frequency, the more people are seeing the same Facebook ads.

CPM
Finally, look at CPM, which is an acronym for cost per mille. This is your cost per 1,000 impressions. As your frequency increases and you reach more of your target audience, your CPM will start to increase. This means that it's now costing you more for 1,000 impressions than it previously did. This will have an effect on cost, relevance, and frequency metrics.

Tune in to Stay Current With Facebook Tactics and News
Social Media Examiner offers two weekly audio podcasts and a weekly live video talk show to help boost your marketing skills and keep you up to date with the ever-changing world of social media.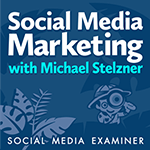 The Social Media Marketing podcast, a top-10 marketing podcast on iTunes, is a weekly 45-minute interview show hosted by our founder, Michael Stelzner. To discover how successful businesses employ social media, learn new strategies and tactics, and gain actionable tips to improve your social media marketing, subscribe to the podcast on iTunes/Apple Podcast | Android | Google Play | Stitcher | TuneIn | RSS.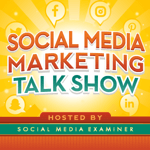 The Social Media Marketing Talk Show is a weekly 1-hour live video show that features expert commentary on the week's top news in social media and what it means for marketers. Broadcast on Crowdcast, the show is simulcast each Friday to Facebook Live, Periscope, and YouTube. You can also listen and subscribe to the podcast version on iTunes/Apple Podcast, Android, Google Play, Stitcher, or via RSS.

3 Days of World-Class Training—Zero Travel!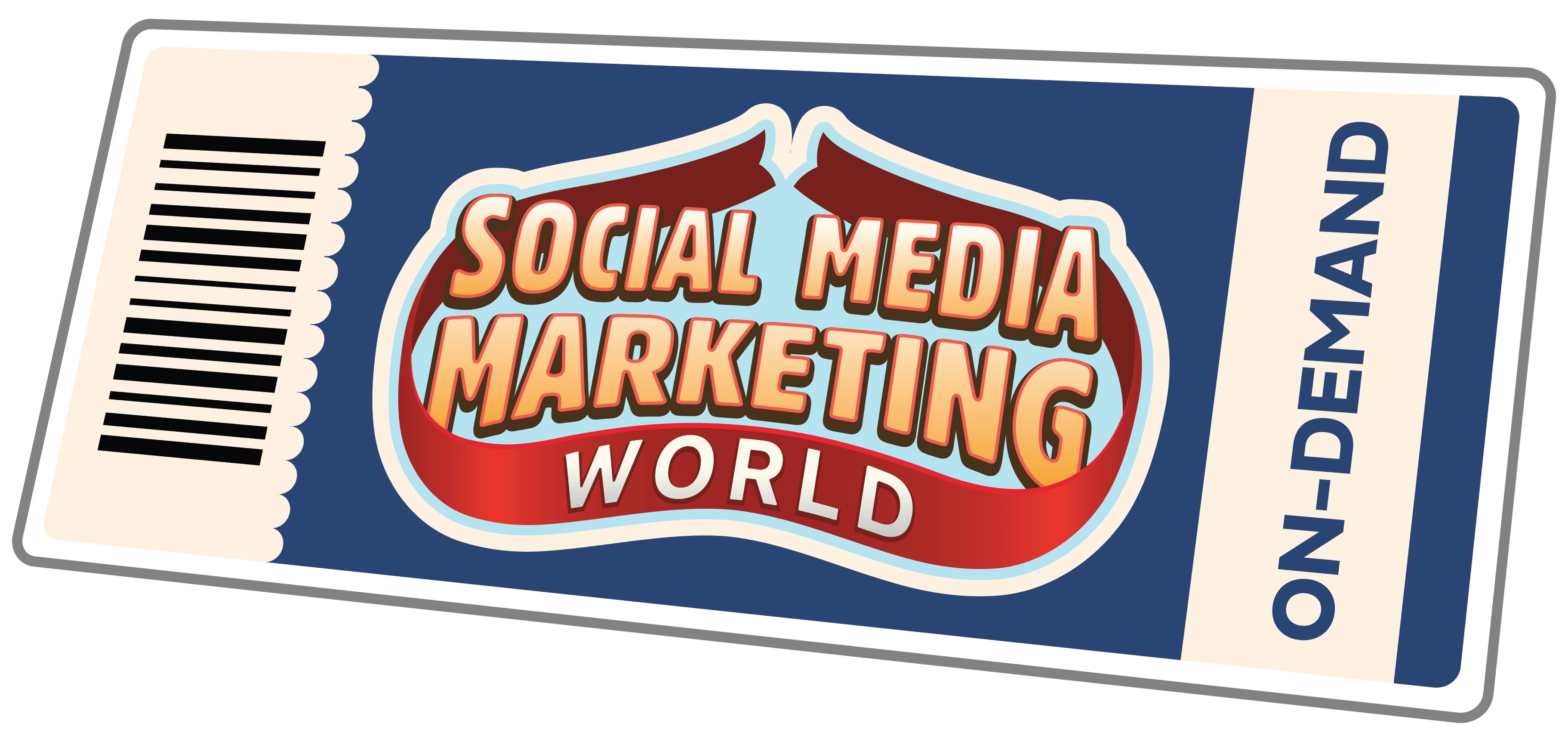 Travel to Social Media Marketing World off the table? Get all of the great content at a fraction of the price with an On-Demand ticket.

That's full access to recordings of every keynote, workshop, and session—the ones people travel thousands of miles to see. Don't wait. Get your On-Demand ticket and enjoy actionable content that you can watch anytime, anywhere.
GET YOUR ON-DEMAND TICKET NOW