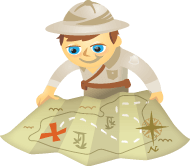 Do you want to use video for your business?
Are you looking for a resource to help you combine video with social media marketing?
Whether you're using video as an individual or as part of a team, these expert articles will help you live-stream, record, publish and market video to support your marketing goals.
Each of these articles will help you understand and master a specific part of using video for business.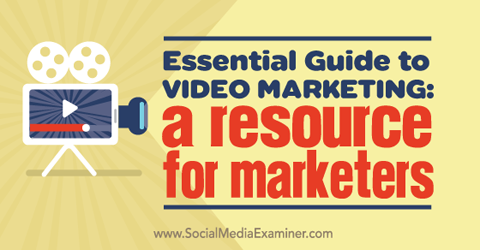 Explore Video Tools and Apps
6 Video Tools to Ignite Your Social Marketing: Do you want to bring more pop to your social media marketing? Discover six tools to create and improve your social media videos.
Smartphone Video Excellence: How to Film Like a Pro: Social Media Marketing Podcast 205. In this episode Justin explores how to use your smartphone to create excellent recorded and live video.
14 Video Tools for Social Media Marketers: Find tools to help you create screencasts, montages and slideshow video.
How to Create Awesome Online Videos: Tools and Software to Make it Easy: Do you want to use video to market your business online? This article shows tools and resources for creating online videos to market your business right now.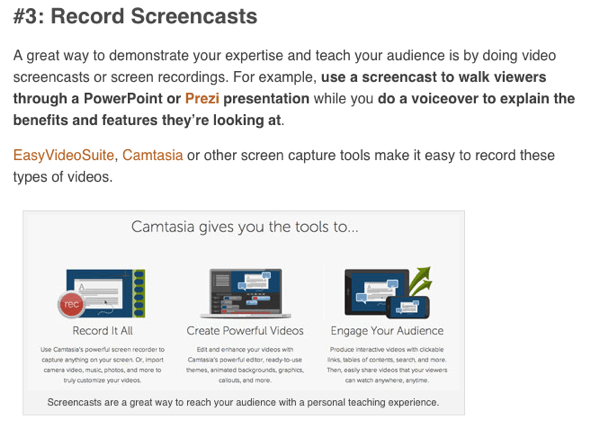 How to Create Social Videos With Your Smartphone: Are you using social videos to promote your brand? This article shares how to shoot, edit and share fun and engaging social videos with your smartphone.
Create Video
How to Easily Create Your Own Video Show: Want to position yourself as an industry expert? Discover how to use video to increase your visibility and deliver value to your followers on social media.
Facebook Live
Facebook Live: What Marketers Need to Know: Have you heard of Facebook Live video? Discover how to broadcast with Facebook Live and use Live video in your marketing.
5 New Facebook Live Video Features for Marketers: Want to learn more about Facebook Live? Discover what marketers need to know about the newest Facebook Live video features.
Get Expert Social Media Marketing Training from the Pros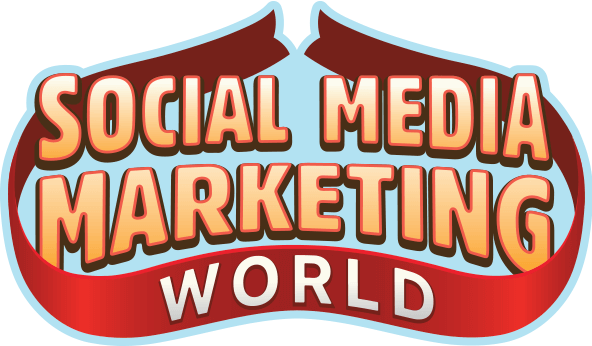 Want to get ahead of the competition or learn how to diversify your strategy?
Learn from dozens of the industry's most trusted experts, rub elbows with other smart marketers, and take your marketing to the next level during this 3-day event in sunny San Diego, CA.
CLICK TO LEARN MORE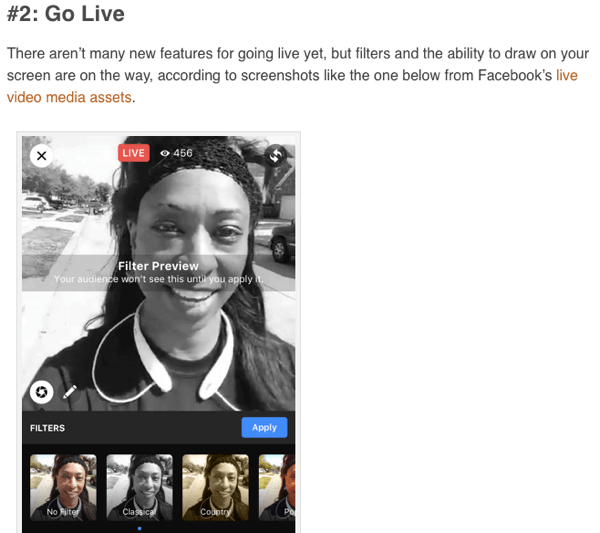 5 Tips for Better Facebook Live Broadcasts: Thinking of going live on Facebook? Discover five tips to succeed with your next Facebook Live broadcast.
How to Repurpose Your Facebook Live Videos: Do you want more mileage out of your Facebook Live broadcasts? Discover how to repurpose your Facebook Live videos on other social media platforms.
3 Facebook Live Examples That Generated Sales: Looking for ways to use Facebook Live for business? Discover how three companies used Facebook Live to generate sales and how to adapt their tactics.
3 Ways to Use Live Video for Small Businesses: Do you want to generate more interest for your business? Discover three ways small business owners are using live video to connect with customers.
Instagram
8 Ways to Use Hyperlapse Video From Instagram: Does your business use Instagram? This article shows how businesses are using Hyperlapse video to engage Instagram followers with short-form video.
YouTube
YouTube Strategy: How to Plan Your YouTube Marketing Success: Social Media Marketing Podcast 168. In this episode Owen Hemsath shares how to put together a YouTube strategy and monetize your YouTube videos.
4 Tips to Improve Your YouTube Marketing: Could you use some new ideas to improve your YouTube results? Discover four tips to make your YouTube marketing more effective.
Vine
Vine: Short Videos and What Marketers Need to Know: In Social Media Marketing Podcast 108, Zach King shares how he uses Vine video.
How Brands Are Winning With Vine Videos: 10 Examples: Do you use Vine as part of your Twitter marketing? This article shows 10 fun ways companies use Vine in their Twitter marketing.
Improve Visibility for Your Video and Video Channels
How to Get Your Videos to Perform in Search: Social Media Marketing Podcast 202. In this episode Amy Schmittauer explores how to get your videos to perform better in search.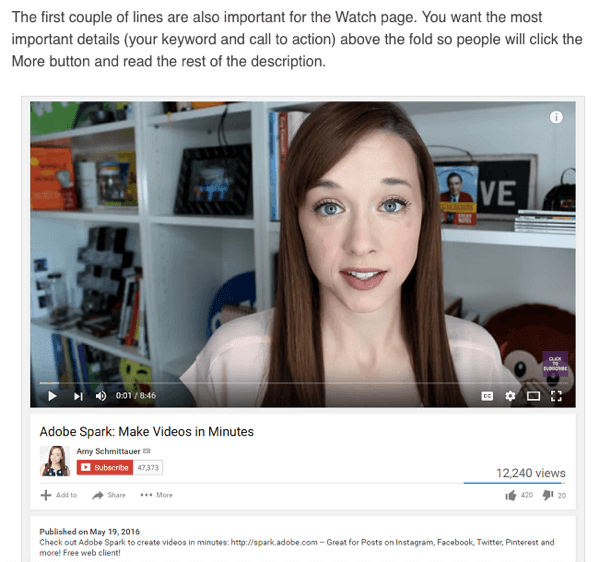 How to Boost Your YouTube Visibility: Do you have a YouTube channel for your business? In this article you'll discover how to boost visibility for it.
6 YouTube Tips to Improve Your Search Rank: Are your YouTube views falling? This article shares how to make your video rank higher in YouTube search results.
How to Grow Your Periscope Audience With Twitter: Do you want more followers on Periscope? Discover how to build a Periscope audience with Twitter.
Analyze Video
3 Ways to Analyze Facebook Video Performance: To make informed decisions about using video on Facebook, you need to understand how your fans view it. Discover 3 ways to analyze video posts on Facebook.
Advertise With Video
How to Create Facebook Video Ads: A Step by Step Guide: Interested in creating Facebook video ads? This article shares a step-by-step guide to designing and recording your own Facebook video ads.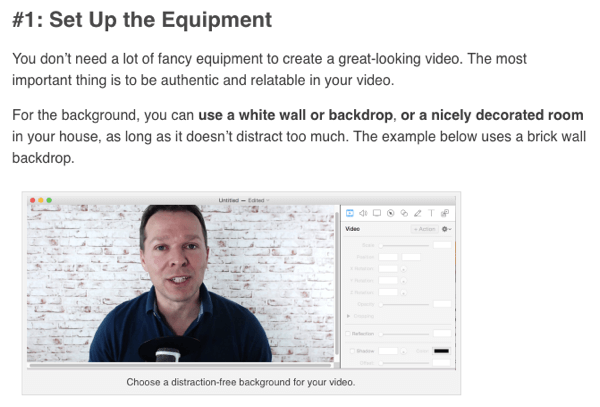 How to Make Better Facebook Video Ads: Have you tried Facebook video ads? In this article, you'll discover seven tips to improve your Facebook video ads.
How to Make Instagram Ads That Stand Out: Ready to take your Instagram ads to the next level? Discover four features you can use to create Instagram ads that stand out.
How to Create a Facebook Video Ad That Moves People to Action: Are you using Facebook video ads for your business? This article shows five steps to crafting the perfect Facebook video ad.
YouTube Ads: What Marketers Need to Know About YouTube Advertising: Social Media Marketing Podcast 172. In this episode Derral Eves will explore YouTube ads and what marketers need to know.
To find more tips, tactics and strategies, view a complete library of social media video articles.
What do you think? Which articles have helped you improve your social media marketing with video? Which articles have you used for your video marketing resources? Please leave your thoughts and comments below.
Social Media Examiner article images created with Placeit.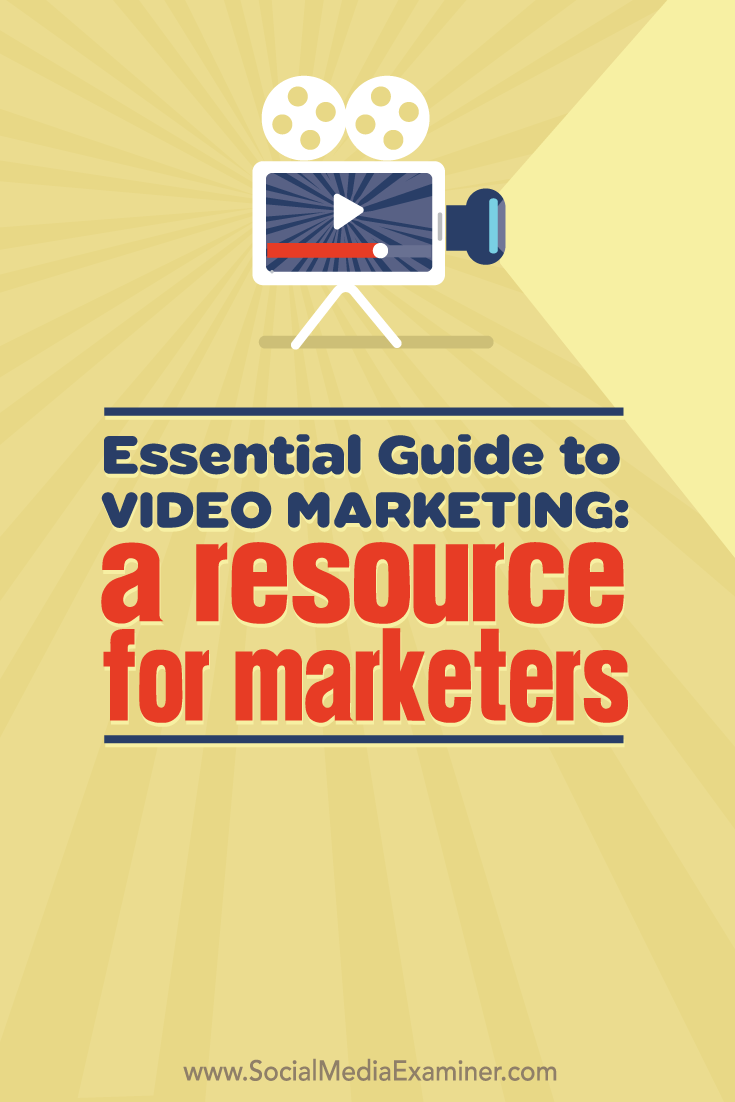 Experience The World's Largest Social Media Conference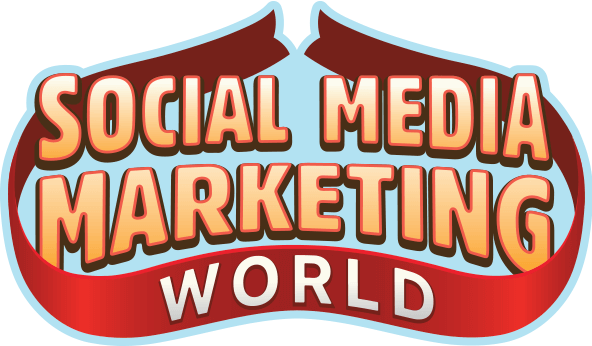 Quality marketing training, actionable takeaways, and beneficial connections—that's just a fraction of what you can expect at Social Media Marketing World! Join thousands of smart marketers in sunny San Diego this spring and level up your marketing.
🔥 Sale ends Tuesday! 🔥
GET TICKETS NOW