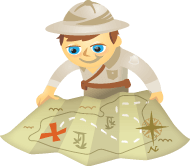 Are you interested in live video?
Want to learn more about Facebook Live?
Facebook Live has expanded its features, providing you with new Facebook marketing opportunities.
In this article you'll discover what Facebook marketers need to know about the newest Facebook Live video features.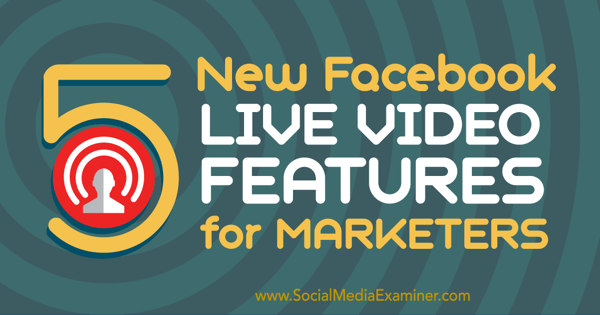 Listen to this article:
Where to subscribe: Apple Podcast | Google Podcasts | Spotify | RSS
#1: Post Live Video to Your Profile, Pages, Groups, and Event Pages
The first of the new features with Facebook Live video relates to where you can broadcast. For starters, everyone should be able to broadcast live video to a personal profile, which is visible based on the settings you choose (public, friends, etc.).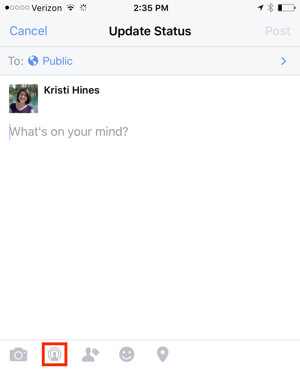 Second, you should be able to broadcast live video to your Facebook pages, which will automatically have public visibility. You need to navigate to your Facebook page within the main Facebook app and tap on the Publish button.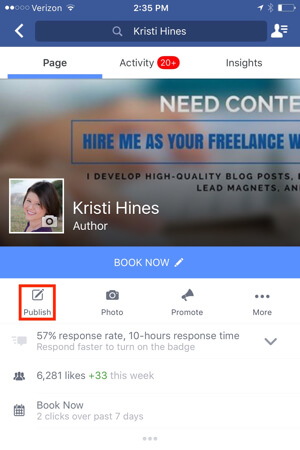 There, you'll see the option to post live video as your page if it's available to you.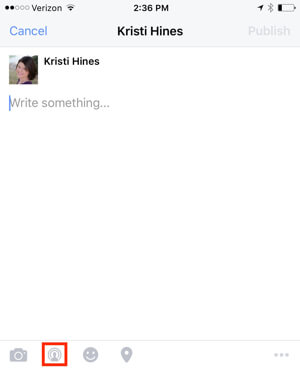 Third, you should be able to broadcast live video to most of the Facebook groups you belong to. It will be visible to anyone who can see posts within that group. The visibility of your live video in groups is based on the privacy settings of the group itself.
Also refer to each group's rules as to whether it allows live video posts. The group mentioned in the following example does not.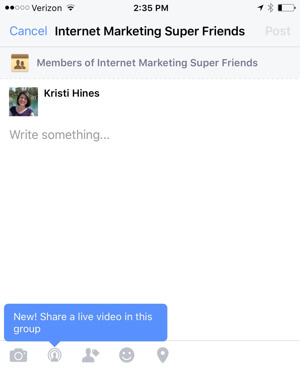 Finally, you should be able to broadcast live video to most event pages if you've been invited to the event and have responded as interested or going, which is visible to anyone who can see the event. This visibility is determined by whether the event was created as public or private.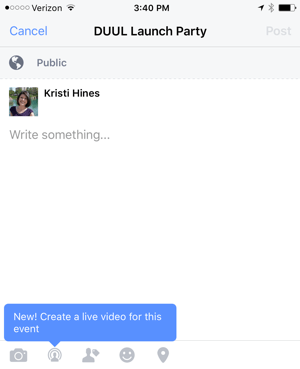 Considerations for Group and Event Admins
For Facebook group and event admins who want to create live events for their group members and event subscribers, live video is going to be a great tactic to use. This will be especially beneficial for private mastermind and membership groups that want to go the extra mile with private Q&A sessions, special guests, and other value-add bonuses.
As far as moderation goes, however, there are no controls to limit who can post live video to Facebook group and event pages. If members can post a status update to your group or event page, they can post live video. As CEO of Social Chefs and Facebook group admin Christian Karasiewicz noted, "The core principle is you need to build a manageable but engaged group. Kind of like Cheers, where everyone knows your name."
Get Expert Social Media Marketing Training from the Pros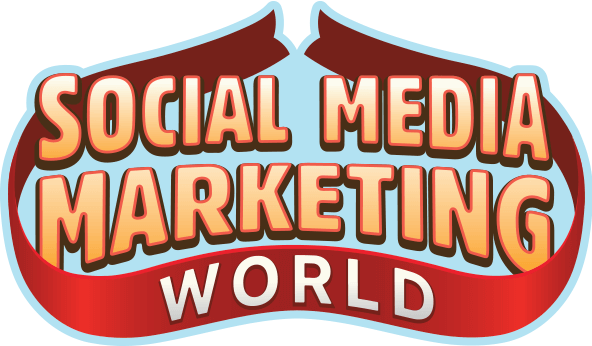 Want to get ahead of the competition or learn how to diversify your strategy?
Learn from dozens of the industry's most trusted experts, rub elbows with other smart marketers, and take your marketing to the next level during this 3-day event in sunny San Diego, CA.
CLICK TO LEARN MORE
If you haven't done this, moderating the live video content posted to your groups and events could be a tricky issue. It's much simpler to scan a text post or click through to a link to see if the content is self-promotional or questionable. Watching a lengthy live video, or one that's currently being streamed, is a completely different matter. This has forced some admins to implement a no live video rule, deleting live video posts as soon as they appear.
While there are no current settings for admins to specifically stop people from posting live video, there are general settings that would allow all posts to require moderation before going live in a group.

General moderation settings for events will usually look like this.

#2: Go Live
There aren't many new features for going live yet, but filters and the ability to draw on your screen are on the way, according to screenshots like the one below from Facebook's live video media assets.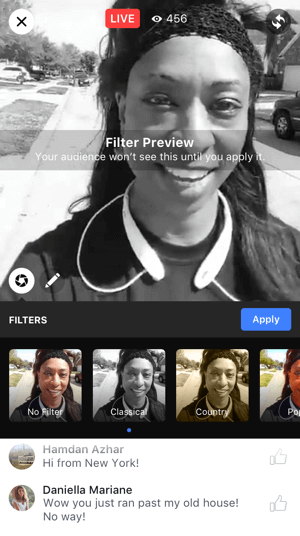 Until then, your experience will look like more like this. When you're ready to go live to any of the above-mentioned areas, start by entering your status update and tapping the live video icon. Then, enter a description for your live video.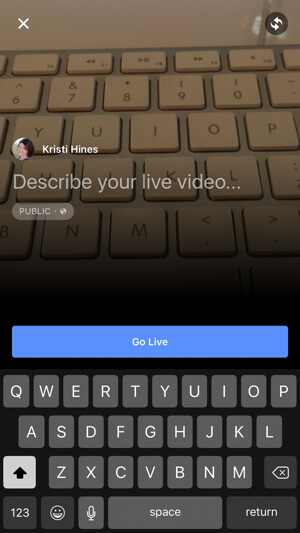 When you tap the Go Live button, you'll see a simple countdown timer to get you prepared to be live. You can tap on the icon at the top right to switch from your front-facing to rear-facing camera throughout your broadcast.
Become the Social Media Marketing Rockstar for Your Business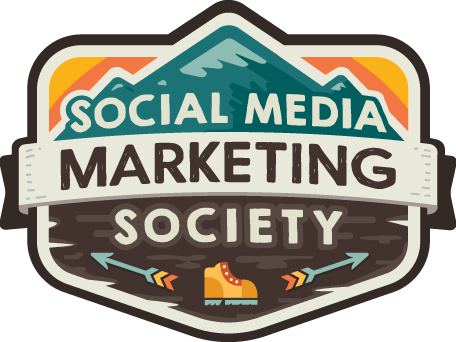 Meet your secret team that makes you look like a social media genius and empowers you to embrace change! We're a genuine community of marketers from your friends at Social Media Examiner. And we're here to support you. Think of us as your career insurance policy. We keep you focused on what matters. We make sure you won't be left behind as the changes keep coming. Join the Social Media Marketing Society. Get access to monthly online training, expert support, and a thriving community of marketers who will empower you to succeed.
JOIN NOW - CLOSES SOON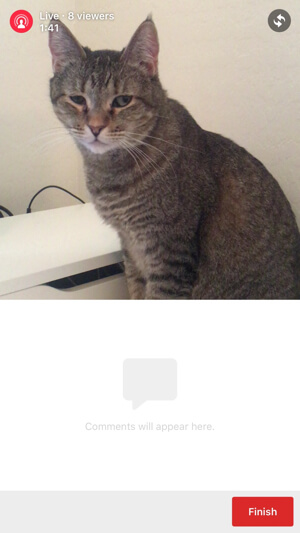 Once you go live, look at the top left to see how long you've been broadcasting along with your current number of live viewers. At the bottom, you'll see comments and reactions from your viewers. When you're finished with your broadcast, tap the Finish button to end.
At that point, you have the option to save the video to your camera roll and upload an HD version of your video to your personal profile, page, group, or event page.

#3: Get Additional Live Video Insights as a Page Owner
After you end a live video session on your Facebook page, you'll get immediate insights into how many people watched your live video. This comes in addition to the options to upload HD video and save the video to your camera roll to share on other networks.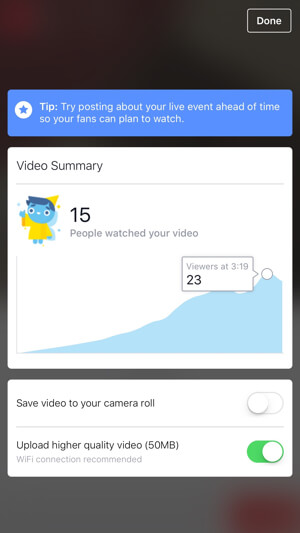 While you can't boost live video while it's broadcasting on your page, you'll have the option to boost the post once the broadcast has ended, like any other post.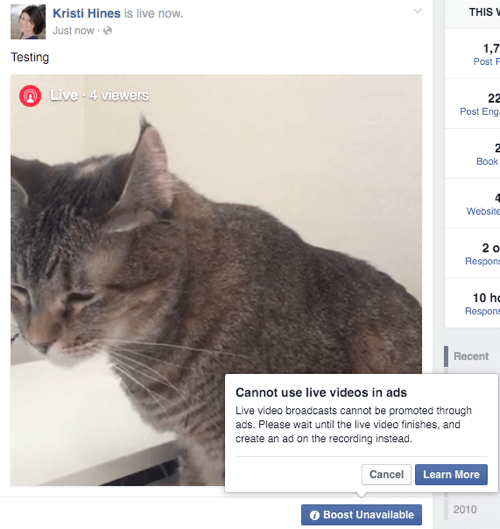 In addition, you can go to your Insights to see analytics for your video in the most recent posts section.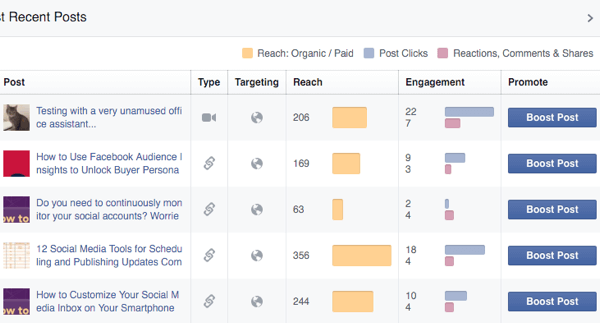 These insights will include analytics for the live video broadcast.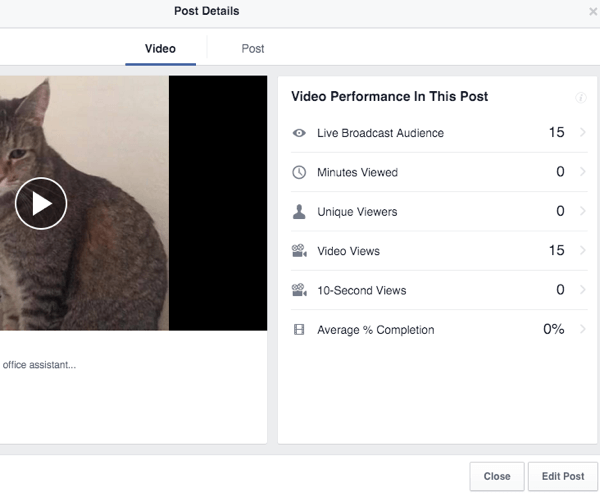 You'll also get analytics for the post itself after the broadcast has ended.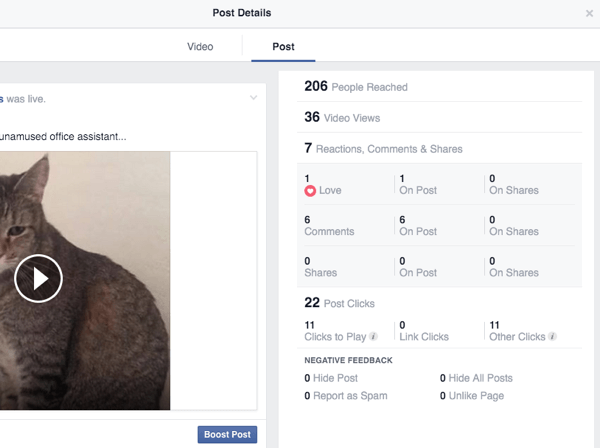 Based on Facebook's push for live video, your Facebook page could get a significant boost in engagement by taking advantage of this feature while Facebook is eagerly promoting it.

After your video has gone live, people will have the option to subscribe to follow your future live videos.

#4: Engage With Live Video Using Comments and Reactions
Another new feature with Facebook live video has to do with how live video viewers can engage during a broadcast. Before, viewers could only comment. Now, viewers can comment and send reactions, which float across the video screen like hearts on Periscope and props on Blab.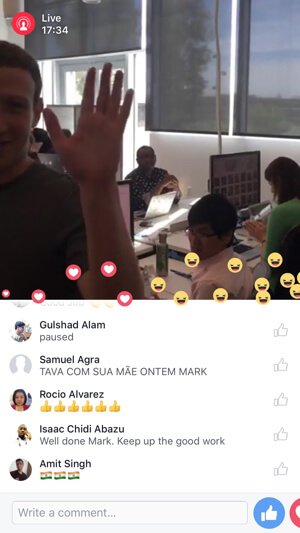 Viewers can add a comment in the comment box or send a reaction by sliding the comment bar to the left.

#5: Discover Live Video in New Ways
Besides subscribing to your favorite live video broadcasters, Facebook plans to make live video discovery simpler in a number of ways. First off, desktop users can find live video broadcasters using the Live Map feature. Please note that what you find won't always be safe for work.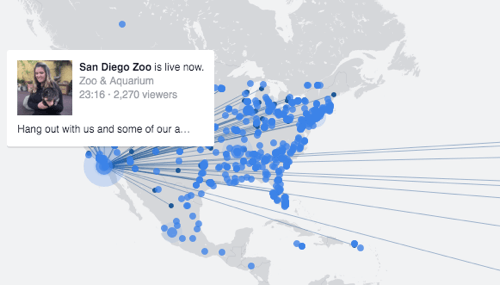 Facebook will also update several areas to highlight live video. For example, there will be live video markers in search and trending topics in the Facebook app, as shown in this screenshot from Facebook's live video media assets.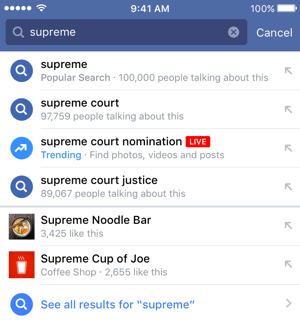 Live video will also be at the top of the video search results in the Facebook app, as shown in this screenshot from Facebook's live video media assets. You can also see that the Messenger icon will be swapped out for a Videos icon.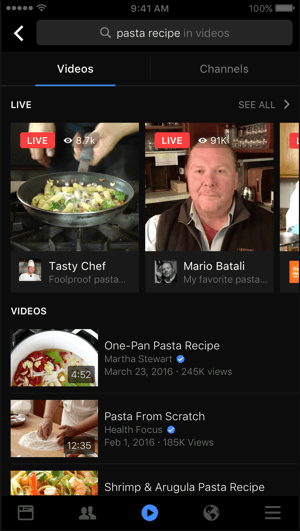 So as you can see, Facebook is going to be investing a lot in live video in the near future. Therefore, you probably should be, too!
In Conclusion
Facebook Live has the potential to take over all of the other live video broadcast apps on the market.
The screenshots throughout this article are from the iPhone Facebook app, although some Android users may also have access to these features.
What do you think? How do you plan to incorporate live video into your marketing plan? Be sure to let us know in the comments below!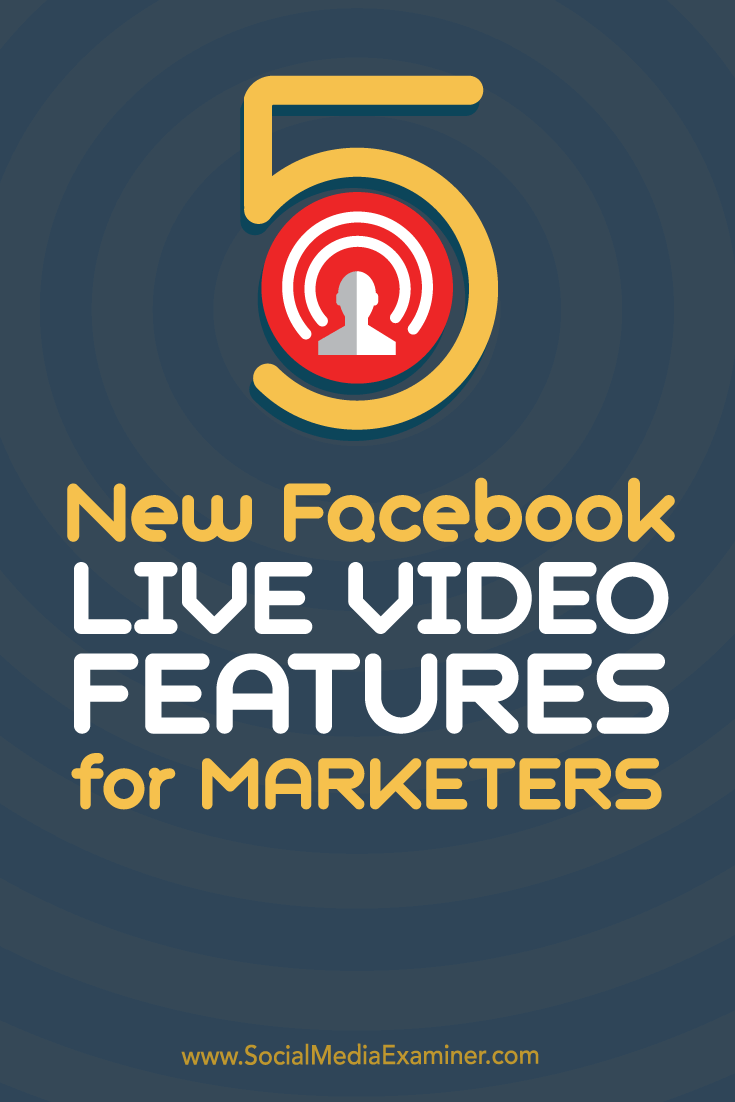 Experience The World's Largest Social Media Conference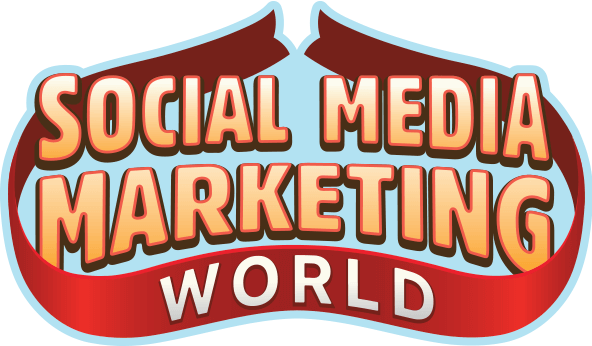 Quality marketing training, actionable takeaways, and beneficial connections—that's just a fraction of what you can expect at Social Media Marketing World! Join thousands of smart marketers in sunny San Diego this spring and level up your marketing.
🔥 Sale ends Friday! 🔥
GET TICKETS NOW