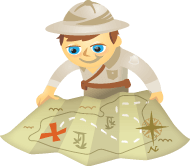 Looking for ways to use Facebook Live for business?
Interested in what's working for others?
Facebook Live broadcasts can help you expand your current audience and get new clients and customers.
In this article, you'll discover how three companies used Facebook Live to generate sales and how to adapt their tactics for your own business.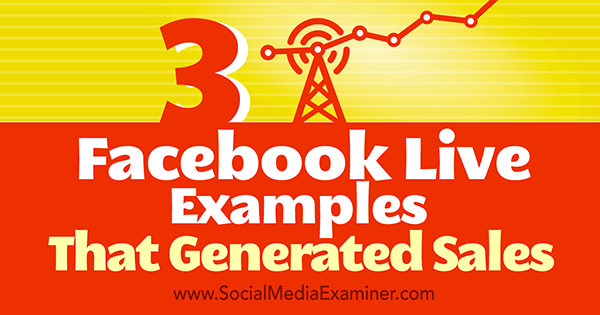 Listen to this article:
Where to subscribe: Apple Podcast | Google Podcasts | Spotify | RSS
#1: Broadcast a Milestone Celebration
Results Fitness Santa Clarita decided to do a Facebook Live flash mob to celebrate their 16th anniversary. Although the culminating event seemed impromptu, weeks of planning went into it.
Here's how they did it.
Build Excitement With a Story
Fitness professionals and gym owners Rachel and Alwyn Cosgrove started the celebration by sharing their stories. To build up anticipation, they shared a different post (part 1, part 2, part 3, and part 4) on the first four days of anniversary week.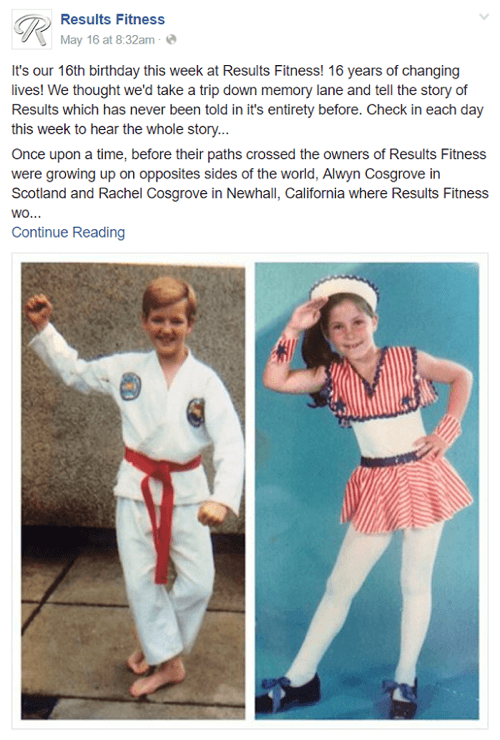 In preparation for any event, do whatever you can to make it personal. Build a genuine rapport with your audience and they'll be even more invested in what you have to say when you go live.
Plan the Event
While Rachel and Alwyn needed to get permits from the city (in addition to other requirements), your planning might be as simple as picking a date and planning the event.
They also started a secret Facebook group to coordinate. Fitness instructors, participants (gym members), and anyone involved with the flash mob itself were invited to the group. This made it easy to share practice times and other logistics.
Build Buzz With a Live Pre-party
To get their Facebook fans excited about the big surprise, Results Fitness broadcasted the pre-party. The owners, staff, and guests were interviewed live.
A behind-the-scenes pre-live can help you generate anticipation for a surprise event.
Broadcast Live
The Live flash mob went for 9 minutes and got 360 views.
With a performance Live such as this, in-the-moment interaction via comments is less likely. However, you could always stay on afterwards and engage with your audience.
Post the Highlights
Rachel and Alwyn created a 3-minute highlight reel from the flash mob and uploaded it after the fact. It received 400 views the day it posted.
Whether you post a sizzle reel, a clip, or the event in its entirety, do some form of follow-up. Thank those who attended and shared in your celebration, too.
Results: Because of the flash mob and all of the Facebook interaction surrounding it, memberships at Results Fitness increased. People loved the fun and wanted to become part of the culture of the gym.
#2: Stream an Online Sale
The Funky Fairy is an online store based in the United Kingdom that sells personalized, embroidered gifts for kids. Owner Vicki Stewart decided to do a sale via Facebook Live to liquidate the personalized items with kids' names in her overstock inventory. Here's the process:
Plan and Have a Sale
The Funky Fairy did three sales over four days. Each was a stand-alone Facebook Live that ran about 20 minutes. The first sale went so well, Vicki did a second (the first and second each had about 7,000 views) and then a third (which got about 10,000 views).
During the Live, Vicki chatted as she showed the names and available sale items and people would comment to request the names they wanted. If customers wanted an item she didn't have on sale, they were directed to the special order page.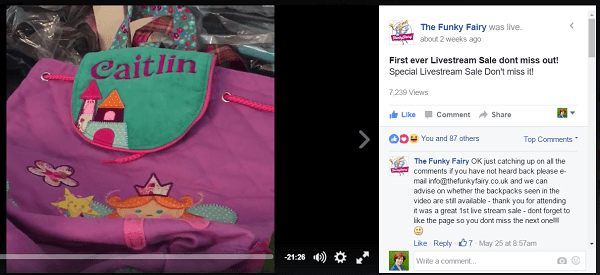 To make the most of it, do a sale on Live as a limited-time or limited-inventory sale or series. Whether the reason is summer, weekend, or closeout, always give a credible purpose. Alternatively if you're a consultant without physical stock and you want to get more of a certain type of client on your roster, offer a limited number of coaching slots for people in that industry.
Another option is to limit a sale to only people who are commenting during the Live broadcast. You can then make a different offer available to those who are watching the replay.
Engage With Viewers
As much as possible, interact and respond to comments while you're live. If that isn't an option, be sure to go back to comment after the fact to make sure you responded to everyone and met all the needs of your audience.
To avoid being overwhelmed, the best solution is to have a moderator help you out. The moderator doesn't even need to be with you. Ask a team member to respond to the comments during your Live, and take note of the comments that will need your immediate attention.
Add Behind-the-Scenes Flavor
In addition to the Live broadcasts, Vicki did a Facebook Live video broadcast showing a product being stitched. This helps give potential customers a better look at the process, so they're more invested in the product they were considering purchasing.
Do a demo or show your workspace, and invite your viewers into your space. It will increase buy-in, enthusiasm, and loyalty.
Repost and Repeat
If your Facebook Live goes well, repost it so people can see what they missed. Also, on the Live broadcast, let people know about your next Live video (you can even make your sale a weekly or monthly event), so your audience is more likely to tune in. Build their anticipation about what you'll offer next.
Result: The response to the Funky Fairy's sales was so amazing, Vicki had to expand her team.
#3: Offer a Private Q&A
Liz Melville is an online business coach and Facebook marketing professional who created the Busi-Mums Facebook group. The closed group serves as a support system for working moms who are experiencing trouble having it all. Liz provides her community with social media tips, guidance, and coaching. Every two weeks, she hosts a Facebook Live Q&A.
Start a Group
Liz's process is easy to replicate. She is very clear about her mission and she only accepts appropriate people into her group. Even though it's small, members of this targeted group are very active. Liz's Live videos get 100% reach to 100% match of her target audience.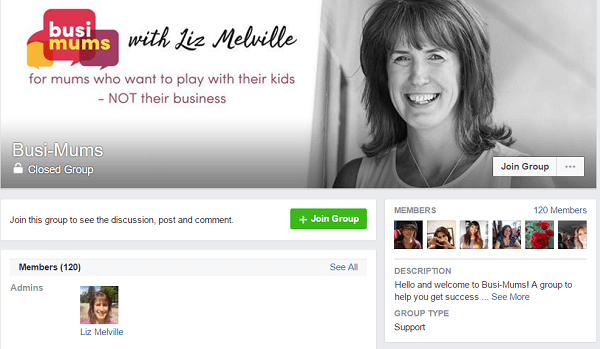 If you don't already have one, start a Facebook group as a safe haven for your peers.
Although group reach is better, you can also do Facebook Live videos through Facebook business pages (most United States companies have the ability), as well as within events for a group or page. So if you have an active business page, you can also try this there.
Create Community
Liz started the Busi-Mums community in September 2015, and it began building organically within her niche in November 2015.
She typically will post a mix of content, but with regular themes: Mantra Monday (people's focus for the week), Tell the World Tuesday (promoting offers, pages, etc.), Wisdom Wednesday (sharing tips, tricks, and advice), and Fabulous Friday (sharing successes from the week). Liz also shares tips on how to run a business online, use Facebook, create image quotes, do Live and how-to videos, and more.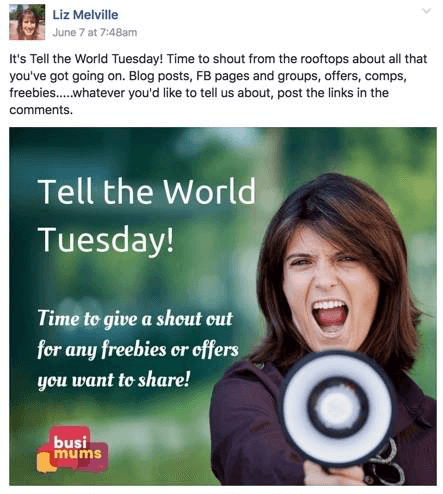 Don't just start a group and go live immediately. Share tips and post motivational images in line with the theme of your group. Also encourage members to introduce themselves and get to know each other.
Promote Your Live, Solicit Questions, and Answer Them on Air
Liz promotes her Facebook Lives in advance by sharing an image post in the group. She also promotes it on her Facebook business page (with a link to join the group) and to her email list.
While Liz will answer questions asked during the Live session, she also will curate questions beforehand. She invites her community to post questions in advance under the thread that promotes the Live video.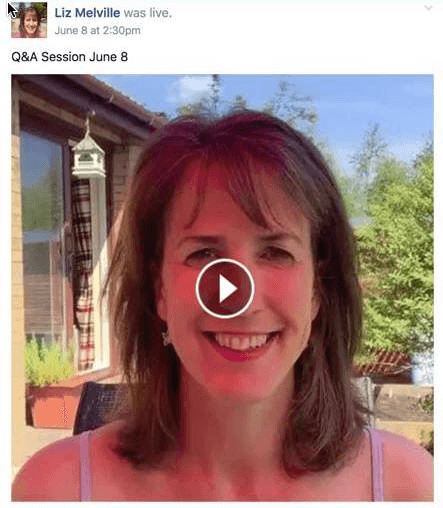 When you create an event for your Live, post a thread for people to ask questions so you can reply on air. Also interact and reply to comments as best you can.
Remember to Include a Call to Action
Liz includes a soft-sell call to action during her Live video broadcasts. She suggests viewers book a discovery session with her to review where they are with their online business, and gives the Bitly link to her online scheduler.
Several times throughout your Facebook Live, let customers know how to reach you (or schedule an appointment) if they want to employ your services.
Result: By sharing her personality and knowledge via Facebook Live video in her group, Liz has gotten several new clients.
In Conclusion
Facebook Live broadcasts may seem intimidating, but there's an easy solution. Create a sequence of steps, from the plan and promotion to interaction and follow-up. When you see a purpose that will result in expanding your business, client base, and bottom line, Facebook Live broadcasts are a lot easier to tackle.
What do you think? Have you done a Facebook Live to generate more business? What did you do? What were the results? Which creative Facebook Lives have you seen? Please share your thoughts in the comments.