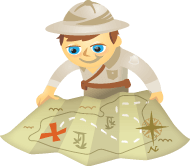 Do you want to generate more interest for your business?
Wondering if live video can help?
Every day, businesses are using live video to connect with their customers in a uniquely personal way.
In this article, you'll discover three ways small business owners are using live video to market their products and services.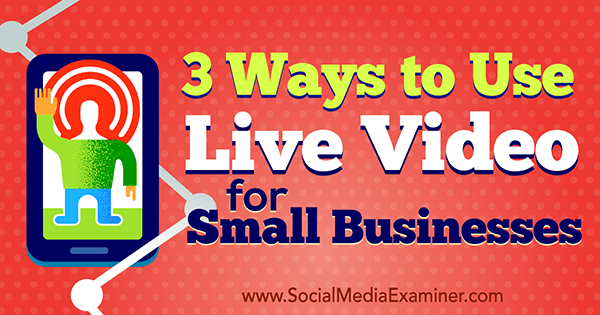 Listen to this article:
Where to subscribe: Apple Podcast | Google Podcasts | Spotify | RSS
Why Live Video?
Fans and customers are hungry for more live video content. Take for example the Chewbacca Mask Mom, so far the biggest viral hit of 2016. That was a Facebook Live video. In the first year of Twitter-owned Periscope, people worldwide watched an average of 110 years of content every day. On Facebook, people comment 10 times more on a Live video than an uploaded one.
With these organic tips, you can form a live video marketing plan that'll keep your customers coming back for more.
#1: Show How Your Product Is Made
Social networks are giving you more tools to show off what makes your business unique, so why would you still use the same techniques from years past?
John Kapos, better known as Chocolate Johnny, owns Perfection Chocolates in Australia. He uses Periscope to broadcast the chocolate-making process, answering questions as he goes. He regularly has viewers asking to buy his delicious wares. Rather than keep social at arm's length, Kapos embraces live video. You can invite people from all over the world into your business every day.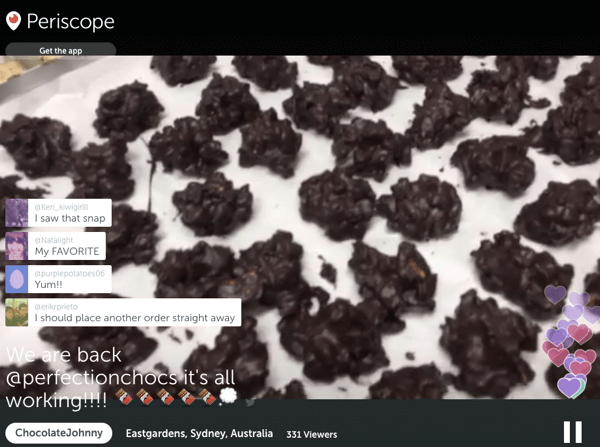 Tools such as live video let you integrate social marketing directly into your day-to-day business. If you're trying to generate buzz about your bakery, for example, you can follow the old adage of "Show, don't tell."
Bakers can use Facebook Live and Periscope to broadcast themselves decorating an elaborate wedding cake. Realtors can use these tools to take an intimate tour of an exciting new property. Golf courses can broadcast a video of a pro giving a useful tip. The possibilities go on and on.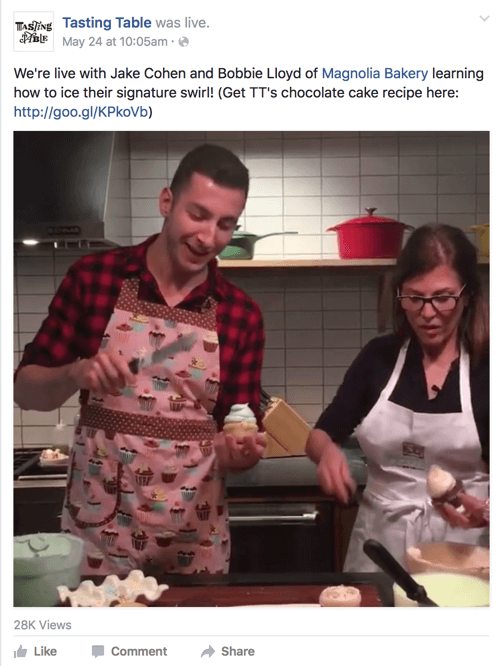 Doing this can humanize your business. If you don't, you can run the risk of just being a faceless brand, ignored on a platform where people are more than willing to chat.
Today's socially savvy consumer wants to go deeper and know the business beyond your name and phone number. If you don't want to show the human side of your business, your competitors will happily talk to those customers. Through live video, you can foster a deeper connection with your customers, who can get to know the background of your products. Give it a shot!
#2: Launch New Products and Contests
Images are a great way to announce a hot new product. Video is even better. Live video can be the ace up your sleeve, if you're trying to generate buzz around a launch. Brands big and small have used Facebook Live and Periscope to get people excited about a product, new service, or contest.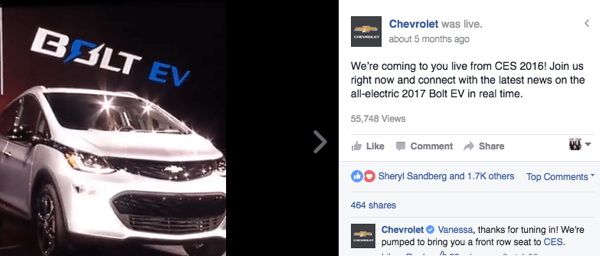 Doritos took to Periscope to get people excited about a new flavor of tortilla chips called Roulette. Fans were randomly chosen to try the new product on Periscope and share their reactions with the world, generating tremendous word-of-mouth about the new offering.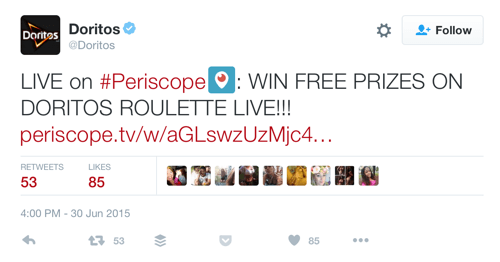 Pufferbellies Toys & Books, a children's bookstore in Staunton, Virginia, uses Facebook Live to showcase books and new products. For instance, the "unboxing" video below, which was posted around Easter, generated nearly 2,500 views and had commenters asking about availability. These are the kinds of leads small businesses usually pay to get.
Pufferbellies co-owner Erin Blanton said that live videos help the store reach more customers. She added that she has "definitely" earned sales as a direct result of Facebook Live broadcasts.
"Years ago, we would get lots of sales just from posting photos or regular videos, but it's just harder to reach people with that type of content these days," Blanton said. "So I was really excited to see that the live videos seem to be reaching more of our customers. It's nice to get our content seen!"
And that Easter unboxing Facebook Live video? Blanton told Bob Phibbs of The Retail Doctor that she sold out of many of the items featured in the broadcast.
Using Facebook Live for big announcements like product launches has another benefit: targeted advertising. After the video is finished, you can use your Facebook video as the basis for an ad aimed at your target demographic. Invite people to turn on notifications for when you go live to help attract more viewers.
Not showcasing your products can lead to confusion from fans and customers, who might see you as an entertaining broadcaster, but have no idea what you're selling or why you're on Periscope or Facebook Live.
#3: Take Your Viewers on Location
Frameable Faces, a photo studio in Michigan, swears by Periscope. Owners Ally and Doug Cohen use Periscope to chat with people all over the world and show off their studio.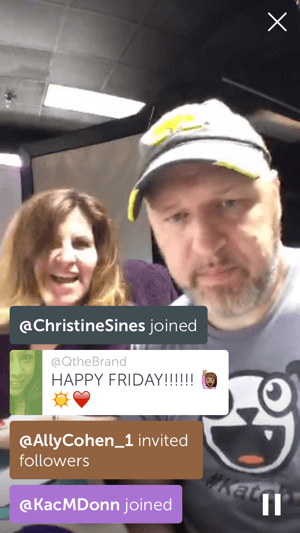 They use Facebook Live to broadcast when they're shooting at cool locations and have become popular for a daily morning show. They also know that consistency is key on live video and have a set schedule of broadcasts, so followers anticipate future shows.
Here's a peek at their Periscope schedule: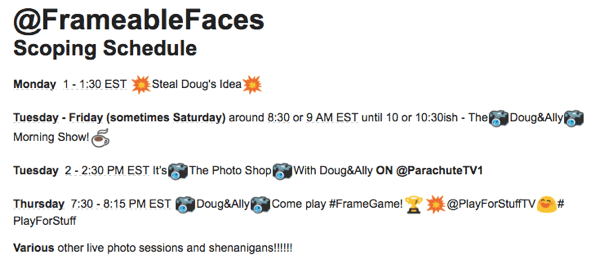 Doug told me that he's gotten new clients through broadcasting on Periscope, though it's hard to measure direct business from live-streaming just yet. He said that live-streaming helps to enhance the experience for current clients, who will hopefully spread the word among their friends and family.
"There's no doubt that we've created buzz locally and worldwide with live video, which we still feel will continue to yield results in the long term," Doug said. "Periscope and live video continue to grow and we think with that growth will come more opportunity."
They've definitely built quite a following. Starting from scratch, Frameable Faces scaled every day, building a fan base of 4,000. After landing on the trending list, followers exploded to 20,000+. Doug attributed the rise to a consistent Periscope strategy and never being afraid to engage with viewers.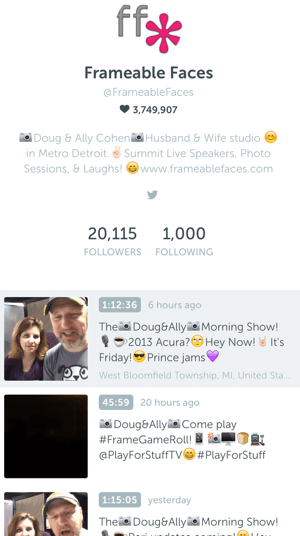 While you don't have to go live on Facebook or Periscope every day, it helps to have some consistency, even if it's just one set time per week. Experiment with different times and find what's right for your audience, then stick with it.
"Scheduling something goes in line with linear TV and shows that a brand or broadcaster cares about the community," Summit.Live founder Ryan A. Bell said. "This is the smartest thing to foster having an actual show."
While some people with massive followings can go live at a moment's notice and have thousands of viewers, most small business owners need to build up to that.
Not setting a schedule could lead you to speaking to no one, or only getting a couple of uninterested viewers. If you just go live at random times, you're not giving your audience time to prepare for your broadcasts.
Having a consistent schedule will make you more comfortable in front of the camera and will get you in the right frame of mind for broadcasting.
Conclusion
Live video is the hot product on social media right now, but many small businesses are still afraid to jump in. Both Facebook and Twitter have made live video a marquee product, giving great real estate to broadcasts.
Live video is the most raw, organic platform out there right now, and people are joining to view en masse. Now you know how you can join this community and help your business grow.
What do you think? Can you use live video in your social media marketing to drive more sales? Please let us know in the comments below!