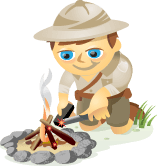 Are you looking for the hottest new social media tools and services? We asked our team of Social Media Examiner writers to share their best new social media discoveries.
What follows is an amazing list of social media tools you've likely never heard of—covering a wide range of categories:
Tools for pictures, video, audio and screen capture
Tools to measure and track results
Tools to manage content
Blogging tools
Twitter tools
Other social media tools
Try them out. And be sure to report back here with your thoughts.
Tools for Pictures, Video, Audio and Screen Capture
#1: Cinches
Recommended by Denise Wakeman, online marketing advisor and founder of The Blog Squad.
"My favorite new tool is CinchCast.com. This simple tool can record audio, either via the web or phone (there are apps for iPhone and Android), so you can share audio messages with your followers. While audio tools like this are not new, this one seems to work the best and most consistently for me both on the web and my mobile app.

Cinches can be syndicated automatically to your Facebook status (not to pages, though) and to your Twitter stream. It's simple to find and follow people from your social networks as well. Adding an image and description to the audio message is easy too and boosts visibility and encourages comments and sharing. Cinches can be shared by embedding the player in blog posts and posting links in status updates.

I'm using CinchCasts to repurpose a lot of content into audio: presentations (I record one tip from a PowerPoint and expand on it a bit), blog posts and articles. I also reverse the process and embed Cinch tips in blog posts to expand on the written text and create an experience that encourages my audience to stay longer on my blog."
Learn more about Denise at Build a Better Blog and follow her on Twitter @DeniseWakeman.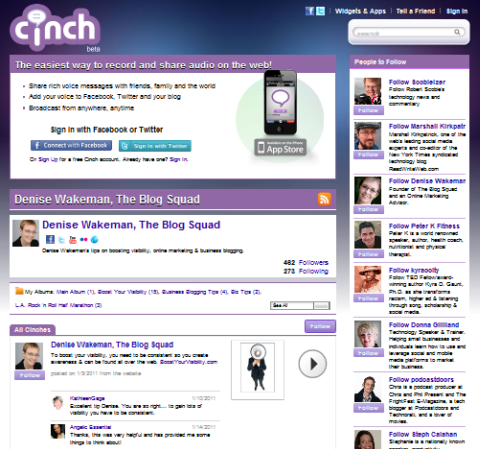 #2: Screenr
Recommended by Tim Ware, owner of HyperArts Web Design, helping businesses build and promote their web presence.
"My favorite social media tool in the past half year has to be Screenr, an enormously useful online service to create screen-capture videos, with audio, easily and for free. Because much of what I do these days involves teaching people how to do things online, usually on Facebook, Screenr is the perfect tool for me. I can just say, "Wait a sec. I'll send you a video."

Creating an instructional video on Screenr is just about as easy as it gets, allowing you to record, pause (while you rearrange what's on your screen) and then click "Done" and that's it! With a few clicks, you can post the video plus comments to your Twitter account, or download the file as an MP4."
Follow Tim on Twitter @hyperarts.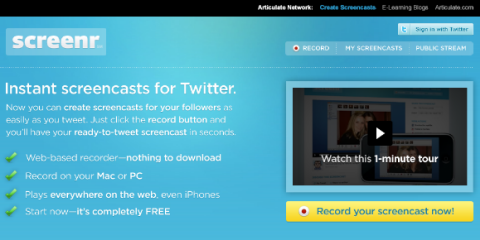 #3: DailyBooth
Recommended by Lewis Howes, the author of two books on LinkedIn and founder of Sports Executives Association and SportsNetworker.com.
The Conference You've Been Waiting For
As a small business marketer, you can probably only pick one or two events to attend each year. Get an unbeatable conference experience and expert training at Social Media Marketing World in sunny San Diego, California—from your friends at Social Media Examiner.
🔥 As a valued reader, you can save $650 on an All-Access ticket if you act now! Sale Ends Friday! 🔥
CLICK HERE TO LEARN MORE
"As an online/social media marketer, it's easier to get more sales (or transactions) from potential customers if those individuals feel like they know, like and trust you.  A great way to let them get to know you better is simply by letting them see you daily. A great way to do this is to record a video each day and post it to your networks.  But who has the time to set up a camera, shoot a video, edit it, wait for it to upload and publish to your network each day?  I know I don't, as it's hard enough getting a blog post out once a week!

Pictures solve this problem, and DailyBooth provides a fast-growing social networking site that allows you to easily upload and share pictures in seconds. DailyBooth.com is still under the radar for most, but the interaction for those on it is similar to the mad interaction Twitter users have, and it's getting more and more additive as the days go by."
Learn more about Lewis at LewisHowes.com and follow him @LewisHowes.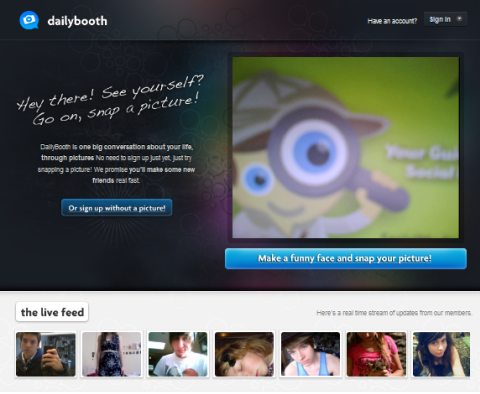 #4: Skitch
Recommended by Clément Yeung, co-director of Easisell, a digital marketing and design company that helps small businesses achieve success online.
"I love Skitch because if you constantly need to communicate complex on-page issues to people, then Skitch helps you do it seamlessly from your desktop! Just a few clicks and you have a shareable link that you can send to anyone you like. It's also free."
Follow Clément on Twitter @ClementYeung.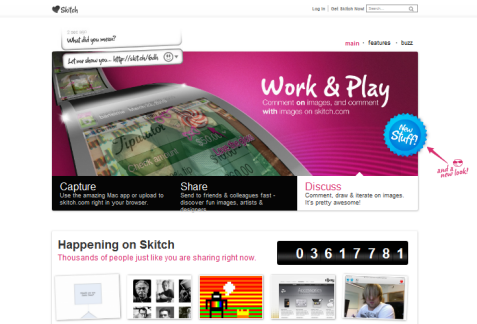 #5: Instagram
Recommended by Christine Gallagher, relationship marketing speaker, trainer and coach.
"Instagram, which is an addictive, free photo-sharing app for the iPhone.

It's social and fun to share your pics with others and see theirs as well. You can also comment or like others' photos, follow other users and see what they've posted lately. It's super-simple to use and my favorite thing about it is that you can transform seemingly ho-hum pictures into unique little works of art with the assortment of filters available. Two thumbs way up."
Learn more about Christine at Communicate Value and follow her on Twitter @christineg.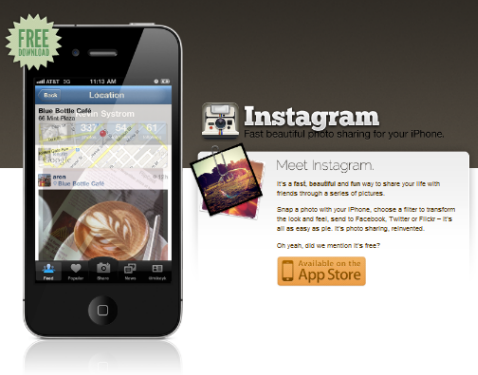 Tools to Measure and Track Results
#6: Argyle Social
Recommended by Jason Falls, principal of Social Media Explorer, a social media marketing consulting firm based in Louisville, KY.
"Because my primary use of social media is to share great content, I think the tool I've become most dependent upon in the last six months is Argyle Social. It's a URL shortener that has an elegant suite of measures around it, a bookmarklet for easy use and the customization you would need to separate your shares on Twitter from those on Facebook to deliver different messages around the same content. Once they add LinkedIn and perhaps even Posterous or Tumblr to their publishing options, Argyle could become THE tool for folks who not only want to share, but also measure the impact of that sharing.

I know I've driven over 150,000 clicks to various content in the last six months. I can break those down and tell you exactly how many I drove to certain pieces of content, too. My own and other sites I found and shared with my networks. That's pretty powerful information if one of your goals is to share or build trust. I can put numbers around that now."
Learn more about Jason at SocialMediaExplorer.com and follow him on Twitter @JasonFalls.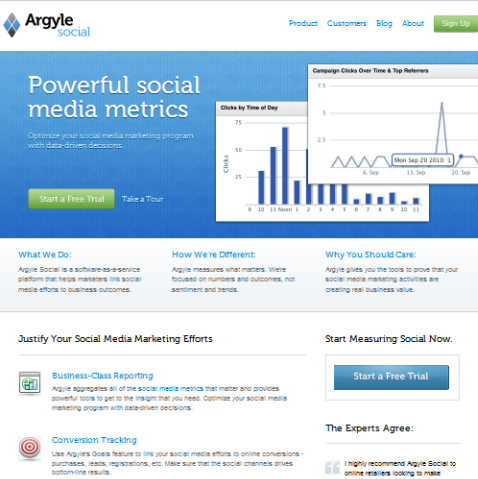 #7: TwentyFeet
Recommended by Mari Smith, social media speaker, trainer, thought leader and co-author of Facebook Marketing: An Hour a Day.
"Here's my fave new tool: TwentyFeet.com—aggregate all your stats in one place!

I love this simple social profile analytics platform with its easy setup, intuitive interface, daily stats emails and very low micro payments model. Credits are just $2.49 per account for an entire year, but users get one Facebook and one Twitter account free forever. You can monitor one or more accounts from Twitter, Facebook, YouTube, bit.ly, Google Analytics, MySpace and more and see how your key performance indicators develop over time. Oh, and another reason I love TwentyFeet? Their logo is a giraffe (the tall blonde!), my favorite animal!"
Learn more about Mari at marismith.com and follow her on Twitter @MariSmith.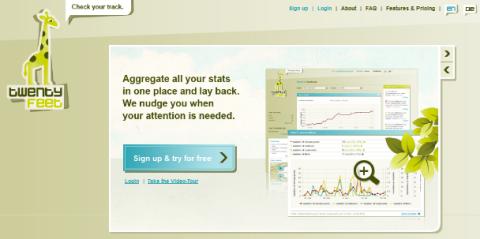 #8: PostRank and PostRank Analytics
Recommended by Kristi Hines, an Internet marketing specialist with Vertical Measures.
"One of my favorite social media tools/resources is PostRank. You can gain an amazing amount of insight into what topics get the most engagement on a particular blog (such as Social Media Examiner) by finding it in their directory and using the Good, Great and Best filters to see what posts have the most comments and social shares. The best part is that researching another blog's social sharing statistics is free, and it's something you can look at for your own blog as well by making sure it's listed on their site. If it's not, just enter the URL in the search box, and they'll email you as soon as it's on their site. Then wait a week or two and start discovering what's most loved by your readers.

If you're interested in learning more about your own social engagement scoring, you can also sign up for their in-depth social analytics. It's only $15 per month to analyze up to 5 sites with custom tracking on 10 additional pages within those sites. You can even connect your Google Analytics with PostRank and see how social engagement matches up with your conversion rates and goals."
Learn more about Kristi at Kikolani and follow her on Twitter @Kikolani.
PostRank Analytics is also recommended by Jay Baer, a hype-free, tequila-loving social media strategist, speaker and coach.
"PostRank Analytics is my favorite tool because it solves a very real problem for bloggers, which is how to understand the full impact of a blog post. What's more important, page views, comments, tweets, Facebook shares? PostRank Analytics tracks all of the actions related to each of your posts, and compiles a consolidated score that helps you understand what your audience wants from you and your blog. It's like a psychic, if psychics also had fancy charts and graphs!"
Learn more about Jay at Convince & Convert and follow him on Twitter @JayBaer.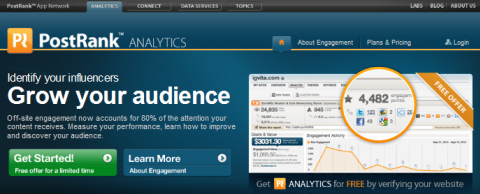 #9: Postling
Recommended by Jeff Korhan, professional speaker, consultant and columnist on new media and small business marketing.
"Postling is a tool that brings together multiple social media channels into one interface. What makes it invaluable for me are the email notifications I receive when comments are made on my professional Facebook page. To my knowledge, it's the only social media tool with this capability. All of the comments are nicely presented in clean threads that maintain the continuity of the conversation, thereby allowing me to easily make timely comments, or schedule them for later."
Learn more about Jeff at jeffkorhan.com and follow him on Twitter @JeffKorhan.
Postling is also recommended by Stephanie Sammons, the voice behind Smart Social Pro, a resource for professional practitioners to help them understand how to leverage the power of social media and blogging in their practices.
"A tool that can help you stay focused on relevant tracking and engagement is Postling. Postling is designed with the small business owner and professional in mind and can simplify your social media activities. It's a clean and intuitive dashboard that offers management features to track, engage and publish to your relevant social media profiles, and even to your blog. (It plays nice with WordPress.)

Most importantly, Postling will send you a daily email update of all of your comments so that you know who's engaging with you and what's being shared or said about you. (It's great to know you won't miss anything.) The basic features are available with a free account. The paid account at $9.00/month allows for multiple accounts per social network, brands and users, providing instant email alerts and an analytics dashboard. And there's also a premium version for power users at $49.00/month. Overall, Postling is well on its way to becoming a great tool for business owners and professionals!"
Follow Stephanie on Twitter @StephSammons.
Attention Agency Owners, Brand Marketers, and Consultants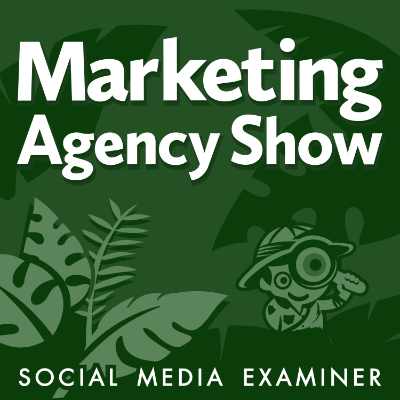 Introducing the Marketing Agency Show–our newest podcast designed to explore the struggles of agency marketers.

Join show host and agency owner, Brooke Sellas, as she interviews agency marketers and digs deep into their biggest challenges. Explore topics like navigating rough economic times, leveraging AI, service diversification, client acquisition, and much more.

Just pull up your favorite podcast app, search for Marketing Agency Show and start listening. Or click the button below for more information.
CLICK HERE FOR THE DETAILS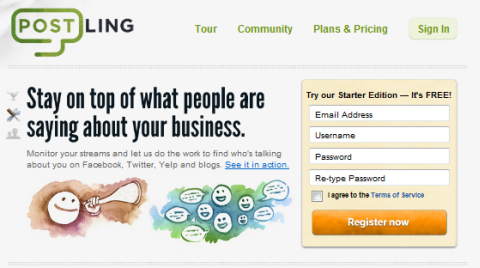 #10: Sysomos
Recommended by Nick Shin, online marketing strategist specializing in SEM, social media, and PPC.
"Sysomos, by far, has been my favorite social media tool. (Disclosure: I am the SEM and social media specialist at Marketwire and we acquired Sysomos in July.)  Since then, I've been able to take advantage of what Sysomos has to offer. I use Sysomos to monitor our social media conversations on Twitter, Facebook, LinkedIn, forums and blogs. The ease of use, robust features and convenience have cut my monitoring time in half. In addition, as the founder of #smmeasure social media measurement chat, I can tell you there's a lot of concern about how to measure social media. The more I use Sysomos, the more it eliminates the need to keep 'proving' the value of social media because of the actionable insight you can get from its analytics. With all of my other responsibilities, any tool that will help me do the same job in less time is a win. I highly recommend getting a free demo."
Learn more about Nick at Marketing Shindig and follow him on Twitter @shinng.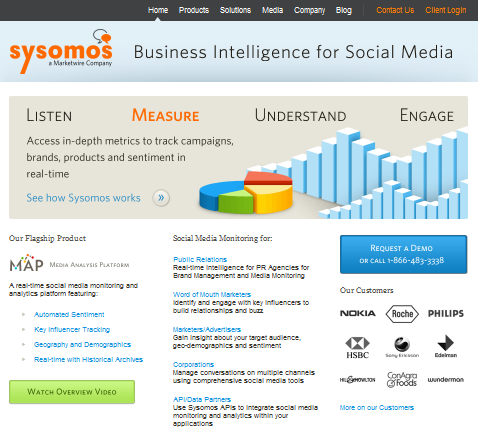 #11: Inside View
Recommended by Jacob Morgan, principal of Chess Media Group, a social business consultancy focused on customer and employee engagement strategies.
"My favorite new tool that I started using within the past 6 months is Inside View (through a customized enterprise version of Salesforce).

Inside View (their Salesview product) allows you to make the "social sale" by extracting valuable company information about a person or prospect prior to making a sale. You can get market cap, the org structure, list of key employees and the social sites they belong to, relevant company news, addresses and phone numbers and more; all from your Salesforce "lead" view. You can then sync all of this information with your Salesforce account so that it actually fills in the information for you."
Follow Jacob on Twitter @jacobm.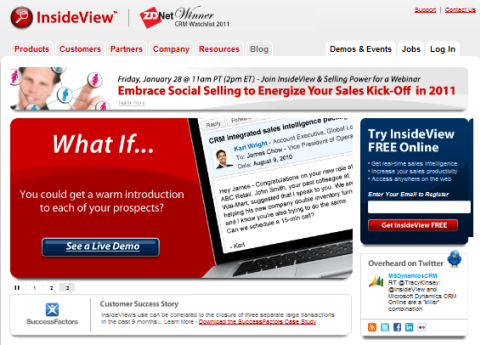 Tools to Manage Content
#12: Trunk.ly
Recommended by Nathan Hangen, Internet marketing strategist and founder of Webrepreneur Media.
"Recently I was looking for a better bookmark solution, and I was getting so desperate that I was thinking of developing it myself. Tumblr was too big, and sites like Delicious and other social bookmarking services felt walled off. Then someone pointed me to Trunk.ly, which you feed with your Twitter and/or Facebook account, and I was hooked. Trunk.ly keeps a history of the links that you like or Tweet and makes them searchable and easy to share. If I was going to build a solution, this would be exactly what I built. It's beautiful."
Learn more about Nathan at nathanhangen.com and follow him on Twitter @nhangen.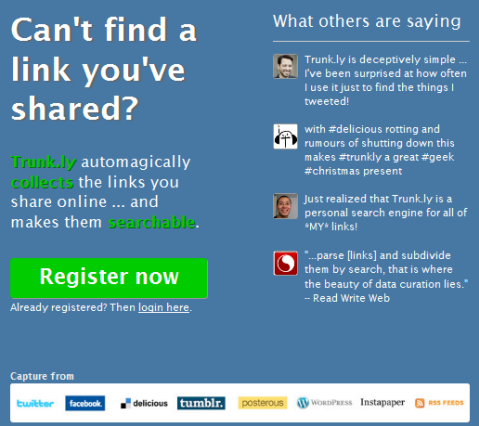 #13: Storify
Recommended by Michael Brito, VP for Edelman Digital and has worked for HP, Yahoo! and Intel.
"My favorite tool is Storify which is fantastic to aggregate and curate content from around the web. It's great for events, product launches, etc."
Learn more about Michael at social media blog and follow him on Twitter @britopian.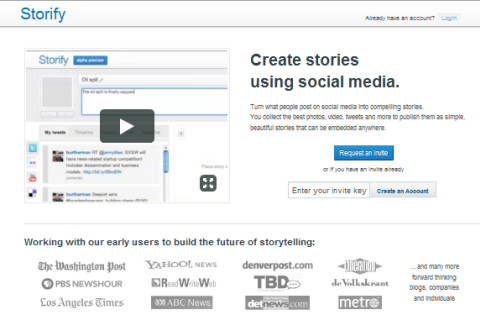 #14: Posterous
Recommended by Jim Lodico, copywriter and marketing consultant specializing in creating powerful content and teaching businesses how to use blogs.
"I just started using Posterous and I really like the potential. It allows you to post to 20 or so social media channels all through email. Photos, video, blog posts, even podcasts can all be distributed throughout your network just by sending an email. I really like the simplicity and the ability to manage all your social media accounts at once."
Learn more about Jim at jalcommunication.com and follow him on Twitter @jlcommunication.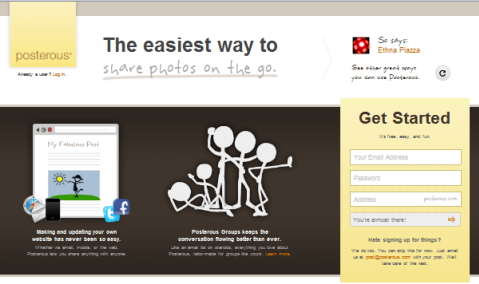 Blogging Tools
#15: Apture
Recommended by Ching Ya, author of Social @ Blogging Tracker.
"One of the new social media tools I found in the last 6 months is Apture. I was between installing it or Wibiya, but because I've decided to emphasize visitors' sharing on Facebook and Twitter, I went for Apture instead. It turned out to be one of the best decisions I've made. The catchy, customizable drop-down bar on top of the site makes sharing easy and friendly. You can search for related content—not just posts, but videos and images to be linked to as well. Your visitors can even use it to search similar posts within your site. Highly recommended!"
Follow Ching Ya on Twitter @wchingya.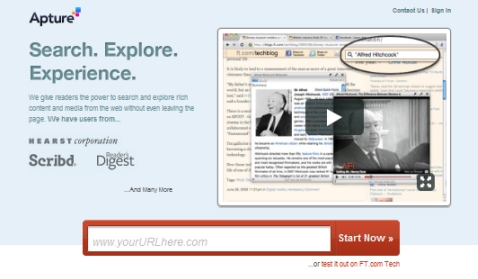 #16: OnlyWire
Recommended by Dino Dogan, blogger, writer, motorcyclist, dog trainer, singer/songwriter, martial artist and founder of DIY Blogger.
"OnlyWire can auto-submit your blog post to 42 top social network sites like Digg, Reddit and StumbleUpon. By doing this, you build backlinks to your blog the quick and easy way. This doesn't improve your page rank but it does improve your social rank so much that in one of my tests, this one technique alone took me from the page 14 on Google to page 4."
Learn more about Dino at DIY Blogger and follow him @dino_dogan.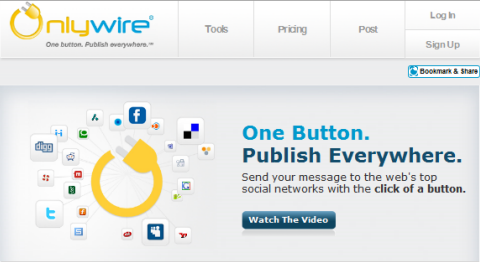 Twitter Tools
#17: FormuLists
Recommended by Elijah R. Young, lead strategist and owner of Social Talk Live.
"My favorite social media tool over the past 6 months has been FormuLists. FormuLists allows me to effortlessly keep up with my newest followers, my recent conversationalists and tons of other specifications that I can adjust in my settings to keep me on top of all of the new folks I meet in my Twitter timeline. Before FormuLists, I had to hope I remembered who I added to my lists, and work around crossover… It was just a mess. Now I can just focus on keeping up with conversations that matter to my followers, and pitching in when appropriate."
Follow Elijah on Twitter @elijahryoung.
FormuLists is also recommended by Ann Smarty, an experienced blogger and SEO consultant at BlueGlass.com.
"The tool that I've just recently discovered and fallen in love with is FormuLists. I have a lot of followers and it's been almost impossible for me to organize the following manually. The tool has quite a few very handy options."
Learn more about Ann at MyBlogGuest.com and follow her on Twitter @myblogguest.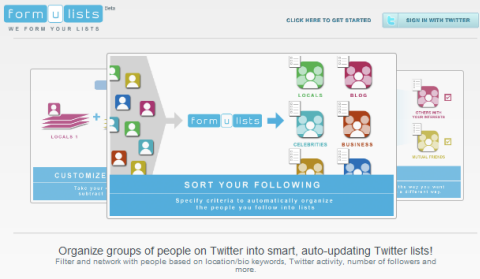 #18: HashTracking
Recommended by Lori Taylor, a self-proclaimed "URL-junkie," and an award-winning marketing veteran with 20 years experience turned social technologist by day and angel investor (Klout, Live Matrix, Pixsy) by night.
"My favorite new Twitter tool is HashTracking, which we use to track campaigns on Twitter. It takes group conversations and measures the influence and type of engagement level for each participant. The reason I'm in love with it is because the depth of data is incredible. Starting with the total number of people who participated in the group conversation, HashTracking chunks the participants into 4 buckets they call leaders, people who were engaged, just curious, and even identifies the wallflowers. We can get content to the most powerful hands who can truly give us the most reach on a specific topic, not just a broad category."
Learn more about Lori at lorirtaylor.com and follow her on Twitter @lorirtaylor.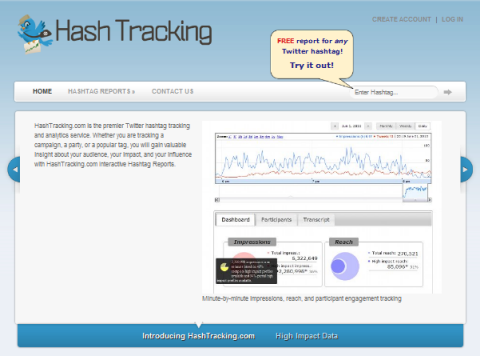 #19: Oneforty
Recommended by Ekaterina Walter, social media strategist at Intel.
"My favorite tool of the past 6 months is oneforty. Oneforty helps you discover thousands of tools that help you do more with your business, career or life using Twitter! This is essentially a directory of various Twitter apps that can help you do whatever you can possibly imagine on Twitter from helping manage your brand Twitter account to managing your followers to finding fun apps for your everyday life. I love their Toolkit feature which allows you to see what other industry leaders or even brands are using to manage their presence."
Learn more about Ekaterina at ekaterinawalter.com and follow her on Twitter @ekaterina.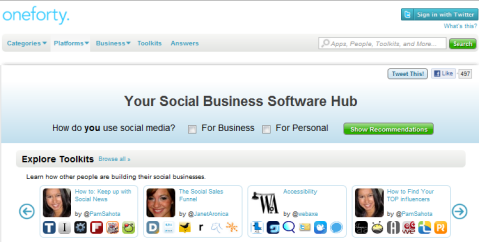 #20: TweetDeck for Chrome
Recommended by Corbett Barr who wants to help you attract as many visitors to your site as you need to make your business thrive.
"My favorite new social media tool is definitely TweetDeck for Google's Chrome browser. I love it because I get all the awesome functionality of TweetDeck without having to run a separate application. I also love how it integrates multiple Twitter accounts into one combined column of @ replies and another for direct messages. It's a huge time-saver for people who tweet a lot from different accounts."
Learn more about Corbett at Think Traffic and follow him on Twitter @CorbettBarr.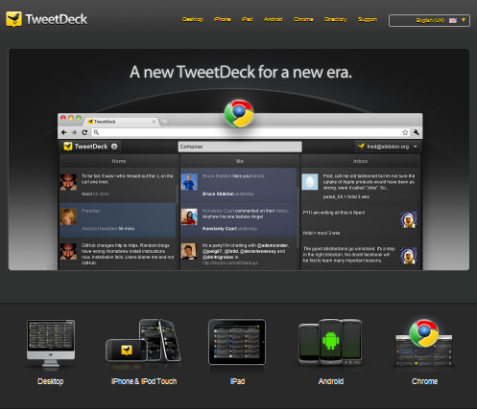 Other Social Media Tools
#21: LinkedIn Company Page
Recommended by Linda Coles, a sought-after speaker who also runs various workshops and seminars on how to use social media tools effectively and productively.
"I love the LinkedIn Company Page upgrade as you can upload three banner ads, add video to each product or service page and you've even got analytics to monitor what's going on. It may well get as good as a FB business page but in a different environment."
Learn more about Linda at Blue Banana and follow her on Twitter @bluebanana20.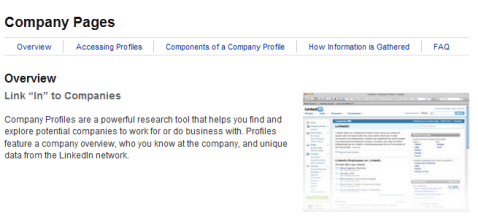 #22: Quora
Recommended by Lori Randall, online marketing strategist specializing in social media and WordPress sites. Follow Lori on Twitter @lori_randall.
"Quora, an online knowledge hub for mostly social media and technology, is a tall glass of water. People ask insightful questions and exchange substantive answers. I was starting to feel like I was in a social media desert of genuine thought because of all the noise and this has risen to quench my thirst for knowledge admirably."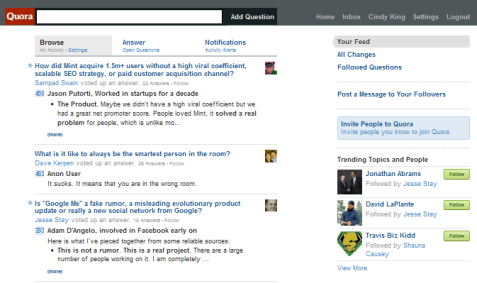 What Are Your Favorite Social Media Tools?
Have you used any of the social media tools mentioned above? Which ones are your favorites? Which other social media tools would you add to this list? Please share your comments below.
3 Days of World-Class Training—Zero Travel!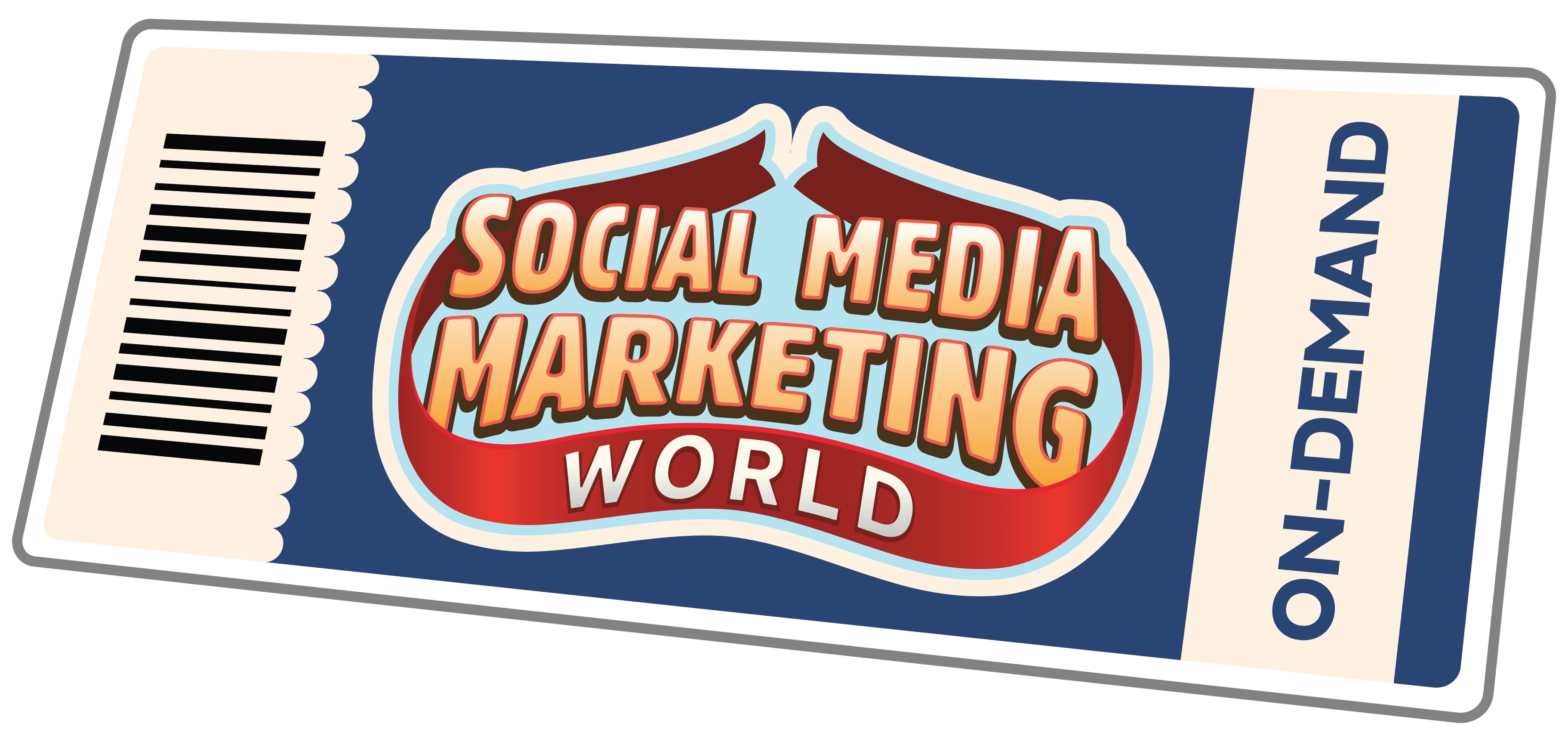 Travel to Social Media Marketing World off the table? Get all of the great content at a fraction of the price with an On-Demand ticket.

That's full access to recordings of every keynote, workshop, and session—the ones people travel thousands of miles to see. Don't wait. Get your On-Demand ticket and enjoy actionable content that you can watch anytime, anywhere.
GET YOUR ON-DEMAND TICKET NOW