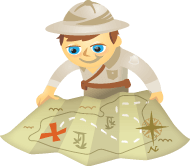 Are you using LinkedIn to grow your business?
With 161 million business members, LinkedIn provides a lot of opportunities.
The real value of LinkedIn for businesses is to connect one-to-one with other business professionals.
Why LinkedIn for Networking?
The Start-Up of You, a recent book co-authored by LinkedIn founder Reid Hoffman, notes that companies don't give you business – people do.
Many of your LinkedIn connections can introduce you not only to business influencers and partners, but also refer your company to new customers.
In the book, Mr. Hoffman also states a key point about business networking:
"It's better to be the best connected than the most connected."
In addition to teaching you new skills, that's what this article will help you accomplish.
A personal LinkedIn profile is commonly viewed as an online resume or digital business card, and using it for that is a good start.
However, you can take that further – going beyond LinkedIn's basic capabilities – to build a more powerful means of attracting and managing your connections and professional online presence to encourage more business opportunities.