Want to use LinkedIn more efficiently to grow your business? Not sure what to post for the most impact?
In this article, you'll learn how to create a LinkedIn content strategy for your business using seven simple steps.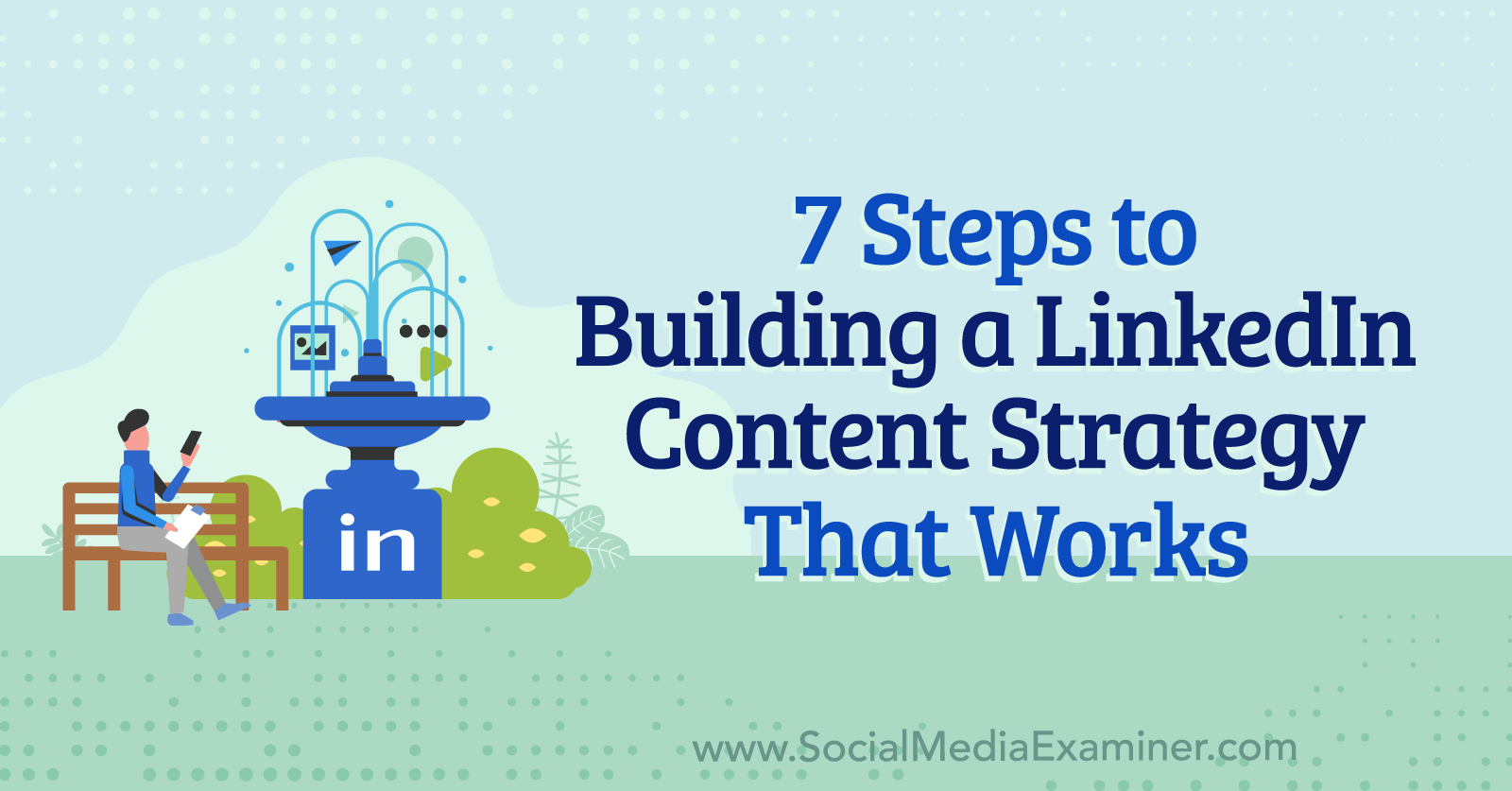 #1: Establish Current Marketing Goals
Give your LinkedIn content strategy structure by outlining goals. What does your team want to accomplish with LinkedIn? Some common LinkedIn goals include:
Introducing your business to more potential customers
Sharing company resources to improve brand awareness
Cultivating trust and credibility to win more customers
Adding more leads to your sales pipeline
Getting more people to sign up for trials or demos
Building a community of loyal customers
Once you decide on your main goals, you can pinpoint the type of content your team should create. For example, sharing your company's blog posts may help improve brand awareness, while linking to gated content may be better for achieving lower-funnel goals like lead generation.
#2: Get to Know Your LinkedIn Audience
Next, you need to know how best to position your LinkedIn content. What industry or role should your content be geared toward? Should your posts appeal to beginners or advanced users? Your LinkedIn audience analytics can answer these questions and guide your content creation process.
To access these insights, navigate to your LinkedIn company page and select Followers from the Analytics drop-down. Scroll to the bottom of the page to view demographics like industry, job function, seniority, and location. You can view similar demographics for company page visitors so you can get to know who follows your page and who views it.

Pro Tip: Leverage LinkedIn Polls for Market Research
Asking questions can be a great way to get engagement or do market research on LinkedIn. But your followers may not always want to take the time to type lengthy answers.
When you want to give followers an easy way to engage, add an interactive poll to your LinkedIn post. Each poll has a unique question with up to four answers, and it can run for up to 2 weeks. Although questions can be only 140 characters long, you can use the 3,000-character limit in the post to provide additional context or set up the question.
If you can't narrow down the possible answers to four options, you can always invite users to leave a response in the comments. LinkedIn polls have all of the standard engagement features as posts including comments, reactions, and shares.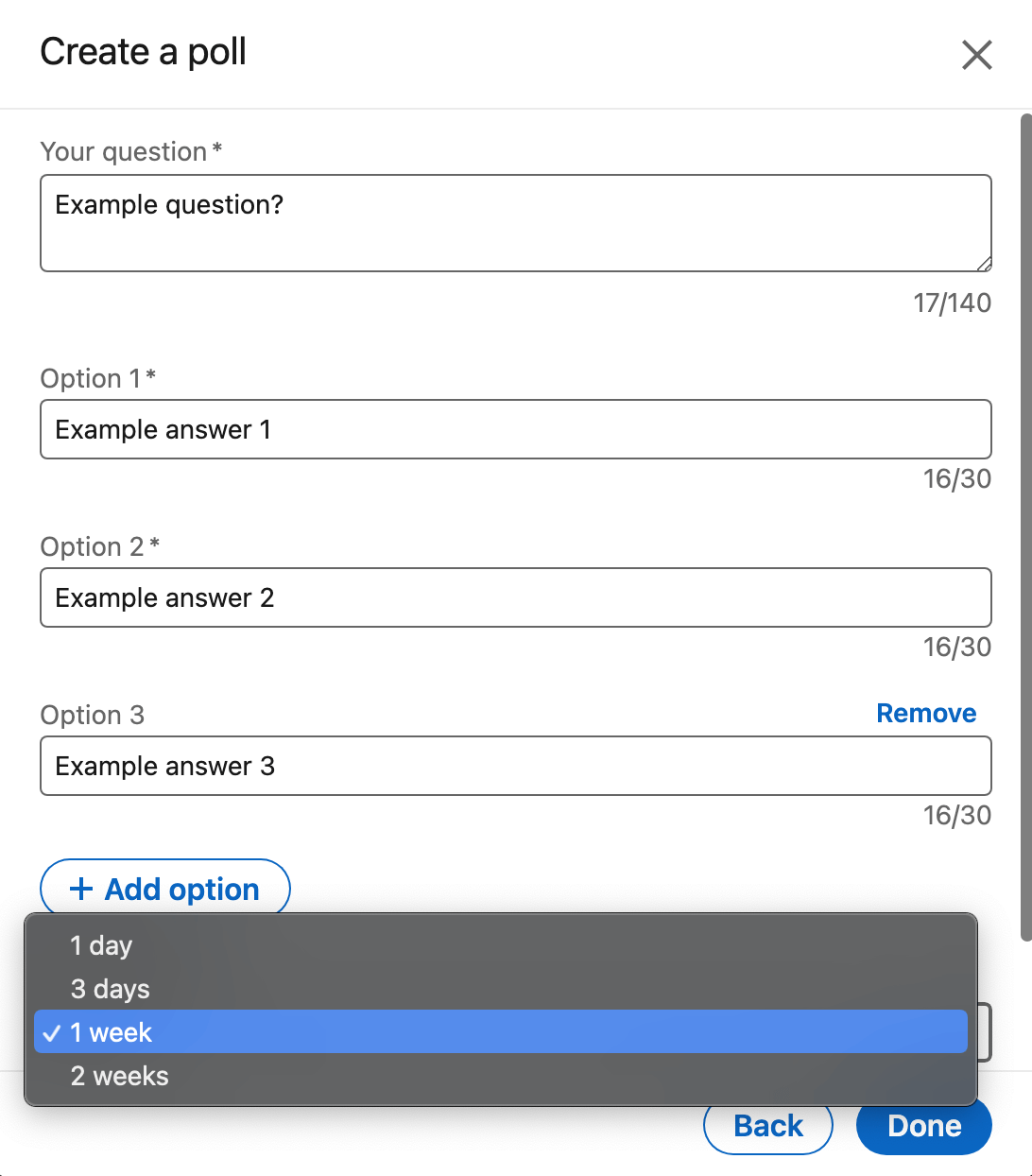 #3: Deliver Long-Form Written Content to Build Authority
On your LinkedIn page, you want to publish content at least a few times a week or follow LinkedIn's recommendation and post every business day.
Here are three types of long-form posts you should consider.
LinkedIn Document Posts
If you have complex information to share, you might be tempted to write a long explanatory post or link to a more detailed blog post.
With LinkedIn documents, you can post PDF files that users can scroll through in the news feed or download to read later. Although you can upload documents up to 300 pages long, organizations often keep them concise, publishing 10 pages or fewer.
Documents tend to work well for:
Highlighting the key points of a complicated concept
Showing followers how to do something step by step
Sharing the main findings from a research report
For example, the Dell Technologies LinkedIn post below features a document with key quotes from the Dell Tech Summit. The post includes a link where followers can view the full video of the event.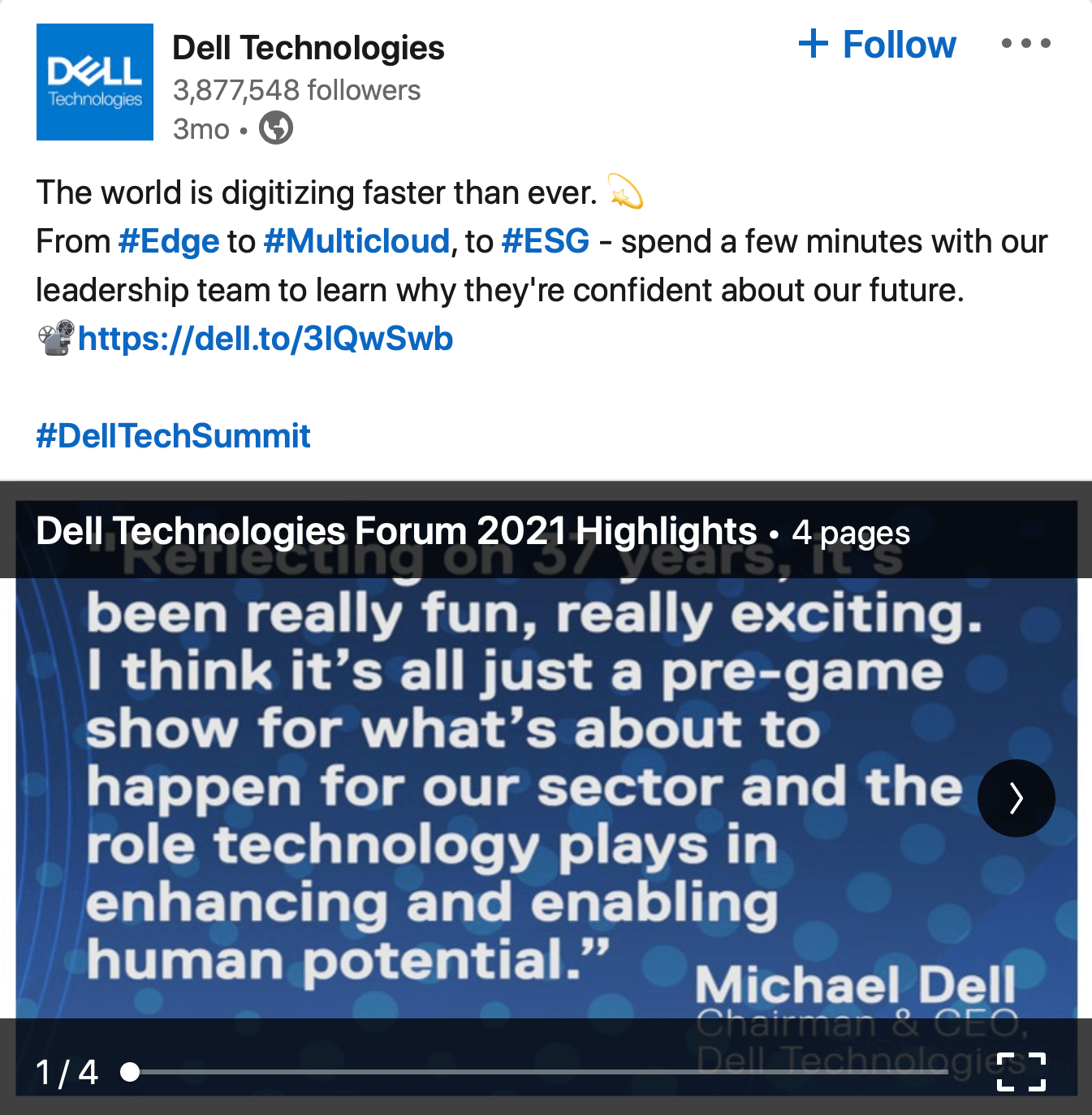 LinkedIn Articles
Linking out to blog posts is great for educating followers and sharing your business' takeaways, as you can include far more information in a blog post than you'd be able to fit in a typical LinkedIn post. But if you want to share blog-style content, you don't necessarily have to link to an external website.
Instead, you can publish an article directly on your LinkedIn company page. LinkedIn articles can contain up to 110,000 characters (over 15,000 words), making them ideal for sharing thought leadership on the platform.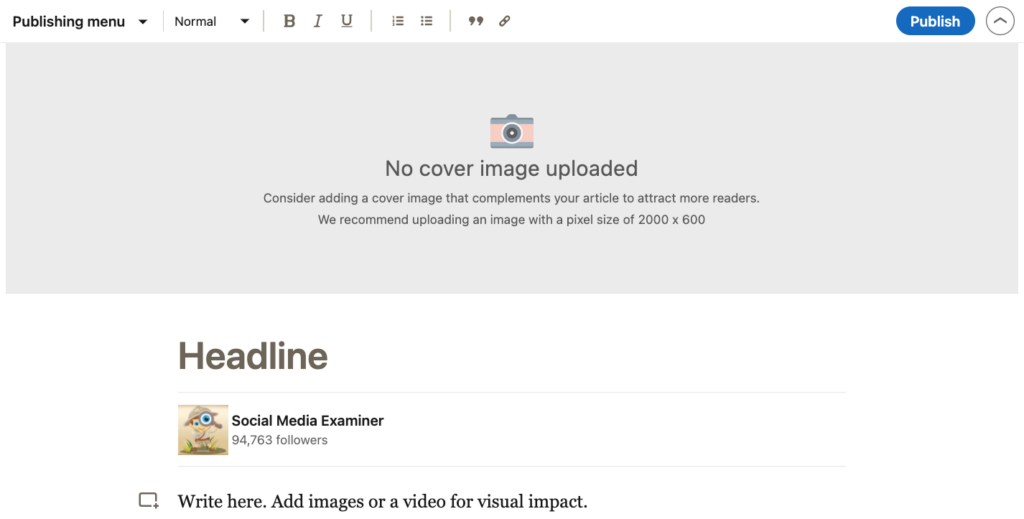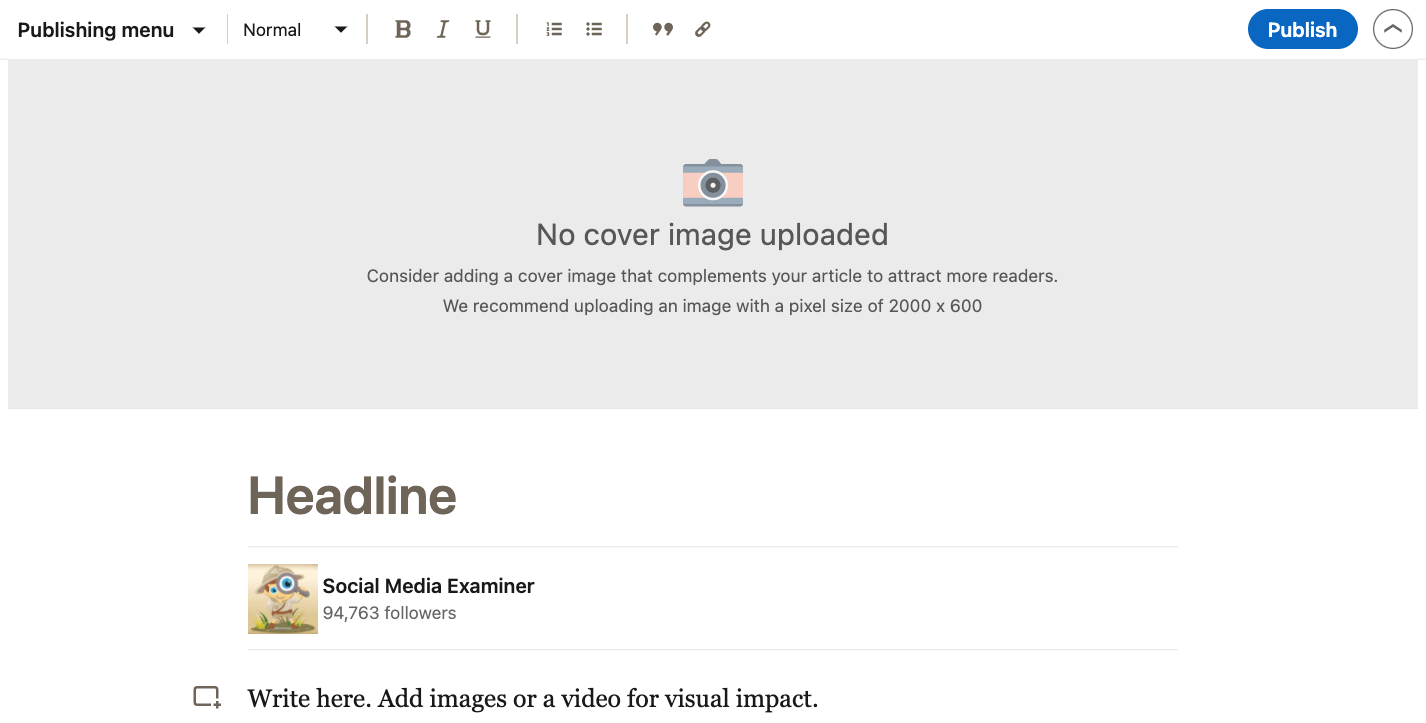 Although LinkedIn articles can certainly be completely original, they don't necessarily have to be. Instead, you can use LinkedIn as a syndication platform for republishing the best content from your company's blog. That way, you can get more views and promote your top content on an additional platform.
LinkedIn Newsletters
If you plan to publish long-form LinkedIn content infrequently, then articles are probably a good choice. But if you intend to publish them weekly or monthly, you can consider turning them into a newsletter instead.
When users subscribe to your LinkedIn newsletter, they receive a notification every time you publish. Then they can comment on or react to your content. That means you can use newsletters to increase visibility and engagement while cultivating a community of subscribers.
For example, Jessi Hempel writes the Hello Monday newsletter pictured below. The weekly newsletter explores work-related trends and features interviews, podcast highlights, and LinkedIn Live events.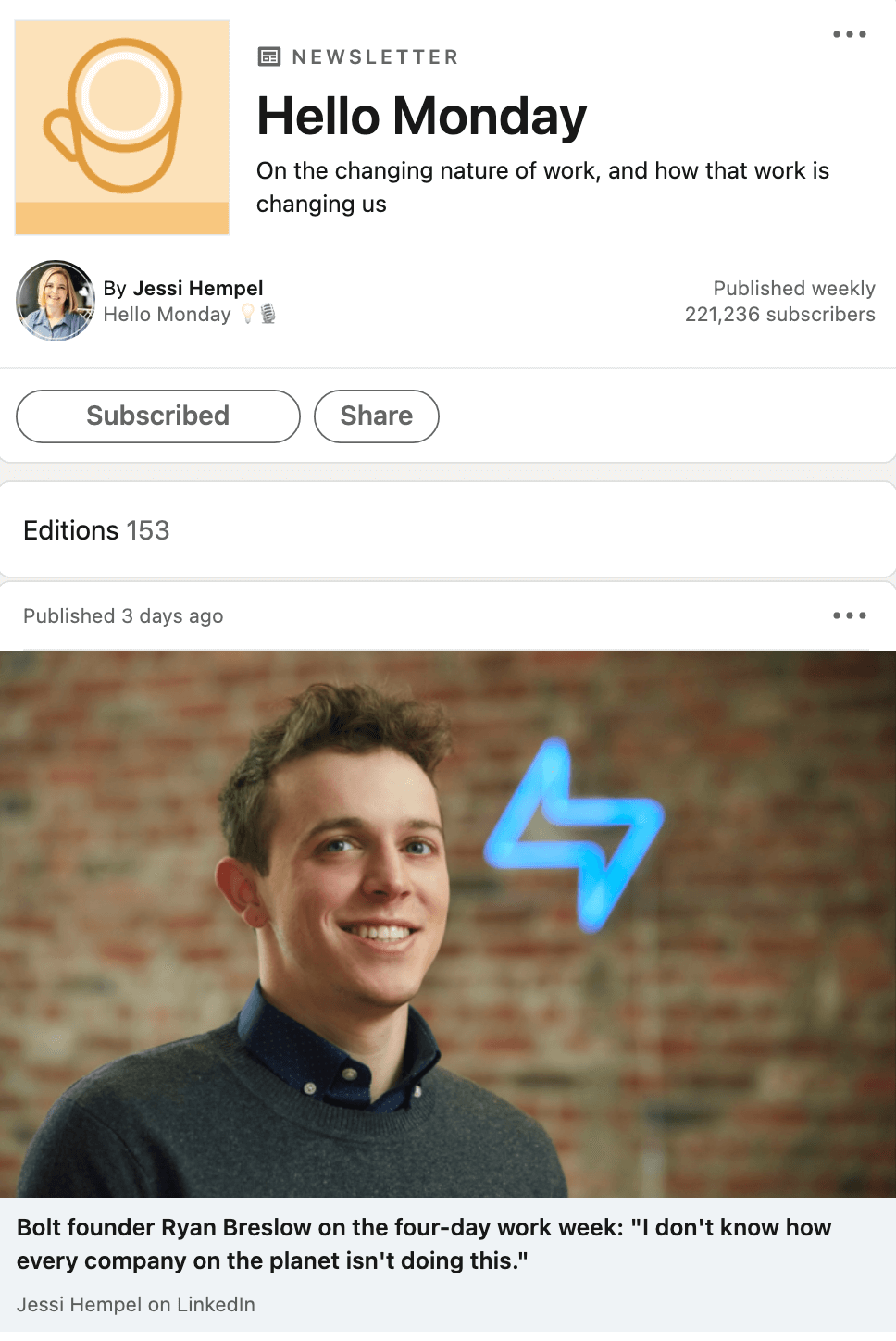 As of December 2021, LinkedIn is rolling out newsletter access to people and pages. If you don't already have it, you can increase your chance of getting newsletter access by turning on Creator Mode.
#4: Publish Native LinkedIn Video to Capitalize on Engagement Trends
When you publish high-quality posts and articles on LinkedIn, you might expect to get at least a few shares. But when you really want your content to reach new prospects, video may be a better choice.
LinkedIn noted that its users will share video content 20 times more than any other type of content on the platform. That means publishing LinkedIn native video could help your business connect with a much larger audience.
LinkedIn supports videos up to 10 minutes long but yours can certainly be much shorter. For example, this short Microsoft video shares key tips from a blog post and provides a link for interested viewers to check it out.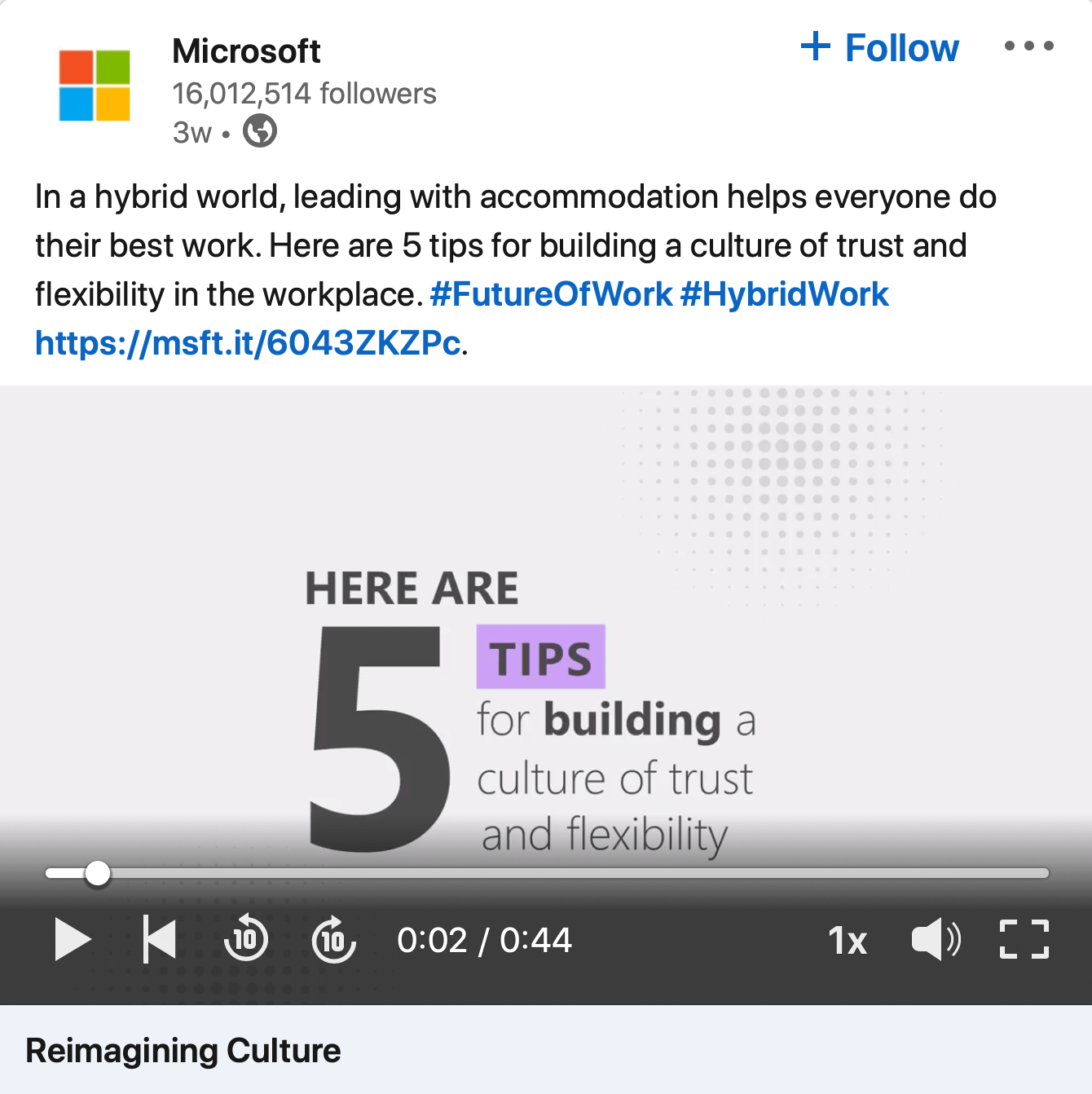 To find the optimal video length, format, and topics for your audience, test various options to see what performs best or poll your audience to get their opinion.
LinkedIn Live
If you want to drive even more engagement with video, LinkedIn Live may be an even better option. As LinkedIn's livestreaming solution, this platform lets you host virtual events and connect with your audience in real time, as in this example from Adobe Creative Cloud.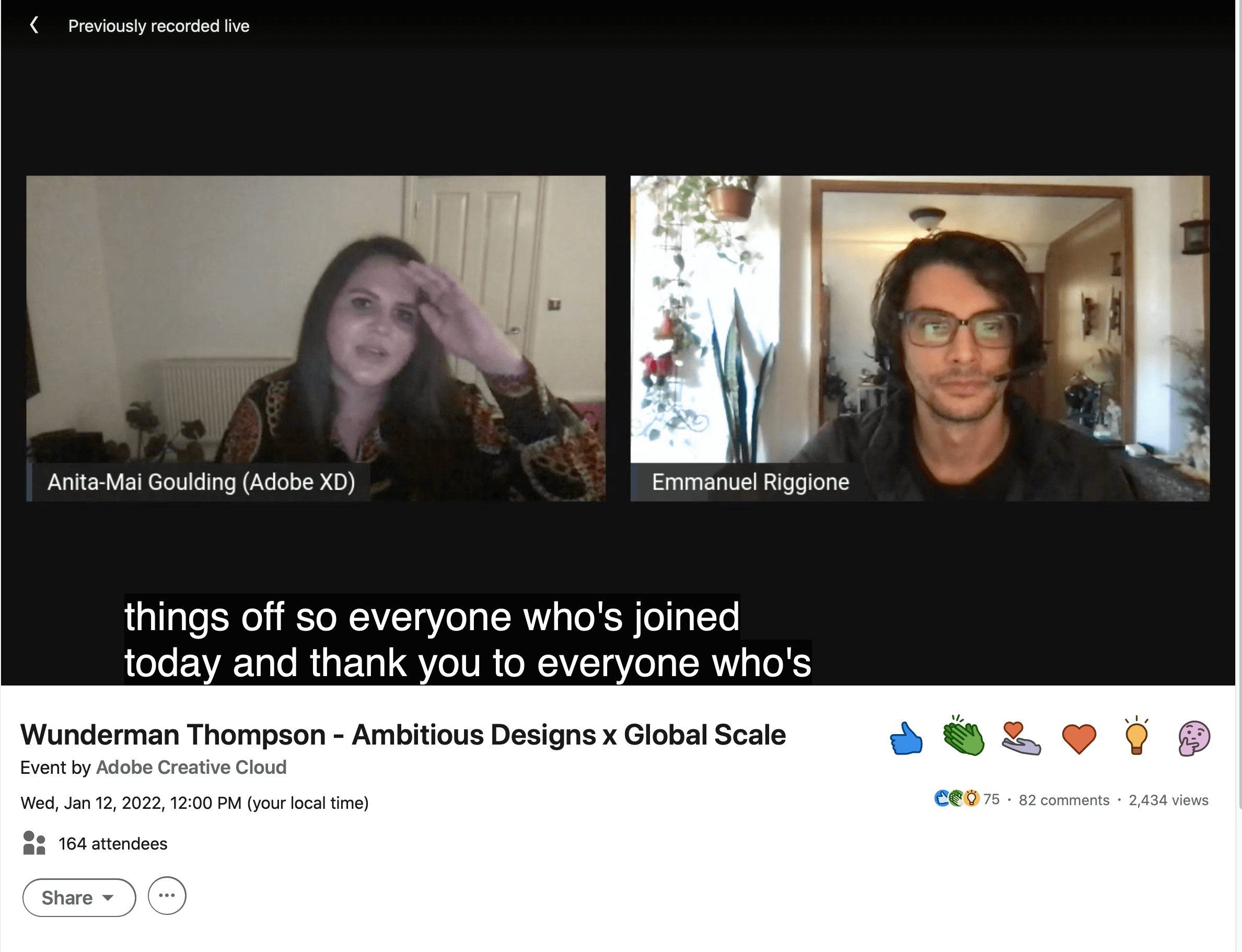 The social media channel reports that LinkedIn Live content gets an average of seven times more reactions and 24 times more comments than pre-recorded video. That means your company page's engagement rate could get a substantial boost from live events.
#5: Supplement Owned Content With Curated Content
Your business may have a lot of news and content to share. But producing new content for LinkedIn isn't always possible, or necessary. After all, content production requires resources that your team may not have or that would provide more value elsewhere.
So how can you keep your audience engaged without investing as many resources? LinkedIn now makes it easy to find and share trending articles. That way, you can provide value to your audience and join important conversations in your industry while keeping your team's time investment relatively low.
To find trending articles to share, open your company page and go to the Content tab. Select or add an industry to the filter so you can find content that's likely to engage your audience. You can also filter by location, job function, or seniority to fine-tune your selection.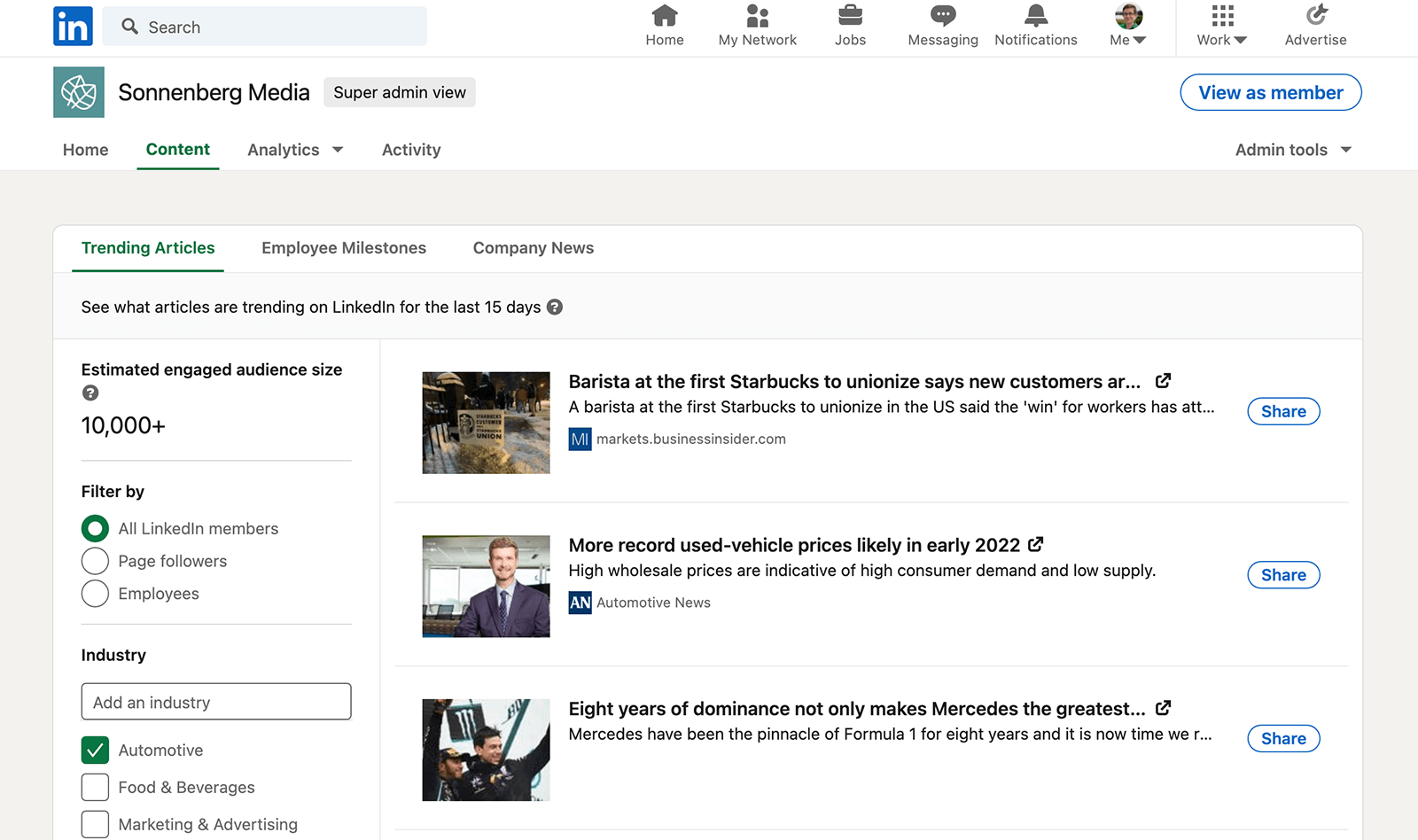 Click the Share button to the right of any article you want to publish. Write a brief caption and click the Post button to share the content with your audience.
#6: Increase Organic Reach With LinkedIn Ads
If you want to achieve more aggressive marketing goals or reach your objectives quicker, an advertising budget can help. With LinkedIn ads, you can promote your best content to targeted audiences and do anything from improving brand awareness to driving conversions.
If you've already identified top-performing organic content that you want to amplify, you can promote it by clicking the Boost Post button above the post. Choose an objective and an audience, and start promoting your content in a couple of clicks.
For a more complex campaign, use LinkedIn's Campaign Manager instead. After creating a new LinkedIn campaign, you can choose an objective that aligns with the stage of the sales funnel you want to target—including awareness, consideration, or conversions.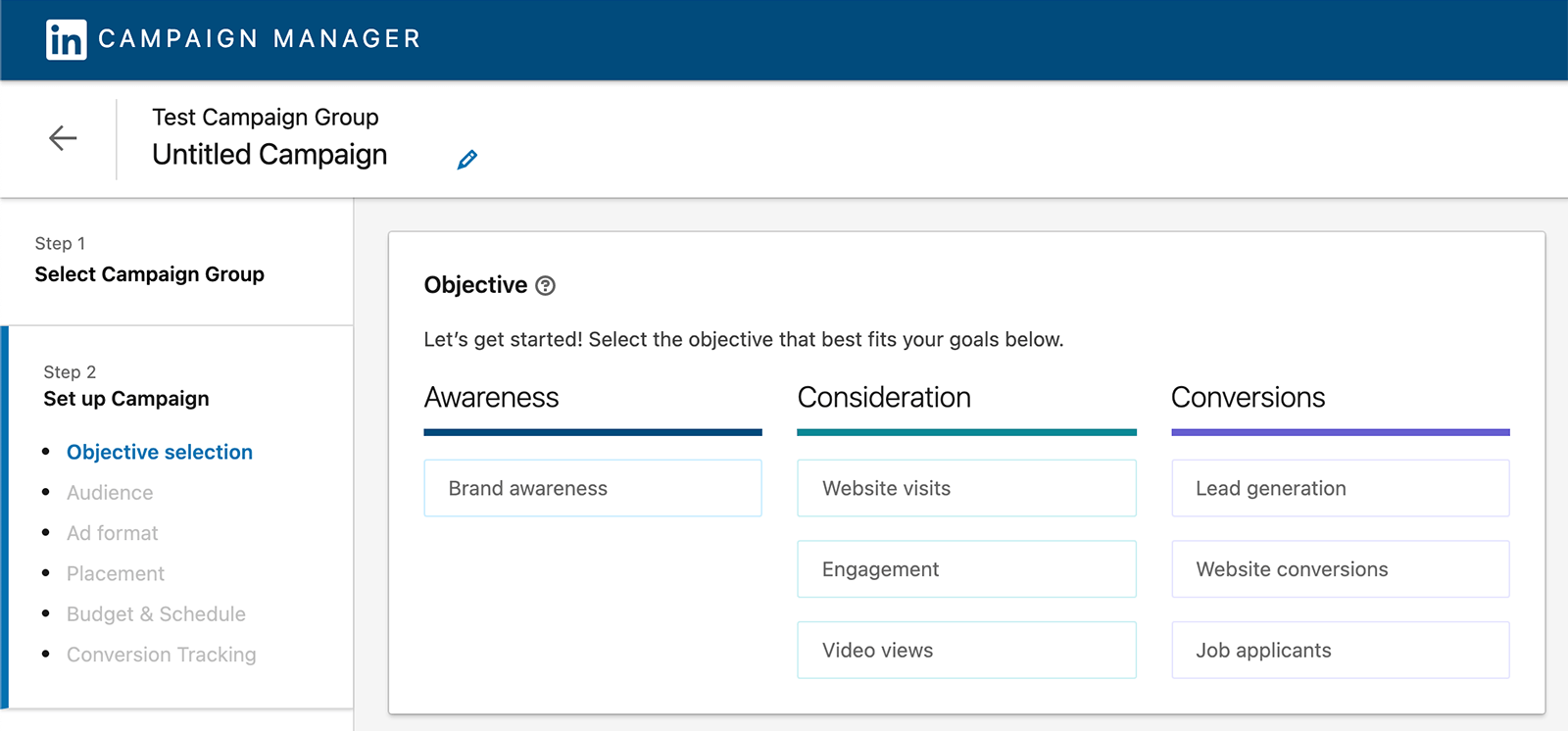 Then build an audience using demographic data, your own customer data, or LinkedIn's lookalike data. You can also retarget people who have engaged with your company page, videos, events, or website.
If you want to monitor leads, sales, and subscriptions on your website, use LinkedIn's conversion tracking tools to streamline the process. Alternatively, you can target in-app conversions using video or native lead generation forms.

Are you unsure what ad format, creative, or audience to use? You can create two campaigns to A/B test against one another. Make sure they're identical aside from the variable you want to test and run them simultaneously for a few days. Then compare the key metrics and devote the rest of your budget to the winning campaign.
#7: Review LinkedIn Analytics and Adjust Your Content Accordingly
Are you achieving the goals you set for your organization's LinkedIn marketing strategy? You can keep track of progress by monitoring your LinkedIn page's analytics. To identify the metrics that should matter most to your team, review your marketing goals.
Some of the most important metrics to monitor include:
Followers, which reflects how quickly your company page is growing
Impressions, which reveals how often your content appears in news feeds
Engagement rate, which shows how often people interact with your content
Click-through rate, which indicates how often people tap to view your links
To get a more complete view of your organization's LinkedIn metrics, check your website analytics too. With tools like Google Analytics, you can set up goals to track conversions like contact form submissions, free trial signups, email list subscriptions, and eCommerce sales.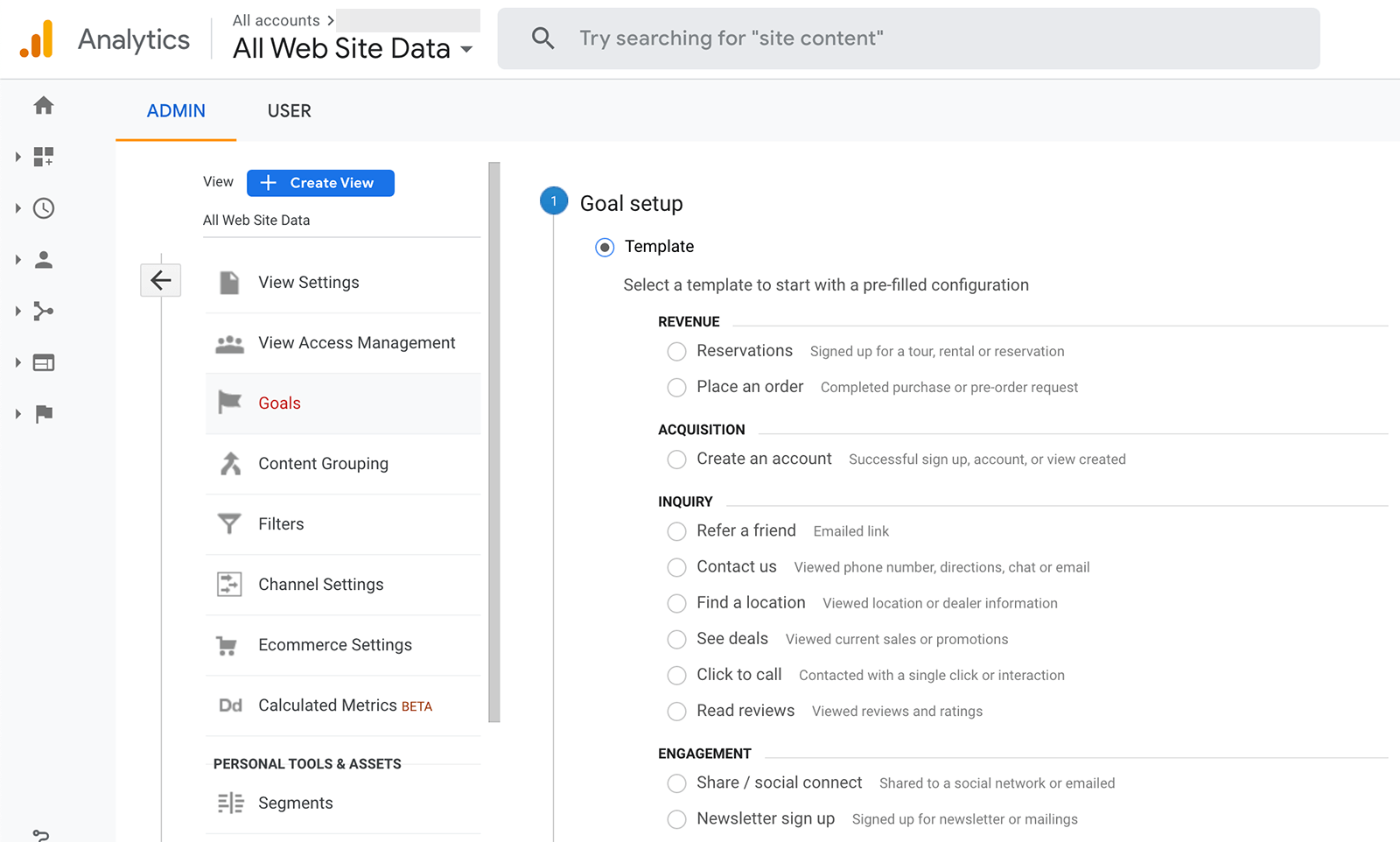 To track LinkedIn advertising results, go to Campaign Manager, where you can monitor metrics like:
Cost per click, which shows how much you're spending for each website visit
Leads, which indicates how many times prospects submitted a lead gen form or completed a lead event
Conversions, which reflects how many times prospects completed the conversion action you specified
If you're already reaching your goals, then you can optimize results by finding and amplifying top-performing content or ads. For example, you might turn a popular LinkedIn Live event into a regular series or expand your advertising audience to deliver your best campaign to more people.
If you're falling short of your goals, keep testing to improve results. From content types to target audiences to advertising objectives, you have countless options for modifying your approach and generating better results.
Conclusion
From organic posts to paid campaigns, LinkedIn offers a long list of opportunities for attracting customers and generating revenue. With clear goals to achieve and a target audience to reach, you can identify the best approach, create a LinkedIn content strategy, and grow your business successfully.
Get More Advice on LinkedIn Marketing
---
Stay Up-to-Date: Get New Marketing Articles Delivered to You!
Don't miss out on upcoming social media marketing insights and strategies! Sign up to receive notifications when we publish new articles on Social Media Examiner. Our expertly crafted content will help you stay ahead of the curve and drive results for your business. Click the link below to sign up now and receive our annual report!