Do you want your LinkedIn content to reach your target audience? Are you looking for more ways to market on LinkedIn?
In this article, you'll learn how to boost your reach on LinkedIn so you can connect with more prospects and customers.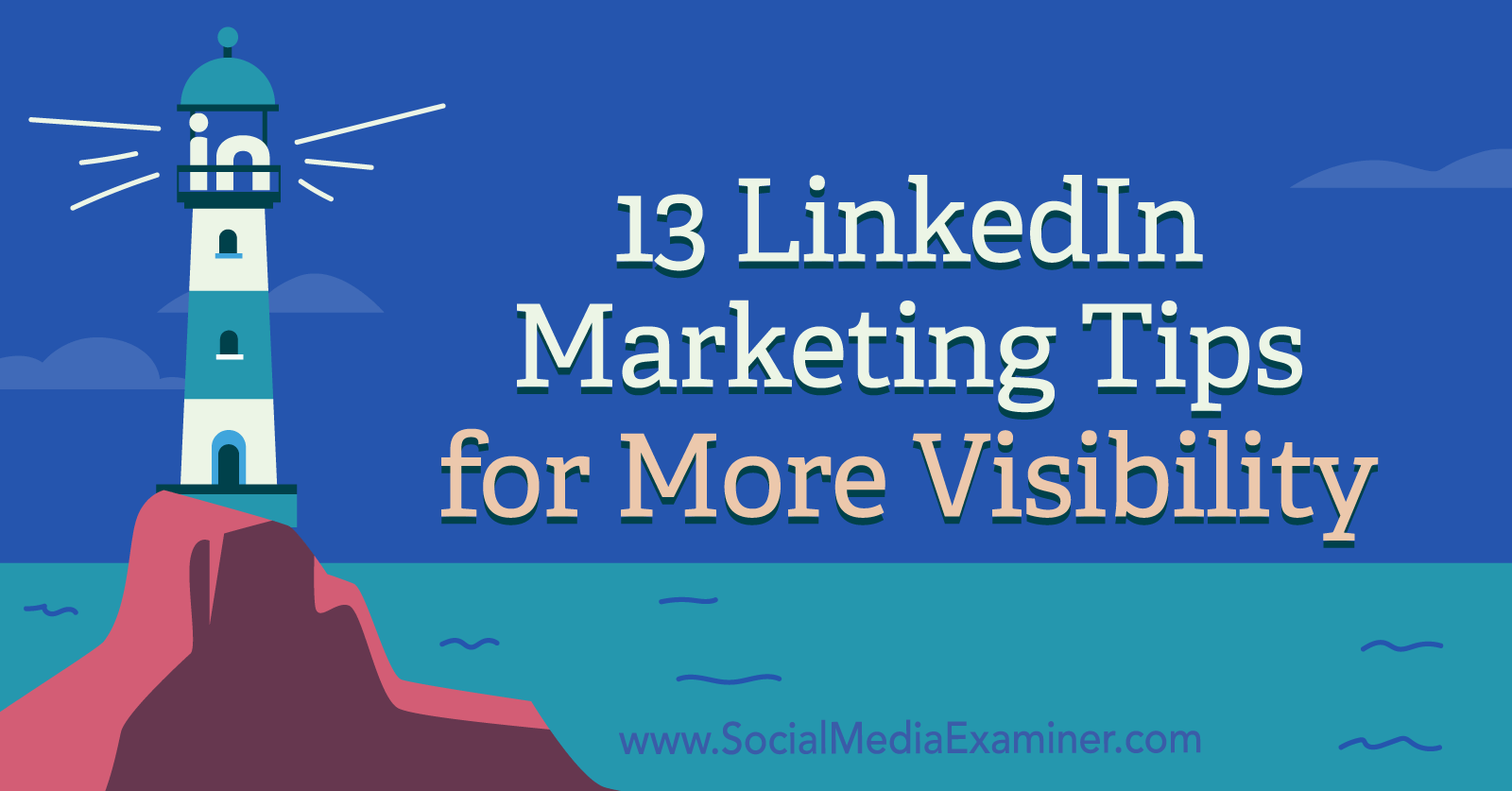 How to Increase Organic Reach for Your LinkedIn Company Page
When you want to connect with your target audience on LinkedIn, your company page is the ideal place to start. From publishing stronger posts to experimenting with video, you can increase your page's organic reach with these tips.
#1: Use Popular LinkedIn Hashtags
LinkedIn has had an on-again, off-again relationship with hashtags so it isn't easy to keep track of when or how to use them in your posts. These days, the platform recommends adding hashtags to LinkedIn posts and even suggests relevant ones to include.
For the most part, hashtags work the same way on LinkedIn as they do on other social media channels. They tell the platform what your post is about and drive discovery by putting your content in the news feeds of interested users.
How does that work exactly? LinkedIn lets users follow hashtags by searching for or clicking on any hashtag and tapping the Follow button. Once you follow a hashtag, you'll automatically see relevant content in your news feed.

That means adding hashtags to your content increases the chance of your posts appearing in users' news feeds—even if they don't follow your business yet. For example, this @outreach-saas post includes several relevant hashtags, neatly organized at the end of the message to avoid disrupting the flow of the content.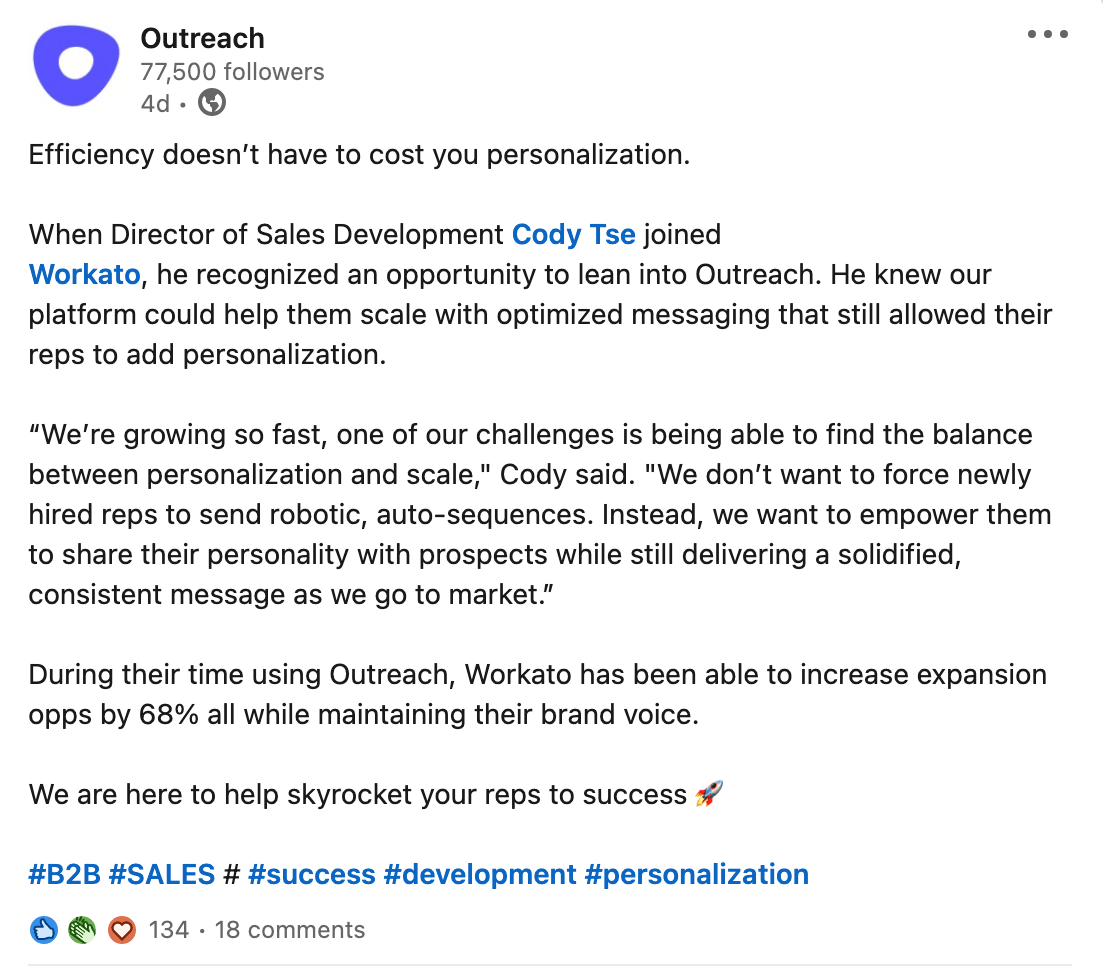 To add hashtags to LinkedIn company page posts, create your content and type hashtags manually. Alternatively, click on any recommended hashtags to add them instantly. LinkedIn recommends adding both broad and niche hashtags for maximum reach and placing them at the end of the post.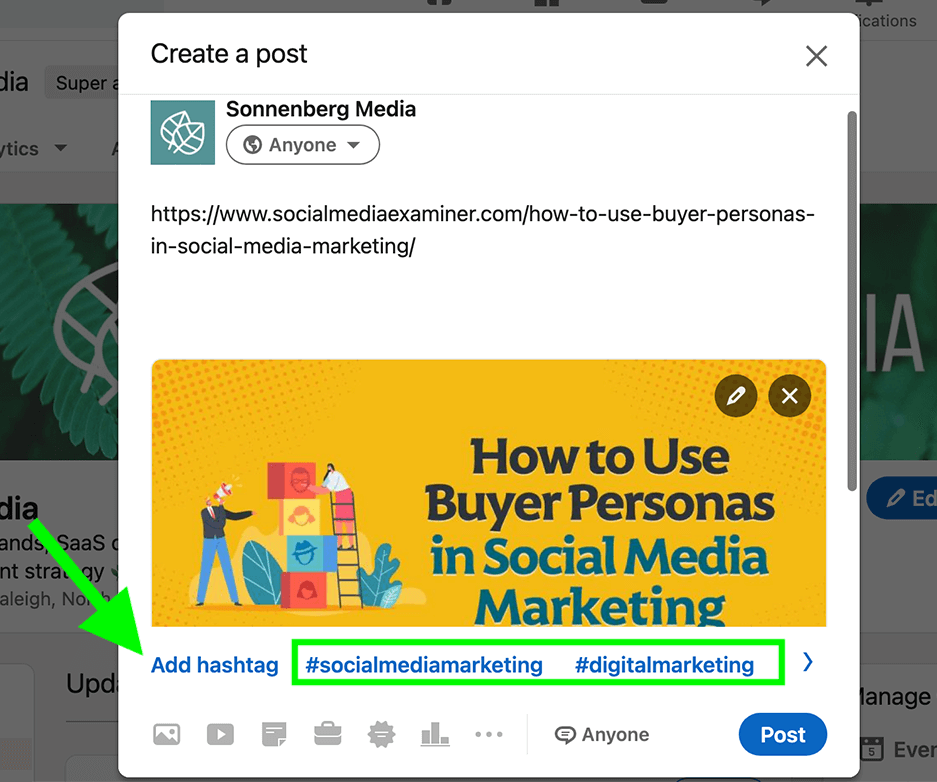 #2: Collaborate With a Thought Leader
Collaborations can improve reach and enhance exposure for brands on any digital marketing channel—and LinkedIn is no exception. LinkedIn makes it easy to collaborate with businesses or individuals by allowing company pages to tag both profile types.
To feature a thought leader on your company page, consider creating LinkedIn-specific content like a text post. For example, the @outreach-saas post above mentions Cody Tse, who's the director of sales development for the automation platform Workato and has more than 2,000 followers on LinkedIn.
To collaborate with a thought leader, you can also share content you've published outside of LinkedIn. For example, the @moz post below includes a link to a video hosted on the search engine optimization (SEO) platform's website. The post also mentions Cyrus Shepard, SEO expert and founder of Zyppy, an SEO company.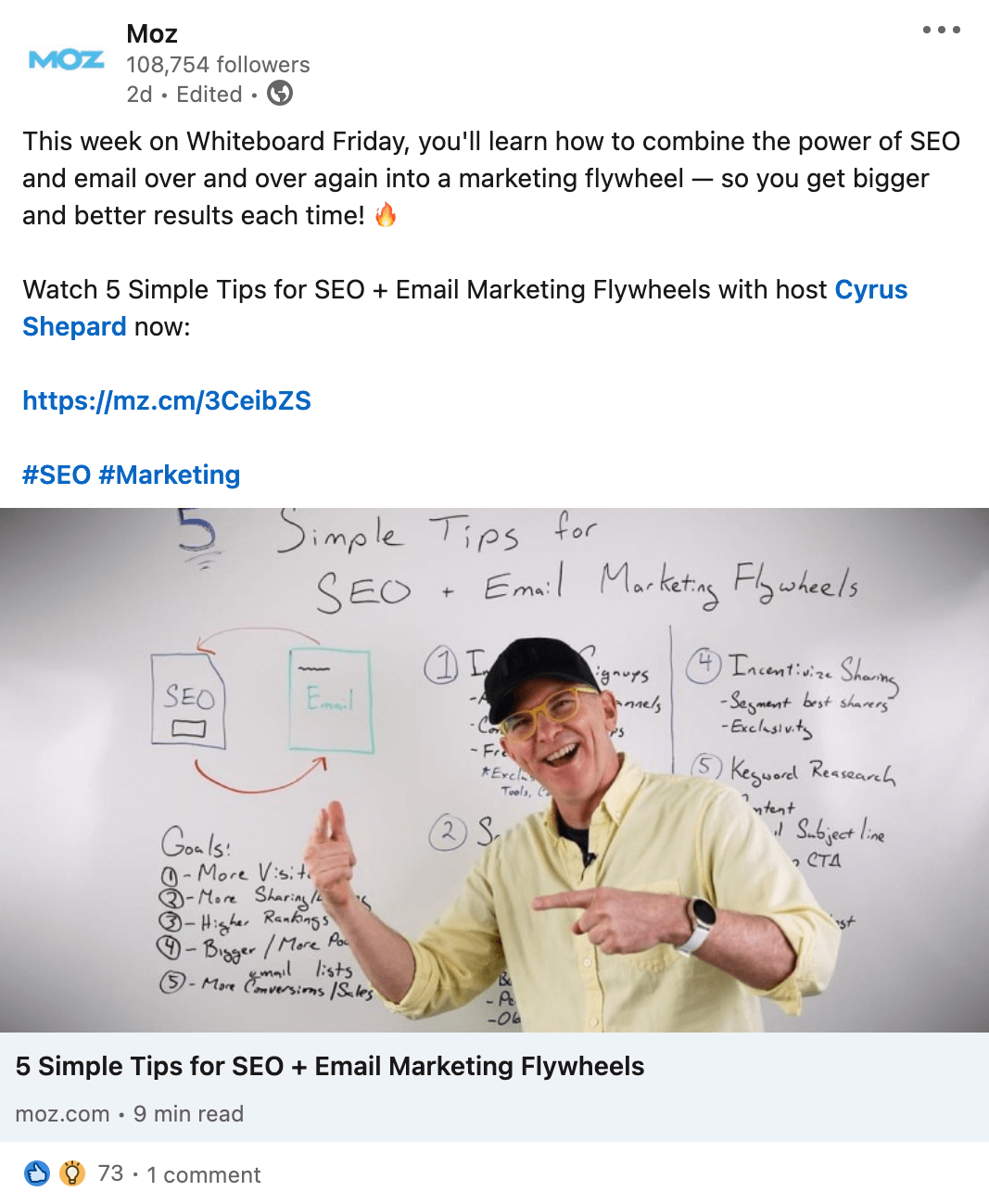 Executing a successful collaboration on LinkedIn is a lot like implementing an influencer marketing plan for your business. Start by identifying thought leaders in your industry and connecting organically. Then work together to decide what type of content to create—from getting a testimonial to producing a video to co-hosting an event.
#3: Publish a LinkedIn Article
Posts are the most popular type of content for company pages to produce on LinkedIn. But they aren't the only kind of text-based content your business can publish. In September 2021, LinkedIn rolled out articles for company pages, allowing businesses to create long-form content.
Why write an article instead of a post? Articles can be much longer than posts. LinkedIn limits company page posts to 700 characters. In contrast, articles can include more than 100,000 characters. That gives your business ample space to develop shareworthy thought leadership that can boost your reach.
Get Your FREE Course: Web3 for Beginners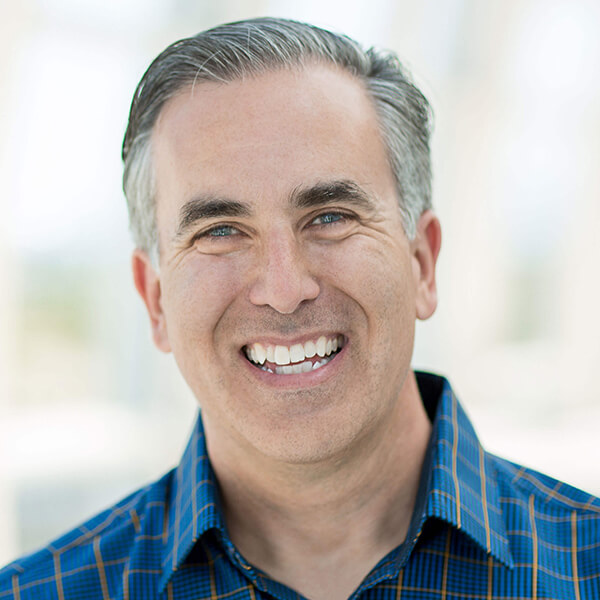 Curious about Web3, but don't know where to start or who to trust?

Introducing Web3 for Beginners, a course taught by Michael Stelzner, the founder of Social Media Examiner.

Learn the basics of Web3 and apply it to your business with this FREE comprehensive course.
CLICK HERE TO GET FREE ACCESS
As LinkedIn's version of long-form content, articles are similar to blog posts. They're easy to share on LinkedIn and can appear in searches within the platform. But they can also appear in other search engines like Google, which can increase your company page's reach outside of LinkedIn.
To publish an article, navigate to your company page and click the Write Article button. You can create completely new content but you don't necessarily have to start from scratch. You can syndicate blog content via LinkedIn articles, giving your original content added exposure and growing your company page at the same time.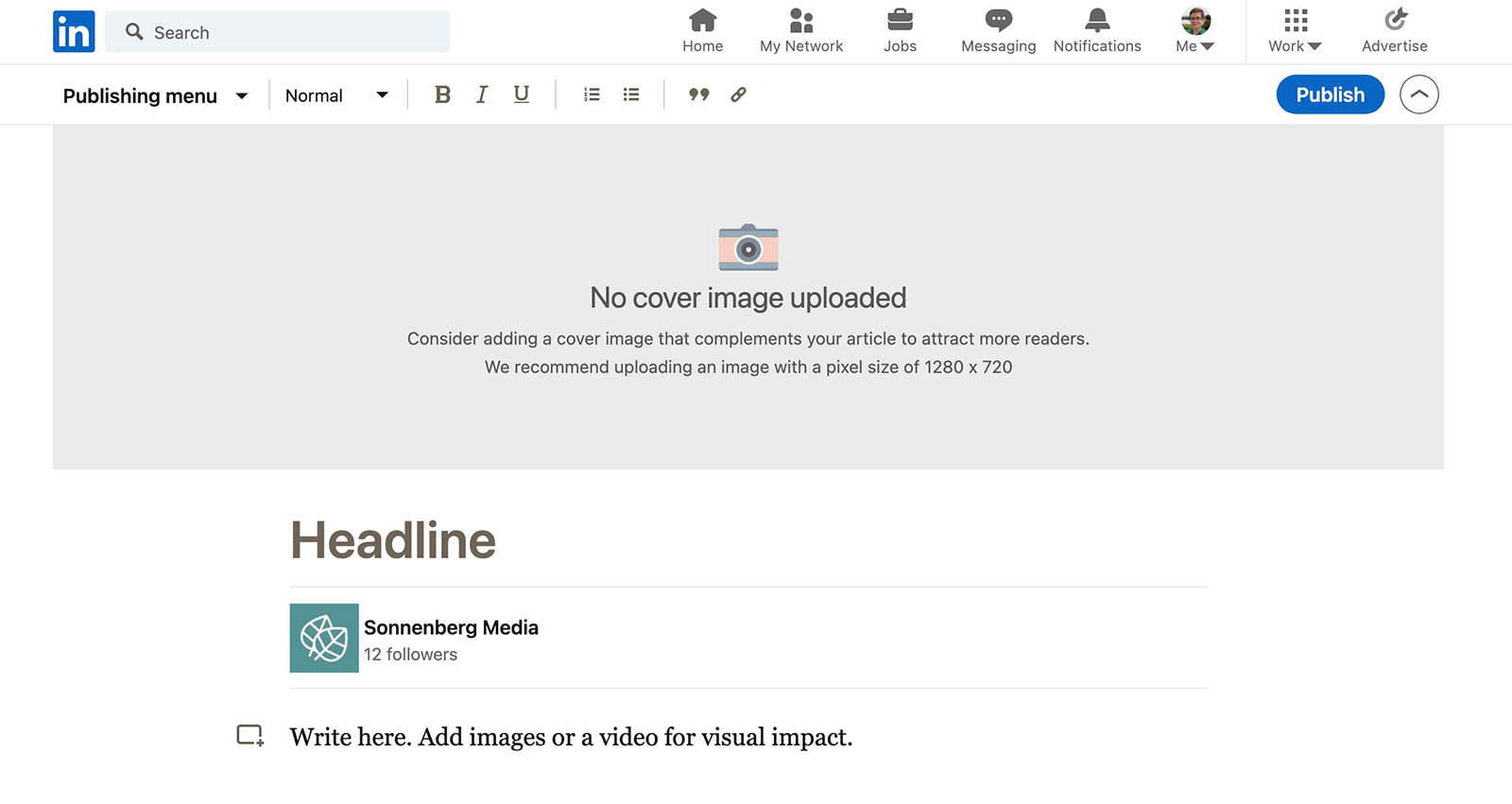 #4: Live-Stream With LinkedIn Live
Although posts and articles can generate a lot of engagement on LinkedIn, video tends to be even more effective. Native video is more likely to spark conversations among company page followers, which can be great for your reach.
But there's no reason to focus on pre-recorded video only. LinkedIn Live—the platform's built-in live-streaming tool—is also known for its excellent engagement metrics. According to LinkedIn, live videos generate seven times more reactions and 24 times more comments than native video.
Because engagement probability is one of the top-ranking signals for the LinkedIn algorithm, it follows that hosting a LinkedIn live could be a great way to increase reach for your company page.
For example, this @salesforce post showcases an upcoming LinkedIn Live event by Ebony Beckwith, host of the company's #BossTalks series. The post tags the event host, the guest, and the guest's company page to increase reach.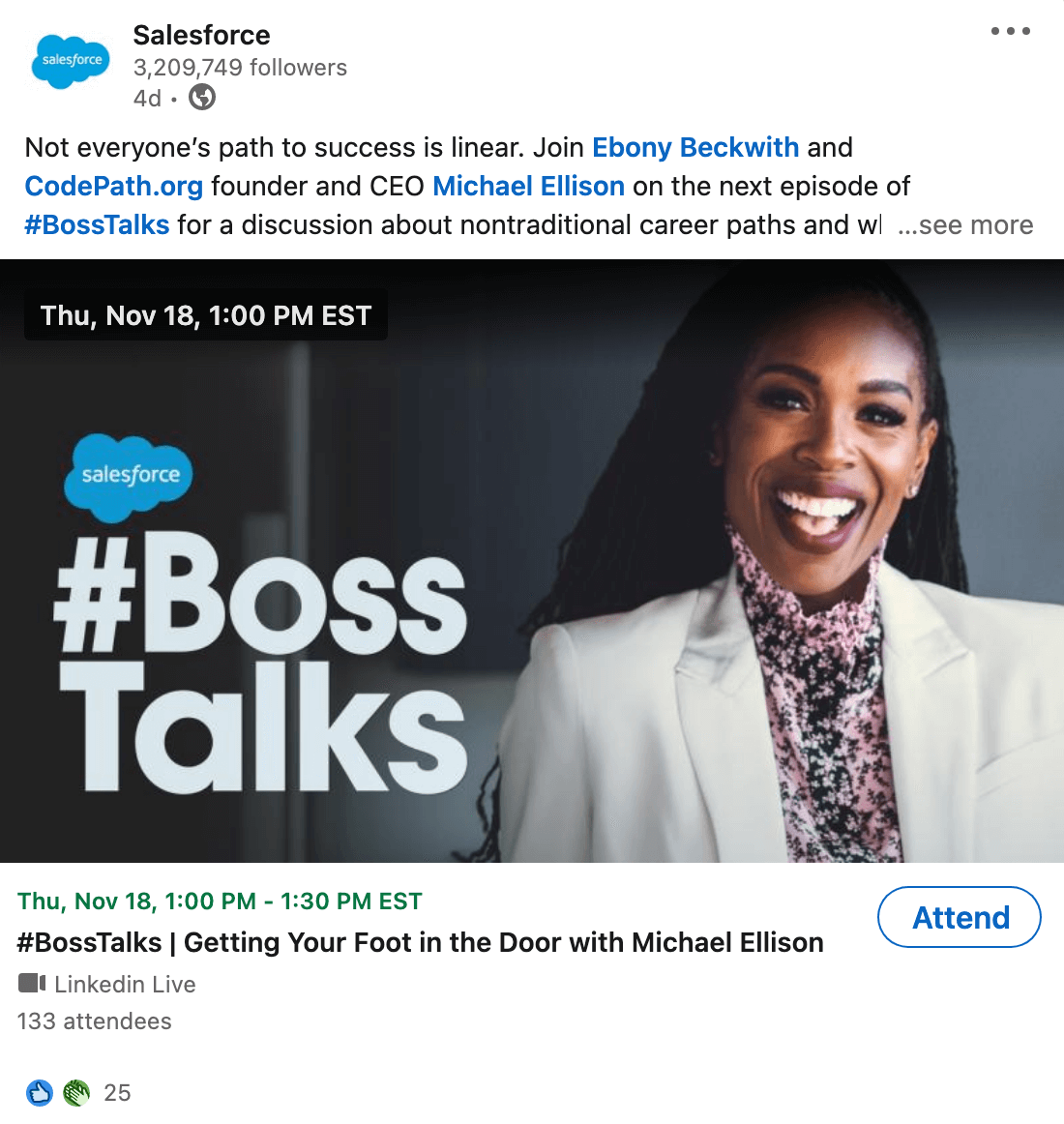 Live access is available via application only, but once your business is approved, you can schedule Live events in advance so you have ample time to promote. Interested LinkedIn users can click the Attend button to get a notification when the event starts.
#5: Ask Colleagues to Share Content
Do your employees or team members have large or engaged audiences on LinkedIn? Asking them to engage with posts, articles, and videos from your company page could do wonders for your reach. If they like or comment, their followers will be more likely to see your company's content.
For even more exposure, you can also ask colleagues to share your business' updates. There's no need for endless emails or in-person requests, as LinkedIn streamlines the process.
Navigate to any company update you want to promote and click the Notify Employees link above it. Confirm that you want to notify all employees connected to your company page, and everyone will receive a LinkedIn notification instantly. To recommend particularly important posts, you can notify your team multiple times.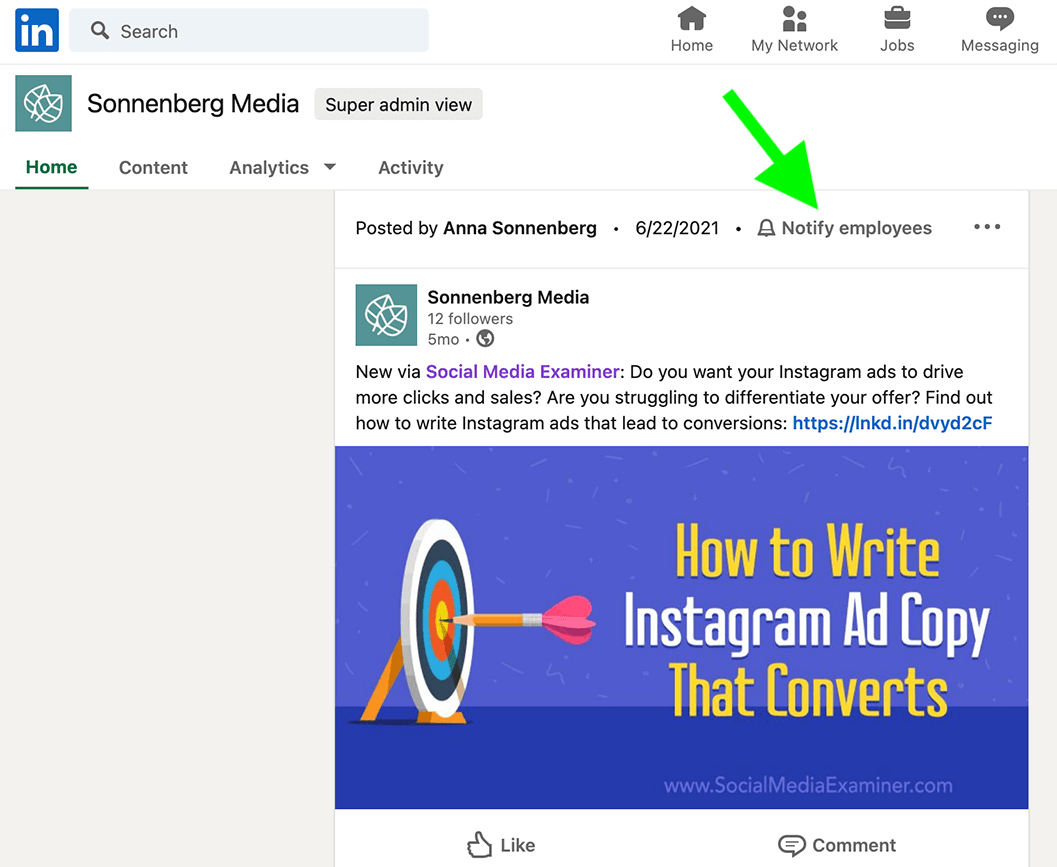 To track the results of your requests, go to your company page analytics and open your employee analytics. You can see how many people responded to your recommendations. You can also sort by their seniority or job function to get a better idea of who's contributing the most to your increased reach.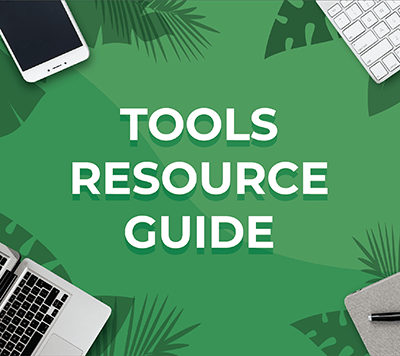 Looking for something to make your life easier?
Discover the tools we recommend to drive engagement, save you time, and boost sales across your entire marketing funnel or business.
Whether you need help planning content, organizing social posts, or developing your strategy, you'll find something for every situation.
FIND YOUR NEXT FAVORITE TOOL
How to Improve Your Brand's Organic Reach via Your LinkedIn Profile
When you want to grow your business, using your company page is a smart way to get exposure. But what if your personal profile has a large following or you've established yourself as a thought leader? Your LinkedIn profile offers even more opportunities to build your brand.
#6: Leverage Thought Leadership via Your Profile
Have you built a massive following on your personal profile and established yourself as a thought leader on LinkedIn? You can use your personal influence to grow your business and promote your company page.
To give your business a boost, create LinkedIn posts about your company. You can share your company's native video, posts, and articles or link to external blog posts and web pages. Tagging your company page can help with reach, but it isn't always necessary.
For example, this @brianedean post mentions two of Brian Dean's businesses: Backlinko and Exploding Topics. But it's far from a strictly promotional post. Instead, it provides a compelling narrative and useful advice that readers can follow to grow their own businesses.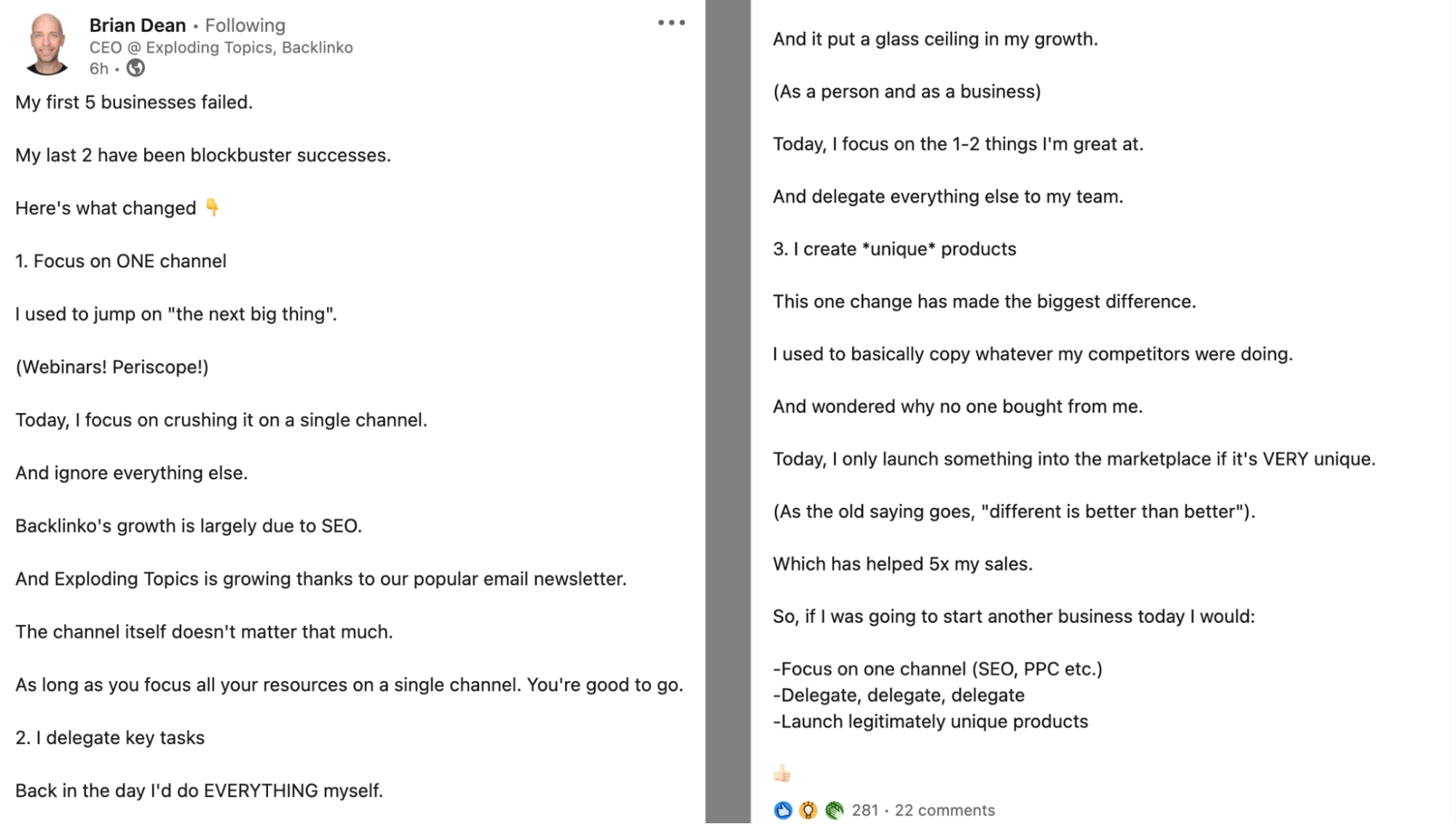 The post has hundreds of reactions and dozens of comments. All of this engagement signals to the LinkedIn algorithm that it should surface more similar content from Dean, by his companies, or about the topics he covers—continuing to increase his reach.
#7: Start a LinkedIn Newsletter
Since their launch, LinkedIn newsletters have been available by invitation only—at least until very recently. In November 2021, LinkedIn began rolling out newsletter access to all users, allowing everyone to write one.
On LinkedIn, newsletters look similar to articles and even appear under the Articles tab in your activity feed. But there's a big difference. Newsletters allow signups and they notify subscribers every time you publish a new issue.
If you were concerned about low news feed visibility, writing newsletters with built-in notifications could be a great way to increase reach. LinkedIn even lets you invite people to subscribe to your newsletter, giving you another chance to connect with your audience.
For example, this monthly newsletter by @louisebrogan provides strategic tips for winning business via LinkedIn. The newsletter reinforces Brogan's knowledge of LinkedIn and includes a subtle promotion for her business. Readers can react, comment on, and share the newsletter on their own news feeds.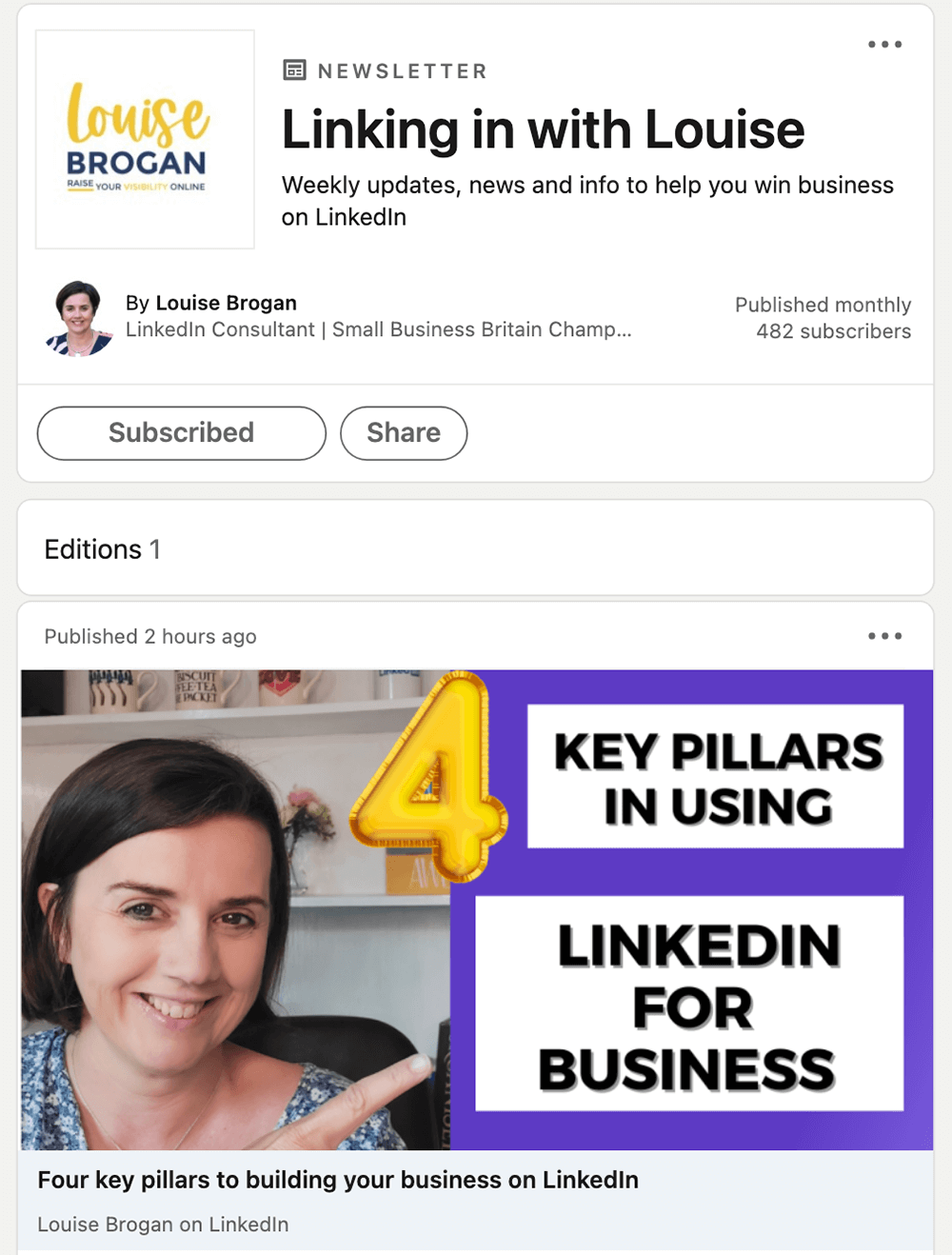 To write your own newsletter, turn on creator mode in your personal dashboard. Then click the Write Article button and choose Newsletter from the list of options. (Note that this feature is still rolling out and may not be available to everyone yet.)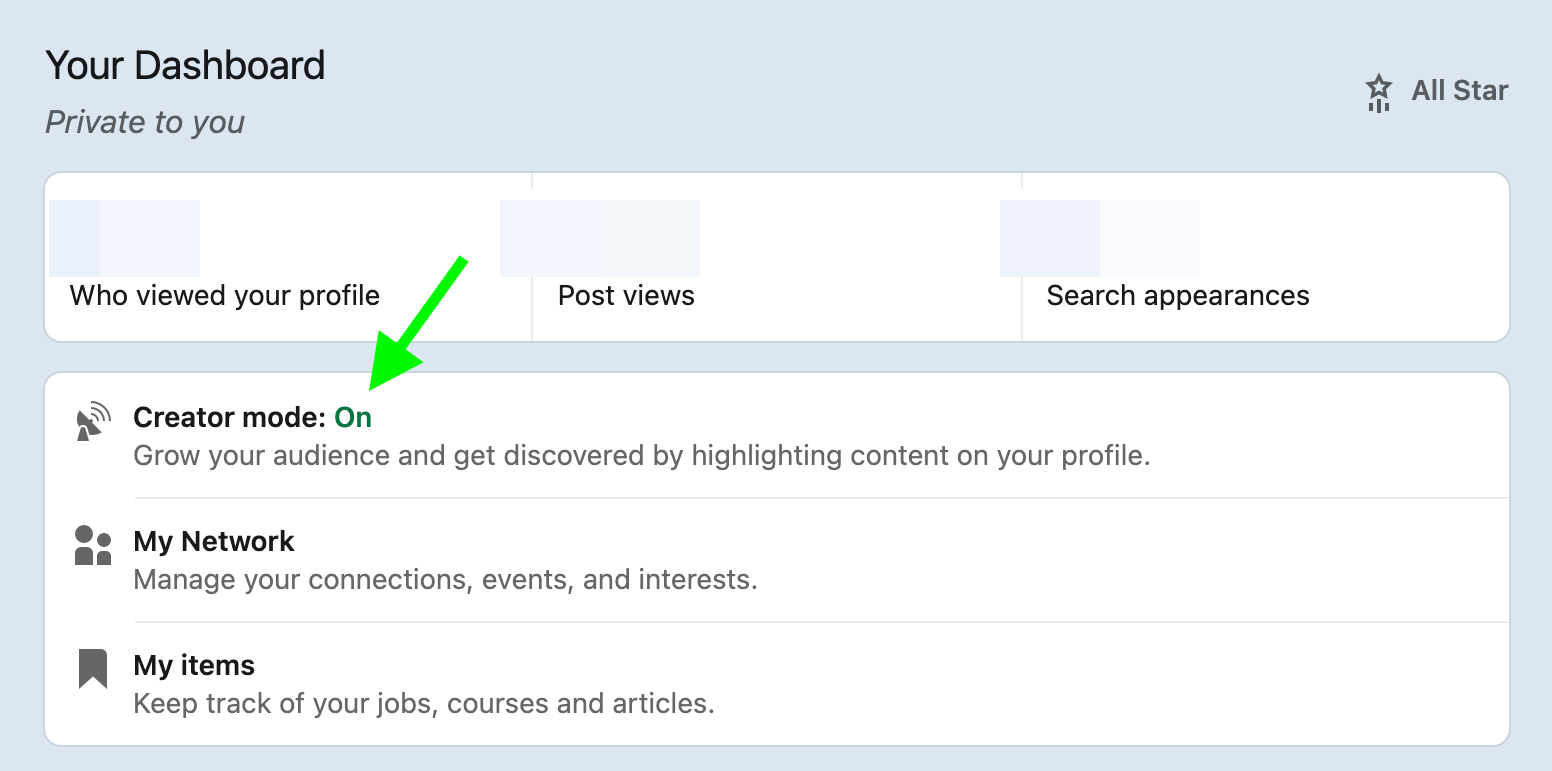 #8: Ask Followers to Tag Colleagues
Writing a newsletter could certainly increase your reach and help you build your brand. But when you want to create short-form content or share a link to existing content, publishing a post is your best bet.
How can you ensure as many people as possible see your post? In addition to adding hashtags to drive discovery, write a call to action (CTA) that encourages engagement. For instance, you might ask your followers to comment on or share the post on their feed.
For example, this post by @wilcoxaj highlights mistakes that software as a service (SaaS) companies often make in LinkedIn ads. The post's CTA invites readers to tag SaaS colleagues who might benefit from the video. This approach is likely to increase the reach of this specific post but it could also tell the LinkedIn algorithm to show more of the creator's posts in the future.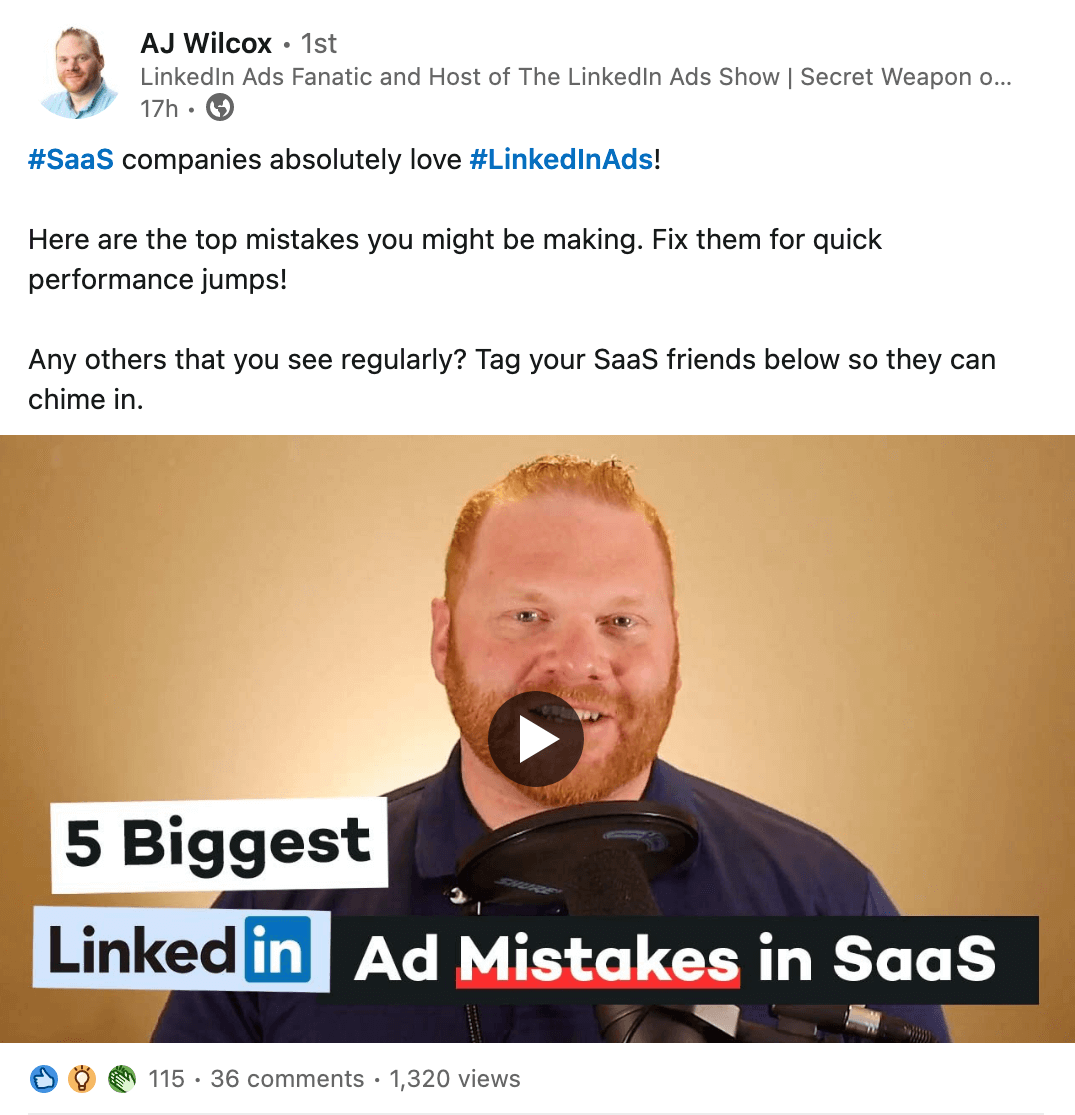 How to Boost Reach With LinkedIn Ads
When you want to scale your reach or see results quicker, you can't always rely on organic methods alone. Instead, LinkedIn ads can help you reach more of the right people faster.
#9: Turn on Audience Expansion
A strong target audience is one of the most important aspects of any LinkedIn ad campaign. But building an audience that fits your buyer persona or creating a campaign that retargets interested prospects may not always achieve the reach you want.
To connect with even more people who are similar to your target customer, use LinkedIn's Audience Expansion tool. Check the Enable Audience Expansion box when building your audience and consider excluding certain attributes to gain additional control over who sees your sponsored content.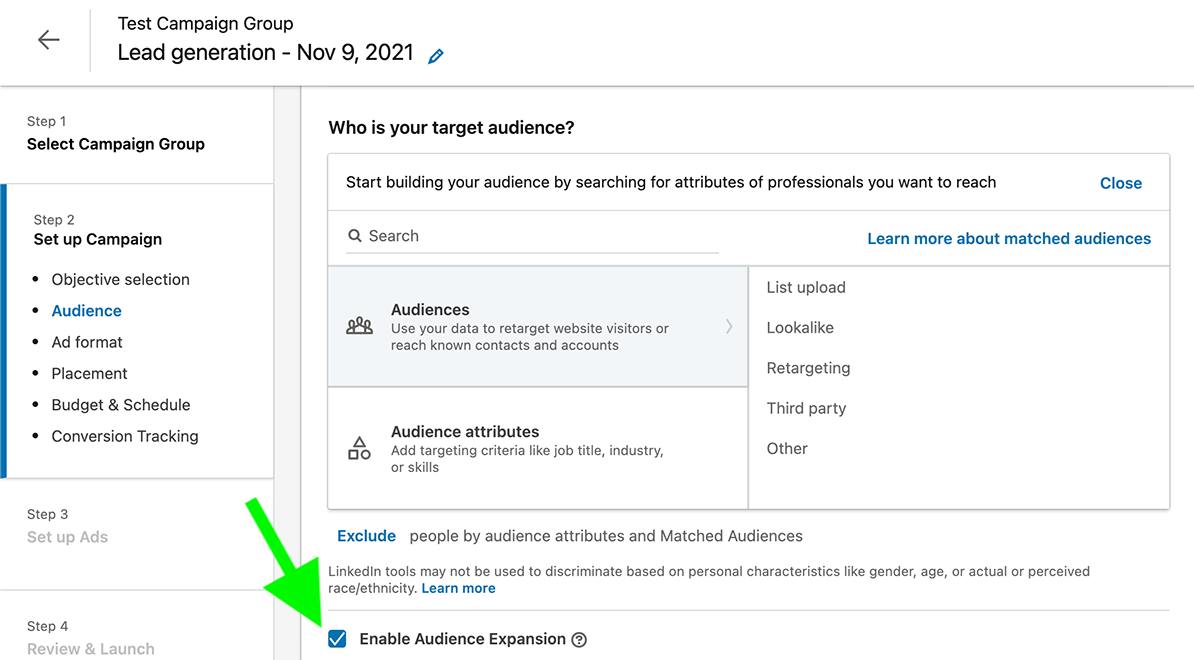 #10: Leverage Matched Audiences
When you want to maximize reach among prospects and warm leads, make the most of LinkedIn's Matched Audiences. This tool lets you use business data to fine-tune your LinkedIn ad targeting.
For example, you can use contact targeting to reach out to people on your contact list or in your customer relationship management (CRM) tool. You can also use website retargeting to reconnect with people who have already viewed content or taken certain actions on your site.
#11: Advertise on the LinkedIn Audience Network
Why limit your campaign placements to LinkedIn alone? The platform also allows ad placements on the LinkedIn Audience Network, which can increase reach by up to 25%. You can turn on this option when configuring placements for your campaign.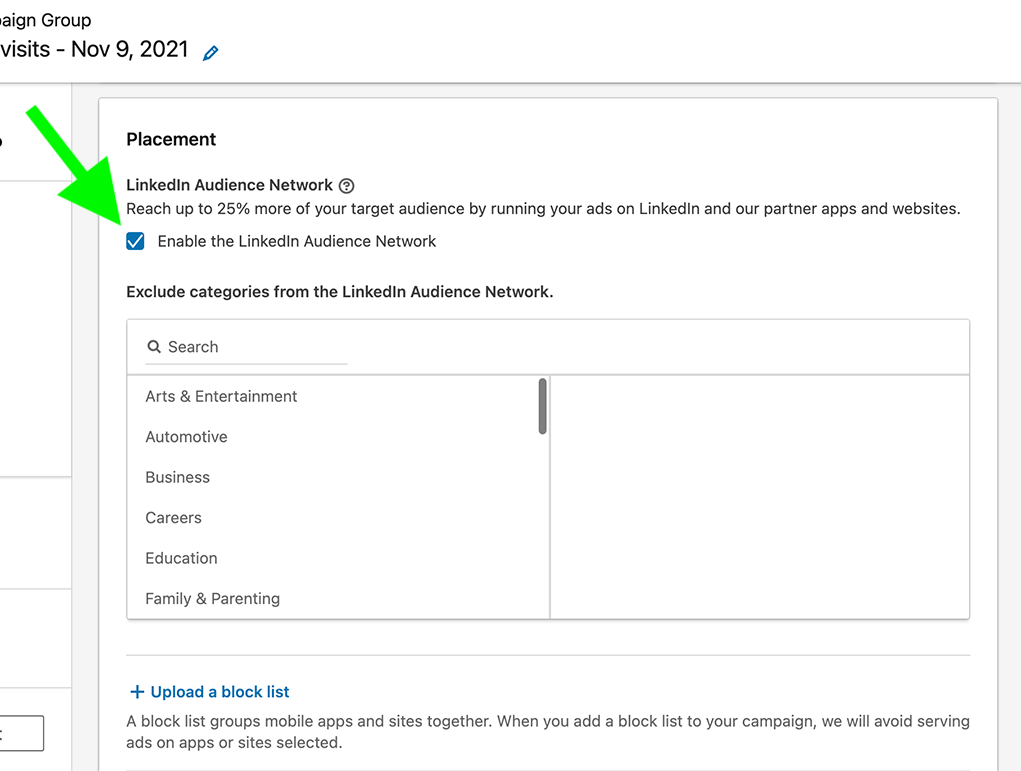 For more control over where your ads appear on partner sites, exclude categories that don't apply to your business. Alternatively, you can upload a block list to prevent your campaign from appearing on certain sites or apps.
#12: Experiment With Concise Ad Copy
Before drafting ad copy, work with your team to condense your message as much as possible. Although the character limits for each field are a few hundred characters, LinkedIn recommends keeping ad copy as concise as possible.
Aim to limit headlines to 70 characters and introductory text to 150 characters to prevent truncation. The shorter and more attention-grabbing your headline is, the more likely it is to generate more engagement, which can boost reach.
#13: Run A/B Tests on LinkedIn
To make sure you're running the most effective campaigns, create a split test and compare results. The LinkedIn Ads platform doesn't have an automated A/B testing option but you can set up a test manually.
Create a campaign and duplicate it. Then change a single element in the new campaign such as the headline, the creative, or the targeting. Then run the two campaigns and compare reach. LinkedIn recommends testing for 2 weeks before determining a winner and devoting the rest of the budget to the best campaign.
Conclusion
From organic posts and articles to newsletters and LinkedIn Live to sponsored content, this professional networking channel offers a wide range of options for increasing reach and driving discovery. Whether you want to grow your company page, establish your personal profile, or build both, these tips can help you reach more of your target audience.
Get More Advice on LinkedIn Marketing
Get Your FREE Course: Web3 for Beginners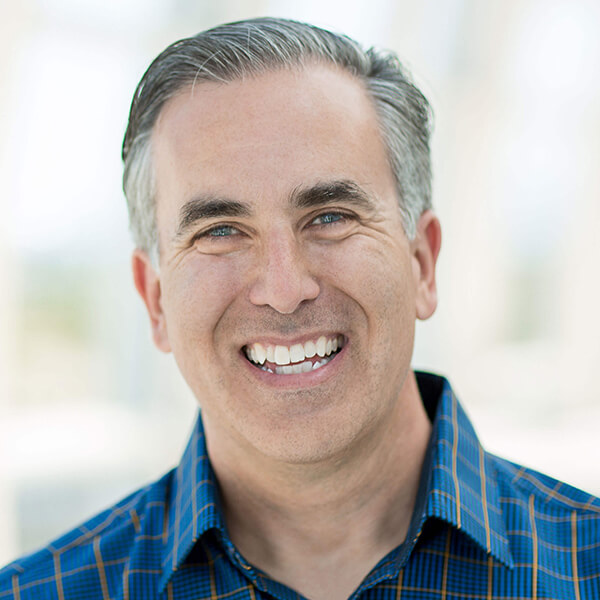 Curious about Web3, but don't know where to start or who to trust?

Introducing Web3 for Beginners, a course taught by Michael Stelzner, the founder of Social Media Examiner.

Learn the basics of Web3 and apply it to your business with this FREE comprehensive course.
CLICK HERE TO GET FREE ACCESS