Want to improve organic engagement on LinkedIn? Wondering if LinkedIn Stories and Live could work for you?
To explore organic LinkedIn marketing strategies that work today, I interview Michaela Alexis on the Social Media Marketing Podcast.
Michaela is a LinkedIn expert and an official LinkedIn Learning trainer, coach, and consultant who helps businesses master their LinkedIn organic presence. She co-authored Think Video: Smart Video Marketing and Influencing.
You'll learn what kind of content works best in the LinkedIn feed and how best to use LinkedIn Stories and Live video to engage the people in your network.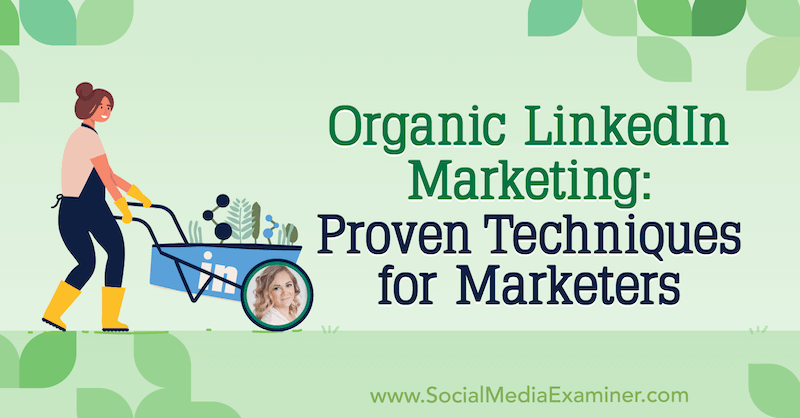 The reason LinkedIn is important to professionals, especially marketers, comes down to user intent. Michaela notes that while most people spend time on Facebook and Instagram to reconnect with friends and family or to escape, people come to LinkedIn to grow, connect, learn, and meet new people. As a result of the current pandemic and a rise in remote working, people are also turning to LinkedIn to stay in touch and engaged with their colleagues and teams.
When you pair that strong user intent with the platform's growth over the past year, its place as a global, professional networking space is unquestionable. Almost 700 million people are on LinkedIn, and 45% of internet users who make more than $75,000 a year annually use LinkedIn.
For marketers, however, there's an additional compelling stat: Four out of five LinkedIn users drive business decisions at their companies. Michaela says that 92% of people on LinkedIn also use YouTube, so if your marketing involves YouTube, you might find traction with the same or similar audience on LinkedIn.
What's Changed on LinkedIn?
Over the past year, Michaela has noted a number of technical and cultural shifts on LinkedIn.
There's been a shift to more personal content on the platform. While this shift began before the pandemic, it definitely became more pronounced as people quarantined and began working remotely.
Rather than posting about the awards they've won or a promotion they've received, they're filling the LinkedIn feed with more authentic, vulnerable content centered around the career challenges they're trying to overcome.
Michaela often shares this type of content in her long-form LinkedIn updates and uses a storytelling formula to compose the post. What happened or what's the story? Why does it matter to the person reading the story? What should the reader do next or what's the call to action?
Get Your FREE Course: Web3 for Beginners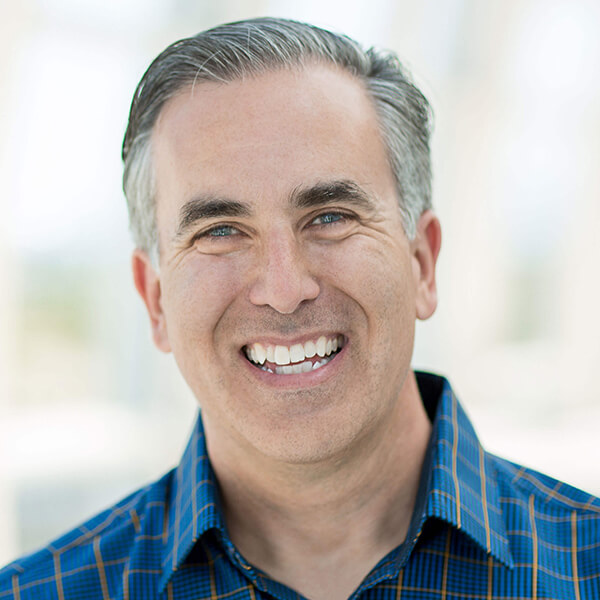 Curious about Web3, but don't know where to start or who to trust?

Introducing Web3 for Beginners, a course taught by Michael Stelzner, the founder of Social Media Examiner.

Learn the basics of Web3 and apply it to your business with this FREE comprehensive course.
CLICK HERE TO GET FREE ACCESS
The shift to this type of content is working because so many other people are dealing with the same issues, whether it's fear of failure, rejection, imposter syndrome, or something else. People miss daily human-to-human connection and they want to know they're not alone in the challenges they're facing.
The next shift she's noted is a change in how people are growing their LinkedIn network. People are connecting to people who can help them learn and grow, as opposed to connecting to people based on their job title or how much clout they have in the business community.
She's also noticed a more casual approach to video on LinkedIn. People are using video to talk about their beliefs or values, and they're adding more humor to their videos. While you would expect to see this type of content on TikTok, Facebook, or Instagram, it's fairly new to LinkedIn.
Finally, Michaela herself has shifted the way she's using hashtags on LinkedIn. Rather than using only hashtags that describe the content, she's using hashtags her ideal audience is likely to look for. For example, in the past, if she shared a LinkedIn tip as her company page, she would have used #LinkedInTrainer and #LinkedInExpert. Now, she also uses #LinkedInHelp, #LinkedInTips, #LinkedInForBeginners. Using a combination of hashtags in your own content is more likely to help increase your visibility.
Using LinkedIn Stories
LinkedIn Stories, a mobile-only feature available to personal profiles and company pages, is fairly new so the experience isn't as robust as the Stories experience on more established platforms such as Instagram. For example, you can't view LinkedIn Stories from a desktop. Stories can be up to 20 seconds long and they stay up for 24 hours.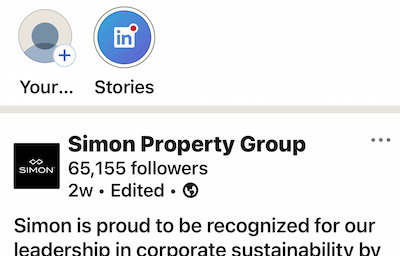 Your connections' stories show up at the top of the Home screen on mobile, next to your own profile photo. To create your own story, you can either record video through the LinkedIn app or upload videos and photos from your camera roll.
Michaela likes the filters and text options available on Instagram Stories so she creates a story in Instagram and then, rather than publishing it, she downloads the story to her camera roll so she can use it on LinkedIn.
When you're creating Stories content, remember to match the intent of people looking through Stories—they don't want to watch a 5-minute video that's been cut into 15 20-second segments. They want to quickly learn something, be entertained, or get something of value. Apps such as Story Splitter can help you create a single Stories-friendly 20-second clip from your longer videos.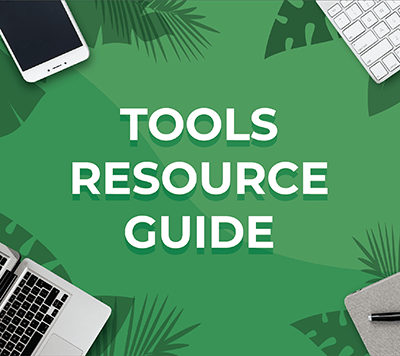 Looking for something to make your life easier?
Discover the tools we recommend to drive engagement, save you time, and boost sales across your entire marketing funnel or business.
Whether you need help planning content, organizing social posts, or developing your strategy, you'll find something for every situation.
FIND YOUR NEXT FAVORITE TOOL
What should you post about in your stories? Selling via stories is okay, says Michaela, but she recommends content that goes beyond the details readily available on your profile. Your LinkedIn story is a great opportunity for you to be able to break the ice with people. Talking about how you take your coffee or what sports teams you're cheering for helps people decide whether you're somebody they can work with or refer business to.
One important limitation with LinkedIn Stories is that only your connections can respond to your Stories content—something to keep in mind if you have a small network but a large following. However, if you mention a connection in your story, they'll get a notification the next time they open LinkedIn whether they're on mobile or desktop.
While LinkedIn Stories isn't being used by a lot of people right now, Michaela sees this as a valuable opportunity on two fronts.
The first is staying top of mind with her network and with connections she's nurturing. When you post a story, you're literally at the top of the LinkedIn feed on the home screen. Even if someone doesn't watch your story, they see your face.
The second is reaching a new audience. When it comes to consuming content, every person has their own preferences. Some like to read articles, some like to listen to audio, and some like to watch video. Some prefer long-form content and some prefer short-form content. Utilizing LinkedIn Stories lets her reach those who value short-form content, in the best way possible.
Using LinkedIn Polls and Questions
LinkedIn polls are available via profiles, company pages, and LinkedIn Events, and allow you to provide multiple response options to a question. Michaela typically provides four options.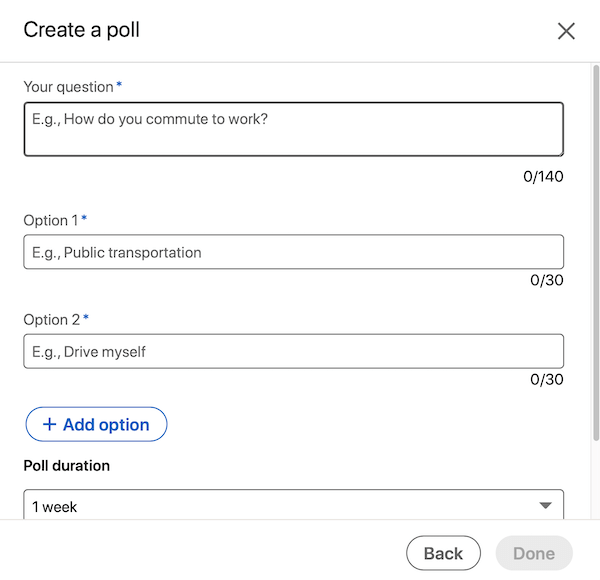 They're especially useful for creating engagement because people like sharing their opinions and you can use that to your advantage.
For example, if you run a company page on LinkedIn and have a number of ideas for content but don't know which your audience is most likely to value, you can run a poll to let your audience guide what you create. That way, they'll feel heard and acknowledged. For example:
Hey, you know what? We've been thinking about creating a webinar series or a live video series or this downloadable checklist. Which one would actually help you in your career?
Webinar Series
Live Video Series
Downloadable Checklist
Asking open-ended questions rather than yes/no question is another way to engage your audience and let them share their opinions. Michaela once asked people to share any book they'd read that changed their life. People recommended hundreds of books and shared why their recommendation was important to them. Then people started messaging her with requests to create an article that included all of the books. The resulting article is still on her profile today.
Asking questions is also a good marketing strategy. As marketers, we often focus on how we can get someone to the finish line. Sometimes, we simply need to take a step back and figure out what someone's missing to make the decision to work with or buy from us. Most of the time, it's trust, and asking questions is a good way to open conversations that start building that trust.
Using LinkedIn Live for Pages
LinkedIn Live is available by application for use on personal profiles and company pages.
To improve your chances of approval, be sure to have two-factor authentication enabled on your account before you apply and ensure that your page admins and account are in good standing. If an admin or your account has been suspended, you could have trouble getting approved.
When you apply for access, LinkedIn will assess your page's video and content creation history and engagement history. You should have a few hundred followers who consistently engage with your content; brand-new pages with no history are unlikely to be approved.
If you follow the application process and meet all of the criteria, the approval should be quick.
Once approved, you'll need to use a third-party tool such as Socialive, Switcher, or Restream to broadcast via LinkedIn Live. Michaela strongly recommends having a second person manage the back end of the broadcast, community comments, and engagement.
LinkedIn Live is working extremely well for companies. Automation Anywhere just launched one of their products via live stream across all platforms and LinkedIn Live generated 78% of their views and 400 comments. Salesforce ran an 11-part interview series on LinkedIn Live that brought in more than 600,000 organic views and a 3% engagement rate.
Another company, Gong, did a 12 Days of Swagmas series last year. Once a day, they went live for a minute or two with a trivia question and asked viewers to leave their guess at an answer in the comments section. Gong then chose a winner each day.
A variety of approaches work. The key is to decide what your goal is and then plan the length and content of your live video around the goal.
What do you think? What are your thoughts on the kind of content that works best in the LinkedIn feed? Please share your comments below.
Key Takeaways From This Episode:
Get Your FREE Course: Web3 for Beginners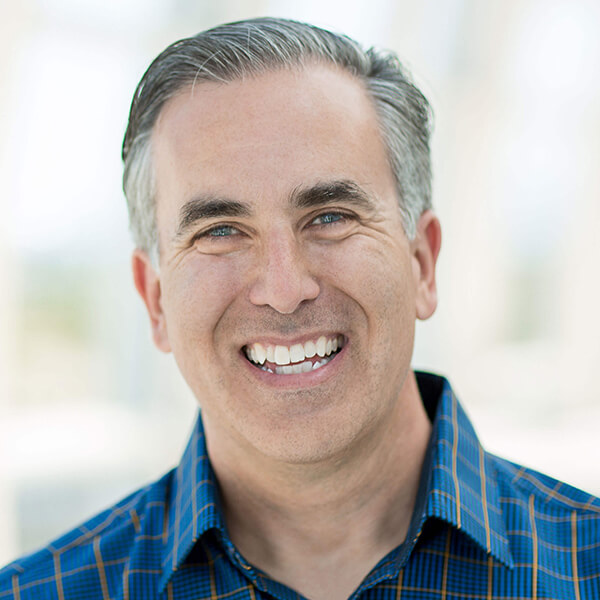 Curious about Web3, but don't know where to start or who to trust?

Introducing Web3 for Beginners, a course taught by Michael Stelzner, the founder of Social Media Examiner.

Learn the basics of Web3 and apply it to your business with this FREE comprehensive course.
CLICK HERE TO GET FREE ACCESS