Are you reaching the right audience on LinkedIn? Wondering how to better target prospects and leads with LinkedIn ads?
In this article, you'll discover how to target your ideal audience with LinkedIn advertising.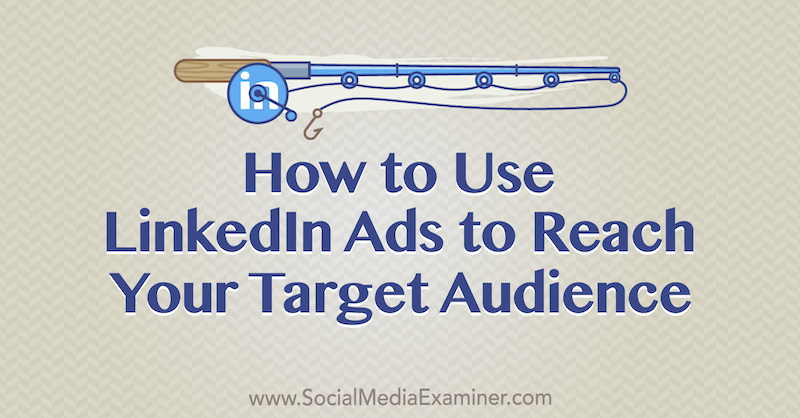 #1: Use LinkedIn Audience Attributes to Describe Your Ideal Customer
We know that LinkedIn is the number-one social media platform for B2B but how do you know if you're reaching the right target audience? And will advertising on LinkedIn help?
Whatever marketing channel you choose, when you're marketing to everyone, you're marketing to no one. Reaching the right people, at the right time, with the right message, in the right place is an old marketing mantra that I believe will always ring true but you need to know what's right to begin with.
Targeting the right people is fundamental. On LinkedIn, you can reach business professionals who are seeking to advance their careers, build their networks, and promote their skills and knowledge by using the following options:
Company—connections, followers, industry, and company name and size
Demographics—age and gender
Education—degrees, fields of study, and specific schools
Job Experience—job functions, job seniority, job titles, member skills, and years of experience
Interests and Traits—member interests and groups
Can you describe your ideal customer using these attributes? You might need to do some research by diving into LinkedIn profiles to look for information and perhaps speak to relevant people to find out some more details.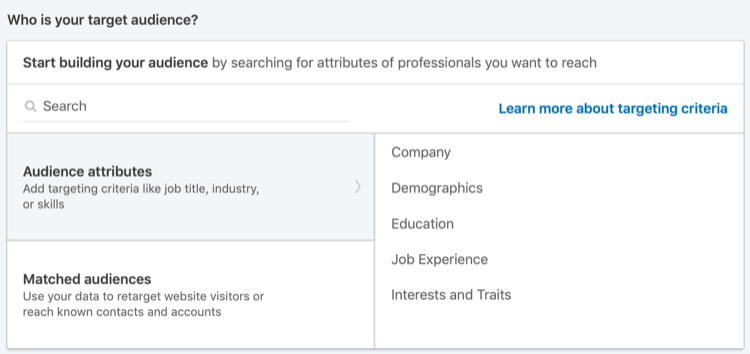 Why is this so important? A well-defined customer persona (also often referred to as an avatar) allows you to personalize your marketing messages. When you use personalization in your messaging, and ensure that it's highly relevant to people's needs, they're more likely to value you and your business. This focused effort means you'll also be able to maximize your return on investment (ROI).
To define your audience, first use the list of targeting options above to describe your ideal customer. Then make a list of your top customers and review their LinkedIn profiles against the list. Does it match?
If the answer is no, you need to ask why this might be, and consider what actions you might need to take within your business.
If yes, great; read on to find out how you can find more of the same types of people on LinkedIn.
#2: Build a Basic LinkedIn Target Audience From Scratch
LinkedIn offers a range of useful advertising options and the ability to target messages to niche audiences. The platform supports a range of display, text, video, carousel, and dynamic advertising formats, plus you can integrate lead generation forms into your campaigns.
You can choose from three advertising formats on LinkedIn:
Text ads are pay-per-click (CPC) or cost-per-impression (CPM) ads that appear down the right-hand side of your LinkedIn home page on desktop. They're available in four formats: square, tall, horizontal, and long.
Sponsored content is advertising that appears directly in the LinkedIn feeds of professionals you want to reach. Single-image ads, carousel ads, and video ads can be displayed on desktop and mobile.
Message ads (previously known as sponsored InMail) let you deliver personalized content through LinkedIn Messenger. You purchase them on a cost-per-send basis, which means you only pay for each message that gets delivered on desktop and mobile.
Note: Dynamic ads, which can uniquely target an individual to include their photo and name, can only be deployed by speaking directly to a LinkedIn representative.
To get started with LinkedIn advertising, log into Campaign Manager, LinkedIn's self-service platform for ad management. Then click Create Campaign.
You'll be prompted to select an objective for your LinkedIn campaign.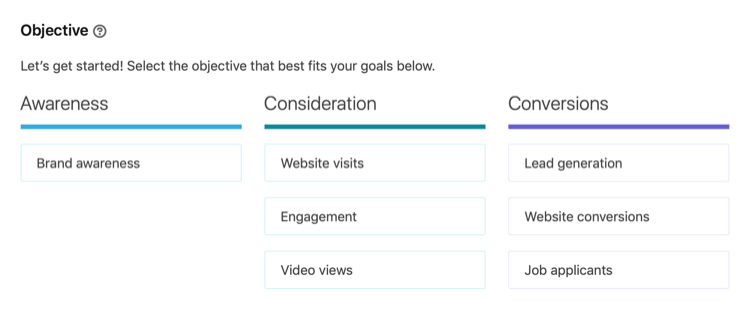 Carefully consider what you want to achieve with LinkedIn advertising—from top-of-funnel brand awareness activity through bottom-of-funnel conversion. Your target audience needs to go on a journey with you so plan your advertising activities in detail.
Are you promoting registrations for a specific event?
Are you running a specific promotion (e.g., price discount) on a product or service?
Do you have valuable content such as a research white paper or eBook that you want your audience to download to learn more about your business?
Regardless of which advertising format you choose, the next screen will be where you can define the target audience for your ad.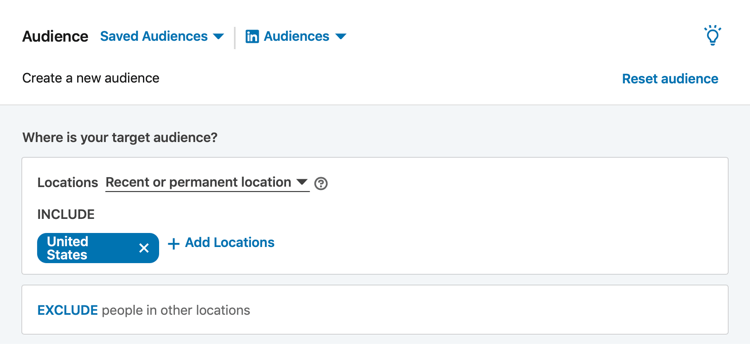 You start building your audience by searching for attributes of professionals you want to reach (your customer persona/avatar). The only mandatory targeting option is location.
Remember, your LinkedIn advertising campaigns will only be effective if you get in front of the right people so it's essential to always spend time planning this aspect of your marketing activities.
Now let's look at some other useful tips for finding your audience on LinkedIn.
Job titles vary from company to company. Although LinkedIn groups the job titles used by its members into standardized titles (behind the scenes), you might see better results if you specify industries and skills in your audience selection, instead of job titles.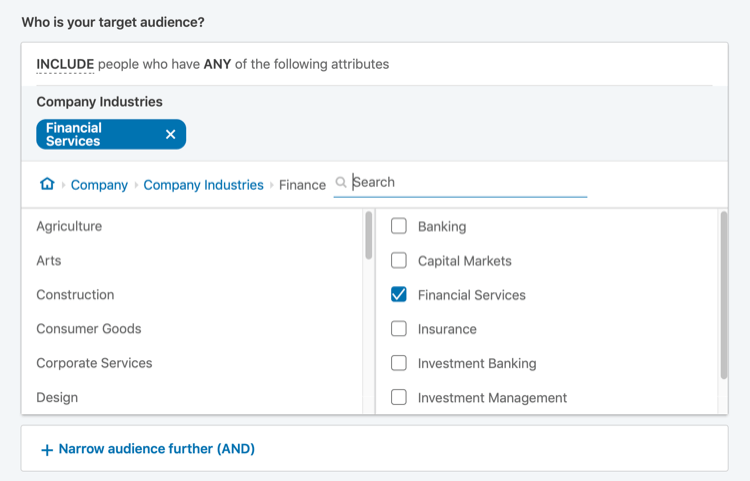 The age criterion can be useful if your solution is targeted to a specific age demographic. In most cases, however, it makes more sense to use job seniority instead because it's more indicative of people's rank and influence within their business.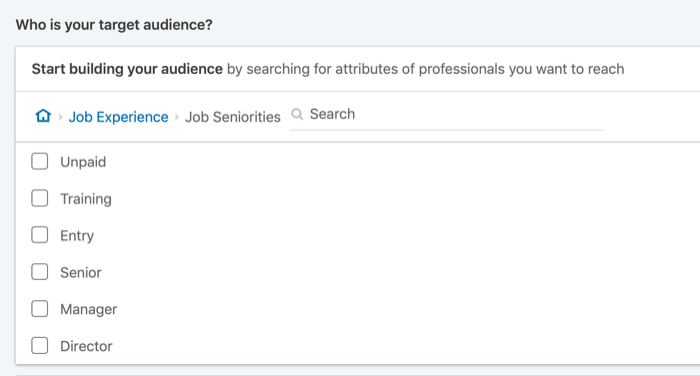 Interest categories let you reach people based on the content they engage with on LinkedIn and the B2B topics they search for on Bing. This is an effective way to reach business professionals based on the topics or categories they're most interested in and an ideal targeting approach for campaigns with Awareness and Consideration objectives.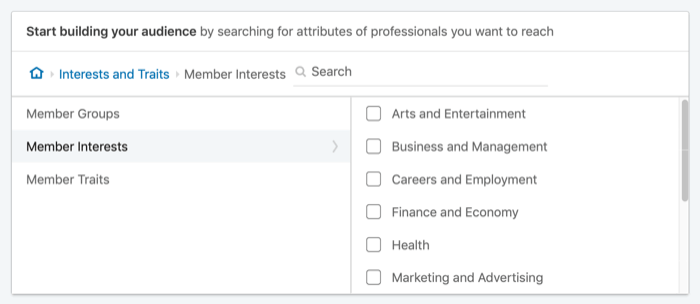 You can also use Boolean search strings such as OR to broaden your audience and AND to narrow your audience. Excluding certain audiences will help protect you from irrelevant results while maximizing budget.

As you start to select your targeting options, you'll see an estimate of the audience size you'll be able to reach. If your audience size is too small, you'll see an Audience Too Narrow message, which prevents you from saving your targeting and moving to the next step.
The minimum audience size required to run a LinkedIn campaign is 300 members. For sponsored content and message ads, LinkedIn suggests a minimum of 300,000. For text ads, LinkedIn suggests you target between 60,000 and 400,000 people.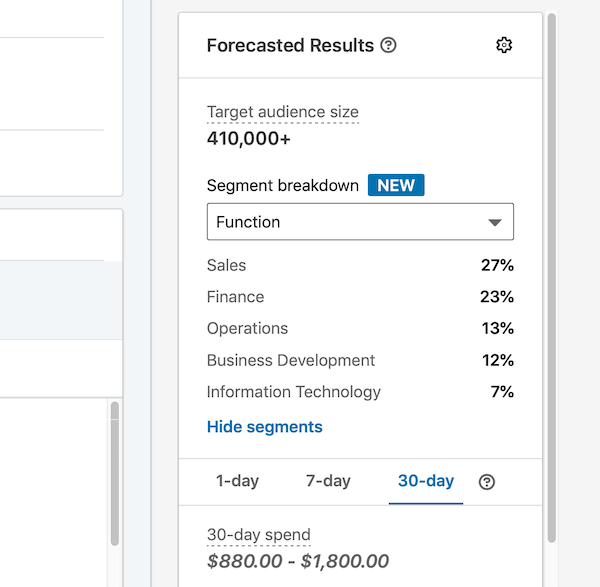 Don't forget to save your audience as a template for future use.

#3: 4 Additional Ways to Reach Your Target Audience With LinkedIn Ads
Now that you know how to get started with LinkedIn advertising, here are a few additional ways to find and reach your target audience on LinkedIn.
LinkedIn Audience Templates
If you're having trouble building your audience, you might want to choose from LinkedIn's audience templates. These templates are pre-populated with various targeting options such as Customer Experience Professionals, Financial Decision Makers, and Small Business Owners.
To access these audiences, click LinkedIn Audiences at the top of the Audience section.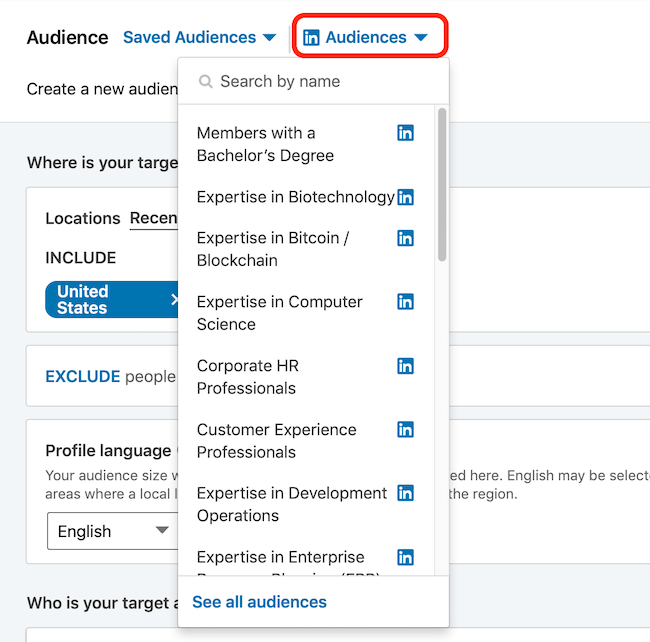 To see even more audience templates, click See All Audiences at the bottom of the drop-down menu. The pop-up window that opens shows all of the available templates, as well as descriptions about each one.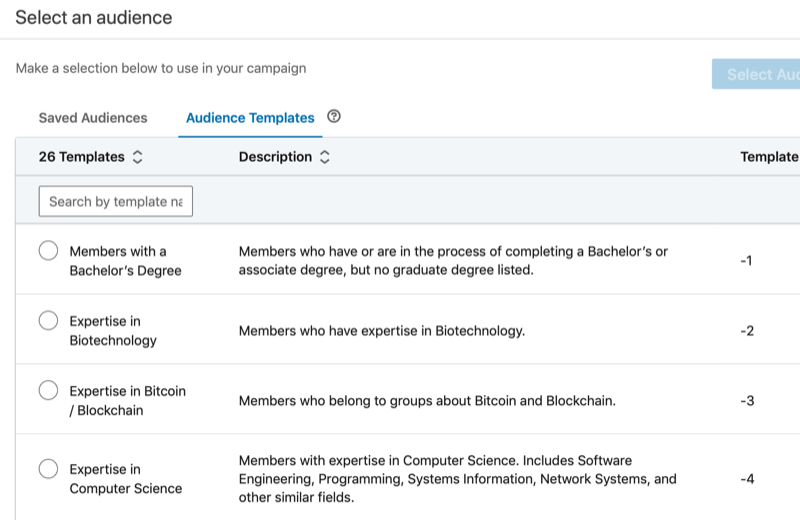 Matched Audiences
If you have an email list and relevant data permissions, you can use the Matched Audiences feature for LinkedIn ads to create custom audiences. This allows you to engage with contacts based on their previous interactions with you.
The matched audience targeting options include:
Account targeting—upload a CSV file with a list of company names.
Contact targeting—upload a CSV file with a list of email addresses.
Website retargeting—target users who have visited your site. Note that you need to add the insight tag to your website. The insight tag also allows you to connect website conversion goals to the analytical tools for LinkedIn ads, and view details about your website visitors such as job title, seniority, and function, as well as location, company, and industry.
To create a matched audience, open Campaign Manager and click Account Assets at the top of the page. Then choose Matched Audiences from the drop-down menu.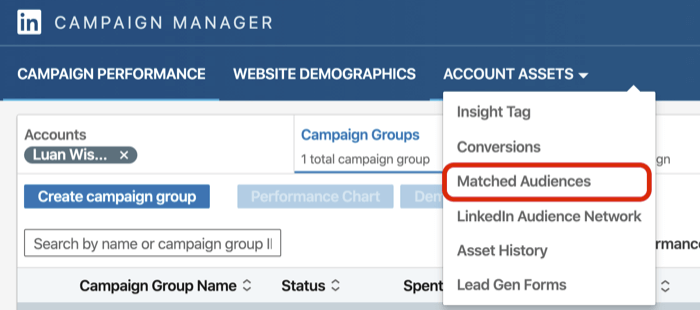 When the Matched Audiences page opens, click Create Audience on the right side of the screen and choose the type of audience you want to create.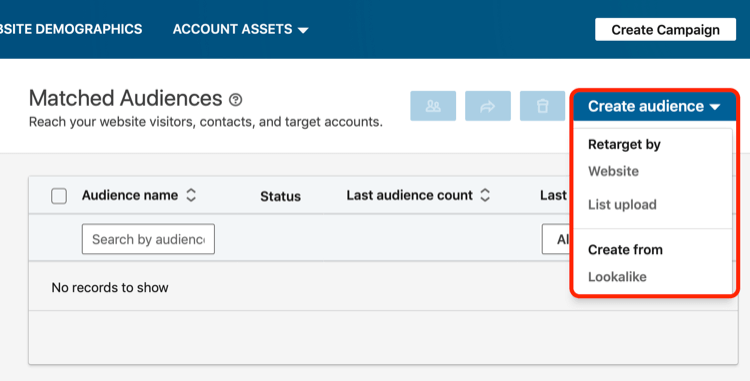 From here, follow the prompts to set up your audience. If you're opting for account or website retargeting, for instance, type in a name for your audience and click Select List to upload your file. Templates are available if you need them.
Note: Please ensure you have the relevant permissions before uploading data to LinkedIn.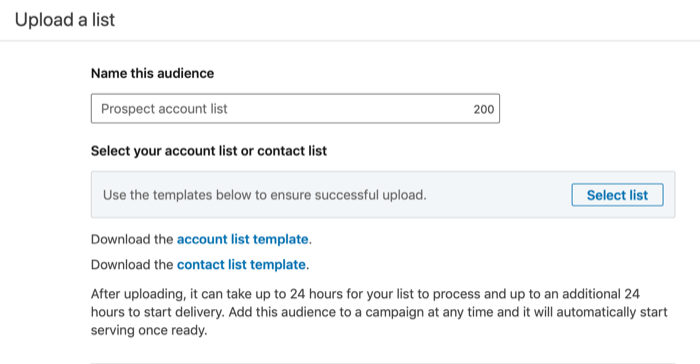 Audience Expansion and Lookalikes
Audience expansion and lookalike audiences deliver your content to LinkedIn members who are similar to your target audience in their demographics and interests. You can create lookalike audiences from your matched audiences.
Audience Expansion allows you to increase the reach of your paid advertising by showing ads to audiences with similar attributes to your target audience. For example, if you've chosen to target the skill Interactive Marketing, audience expansion will help you reach members who list the similar skill Online Advertising on their profile.
To enable Audience Expansion, scroll down to the bottom of the Audience section and select the checkbox next to Enable Audience Expansion.

LinkedIn's lookalike audiences combine the criteria that define your ideal customer with their member data to help you find new audiences similar to your existing customers, website visitors, and target accounts. Lookalike audiences need to be created from valid matched audience segments with at least 300 matched members.
To create a lookalike audience, click Account Assets at the top of your account page in Campaign Manager. Then select Matched Audiences from the drop-down menu.
On the Matched Audiences page, select a data source from the filters on the left. Then click the More icon to the right of the audience name for which you want to create a lookalike audience and select Create Lookalike from the drop-down menu.
Once your lookalike audience segment is created, it can take up to 24 hours for the generated audience count to be shown on the targeting page.
Conclusion
Understanding your ideal customer and focusing on serving their needs and wants with information about your business is key to success. You can reach new audiences similar to your ideal customers by using paid advertising to scale up what's working organically. Hopefully, this article has shown you a few ways to achieve this with LinkedIn ads.
Remember, the world changes constantly—new members are joining LinkedIn and existing members are changing jobs. So don't forget to use trials and tests.
What do you think? How well have you defined the audience you wish to reach on LinkedIn? Are you ready to scale up with LinkedIn ads? Share your thoughts in the comments below.
More articles on LinkedIn ads: