Do you want to create successful LinkedIn ad campaigns? Wondering how to get started with LinkedIn ads?
To explore how to succeed with LinkedIn ads, I interview AJ Wilcox. AJ is the world's leading LinkedIn ads expert and author of LinkedIn Ads Demystified. He's also the founder of B2Linked.com, a LinkedIn ads agency.
AJ shares how to create and customize LinkedIn ads for different audiences. You'll also learn about LinkedIn's different ad formats and more.
Read a summary of the interview below. To listen to the interview, scroll to the end of this article.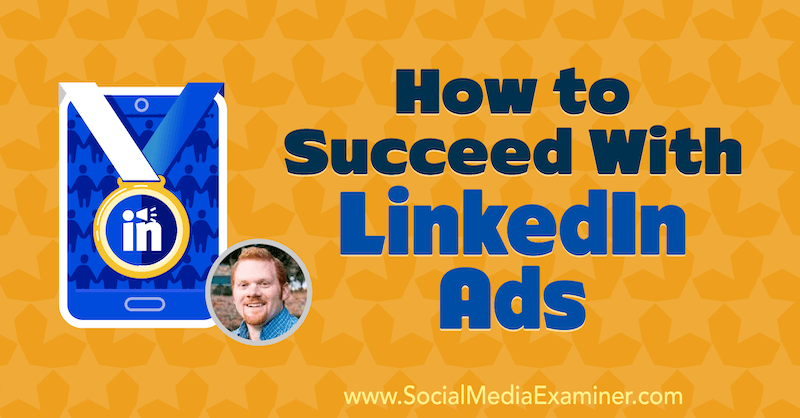 Benefits of Running LinkedIn Ads
If you find that your B2B brand has scaled as far as it can with Facebook ads but is looking to do more with its advertising, LinkedIn is the answer.
People tend to spend less time and have more focus on LinkedIn than on Facebook, where they might just be looking to catch up or see what's going on with their friends. Whether LinkedIn users are looking to have a specific conversation or were prompted by an email to accept a connection request, they tend to approach the site with a purpose in mind.
This means two distinct things to LinkedIn advertisers. Your LinkedIn ads should cut straight to the point. There's no need to write long posts looking to draw people into your creative or copy. And your ads don't totally saturate your audience after only 3–10 days. If you launch content on LinkedIn, it can live pretty nicely there for about a month without needing a refresh.
While there's almost no organic reach on Facebook anymore, LinkedIn is one of the few social platforms that actually encourages users to create and publish content on its site and assures that it will be seen and shared. LinkedIn isn't very forthcoming about their user activity data, but does report that on average, people spent 30%–40% more time on their LinkedIn news feed in 2018 than in previous years.
LinkedIn is the easiest network in the world on which to go viral. This is because anytime someone comments, shares, or engages with a LinkedIn post, it immediately goes to a portion of their network. The more people who are interested in and involved with your content, the further it will reach organically.

Businesses That Should Consider LinkedIn Ads
Advertising on LinkedIn isn't for everyone. The biggest complaint about LinkedIn ads is they're expensive—$6–$9 per click on average. In some cases, the price point can even reach up to $20 per click. You either have to have a very efficient funnel or make a lot of money on the back end to justify this cost. This factor alone disqualifies quite a number of different companies from advertising on LinkedIn. It can be a waste of money.
Three different segments are the ideal LinkedIn advertiser:
Leads With High Lifetime Value
LinkedIn ads are great for businesses that generate leads with a high lifetime value. To illustrate, closing a deal with a client that's worth $15,000 or more is considered a high lifetime value. This mostly involves B2B brands, but there are certainly B2C use cases for this as well.
Financial services and brands such as AmEx and Visa, two big advertisers on LinkedIn, benefit from marketing on the platform. I suggest that both commercial and residential real estate brands and services that carry big payout and larger commissions have the potential to succeed on the platform too.
In another B2C example, Mercedes-Benz conducted an interesting case study where they proved that they could sell cars to executives with LinkedIn display ads and sponsored InMail.

Recruiting
While B2B is the first thing that comes to mind for LinkedIn, AJ highlights recruiting as an ideal B2C use case for LinkedIn ads.
AJ estimates that only 4%–8% of users are willing to share their accurate job titles and companies on their personal Facebook profiles. On the other hand, all of this information is readily shared immediately when people join LinkedIn.
LinkedIn recently announced that it has 630 million members, with 200 million coming from North America alone. Of LinkedIn's global audience, 95% are white-collar professionals and high-value prospects. Other statistics have shown that there's a larger portion of the population open to a career change at any given time and LinkedIn is the go-to network for those who are actively looking for a new job.
Any company looking to do white-collar recruiting ought to consider running LinkedIn ads. Even something as simple as targeting all of the people in your area who already have the title of marketing manager to fill the same title and role at your own company can yield extremely good results.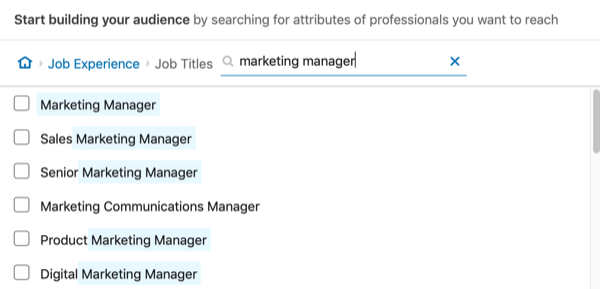 Another B2C use case for LinkedIn ads is education, particularly higher education such as an MBA program looking to recruit new candidates. LinkedIn's education targeting is amazing.
Getting Started With LinkedIn Ads
Bring Your AMO to LinkedIn Ads
AJ's approach to all social media advertising can be condensed into the acronym, AMO. It stands for your audience, your message, and your offer.
Audience is your approach for both identifying who this person is and targeting them. Message deals with what the prospect sees. It encompasses the ad format, copy, and image or video. Lastly, the offer is what you're using as a lead magnet to lure someone in.
Once you have all three of these pieces, you're ready to get started running campaigns on LinkedIn.
Objective-Based LinkedIn Ads
About 3 months ago, LinkedIn began rolling out objective-based advertising in the Campaign Manager tool. With this new feature, advertisers must establish goals and objectives for their campaigns before they can set up their LinkedIn ads.
LinkedIn currently offers the following four campaign objectives: Website Visits, Engagement, Video Views, and Lead Generation. At some point, these will expand to include Brand Awareness, Website Conversions, Talent Leads, and Job Applicants.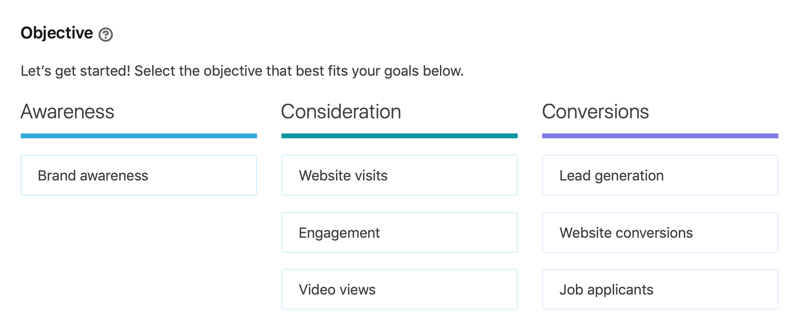 Unless you have video creative on hand and your goal is to increase views, or you're strictly looking to generate leads, AJ recommends starting with Website Visits as the ad objective. You can send people to any landing page, form, or offer from your ad.
Coupled with the most vanilla version of your ads, Website Visits is the simplest and easiest type of campaign to diagnose when piloting ads on LinkedIn. This allows you to troubleshoot and make sure that your offer is resonating with your audience.
If you have a high click-through rate (CTR), then you know your ad resonated. A high conversion rate means either your landing page or your offer resonated. Alternatively, a poor CTR or conversation rate tells you exactly where to refocus your efforts.
Maximizing Campaign Results
LinkedIn's campaign objectives won't impact what other options will be available to you as you continue to set up your LinkedIn ad campaigns. They simply change the way LinkedIn bids for you.
If you choose Website Visits as your campaign objective, LinkedIn will provide the maximum CPC or CPM bid. LinkedIn also offers automated bidding, which AJ cautions marketers to avoid.

For the Engagement campaign objective, you're going to bid by the like, company page follow, or comment.
If you choose Lead Generation, you're going to bid by the lead form open or the submitted lead form.
With Video Views, you're going to bid by the cost per view. AJ notes 2 seconds counts as a "video view" for a LinkedIn ad, whereas it's 3 seconds for organic videos on the platform.
Tracking Conversions
Just like Facebook, LinkedIn has a pixel that can be placed on a thank-you page or event to track your conversions. Additionally, Google Analytics UTM parameters can be set up as a second voice for tracking your goal conversions in Google Analytics.
LinkedIn Audience Targeting
Many people are active on both LinkedIn and Facebook concurrently. AJ admits that it's hard to say that you're going to find a better quality prospect on LinkedIn. However, he notes that targeting on LinkedIn will allow you to find high-quality prospects in a way that's a lot fuzzier and harder to do on Facebook. You simply have to be more surgical in your LinkedIn targeting.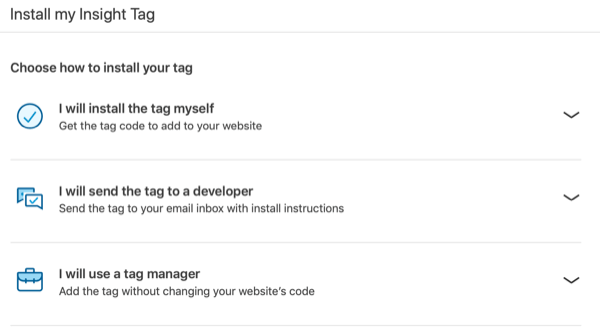 Separate every audience into two different pieces and understand a little about both. The first part is getting to know the individual professional. The second part is interpreting what type of company they're in.
If your target market is CFOs and your product costs $1,200 a month, you're likely not going to sell something at that price point to a CFO of a two-person company.
Targeting by Type of Organization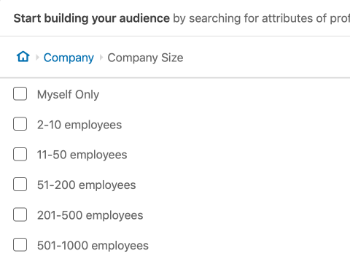 In addition to basic user demographics, location, and interest targeting, LinkedIn ad targeting gives you the ability to reach people based on the size of their organization. This figure refers to the number of employees that a company lists on its company page, ranging from 1, 2–10, 11–50, 51–200, 201–500, all the way to 10,000+.
Advertisers can also widely target a general industry and drill down into the specific subsections and designations within each one. LinkedIn ad targeting offers several industry options from which to choose. You can start with the Arts, Tech, or Education industries, and focus on Post-Secondary, For-Profit or Non-Profit, and more.
The one exception AJ noted is the Marketing and Advertising industry category remains fairly large. He clues us in that any company that claims this category tends to be an agency. This is fairly useful to note for anyone looking to sell to agencies. You can target by this classification or simply omit it if you're looking to exclude agencies from your audience.
AJ notes that location or geographic targeting on LinkedIn is broadly based on metro areas rather than by country or zip code. While California has 12 or 15 metro areas represented on LinkedIn, Utah (where AJ is from) only has Salt Lake City Metro and Provo Metro. If your ad campaigns must be specific to within a certain city, LinkedIn's geography targeting won't work for you.
Targeting by Company Name
Those doing account-based marketing or who are only interested in reaching people within a specific company can target by company name on LinkedIn. LinkedIn advertisers can upload a list of up to 300,000 companies within an industry they're looking to target into Campaign Manager and use this data for their ad targeting.
Relying on your data rather than using LinkedIn's native data brings down your cost per click. Even simply scraping and uploading the Fortune 1000 or the Inc 5000 List as your source, you'll likely pay less per click than if you were targeting these same individuals natively on LinkedIn.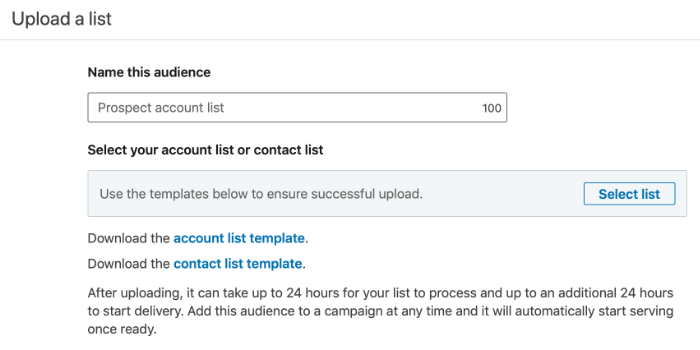 Targeting by Job Title, Job Function, and Seniority
LinkedIn has a wide range of targeting facets based on job experience and roles within an organization. Job Title targeting is generally the first type that marketers will try because it's the most straightforward. This also means increased competition and higher costs per click.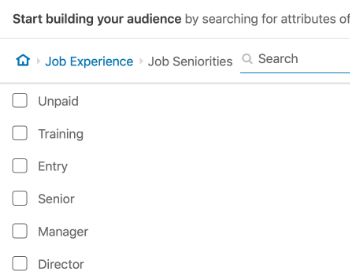 Another method of targeting by role is to combine Job Function and Seniority. Where it might be cost-prohibitive to directly target people with the title of "marketing director" or "director of marketing," you can reach this same audience using their job function of "marketing" and their job seniority of "director" in your targeting options for $1 less per click.
LinkedIn determines seniority based on outward titles as listed on the platform. But targeting based on a title alone can be tricky. For instance, "director" takes a different meaning in a government position than it does for a marketing role. As an alternative to Seniority, you can filter an audience based on Years of Experience. This is useful for targeting people with certain longevity in their career regardless of their outward title, time with a specific company, or within a field.
Targeting by Skills and Interests
The Skills database through the LinkedIn API lists well over 35,000 skills on LinkedIn. Each skill can break down into multiple subcategories and members can add up to 50 skills to their profile. Whether a member has one endorsement for a certain skill or over 100, anyone with the skill listed on their profile is included in this audience.
While LinkedIn currently doesn't have a way to separate those who are highly skilled from those who aren't, the combination of targeting based on Job Seniority and Skills people have listed on their LinkedIn profiles gives you access to a large, self-selected audience. Targeting by Skills alone can be too wide.
Unlike LinkedIn's Skills targeting, its Interest targeting is opaque, non-specific, and based on the content users share and engage with on LinkedIn. The interest categories a limited to general topics like AI, or Android, or Recruiting. Because LinkedIn hasn't shared what actually qualifies someone to be tied with interests, its interest targeting helps narrow an audience, but not as effectively as a targeting facet on its own.
Targeting by Groups
Another way to reach a self-selected but highly engaged audience on LinkedIn is to target by specific LinkedIn groups. If people have gone out of their way to join a LinkedIn group focused on a specific topic or interest, it probably means that they're an active LinkedIn user and specialize in that particular industry. This targeting subset yields a smaller audience but has a higher CTR and more traffic coming from it.
Go into the Groups category and type an industry like "marketing." LinkedIn will return a list of the top 20 groups that all have "marketing" in the name. From there, select which ones are relevant to your campaign and layer another targeting option like Seniority to reach your optimal audience.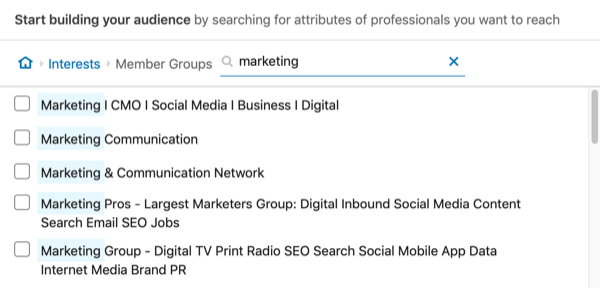 LinkedIn Audience Size and Ad Bidding
At $6–$9 per click, LinkedIn audiences should be pared down to just the people who make sense and only include the most powerful prospects for your brand. LinkedIn will tell you to make sure you have at least 300,000 in an audience. However, AJ highly recommends keeping your audience small and focused. Somewhere between 20,000 and 80,000 is ideal for any given campaign.
When it comes to ad bidding, LinkedIn will give you a range for what it thinks your ads should cost. In some cases, LinkedIn might say that most people are bidding $12–$19 per click, but this is ridiculous and unrealistic for most marketers.
When you set a bid, LinkedIn enables automated bidding by default. Immediately reset this to maximum CPC bid at the start of your campaign. Once you see that an ad is successfully performing well over a 1% CTR, then switch the bidding to the cheaper maximum CPM. If your traffic is low, you can bid higher. If traffic if high or you're hitting your budgets for the day, you can bid lower.
LinkedIn Ad Placement Options
Sponsored Content
LinkedIn's most versatile, common ad format is sponsored content, which are native ads that appear in the feed. Similar to Facebook's promoted posts, sponsored content ads on LinkedIn appear very like a normal, organic post on the platform. The ad units can have an image, video, or carousel and have a lead generation form attached. The only difference is it will say "Promoted" or "Sponsored" beneath the ad.
AJ mentions that LinkedIn video in the feed does play muted just like Facebook videos, and it's actually a pain to unmute. It's highly recommended to have subtitles in any video creative running on LinkedIn.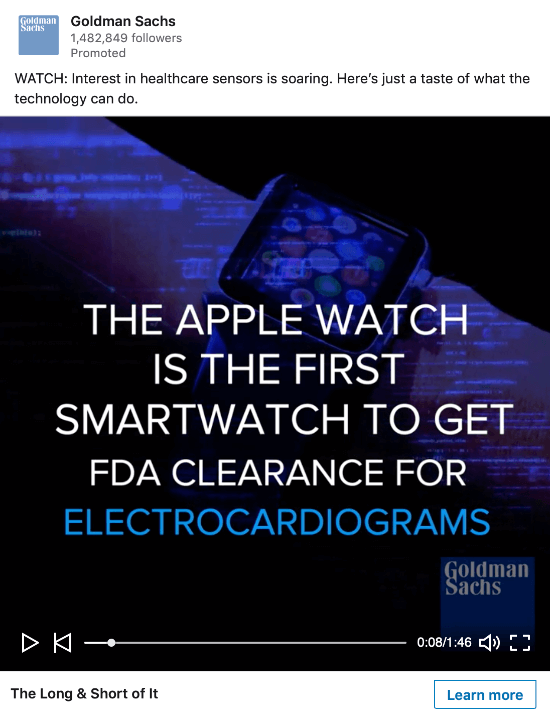 Text Ads
Another ad format to consider on LinkedIn is text ads, which are found on the right side of the desktop version of the site. In fact, they're desktop-only and are ideal for landing page experiences that don't function as well on mobile.
The ads are mostly text but do feature a tiny 50 x 50 px image alongside them. The images can accommodate a face or logo, but not much else.
Text ads are LinkedIn's cheapest ad format, costing only $3–$5 per click, but include the same targeting options. Their downside is that they have a very low CTR and they require a pretty large audience to really drive any volume.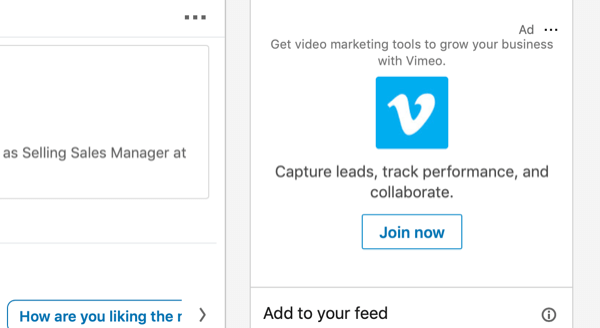 Sponsored InMail
LinkedIn's third ad format, sponsored InMail, comes across like Facebook's Messenger ads, but functions more like email marketing campaigns. These units are ideal for highly specialized and amazing offers that feel like personal invitations. Things like early access, sneak peeks, and VIP invitations to events are some top example use cases. Sponsored InMail can include first name, last name, company name, and industry, but not much personalization beyond that.
Unlike LinkedIn's other advertising formats that you only pay for when someone interacts with them, sponsored InMail is paid per send regardless of opens or clicks. On average, sponsored InMail generates a 50% open rate and a 3% CTR, but costs $0.35–$0.85 per send. This comes out to $23 per click, which is expensive if not used with the right offers or effective enticements.
Another drawback is that sponsored InMail has a strict frequency cap. Individual LinkedIn users can only receive one of these messages every 45 days and they won't receive any notification when a one arrives like they would with a regular InMail message.
Dynamic Ads
LinkedIn recently added dynamic ads, which will include a user's profile image in the ad to capture their attention. However, the effect is that they appear creepy and invasive, which is reflected in their low CTR. They also tend to be more expensive than sponsored content, costing somewhere in the range of $12–$15 per click.
Tips for Creating Effective LinkedIn Ads
Keep your ads on LinkedIn really simple. Don't get complex with your language or long-winded in your offers. Realize that people are on LinkedIn with a purpose in mind and cut straight to the point.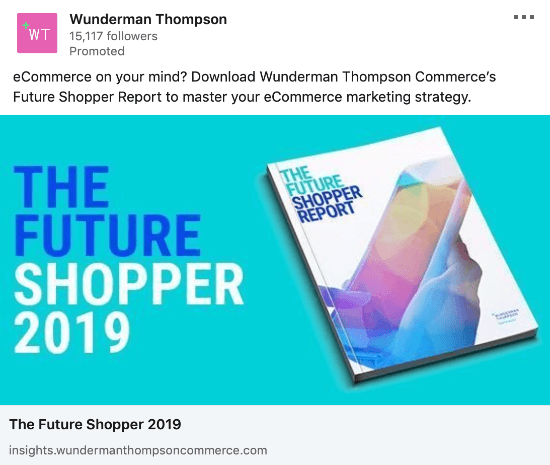 The very first thing in your ad should be, "Here's why you should pay attention." The second thing should be a call to action that's quick and to the point.
Do these two things and you'll most likely have a CTR that's two or three times higher than LinkedIn's average—just because there are many advertisers out there doing it wrong.
Discovery of the Week
24FPS by Polarr is an iOS app that allows you to record and edit cinematic-quality videos with an iPhone. This app features amazing filters with built-in AI that recommend unique effects based on the aesthetics of your video.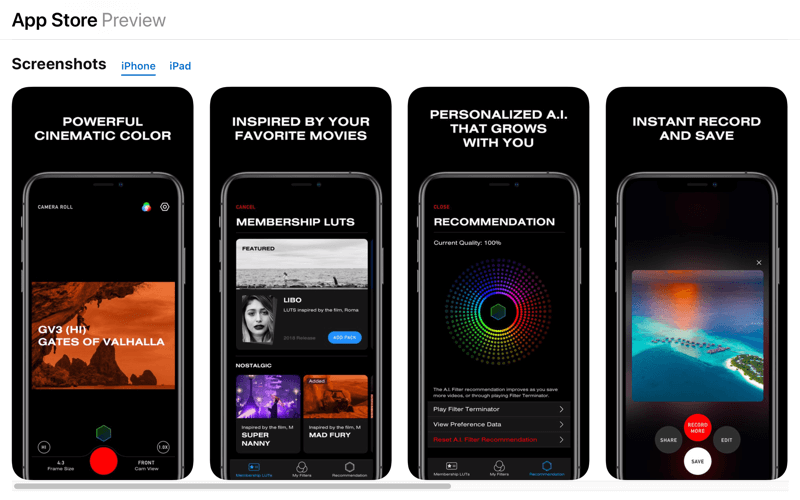 24 FPS can shoot video in vertical, square, or any of the widescreen formats in full 4K at 24 frames per second, as its name suggests, as well as at 30 and 60 frames per second. This tool adds cinematic stabilization to smooth your mobile videos at any frame rate, even as you zoom in and out.
You can find 24FPS in the iOS App Store. To access premium features, after a 7-day free trial, a subscription is required which can be billed monthly ($3.99) or annually ($28.99).
Listen to the show to hear more about 24FPS.
Key Takeaways From This Episode:
Listen to the Interview Now
The Social Media Marketing podcast is designed to help busy marketers, business owners, and creators discover what works with social media marketing.
Where to subscribe: Apple Podcasts | Google Podcasts | Spotify | YouTube Music | YouTube | Amazon Music | RSS
What do you think? What are your thoughts on LinkedIn advertising? Please share your comments below.