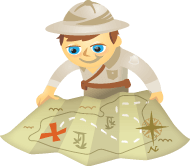 Wondering how to retarget your website visitors on LinkedIn?
Want to use LinkedIn ads to reach your non-responsive email contacts?
LinkedIn Matched Audiences lets you deliver marketing messages based on website retargeting, account targeting, and email contact targeting.
In this article, you'll discover how to target your prospects and customers using Matched Audiences on LinkedIn.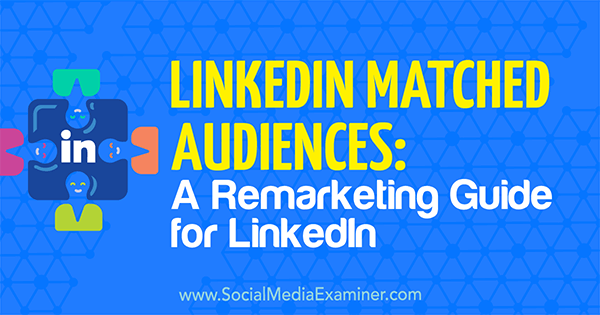 What LinkedIn Matched Audiences Can Do for You
LinkedIn already provides a unique and convenient way to target members by company, industry, skills, titles, and more. But what if you want to reach the people you already know?
With Matched Audiences, you can retarget website visitors, market to contacts from your customer databases and marketing automation platforms, and reach decision-makers at target companies for your account-based marketing programs. It's available for all LinkedIn advertising products, including Sponsored Content, Sponsored InMail, and other ad formats.
Here's a closer look at the three new targeting capabilities for engaging key accounts, prospects, and audiences.
Website Retargeting
Website retargeting lets you market to LinkedIn members who have visited your website. You can easily define target audiences and deliver relevant ad content based on the pages people visited on your site.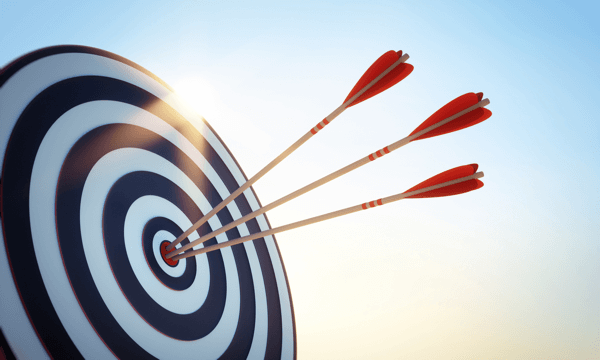 Account Targeting
Account targeting helps you reach decision-makers within your target accounts. Run account-based marketing campaigns (powered by LinkedIn data) and then upload a list of target companies to match against the 8+ million company pages on the platform.
Contact Targeting
Contact targeting allows you to upload or integrate your contact lists. Build a customized audience by uploading your email address lists or connecting your contact management platform.
The Conference You've Been Waiting For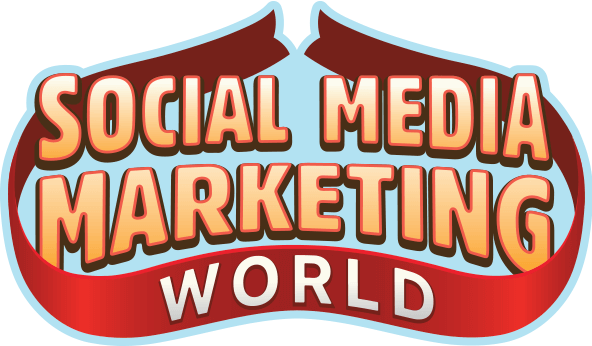 As a small business marketer, you can probably only pick one or two events to attend each year. Get back into the game with an unbeatable conference experience and expert training at Social Media Marketing World in sunny San Diego, California—from your friends at Social Media Examiner.
🔥🔥 As a valued reader, you can save $660 if you act now! Sale Ends Tuesday!
CLICK HERE TO LEARN MORE
Now let's look at how to use these targeting capabilities with your LinkedIn ads.
#1: Retarget LinkedIn Members Who Visited Your Website
LinkedIn lets you define specific web pages to use as the basis for your retargeting (for example, your homepage or Contact Us page).
In Campaign Manager, you'll find the Matched Audiences option on the targeting screen. Click Select to the right of Use a Matched Audience.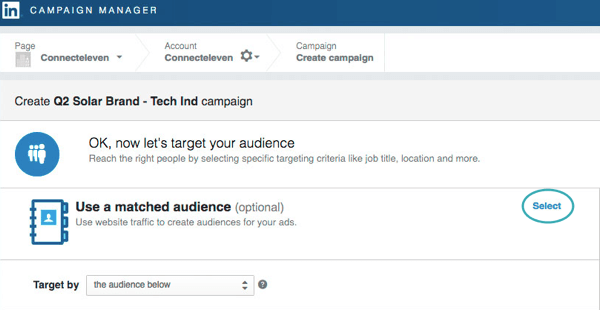 Next, click Create an Audience to Retarget.

Give your website retargeting segment a name.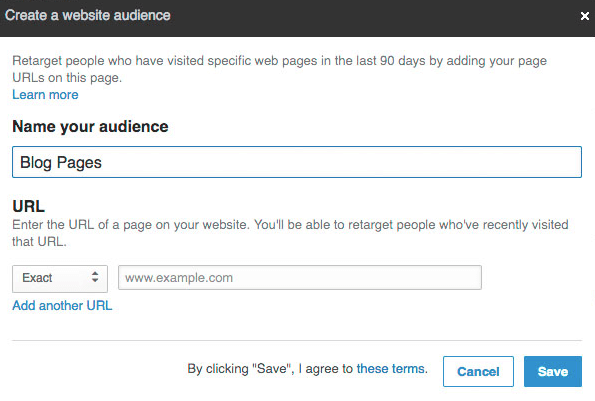 Then enter the URL for the web page you want to retarget. To the left of the URL, choose a retargeting option from the drop-down list:
Select Exact if you want to retarget any LinkedIn member who visited the exact URL you provided. Use this option only if you have a specific static URL and never add anything to the end of that URL.
Use Starts With if you want to retarget any users who visited anywhere on the site that begins with the specified URL.
Choose Contains if you want to retarget visitors to URLs that contain the specific string of characters.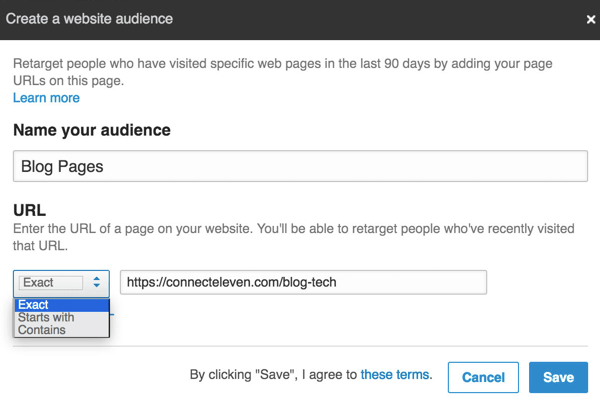 For example, if you enter "thank-you" and select Contains, you'll retarget members who visited any page in the domain with "thank-you" anywhere in the URL.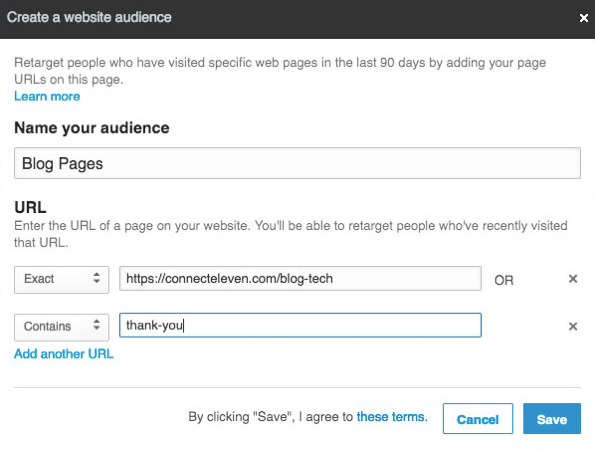 If you want to retarget visitors from another web page, click Add Another URL and type in your second URL. Entering multiple URLs will let you retarget people who visited your blog or a specific product page on your site.
After you click Save, you'll be prompted to set up your insight tag. The insight tag is a lightweight piece of JavaScript code that you need to place on your website to enable website retargeting and conversion tracking.
Tip: Leaving the site will exit any progress you've made so always remember to save your campaign.
If you've already placed a LinkedIn insight tag on your website, you can skip this step; however, remember that your website can have only one insight tag at a time. Copy the tag or send it to yourself so you can forward it to the appropriate website contact to implement the code.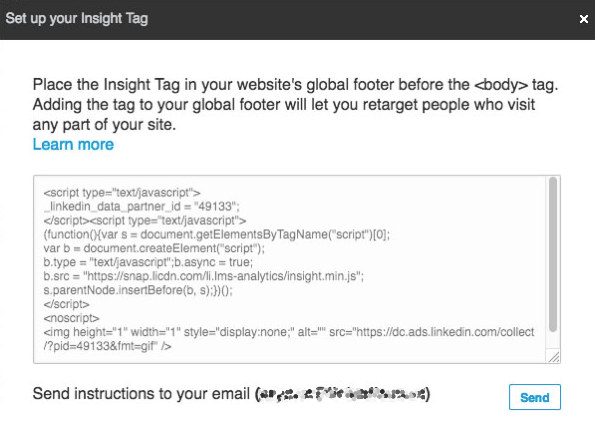 Placing the tag on your website is a critical step; otherwise, website retargeting won't work. You can view the tag at any time by choosing Insight Tag under Tools.
To check the status of your website segments, click Tools and choose Matched Audiences.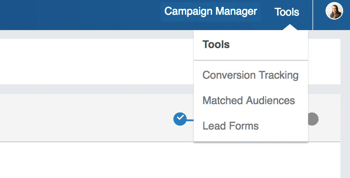 Here you'll see all of your website audiences. Note that until you add the insight tag to your page, you'll see "Unverified" under Tag Status.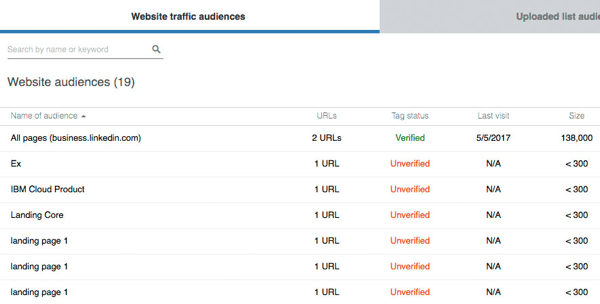 Campaign Manager won't be able to build any of the retargeting audiences until your domain has been verified, which can take about 48 hours. When you see "Verified," that means your audience has gathered a minimum of 300 members; however, it will continue to grow.
To add website audiences to your campaign, use the tab navigation to access your account and then open the campaign to which you want to add retargeting segments.
Click the Audiences tab, and then under See Full List, you'll find the website segments you've already created. Choose to include or exclude website segments.

Once your campaign goes live, it will begin to deliver as soon as your website segment reaches 300 people and is verified.
Website retargeting helps keep your brand top of mind for your website visitors. You can set up your campaign to run indefinitely so that anytime visitors come to LinkedIn, they'll see your content.
Get Expert Social Media Marketing Training from the Pros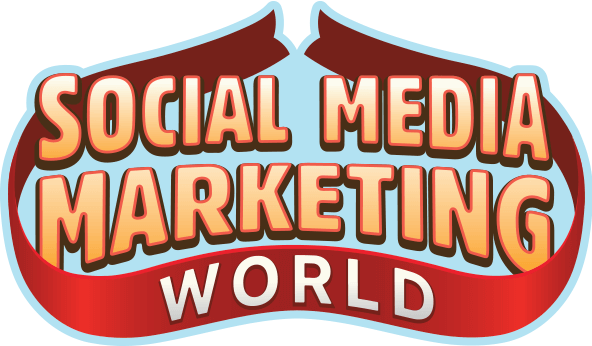 Want to get ahead of the competition and learn how to diversify your social marketing strategy?
Learn from the industry's most trusted experts, rub elbows with other smart marketers, and take your marketing to the next level during this 3-day event in sunny San Diego, California.
CLICK TO LEARN MORE
#2: Reach Employees of Your Target Accounts
The second type of Matched Audiences targeting is called account targeting. Account targeting is ideal if you're running account-based marketing programs focused on reaching target accounts, as opposed to specific people in those accounts.
Navigate to the targeting page within Campaign Manager. Note that choosing a location is always required. For example, if you want to run a global campaign, simply select all of the continents, as shown below: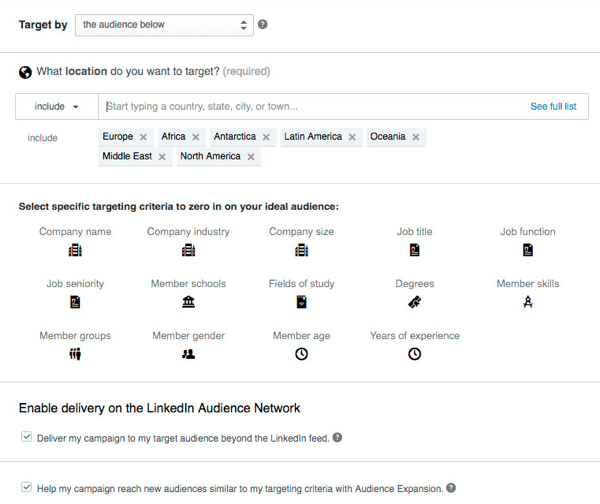 If you want to refine your targeting and target employees or a specific company, you can use the company name targeting and enter up to 100 companies. To add more than 100 companies, close out of this targeting method and scroll to the top.
With account targeting, you can upload a list of companies. Under Target a List of Accounts or Contacts, click Create an Audience.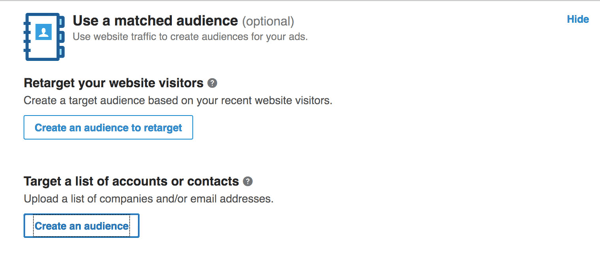 Give your audience a name that's easily distinguishable. You can then upload a CSV file of up to 30,000 companies and match that list against companies on LinkedIn. After you upload your file, click Next.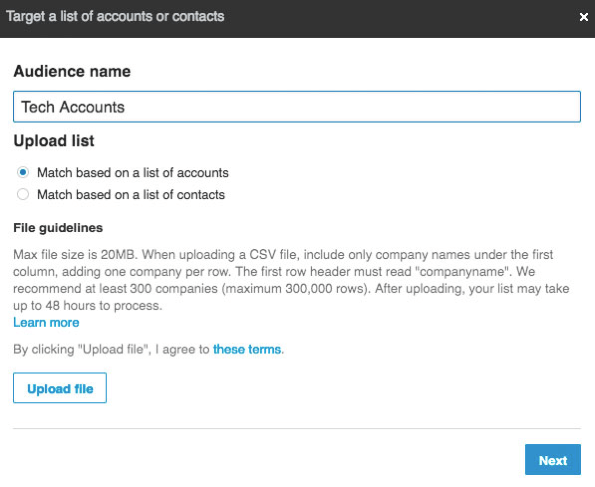 Note that larger lists will take longer to process, but the maximum wait time is about 48 hours. After you've uploaded your list, don't forget to scroll to the bottom of the page and save your progress.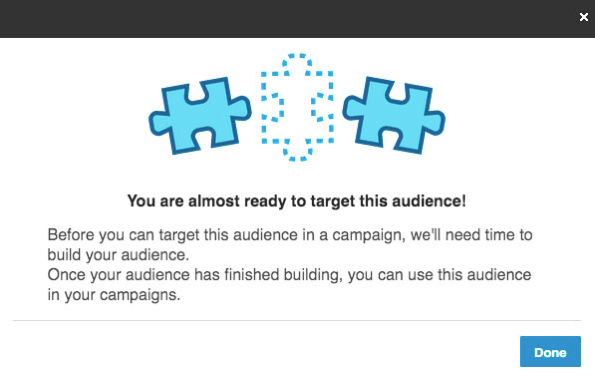 To see the status of your match list, click Tools in the top-right corner and select Matched Audiences. You'll see a match on the dashboard below when your list is available.
When you're ready to add your list to a campaign, navigate to your account from the top navigation and open your campaign. Click the Audience tab, and under See Full List of the target list accounts, select the list that you want to add to your campaign.

If you scroll down further, you can add other targeting options to your campaign, but be mindful of the scale of your campaign. When you're finished, don't forget to click Save.

#3: Target Your Email Contacts
The third Matched Audiences targeting option is contact targeting. You can build a custom audience by uploading your email address lists or using your own data from platforms like Marketo, Oracle Eloqua, and LiveRamp.
Upload a Contact List
To upload a list, select Matched Audiences from the Tools menu in the top-right corner.
On the Uploaded List Audiences tab, you'll see a dashboard overview of all of your Matched Audiences targeting segments. It will include account lists, email lists uploaded as CSV files, and email targeting segments from your marketing automation platform once you've set it up. Now you can click Upload a List.

Next, choose Match Based on a List of Contacts and upload a CSV file. Here are some tips for preparing your CSV file:
Place email addresses under one column.
Label the header row "email".
Check spelling to ensure the matching process is as fast as possible.
Remove all formatting for optional match rates.
LinkedIn recommends at least 300 contacts (maximum 300,000). Keep in mind that larger lists will likely have better match rates.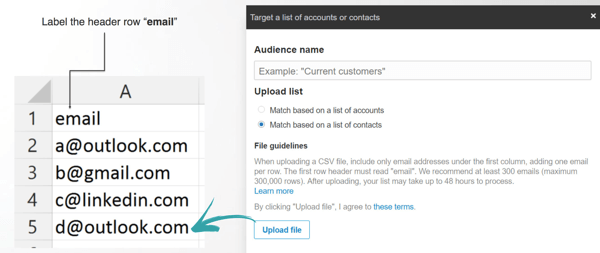 After you launch your campaign and LinkedIn matches at least 300 members, your campaign can begin delivering. Note that it may take up to 48 hours to match enough email contacts.
To see the contact lists you've created, go to the Uploaded List Audiences tab. Here, you can view or add additional account and contact lists.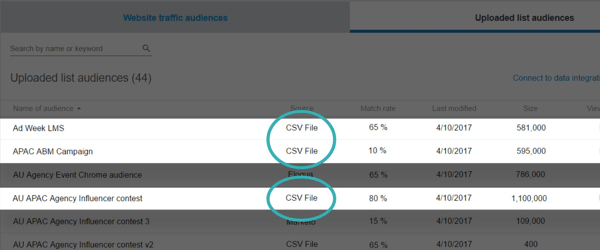 Use Data Integrations
Now, let's walk through contact targeting using data integrations. On the Uploaded List Audiences tab, click the option to connect to a marketing automation platform.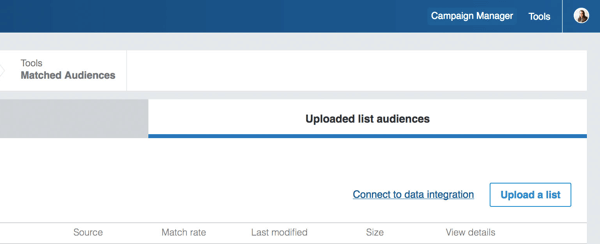 Read the LinkedIn program terms and click Next to agree to them.
You'll then see a public key and a secret key. You'll need to add these keys to your marketing automation provider's platform. Click Learn More to access the help center where you'll find out which marketing automation platforms are supported, along with detailed setup instructions for each one.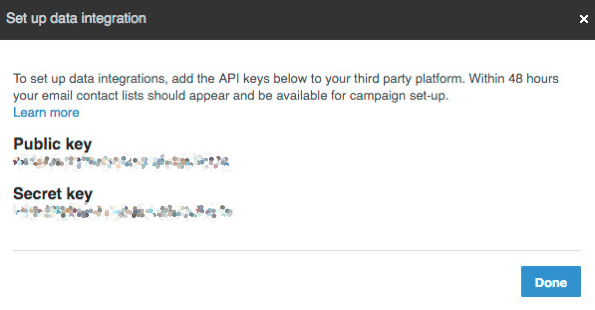 Note that this is the only account with access to your email segments. Your list can't be duplicated across different accounts.
Once you've successfully set up the API keys within your marketing platform, it typically takes about 48 hours before your campaign segments appear. Remember that any updates to email lists must be done through your marketing automation platform.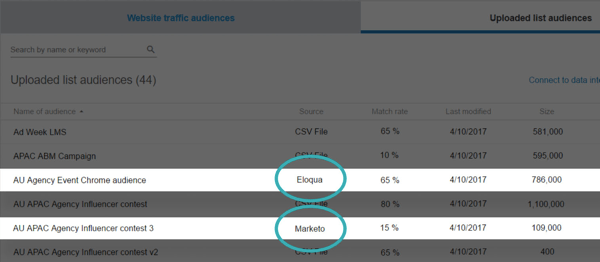 Marketing automation integration lets you reach prospects you already know on LinkedIn to share relevant content and grow your business.
Want more like this? Explore our LinkedIn for Business guide!
.
Conclusion
LinkedIn's Matched Audiences helps you close the gap to deliver true full-funnel marketing. It allows you to reach your target audiences throughout the customer life cycle, from awareness to lead generation to customer retention and win-back.
What do you think? Have you tried these Matched Audiences targeting capabilities? What tips or success stories do you have to share? I'd love to hear from you in the comments below!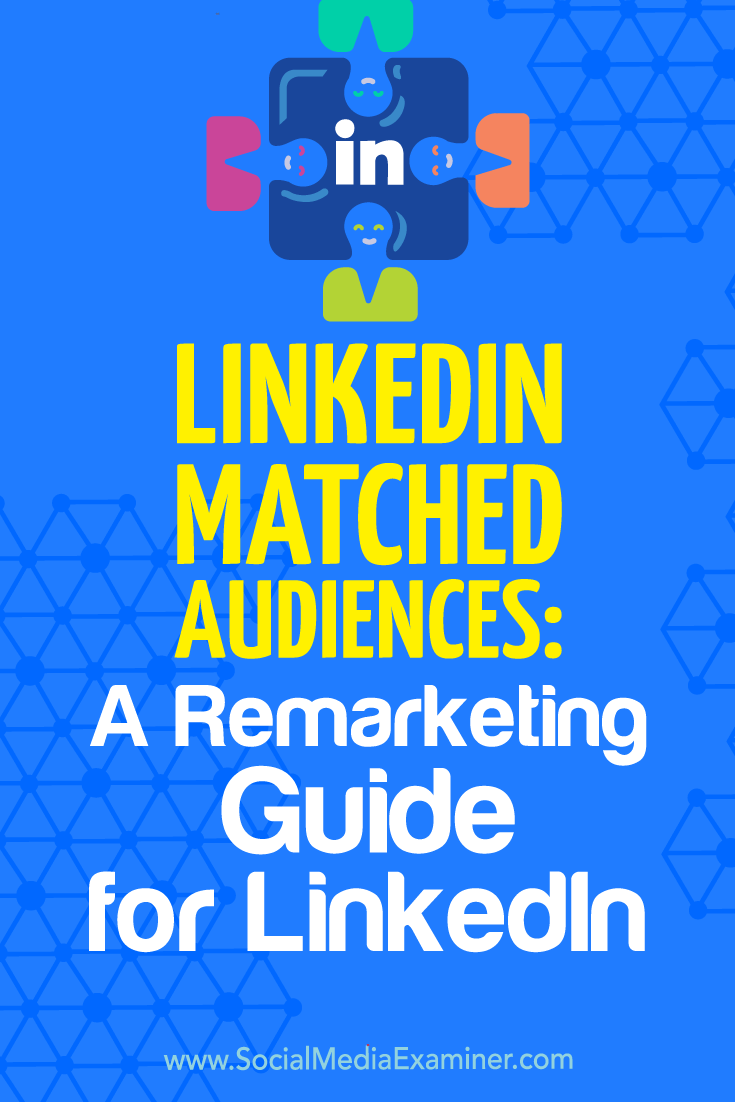 Curious about NFTs, DAOs, and Web3?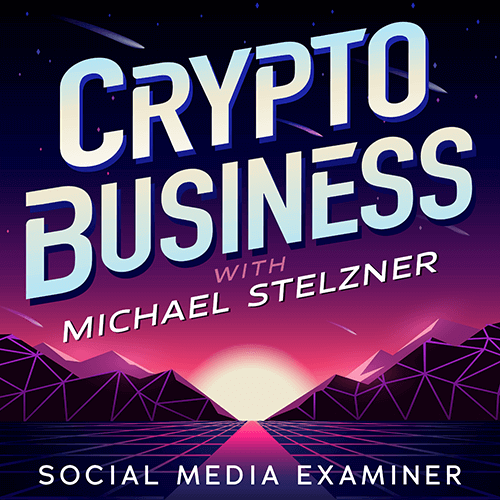 Follow the Crypto Business podcast to find out how NFTs, social tokens, DAOs (and so much more) will affect your business in the near future.

Every Friday, host Michael Stelzner interviews leading industry experts about what works right now in Web3 and what to expect in the future, so you can prepare your business for the shift, even if you're a total newbie.
FOLLOW THE SHOW