Do you create long-form written content? Wondering how to take advantage of LinkedIn Publishing for Pages?
In this article, you'll discover how to create and publish LinkedIn articles on your company page.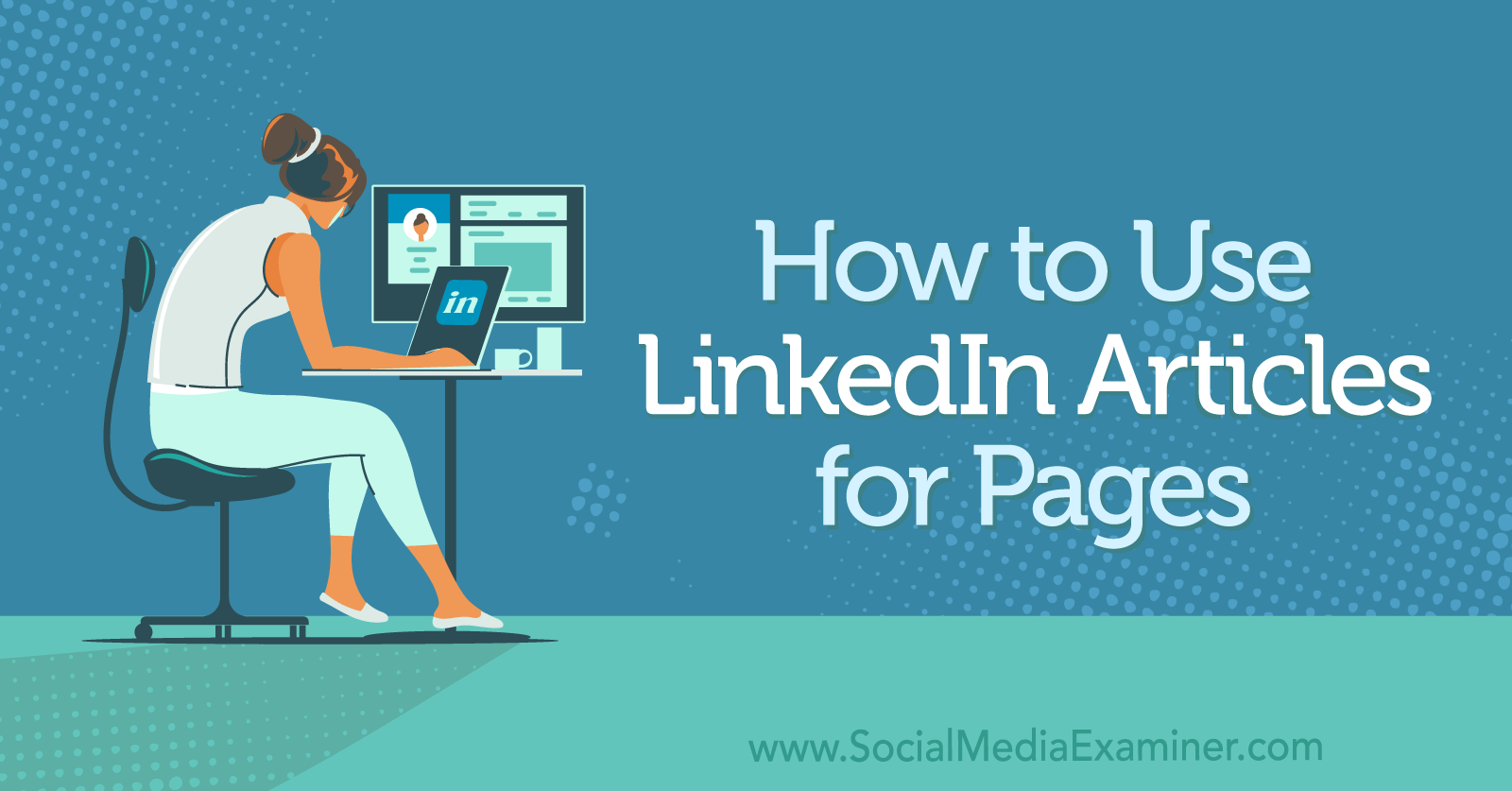 Why Use LinkedIn Articles for LinkedIn Pages?
Every LinkedIn user with a personal profile has been able to create an article to reach their network for some time.
Recently, LinkedIn extended its article feature to LinkedIn company pages. Now, businesses have the same opportunity to use this native feature to extend their content marketing to a LinkedIn audience.
In addition to helping businesses with LinkedIn company pages deliver meaningful content that can drive traffic to their site, funnel more customers through the pipeline, and generate more revenue, LinkedIn articles also offer these benefits:
Position your business as an industry leader. Share expert advice and opinions. Discuss the latest research findings in your industry. Establish yourself as an authority by publishing long-form educational, informative, and relevant content.
Expand your reach and boost engagement. Every time someone engages with your article through likes, comments, and shares, your article becomes visible to their primary connections. This exponentially increases your reach and earns you credibility through the endorsement of your mutual contact.
Reach decision-makers. Penning articles is a great way to reach decision-makers. With the right messaging delivered to the right people, your articles could have a significant impact and earn you considerable results.
If you're interested in strengthening your social media presence, broadening your reach, and driving more people to your website for higher conversion rates, articles can be a powerful tool in your LinkedIn marketing strategy.
#1: Update Your LinkedIn Page Roles
To publish via your LinkedIn company page, someone must have one of these two roles:
Content Admin: In this role, you can create and manage page updates, events, stories, and jobs. You can also boost an update.
Super Admin: In this role, you have unlimited access to all features and permissions of your LinkedIn company page.
If you have one of these two roles, you can move to the next step.
#2: Create a New LinkedIn Article
From your LinkedIn page home view, you'll see a blank update. Click on the Write Article option.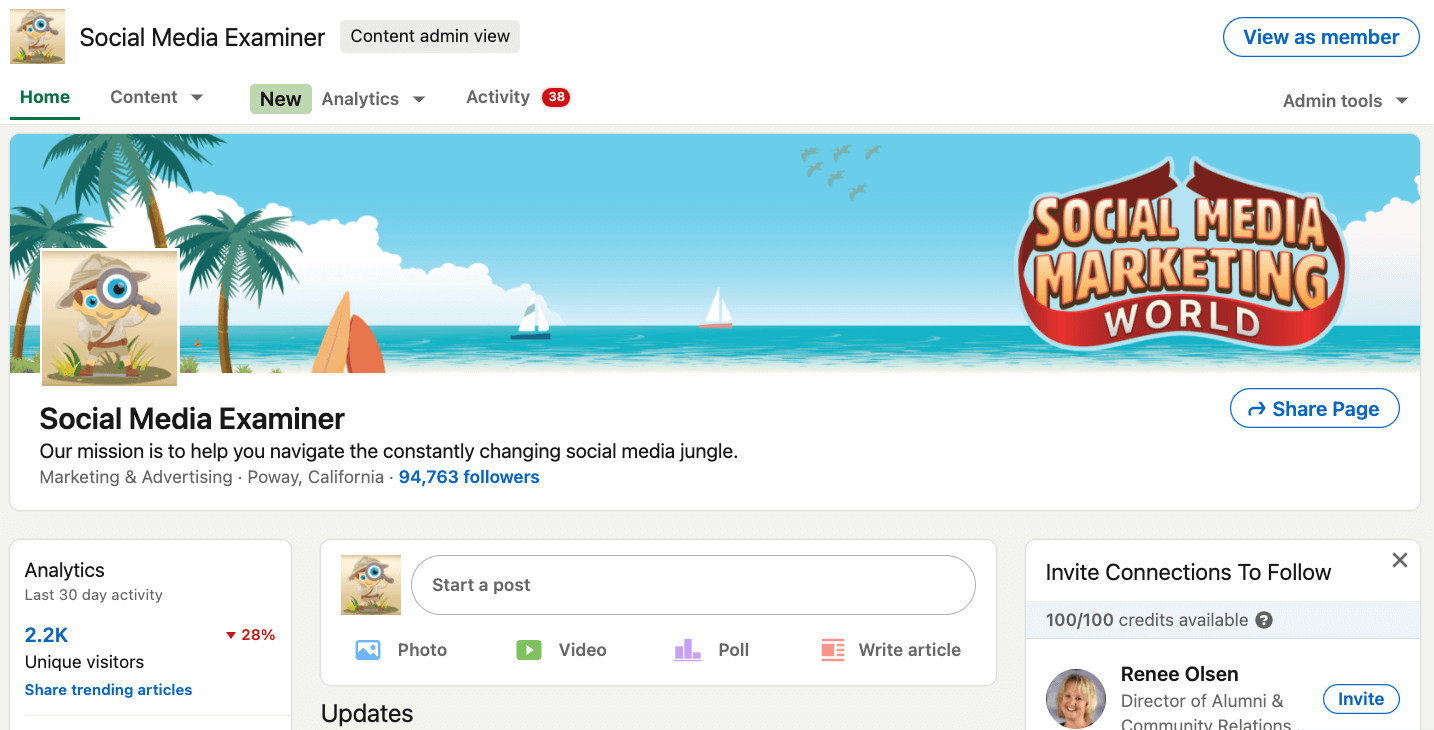 This will bring up a blank article.
At the top of the blank article, you have simple text formatting options to add headings, bolding, italics, underlined text, bullet points, quotes, and links to your copy.
As you work more with LinkedIn company page articles, you can use the Publishing drop-down menu to access or share your drafts, access or edit published articles, and create a new article.
Get Your FREE Course: Web3 for Beginners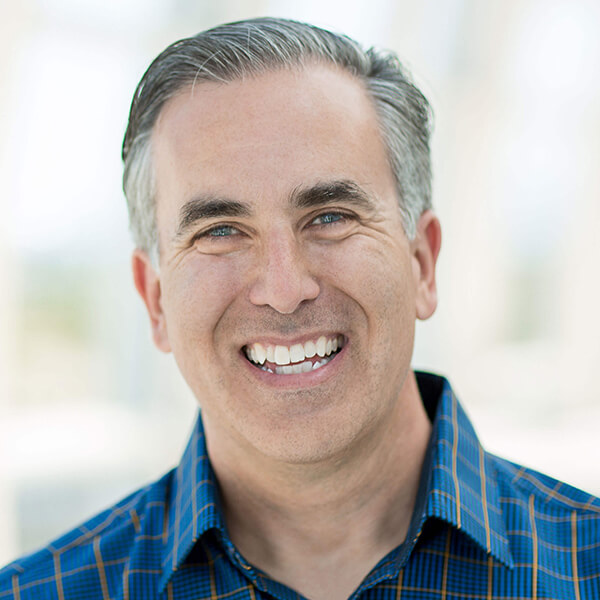 Curious about Web3, but don't know where to start or who to trust?

Introducing Web3 for Beginners, a course taught by Michael Stelzner, the founder of Social Media Examiner.

Learn the basics of Web3 and apply it to your business with this FREE comprehensive course.
CLICK HERE TO GET FREE ACCESS
#3: Compose Your LinkedIn Article
From inside the blank article, you can hover over and click on a number of elements. You can add a cover image, headline, copy, images, and video.
The cover image should be 2000 x 600 pixels, recall your brand, and relate to the topic at hand. Hover over and click on the blank cover image to upload an image from your computer by clicking on the file or by doing a drag and drop.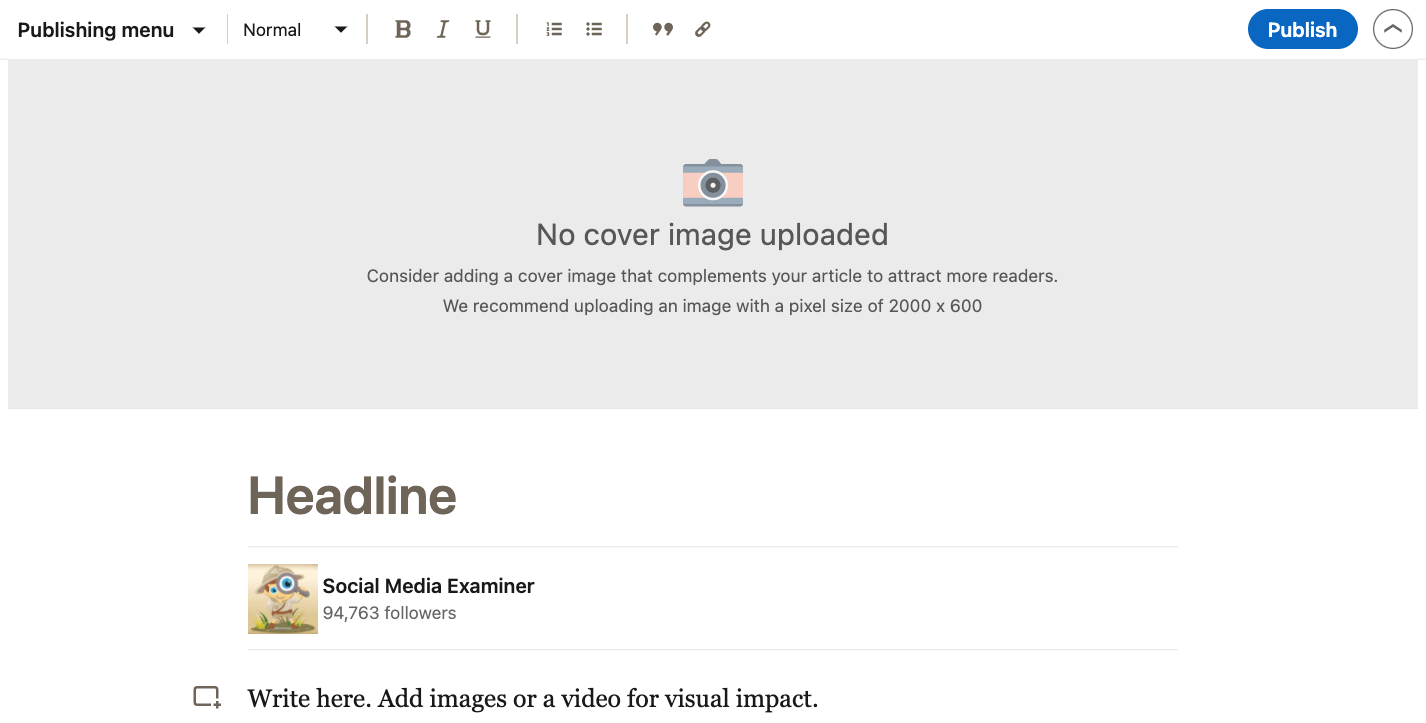 Click the word Headline and fill in the field. You want a headline that clearly explains what readers can expect to gain from reading the article. Remember that the article you write will need to follow through on the promise of your title so be clear, not cute or misleading.
Note that LinkedIn indicates that both Lazarus and Grammarly can block your ability to click into the Headline field. If you use either of these extensions, disable them and refresh the Articles editor to continue. You can re-enable the extensions when you're done.
Next, click on the Write Here prompt and begin composing your article in the space provided. Depending on your goal, add links or a CTA to drive traffic, generate leads, or create engagement such as comments, shares, and so on. As you write, think less about word count and more about easily consumable value.
When you have your copy formatted, click the small square+ icon in the body field to embed images, videos, slides, or other elements in your article.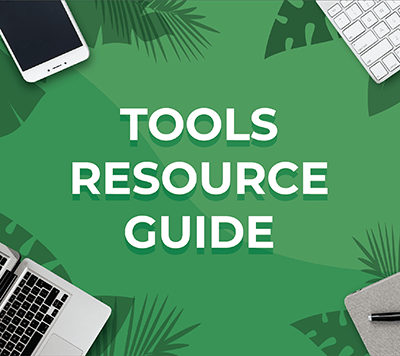 Looking for something to make your life easier?
Discover the tools we recommend to drive engagement, save you time, and boost sales across your entire marketing funnel or business.
Whether you need help planning content, organizing social posts, or developing your strategy, you'll find something for every situation.
FIND YOUR NEXT FAVORITE TOOL
Simply click on the relevant icons to access these options.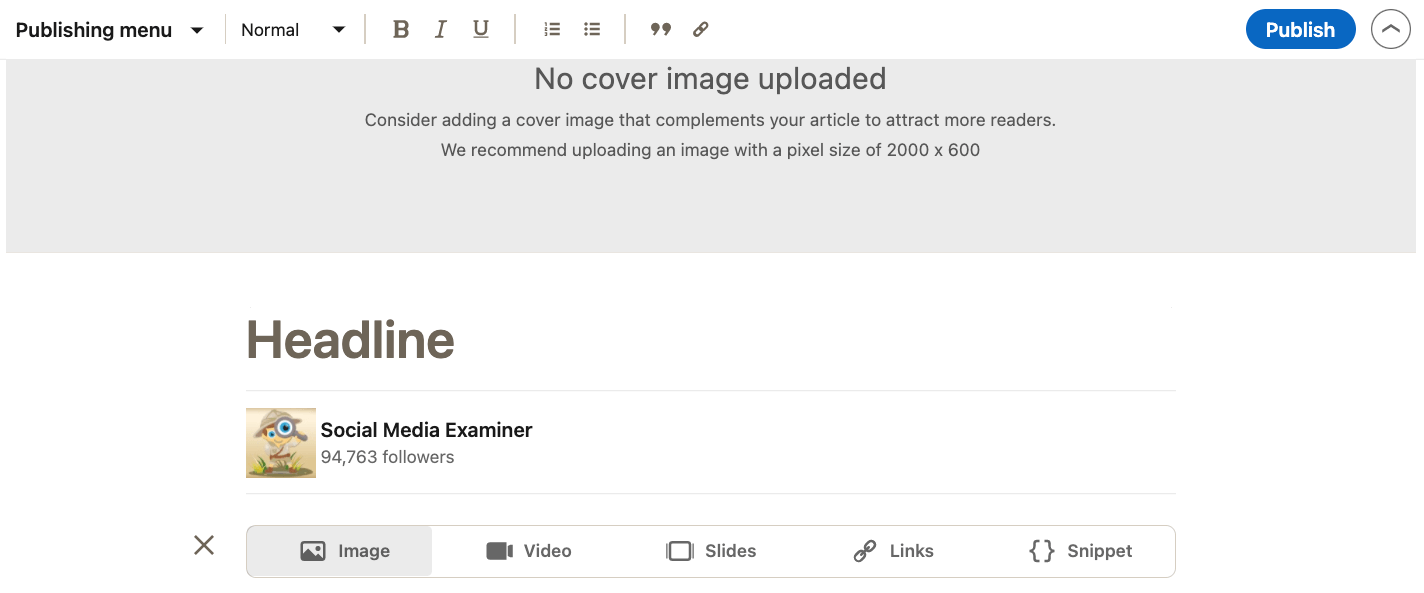 Once embedded, you'll see an option to add alt text to your visuals. Hover over a visual element and you'll also see the option to align or hyperlink your visuals.
Before clicking Publish and turning your article live, you can use the Share Draft function under the Publishing drop-down menu to let someone else preview your article. If you want to update your article after publication, you can edit it at any time.
When you're ready to publish, click the blue Publish button to bring up an update for your LinkedIn page. From within this update, you can enter additional messaging to provide context. You can also choose to let anyone or no one comment on your article, and you can add relevant hashtags. If you've not yet unlocked the power of hashtags on LinkedIn, you'll want to watch this video featuring valuable advice from Judi Fox.
When you're happy with your article and update, click Publish. Your article is now live!
#4: Promote Your LinkedIn Article
Because your article is organic content, you can take advantage of the new LinkedIn Boost feature to get more eyes and reach for it. You can learn more about paying to boost organic content on LinkedIn by reading this article. Alternatively, anyone with a Sponsored Content Poster role can create a sponsored page update to promote the article.
If you have an engaged group of employees on LinkedIn, work with each of them to bring more exposure and engagement to your page's article from their individual networks. This article by Louise Brogan will help you include your employees in your LinkedIn content marketing.
If your business manages any LinkedIn groups, sharing your article is a good way to open a discussion on the topics of your content.
#5: How to Integrate LinkedIn Articles Into Your Company Page Content Strategy
If you're wondering what to post about in your articles, begin with your ideal customer's needs and interests. Here are three ideas to get you started.
Answer a frequently asked question. Give an in-depth answer to a viewer's question or one that's often asked but left unanswered. By openly addressing something other businesses don't, you'll begin earning trust with the people you want to do business with.
Create a listicle. Lists are easy to skim and digest, and they can provide highly valuable information to your prospective customers. Write about 10 quick insights from the latest industry research or the 10 most useful lessons your business' leaders have learned during their careers.
Provide a do's and don'ts guide. One helpful way to share your expertise is to provide readers with a list of things to do and not do during their buyer's journey. Offer stories from past customers so others in similar circumstances can navigate their journey more smoothly. This can help you gain a loyal following of readers and prospects who value your willingness to be transparent.
As with all content, you'll want to watch the performance of your LinkedIn page articles to guide future content marketing and campaign decisions. At a high level, you'll want to watch metrics for reach, engagement, and firmographics to see if you're reaching and growing your target audience and moving closer to your goals.
As you move forward, remember to think creatively and develop valuable content that readers will eagerly consume and share with their connections.
Conclusion
LinkedIn is more than a social platform for professionals to build networks with colleagues and peers. It's also a place where your business can attract and build relationships with your ideal customers. LinkedIn articles are perfect vehicles for building those relationships on the platform, and when driven by analytics and data, those articles can maximize your LinkedIn marketing efforts.
Get More Advice on LinkedIn Marketing
For a video tutorial about how to market your business on LinkedIn, watch this playlist on our YouTube channel:
Get Your FREE Course: Web3 for Beginners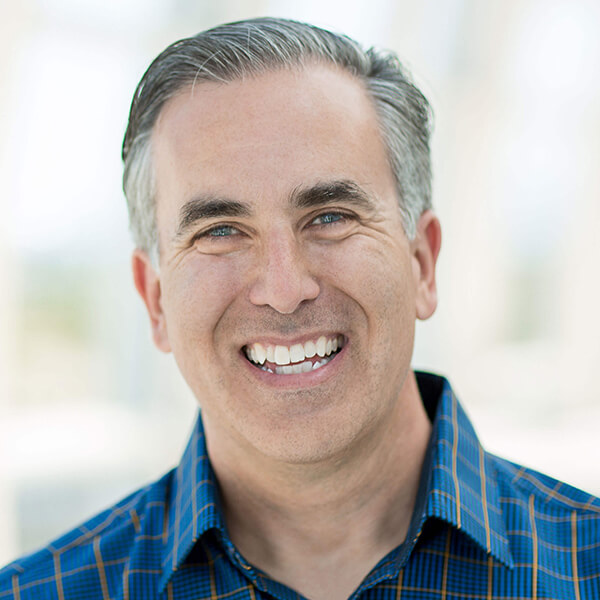 Curious about Web3, but don't know where to start or who to trust?

Introducing Web3 for Beginners, a course taught by Michael Stelzner, the founder of Social Media Examiner.

Learn the basics of Web3 and apply it to your business with this FREE comprehensive course.
CLICK HERE TO GET FREE ACCESS