Want to use LinkedIn video to position yourself as an expert? Wondering what kind of video content to produce?
In this article, you'll learn how to build your expertise using three types of video on LinkedIn.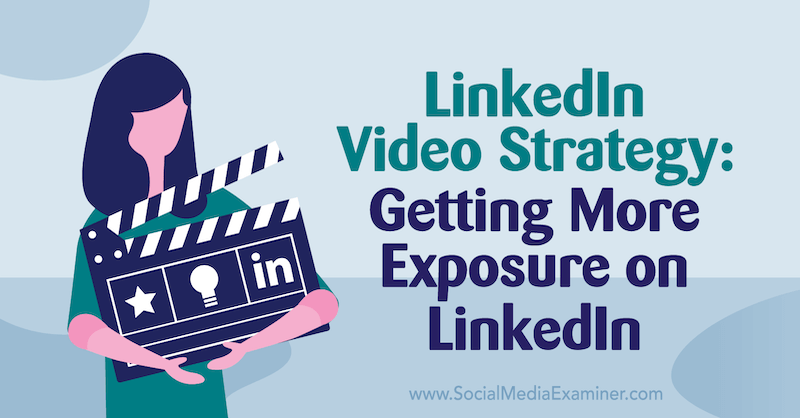 Why Consider LinkedIn Video?
When most marketers talk about video, they think of YouTube, Facebook, or Instagram, but LinkedIn video offers better organic reach potential.
The truth is that most people on LinkedIn aren't doing content—period. Of the 740 million members on the platform, less than 2% are posting content on a weekly basis. And for the small percentage who are, their content tends to be text, graphic, or link posts, not video.
So if you start doing one LinkedIn text post every week, you're in an elite club. And if you start posting one LinkedIn video every week, you're in very small company indeed.
What does video do that the other media can't? It allows you to be you in the purest form. It's easy to misinterpret a post, text, or email, but when you see somebody on camera, you quickly get familiar with their mannerisms and vocal inflections. You can see if they're animated or reserved. You get all of the cues that you normally get from an in-person conversation.
By sharing video on LinkedIn, you can put pieces of yourself and your business out there for others to find.
Here are the three main types of video content you can create for the LinkedIn feed.
#1: Create Pillar Content With LinkedIn Live
Pillar content is the longer pieces of video content that you can chop up, repurpose, and make into micro-content. This will be about 20% of your video content on LinkedIn. The goal of creating pillar content is to help people understand who you are, what you're about, and what your values are. If they happen to be in the market for the services you provide, video helps them see the kinds of transformations you can make in their life.
If you're not sure what the pillar content for your business should be, think about what you want to be known for. What are the four or five things that each person who engages with your content should get? Those are your pillars.
Your pillars are areas you know intimately. If somebody were to engage you in conversation about one of these areas, you should be able to talk ad nauseam about it. These pillars act as your guiding light for content. If you're fully informed about what they are and have a strategy in place, it will be easier to create content at the drop of a hat.
On LinkedIn, the only way to get pillar content for video is to do live video. While not everyone has access to LinkedIn Live, if you do, building your own show format can be an effective tool.
When you do extended live streams on LinkedIn, you use third-party services, most of which will let you download a recording of the live stream when you're done. Then you can pull out the best parts of that extended content and make them into multiple pieces of quality content that you can use on LinkedIn and other channels.
Two people who are effectively using pillar content on LinkedIn are Cher Jones and Richard Moore. Both have weekly show formats and post-produce their live streams into additional content.
Richard Moore does a lot of Q&A on his show, sometimes with guests, and each live stream has a theme. When he's finished a show, he takes the best questions from viewers or his best answers to those questions and sends them off to his editor to make into separate pieces of content. This gives him tons of content to sprinkle around.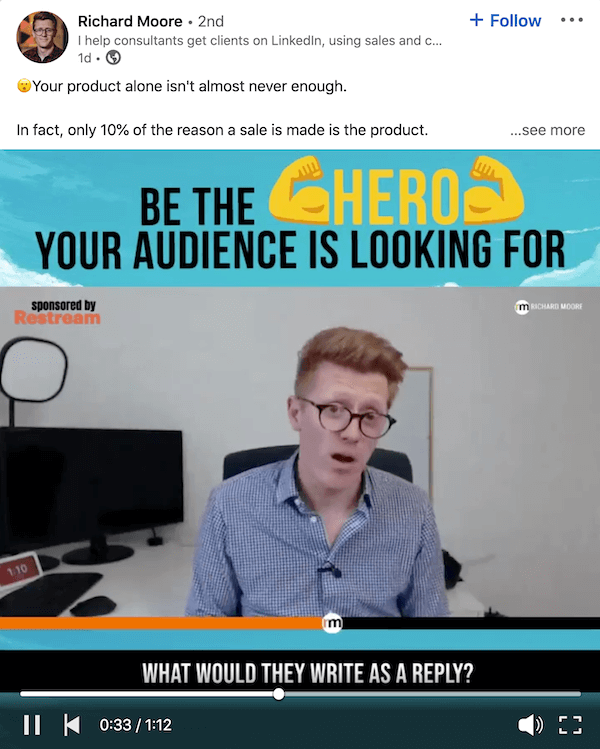 Because your pillars are topics you know like the back of your hand, endless ideas should come from them.
If you're hesitant about doing live video or just not comfortable with it, you don't necessarily have to do pillar content for LinkedIn. The pillar content could just exist as the ideation of these topics and the different angles you can take to approach them. The key is to know what your pillar content is because it will help inform your decisions about what kind of micro- and macro-content to create for your business.
#2: Produce High-Quality Video for the LinkedIn Feed
About 20% of your LinkedIn video will be macro-content, which consists of more highly produced videos like training, deep dives on products, brand stories, and testimonials. These are longer pieces that you want people to see when they find and investigate you. And if they're really well done, you could potentially use them for years.
While the time limit for uploaded video on LinkedIn is 10 minutes, typically macro-content is around 2-5 minutes long. If it's a highly produced super-intentional piece of video content, it could be as short as a minute and still be effective. Some businesses, especially large corporations, will do cinematic testimonials, which are basically 3- to 5-minute mini-movies that show the impact they can make in their customers' lives.
Once you've created your macro-content, you'll share in the feed every so often to refresh people who know you or introduce new people to you with a quick brand story or customer testimonial. You'll typically get most of your traffic in the first few days after you post it.
In addition to sharing macro-content on your LinkedIn page, you can also put it on your YouTube channel, your website, and your LinkedIn profile. Alex has a brand story video in his LinkedIn profile's featured section. The 2.5-minute video business card gives people a sense of who he is and what his business does.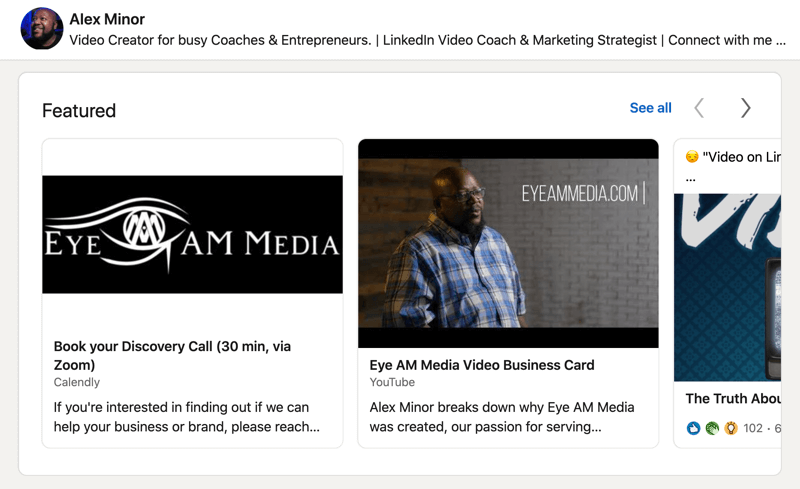 #3: Share Short Video in the LinkedIn Feed
At least 60% of your LinkedIn video content should be micro-content, which is short video that will often come from your pillar content. Micro-content helps you get people's attention, stay top of mind, or leave breadcrumbs for people to follow that lead them back to you. This content can be anywhere from 5-10 seconds and up to 3 minutes; most people won't watch anything longer than that.
Micro-content can be whatever you want it to be. There's a misconception that LinkedIn is a serious, straight-laced, suit-and-tie place. But since Microsoft took over and introduced the feed, it's become more of a social platform and people have started to relax a bit. Especially this past year with more people working from home and yearning for a human connection, a lot of heart has come out on LinkedIn.
The goal for a piece of micro-content might be to offer actionable information such as a tip, technique, or piece of wisdom that could be a quick win. If you can do that on video, it makes you memorable.
Another tactic is to tell a personal story but frame it in a way that can be applied to business. Remember, at the end of the day, people are on LinkedIn doing business and building their professional networks.
#4: Optimize Your Video for the LinkedIn Feed
The easiest way to create micro-content for LinkedIn is to just open up the app, do a video straight to camera, and post it. But if you have time to put a little more work in, here are some ways to optimize your video for LinkedIn.
Create Square Video
While LinkedIn video can be vertical, horizontal, or square, square is your best bet.
In comparison to 16:9 YouTube-style video, square video commands more real estate in the feed. In fact, on mobile, square video takes up almost the entire screen.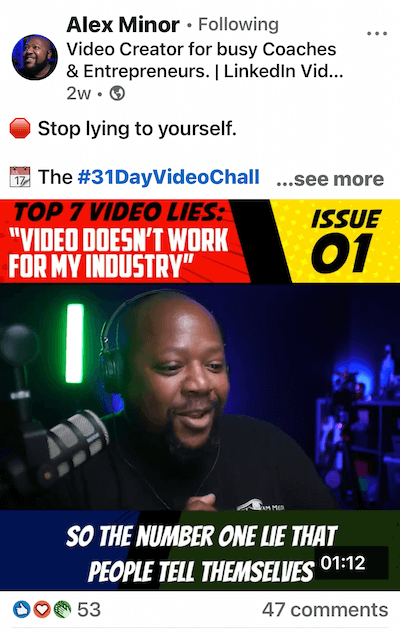 If you upload 9:16 video (smartphone video), LinkedIn will try to make it fit into a square on desktop by adding blurred bars on either side of it. When that same video displays in the mobile feed, it will show at the 9:16 aspect ratio but people won't be able to see the whole post (video and copy) at once.
Write More Than Three Lines of Text
When your video appears in the LinkedIn feed, three lines of text appear above it and viewers have to click the See More link to see the rest of it. Alex recommends that you always use more than three lines of text. The more time you can get somebody to spend on your post, the better. LinkedIn factors in dwell time when deciding to promote content.
Having really good copy also gives you a chance to approach your topic differently. For instance, if your video is about being confident on camera, you might give two or three tips in the video. In the copy, you could offer two or three different tips on the same topic or offer a different perspective on it.
Additionally, some people will read the copy first before they decide if they're going to watch the video. So if you put your time and thought into both the copy and video, you can meet people where they are.
Add Captions
Most people who watch LinkedIn video are on their phones so the sound will be muted as they're scrolling the feed. By adding captions on your videos, you'll have a chance to grab their attention and get them to watch.
If you have an iPhone, Apple's Clips app lets you record a 1-minute video and will auto-caption it as you're recording. Recording 1-minute clips is also a great way to get comfortable with video. Because of the time limit, you have to learn to keep your videos short and to the point, which will hopefully make your words more impactful.
When you're ready for longer content or maybe a deeper dive into some concepts, you'll be ready to move on to another tool.
Pro Tip: The easiest way to get started with LinkedIn video is to open the app, select the Post function, turn on the camera, hit record, and upload without watching it. It could just be a video saying, "Hi, this is my first video on LinkedIn. I'm nervous because I haven't done this before. But I really want to get out there, meet more of you, and engage." These videos get tons of love because people love to see people being human.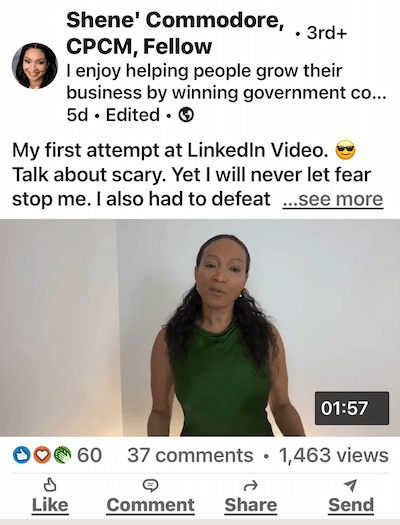 Other Notes From This Episode
What do you think? Are you inspired to incorporate video into your LinkedIn marketing? Share your thoughts in the comments below.