Wondering if your LinkedIn company page is delivering the results you hoped for? Do you know where to find the best data to evaluate your efforts?
In this article, you'll learn how to measure five key performance metrics for your LinkedIn company page.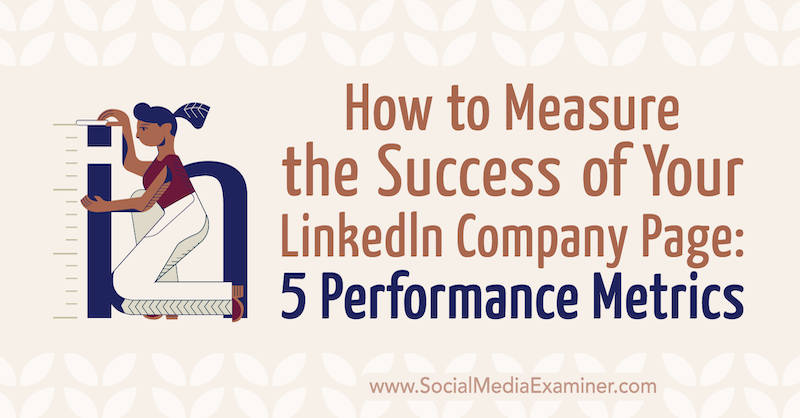 How to Analyze Your LinkedIn Company Page Performance
LinkedIn is an essential social media platform for many businesses, both large and small. And while LinkedIn is a useful tool, it can be daunting to measure (and report on) the success of your company page.
If you've set up a LinkedIn company page and publish content regularly but haven't figured out if all of your hard work is paying off, you've come to the right place. Here's the data you'll need to evaluate the effectiveness of your marketing efforts.
Determine Reporting Frequency
In some businesses, the marketing department is rarely asked to share analytics data. But for other businesses, management makes it a priority to check in on the pulse of the marketing department every few weeks or even weekly.
Frequency may change depending on company growth, company size, and current marketing campaigns; however, the task remains. Marketers have to gather analytics to pull together a useful report. So determine the best frequency to report on your LinkedIn marketing activity and stick to it.
Gather the Data
Once you know the time frame you're using as a lens for your LinkedIn company page data, follow the instructions below to gather information about:
Content engagement
Website traffic
Page follower growth
Sales inquiries
Opt-in signups
Content engagement is at the top of this list because it's at the top of a traditional marketing funnel and will have an impact on further LinkedIn-driven results.
As you begin to gather your LinkedIn company page analytics, as detailed below, focus on a top-down approach with this list so your findings build on one another. By the end of your data-gathering, you'll be able to take a strategic look at what you've found and determine your next steps on LinkedIn.
#1: Review Your LinkedIn Company Page Post Engagement
The level of engagement on your LinkedIn company page is a good first indicator of how successful your strategy is. If your content isn't interesting, useful, or deemed necessary by your followers, they won't engage.
"LinkedIn engagement" is a catch-all term for metrics such as post likes, comments, and views, with the most valuable form of engagement being comments. Think about it: We live in a time-poor world. People consume content on social media all day long. They'll leave a lengthy comment (which takes 20+ seconds or longer to type) only if they're genuinely interested in the content you're sharing.
By taking the time to review your LinkedIn company page analytics regularly, you'll be able to determine which updates your community values most. From there, you can replicate your top-performing content and craft marketing campaigns that appeal to your audience.
To review your LinkedIn company page post engagement, go to your company page and click the Analytics tab. Then select Updates from the drop-down menu.
Get Your FREE Course: Web3 for Beginners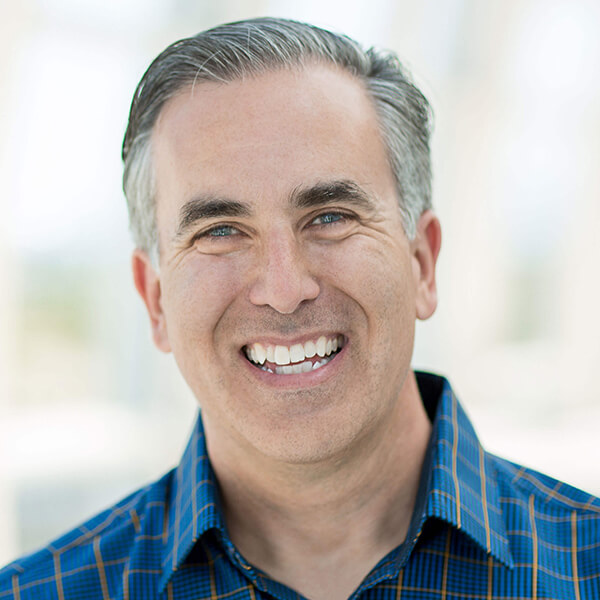 Curious about Web3, but don't know where to start or who to trust?

Introducing Web3 for Beginners, a course taught by Michael Stelzner, the founder of Social Media Examiner.

Learn the basics of Web3 and apply it to your business with this FREE comprehensive course.
CLICK HERE TO GET FREE ACCESS
Your page should look something like this: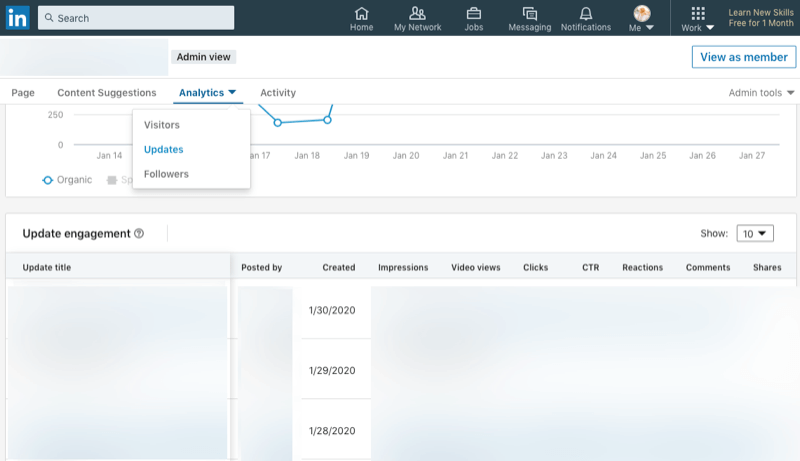 From here, you can select a time range of posts you'd like to review and choose the metric you'd like to see displayed in a line graph.
For the line graph, you can choose from these metrics:
Impressions
Unique Impressions
Clicks
Reactions
Comments
Shares
Engagement Rate
I find that engagement rate, comments, and clicks are the most valuable metrics to view and analyze in this report.
As you scroll down the page, you'll see a table of information that includes every piece of content published during the selected time period. You can easily view who published the content, the date it was published, and the following key metrics:
Impressions
Video Views
Clicks
CTR
Reactions
Comments
Shares
From a community engagement perspective, I find that comments, reactions, and shares are the most obvious signs of content quality. If there's a higher-than-normal number of comments or shares on a post, it's something worth recreating in the future.
Looking at your LinkedIn company page analytics, which pieces of content are most interesting to your audience? Do you see any patterns emerging?
CTR and clicks generated through a LinkedIn company post can tell you which pieces of content are most helpful in converting followers into marketing qualified leads (MQLs). That's valuable information to have on hand.
#2: Measure Website Traffic From LinkedIn
Another method to analyze the success of your LinkedIn company page is to take a closer look at your website traffic coming from social media. Often, social media marketers and social media managers need to justify the money and time they spend on creating and sharing quality content.
Whether you work for a business, an agency, or are freelancing for multiple clients, you have to be able to communicate results for time and money spent. With the right website traffic data in hand, you'll be able to confidently share how crucial LinkedIn is to your overall marketing strategy.
To look at the website traffic coming from LinkedIn, open your Google Analytics account and go to the property you want to explore. Select the view you want to use—ideally one that has been allocated to the marketing team with the correct filters applied.
In the left navigation, go to Acquisition > Social > Overview.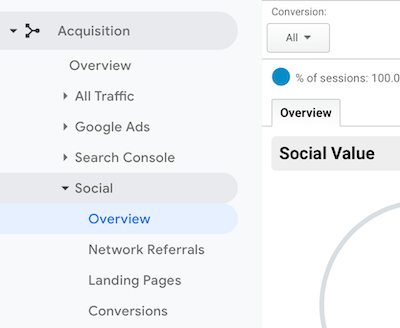 Now take a look at the list of social networks and see where LinkedIn sits for your business. Is it in the top spot? How many sessions have you had in the date range selected?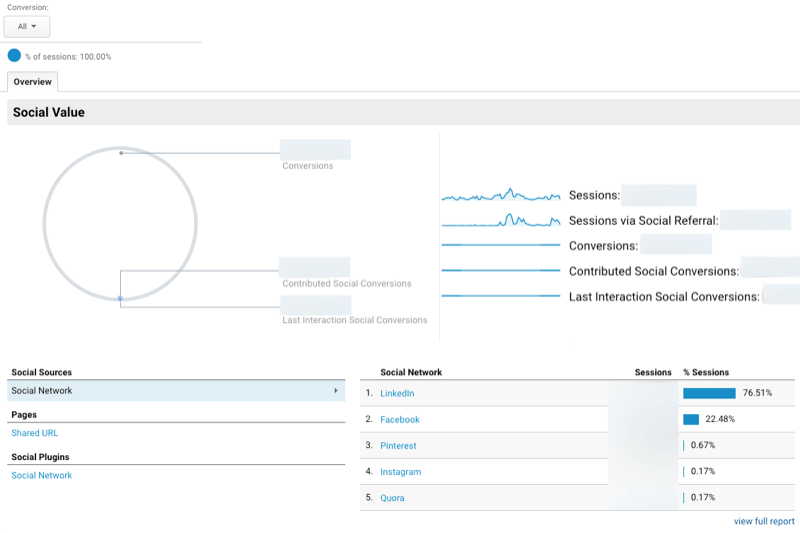 After reviewing this Google Analytics data, do you think LinkedIn is working for your business? If it is, this data could help you justify spending money on LinkedIn advertising, a platform with detailed targeting options that are pure gold to B2B businesses.
How to Use a Custom Dashboard for LinkedIn Analytics
The Google Analytics Solutions Gallery offers a variety of custom dashboards you can import into your Google Analytics to help you better understand your data. For LinkedIn analytics, the dashboard created by Erik Wagner will give you a bird's-eye view of some seriously useful information to help you understand the value of your LinkedIn company page.
To import it, make sure you're logged into the correct Google Analytics account. Then go to this Google Analytics Solutions Gallery link and click Import.
Once you've imported this analytics dashboard, you'll be able to analyze all of the website traffic flowing from LinkedIn.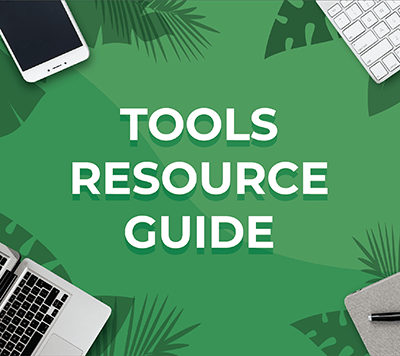 Looking for something to make your life easier?
Discover the tools we recommend to drive engagement, save you time, and boost sales across your entire marketing funnel or business.
Whether you need help planning content, organizing social posts, or developing your strategy, you'll find something for every situation.
FIND YOUR NEXT FAVORITE TOOL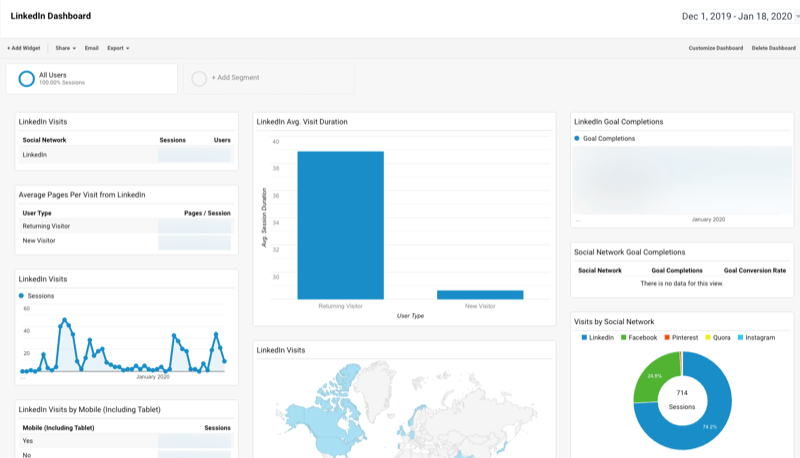 This report will show you:
Total number of website visits via LinkedIn
Average pages per visit from LinkedIn
LinkedIn visits via mobile devices
LinkedIn average visit duration (returning visitor vs. new visitor)
LinkedIn visits by operating system
LinkedIn goal completions
LinkedIn visits and bounce rate by landing page
#3: Track LinkedIn Company Page Follower Growth
If your LinkedIn company page is steadily gaining followers week over week, it's a good indication your content marketing strategy is on the right track. However, if your followership has remained stagnant, it may be time to reconsider your content, as well as whether LinkedIn is the right platform for your business.
LinkedIn company pages are fantastic tools for B2B brands, and LinkedIn personal profiles are usually more useful to individuals, consultants, and content experts who are trying to build a recognizable personal brand.
To determine how much your LinkedIn company page following has grown (or stagnated), use LinkedIn's analytics dashboard. Click the Analytics tab on your company page and select Followers from the drop-down menu.
Then select the time range of the data you'd like to see and review the line graph.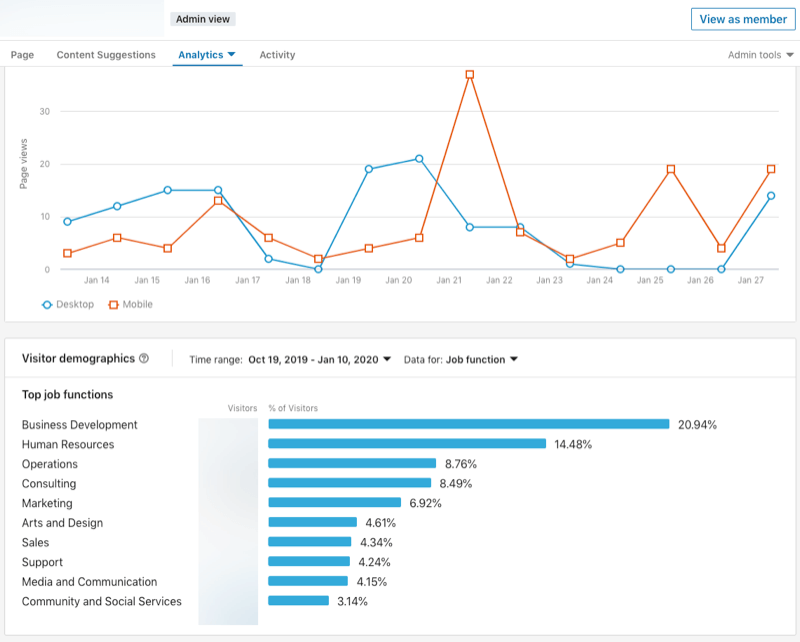 LinkedIn will show the number of followers gained or lost in the time range specified, as well as:
Location of followers
Job function
Seniority
Industry
Company size
LinkedIn will also compare your follower growth and engagement rate to that of similar businesses. This can help you benchmark your results and understand where you sit in comparison to your competitors.
#4: Attribute Sales Inquiries to LinkedIn
For many businesses, social media and LinkedIn especially are used to increase sales inquiries. This is one of the metrics you should keep an eye on to determine how successful your LinkedIn company page is.
Identifying which sales inquiries came from your LinkedIn company page can be a little difficult, but with some preparation and the help of analytics tools, you can make it work.
Option 1: Trackable Links / UTM Codes
Before you publish a LinkedIn post promoting your product or service, take the time to create a trackable link or UTM code. This will help you match up your website traffic and any subsequent contact form submissions with your LinkedIn company page.
Google Analytics offers a free tool called Campaign URL Builder that makes it easy to create UTM codes for your campaigns, and Bit.ly is a fantastic (and free) option for creating trackable shortened links.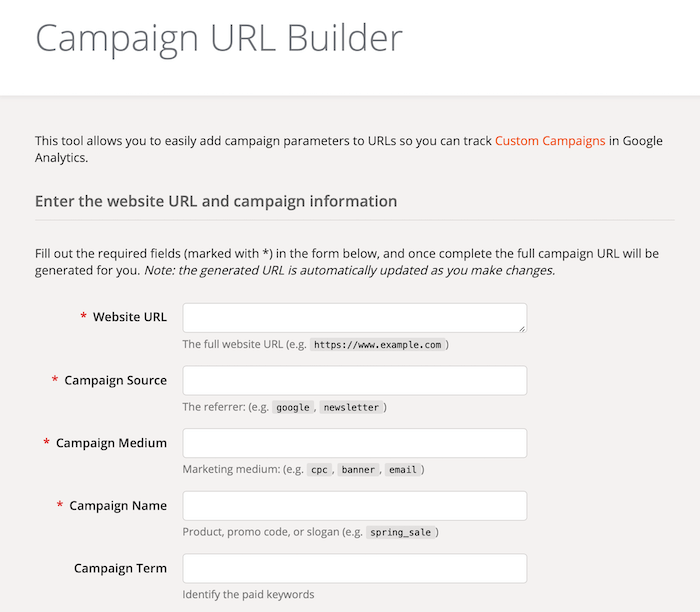 Option 2: LinkedIn Lead Gen Form Ads
If you want to set up a compelling LinkedIn advertising campaign, it makes sense to use LinkedIn lead gen form ads. They allow potential customers to quickly and easily send you their contact details in exchange for a product demo or an exclusive offer.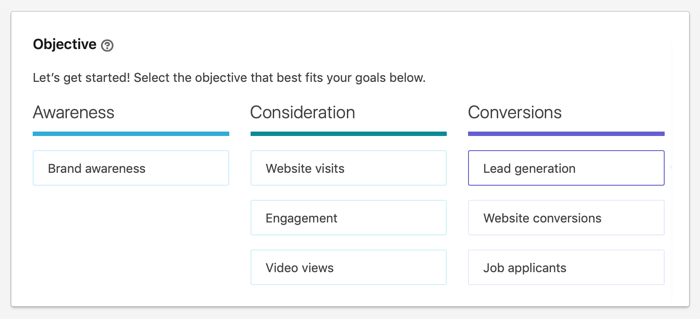 Option 3: Add a Field to Your Contact Forms
Hopefully, you already have this field on your online contact forms, but if you don't, it's worth asking any new potential clients where they heard about you. Of course, this data isn't always accurate because the client may not remember where they first heard about your company, but it's still a good idea to ask anyway.
Encourage your sales team to ask this question and make note of the answers the first time they pick up the phone. Why? Well, you don't want a deal to get all the way down the line only to find that the customer no longer remembers seeing that LinkedIn post 3 weeks ago.
#5: Monitor Opt-in Signups From LinkedIn Company Page Posts
Sharing your latest company blog post and photos of your team on LinkedIn is important but so is promoting free opt-ins.
Whether it's a white paper, a video masterclass, or an industry report, sharing opt-ins allows you to begin initiating one-on-one conversations with your audience. Promoting these freebies will also help you prove your credibility and allow you to get the personal contact details of your LinkedIn company page followers.
If you've set up dedicated landing pages with Google Analytics installed, you'll be able to track how many of your opt-in downloaders came from LinkedIn specifically. Then you can take it a step further by using a CRM tool to determine the lifecycle of a customer.
In the example below, this business has created and shared a branded white paper to gather email addresses. This is a win-win for the audience and the company: The audience gets valuable information in return for providing their contact details to the brand.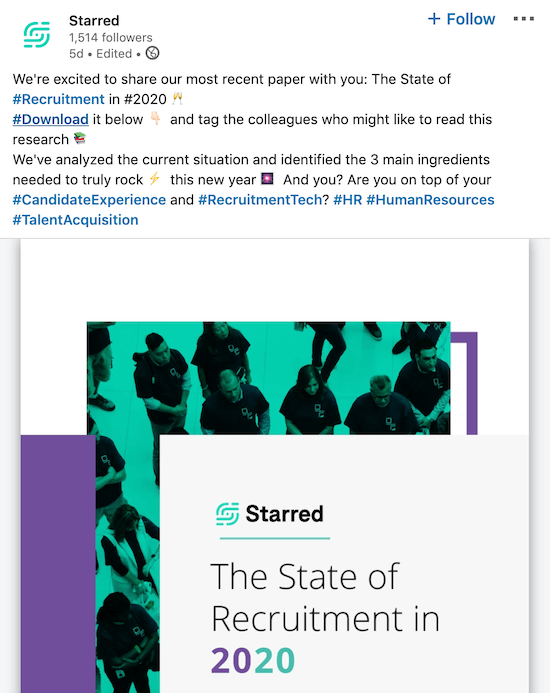 Here's another business promoting their white paper on LinkedIn. As you can see, it's important to create a white paper that's valuable to your ideal customers. You may want to experiment with the type of opt-in you're offering. Some audiences may be more interested in signing up for free video masterclasses or webinars.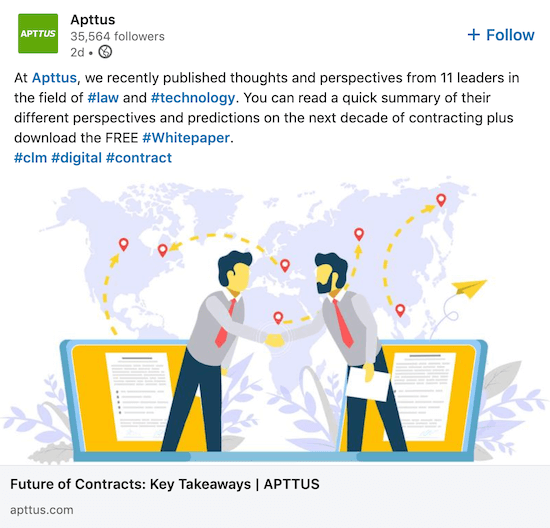 How many pieces of content will someone consume before they inquire? Find out using the CRM tool of your choice.
Conclusion
As a marketer, it's your job to communicate the effectiveness of your marketing efforts. So now that you've gathered the data about your LinkedIn company page, it's time to display it in a way that makes sense.
You'll need to choose the data that's most useful or interesting to key business objectives. Also gather data related to specific campaigns and display it together in one area with an explanation of your findings.
One of my favorite things about marketing is taking a look at analytics like a scientist would look at notes about experiments. This is the type of thinking that concepts like growth marketing are built on.
Once you've analyzed the data, reported on it, and discussed it with your marketing team, you'll then be able to decide your next moves.
What do you think? What have you learned from your LinkedIn Analytics data? Will you continue with your current LinkedIn content strategy? Will you try some new content formats? Share your thoughts in the comments below.
More articles on LinkedIn marketing:
Get Your FREE Course: Web3 for Beginners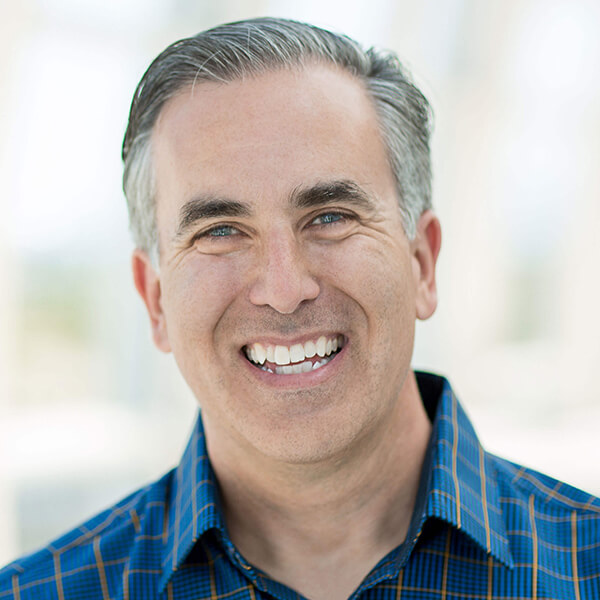 Curious about Web3, but don't know where to start or who to trust?

Introducing Web3 for Beginners, a course taught by Michael Stelzner, the founder of Social Media Examiner.

Learn the basics of Web3 and apply it to your business with this FREE comprehensive course.
CLICK HERE TO GET FREE ACCESS