Using Google Analytics to track your marketing? Want more insight into the customer journey?
In this article, you'll find a useful framework to set up your Google Analytics goals and learn how to analyze what is and isn't working with your marketing.
To learn how to analyze customer journey goals in Google Analytics, read the article below for an easy-to-follow walkthrough or watch this video:
3 Types of Google Analytics Goals for the Customer Journey
Before we jump into Google Analytics to figure out which goals are working and which aren't, it's important to talk about what you should set for a goal in the first place.
As an example, I'm going to walk you through a customer journey in my business. It's a specific path that customers follow to purchase a training program, which ends on a thank-you page that says, "Great, you've got this added, so check your email in a few minutes for the login details." That's a perfect idea for a goal.
My guess is you probably have goals that are set up in a similar way because what you're measuring for is when people complete the customer journey. But let me ask you a question: "Is that the entire journey?" The answer is obviously no; it's just when they've completed the journey. And while that's an important goal to set up, it's not the only type of goal.
What happens before the journey? People first have to become aware of the offer—the training program in this case—so you have to set up a goal when that stage happens.
So we now have an awareness goal when they come to the offer page and a completion goal when they hit that thank-you page but there's one more type of goal—an engagement goal. It's when they engage along with the process.
When somebody first comes to your offer page, they're aware of the fact that they're on a particular page and could purchase the offer. In other words, they're aware of the product.
You then continue to measure by setting goals to see if they're engaging along the way. The engagement step in this example is when they land on the cart.
And finally, you have the goal that you're probably already familiar with—the completion goal. This is when people complete the process that you want them to complete.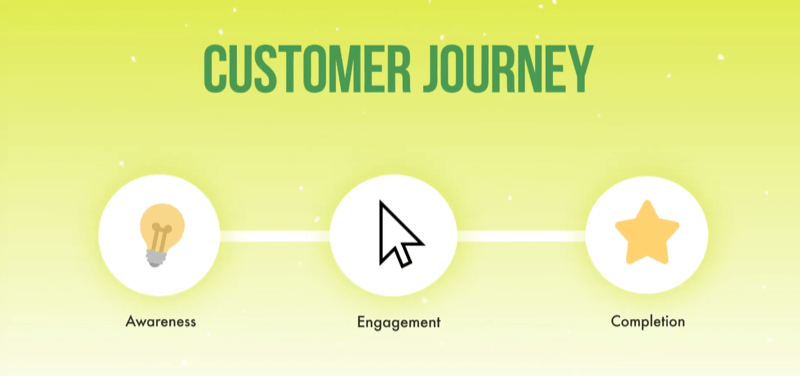 The model that I've just described is the one I want you to be able to use in your own measurement because it will tell you a story of where in the customer journey you're losing people.
Now let's dive into Google Analytics to look at some awareness, engagement, and completion goals that are already set up.
#1: Evaluate Awareness Goals in Google Analytics
My favorite report for understanding how goals are working—or how they're not—is the source/medium report. To access this report in Google Analytics, go to Acquisition > All Traffic > Source/Medium.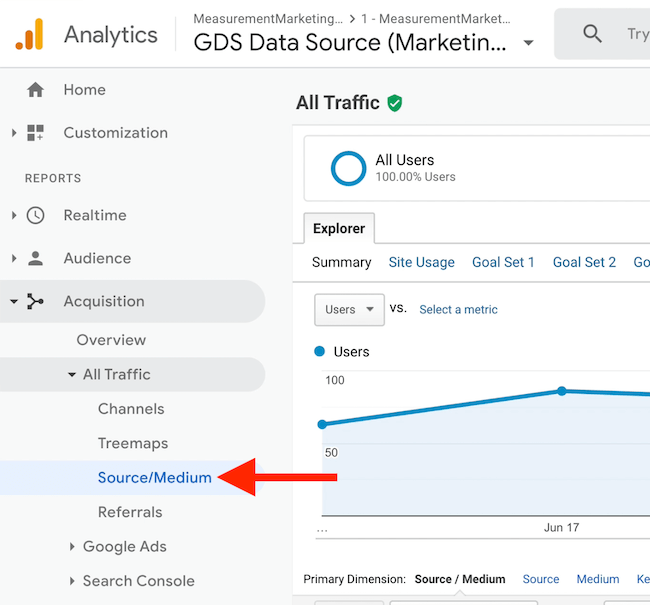 This report shows you the goals you've set up and the results you're bringing in by traffic source. This is great because you're already halfway there; you at least have some idea what's working.
Now let's dig into some goals. Returning to the earlier example of the training program, we'll start with the awareness goal of the offer page. Select this goal from the Conversions drop-down menu on the right side of the source/medium report.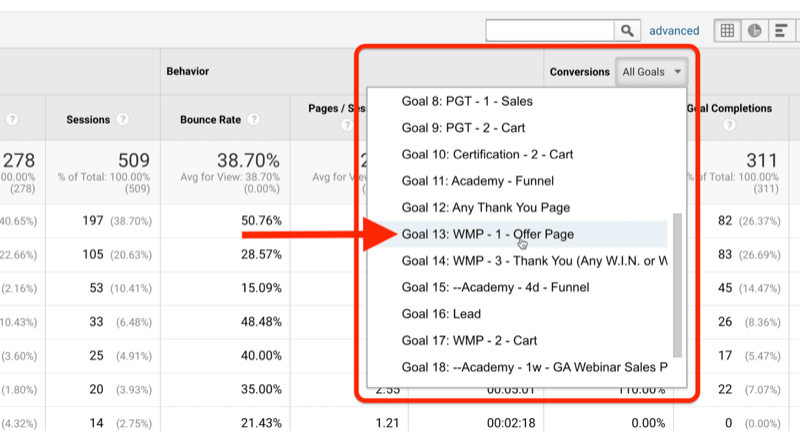 Now you can see all of the different traffic sources coming in and how many of those actually result in somebody seeing this offer. What are those traffic sources doing for your business?
In the report below, you can see that there are 55 total completions and Google organic is really effective in making people aware of this offer.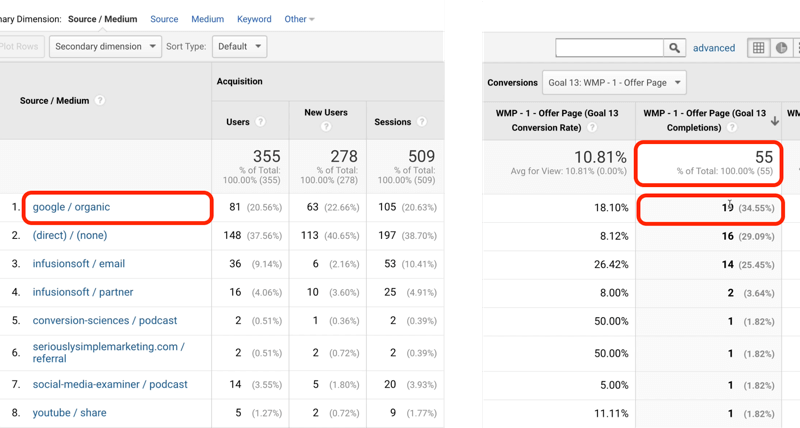 Pro Tip: Click the column heading to sort this data for a top-down approach.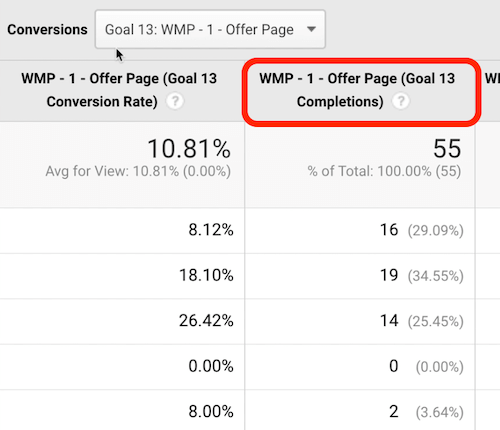 If you're thinking to yourself, "Okay, this is great, but I don't know how to set up goals in Google Analytics," it's surprisingly simple to do. This video walks you through it step by step.
#2: Review Engagement Goals in Google Analytics
Let's continue the journey with the next step, which is engagement. You want to make sure that people engage along the way.
For this example, we'll focus on the cart page. How many people clicked on the cart to go further down the journey? Obviously, you're going to see a smaller number here than for the offer page but you want to make sure it's not dramatically smaller.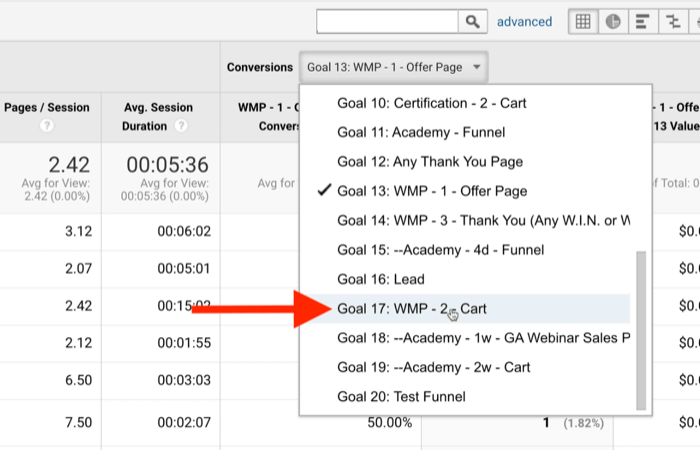 In this case, the cart goal was set up as the engagement goal, and it went from 55 down to 11. You'll also notice that Google organic has dropped; it's no longer the most popular traffic source. So while Google organic is effective at awareness, it's not as effective at engagement. Instead, what wins is direct/none, which is people who come directly to the site and engage with the brand that way.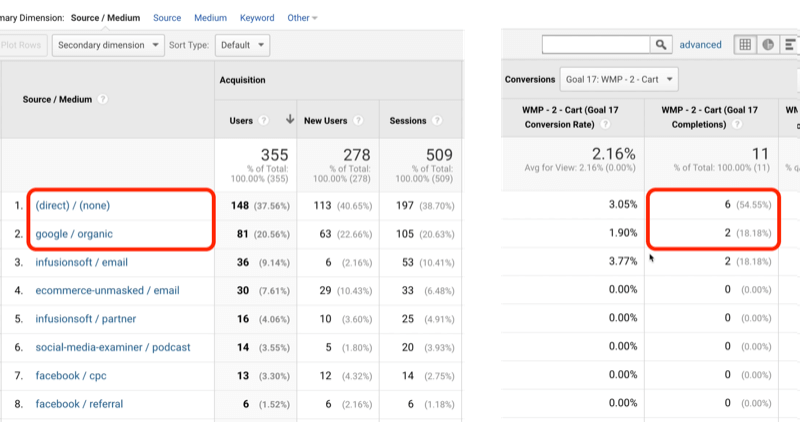 #3: Assess Completion Goals in Google Analytics
The final goal to look at is the one you've probably already set up—the completion goal. For this example, we're going to look at the thank-you page, which is the goal that completes the customer journey.
Here again, you can see that direct/none is working well. The other traffic sources really didn't help complete the actual thank-you page process but direct/none did. Now you're starting to understand how these traffic sources are beginning to work together.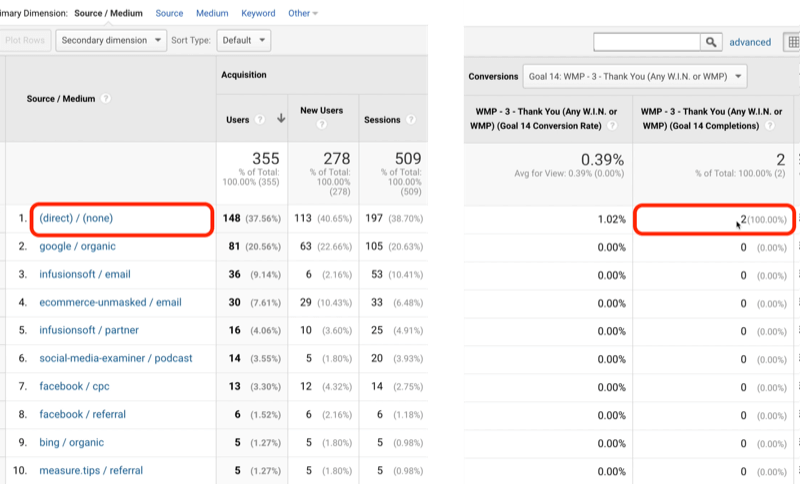 #4: Tie Traffic Sources to Results in Google Analytics
Now let's take this analysis a step further and tie traffic sources to results. To do this, go back into the source/medium report in Google Analytics to look at the offer page from earlier.
Again, you can see that Google organic, direct/none, and Infusionsoft/email are all good at awareness.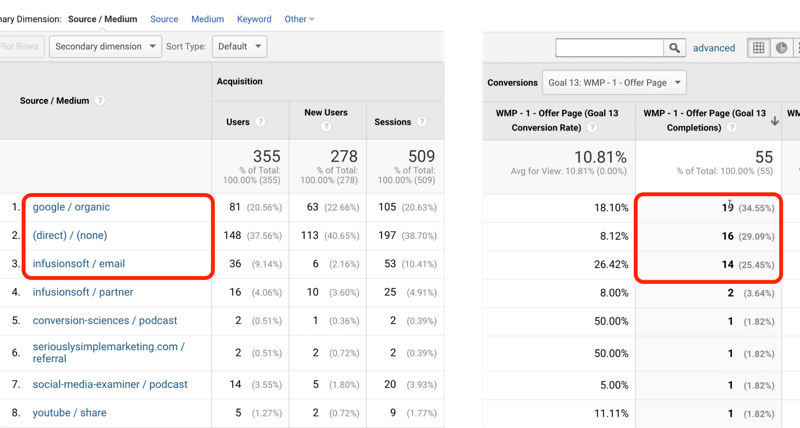 Pro Tip: The reason you can see this level of visibility into the different traffic sources is that I use UTMs (urchin tracking modules). If you're not using UTMs, this article explains how to use UTM parameters in Google Analytics.
So you know Infusionsoft/email is effective at creating awareness, but what else can you learn about these traffic sources? Again, go back through the awareness, engagement, and completion goals that are already set up.
In this case, I'm going to go into the engagement goal, which was the cart itself. You can see direct/none is obviously still the winner as it was the last time we looked at it. Google/organic and Infusionsoft/email are still helping people to engage.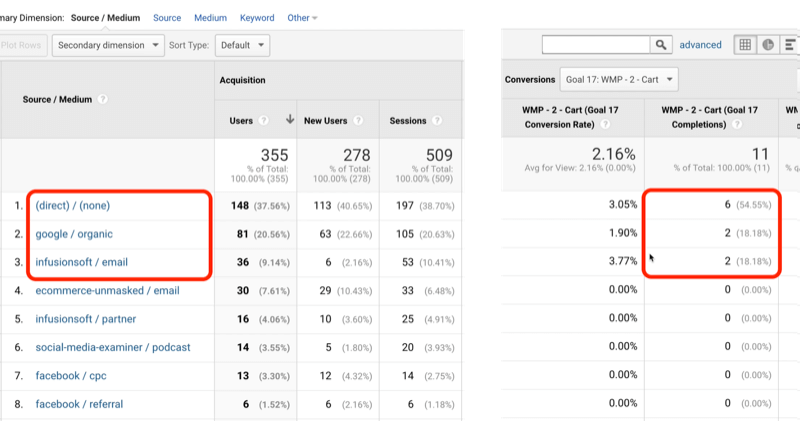 What you don't see is email traffic coming through and hitting the complete goal. So people weren't purchasing from that particular traffic source (Infusionsoft/email). You see here that it shows "0."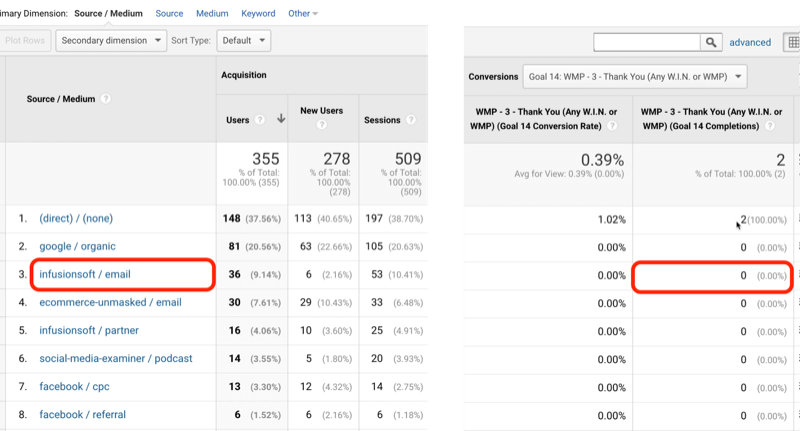 What this tells you is that Infusionsoft/email is decent at creating some awareness—it's getting some people to engage to the cart, which is about 10% of the traffic—but you don't see enough people completing the process.
So as a marketer, what does this report tell you and what does this framework model of awareness, engagement, and completion actually bring to fruition? What actions can you take?
In just a few minutes, you can go through this report and see what causes awareness and engagement, and what causes people to actually complete the journey you want them to complete. And you can see how the traffic sources are working together or how you might get them to work together better.
To visualize this, Google organic is really effective at making people aware of the monthly pass offer, it's okay at getting them to engage, but it doesn't help at all in getting them to purchase the program itself.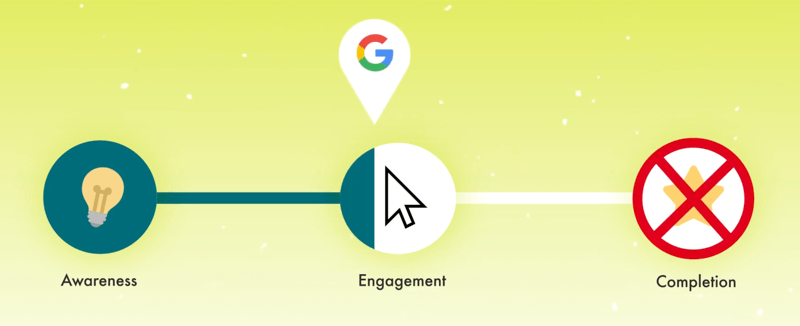 So what I can do with this information is retarget that Google organic traffic—maybe with some other traffic source or with emails—instead of trying to focus on Google organic to complete sales. I just use it for what it's really good at.
Using UTMs and the awareness-engagement-completion goal model, I'll be able to see in the reports whether this strategy is working. If it's working well, I'll scale the traffic. And if it's not working, I'll go back and rework the messaging until I get the conversation I'm looking for.
Conclusion
Using this framework to set up your goals in Google Analytics will help you get more insight into the customer journey. Once you have your goals in place, you'll be able to go into the source/medium report in Google Analytics to figure out what's working and what's not in your marketing. You'll also be able to see how the different traffic sources are working together to achieve certain goals.
What do you think? Will you try this goal framework to better understand what's working in your own marketing? Share your thoughts in the comments below.
More articles on Google Analytics: