Do you want to do more with LinkedIn? Are you taking full advantage of the wide range of no-cost marketing features built into the platform?
In this article, you'll discover new ways to tap into the power of LinkedIn so you can grow your business.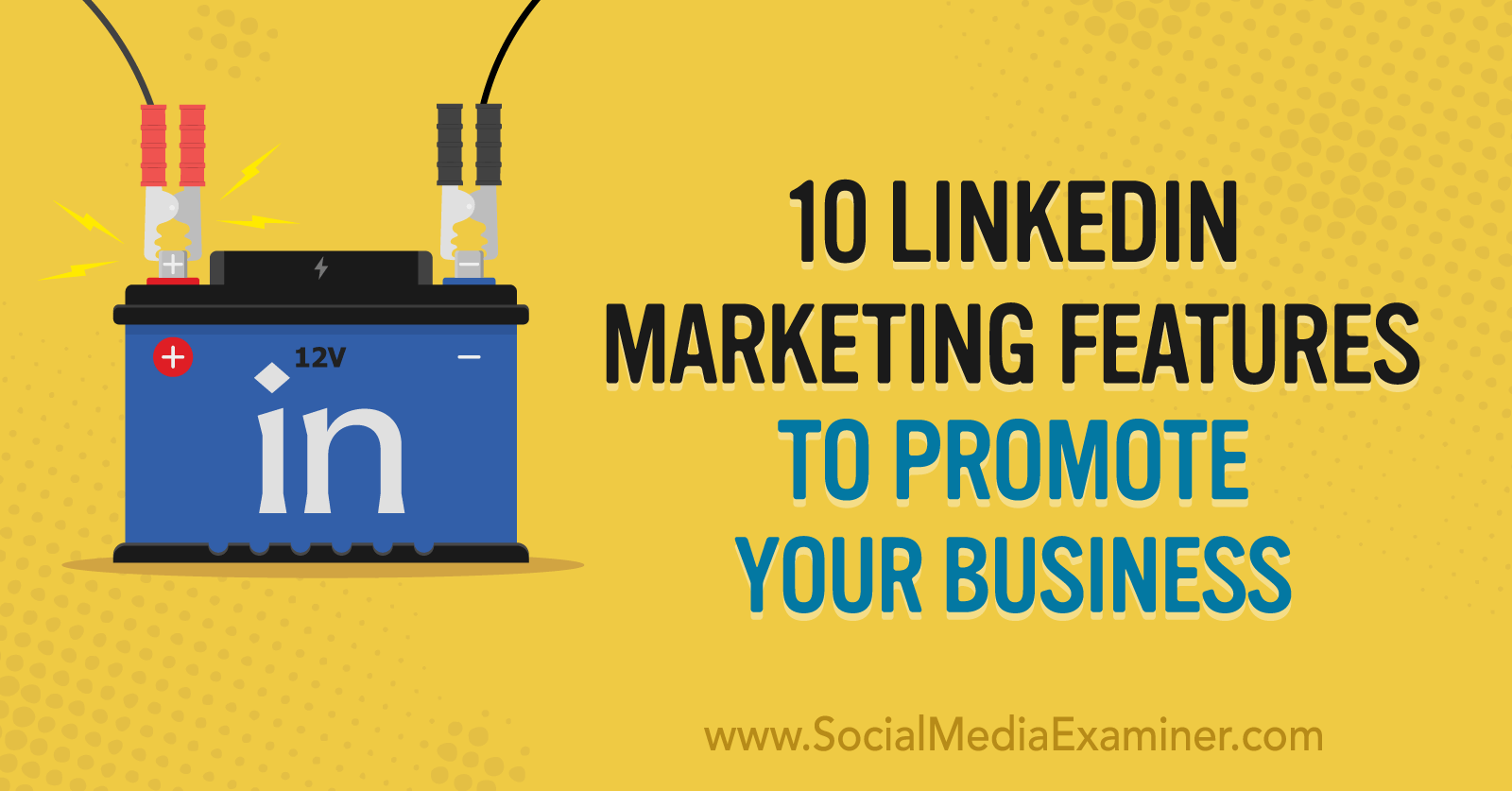 #1: Host Long-Form Written Content On-Platform With Articles for LinkedIn Pages
LinkedIn company pages haven't always been the optimal place to share thought leadership or detailed explanations on the platform. With a limit of just 1,300 characters, company page posts have required businesses to keep their contributions concise.
In 2022, that's likely to change, as two major publishing updates now allow brands to be much more verbose on LinkedIn. In June 2021, LinkedIn more than doubled the character limit for posts. Now your company page posts can be up to 3,000 characters long, giving your team tons of space to:
Explain industry shifts and trends.
Explore potential solutions.
The shift to 3,000-character posts is significant. But what if you have even more to say? In October 2021, LinkedIn extended its Article feature to company pages. Now your team can write and publish articles with more than 100,000 characters—the equivalent of an in-depth blog post.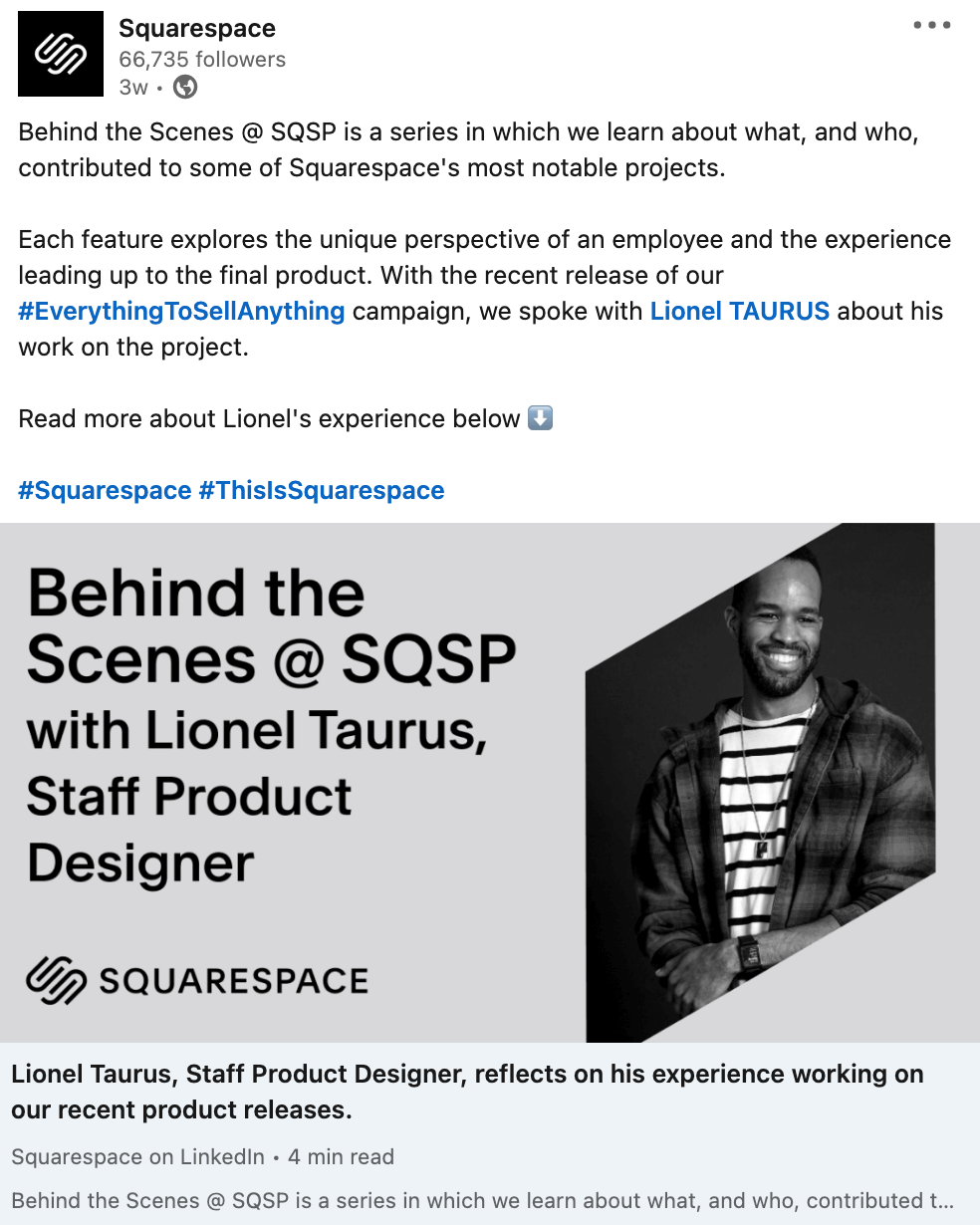 What can you do with LinkedIn articles? As the example above shows, Squarespace has created a Behind the Scenes series that highlights the people running the website builder's biggest projects. This article features an interview with product designer Lionel Taurus.
In the article below, originally published on the Airtable blog, Airtable explores how a global company uses the brand's collaborative database software. LinkedIn articles are ideal for syndicating content, as they allow you to reach more people without competing with the original post on your website.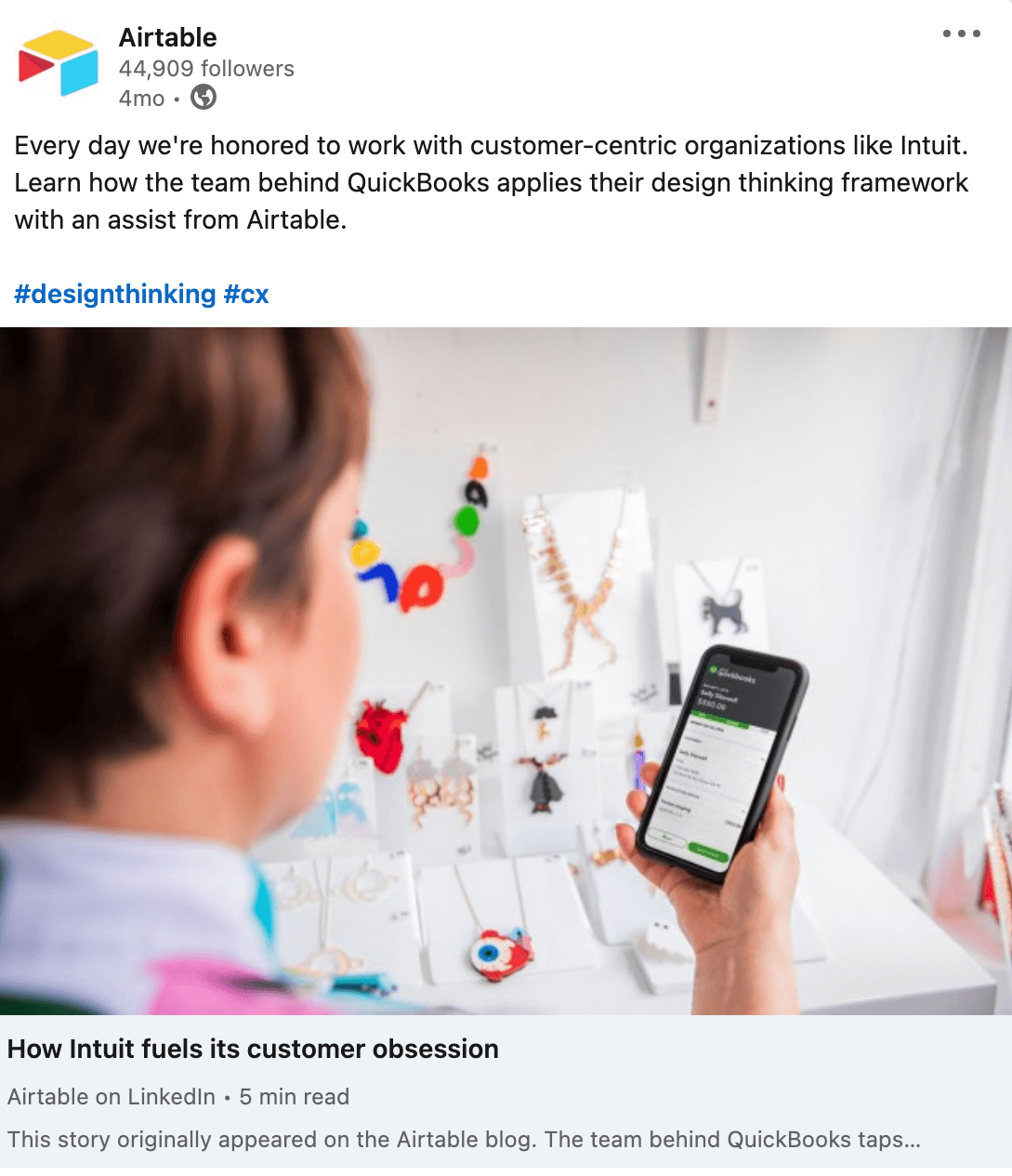 To publish an article on your company page, click the Write Article button below the Start a Post prompt. Published articles appear in your followers' news feeds and on the Posts tab of your company page.

#2: Share Downloadable Content Collections With LinkedIn Carousel Posts
With extra characters and a new content format, your team may finally be able to use LinkedIn for longer posts and full-length articles. But what if you don't mind keeping it short and sweet? Instead, you may be looking for a more design-focused publishing option.
LinkedIn carousel posts offer a smart solution, as they let you publish simple slideshows on LinkedIn. They're ideal for showing users how to do something, sharing statistics, or compiling takeaways from an event.
Because carousel posts can include up to 300 slides, you can use them to go as in-depth as you like. However, businesses tend to keep them relatively short, often sticking to a length of 10 pages or fewer.
Unlike most other content on LinkedIn, carousel posts are designed for downloading. Whether yours is 3 or 300 pages, LinkedIn users can download your document when viewing a carousel post in full-screen mode.
For example, the Doist carousel post below walks readers through negotiating a remote work arrangement.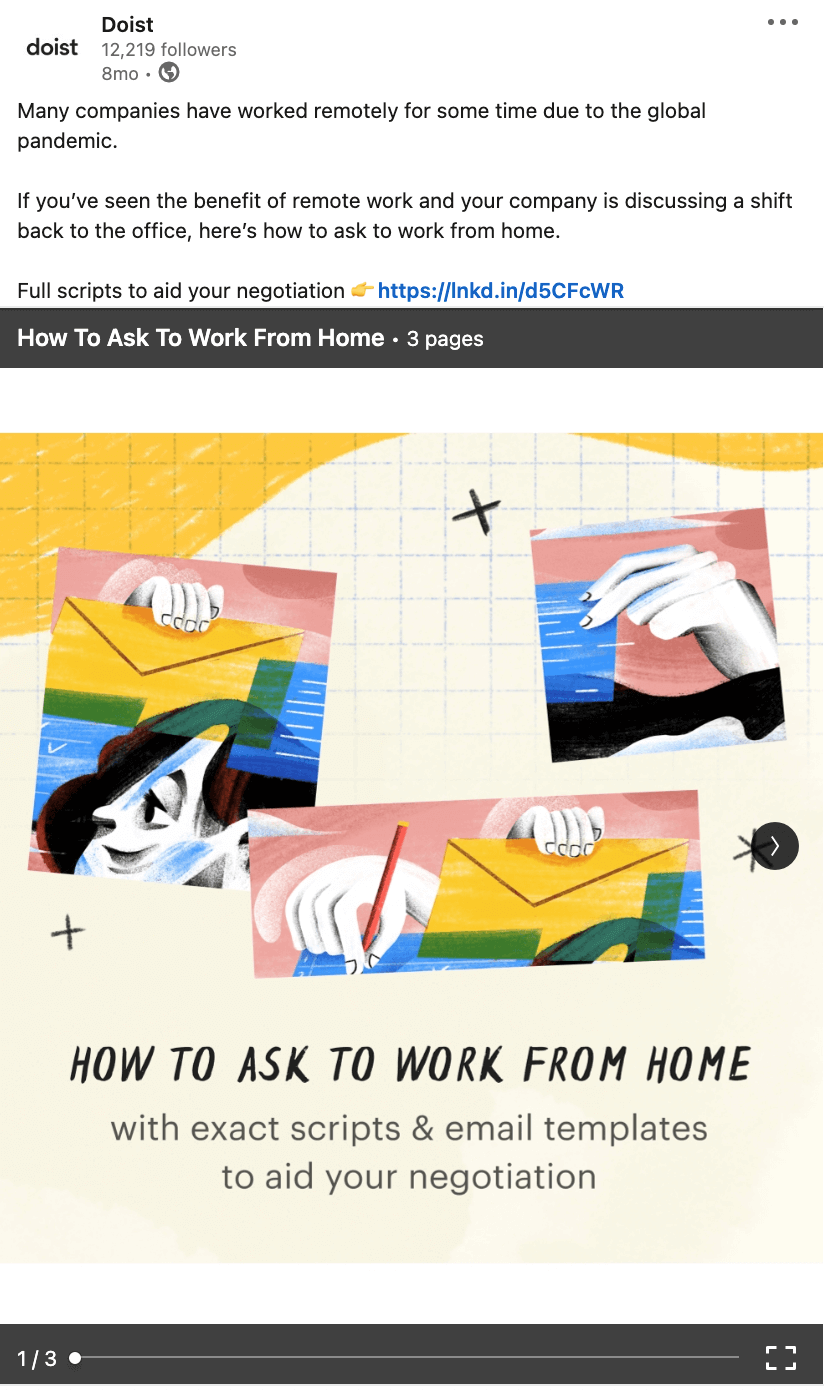 After clicking the full-screen icon in the lower-right corner, users can access download permissions.
🌟 Ready to Supercharge Your Social Marketing Strategy? 🌟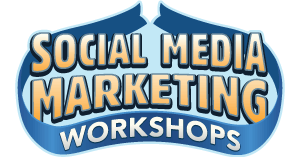 Struggling with your social marketing? You're not alone. The solution? The Social Media Marketing Workshops!

During these live 2 hour deep-dive workshops, you'll discover what's working now on Instagram, Facebook, TikTok, YouTube, and LinkedIn. Skyrocket your engagement, broaden your reach, and amplify your sales.

Become the marketing hero your company and clients need—without leaving your home!
🔥 Save $670 on an All-Access Ticket! Sale Ends Tuesday! 🔥
GET YOUR TICKETS NOW

To upload a document via your company page, click the Start a Post prompt and type a caption. Then click the document icon to add carousel post functionality. As with articles, documents display on the Posts tab of your company page.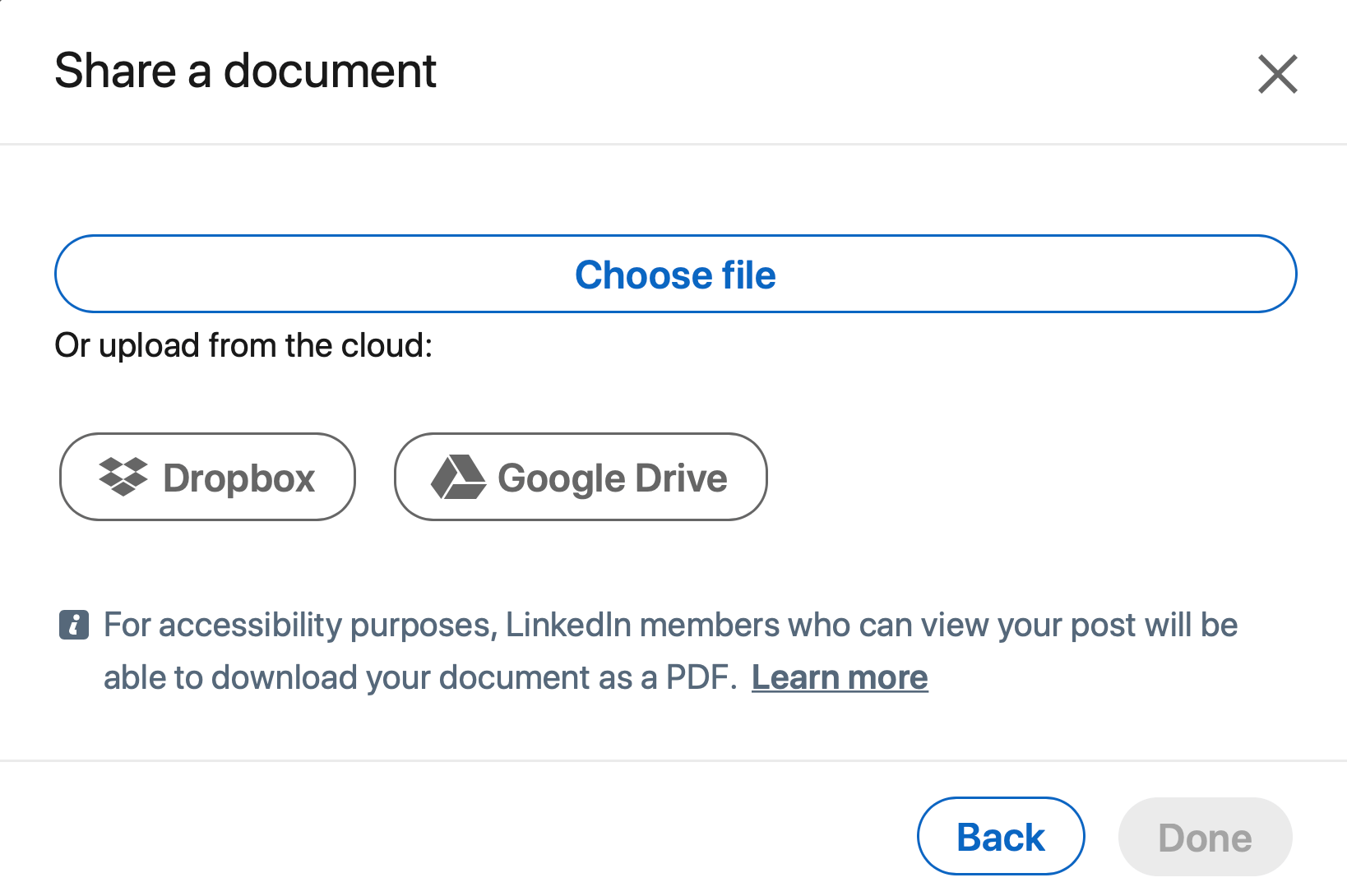 #3: Boost Audience Engagement With LinkedIn Audience Polls
Carousel posts can generate a lot of views and engagement. But what if you want to post content that's even more interactive? With LinkedIn's Poll feature, you can ask followers to respond to multiple-choice questions. In 2022, polls could help you do market research like:
Gauging your audience's opinion
Learning about your audience's challenges
Finding out about your audience's goals
Assessing your audience's knowledge of or experience with something
In addition to helping you collect useful data, LinkedIn polls can keep your audience interested in your business. When people respond to your poll, they automatically receive a notification with the results after the poll ends, prompting them to re-engage with your company page.
For example, the Sprout Social poll below asks users whether their companies use social data as an intelligence resource. The post refers to findings in the 2021 Sprout Social Index, allowing the brand to share research in an engaging way.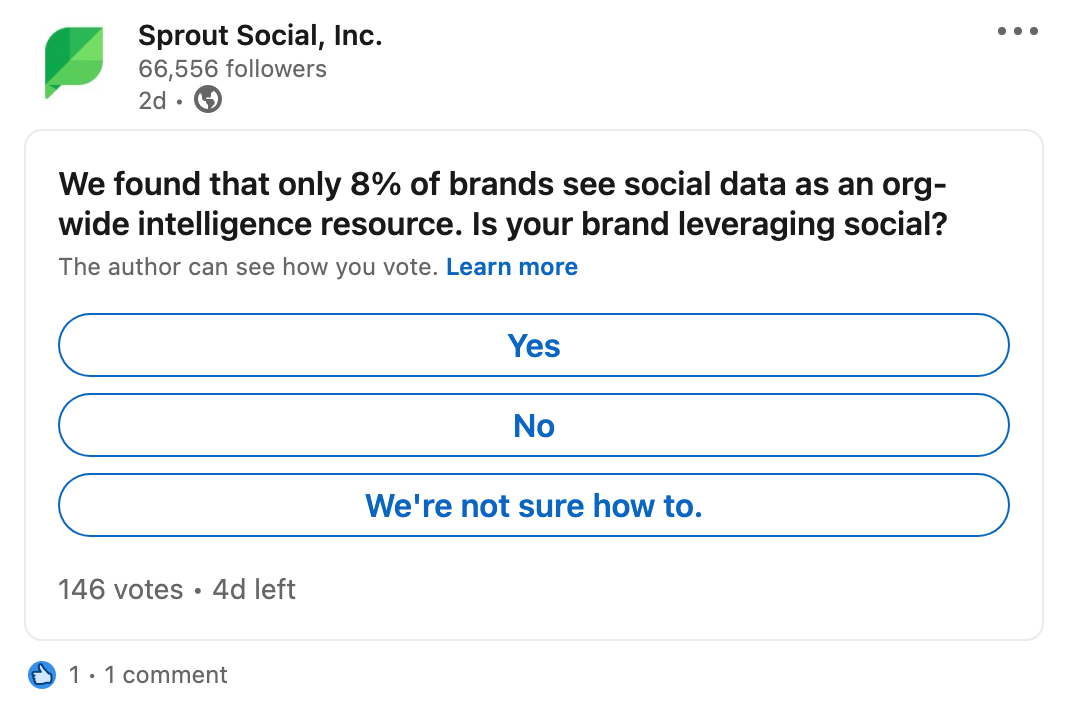 To create a poll from your company page, click the Poll button below the Start a Post prompt. You can suggest up to four options and let the poll collect responses for up to 2 weeks.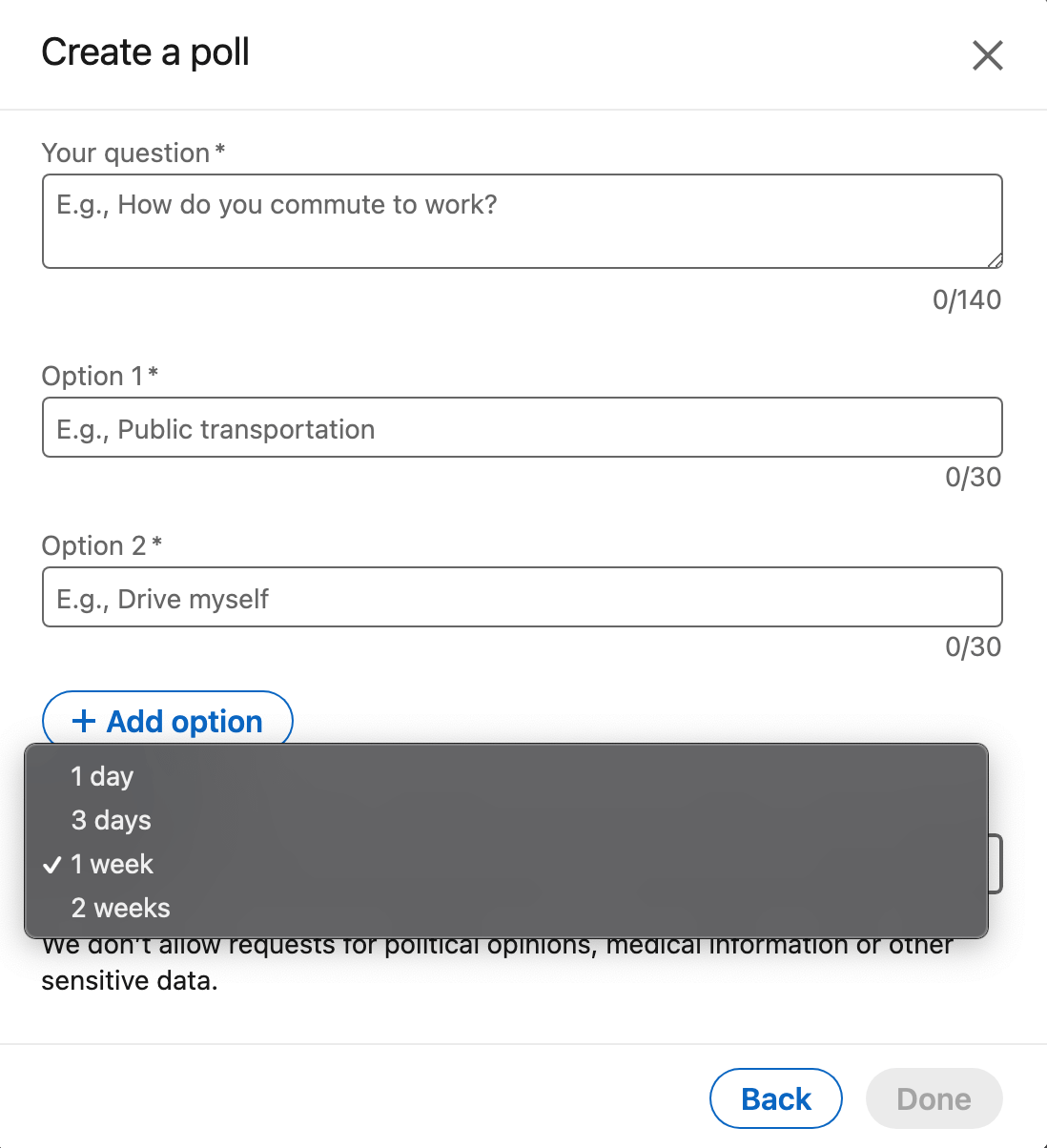 #4: Manage Public Conversation With LinkedIn Comments Settings
No matter what type of content you publish, you want it to generate engagement—at least most of the time. But what if your company page attracts a lot of spam or your post is likely to be controversial?
LinkedIn now allows company pages to disable comments, which may reduce spam. To turn off commenting, create a post and click the Anyone button before publishing. Then select No One and click the Save button.

If you want more options for controlling the conversation on your company page, they may be coming. Individual LinkedIn profiles already have a third option that allows only connections to comment on posts. From your individual profile, you can also change the comment settings after publishing—an option that would benefit company pages, too.
#5: Host Real-Time Virtual Events With LinkedIn Live
Livestreaming has grown significantly in the past few years and adoption has accelerated rapidly with audiences continuing to demand more. For example, Apphienz streams LinkedIn Live events regularly to help followers use Salesforce software successfully.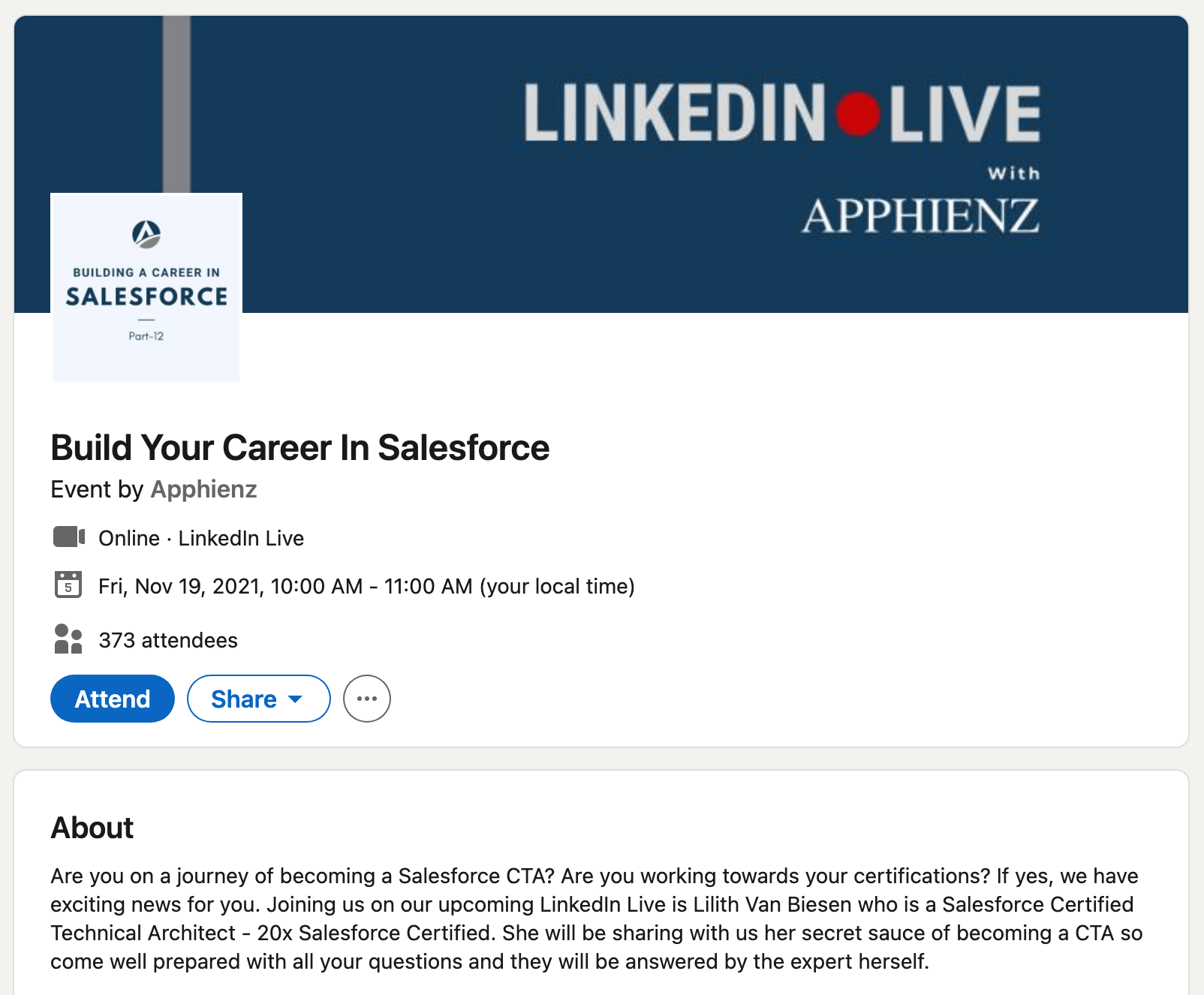 If you want to reach a business-to-business (B2B) audience with livestreaming in 2022, using LinkedIn Live is a smart idea. Since the launch of this native platform in 2019, businesses have used it to host virtual events, provide exclusive behind-the-scenes footage, and showcase expertise.
For example, the Slack LinkedIn Live below was part of the messaging app's Frontiers conference. The event included multiple contributors and used a discussion-based format to address collaborative work environments.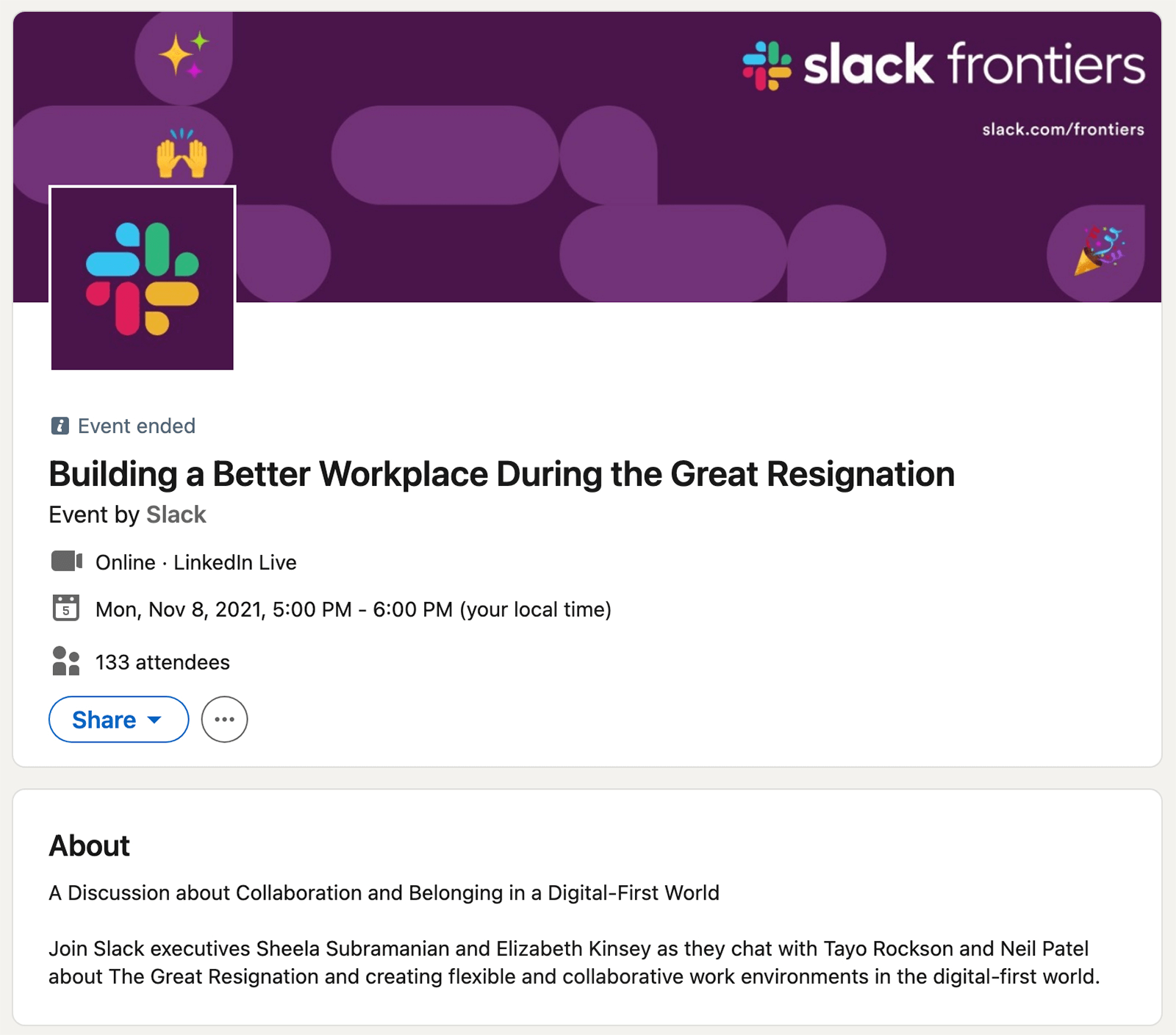 To broadcast a LinkedIn Live event, submit an application and await a response. Once your company page is approved for LinkedIn Live, you can start scheduling and promoting live events.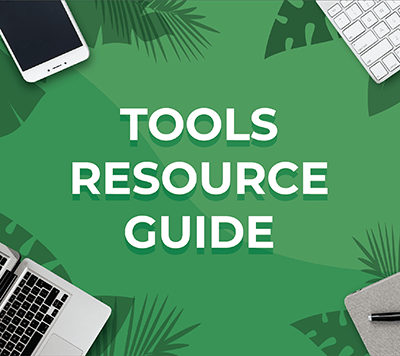 Looking for something to make your life easier?
Discover the tools we recommend to drive engagement, save you time, and boost sales across your entire marketing funnel or business.
Whether you need help planning content, organizing social posts, or developing your strategy, you'll find something for every situation.
FIND YOUR NEXT FAVORITE TOOL
#6: Integrate On-Platform Video With LinkedIn Native Video
Whether your team embraces livestreaming, investing in LinkedIn's native video tools is likely to benefit your business in 2022. Video is by far the most shared content on the platform, as users are 20 times more likely to share a video post, according to LinkedIn. That means if you want your audience to promote your content for you, video is the way to go.
LinkedIn supports videos up to 10 minutes long but you may be able to get your message across much quicker. To determine the right length for your business and your audience, test out shorter and longer run times. Then use your LinkedIn analytics to see how long users tend to watch and when they typically click away.
For example, the Semrush video below is just 15 seconds long. This concise yet dynamic video generates buzz around the search engine optimization (SEO) platform's new feature and includes a clear call to action (CTA): Try It Free.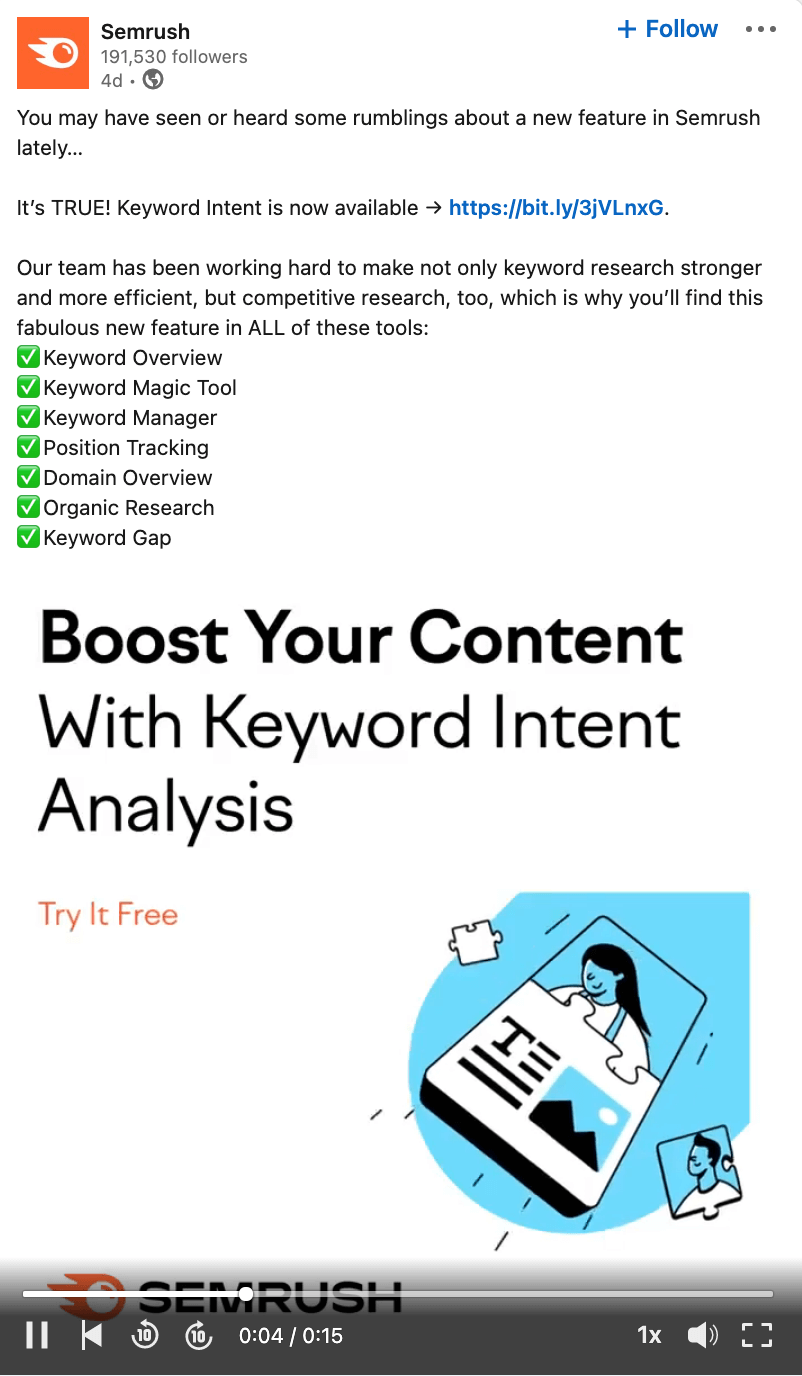 In the video below, which clocks in at just under a minute, monday.com takes a serial approach to native video. It's the first video in the project management tool's video series Simplify, which explains the brand's solutions in an engaging video format.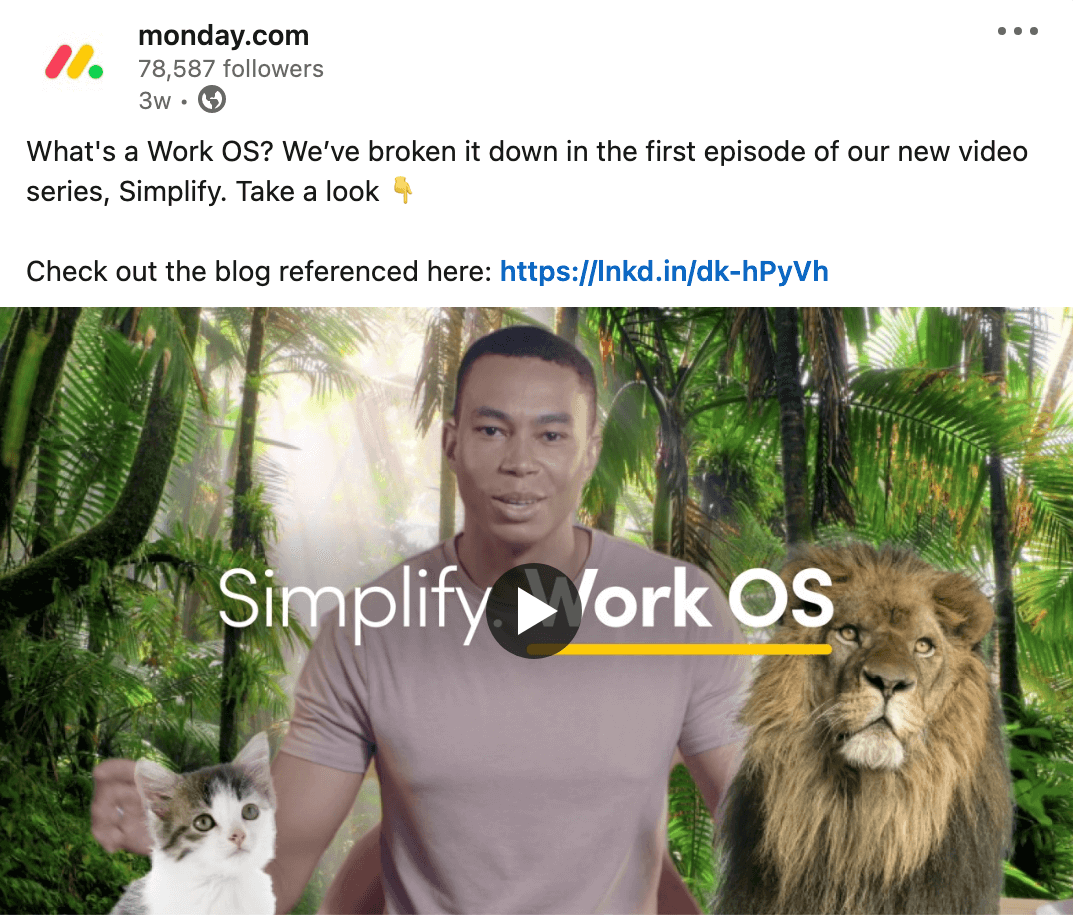 #7: Highlight Your Company's Tool Solutions With LinkedIn Product Pages
If you manage a company page for a B2B software provider, you're in luck. LinkedIn now lets you build product pages to feature your offerings. Unlike showcase pages—which are intended for unique brands and business units—product pages are designed to highlight the tools your company makes.
On a product page, you can:
Explain what your product does, including listing features or explaining benefits.
Describe who the product is for and tag job titles associated with the product.
Upload media like screenshots and demo videos to show what the product does.
Add a CTA, prompting users to try your product or get a demo.
Product pages automatically display an Add as a Skill button, too. LinkedIn members can click it to reflect their expertise with your software on their individual profile.
For example, the Prowly PR Software product page below lists key features and benefits and includes a 90-second walkthrough to show users how the product works. The Try Now button directs users to a free trial landing page where they can get started instantly.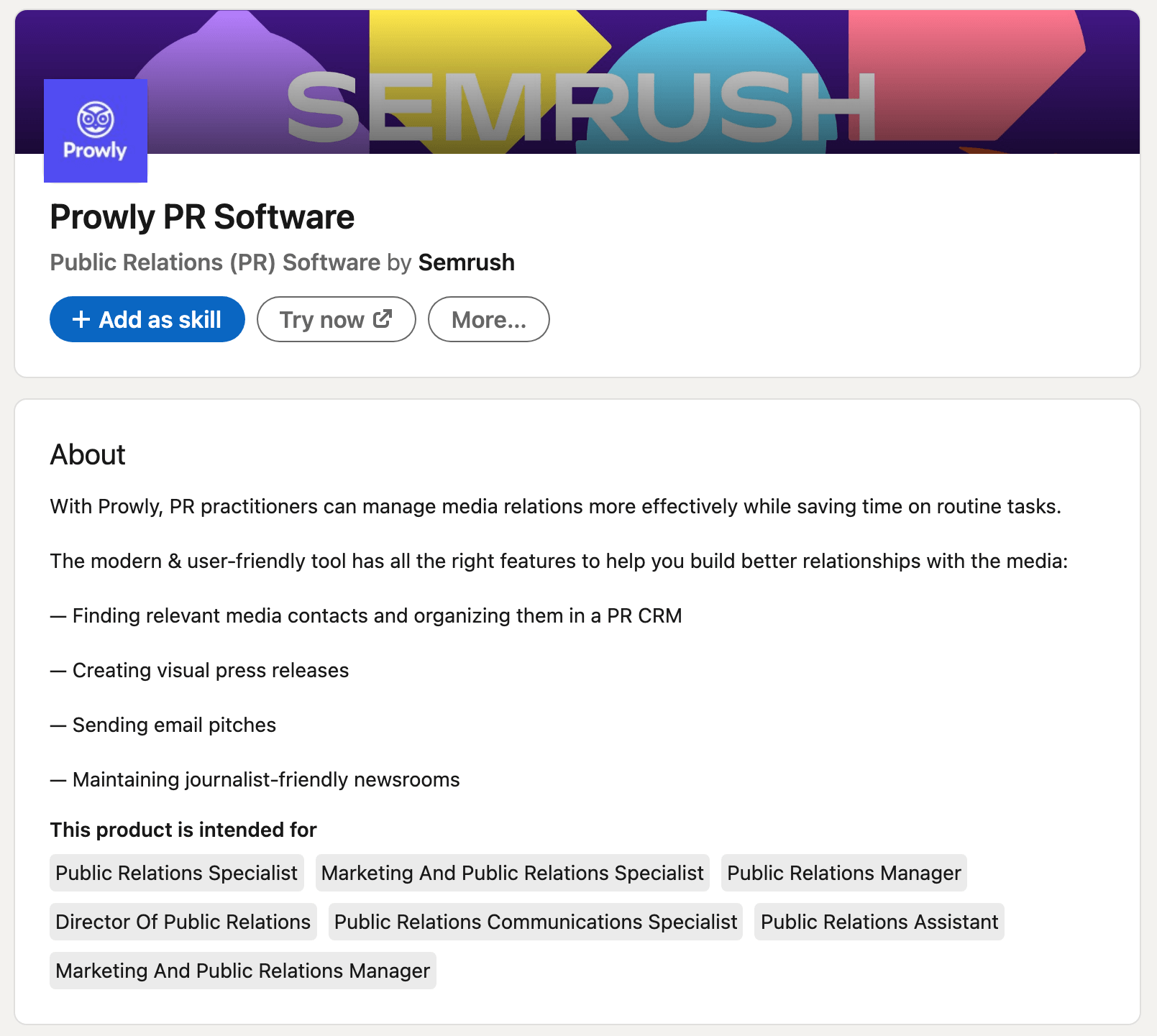 Once you create a product page, it displays on the Products tab of your company page. You can also click to mention a product page in a post or share it in a message. Users can also discover it by searching or browsing LinkedIn's Product portal.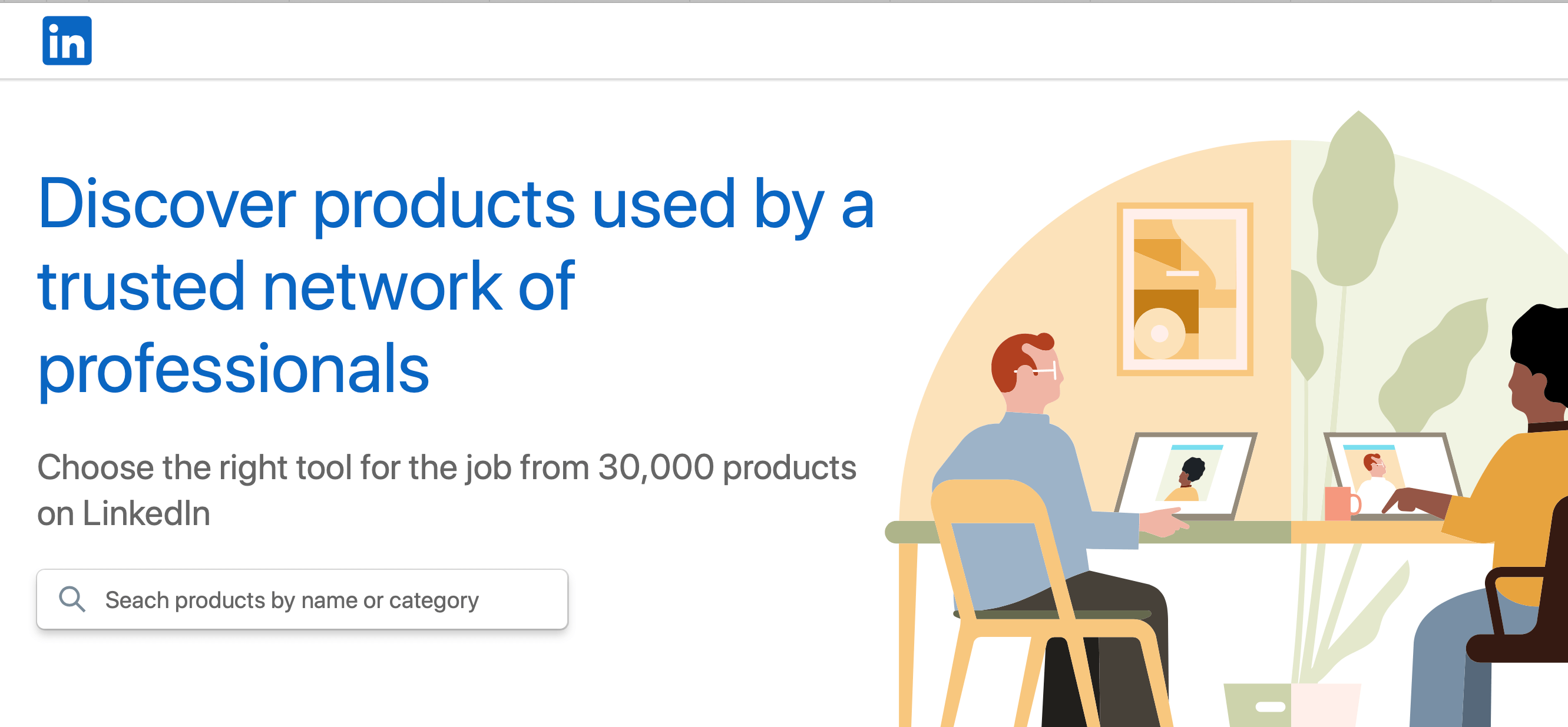 #8: Spotlight Your Thought Leadership With LinkedIn Creator Mode
If you use your personal profile to promote your business and establish yourself as a thought leader, you'll want to switch over to creator mode as soon as possible in 2022. With this option, you can reach more people, showcase your areas of expertise, and get access to exclusive tools.
For example, your featured content will appear right under your bio. The articles and posts you've published will get a prominent spot at the top of your profile, too. In addition, people will get the option to follow rather than connect with you, making it easier to grow your network.
Creator mode also gives you access to LinkedIn Live and Newsletters (more on that below). As LinkedIn rolls out more tools for individual profiles, creator mode could continue to be the ticket to getting access.
To turn on creator mode, navigate to the dashboard on your personal profile and click Creator Mode.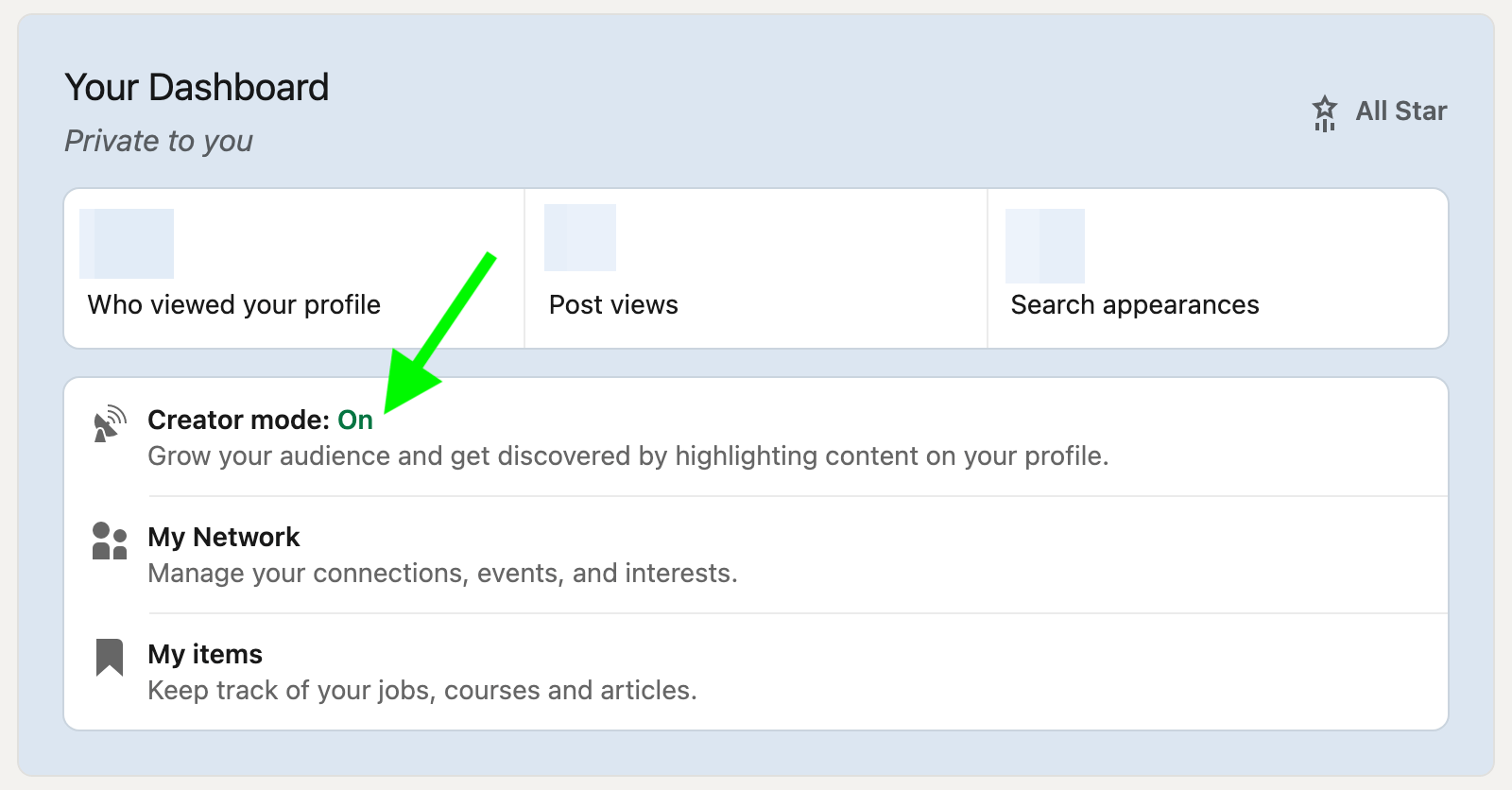 Toggle the switch on and choose up to five hashtags to display on your profile—these should relate to your areas of specialty. To feature content on your profile, click the Add Section button, choose Featured, and select the content you want to display.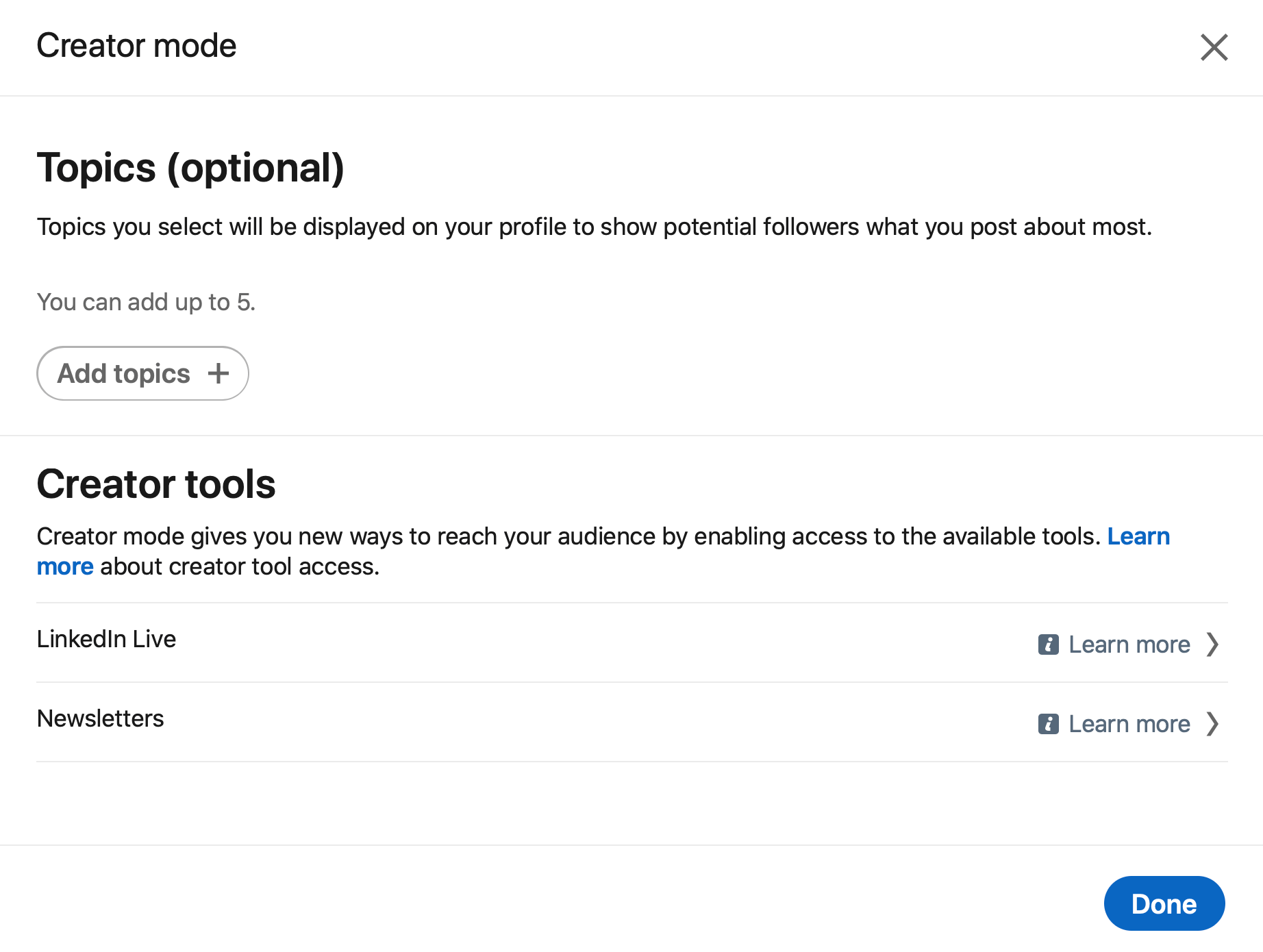 #9: Deliver Timely Communications With LinkedIn Newsletters
Do you want to grow your personal following and provide extra value to your connections in 2022? Create a LinkedIn newsletter. The Newsletter tool has been available by invitation only since late 2020 and started rolling out to individuals using creator mode in November 2021.
Similar to email newsletters, LinkedIn Newsletters can include anything from exclusive content to snippets from your latest blog posts. Your followers can subscribe to your newsletter directly from LinkedIn and they'll receive a notification when you publish a new issue.
For example, Jay Baer publishes "The Baer Facts" biweekly. Originally an email-only communication, it's now available via a LinkedIn Newsletter subscription, giving Jay more opportunities to share his marketing and customer experience insights.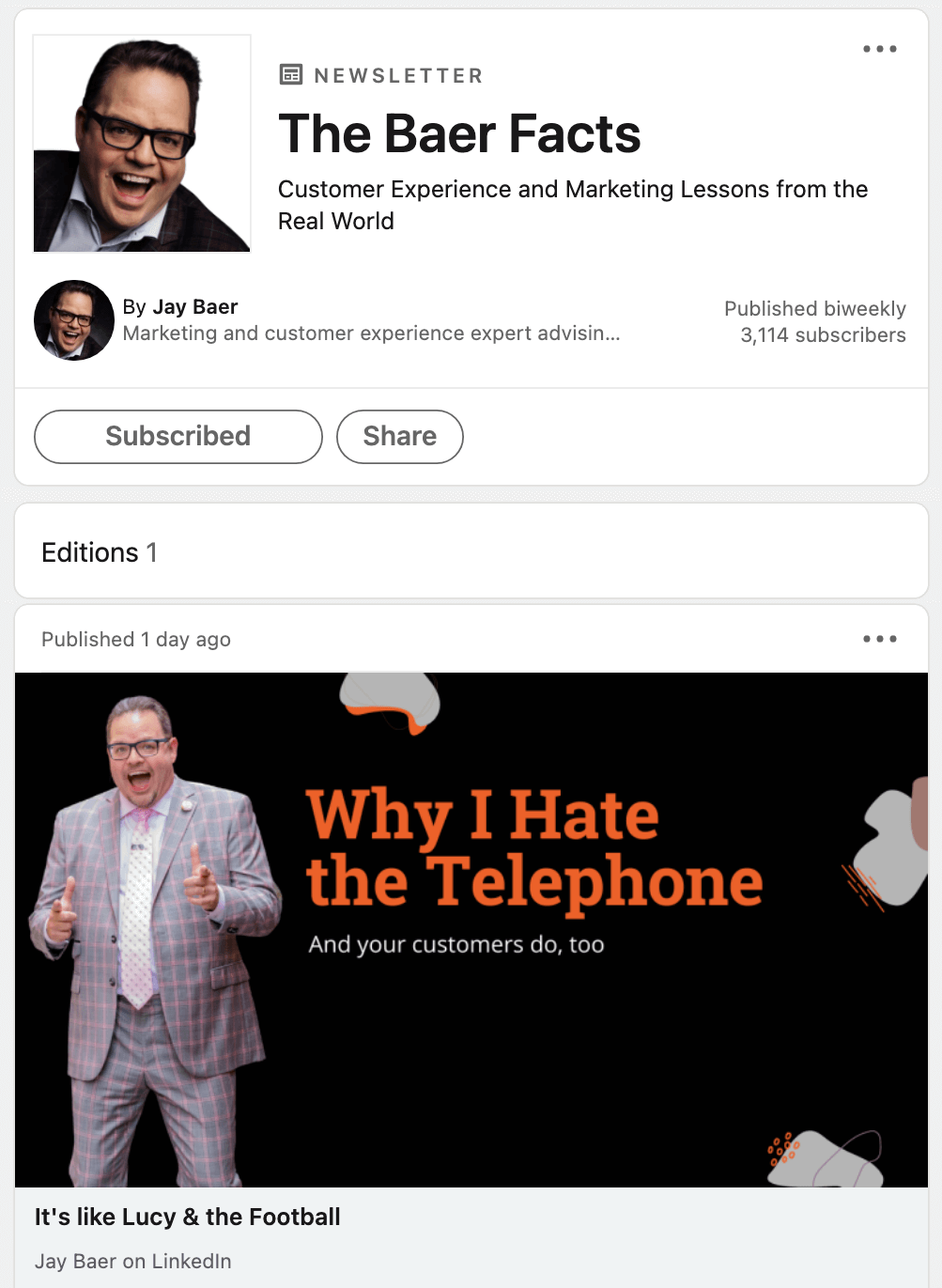 #10: Find Clients or Contractors With LinkedIn Services Marketplace
LinkedIn makes it easy to offer professional services from your individual profile but finding freelancers and consultants hasn't always been so straightforward. That's changed, thanks to the October 2021 launch of the LinkedIn Services Marketplace.
Now any user can browse the Services Marketplace to find people offering services in fields ranging from accounting and finance to software development and writing. If you want to hire a consultant or freelancer, use the marketplace to create a request for proposals (RFP) or contract someone directly.
If you're looking for clients, click the Open To button on your personal profile and create a service page. Then use the Services Marketplace to bid on projects, manage clients, and request reviews from clients.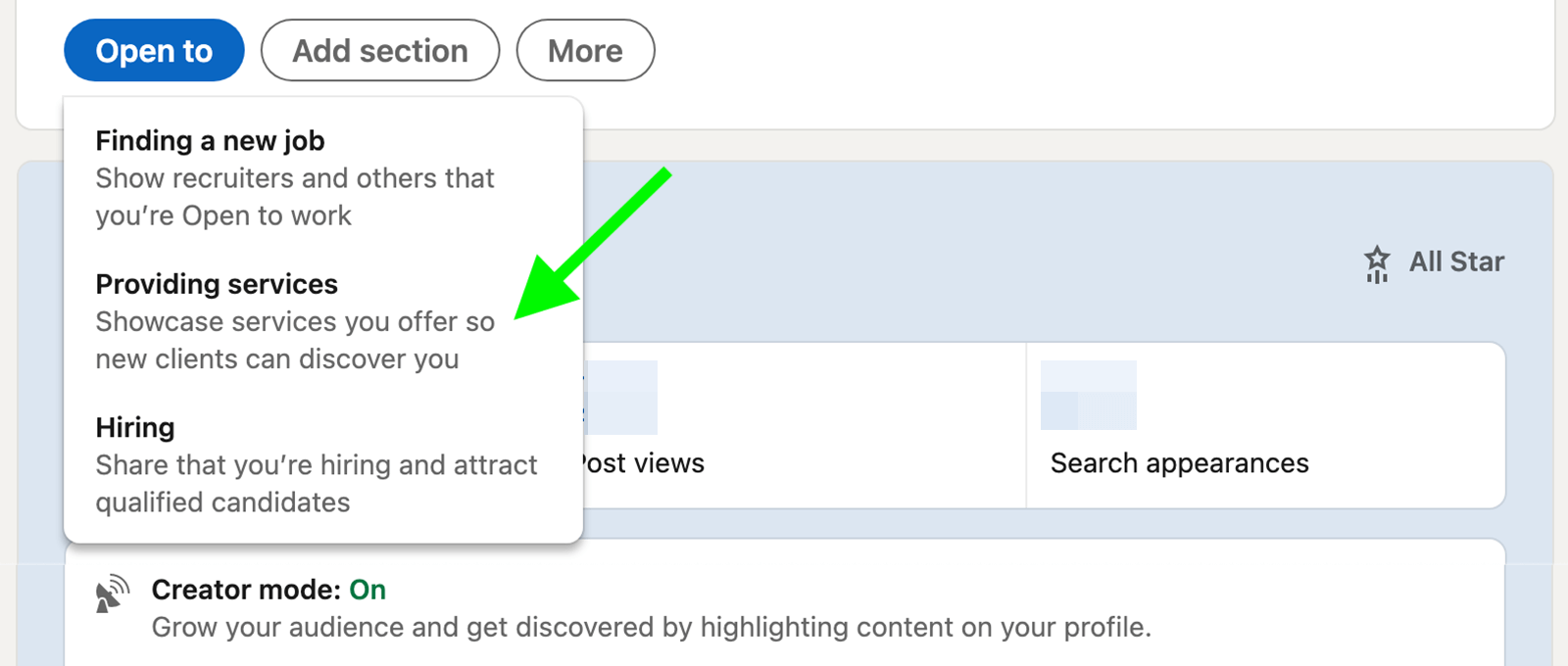 Coming Soon to LinkedIn
You'll also want to keep an eye on these features in the coming months.
LinkedIn Audio Chat
Audio features are likely to continue trending on every social media channel in 2022, and LinkedIn is no exception. Although LinkedIn hasn't begun rolling out an audio option yet, the social channel has been testing audio options since March 2021.
Details are still limited, but LinkedIn has suggested that its audio networking feature may be tied to the social channel's creator mode, which is available for individual profiles only. There's no information yet on whether company pages can participate directly but this audio feature is worth watching.
LinkedIn Product Communities
If you manage marketing for a B2B software business, you'll also want to keep an eye on Product Communities. Although this feature is still in beta as of November 2021, it appears to hold a lot of community-building potential.
The main tab of a product community looks a lot like a product page, complete with an introduction to the software and a selection of demo videos. But the Group tab works more like a forum, where members can post questions, share tips, and propose solutions. Group admins can start conversations or moderate the discussion.
For example, the Canva product community pictured below has an active Group tab filled with questions, design samples, and feature recommendations. The Product Info tab makes it easy for users to identify connections who are already skilled with the design software or invite other connections who may have an interest in the community.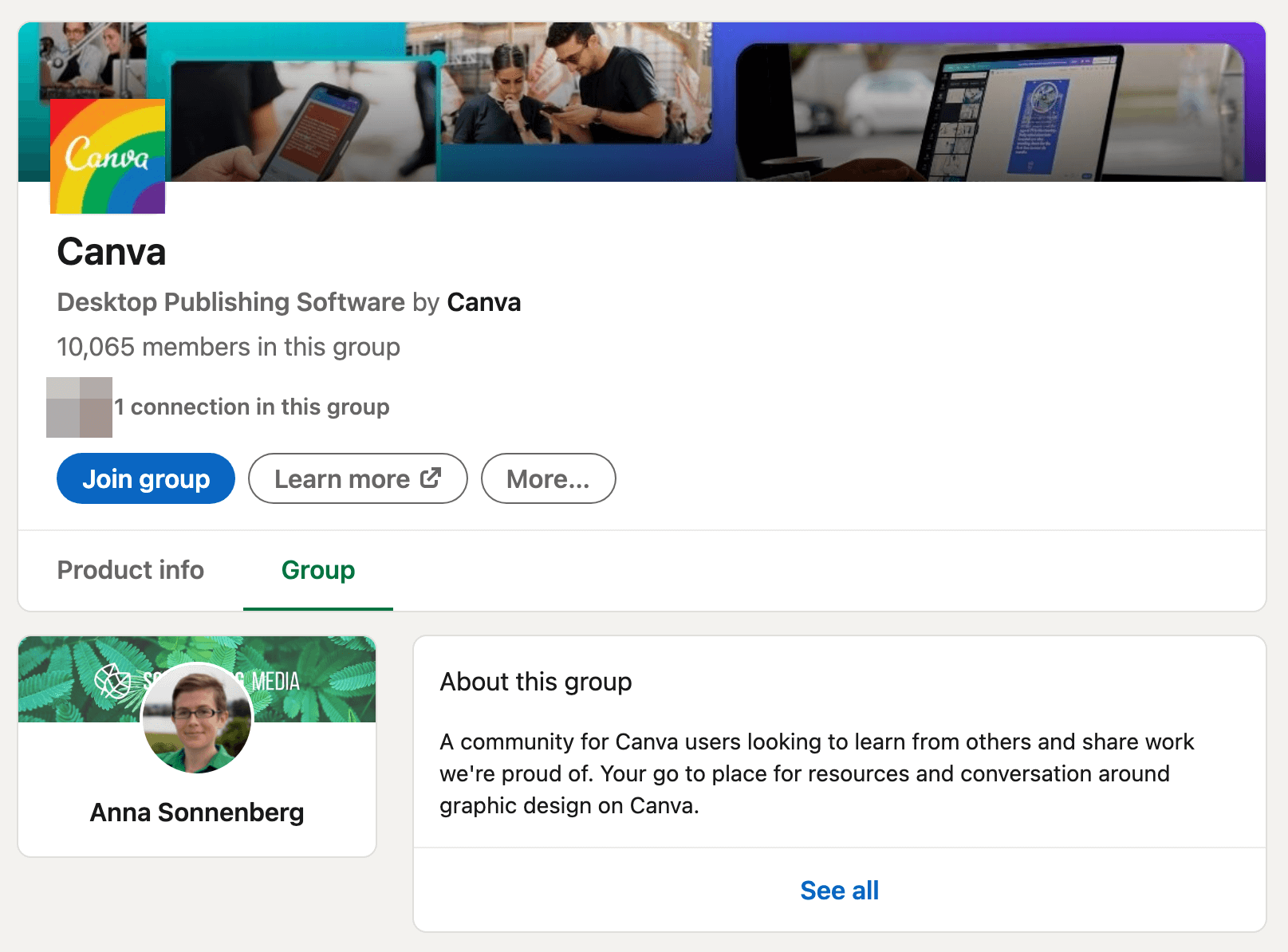 Conclusion
Whether you're establishing a new company page or ready to do more with your individual profile, these LinkedIn marketing trends for 2022 can point you in the right direction. With these new tools and features, you can design a successful plan for promoting your brand, connecting with customers, and reaching your business goals.
Get More Advice on LinkedIn Marketing
Get Your FREE Course: Web3 for Beginners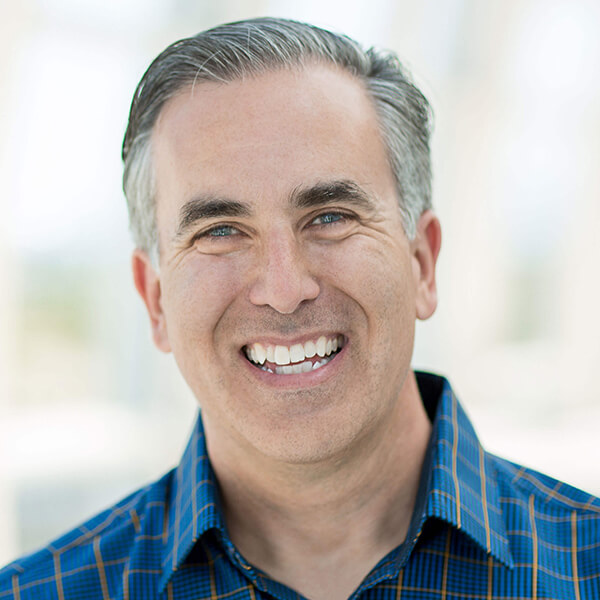 Curious about Web3, but don't know where to start or who to trust?

Introducing Web3 for Beginners, a course taught by Michael Stelzner, the founder of Social Media Examiner.

Learn the basics of Web3 and apply it to your business with this FREE comprehensive course.
CLICK HERE TO GET FREE ACCESS