[]
YouTube is a video-driven social media network that, since its launch in 2005, has become a dominant way people stream video online. Owned by Google, which bought YouTube in late 2016, the platform is now responsible for 11 percent of all global video traffic, second only to Netflix. Currently YouTube has more than 1 billion users, and more than half of all views come from mobile devices.
The dominance of YouTube means businesses now have an opportunity to establish and groom their brand through interactive videos that can build followers. YouTube offers users their own channels they can use to develop and execute their marketing strategy. Another way companies can use YouTube is to advertise on video content that streams on other channels besides their own.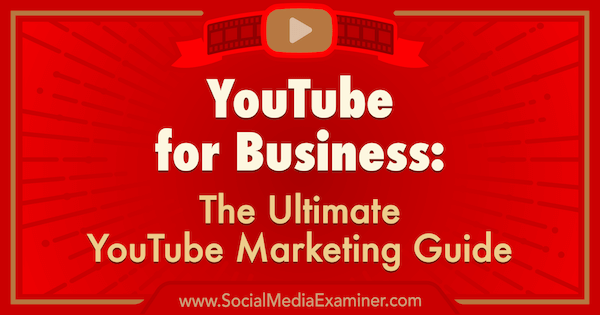 Users don't need an account to view videos, but an account is needed to upload and share videos. Taking advantage of what YouTube offers companies requires a deep understanding of all its features, how to optimize your individual channel, how to groom followers, what's needed to advertise on other channels, and what you need to do to monetize your channel to grow profitability.
Below is a step-by-step guide to using YouTube for your company. In one day you can launch your channel and get the world engaged with your brand!
How to Optimize Your YouTube Channel
More views of your YouTube inevitably means more revenue. That means you need to optimize your channel to maximize views in your ongoing effort to build brand awareness. Ways to do this effectively include:
Design a Compelling YouTube Channel Home Page
Your home page is the first thing people see, so it needs to make a good impression. Take time to build a professional home page that encapsulates what your channel is about.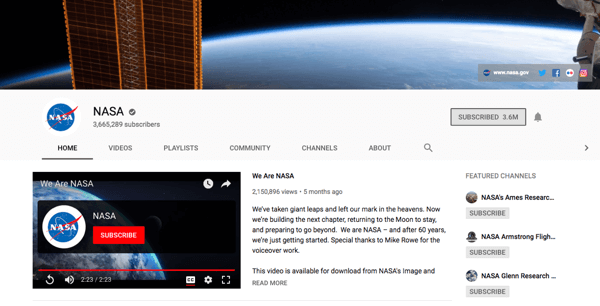 This means:
Choosing a compelling profile picture.
You want one that is clean and easily identifiable
Upload channel art.
At the top of your channel home page is the header image. Add your channel schedule and personalities to the artwork.
Select a channel trailer.
The trailer, which autoplays when someone visits your channel, is your channel's elevator pitch and could be your only chance to gain or lose a subscriber. Aim for a 1- or 2-minute video that tells people what your channel is about and make the trailer content fun and interesting.
Create playlists.
On the home page, you can feature playlists of your best work and each playlist can appear in a different section, with up to 10 sections.
Add featured channels.
Featured channels appear on the right side of your channel home page. When you include friends' channels and/or other channels you enjoy, the featured channels list will create a connection in people's minds and in the algorithm between your channel and these featured channels.
Create an about page.
Your About page is accessible via a tab on your YouTube channel home page. On your About page, include a short, persuasive description of your channel and focus on the first few sentences.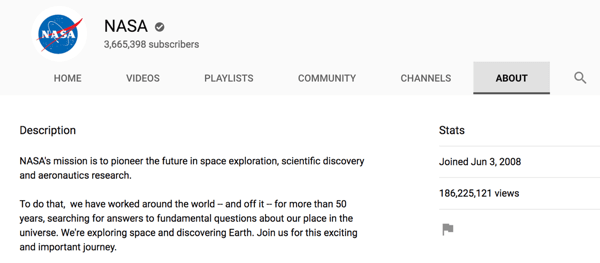 Research Keywords for Tags, Titles, and Descriptions
Valuable keywords and tags boost rankings for your videos, playlists, and entire channel, giving you extra visibility in search results, more suggested views, and better subscriber conversion over time. Research relevant keywords and start working them into your video titles, descriptions, and tags.
The way you tag videos can make a giant difference in your YouTube channel's success. When you tag videos, your tags can help the YouTube algorithm sort your keywords, and consequently, your videos.
Add keywords to your channel, too.
In addition to adding tags and keywords to videos, don't forget about channel keywords, which are specific words that can make your video discoverable outside of YouTube. They help the algorithm determine which other channels and videos to use for recommending your videos.
The Conference You've Been Waiting For
As a small business marketer, you can probably only pick one or two events to attend each year. Get an unbeatable conference experience and expert training at Social Media Marketing World in sunny San Diego, California—from your friends at Social Media Examiner.
🔥 As a valued reader, you can save $650 on an All-Access ticket if you act now! Sale Ends Tuesday! 🔥
CLICK HERE TO LEARN MORE
Optimize Your channel and Videos for Watch Time and Audience Retention
YouTube has ways you can tweak your channel to deliver number of views it generates. Watch time, or audience retention, is the total amount of time in aggregate that viewers spend watching your videos. If your videos boost watch time, YouTube is more likely to promote your channel through recommended videos, which will result in more views.
There are four things you can do to increase viewing to your channel:
Structure playlists to drive a linear viewing experience.
Creating playlists of your YouTube videos is a way to guide potential viewers toward a longer viewing experience where they watch more of your best content.
Choose titles and thumbnails that accurately reflect your content.
The titles and thumbnails of your videos impact your video views and rankings. They serve as the primary trigger for viewers to click, and give preliminary insight into a video's content. Choosing the right combination of thumbnails and titles can help you improve your watch time.

Use YouTube Cards throughout your videos.
You can use YouTube Cards in a number of ways, but the best tactic for keeping viewers engaged is to use them to link to other content on your YouTube channel that viewers will likely be interested in.
Create content based on YouTube keywords.
Targeting YouTube keywords can help you get people to watch your videos instead of your competition. One way to identify keywords is to use YouTube's suggestions feature. In the YouTube search box, type in a word you know your audience is interested in and note YouTube's suggested searches.

Getting more viewers overall will increase the likelihood your YouTube channel will get noticed and watched by your target customer. Five ways to do that are:

Monitor your target audience to reveal commonly shared questions your videos can answer.
To make your content marketing campaign successful, begin by understanding your audience. To develop relevant YouTube videos, pay particular attention to your customers' concerns so your YouTube videos can address those topics.

Develop a signature production style so viewers know what to expect.
Choosing a topic for your YouTube video is only the beginning. Your video also needs to cover that topic in a meaningful way. To maximize video views, choose the right topic and create evergreen content that will withstand the test of time.

Deliver a strong call to share via cards and end screens.
A call to action, or CTA, is paramount if you want your video to generate leads. Your CTA might ask viewers to share your video, visit your website, or check out more videos. It should flow logically from your video content. Don't try to sell viewers your cutting-edge software when they don't even know what it does.

Use creator studio to optimize your channel and videos for increased discoverability.
Optimizing your YouTube channel and video makes it easier for people to find your content when they do a Google search. To optimize your account, create a Partner Verified account, which allows you to monetize your videos, upload longer videos, and upload custom thumbnails for your videos.

Promote your channel and videos on the platforms your audience frequents.
Finally, after you've uploaded the best video you possibly can, use your target audience research to promote your video in places your customers are sure to see. With Google Analytics, you can find out which social platforms your audience uses, and split testing can tell you what messaging they prefer.

There are also things you can do to optimize the video itself at every stage of the video production process that will inevitably lead to a wider viewership. For example, you can commit to posting content multiple times a week and develop a sustainable production workflow.

Ultimately you want your channel, and your videos, to rank high in the YouTube algorithm. Ranking refers to where your video ranks in search results, as well as the likelihood it will appear as a suggested video — which also happens to be the number one way YouTube drives site traffic. There are four ways you can optimize your YouTube titles, keywords, and tags to ensure a higher ranking than what you have now:

Gauge topic interest with Google Trends.
Before you create a YouTube video, the first step is to find a topic that's interesting to your audience. It won't matter how well you optimize your video for keywords if people aren't interested in its content. You can use Google Trends to see which proposed topics have enough interest on YouTube and then produce videos, using the exact phrase that is trending, to follow those trends.

Assess keyword search volume and competition With Ubersuggest.
Your video topic should give you a starting place for choosing keywords. After you develop your initial keyword ideas, you can analyze them using a free tool like Ubersuggest. Enter your keyword in Ubersuggest and select YouTube from the drop-down menu. After you initiate the search, the tool takes only a couple of seconds to analyze the keyword.

Mine YouTube autosuggestions for additional keywords.
Taking a look at autosuggestions in the YouTube search tool can help you find more popular keyword ideas. Autosuggestions are one of the best ways you can use to find effective keywords because these keywords always pop up whenever someone searches for a topic.

Research video tags with VidIQ.
With the right tags, you can rank for the right keywords and in the most-searched categories. To figure out which tags to use, analyze your competition with VidIQ a simple, free Chrome extension. You'll need to install the VidIQ extension in your browser and create a free account.

How to Advertise On YouTube

YouTube lets you run ads on other users' videos as well as get paid to let others run their ads on your videos. Besides the revenue generated, the exchange helps build brand awareness.

Attention Agency Owners, Brand Marketers, and Consultants

Introducing the Marketing Agency Show–our newest podcast designed to explore the struggles of agency marketers.

Join show host and agency owner, Brooke Sellas, as she interviews agency marketers and digs deep into their biggest challenges. Explore topics like navigating rough economic times, leveraging AI, service diversification, client acquisition, and much more.

Just pull up your favorite podcast app, search for Marketing Agency Show and start listening. Or click the button below for more information.

CLICK HERE FOR THE DETAILS

Another way to advertise on YouTube is remarketing and retargeting. When most people think about remarketing or retargeting, they think about reaching someone who has been to their site but didn't convert by buying a product, downloading a guide, or taking another desired action.

When you remarket to this audience on YouTube, you run an ad only to those users, remind them of your offerings, and try to get them back. You might even give them a discount or coupon. The key to good marketing is matching your message with your market. You need to reach people with the right offer at the right time.

One way to help drive advertising is using your Google Adwords account to promote your YouTube videos so you can run stronger campaigns.

When you know your audience and create videos that offer value to that audience, promoting videos with AdWords can help grow your YouTube channel. Although building a YouTube channel based purely on ads doesn't work, when videos offer quality content and ads target the right audience, AdWords campaigns can give your channel extra momentum and boost organic growth.

Obviously, you need an AdWords account to start. If you don't have one, you can sign up for free. Five ways Google AdWords targeting can improve delivery of your YouTube video ads are:

Refining delivery via language and location targeting.
Incorporating keyword targeting to optimize ad spend.
Defining a custom affinity audience.
Targeting audiences based on life events.
Using placement targeting to reach other channels' viewers.

How to Monitor Analytics For YouTube

Analytics are key to understanding which ads work and which ones don't. Google Analytics works with YouTube to measure conversions from your ads. In other words, tracking where people are coming from before they land on your website. You first need to set up Google Analytics for your YouTube channel, receive the generated ID number, and then enter it within YouTube's advanced settings.

Besides Google Analytics, there are two other ways to measure the performance of a video. They are:

Assessing video watch behavior.
This powerful analytics data lets you evaluate how your videos are performing. You can access it within Creator Studio. There you can go through the data found in the "Watch Time" reports
Evaluating audience engagement.
This is the most straightforward way to find out how your video is performing. Just count up the number of subscribers, likes and dislikes, shares, and comments.

The way you assess the performance of your overall YouTube channels is through a YouTube Audit. This tool allows you to track metrics over a longer period of time, which will give you an ability to find patterns that tell you why traffic rose or fell. These insights will help you make tweaks to your YouTube channel so you can successfully grow followers.

How to Generate Leads With YouTube

YouTube is a useful lead generator depending on how you use it. The platform has several tools to capture and collect leads so you know who is watching your content but also who might be interested in your company's products or services.

One way are YouTube cards, which can be added to videos, creating a clickable CTA that prompts viewers to respond. The cards allow you to add more visual components so that they are more interactive and engaging with viewers, therefore attracting more eyeballs. They also can appear during any point during your video and can include downloadable content and outside links.

There are five different types of YouTube cards you can add to your videos:

Video or playlist to promote your own content.
Redirect to another YouTube channel.
Donation featuring a nonprofit of your choice to encourage donations.
Poll to encourage viewers to participate in a multiple choice question.
Link that redirects users to an approved website, preferably your own.

Besides YouTube Cards, two other organic tactics that can boost your content are:

Landing Pages With End Screens

End screens are a mobile-friendly YouTube feature that lets you end your videos with a CTA. You can use an end screen to prompt viewers to check out your other videos, channels, or playlists. You can also encourage viewers to hit the Subscribe button for your YouTube channel to promote your website, products, services, or newsletter.

Leads Via Search

A detailed YouTube video description can go a long way toward improving discoverability. You need to optimize it for both YouTube and search engines. Longer and more in-depth video descriptions have a better chance of ranking high for relevant web searches. That's because contextual keywords are the heart and soul of Google and YouTube queries.

Longer video descriptions aren't just about single long-tail keywords. A detailed description can help you rank for many possible related searches. It may even boost your chances of snagging attention for keywords or phrases you didn't use.

How to Monetize Your YouTube Channel

The ultimate way to take advantage of your YouTube is to monetize them through sponsorships. Plugs or mentions of products are the most common type of sponsorship. As the host of your video, you'll want to introduce the brand and engage viewers through demonstrations, promotion outreach, and general hype generated around the product.

Here are the most common ways you can involve sponsored products into your YouTube channel:

Reveal products through conversation.
Here you'll incorporate the product into conversation about your daily life. If the sponsor is an apparel maker, you'll drop the brand into a conversation about a recent shopping trip, or show viewers how you look and feel in their clothing.
Show off products.
Here you'll hype the product directly and make it the topic of a conversation. This kind of sponsored discussion features talking points about what makes the product desirable and can even include a demonstration or anecdote about how the product added value or helpfulness to a recent experience, such as a vacation or a night out.
Mention the products in a pre-roll, mid-roll, or end-roll segment.
This is probably most similar to a conventional television broadcast where the product is mentioned at a specific break from the main content.
Create product reviews.
This is the most direct way to hype a product. A sponsored review involves you discussion exactly why the product is worthwhile. You can physically review it on camera — For travel luggage, for example, you can show viewers how the zippers and compartments work. This will depend on your opinion of the product, which many users find helpful when on the hunt to buy.
Produce a dedicated integration series.
This depends on your budget. If the brand is footing the bill, you can go beyond a simple plug or review and create a more sophisticated production that showcases the value of the product.

Tune in to Stay Current With YouTube Tactics and News

Social Media Examiner offers two weekly audio podcasts and a weekly live video talk show to boost your marketing skills and keep you up to date with the ever-changing world of social media.

The Social Media Marketing podcast, a top-10 marketing podcast on iTunes, is a weekly 45-minute interview show hosted by our founder, Michael Stelzner. To discover how successful businesses employ social media, learn new strategies and tactics, and gain actionable tips to improve your social media marketing, subscribe to the podcast on iTunes/Apple Podcast | Android | Google Play | Stitcher | TuneIn | RSS.

The Social Media Marketing Talk Show is a weekly 1-hour live video show that features expert commentary on the week's top news in social media and what it means for marketers. Broadcast on Crowdcast, the show is simulcast each Friday to Facebook Live, Periscope, and YouTube. You can also listen and subscribe to the podcast version on iTunes/Apple Podcast, Android, Google Play, Stitcher, or via RSS.
3 Days of World-Class Training—Zero Travel!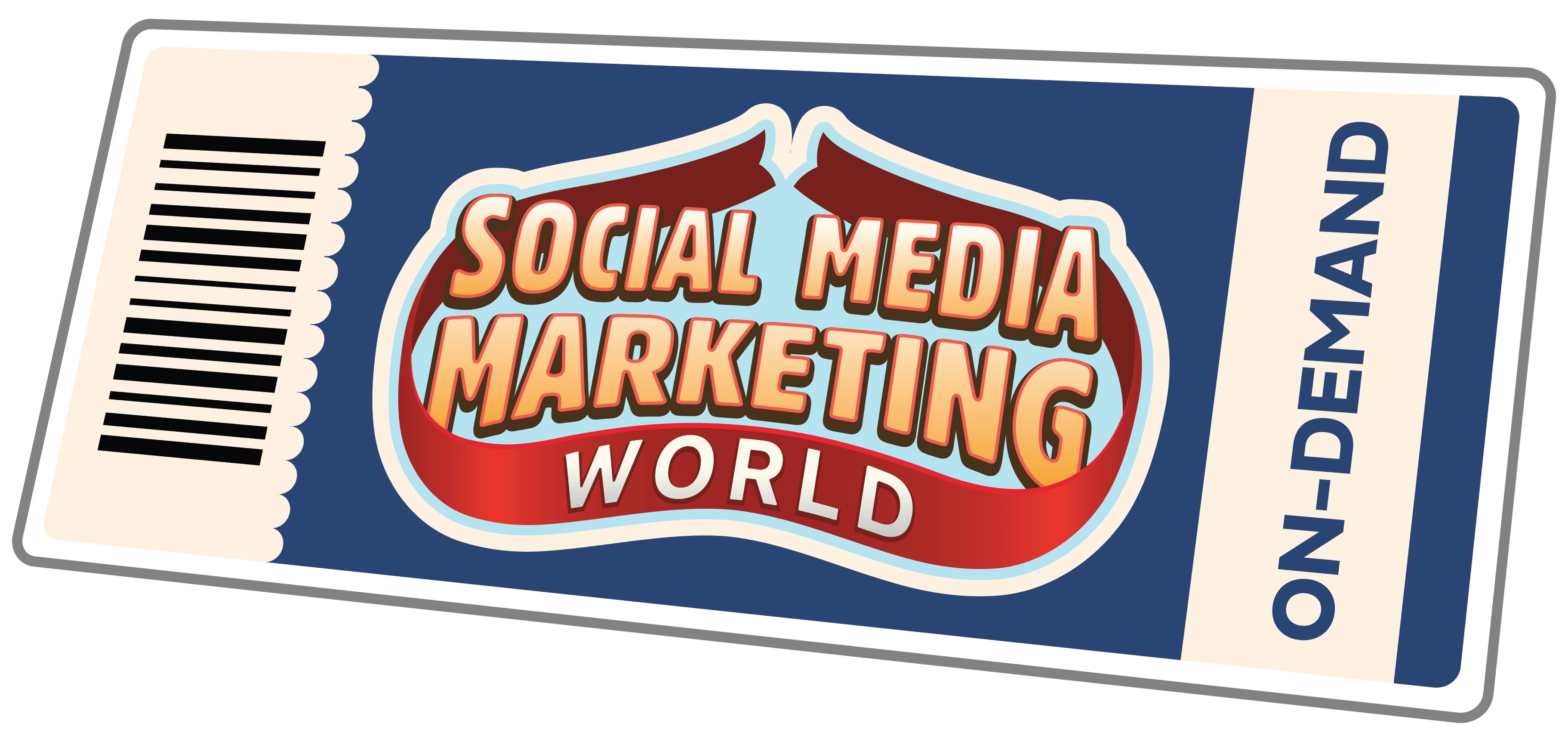 Travel to Social Media Marketing World off the table? Get all of the great content at a fraction of the price with an On-Demand ticket.

That's full access to recordings of every keynote, workshop, and session—the ones people travel thousands of miles to see. Don't wait. Get your On-Demand ticket and enjoy actionable content that you can watch anytime, anywhere.
GET YOUR ON-DEMAND TICKET NOW