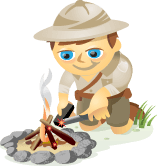 Are your YouTube videos ranking in YouTube search?
Looking for tools to optimize your titles, keywords, and tags?
In this article, you'll discover a four-step process to reveal high-performing keywords for your YouTube content.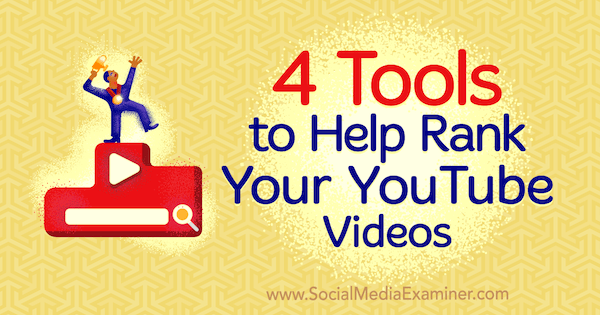 #1: Gauge Topic Interest with Google Trends
Before you create a YouTube video, the first step is to find a topic that's interesting to your audience. It won't matter how well you optimize your video for keywords if people aren't interested in its content.
You can use Google Trends to see which proposed topics have enough interest on YouTube. Simply enter your topic into the Explore bar, and on the results page that appears, select YouTube Search from the drop-down menu just above the line graph. The graph will then show you how much interest your topic has had over the last 12 months.
In this example, "funny animals" is beating "cute animals" in Google Trends.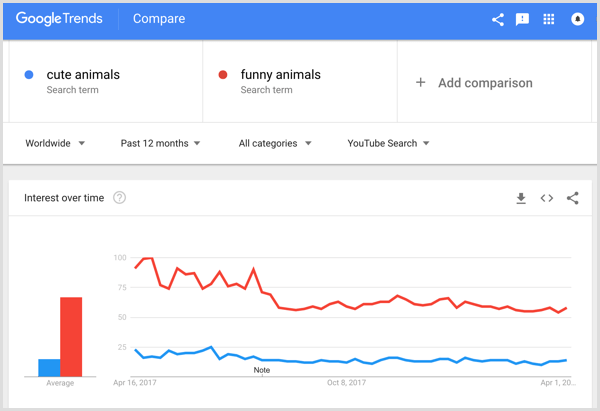 You can customize the results by country and scroll down to find related search queries as well. Under related queries, you see that "funny hamsters" is a breakout trend at the moment. So perhaps you'll want to include some cute hamsters doing funny things in your video to increase watch time.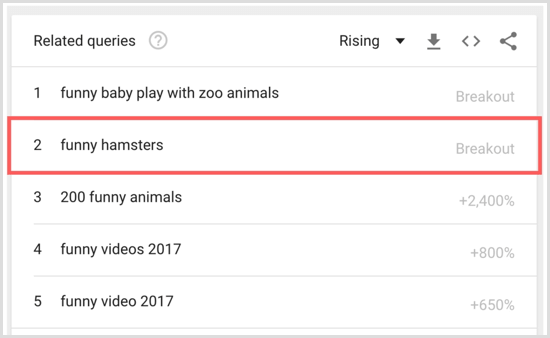 Bonus Tool: Quora is a great platform you can use to find plenty of topics for creating videos. The website is filled with questions related to all kinds of industries and categories. Browse a category related to your industry to find a few topics on which you can offer insight.
#2: Assess Keyword Search Volume and Competition With Ubersuggest
Your video topic should give you a starting place for choosing keywords. After you develop your initial keyword ideas, you can analyze them using a free tool like Ubersuggest. Enter your keyword in Ubersuggest and select YouTube from the drop-down menu. After you initiate the search, the tool takes only a couple of seconds to analyze the keyword.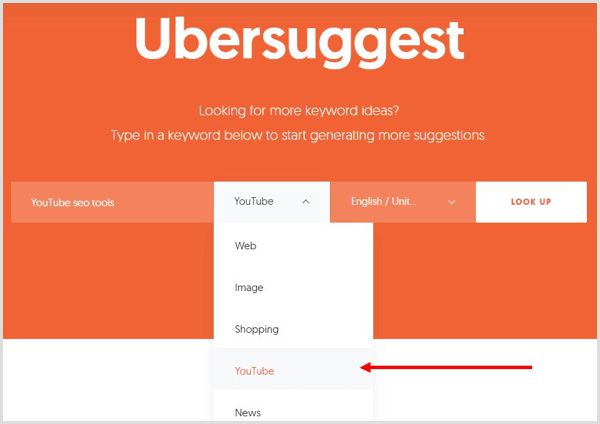 Ubersuggest will not only analyze your keyword to find how many searches it gets, but also show you a competition score that indicates how difficult it is to target that keyword. In this example, the keyword has about 140 searches per month, which isn't good enough to get lots of views of a video.

Now let's say that instead of "YouTube SEO tools," you want to do a video about animals. The keyword "animals" alone generates 450,000 searches on YouTube and has a lower competition score of .07. Immediately, "funny animals" stands out because it has 40,500 YouTube searches and a very low competition score of .02.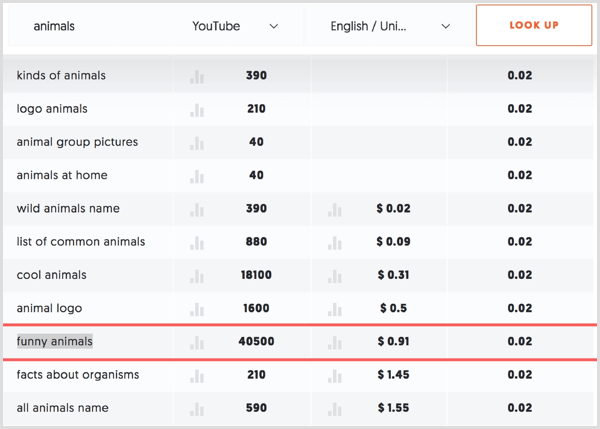 Examining further, you might find that "cute animals" generates 90,500 searches and also has a low competition score of .02. These are keywords that you might want in the title of your video. For instance, a potential title could be "Cute and Funny Animals You Have to See Before You Die."
#3: Mine YouTube Autosuggestions for Additional Keywords
Taking a look at autosuggestions in the YouTube search tool can help you find more popular keyword ideas. Head over to YouTube and enter your topic. Then see what kind of autosuggestions YouTube displays for that keyword.
Autosuggestions are one of the best ways you can use to find effective keywords because these keywords always pop up whenever someone searches for a topic. To illustrate, if you enter "funny animals" into the search bar, it'll autosuggest a set of great long-tail keywords for you to choose from.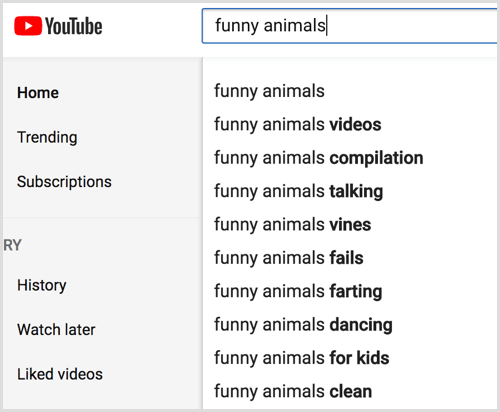 After you gather additional keyword ideas from the YouTube search tool, you can go back to Ubersuggest to research this set of keywords. Specifically, you want to pay close attention to their search volume. When you've found the best keywords, you can use them in your video title and description.
#4: Research Video Tags With VidIQ
Choosing the right tags for your YouTube video is just as important as targeting keywords. With the right tags, you can rank for the right keywords and in the most-searched categories.
To figure out which tags to use, analyze your competition with VidIQ, a simple, free Chrome extension. To start using this tool, you need to install the VidIQ extension in your browser and create a free account. Then you can use VidIQ to search for the keywords you've selected from your research and view the top-ranking videos for those keywords.
When you open a video on YouTube, you'll see a new panel on the right. You can view a detailed breakdown of the video's SEO, including an SEO score, number of end screens and referrers, and more. All the way down at the bottom, a section shows all of the tags used in the video and by the channel.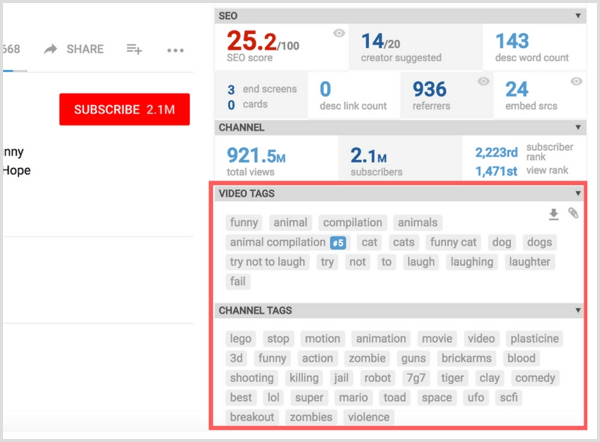 You can also see how this particular video ranks for each of those tags. Simply click a competitor's tag to find the search volume and competition for that tag.

View other videos in the search results and repeat the process. Pick tags with the highest volume and lowest competition, and incorporate those into your own video when uploading it to YouTube.
Remember that using lots of tags won't increase the chances of more people seeing your video. Instead, focus on finding the right tags. Although YouTube doesn't limit the number of tags you use, go for quality over quantity.
Conclusion
YouTube uses complicated algorithms and ranking factors to show the most relevant videos to its users. Identifying useful keywords and tags before you produce your videos can give you a competitive edge in the search results for your keywords.
When you use tools like Google Trends, Ubersuggest, and VidIQ to research topics and keywords, you can get an additional advantage because you'll know what topics interest YouTube users but have lower competition scores. By following the tips in this article, you can begin to take advantage of these factors and get more exposure for your videos.
What do you think? Have you used any of these tools? How have you improved the audience for your YouTube videos? Please share your thoughts in the comments.