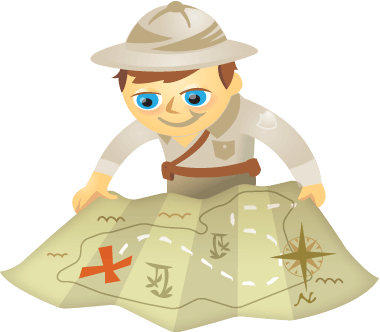 Do you have a YouTube channel?
Looking for ways to keep viewers watching longer?
Fine-tuning the way you set up your YouTube videos will increase the number of views your channel generates and also deliver longer viewing sessions.
In this article, you'll discover four ways to increase your YouTube watch time.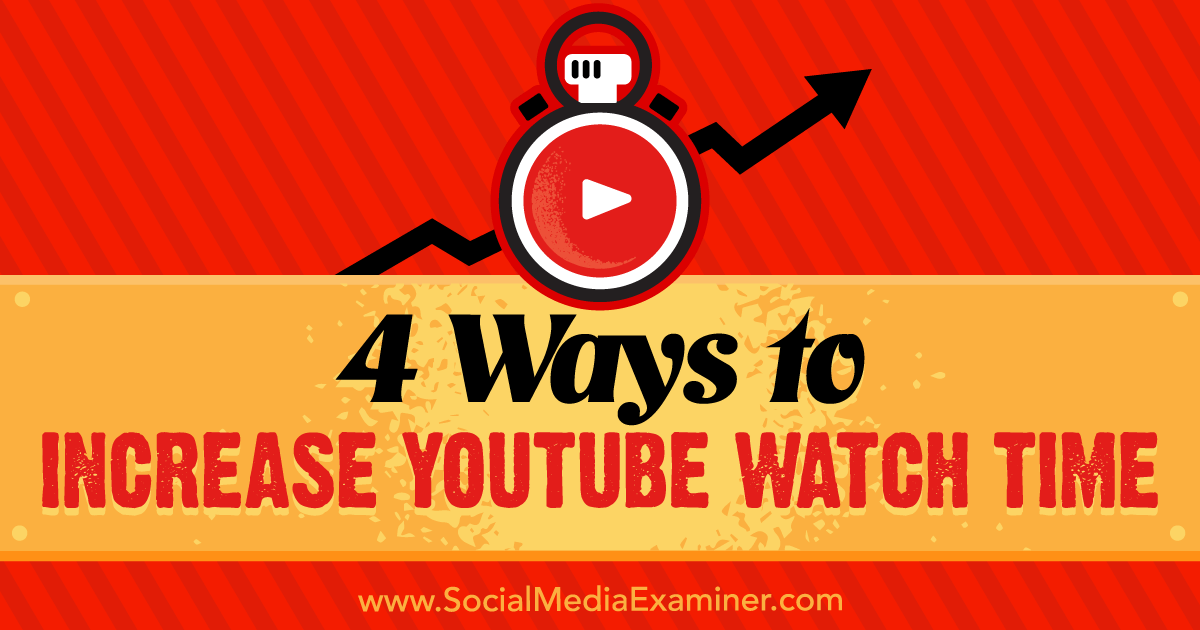 What Is YouTube Watch Time?
Before October 2012, total number of views was YouTube's primary factor in ranking videos. However, when YouTube updated their algorithm that same month, watch time became the #1 ranking factor.
Watch time (or audience retention, as it's popularly called in YouTube analytics) is the total amount of time in aggregate that viewers spend watching your videos. Ideally, videos topping in this metric result in higher overall viewing sessions.
With a boost in watch time, YouTube is more likely to promote your channel through search and recommended videos, which in turn leads to more views.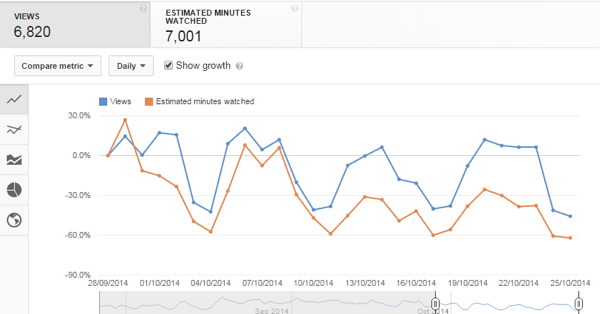 Now that you understand YouTube's watch time metric, let's look at five tactics that will help increase your total watch time.
#1: Structure Playlists to Drive a Linear Viewing Experience
Creating playlists for your YouTube videos is a way to guide potential viewers toward a longer viewing experience where they watch more of your best content.
Social Media Marketing Society (Ongoing Online Training)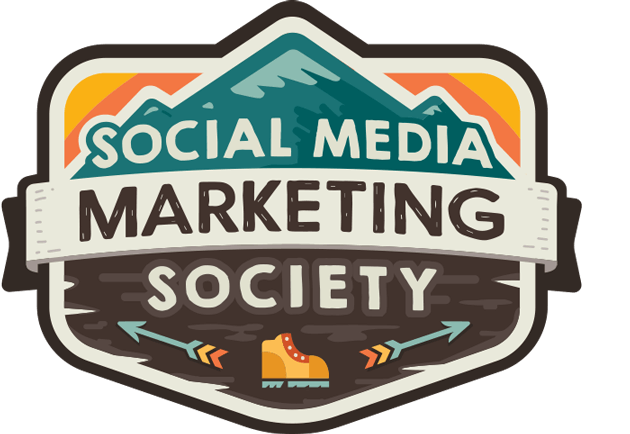 Want to gain marketing confidence and accelerate your career? Try the Society to discover new marketing ideas, improve your results, get support, and become indispensable. Join us for ongoing training, insight from pros, and a community of supportive marketers who understand you.
START YOUR TRIAL MEMBERSHIP
When you organize your videos in interesting sequences (as shown in the image below), viewers will be more likely to watch your other videos. This ultimately boosts watch time, giving you a higher ranking on YouTube.
To optimize your playlists, use the start and end time function on YouTube to enumerate IN and OUT points for each video, which creates a more impressive user experience.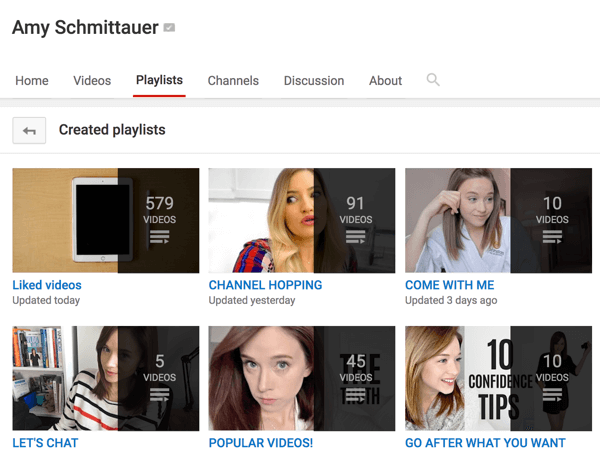 If you use the playlist feature, consider getting rid of your video intros and outros to avoid boring viewers which causes them to stop watching.
Tip: YouTube lets you link to related videos at the end of each video. To increase watch time, link to a themed playlist instead. When viewers click on the playlist URL, they'll quickly be redirected to the playlist player.
#2: Choose Titles and Thumbnails That Accurately Reflect Your Content
The titles and thumbnails of your videos impact your video views and rankings. They serve as the primary trigger for viewers to click, and give preliminary insight into a video's content. Choosing the right combination of thumbnails and titles can help you improve your watch time.
YouTube's Creator Academy offers these suggestions for creating clickable thumbnails:
Choose an image that accurately reflects the content of your video so viewers know what to expect when they click. It's important not to mislead viewers, because they'll be more likely to be disappointed and stop watching.

Design an image that will compel viewers to click and see more.
Use both the thumbnail and title to tell an intriguing story.
Make sure your thumbnails will work effectively on both mobile and desktop.
Look at the Audience Retention reports for your videos to measure the effectiveness of your thumbnails. If you see a sharp drop off in the first 10-15 seconds, your video may not be delivering on the expectations suggested by the title and thumbnail.
Your thumbnail, title, and description should give potential viewers a good reason to watch your video over others in your niche.
Put Google Analytics to Work for Your Business (Online Training)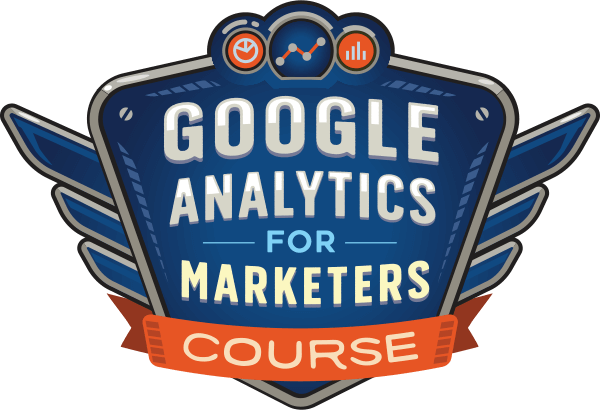 Ever thought, "there's got to be a better way" when it comes to tracking your marketing activities? Are you forced to make decisions based on limited data? With the right training, you can use Google Analytics to measure all of your marketing efforts with certainty.
You'll stop the leaks in your ad spending, justify your marketing spend, gain the confidence you need to make better marketing decisions, and know what's working at every step of the customer journey. Let the world's leading analytics pro show you the way. Check out our new Google Analytics for Marketers course from your friends at Social Media Examiner.
CLICK TO LEARN MORE: ANALYTICS TRAINING
#3: Use Cards Throughout Your Videos
You can use cards in a number of ways, but the best tactic for keeping viewers engaged is to use them to link to other content on your YouTube channel that viewers will likely be interested in.
For example, Slow Mo Guys place cards on videos to increase YouTube watch time by promoting related videos or playlists. This tactic is most effective when the card is added right before the point in the video when viewers are likely to drop off.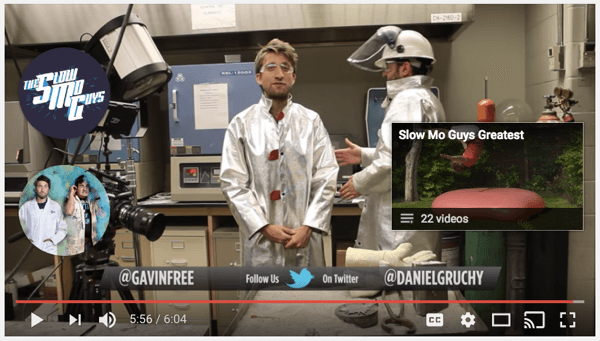 #4: Create Content Based on Long-Tail YouTube Keywords
Targeting long-tail YouTube keywords can help you get people to watch your videos instead of your competitors'.
One way to identify keywords is to use YouTube's suggestions feature. In the YouTube search box, type in a word you know your audience is interested in and note YouTube's suggested searches. These are not just random suggestions; they're based on what users want to see. Use these suggestions as topics for your videos.
For example, based on the suggestions for the term "content marketing," you might create a video that focuses on "content marketing for beginners" and another on "content marketing ideas."

Also check out your competitors' channels to see what kinds of videos they're producing and look at what keywords they're targeting. Take note of these keywords for future videos.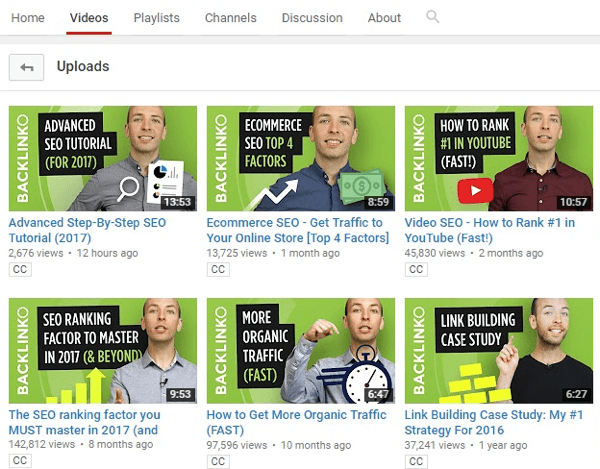 Want more like this? Explore YouTube for Business!
.
Conclusion
Google and other search engines use their spiders to crawl and scan texts and other readable content on the web. Search engines monitor metrics like a site's load time, user experience, links, etc.
This process is entirely different with YouTube. Because videos are not articles, they're difficult to scan. So how does YouTube judge the quality of videos to return the best search results for users? By giving priority to watch time.
Incorporating the four tactics above in your YouTube marketing will help increase your watch time and, in turn, your search ranking on the network.
What do you think? Do you use some of these techniques in your YouTube marketing? What tips can you offer? Please share your thoughts in the comments below.