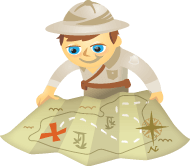 Want to add more video to your YouTube channel?
Wondering how to develop a content plan for YouTube?
Adding the right variety of video to your YouTube channel is ideal for driving conversions and engagement.
In this article, you'll discover five types of YouTube video to add to your business channel.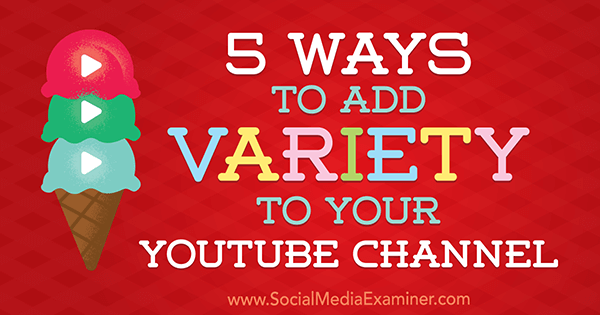 #1: Create a Featured Video to Tell Viewers What They'll Find on Your YouTube Channel
Have you ever visited a business's website to find there wasn't an About Us page and you had trouble figuring out what they're all about? Many people click away when they can't figure out where to find that information. You don't want that to happen on your site, nor on your YouTube channel.
Channel introduction videos are the best way to tell new visitors about your business and the content you're sharing on YouTube. In your video, welcome users to your channel and let them know what you do. Unfortunately, plenty of businesses with otherwise amazing channels forget to use intro videos.
When you introduce your YouTube channel, keep the video short, between 30 seconds and 2 minutes. Include content that's as evergreen as possible so you don't have to worry about updating the video constantly, although you should check every six months to make sure it's still relevant.
For example, the Cartooning 4 Kids How to Draw channel introduces itself in just 35 seconds. The video highlights what the channel has to offer (tutorials, daily lessons, and contests). It also explains that you don't need any drawing skills and you can find challenges to develop your skills if you like. The video then ends with a call to action.
You should include branding on your introduction video. For example, feature your logo in the corner or as the opening thumbnail. Keep the format and visual template of this video consistent with everything else on your channel.
At the end of the video, use strong calls to action that lead users to certain playlists or to subscribe to your channel. Pair YouTube cards and audible narration to emphasize the call to action.
#2: Produce Tutorials to Help Customers Use Your Products
For businesses, tutorials are one of the most valuable types of YouTube video. How-to content continues to perform well because it offers viewers obvious and tangible benefits. Tutorials allow you to establish your expertise and simultaneously promote your products and services.
Tutorials should focus on a problem and a step-by-step solution. For example, if learning different ways to tie a scarf would help customers use your product, provide a step-by-step tutorial on tying scarves.
The Conference You've Been Waiting For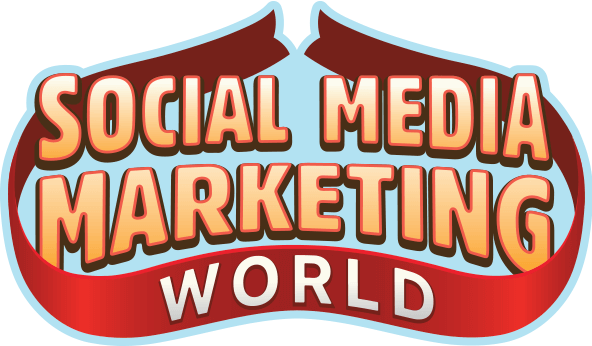 As a small business marketer, you can probably only pick one or two events to attend each year. Get back into the game with an unbeatable conference experience and expert training at Social Media Marketing World in sunny San Diego, California—from your friends at Social Media Examiner.
🔥🔥 As a valued reader, you can save $640 if you act now! Sale Ends Tuesday!
CLICK HERE TO LEARN MORE
Keep your video as concise as possible. If it covers multiple subtopics, it's best to break your content into multiple videos. The POPSUGAR Beauty channel uses a video or playlist YouTube card in the upper right to link to more beauty tip videos.
Within the video, keep the steps concise and use textual cues and subtitles to introduce new steps in the tutorial. This text makes the tutorial easy to digest and can aid people who are hearing-impaired.
If the tutorial covers multiple subtopics and there's no way to break the video into multiple videos, organize your video into sections. For example, Newegg has a video that explains how to build a computer. The sections break up that long process so viewers can easily navigate the video.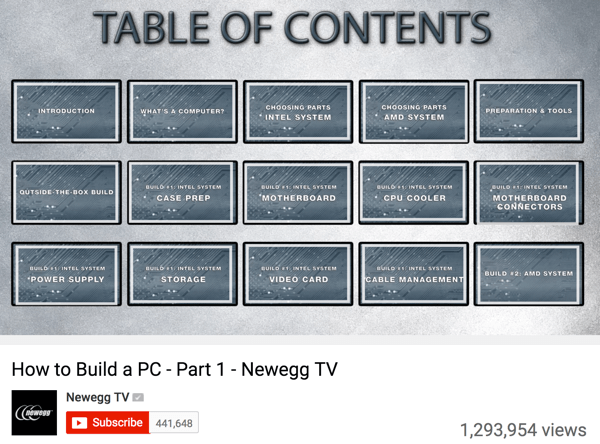 To create a table of contents similar to Newegg's, use the YouTube Annotations feature. You can add a note annotation for each section and then link each note to a specific time within your video.
Get Expert Social Media Marketing Training from the Pros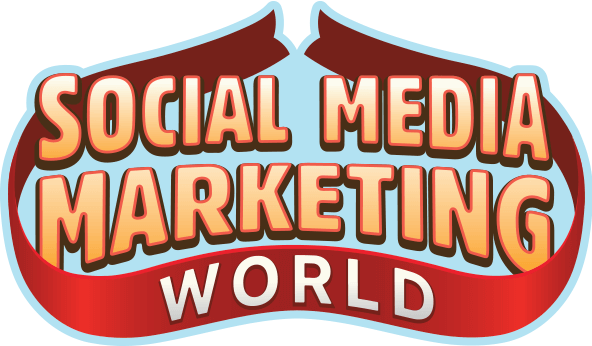 Want to get ahead of the competition and learn how to diversify your social marketing strategy?
Learn from the industry's most trusted experts, rub elbows with other smart marketers, and take your marketing to the next level during this 3-day event in sunny San Diego, California.
CLICK TO LEARN MORE
Because tutorials are so valuable, you can integrate them into your content marketing. Link to relevant blog posts in the Comments section. At the end of the video, include a call to action and prompt viewers to follow a link to your site. This call to action can usher new users into the sales funnel, especially if you encourage viewers to leave a comment or contact you with questions.
#3: Make Educational Videos to Explore Focused Topics
Educational videos, like tutorials, offer viewers immediate value. Tutorials can technically fit into this category, but educational content isn't limited to how-to videos. For example, instead of making a video tutorial on "How to teach your dog to sit," you could make a video that explains, "Why you should adopt a pet."
Because educational videos are so information-dense, they must address one very specific topic and stay focused. Brevity is definitely an advantage with this type of video. Make the video long enough that it's thorough, but not so long that it feels like a lecture. For more information, refer viewers to a blog post or lead magnet that's designed to capture lead information.
Answering questions your customers have asked is a great way to generate an educational video your followers will want to see, as illustrated in the example below.
Take a look at industry forums and your competitors' social media or blog posts to see what questions your target audience has and how you can answer them.
#4: Shoot On-Location to Give Fans an Inside Look at Your Business
Behind-the-scenes content is extremely popular on social media sites including YouTube. This type of video thrives on the transparency and authenticity that today's customers crave.
When creating behind-the-scenes YouTube videos, make sure you have a purpose for the video. You can show off the new office space or demonstrate how a product is made. With a specific, brief topic, you can tell an engaging story and share insight or "insider knowledge." In this way, behind-the-scenes content can help you shape how customers see you and your products.
In a behind-the-scenes video, featuring charismatic employees can help build the face of your company. To build rapport with your audience, choose someone who's comfortable on camera and is naturally likable.
For the above video about how Snow Angel Luxury Bath Melt is made, Lush features employees with an upbeat and authentic presence who seem to welcome viewers to their workshop.
#5: Design a Promo Video to Support a Marketing Campaign Launch
Most businesses start or are involved with a campaign at some point, whether it's a promotional campaign like a social contest or partnering with a nonprofit for a fundraiser. Campaign kickoff YouTube videos are an effective way to announce your campaign and introduce it to your audience.
Keep your kickoff video under 2 minutes. In that time, tell people why they need to care immediately and pique their interest. Videos are a great choice for evoking an emotional response. Whether you want to generate excitement or pull at the heartstrings, make sure everything in the video targets that feeling.
At the end of your video, tell viewers how they can take part in the campaign. Offer links where they can learn more about the campaign, contribute, follow the campaign on your other social profiles, or otherwise engage. Share the video on your site and your different social media profiles for increased visibility and engagement.
Want more like this? Explore YouTube for Business!
.
Final Thoughts
Your YouTube channel can offer a wealth of exposure, leads, and even conversions, but businesses need to use the platform differently than users. This means the types of videos you create and share must be different than the always-sought-after "viral video." All businesses on YouTube should use a combination of these five types of videos for best results.
What do you think? Which types of YouTube videos do you use to drive engagement and nurture leads? What videos help you achieve the best results? Please share your thoughts and experiences in the comments.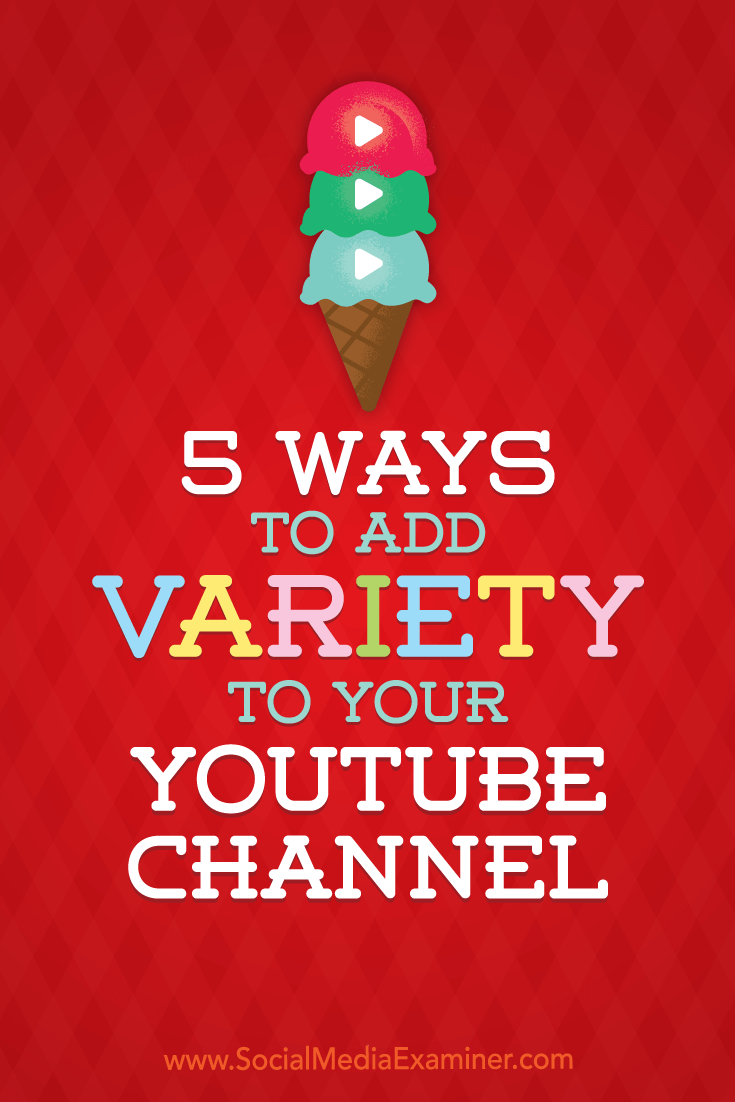 Curious about Web3?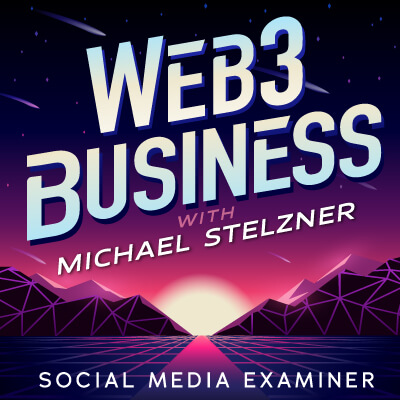 Follow the Web3 Business podcast to find out how Web3 will affect your business in the near future.

Every Friday, host Michael Stelzner interviews leading industry experts about what works right now in Web3 and what to expect in the future, so you can prepare your business for the shift, even if you're a total newbie.
FOLLOW THE SHOW