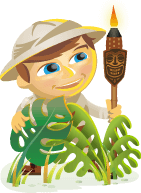 Do you have a YouTube channel?
Want to optimize it to get more subscribers?
To explore how to build and grow a YouTube channel, I interview Tim Schmoyer.
More About This Show
The Social Media Marketing podcast is an on-demand talk radio show from Social Media Examiner. It's designed to help busy marketers and business owners discover what works with social media marketing.
In this episode, I interview Tim Schmoyer, founder of Video Creators, a YouTube channel and website that helps people grow their YouTube subscribers. With 10 years experience, millions of video views, and more than 200,000 YouTube subscribers, Tim is the world's leading expert on building YouTube channels.
Tim explores what you need to know to build a successful YouTube channel.
You'll discover how to customize your channel.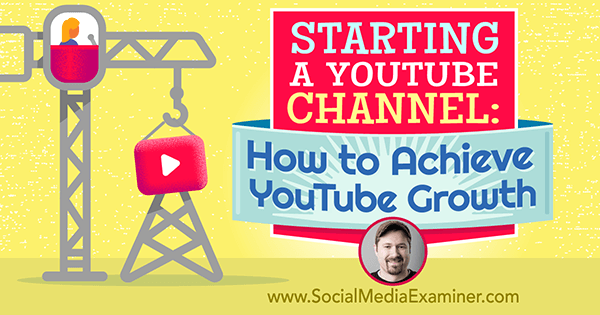 Share your feedback, read the show notes, and get the links mentioned in this episode below.
Listen Now
Where to subscribe: Apple Podcast | Google Podcasts | Spotify | RSS
Here are some of the things you'll discover in this show:
Starting a YouTube Channel
Your YouTube Channel Approach
Tim says if you aren't trying to grow a community, have no need for subscribers or conversions, and only want to share your videos with your family, then posting anything and everything is fine.
However, if you want to build a brand around your video content to grow subscribers, views, sales, conversions, etc., then you need a more focused approach.
A channel, Tim explains, is another word for your YouTube account. It's where your videos reside. For example, Tim's videos are on YouTube.com/videocreators, and when people are looking for his videos, they know that's where to find them.

A YouTube channel can be focused on a topic, but it doesn't have to be, Tim says. It could also revolve around a belief, a person, etc. He stresses that your YouTube channel should be very specific to target a specific group of people and deliver a very specific value.
Listen to the show to discover who comprises the demographic on YouTube.
Common Mistakes
People make three big mistakes on YouTube. First, many feel like they need a high-end production team and fancy equipment. Tim says you can grow a very successful channel with basic equipment.
Your smartphone may be sufficient, depending on the type of content you want to make, the audience you want to reach, and the image you want to present for your brand. Start with what you have, and possibly invest in a lens for your camera and an external microphone to clip into your phone.
Sometimes, a full production studio works against you, because the people have a different content focus and expect higher quality. YouTube viewers, on the other hand, are very forgiving of a shaky handcam if the value of the content is high.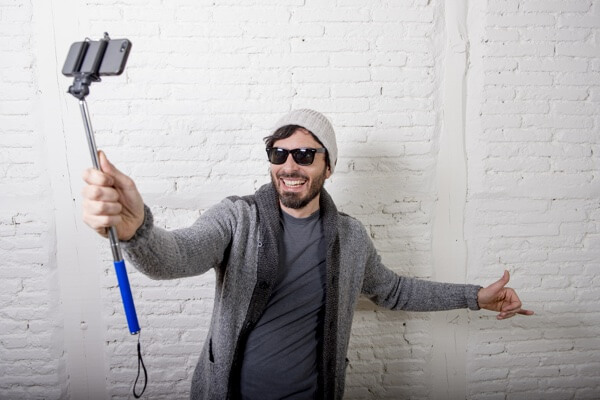 Second, people don't pay enough attention to the titles and thumbnails of their videos. Most of your YouTube traffic will come from related videos, suggested by YouTube, when users are viewing other content; an enticing title and thumbnail drive those clicks.
Tim says a lot of the top YouTube creators he knows spend just as much time, if not more, developing their title and thumbnail than they spend on the actual content.
Start with your title and thumbnail in mind before you start shooting the video. This enables you to capture the thumbnail you need. For example, a video about how to look better on stage needs a thumbnail that portrays that; it could be as simple as a picture of a crowd of people with a spotlight on the main focal point on stage.
If you shoot the video first and figure out the title later, the opening may not quite connect to the title until two and a half minutes into the video.

The third mistake people make is taking too long to hook viewers. Tim says that when someone clicks your video, you have 15 seconds maximum to relate to the title and thumbnail. That way, viewers feel like they're getting the value they were expecting when they clicked on your video.
Listen to the show to learn what camera Tim used when he first started making videos.
Channel Strategy
It's important to know your target audience and be clear on the value you're proposing to deliver to them.
Before people will consume your content, they want to know if it's for them and why they should care about it. To hook your viewers in the opening of your videos, address your target audience by pitching the value of the video, do some quick branding, and introduce yourself. Then deliver the value.
For example, every video Tim does reflects his value proposition: "Master YouTube, Spread Your Message."
Listen to the show to hear what was and is Tim's target audience.
How to Customize Your Channel
Think of setting up your channel like you're opening a restaurant. You need to get the mood lighting right, put systems in place to serve customers well, and order all of the tables and chairs. After you open for business, you invite people to come in. Hopefully, they'll have a good experience and come back to your restaurant.
The same thing is true for YouTube. You want to set it up so once people discover your channel, they'll stay, watch videos, subscribe, and become part of your community.
Start with the header image at the top of your channel.
Tim says most people don't realize it, but if you look at your YouTube Analytics under Subscribers, you'll see that the majority of people subscribe by clicking the red Subscribe button underneath the header image, as opposed to the Subscribe button underneath every video. Tim shares that for every person who hits Subscribe under one of his videos, he has seen as many as 400 subscribers from the front of the channel.
In your header image, try to communicate your value to your target audience as visually as possible, Tim suggests. While you can put text on your image, most people just glance at it and move on. He notes that the header graphic scales based on which device someone is using (desktop, mobile, smart TV, etc.). To be sure your header scales well, download a PSD template from Google's Help section, which has the rules of what shows up on which types of devices.
Tim's header has a picture of him and a checkmark of credibility, showing he's certified by YouTube in audience growth. It also has his channel name and value proposition. It's not intended to fully communicate the depth of everything Tim represents. It's a quick 2-second way to help people understand what his channel is about.
A good example, Tim says, is SORTEDFood, which does a good job with their channel trailer, header image, and channel setup.
Tim says the next element to concentrate on is your channel trailer. Trailers communicate your value proposition in more detail (in about 30 to 45 seconds). Quickly hook people at the beginning with a greeting, and then pitch your value and offer a few examples. End with a strong call to action to subscribe.
Should people just stick their best video in the trailer spot? Tim says no. People are primarily on the front of your channel because they're thinking about subscribing. Taking one of your best videos might give them an idea, but if they're there for the first time and feel like you're talking to them, the effect is much stronger.
Tim recommends producing your trailer in the same style as your videos. Set the content expectation for the viewer and be consistent with your style.
Another area to focus on is the playlists beneath your trailer; these are examples for potential subscribers. Although helpful for content cohesiveness, the goal of playlists is to get people to start watching a video and then watch three more. Tim suggests making a playlist like, "New to my channel? Start here." He recommends adding only five, six, or seven videos to most playlists so they're easy for someone to view completely.
Just like videos, every playlist has its own meta data, titles, and descriptions; therefore, you should optimize those titles. For example, don't just name a playlist "vlogs." Choose a title that's enticing and explanatory.
Because Tim learned from his analytics that the vast majority of people discover his channel when they're looking for practical training on how to grow a YouTube channel, his first playlist is titled Recent YouTube "How To" Trainings.

Tim's next playlist answers the second biggest question most of his audience asks, which is "Growing a Business around your YouTube Channel."
Although you can have up to 200 playlists on a channel, Tim suggests you display no more than eight playlists on the front page.
The goal is not to show every single video on the front of your channel. The goal is to funnel people from the header image to the channel trailer to the playlists. You're curating viewers' experience so they feel like the videos are valuable and will want to subscribe.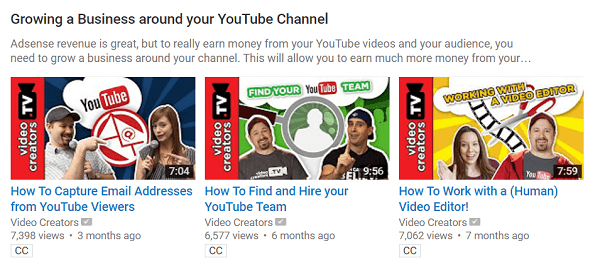 The playlists on the front of your channel should be optimized for converting the non-subscribed viewer into a subscriber. You can then link to additional playlists in descriptions, interactive cards, and tweets. You can even set the playlists to auto-organize themselves, either alphabetically, by date published, tags, or in other ways.
Listen to the show to learn why less is more for your YouTube channel header.
Getting Subscribers
There are a few big ways to get subscribers, Tim says.
One way is through collaboration with channel owners who already have existing audiences that might relate to your topic. You need to think "Where is my audience and who else has them?" For example, if you have an energy drink, don't collaborate only with energy drink channels. Consider reaching out to health and fitness people, or gamers for that matter.
To collaborate, you can simply get together with someone and make a video. Or make a video that highlights your partner on your channel while they make a video that highlights you on their channel; promoting each other to your respective audiences.
The takeaway is that you want to intentionally build relationships with other creators who share your audience.
Tim explains your number-one traffic source for new subscribers will likely be from related videos. People will click on a video, even if they've never heard of you, as long as the title and thumbnail pitch value to them. As a result, you get watch-time (the length of time people spend watching your videos), and then those videos begin to rank well, which means they're shown to others.
Begin to think of ways you can bank off of related content.
For example, Tim explains how he and his wife find videos that are getting more than 10 million views and figure out how to get spinoff traffic from them. They found a video about a golf ball painting craft for kids, which had massive views. To get spinoff traffic from the original video, the Schmoyers made a video about how to do golf ball paint with acorns.
To really grow an audience, Tim says you need to do four things. First, deliver good value to viewers. Second, do it consistently. Third, ask people to subscribe. And fourth, tell viewers why they should subscribe. The fourth is important because active YouTube viewers get requests to subscribe all the time.
At the end of his videos, Tim essentially says, "If this is your first time here, I would love to have you subscribe, because… every week I am publishing videos that help you grow your YouTube audience so you can reach people and spread a message that changes their lives."
Does having subscribers make a difference for future views? Tim says if you're trying to earn AdSense revenue, Google doesn't pay you for the number of subscribers. They pay you for the number of interactions that your viewers have with ads on your content.
That said, subscribers are important from an SEO perspective because you have potentially more people watching your videos. More watch time is a positive signal for how videos rank.
Listen to the show to discover why it's better to spin off evergreen content than trending topics.
Discovery of the Week
Ripl is a mobile app that creates images, video, captions, and moving text. It's different from other apps in that it lets you easily do a lot of motion graphics.
With Ripl, you can even have text that zooms toward you or on a crawl. Check out the Social Media Examiner Instagram account for examples.
Ripl is free, but you can get a pro account version for $9.99 per month, which allows you to remove their watermark. You can also add your own watermark and branding, as well as have access to other pre-populated templates of designs.
It's a very cool effect. Ripl is currently iOS only, but they have an Android waiting list.
Listen to the show to learn more and let us know how Ripl works for you.
Listen to the show!

Key takeaways mentioned in this episode: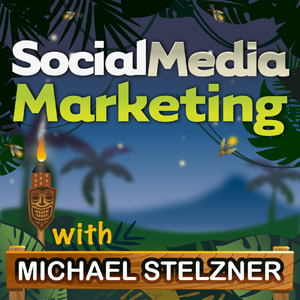 Ways to subscribe to the Social Media Marketing podcast:
What do you think? What are your thoughts on growing a YouTube channel? Please leave your comments below.