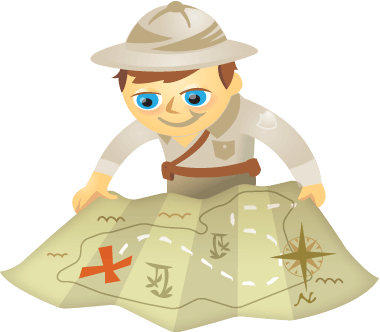 Want to grow your email list?
Got a blog?
New tools and placement options have made it easier than ever to create an offer that compels blog visitors to share their email address with you.
In this article you'll discover five unique ways to grow your email list from your blog readers.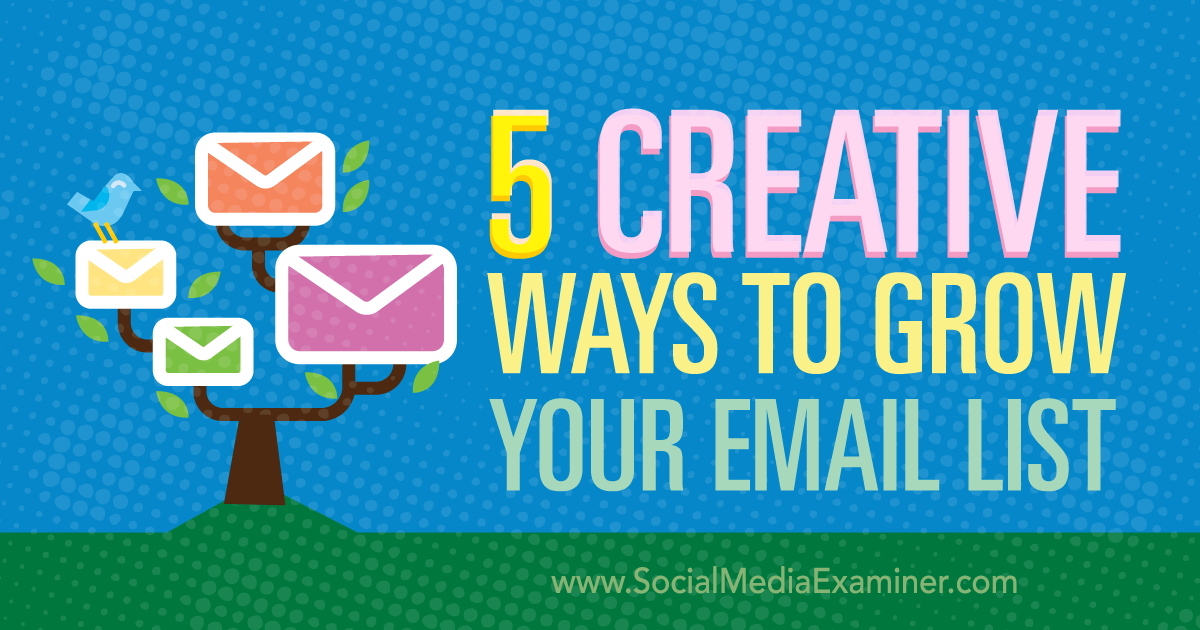 Listen to this article:
Where to subscribe: Apple Podcast | Google Podcasts | Spotify | RSS
#1: Put Your Best Offer on Your Homepage
To encourage email signups, show the value of being an email subscriber on the homepage of your blog. The main focus should be on your opt-in box.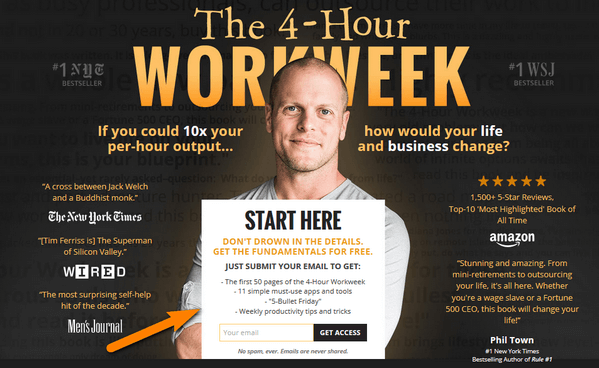 Place the links to other areas of your site below the fold, so readers won't see them unless they scroll down the page.
Bluewire Media collects email addresses directly from their main page. Below, they offer visitors free marketing templates in addition to news and updates delivered to their inbox.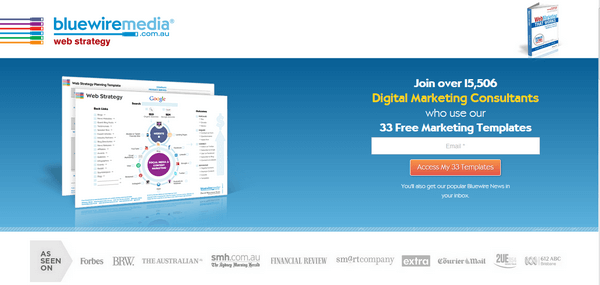 #2: Use a Feature Box to Present Lead Magnets
If you don't have a custom homepage or don't have the resources to redesign your current homepage, a feature box might be a good option for you.
A well-designed feature box exchanges your lead magnet for new email addresses. You typically place the feature box above the fold of your page so it's immediately visible to users.
Get Everything You Need to Become A Better Marketer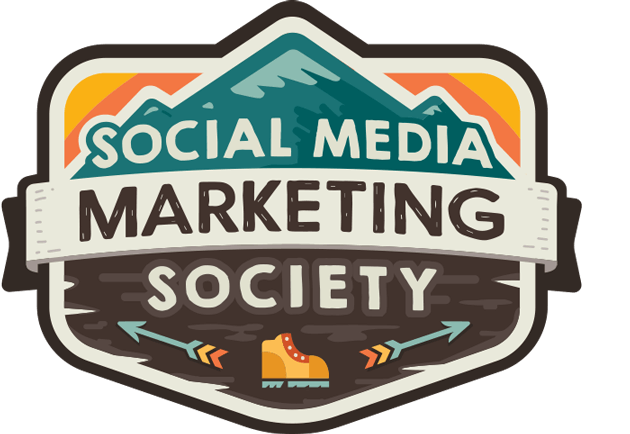 Looking for a one-stop-shop for marketing greatness? Try the Social Media Marketing Society to boost results and become a better marketer through deep-dive training and an always-on community of marketers. The path to better marketing begins in the Society.
START YOUR TRIAL TODAY
Unlike entry pop-ups, feature boxes don't interrupt visitors from scrolling down the page and browsing your blog content. They can either take your bonus or scroll down the page.
The feature box at DIYthemes increased the blog's subscription rate by 51.7%. Feature boxes convert well even if they're subscription-only and don't offer a lead magnet.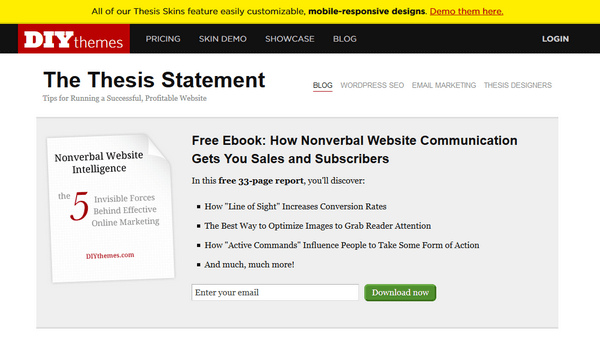 Choose a good opt-in offer, such as a free email course. The Enchanting Marketing blog offers readers a free writing course in their feature box.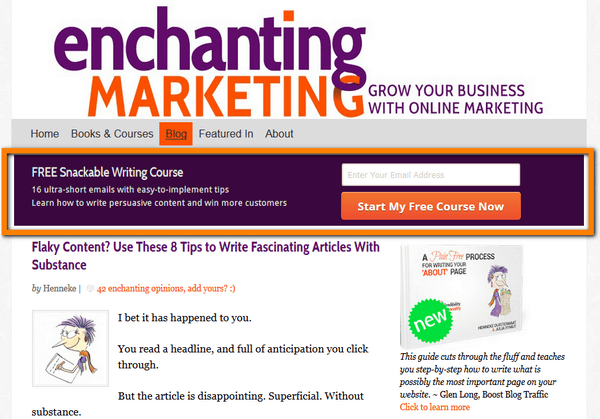 If you're looking for a tool to create opt-in feature boxes, try the WordPress plugins PlugMatter Optin Feature Box or Thrive Leads.
Don't forget that your homepage is one of the most visited pages on your blog, so it deserves special treatment. Think about changing your homepage design to include an engaging sign-up box as the next step after a feature box.
#3: Add Content Upgrades to Blog Posts
Content upgrades are another way to grow your email list. The principle behind them is the same as for any opt-in form: You give away free material (a lead magnet) and get your visitors' email addresses in return.
Place a link to your bonus content with a call to action in your article and wrap it with an eye-catching box. When readers click the link, a pop-up box appears, asking for their email address to get the bonus material.
Michael Hyatt offers readers a list of literary agents as a bonus in the following article, which is valuable material for his readers and relevant to the topic of the article.
Put Google Analytics to Work for Your Business (Online Training)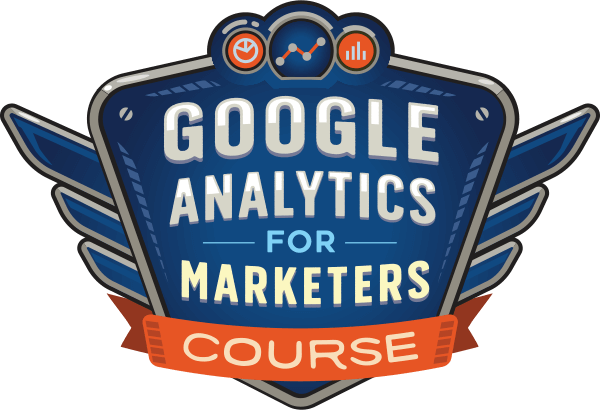 Ever thought, "there's got to be a better way" when it comes to tracking your marketing activities? Are you forced to make decisions based on limited data? With the right training, you can use Google Analytics to measure all of your marketing efforts with certainty.
You'll stop the leaks in your ad spending, justify your marketing spend, gain the confidence you need to make better marketing decisions, and know what's working at every step of the customer journey. Let the world's leading analytics pro show you the way. Check out our new Google Analytics for Marketers course from your friends at Social Media Examiner.
CLICK TO LEARN MORE: ANALYTICS TRAINING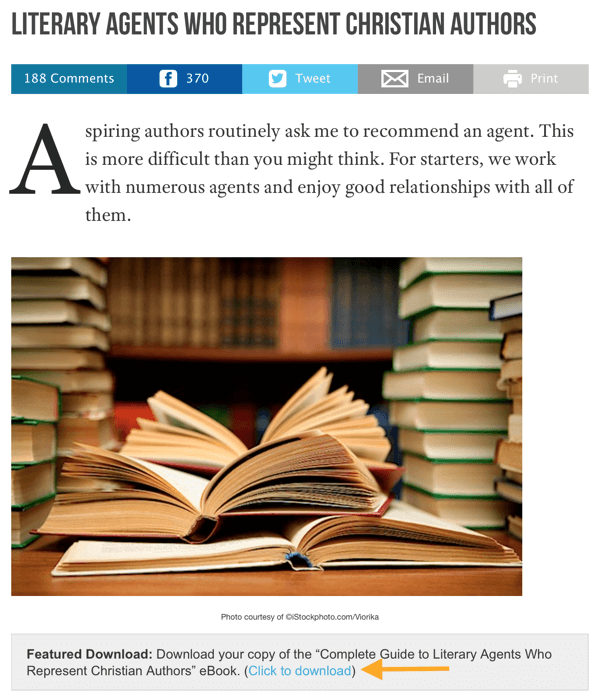 When readers click your download link, open a pop-up box asking for their email address. After readers complete the form, redirect them to a page with the bonus.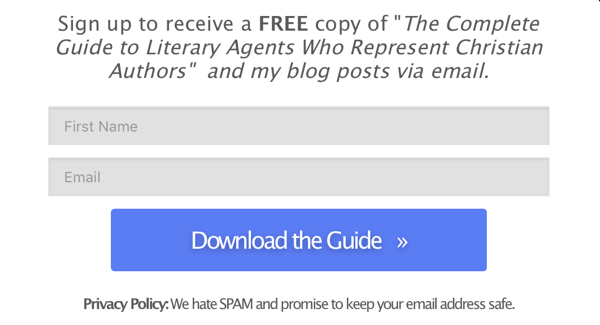 You can use a variety of different materials in your content upgrades. Here are a few examples:
A PDF version of your article
A checklist
An instructional video
A template
A list of tools or resources
An infographic
Remember that you need to choose bonus content that is highly relevant to the topic of your article. That's why content upgrades are often called "content-specific bonuses."
To implement content upgrades on your blog, try a tool like LeadBoxes or the Content Upgrades PRO plugin for WordPress.
#4: Display a Scroll-Triggered Box
Another effective and unobtrusive way to turn readers into email subscribers is to use scroll-triggered opt-in boxes.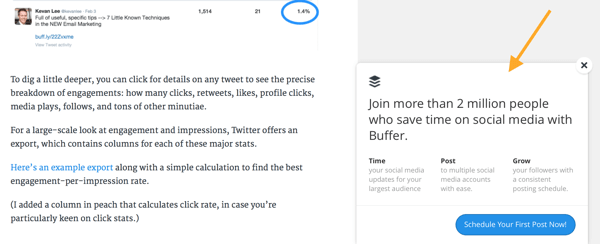 Unlike pop-ups, scroll-triggered boxes don't interrupt the visitor's reading and don't cover up any content. Place a scroll-triggered box at the corner of the page when readers scroll down to a certain part of your article.
By the time the box appears in front of readers, they've already read most or all of your article. They've formed an impression of you, so it's a good time to introduce your offer.
You can decide when to show the box to your readers. For example, make it appear halfway through your article or at the end.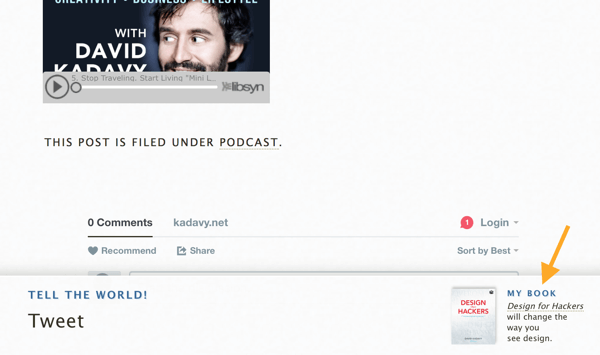 If you want to use a scroll-triggered box on your blog, try a tool like Scroll Box by SumoMe or the Scroll Triggered Boxes plugin for WordPress. Both of these tools are free.
#5: Show an Exit Pop-Up
Although people say they hate pop-ups, studies show that pop-ups are effective for collecting email addresses, especially when they're well designed and have strong, engaging text.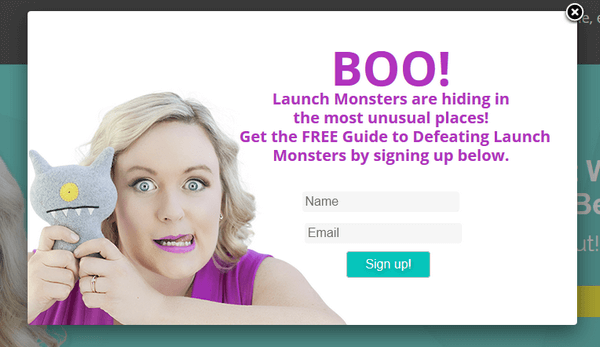 If you're worried about potentially irritating your visitors with a pop-up, consider using an exit pop-up, which is action triggered and shown only when visitors intend to leave your page.
You don't lose anything and don't run the risk of irritating visitors when you offer them something right when they're about to leave. Keep in mind that exit pop-ups work only for visitors who have spent time on your blog.
If you're looking for a tool for pop-ups, and exit pop-ups in particular, try OptinMonster, PopUp Domination, or SumoMe's List Builder. The latter is free with an opportunity to upgrade to a pro version.
Conclusion
These are all effective ways to get people to sign up for your email list from your blog. Keep in mind that you can use more than one of these techniques at the same time.
What do you think? Do you use some of these tactics on your blog? What tips do you have for growing your email list? Please share your thoughts in the comments below.