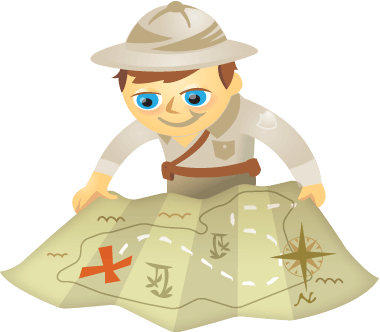 Is your blog generating leads for your business?
Are you looking for ideas?
Offering a suitable and relevant reward in return for people's contact information is a great way to generate business leads.
In this article you'll discover eight ways to generate leads with your blog.
Why Lead Generators?
A lead generator (or lead magnet) is something you offer to your blog visitors in the hope that they'll exchange their contact information (email, address, zip code, etc.) in return for access to whatever it is you're providing.
Once you have that contact information, you can use it to target those people with ads on platforms such as Facebook, Twitter and Instagram.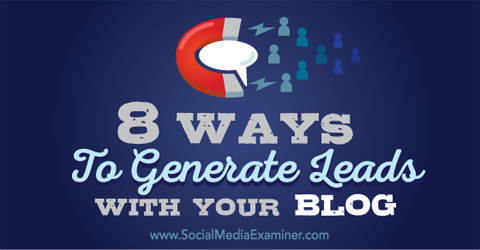 Listen to this article:
Where to subscribe: Apple Podcast | Google Podcasts | Spotify | RSS
Your free offer needs to be something prospects are genuinely interested in so they'll want to give you their information. The most effective incentives are uniquely tailored to your target audience's needs and objectives, and provide instant gratification.
Here are some examples of lead magnets to consider for your business blog.
#1: Offer Guides or Personalized Reports
One way to collect leads is to offer a free guide or report, and then let people download it after filling out a form. You can also automatically send the guide or report via email. The freebie should provide practical value and advice to your target audience.
Social Media Marketing Society (Ongoing Online Training)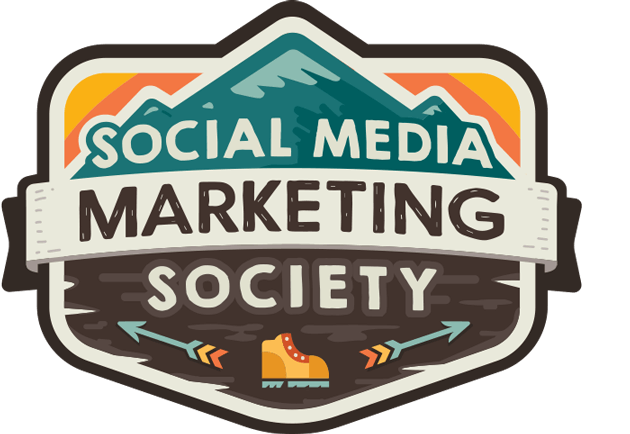 Want to gain marketing confidence and accelerate your career? Try the Society to discover new marketing ideas, improve your results, get support, and become indispensable. Join us for ongoing training, insight from pros, and a community of supportive marketers who understand you.
START YOUR TRIAL MEMBERSHIP
Tarot offers a horoscope and cosmic profile report for visitors who fill out a form on the company's website. In addition to the visitors' names and email addresses, the form also asks for their birth date to automatically generate the personalized report.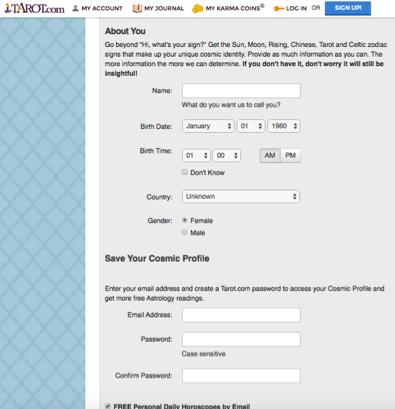 By signing up, visitors can get personalized and insightful horoscopes. These detailed reports provide greater value to Tarot's audience than the free generic daily readings available on the website.
Online advertising company WordStream offers websites a free analysis and benchmarking report in exchange for their email address.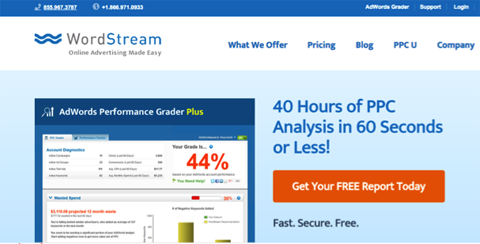 WordStream can also use these reports to offer products and services to prospects as a way to improve their scores.
#2: Grant Exclusive Access
Another way to generate leads is to offer visitors access to a valuable resource that will improve something in their life, such as productivity, performance or ideation.
Fitocracy is both an app and online platform that caters to people with health and fitness goals. They've built a community around a mobile application that features a fitness tracker and offers a huge fitness library with exercise videos and how-to articles.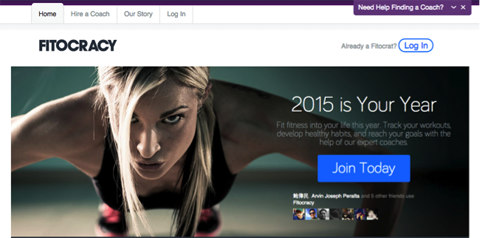 Access is free if people sign up and become members. Once they're members, they can hire fitness coaches to help meet their personal goals and connect with fitness-minded individuals just like a social network.
#3: Recommend Relevant Newsletters
This lead magnet is similar to free guides and reports. The difference is the time frame in which the offer is of value to the audience. You can provide more long-term value to your audience by emailing them digital handouts or newsletter updates on a periodic basis.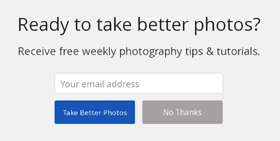 If people fill out the above form, the Digital Photography School will send them weekly photography tips and tutorials via email. The site realizes they should make it easy for people to sign up by asking only for their email address.
#4: Hold Webinars
Another lead magnet is to hold free online seminars (webinars) about topics that matter to your target audience. Use this opportunity to ask for information from all of your attendees who are likely to be interested in your other offerings.
Put Google Analytics to Work for Your Business (Online Training)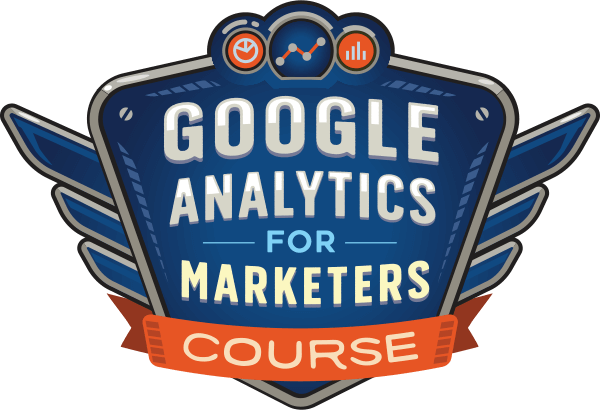 Ever thought, "there's got to be a better way" when it comes to tracking your marketing activities? Are you forced to make decisions based on limited data? With the right training, you can use Google Analytics to measure all of your marketing efforts with certainty.
You'll stop the leaks in your ad spending, justify your marketing spend, gain the confidence you need to make better marketing decisions, and know what's working at every step of the customer journey. Let the world's leading analytics pro show you the way. Check out our new Google Analytics for Marketers course from your friends at Social Media Examiner.
CLICK TO LEARN MORE: ANALYTICS TRAINING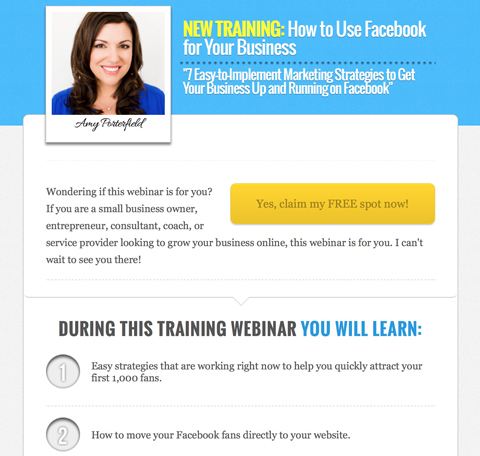 Here, Amy Porterfield offers a free webinar in exchange for visitors providing their name and email address in a signup form. This webinar targets businesses that are new to Facebook and provides information to help them get up and running on the platform.
#5: Make Perks Available
If you have an online shopping website, consider offering free shipping and exclusive discounts as a way to generate leads.
The Gap offers a shopping discount to new subscribers to their email newsletter. The signup form also promotes a number that customers can use if they want to receive special discounts and promotions via text message.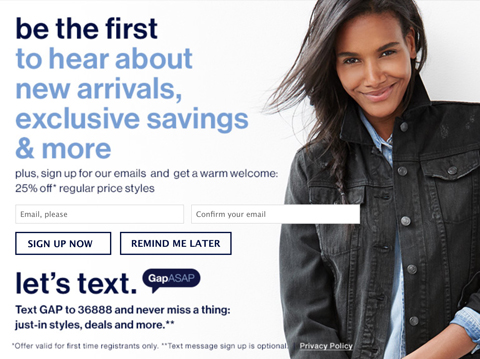 #6: Give Free Trials
You can generate leads if you offer a free trial of your products or services to prospects.
HubSpot is an online marketing platform for businesses to generate traffic and leads. Prospects can sign up for a 30-day free trial of HubSpot Enterprise to try out the tools and assess whether they want to invest in the platform for their business.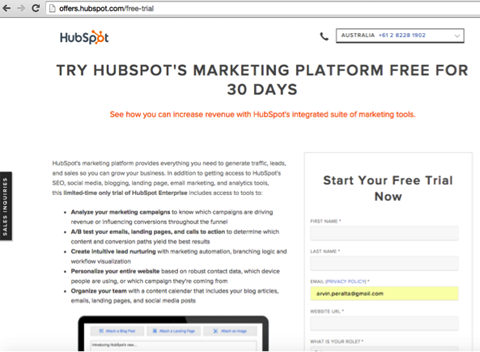 SketchUp, an application for creating 3D images and designs, offers students and hobbyists a free version with access to the basic tools of the software. To download it, they need to fill out the online form and provide a name and email address.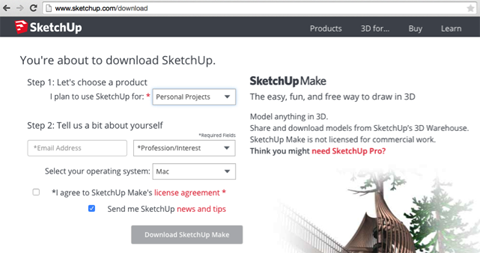 #7: Create Customer Surveys or Quizzes
Customer surveys or quizzes are another type of lead magnet. Customer surveys are similar to quizzes but have a more personalized approach.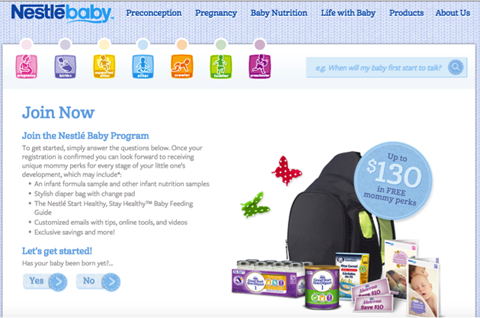 Nestlé Canada encourages moms to sign up for the Nestlé Baby Program to get free infant formula samples and baby guides. It also prequalifies mothers to determine the development stage of their child (pregnancy, birth, sitter, crawler, toddler or preschool).
#8: Provide Online Catalogs and Physical Products
Another way to generate leads and better understand your audience is to ask people to fill out a form to download your sales materials.
IKEA offers customers and prospects the option of downloading an online version of their catalog or signing up to have a print version mailed to them. To sign up for the print version, customers need to provide an email address and street address. On the same form, they can opt in to receive inspirational emails and updates from the company.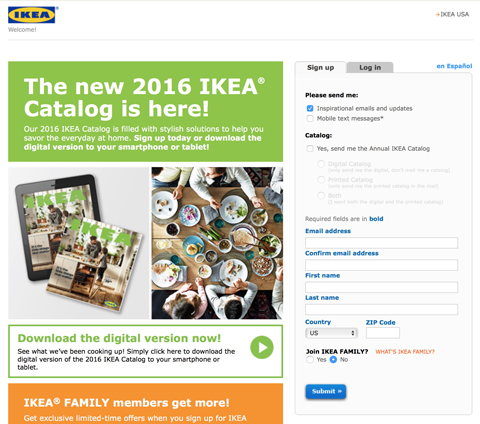 Nature Habitat Adventures offers a catalog of The World's Greatest Nature Journeys, which outlines nature travel adventures across the globe. People can have a print version sent to them if they provide contact information on the catalog request page.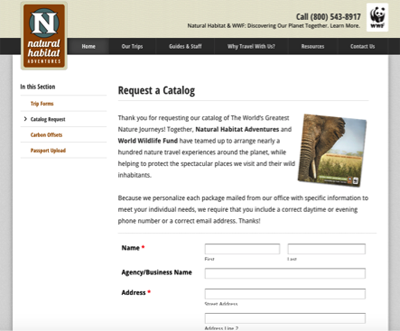 The catalog documents the travel experiences of the conservationists and the work that they do for endangered animals and the environment. Promoting the catalog helps raise awareness for their cause.
Conclusion
There are many different types of lead magnets you can use to collect contact information from leads or to build a large email list. You can even combine multiple lead magnets you think will best meet your objectives.
The important part is that the reward should be of equal or greater perceived value than the information you're asking people to provide.
Once you've designed the right lead magnet, you can use social media to drive traffic to the landing page for it. You can also promote your lead magnet with Facebook lead ads or Twitter lead generation cards so followers can be captured into your list immediately.
What do you think? Have you tried any of these lead magnets? Which lead magnets have provided the best results for your business? Please share your thoughts in the comments below.