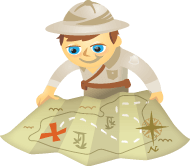 Do you use Instagram for business?
Interested in running ads?
Instagram advertising gives businesses and brands an effective way to increase visibility and connect with customer and prospects.
In this article you'll discover how to create Instagram ads for your business.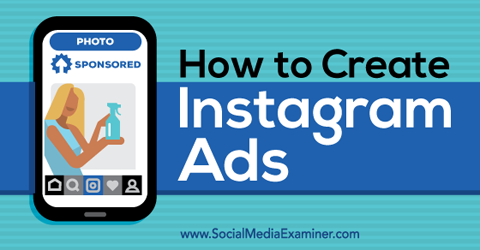 Listen to this article:
Where to subscribe: Apple Podcast | Google Podcasts | Spotify | RSS
#1: Connect Your Instagram Account to Facebook
Before you can start advertising on Instagram, you need to connect your Instagram account to your Facebook page. This will allow you to create your ads in Facebook Power Editor.
To get started, go to your Facebook page and click Settings in the top-right corner. In the left column, click Instagram Ads and then click the Add an Account button on the right.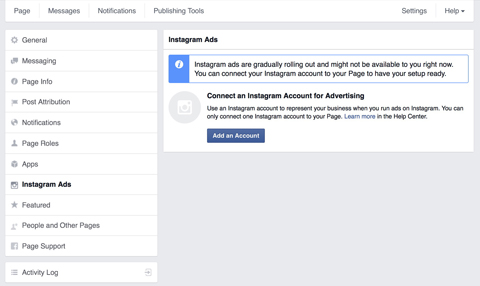 If you have an existing Instagram account, select Add an Existing Account, enter your Instagram username and password and click Confirm.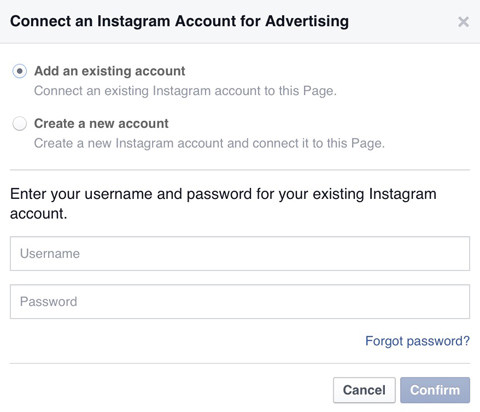 If you don't have an Instagram account, you can create one from within Facebook. Select Create a New Account, enter a username for the Instagram account and type in your email address. When you're finished, click Confirm.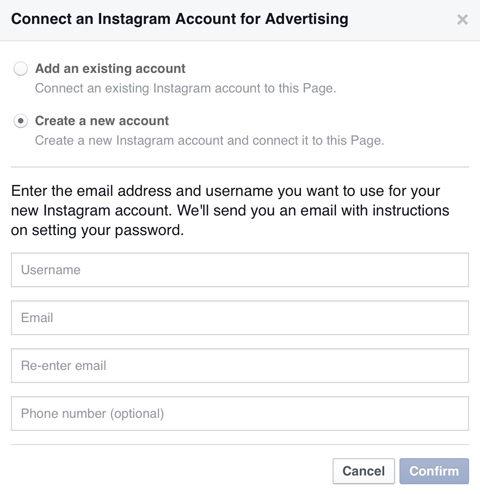 Look for an email about your new Instagram account. Then follow the directions to set a password for it.
Once you've finished these steps, your Instagram account will be connected to your Facebook page.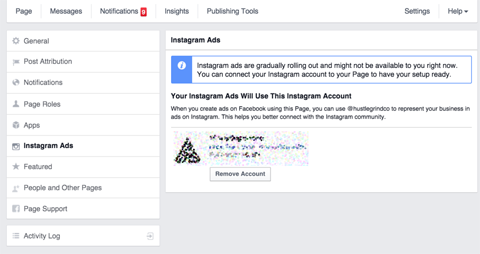 Now when you use your Facebook page to create ads that will run on Facebook, you can show those same ads on Instagram.
If you don't have the ability to edit and create ads yet, you will soon, as Facebook and Instagram are still rolling out this feature.
#2: Select an Ad Type
For Instagram ads, you can choose from three ad objectives: clicks to your website, mobile app installs and video views (up to 30 seconds in length).
Get Expert Social Media Marketing Training from the Pros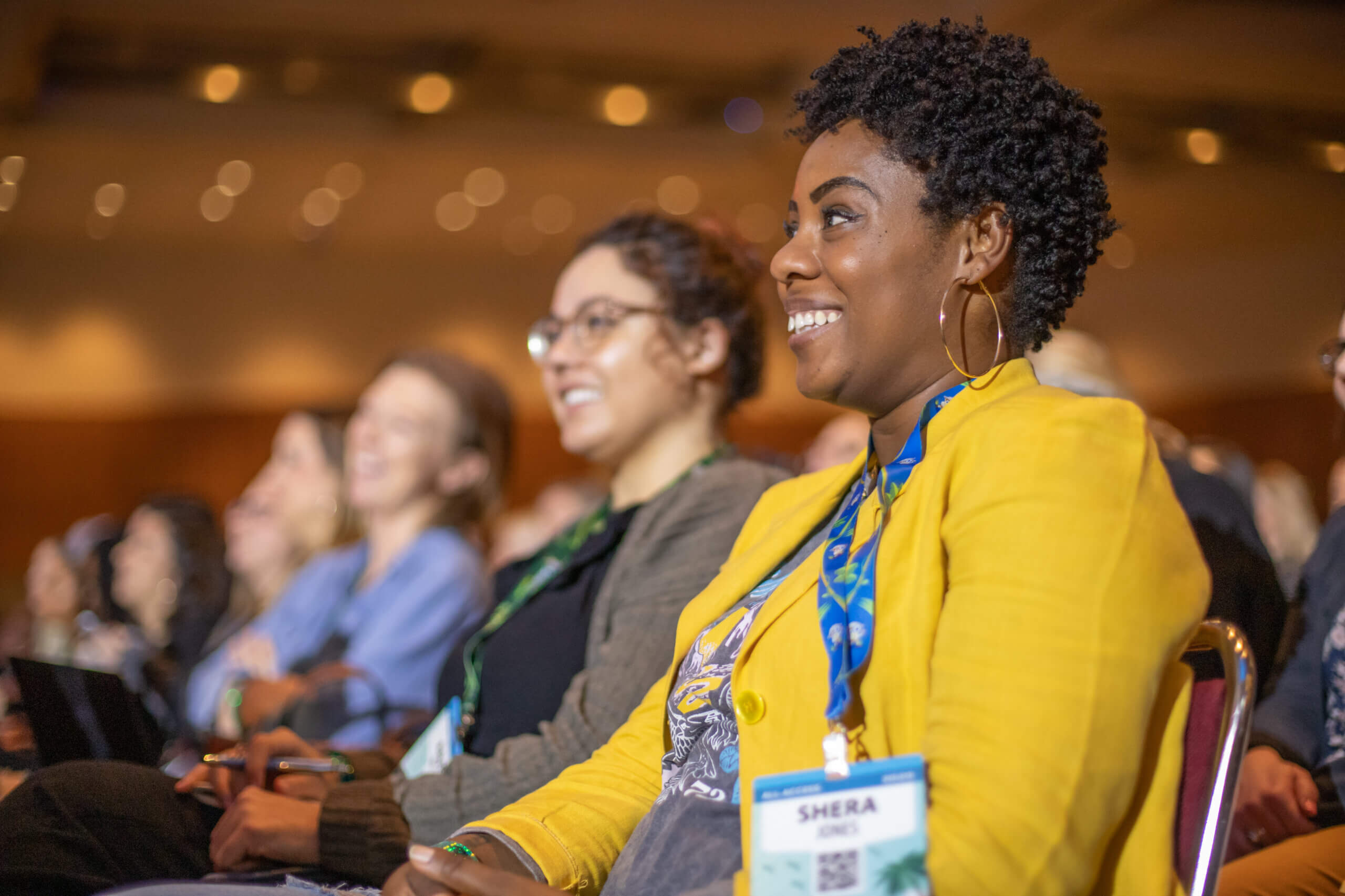 Want to get ahead of the competition or learn how to diversify your strategy?
Learn from dozens of the industry's most trusted experts, rub elbows with other smart marketers, and take your marketing to the next level during this 3-day event in sunny San Diego, CA.
CLICK TO LEARN MORE
Within these objectives, there are three key ad units that you can capitalize on: image, video and carousel ads. Image ads are standard photos with a button driving users to click. Video ads are the same as image ads but with video. Carousel ads are a series of images that users can browse.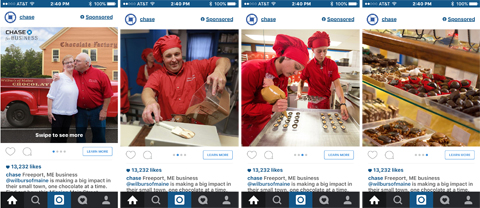 All of these ad options can drive results depending on what you want to accomplish.
#3: Target the Right Audience
Most Facebook ad targeting options are also available for Instagram ads. These include location, demographics, interests, actions and more.
With Instagram ads, you set your target audience preferences in the same way as you do for Facebook ads.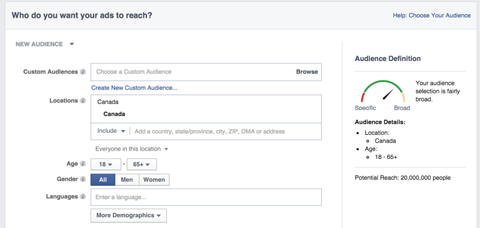 Keep in mind you don't have to use all of the targeting options. The only options that are required are location, age and gender. Use the other targeting options if you want more control over who sees your ads so you can ensure you're delivering a message that will resonate with them.
Experience Social Media Marketing World Without the Travel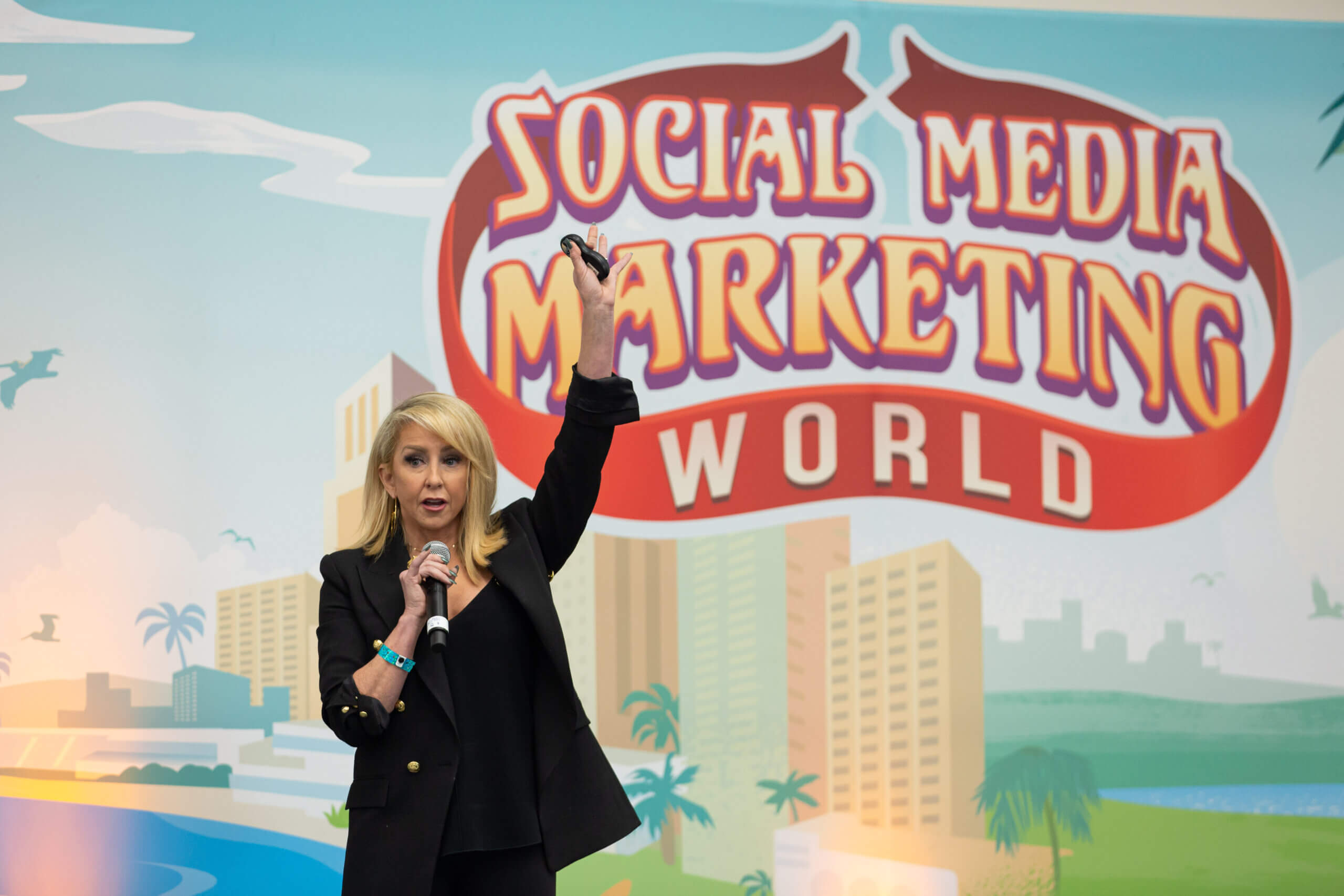 Imagine learning from the world's top social marketing pros without ever leaving your home or office.
Attend Social Media Marketing World virtually with an On-Demand Ticket. Watch all the sessions, keynotes, and workshops when and where you want! You'll walk away with real business-building ideas without having to deal with the stress or expense of travel.
CLICK TO LEARN MORE
This Instagram ad from Shomi Canada showcases the importance of good targeting. The ad resonated with the younger audience on Instagram which responded with more than 5,700 likes and 41 comments.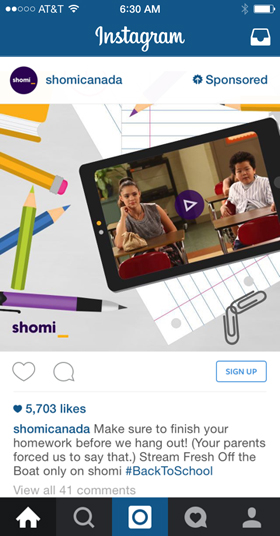 If you create an ad for a specific audience, you need to make sure that it will be seen by only that audience. For example, if you create an ad geared toward working moms, you don't want it to be shown to high school students.
Leverage the targeting features and focus on delivering Instagram content that is both relevant and engaging.
#4: Use Attention-Grabbing Visuals
Instagram is known for its rich and attractive visuals. If want to create ads that drive results, take the time to create compelling visuals to catch people's attention.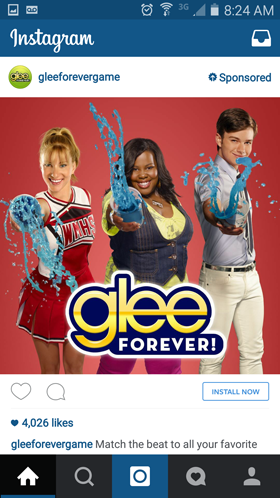 The Instagram audience is savvy enough to sniff out stock photos and is less likely to engage with that type of content. Capture photos yourself or invest in a photographer/illustrator to create great content.
#5: Include a Call to Action
With Instagram ads, currently there are no stipulations about the amount of text you can have in a photo. This gives you the opportunity to create ads that are text-heavy and communicate complex stories. You can also include calls to action directly in your photos or video.
This Holiday Inn Express ad works because it provides a clear call to action.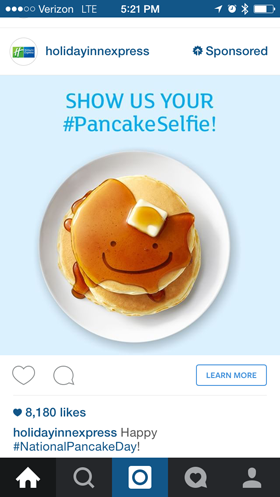 Whether you tell your audience to post a selfie, click a link, subscribe to a newsletter or tag a friend in the comments, being able to use as much text as you want in your visual gives you an opportunity to drive action more effectively.
#6: Leverage Popular Hashtags
From #ThrowbackThursday to #MotivationMonday, Instagram is filled with hashtags that are used by both broad and targeted audiences. This gives you an opportunity to inject your brand culture into the feeds of people using these hashtags and make a connection with them.
One popular hashtag on Instagram is #ThingsOrganizedNeatly. Users post photos like these.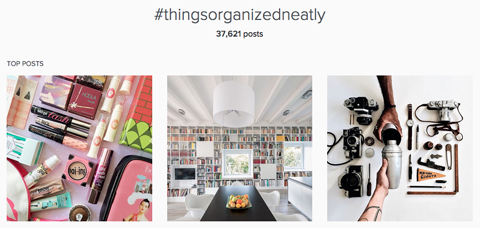 You can capitalize on trends by crafting content like Scotiabank did with their recent Instagram ad campaign. In their ads Scotiabank used images like the one below. The ads asked users to identify a collection of items from a movie with the #ThingsOrganizedNeatly hashtag.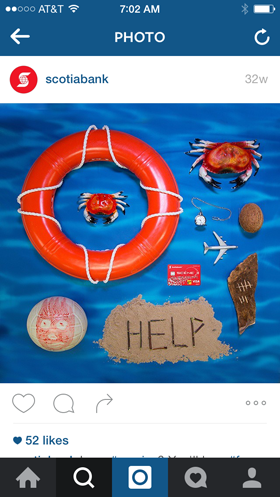 According to the Instagram business blog, Scotiabank's ad campaign led to a 20-point lift in ad recall and a 6-point lift in brand awareness.
Over to You
With the emergence of Instagram ads, you can build a rapport with your audience in a whole new way. Once you attract an audience with your ads, it's important to keep your followers engaged. With the right approach to Instagram marketing, you can drive great results for your brand and truly stand out on the platform.
What do you think? Have you used Instagram ads for your business? What tips do you have for brands looking to get started with ads? Please share your thoughts and recommendations in the comments below.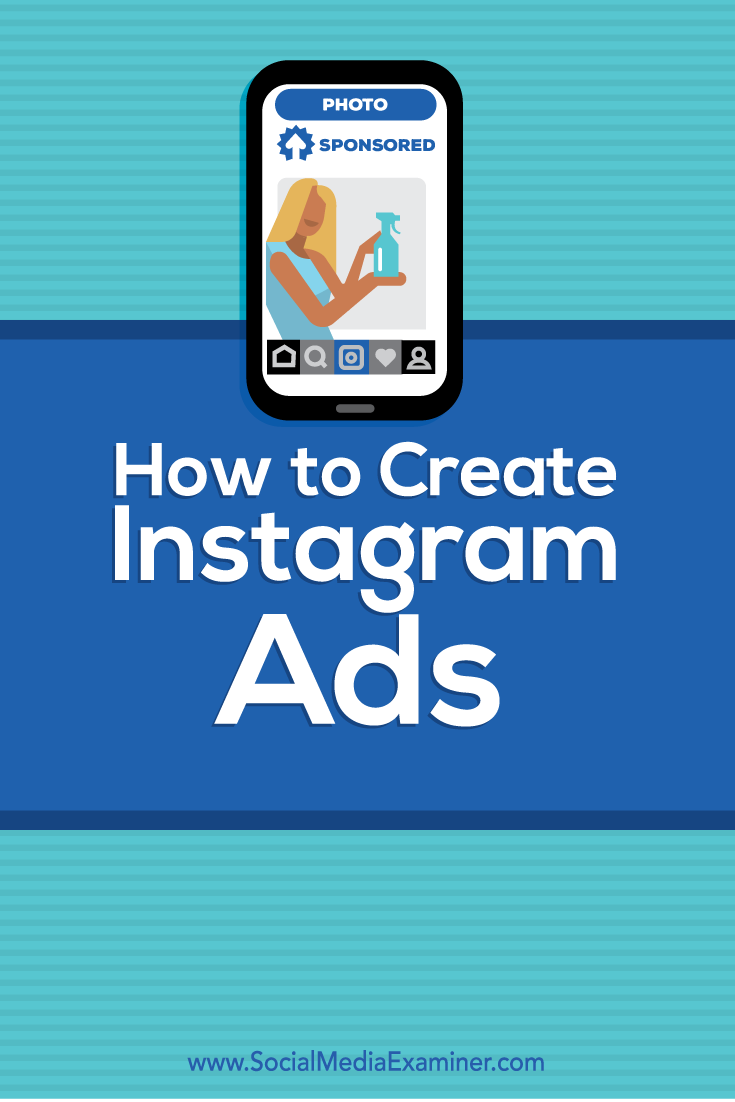 Experience The World's Largest Social Media Conference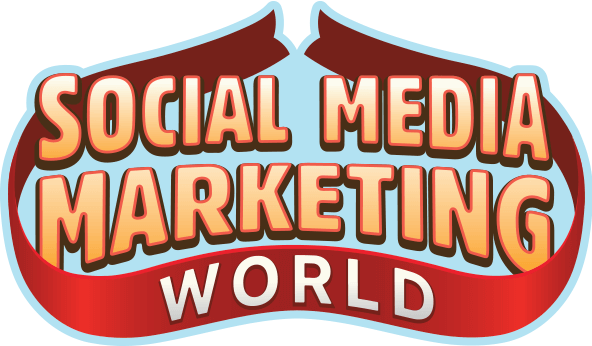 Quality marketing training, actionable takeaways, and beneficial connections—that's just a fraction of what you can expect at Social Media Marketing World! Join thousands of smart marketers in sunny San Diego this spring and level up your marketing.
🔥 Sale ends Friday! 🔥
GET TICKETS NOW