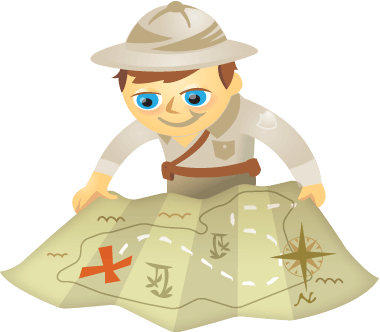 Want to generate more leads and conversions with YouTube?
Looking for organic tactics to help boost the performance of your existing video content?
In this article, you'll discover three effective ways to turn YouTube viewers into leads.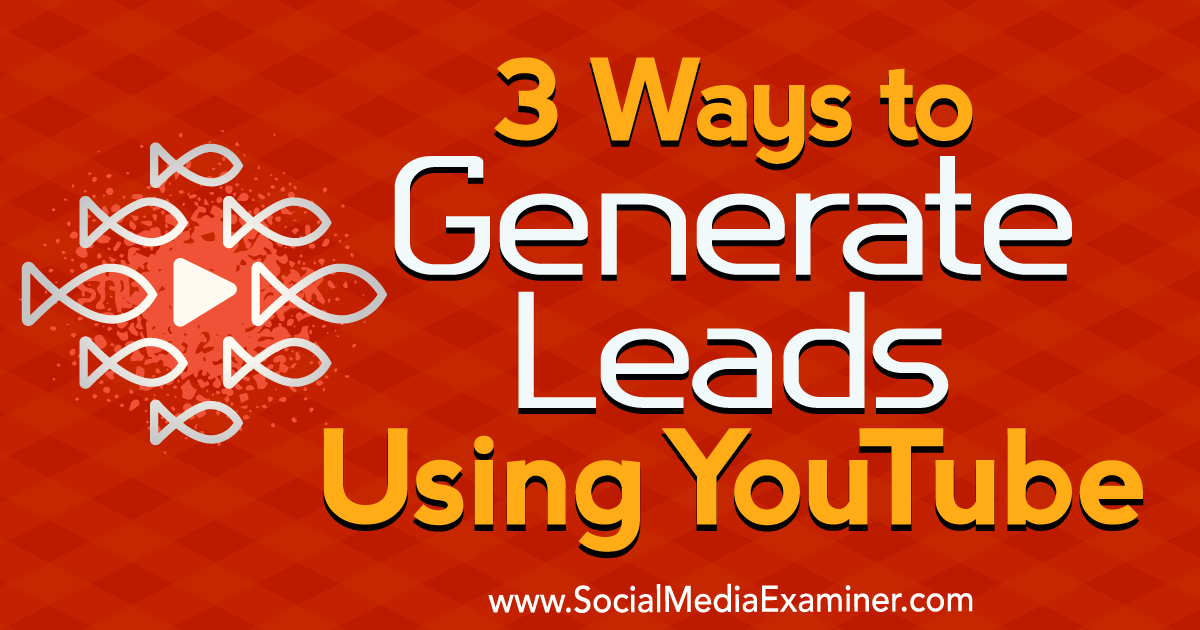 #1: Drive Website Traffic With YouTube Cards
YouTube cards are a marketer's dream come true because they let you provide additional interactivity to the videos you upload. With a card, you can add a call to action (CTA) to your videos with a link, pushing viewers to take the action you want.
This feature was created for mobile users, so it's highly responsive on all devices. This means you can now send mobile YouTube viewers to your website.
Look at how music producer and artist Chris Robley uses a YouTube card to promote one of his other YouTube videos.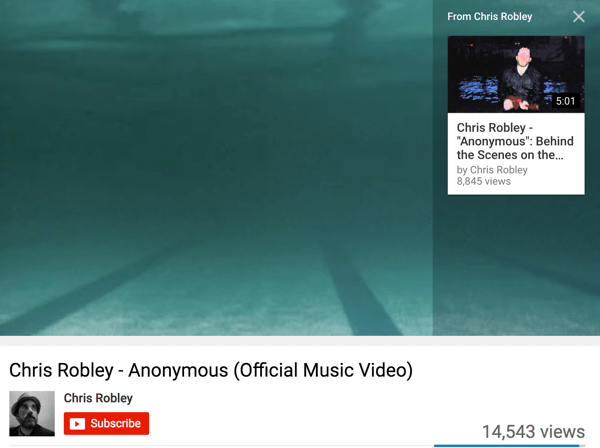 Wong Fu Productions uses YouTube cards to promote products on their website.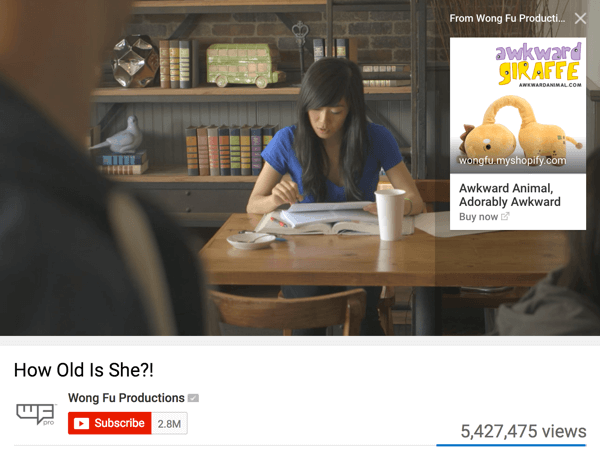 When you add a card to a specific part of your video, a teaser will appear in the upper-right corner of the video for 5 seconds. If viewers click or tap the teaser, the associated card is revealed.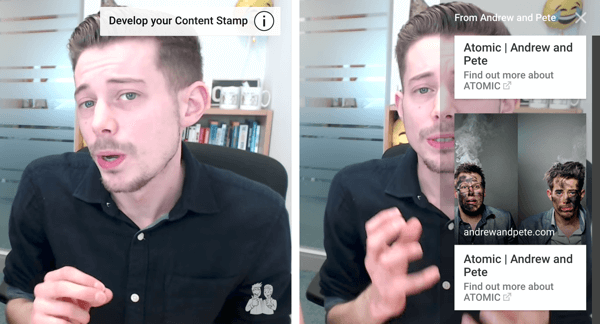 Once the 5 seconds elapse, viewers just see the "i" icon in the same area.
Social Media Marketing Society (Ongoing Online Training)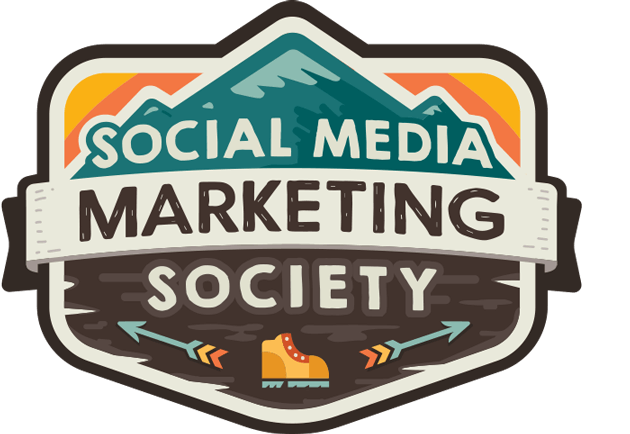 Want to gain marketing confidence and accelerate your career? Try the Society to discover new marketing ideas, improve your results, get support, and become indispensable. Join us for ongoing training, insight from pros, and a community of supportive marketers who understand you.
START YOUR TRIAL MEMBERSHIP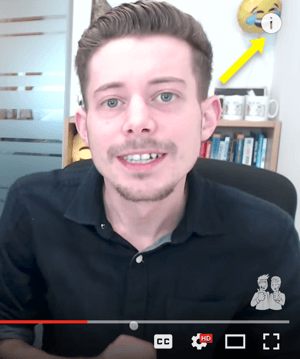 Adding YouTube cards to your videos is easy. To start, go to your channel's Video Manager and find the video to which you want to add the card. Below the video, click the arrow next to Edit and select Cards from the drop-down list.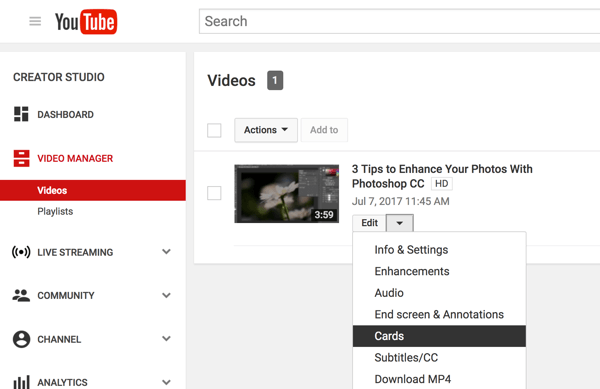 On the next page, click Add Card and decide which type of card you want to add to your video. Click Create next to the card you want to add.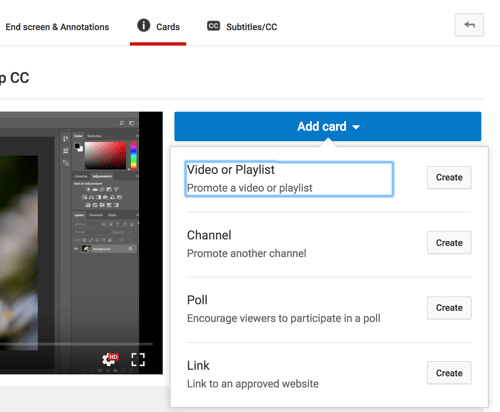 After you select a card type, customize your card in the pop-up window that appears. If you selected Link, add the URL you want to promote and include a catchy CTA. When you're finished, click Create Card.
The final step is to figure out where in the video you want the card to appear. On the timeline below the video, drag the marker to the right spot.
If you want to use additional YouTube cards in your video, keep these tips in mind:
Space out your cards so viewers don't get distracted.
Add no more than three cards per video to get a higher click-through rate. Too many cards might turn off viewers.
Avoid pointing or using an arrow to point at the card. Why? Because not all devices are created the same way. Your cards could appear in different spots on the screen.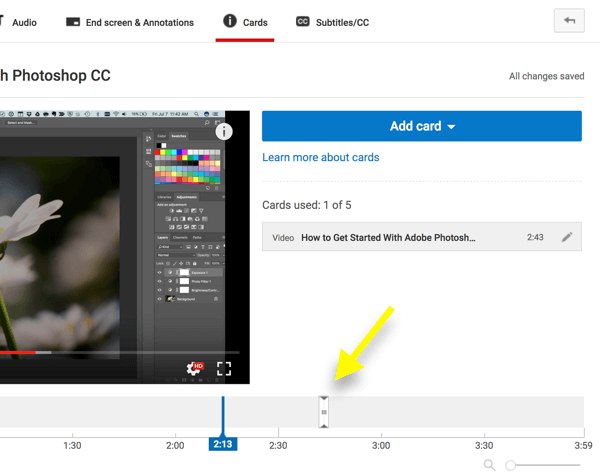 #2: Promote Landing Pages With End Screens
End screens are a mobile-friendly YouTube feature that lets you end your videos with a CTA. You can use an end screen to prompt viewers to check out your other videos, channels, or playlists. You can also encourage viewers to hit the Subscribe button for your YouTube channel and promote your website, products, services, or newsletter.
To add an end screen, your video must be at least 25 seconds long because the end screen will appear in the final 5-20 seconds of the clip.
British comedian and YouTube star Tom Scott uses the end screen below to direct viewers to check out another video on his channel. He also includes relevant information for users to find his website and social media accounts.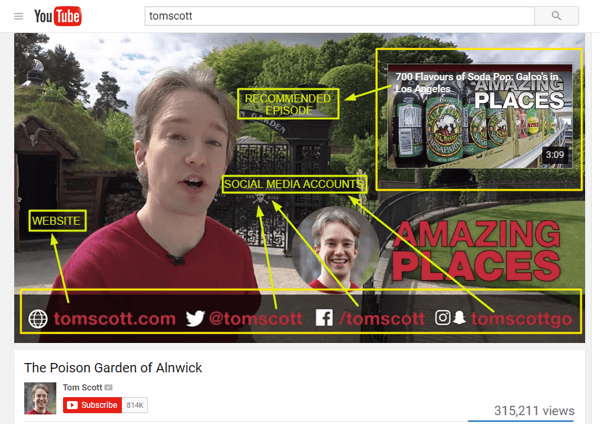 To take advantage of this cool feature, go to your Video Manager and find the video you want to use. Below the video, click the arrow next to Edit and select End Screen & Annotations from the drop-down list.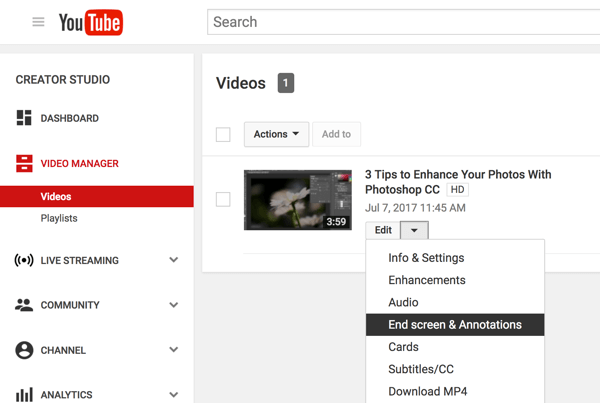 On the next page, make sure the End Screen tab is selected.

Note: If your video has annotations, YouTube will ask you to follow the on-screen instructions to unpublish them.
Put Google Analytics to Work for Your Business (Online Training)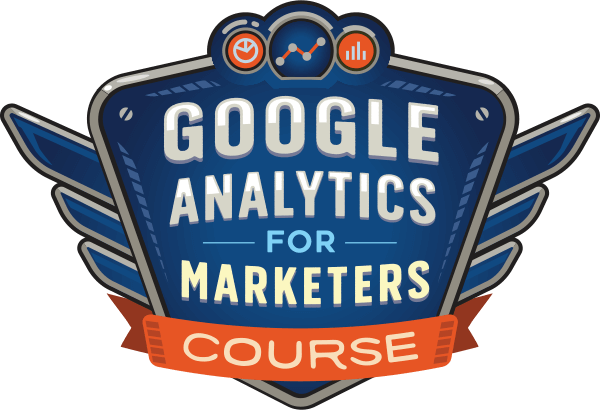 Ever thought, "there's got to be a better way" when it comes to tracking your marketing activities? Are you forced to make decisions based on limited data? With the right training, you can use Google Analytics to measure all of your marketing efforts with certainty.
You'll stop the leaks in your ad spending, justify your marketing spend, gain the confidence you need to make better marketing decisions, and know what's working at every step of the customer journey. Let the world's leading analytics pro show you the way. Check out our new Google Analytics for Marketers course from your friends at Social Media Examiner.
CLICK TO LEARN MORE: ANALYTICS TRAINING
You have three options for building your end screen. The first option is to use one of the predefined themes, which include all of the elements. Here's a sample template that's been customized.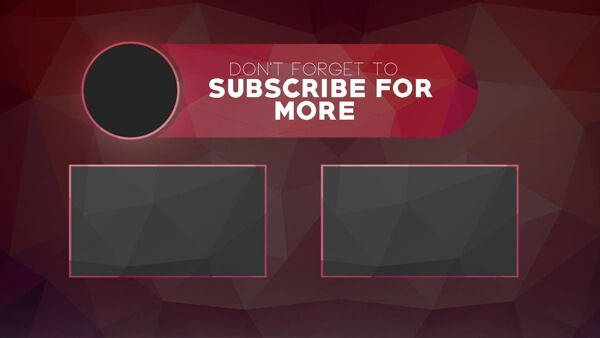 To work with a template, click the Use Template button, select one of the available templates, and then customize it as desired.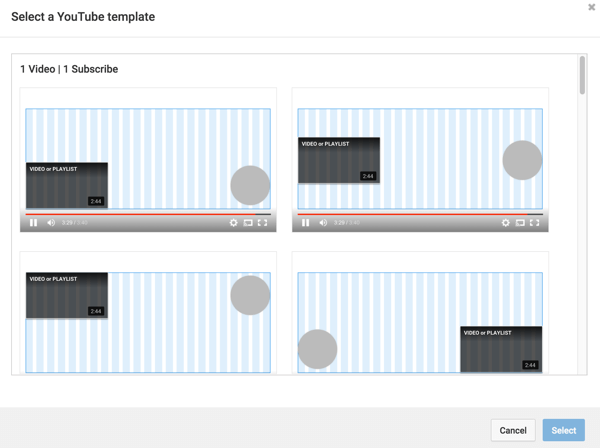 The second option is to create an end screen from scratch. Click Add Element and select the elements you want to add. You can include a maximum of four elements. For every element, fill in the necessary details and click Create Element.
Keep in mind that one of the elements needs to be another video or a playlist. If you plan to include a custom image, the minimum size is 300 x 300 pixels.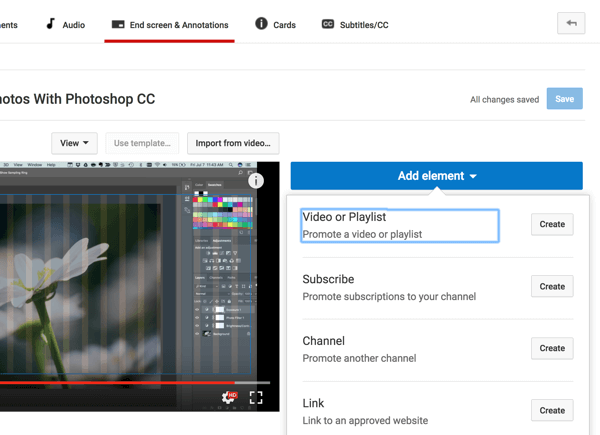 The third option for adding an end screen is to import it from one of your other videos. Click the Import From Video button and select an already-published clip. Then edit the elements as needed.

#3: Connect With Leads via Search
A detailed YouTube video description can go a long way toward improving discoverability. You need to optimize it for both YouTube and search engines. Longer and more in-depth video descriptions have a better chance of ranking high for relevant web searches. That's because contextual keywords are the heart and soul of Google and YouTube queries.
Longer video descriptions aren't just about single long-tail keywords (although they're part of it). A detailed description can help you rank for many possible related searches. It may even boost your chances of snagging attention for keywords or phrases you didn't use. How awesome is that?
Write lengthy and in-depth descriptions that include multiple relevant keyword variations. Ensure that the first few lines are interesting enough to grab users' attention, especially the text that appears before the Show More link. You should also include a link to your website in the first part of the description.
A simple way to make sure every word counts is to break up paragraphs into bite-sized pieces so viewers don't get bored reading. After all, they're on YouTube to watch videos, not read essays.
This YouTube video description from Dove includes a detailed explanation of the video, links to other videos on Dove's YouTube channel, and repeats the hashtag #MyBeautyMySay.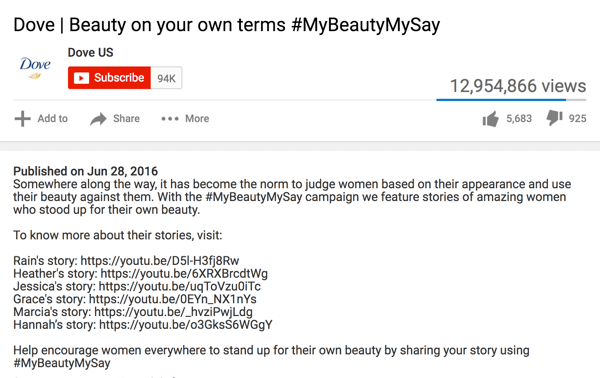 Ignite Visibility's video description includes multiple combinations of keywords to ensure the video ranks high for them.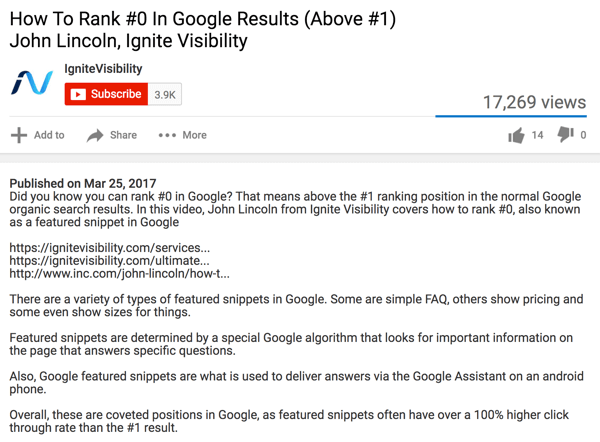 It's also important to optimize the part of the description that appears before the Show More link. If you look at Dove's video description, the top portion includes two basic elements: an attention-grabbing introduction and the hashtag.

Ignite Visibility's video description includes the most relevant keywords before the Show More link.

Be sure to add a UTM parameter to your URL so you can track how many clicks your video generates. When you add your URL to your YouTube description, be sure to include the https:// or https:// part to make the link clickable. That makes it easy for users to go directly to your site.

Want more like this? Explore YouTube for Business!
.
Conclusion
Despite its lead generation potential, only 9% of small businesses in the U.S. have a YouTube channel. Start getting creative before the other 91% realize that they're missing out on this golden opportunity.
The three tactics above are easy ways to drive more traffic to your website from YouTube, generate more video views, and attract more subscribers to your channel.
What do you think? How do you use YouTube to generate leads? Please share your thoughts in the comments below.