Want more quality leads on LinkedIn? Wondering what to do to convert more followers?
In this article, you'll discover nine tips for building and implementing a LinkedIn marketing strategy that drives leads across both your organic and paid efforts.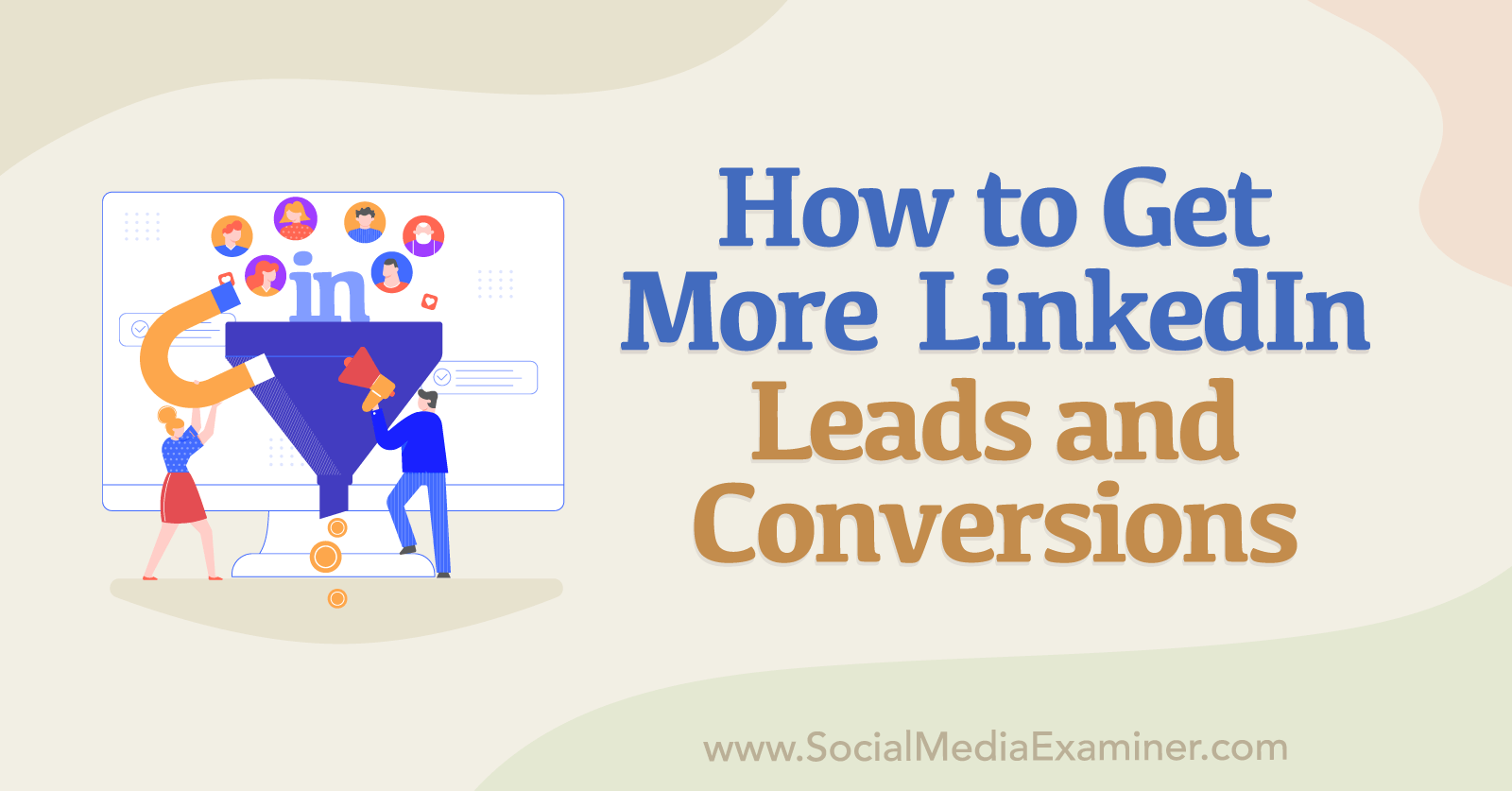 #1: Add a Customized Call-to-Action Button to Your LinkedIn Company Page
LinkedIn offers a long list of options for generating leads using your personal profile. For example, you can connect directly with prospects or send InMail messages to expand your network. To provide value, you can publish posts, write articles, or send newsletters. To streamline lead generation, you can even invest in paid tools like Sales Navigator.
But what if you want to put your business in the spotlight instead? LinkedIn offers a different set of lead generation options for company pages, but with an organic content strategy and an advertising plan, you can produce results that are just as impressive. Let's get started with the basics.
When you want to build your business and advertise on LinkedIn, you need a company page that's optimized for search and leads. To make it as easy as possible for prospects to find your business, incorporate keywords into your page's tagline and description. You can update these sections by clicking the Edit Page button on your company page.
On the Overview tab, you can also add up to 20 specialties or focus areas for your business. Although these topics don't appear on your profile, they serve as tags that help LinkedIn surface your page in relevant searches. By adding the right tags, you can make your company page more visible to prospects who are seeking the solutions you offer.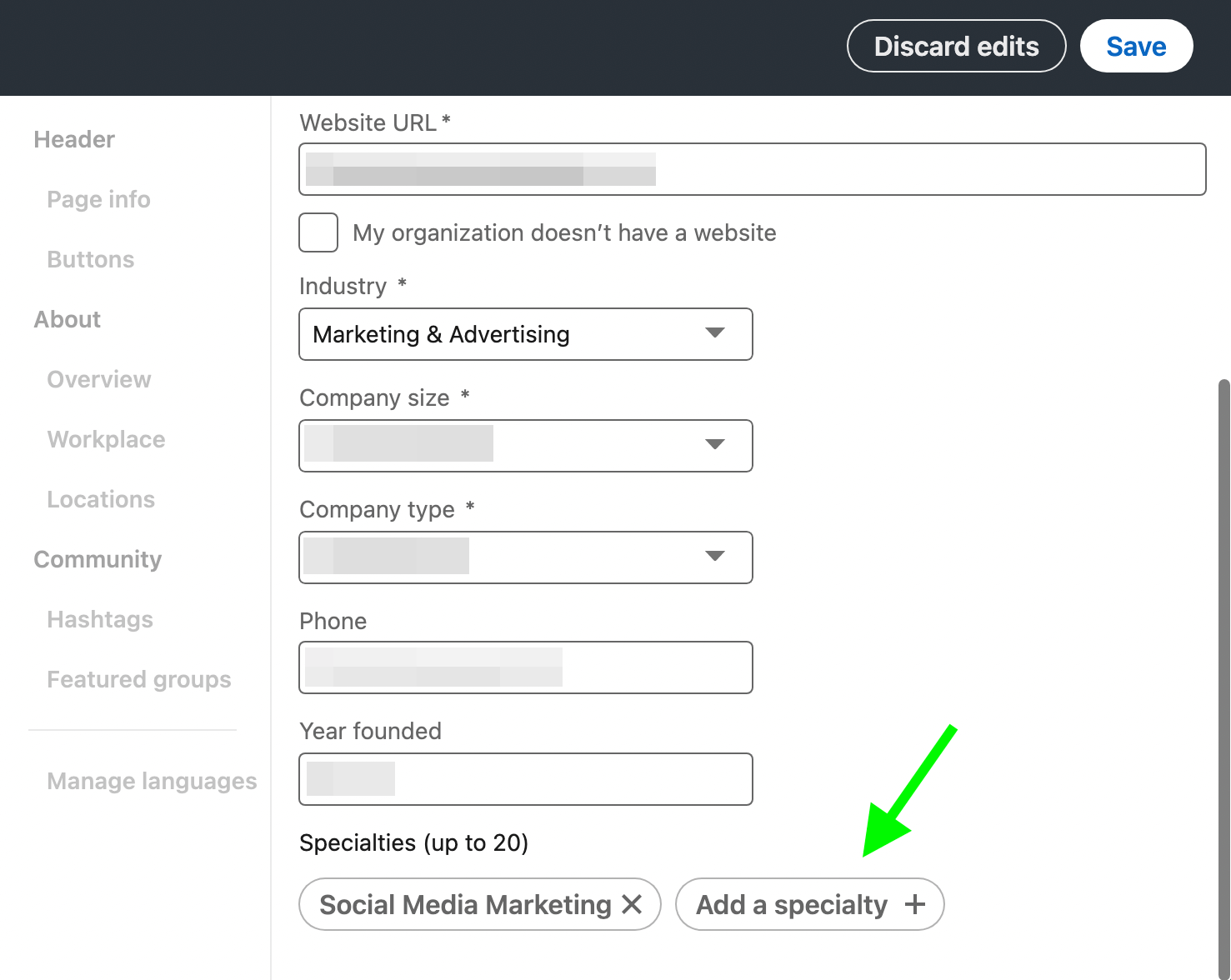 Then go to the Buttons tab to choose a call to action (CTA) for your page. Toggle the Custom Button switch and choose a CTA from the drop-down menu. Ignore the more general Learn More and Visit Website CTAs. For lead generation, use the Contact Us, Register, or Sign Up prompts, which are designed to drive higher-intent action.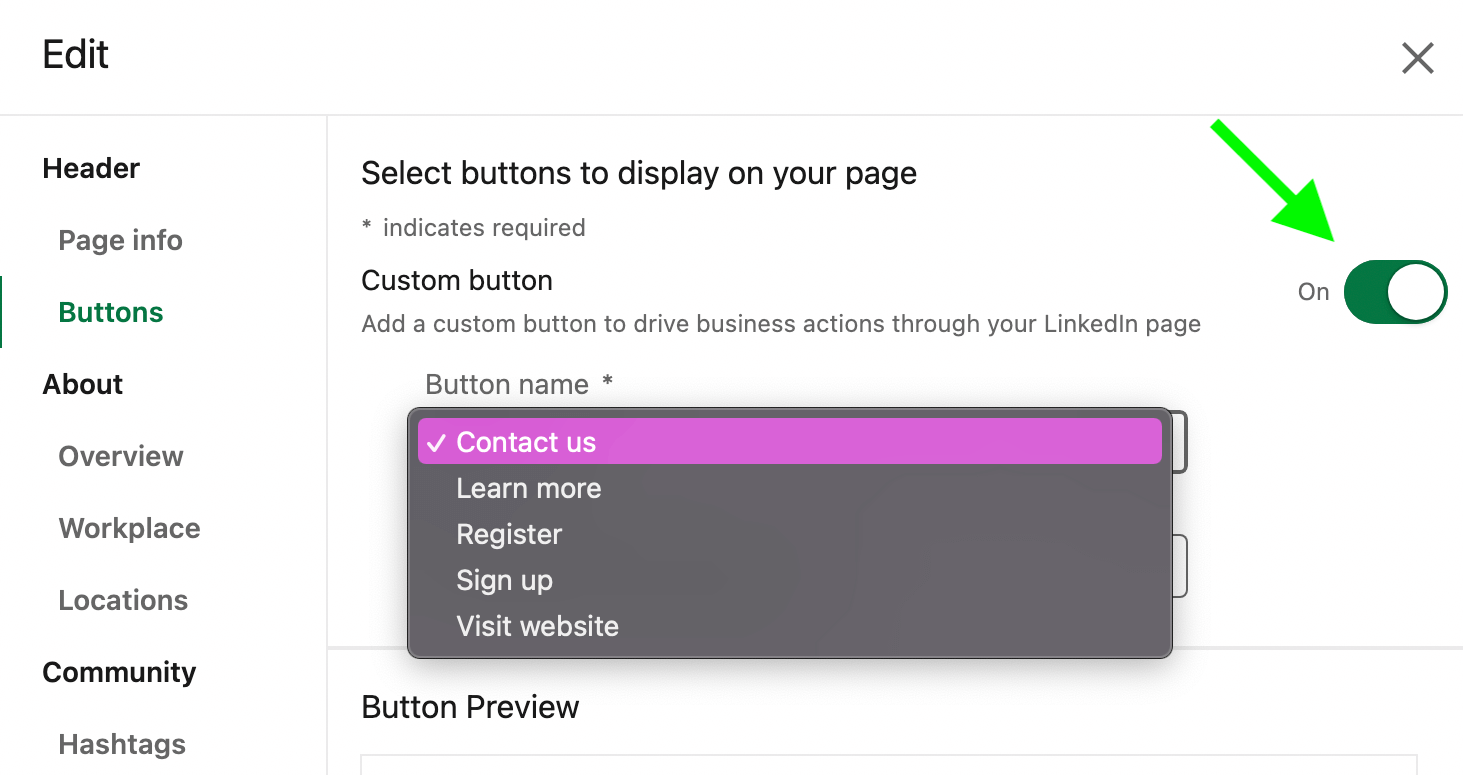 #2: Use Live Virtual Events to Attract and Speak With Prospects in Real Time
Pre-produced content can provide tons of value for potential customers but it's far from the only way to generate leads on LinkedIn. When you host virtual events, you can share solutions, answer questions, and create value in real time.
LinkedIn offers three helpful options for generating leads via virtual events:
Create a post and share a link to a webinar you're hosting on an external site. Require attendees to sign up to collect contact information and streamline lead generation. Scroll to the end of this article for tips on effectively executing off-platform conversion campaigns.
Create an event on LinkedIn, even if you're hosting it on an external site. You can use the LinkedIn Event page to promote your webinar or conference and incorporate a LinkedIn registration form to collect attendee information.
Host a LinkedIn Live event and use the platform's native livestreaming tools. You can collect registration data and easily share the content on your company page after the event concludes.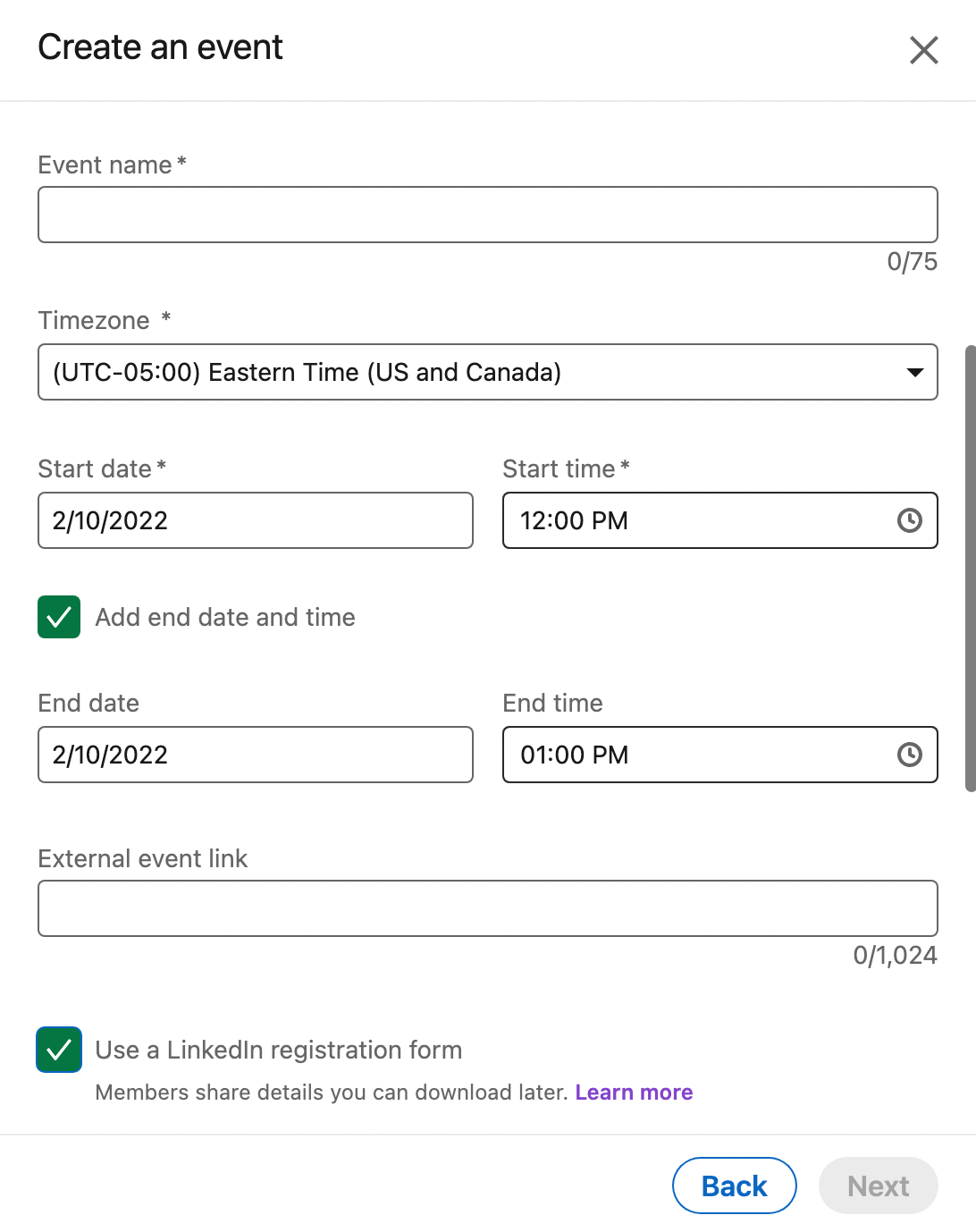 #3: Filter LinkedIn Company Page Activity by Mentions to Reveal Relationship-Building Opportunities
In addition to starting conversations on LinkedIn, you can also use the platform to find and join discussions about your business and other relevant topics. Depending on what you find, LinkedIn's social listening tools may be helpful for lead generation.
On your company page, go to the Activity tab. Under the filter options, select Mentions. Then scroll through the feed to see all of the different ways LinkedIn users have discussed your company or shared your content. By joining the conversation, you can add more value, share your insights, and attract more leads.

#4: Maintain an Active Presence in the LinkedIn Feed With Content
To be perceived as an active brand on LinkedIn, you'll need to publish content from your company page. Let's look at the key types of organic content that can drive a successful LinkedIn marketing strategy.
Attract New Prospects: Lead Magnets
Like their name suggests, lead magnets are designed for attracting prospects, which means they should be an integral part of your LinkedIn lead generation strategy. Lead magnets can come in many different formats, ranging from ultimate guides to complete eBooks to cutting-edge reports.
No matter what format they take, lead magnets should contain exclusive information that potential clients can't access elsewhere. Because lead magnets provide so much unique value, prospects are willing to give away their contact information in exchange. They get to access your content and you get to add them to your sales pipeline—a win-win situation.
For example, the Lookout LinkedIn post below showcases an exclusive Energy Threat Report. The attached video briefly highlights the main findings but users have to click the link and enter their email address to download the full report. By accessing this lead magnet, prospects effectively self-identify as potential customers and voluntarily enter the security app's sales pipeline.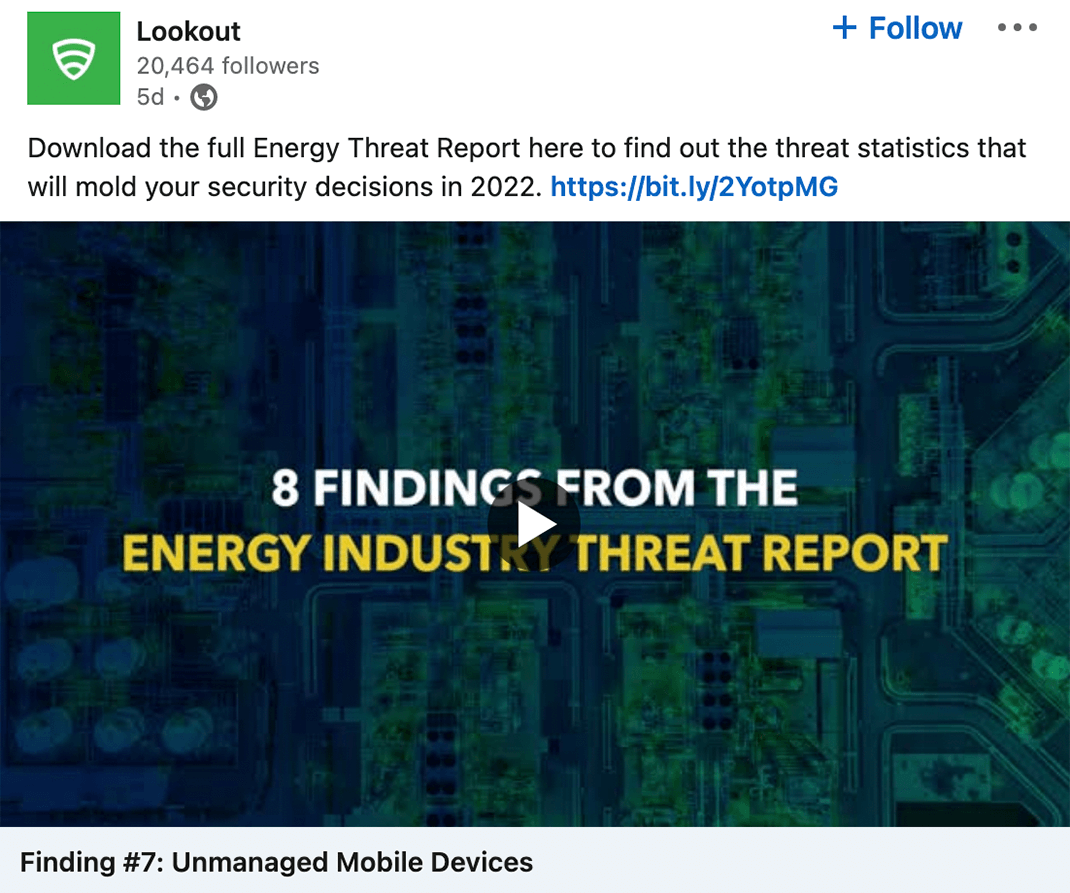 Build Trust: Case Studies
In the consideration stage of the sales funnel, prospects are typically looking for a brand they can trust to provide a successful solution. Lead magnets can help build trust, but case studies tend to be even better for establishing credibility. After all, case studies show evidence that your solution delivers results, which can convince prospects that it can work for them, too.
To use case studies for lead generation, choose a compelling snippet to share on LinkedIn. Then link to the full story on your company's website, where you can more effectively introduce prospects to your business and encourage them to learn more about your solutions.
For example, this Condusiv Technologies post highlights how the software company helped a client achieve a goal. The caption includes quotes from the client to add even more credibility and the post includes a link to the full case study.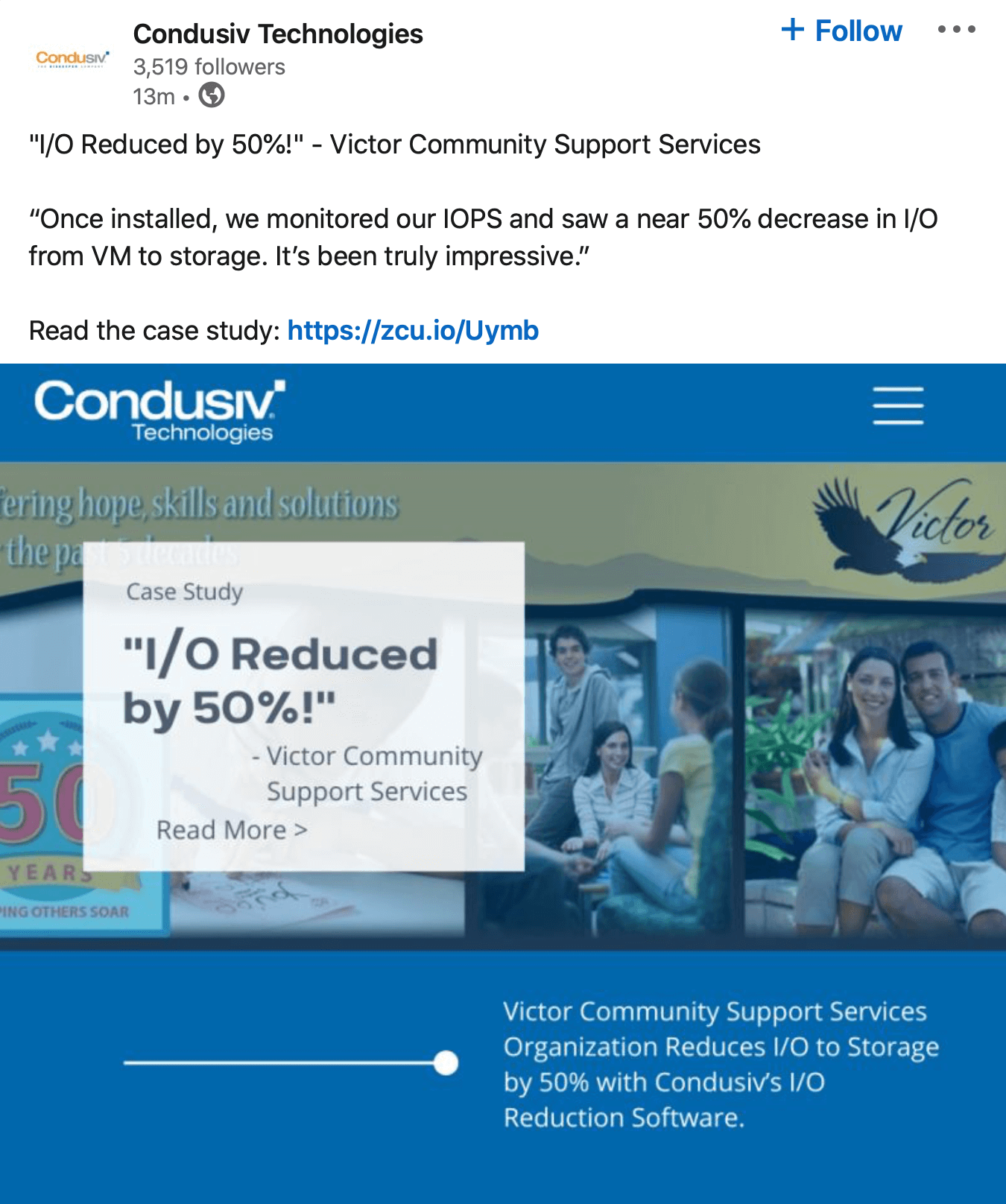 Nurture Leads: How-To Content
Once prospects are in your sales pipeline, you can publish LinkedIn content that cultivates leads and guides them toward a decision. Tutorials, guides, and how-to content can seamlessly show prospects that you understand their needs while demonstrating how your products or services can address them.
For example, the LinkedIn video post below highlights a recent addition to Deloitte's On the Radar publication. It's part of an ongoing series that addresses emerging issues and trends in accounting and finance. The short video highlights key points covered in the article and interested viewers can click through to read more about how to apply the revenue standard in their business.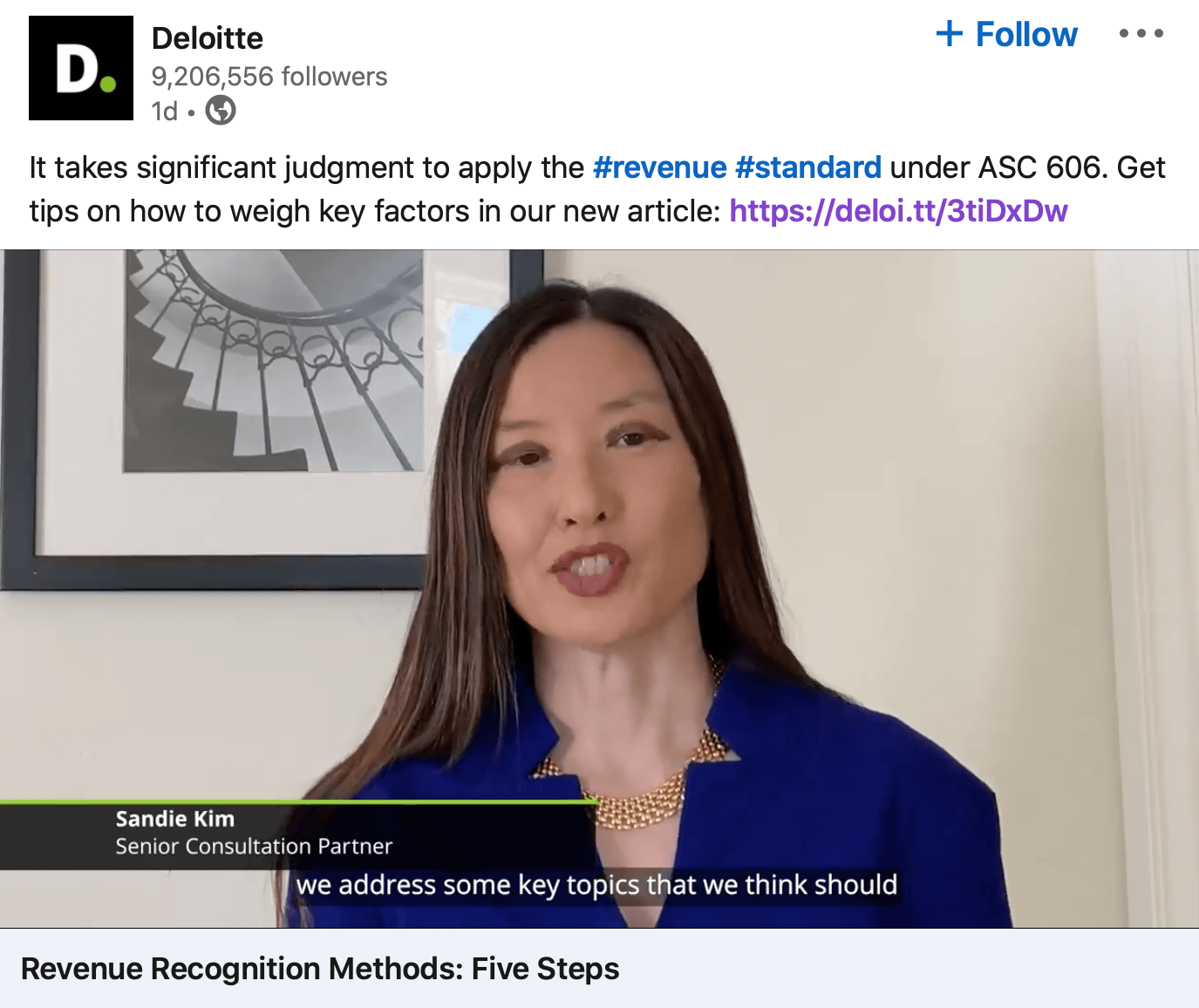 Establish Authority and Expertise: Share Thought Leadership From Inside Your Company
Creating how-to content is just one of many ways to provide value on LinkedIn. By sharing your company's unique insights, you can also establish your business as an industry leader. Company pages have three main options for sharing thought leadership on LinkedIn:
LinkedIn posts can include media like images and videos, as well as captions with up to 3,000 characters. They can also include links to in-depth blog posts and other insights.
LinkedIn articles can include 110,000 characters and offer web page–style formatting. Similar to blog posts, they're ideal for syndicating your company's most insightful content.
LinkedIn newsletters let you distribute content to subscribers weekly or monthly. As a new company page feature for January 2022, newsletters hold a lot of potential for lead generation.
#5: Tap Into Employee Advocacy to Improve Organic Reach on LinkedIn
From polls and events to lead magnets and thought leadership, you have the potential to publish a lot of great content on your business' page. But if your audience is relatively small, then even your best content may not reach as many prospects as you'd like.
To get more mileage from your organic content without dipping into your ad budget, use LinkedIn's employee advocacy tools. On your company page, scroll down to any content you want to promote. Click the three dots above the post and select Notify Employees. LinkedIn automatically alerts your team to the content so they can share it to their own news feeds.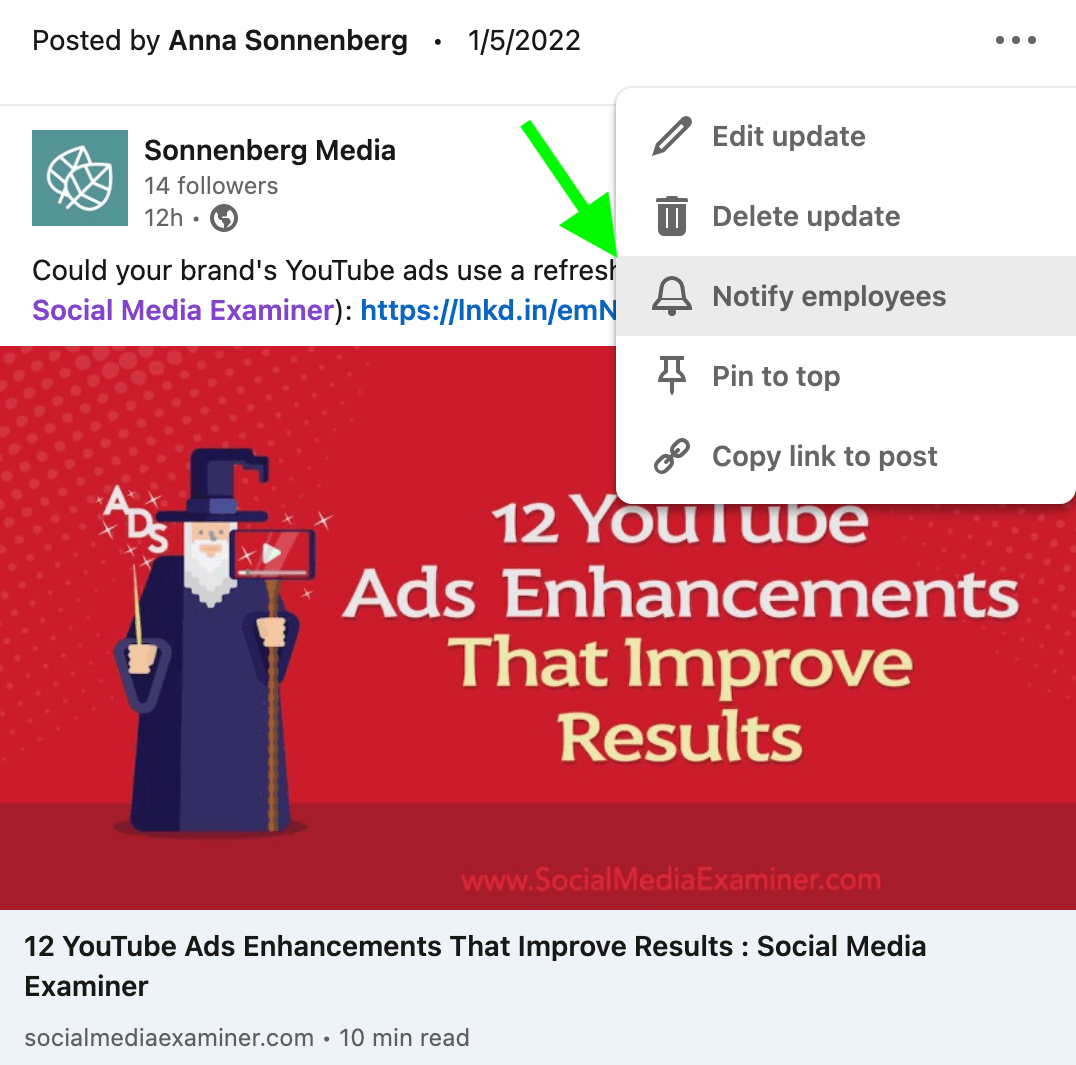 LinkedIn Leads and Conversions: Paid Strategy Tips for Company Pages
If you want to connect with more of your target audience or convert prospects quicker, LinkedIn advertising is a smart solution. Let's look at the essential tools and ad types you need for a successful paid strategy.
#6: Configure Conversion Tracking
If you want to use your website to generate leads and conversions, install LinkedIn's Insight Tag to track external conversions. You can find it by navigating to Campaign Manager, opening the Account Assets drop-down menu, and selecting Insight Tag. Follow the instructions to complete setup and verify that it's working properly.
Then click the Account Assets drop-down menu and select Conversions. Click the Create a Conversion button and configure the event you want to track. Depending on your goals, you may want to monitor signups, downloads, leads, or online purchases.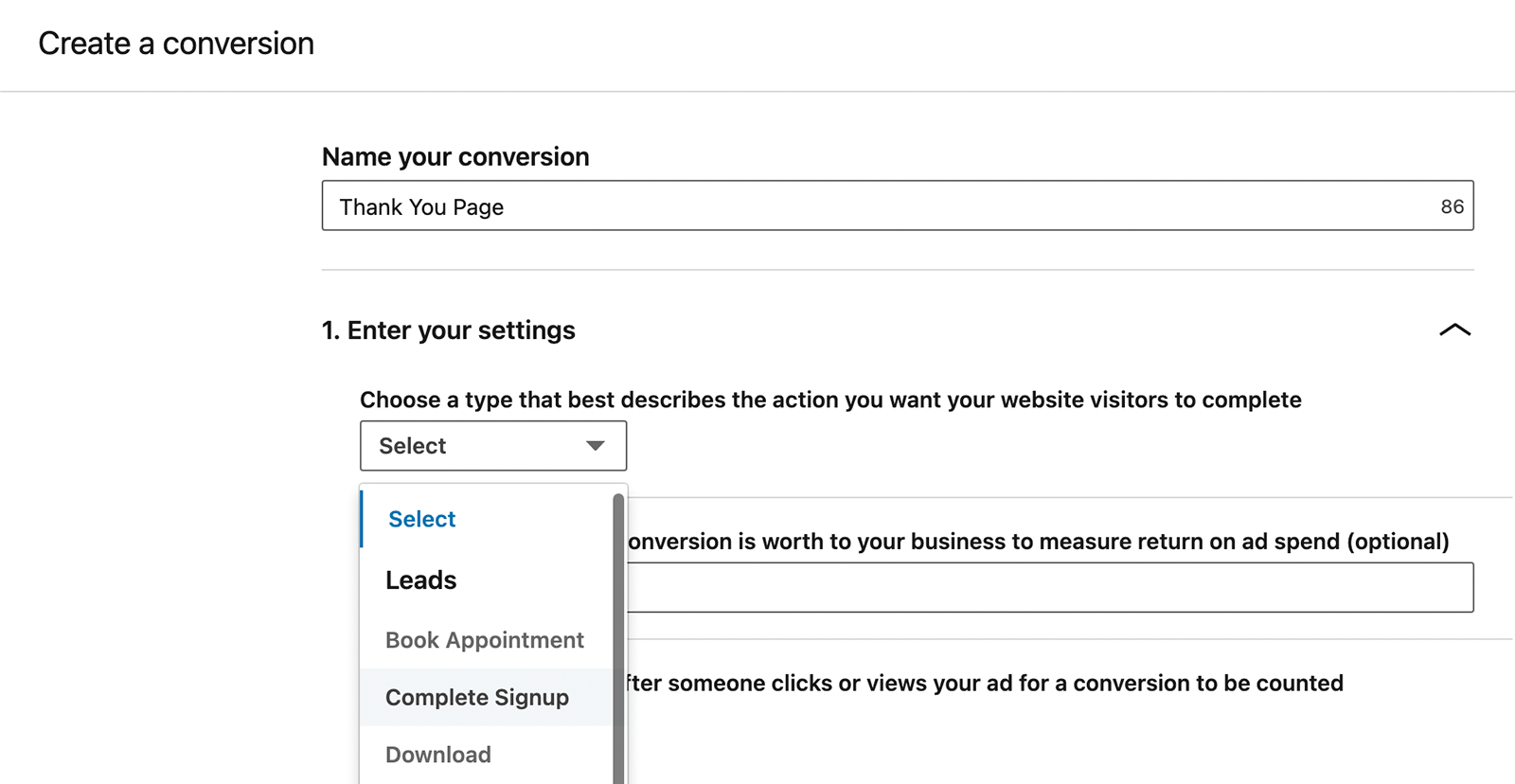 Does the conversion event have a specific value? To allow tracking of return on ad spend (ROAS), you can enter the dollar amount you want to associate with each conversion. Once you finish setting up conversion events, you can add them to campaigns and start tracking your results.
#7: Build Matched Audiences to Connect With High-Value Cold Audiences
LinkedIn has powerful options for creating profile-based audiences that target users with certain job titles, industry experience, or even company connections. But these profile-based audiences often align best with upper-funnel campaign objectives like brand awareness.
When you want to generate leads and conversions, LinkedIn's matched audiences tend to be better fits. That's because these audiences essentially retarget people who have already engaged with your business. With matched audiences, you can target people using data sources like your:
Contact lists exported from your customer relationship management (CRM) tool
Company page, including people who have visited or interacted with it
Website, including people who have visited specific pages or posts
Events, including people who attended specific LinkedIn events
You can create and manage all of your matched audiences from the Account Assets drop-down menu. To set up new targeting, click the Create Audience button and choose your data source.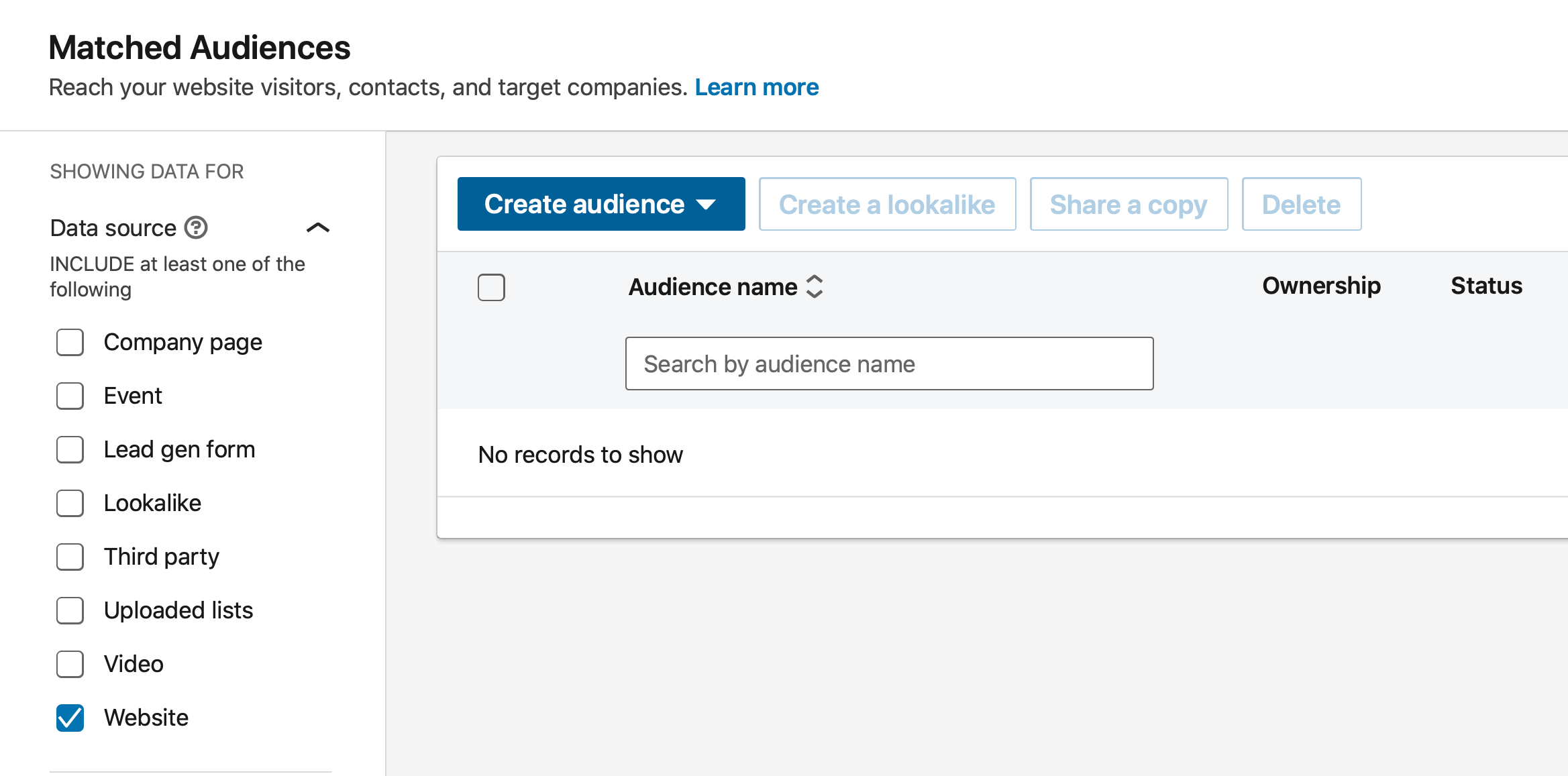 Then fill in the details about your audience.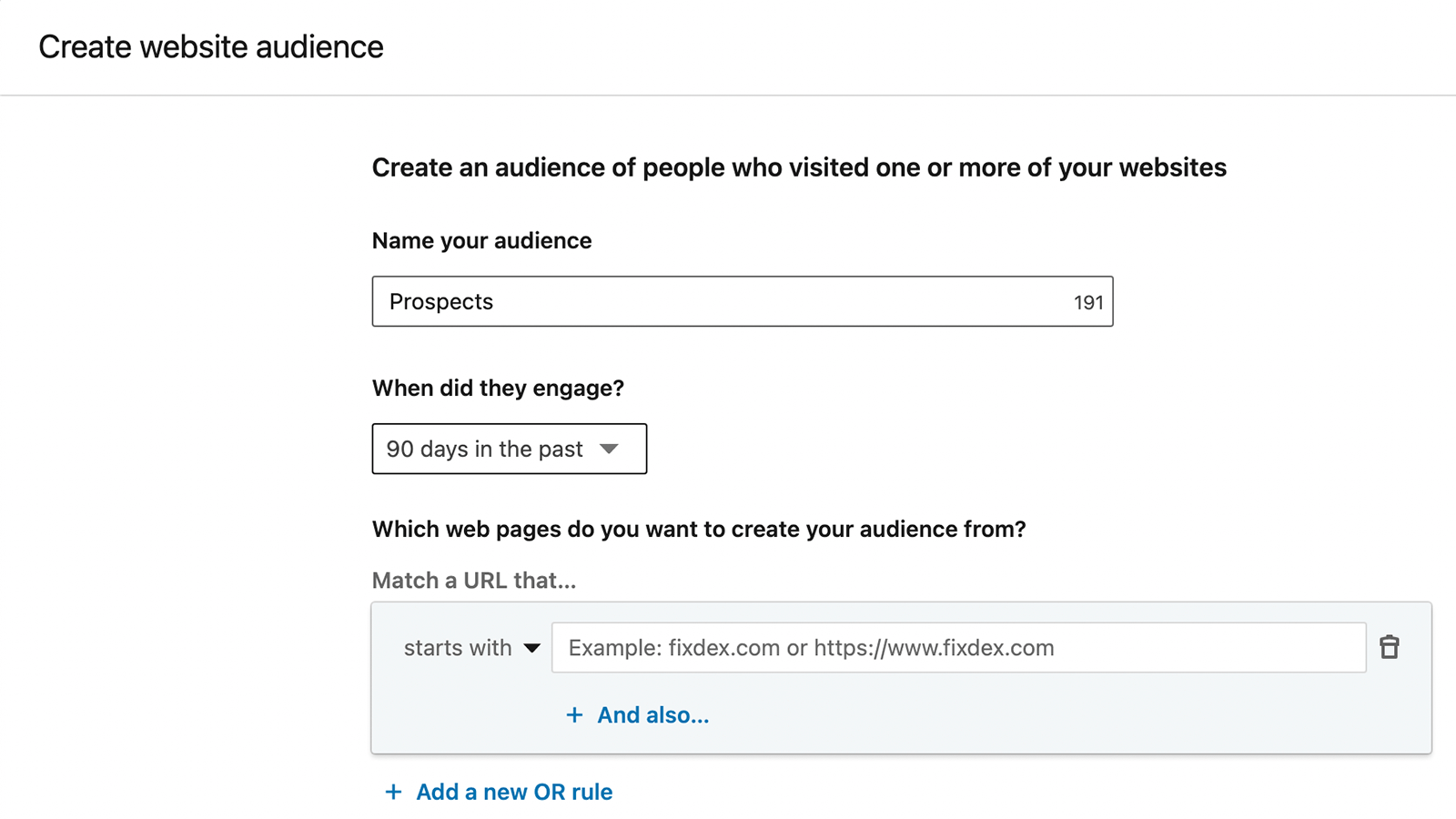 To expand your target audience, use LinkedIn's lookalike audience tool. With lookalikes, you can reach people who are similar to your top-performing data sources, allowing you to optimize ad delivery and generate even more results.
#8: Convert On-Platform: Leverage LinkedIn Lead Forms
Do you want to find leads on LinkedIn without requiring prospects to click through to your website? Use LinkedIn's lead generation campaign objective. This campaign setup uses native lead forms that prospects can fill out without leaving the platform.
In fact, LinkedIn automatically completes most or all of these native forms with users' profile details. That makes it as easy as possible for prospects to submit their contact information and take the next step through your sales funnel.
For example, the Swapcard ad below prompts potential clients to sign up for a product demo to learn more about the events platform. By clicking on the ad, prospects go directly to Swapcard's lead form, which qualifies leads by asking for the number of attendees their events typically attract.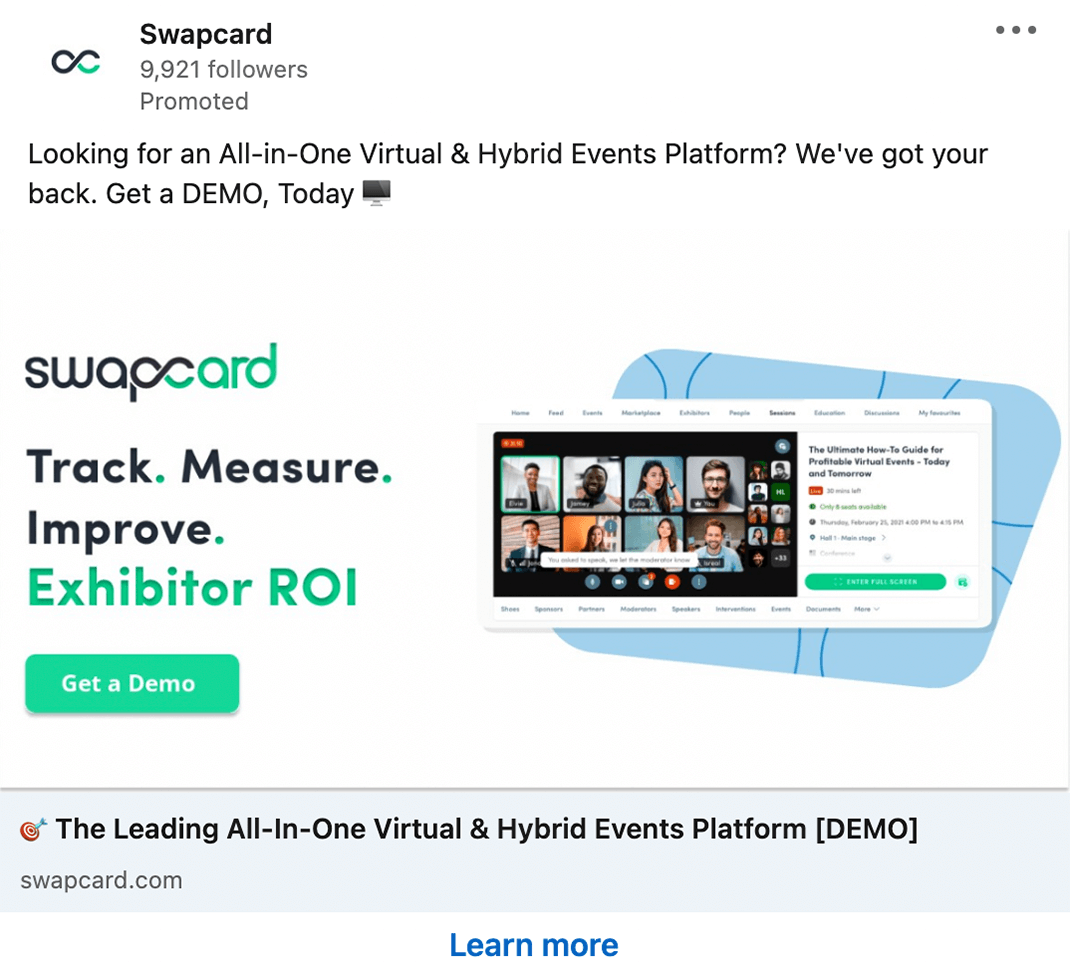 #9: Convert Off-Platform: Website Conversions Campaigns
With LinkedIn's website conversions campaign objective, you can use sponsored content to entice prospects to click through to your website. There, you can prompt them to download a lead magnet, request a product demo, subscribe to your list, book an appointment, or complete any other conversion event you've configured.
Although this objective may seem less efficient than using native lead forms, web conversions have a unique advantage. With the Insight Tag in place, you can track user activity across your website. Then you can use the data to remarket to prospects with specific behaviors such as people who have downloaded certain lead magnets or visited niche pages.
With increasingly targeted campaigns, you can guide prospects further through the sales funnel until you've successfully acquired the client and completed your objective.
Conclusion
Whether you plan to focus on organic posts, paid content, or a combination of the two, you can use LinkedIn to fill your sales pipeline. Once you test some of these ideas, review your page and Campaign Manager analytics to identify which tactics work best for your audience. Then use your insights to map out a LinkedIn marketing strategy for leads and conversions that's ideal for your business.
Get More Advice on LinkedIn Marketing
---
Stay Up-to-Date: Get New Marketing Articles Delivered to You!
Don't miss out on upcoming social media marketing insights and strategies! Sign up to receive notifications when we publish new articles on Social Media Examiner. Our expertly crafted content will help you stay ahead of the curve and drive results for your business. Click the link below to sign up now and receive our annual report!