Want to host an in-person meetup or online event for your LinkedIn fans? Have you considered using LinkedIn Events?
In this article, you'll learn how to plan and promote an event entirely within the LinkedIn Events ecosystem.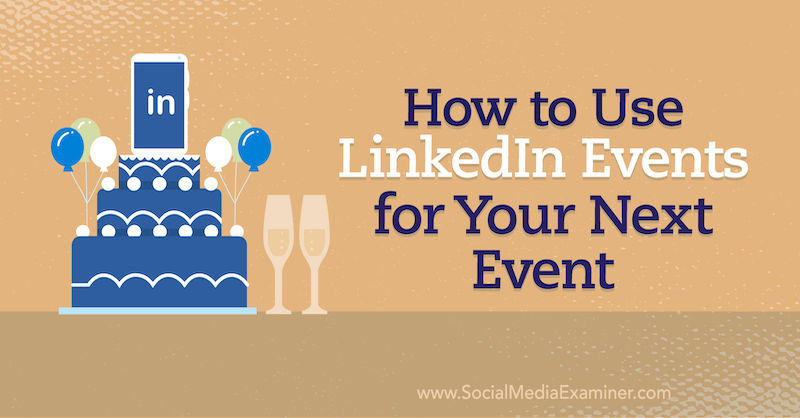 What Is LinkedIn Events?
The rise of digital events in 2020 proved to marketers just how vital they can be. With event organizers shifting from in-person/offline events to digital events, it's crucial to take advantage of the many tools available to you.
Chances are, you're already online and utilizing LinkedIn to keep interacting with your audience and networking with others in your industry. If you're not, then you need to be. With over 740 million active users, LinkedIn is an outstanding resource for growing your business.
Did you know that LinkedIn offers a special networking tool that's perfect for your digital event? It's called LinkedIn Events.
LinkedIn Events is one of the most effective ways to use LinkedIn to promote and host a digital event. You can host all types of events, from small to large, and make them both interactive and memorable for your audience. You can also use events to showcase your expertise and share valuable content, which will build your business' reputation and increase brand awareness.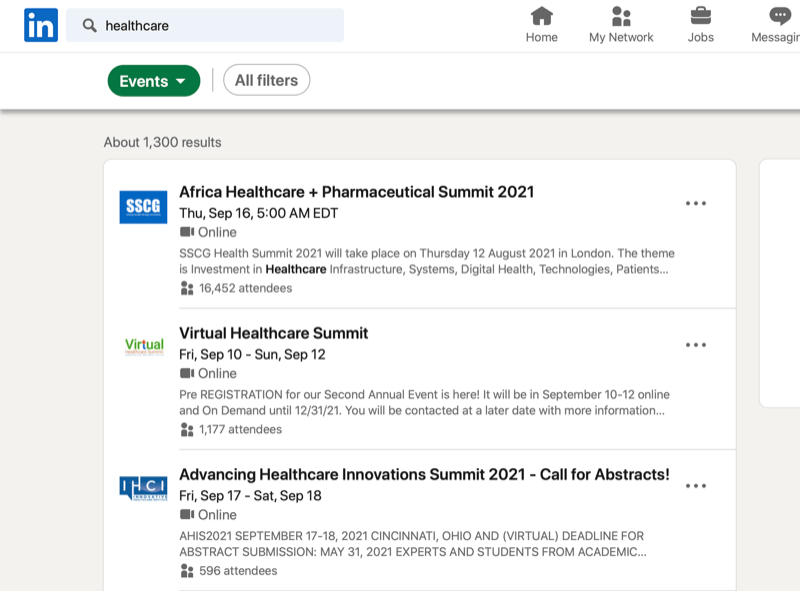 Here's how to plan and set up a LinkedIn event for your business.
#1: Choose What Type of Professional Gathering to Produce
Not quite sure where to begin? Here are a few examples of LinkedIn events that are worth exploring.
Conferences/Summits
Conferences and summits are perfect for showcasing your expertise and content to a large audience on LinkedIn. Whether you're a brand-new or seasoned professional, these events are a great opportunity to showcase your knowledge and expertise, build your network, and grow your business.
Here, BambooHR is using a LinkedIn event to create and promote their HR Virtual Summit 2021. While they've kept the information on their events page rather simple, they hype up their attendees by explaining who'll be speaking at the event and what those speakers can offer to attendees.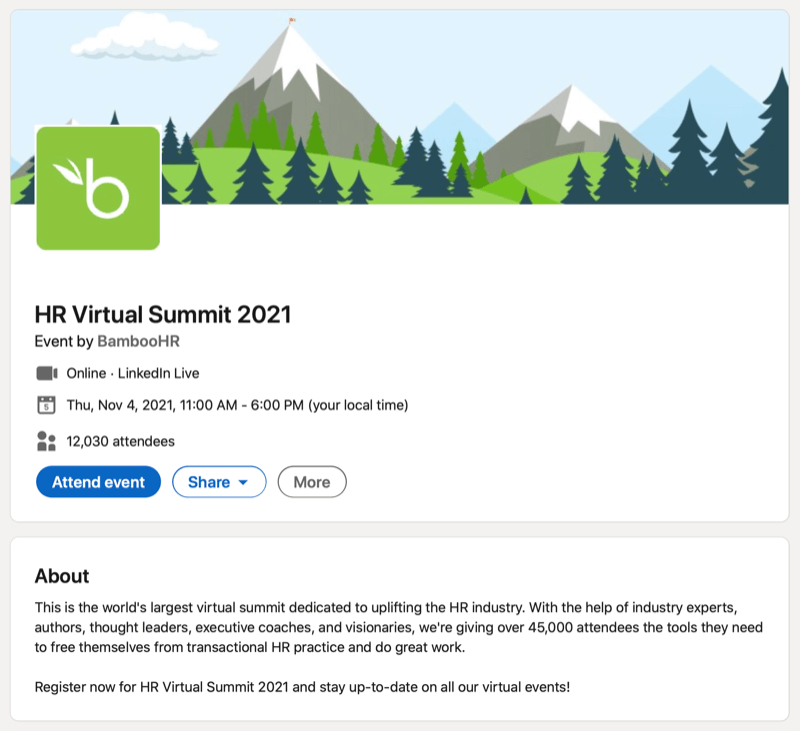 Networking Events
Networking is one of the top things that LinkedIn is known for as a platform for professionals. LinkedIn Events provides a great place to have interactive discussions with your audience and grow your professional network.
🌟 Ready to Supercharge Your Social Marketing Strategy? 🌟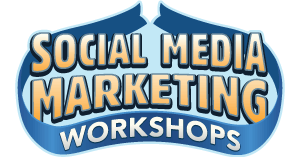 Struggling with your social marketing? You're not alone. The solution? The Social Media Marketing Workshops!

During these live 2 hour deep-dive workshops, you'll discover what's working now on Instagram, Facebook, TikTok, YouTube, and LinkedIn. Skyrocket your engagement, broaden your reach, and amplify your sales.

Become the marketing hero your company and clients need—without leaving your home!
🔥 Save $670 on an All-Access Ticket! Sale Ends Tuesday! 🔥
GET YOUR TICKETS NOW
There are many ways you can set up networking events on LinkedIn Events, including:
Live Q&A sessions
Webinars
Roundtable discussions
Virtual cocktail parties
Presentations
Panel discussions
In this example from USA's Virtual Recruiting & Branding Event, attendees get the opportunity to network with fellow professionals and job-seekers alike. Not only that but they also have several opportunities to attend a live job fair and informational sessions led by noteworthy speakers.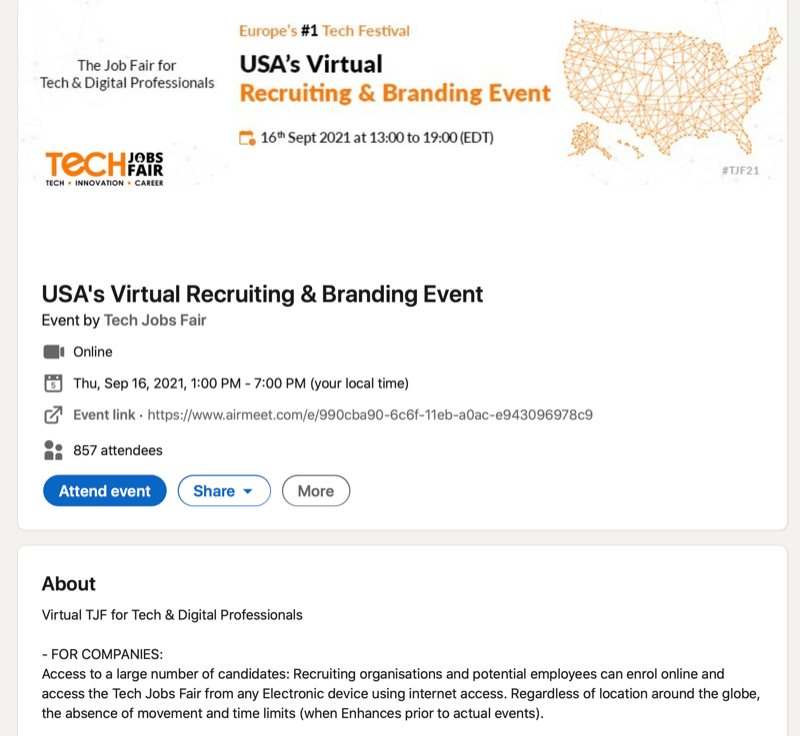 Product Updates/Launches
Product launches and updates are a great way to promote your latest offerings to your audience. Doing so requires a lot of preparation but it's well worth the effort.
Below, Synergy Technical is promoting an event to help others understand the upcoming Microsoft update: Windows 365.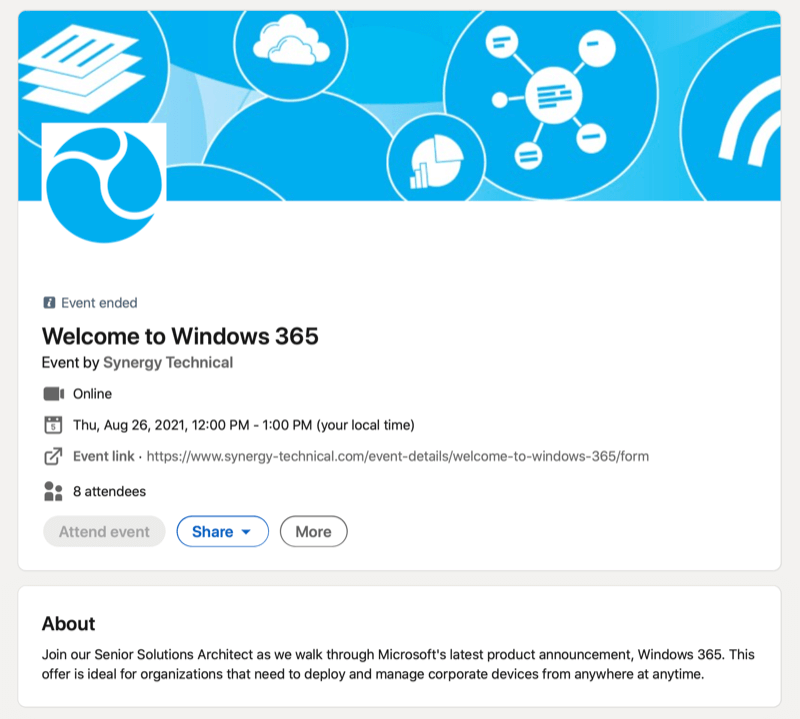 While it's not necessarily a product update/launch from the business itself, it's an event worth holding, especially for tech or administrative industries. This will help draw attention to Synergy Technical and portray the company as a thought leader, especially at a time when plenty of people will be searching for answers about the new software.
Workshops
Workshops are a great way to teach people a new skill or inform them about your industry, which helps you provide value and build credibility for your business. Workshops can be interactive and educational or as simple as a guest speaker or another type of presentation. It's up to you.
In the example below, Smart Events International is promoting an upcoming event to educate its audience about the top skills and assets that brands are looking for in their assistants, management support, and administrative workers.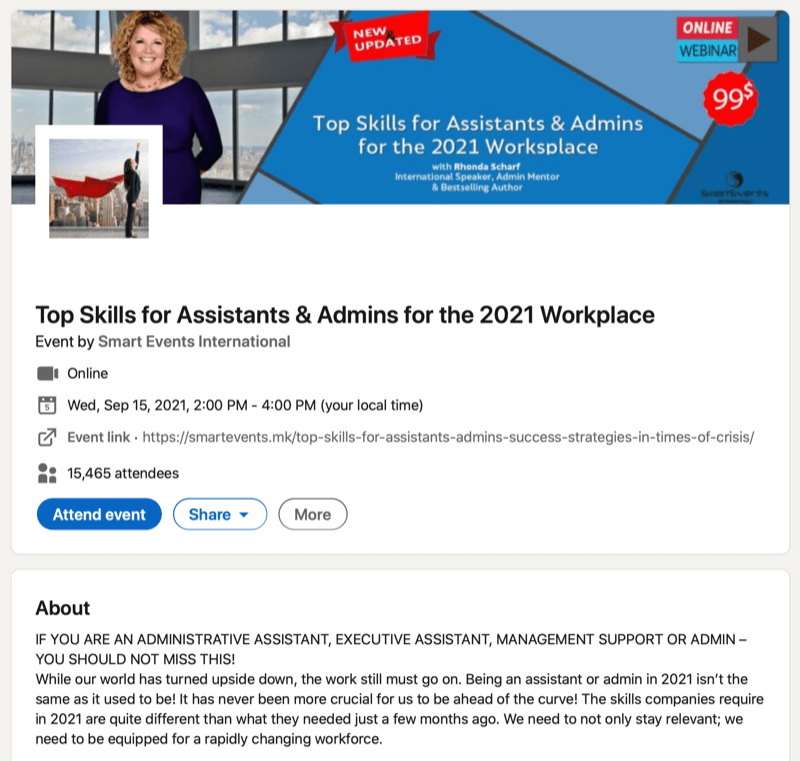 The company not only outlines the key learning points that will be covered but also points out how each attendee can benefit from this workshop.
#2: Set Up Your LinkedIn Event
Once you know what kind of event you want to host, the next step is to create your LinkedIn event page. You can do this in a couple of different ways.
If you already have a LinkedIn company page, simply go to your page, click the Admin Tools drop-down menu, and select Create an Event.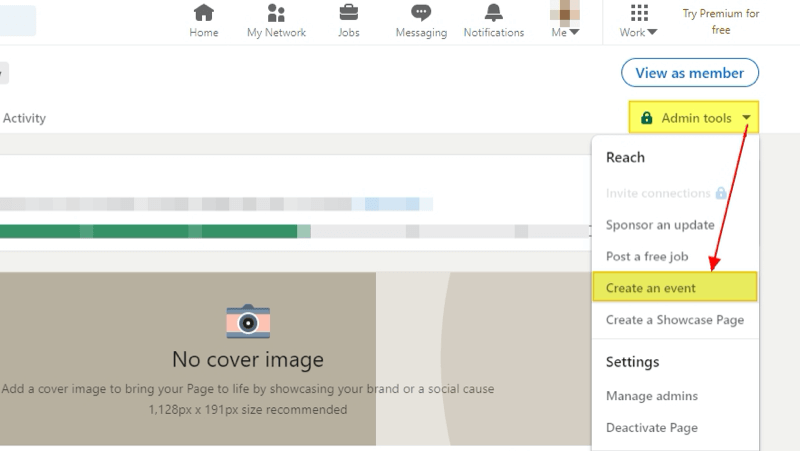 You can also create a new event straight from your feed page. Simply click the Events tab that's right below the Start a Post box.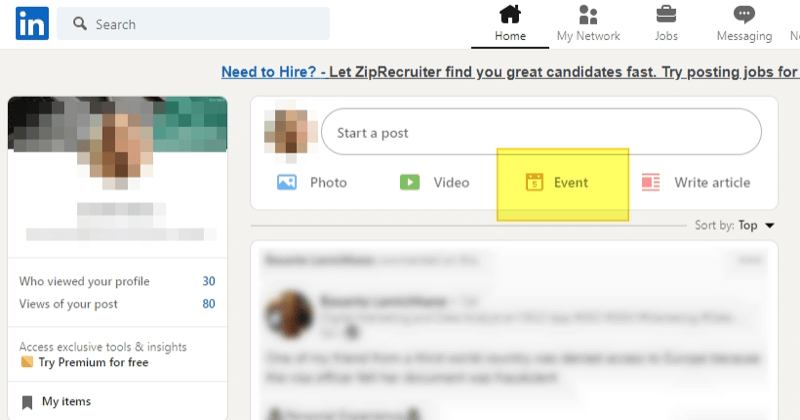 Whichever method you choose, take a few minutes to fill in pertinent information about your LinkedIn event. This includes:
Details: Type in the host name, choose the time of the event, add an event description, and list any confirmed speakers.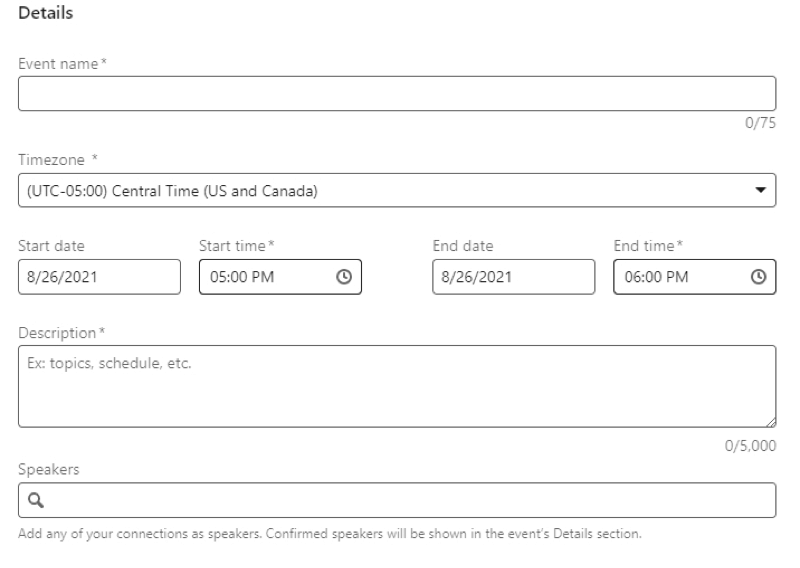 Settings: Decide whether this will be a public or private event and whether you want to use a LinkedIn registration form.

Location: For a digital event, you'll need to mark this as an online event and include a registration or broadcast link (where the event will be viewable).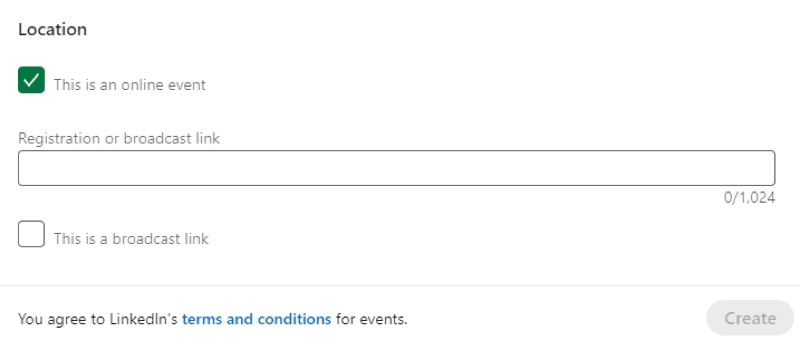 When you're done filling in the details about your event, click Create.
#3: Invite Your Audience to Attend Your LinkedIn Event
Now that your LinkedIn event has been created, it's time to start inviting people to attend. LinkedIn helps you get started by auto-generating a post for you to share on your timeline as soon as you hit that Create button.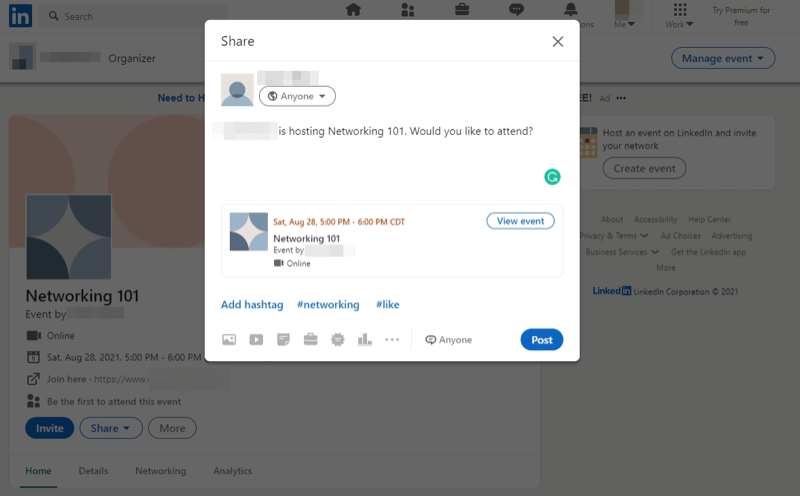 You can add all sorts of information, including an attention-grabbing anecdote, images, or even a video that promotes your event and gets your audience excited to register.
You also have the option to add LinkedIn hashtags to your event post to help reach a wider organic audience. This means that people who search for the hashtags you use have a higher chance of organically stumbling upon your event.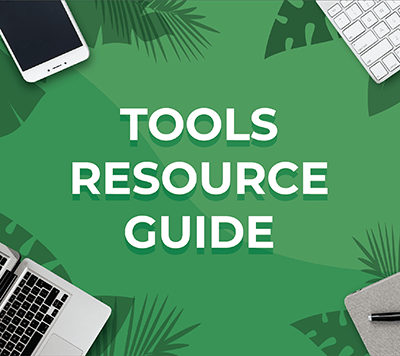 Looking for something to make your life easier?
Discover the tools we recommend to drive engagement, save you time, and boost sales across your entire marketing funnel or business.
Whether you need help planning content, organizing social posts, or developing your strategy, you'll find something for every situation.
FIND YOUR NEXT FAVORITE TOOL
Of course, once you've published your initial post, you can always revisit your event page and invite more people that way. There are several different methods you can use here.
Share the Event
From your event page, you can also choose to share your event with your audience.
First, click on the Share drop-down menu and choose how you want to share the event:
Share in a Post: This option simply allows you to share the event as a post on your LinkedIn feed.
Send in a Message: With this option, you can send the event in a private LinkedIn message to certain individuals.
Copy Link: By selecting this option, you can share your event link with anyone, pretty much anywhere.
Twitter: This option auto-generates a Twitter link you can share with your followers on that platform.
Facebook: This option also auto-generates a post you can share with your audience on Facebook.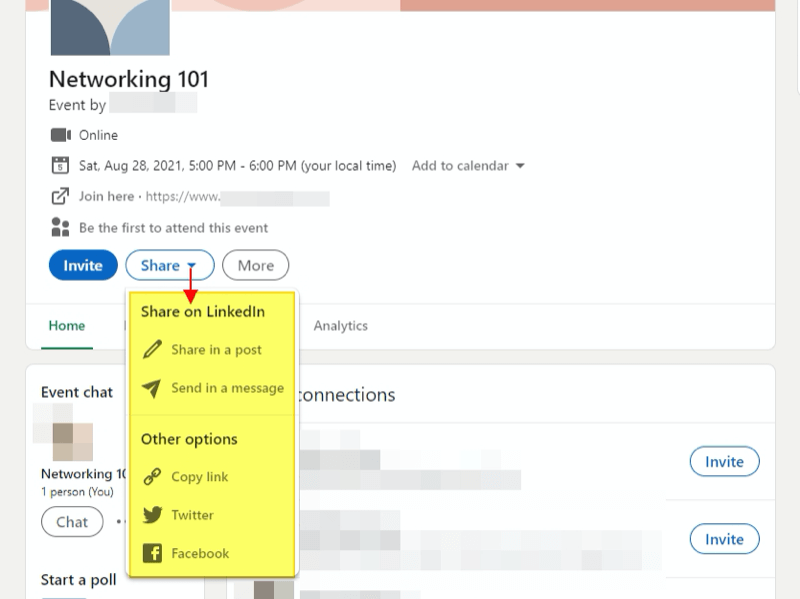 Invite Connections
Another way to invite people to your event is to go straight to your event page and scroll down to the Invite Connections option. Just go through the list and click on the Invite button next to anyone you want to invite to your event.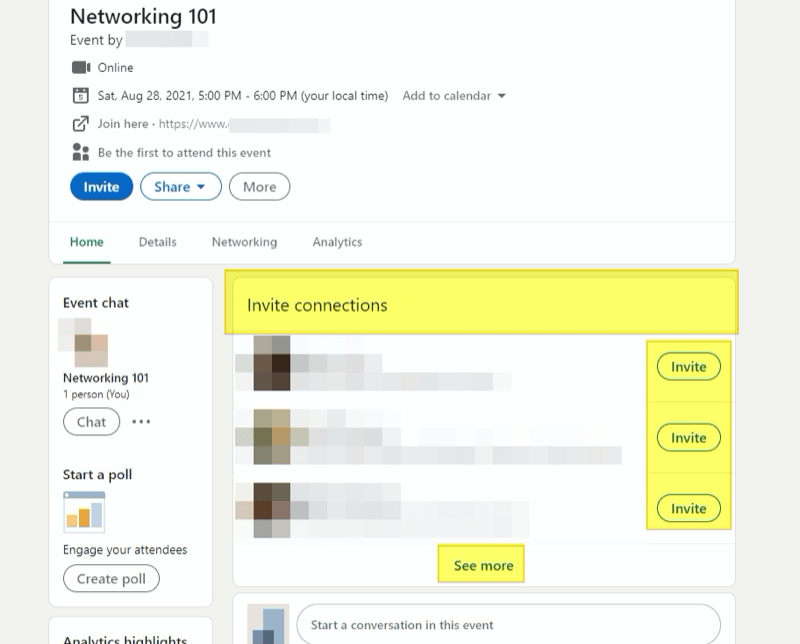 Don't see who you're looking for? Click on the See More option. This takes you to the official invite option, discussed next.
Invite Option
The more traditional route is to simply use the Invite option on the event page, which is located below the initial event information. Once you've clicked this option, you'll see a variety of filtering options to help you find relevant people to invite to your LinkedIn event.
The first option is to invite people on your connection list. You can filter this list several ways:
Locations: Choose location filtering options based on the audience you currently have. Of course, you can always add a country/region if you want to expand your options.
Current Companies: Filter your connections by company to invite individuals who either work with you or have worked with you in the past. This will depend on what companies are listed on your profile. Again, you do have the option to "search for current company" if the company doesn't appear on the initial filtering list.
Schools: Filter your connections based on the schools they've attended.
Industries: Filter the people on your list by industry. This ensures that you're only inviting those who would find your event most relevant.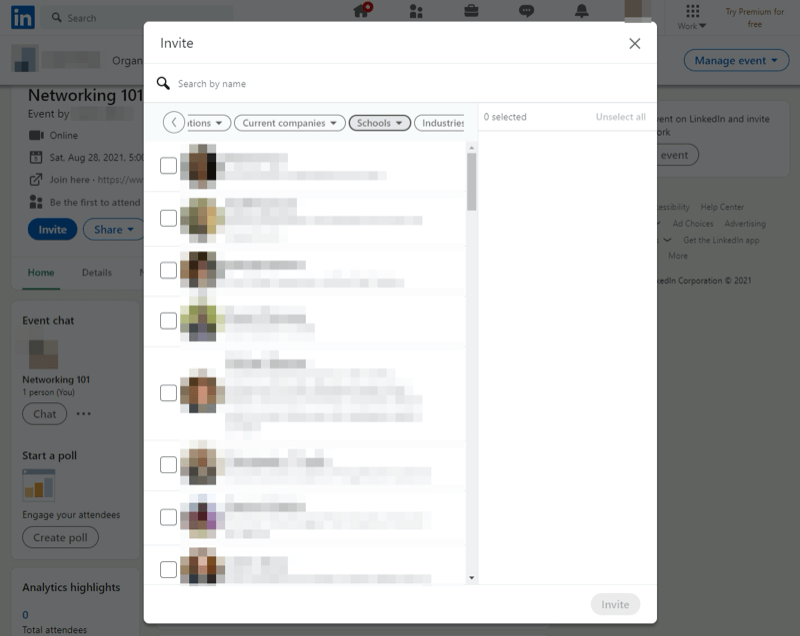 #4: Promote Your LinkedIn Event via Events Ads
LinkedIn ads have become a relatively large part of the platform in recent years and they're great for getting people to sign up for your event.
After you've created your event, go to LinkedIn Campaign Manager and begin the process of creating a new event ad.
Start by creating a new group or choosing an existing one and then clicking Next.

The screen that follows will help you create your new ad campaign, starting with the LinkedIn campaign objective. For this example, we'll choose Brand Awareness.

Now flesh out the other details of your campaign such as your target audience, ad format, and budget. We'll choose Event Ad as the format for this ad.

Now you're ready to set up the ad.
On the next screen, you can either choose an existing ad or click Create New Ad to start a new one from scratch.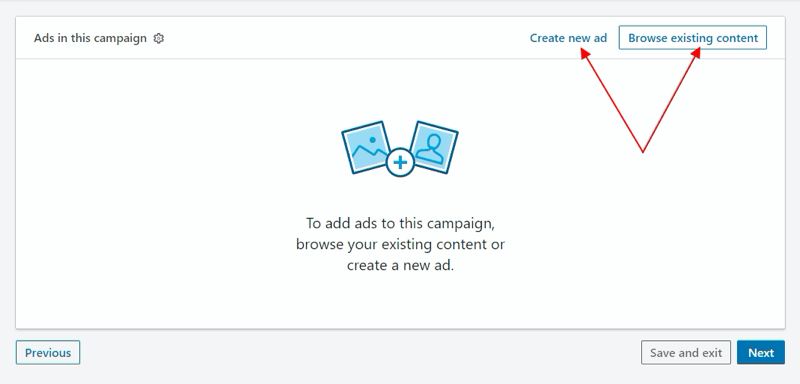 You'll then be prompted to name your campaign, add introductory text, and provide the event's LinkedIn URL.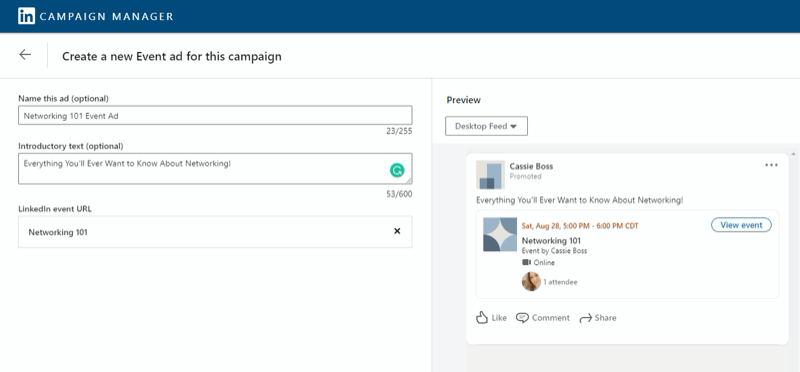 After you've entered all of this information, simply click Create.
This takes you back to your campaign setup, where you'll be able to select your newly created event ad and finalize your campaign group details.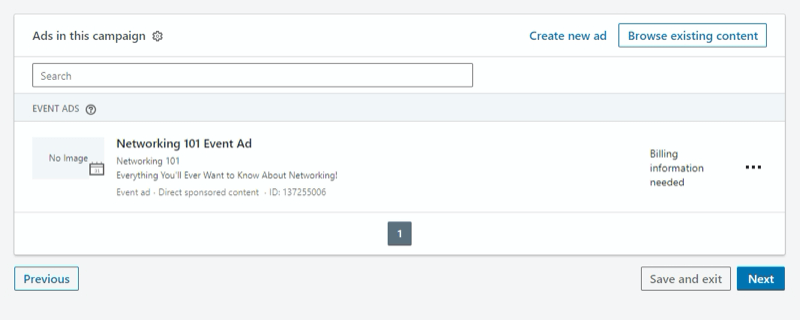 After clicking on Next, you'll have the chance to review your campaign and make changes. If everything looks good and you've entered your payment information, launch your LinkedIn ad campaign.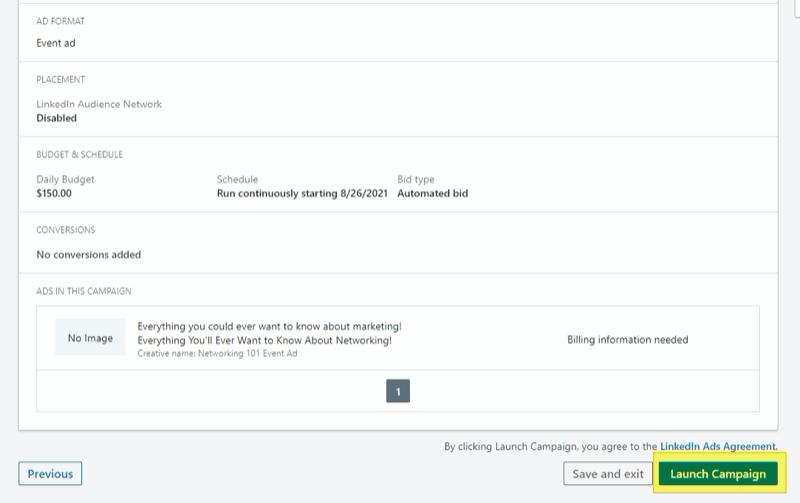 #5: Analyze the Performance of Your LinkedIn Event
As a marketer, you know that the journey doesn't end here. To learn how successful your LinkedIn event ad campaign was, you need to review the analytics.
Be sure to review the data from before, during, and after your event. Pay particular attention to certain key performance indicators (KPIs), including the visit and attendance metrics and engagement metrics.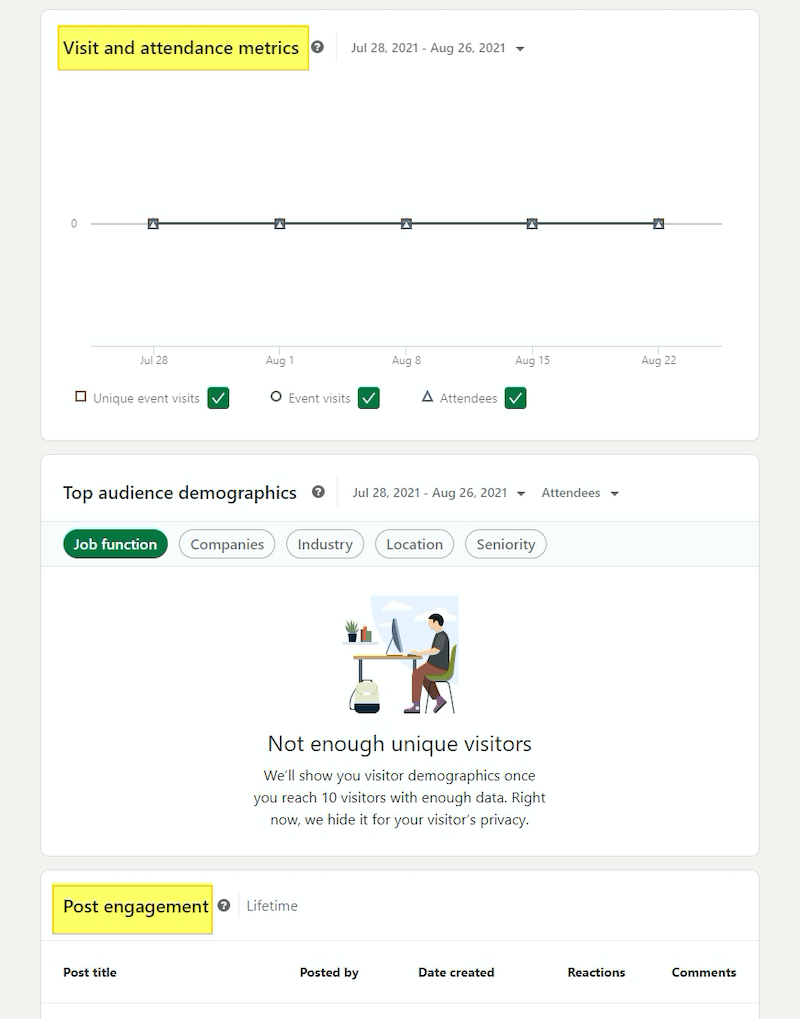 These are the most important KPIs for measuring the success of your LinkedIn event because they tell you a lot about the relationships and interactions that are happening between people and your event.
The visit metrics tell you the number of people who initially reached your event and who clicked on the event. The attendance metric tells you how many people actually attended the event. Finally, the engagement metric gives you a sense of just how much interaction took place with people once they reached the event.
Conclusion
As a marketing professional, you know just how vital events can be to generate leads, build brand awareness, and grow your business. In today's digital world, you can take your events to the next level by leveraging LinkedIn Events.
LinkedIn Events allows you to host a variety of types of digital events, including conferences and summits, networking events, product updates and launches, and workshops. By choosing the right event type and employing smart strategies to promote your event online, you'll be able to build more opportunities to connect with future and current prospects.
Get More Advice on LinkedIn Marketing
Get Your FREE Course: Web3 for Beginners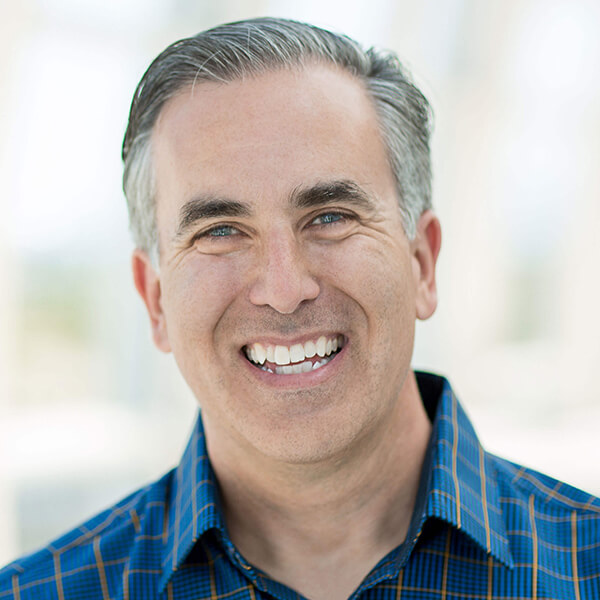 Curious about Web3, but don't know where to start or who to trust?

Introducing Web3 for Beginners, a course taught by Michael Stelzner, the founder of Social Media Examiner.

Learn the basics of Web3 and apply it to your business with this FREE comprehensive course.
CLICK HERE TO GET FREE ACCESS