Ready to run LinkedIn ads but don't know where to start? Worried the costs are too high?
In this article, you'll learn how to properly set up LinkedIn's most cost-effective ad type: LinkedIn text ads. You'll find tips for targeting, bidding on cost per click (CPC), and more.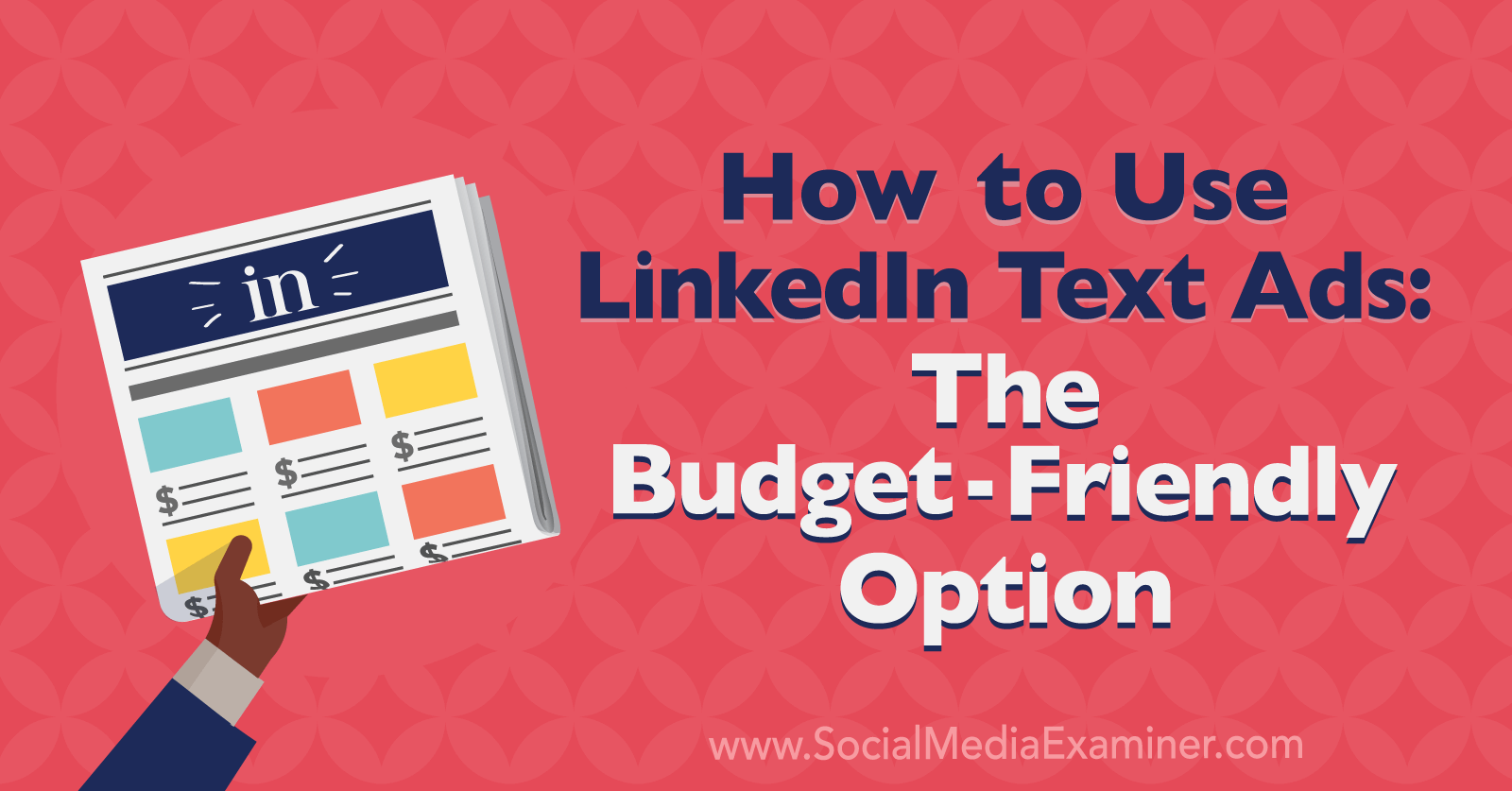 To learn how to set up LinkedIn text ads, read the article below for an easy-to-follow walkthrough or watch this video:
Why LinkedIn Text Ads?
Originally, when LinkedIn ads came out at the end of 2007, there was only one ad format: text ads. These ads were unassuming and definitely looked like ads. LinkedIn let you use up to 25 characters in a headline and 75 characters for a description. The one thing that set text ads apart from Google ads (which were popular at the time) was a 50 x 50 pixel image.
Then in 2013, LinkedIn came out with sponsored content ads, and because of that, text ads took a backseat and became a lot less sexy.
If you've been curious about LinkedIn ads but are scared off by the cost, I recommend trying text ads. Because the cost is low (their floor is the lowest of all LinkedIn ads), you can pay as low as $2 per click. And they have really low engagement rates so it's a low-risk way to get into LinkedIn ads.
#1: Set Up Your LinkedIn Campaign and Targeting
To create a LinkedIn text ad, go to your LinkedIn Ads dashboard at linkedin.com/campaignmanager. Once you select your ad account and campaign group, click on Create Campaign.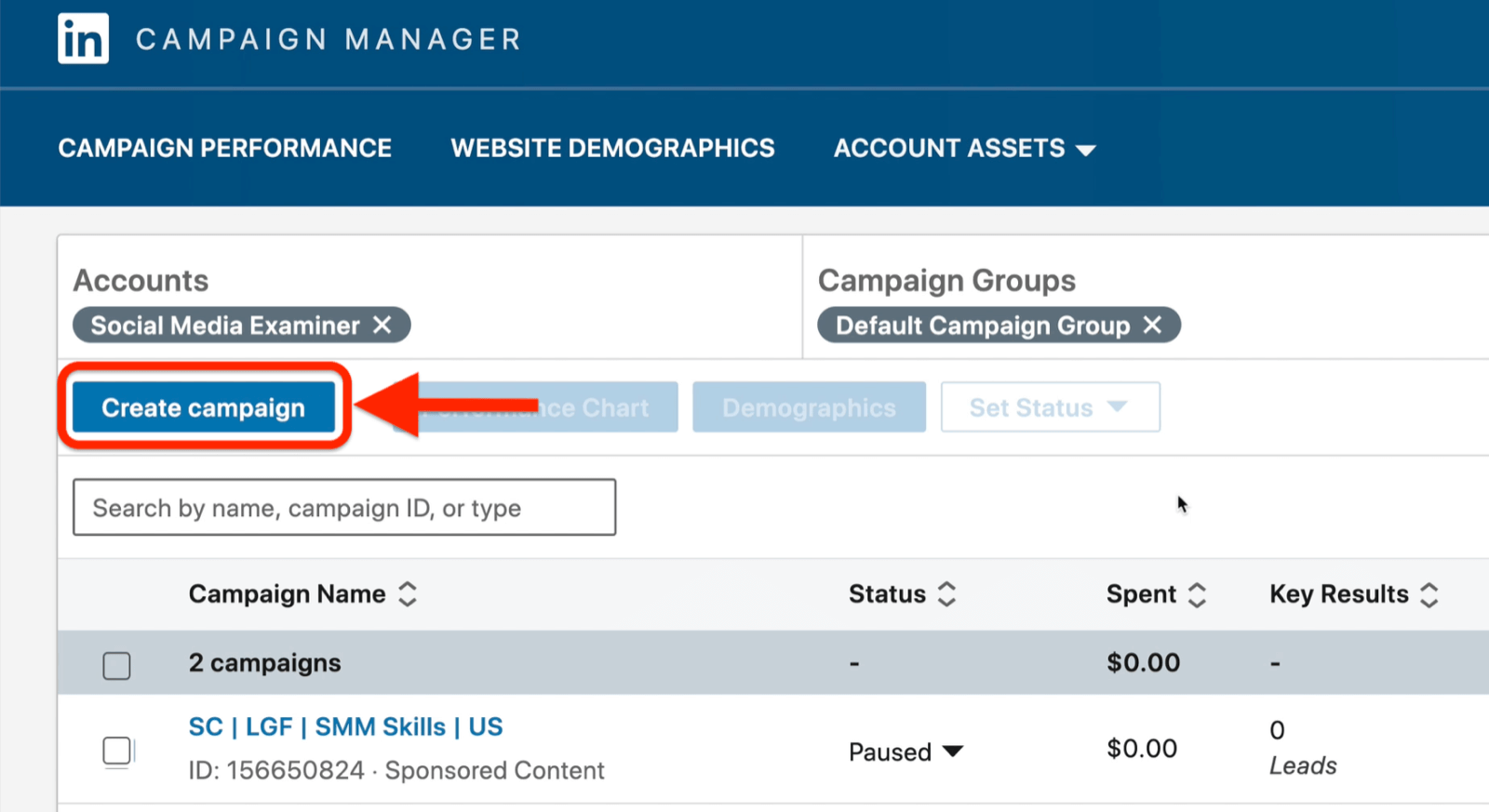 For the LinkedIn campaign objective, let's go with Website Visits because that's what you'll use most of the time with text ads.
Social Media Marketing Society (Ongoing Online Training)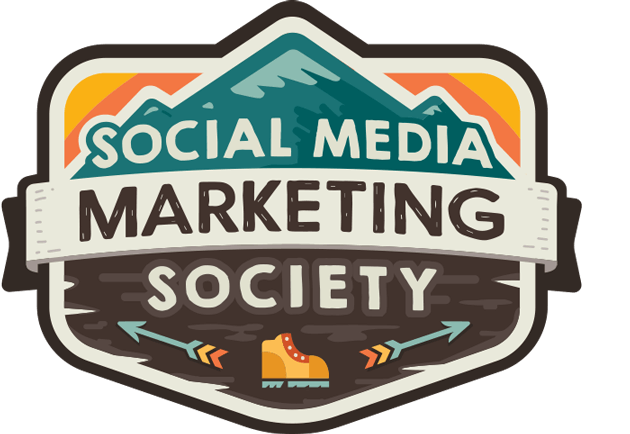 Want to gain marketing confidence and accelerate your career? Try the Society to discover new marketing ideas, improve your results, get support, and become indispensable. Join us for ongoing training, insight from pros, and a community of supportive marketers who understand you.
START YOUR TRIAL MEMBERSHIP
Next, define your audience. For this example, let's say you're targeting an audience of social media marketers who might want to attend Social Media Marketing World.
We'll start with targeting skills. Scroll down to the Who Is Your Target Audience? section and choose Job Experience > Member Skills.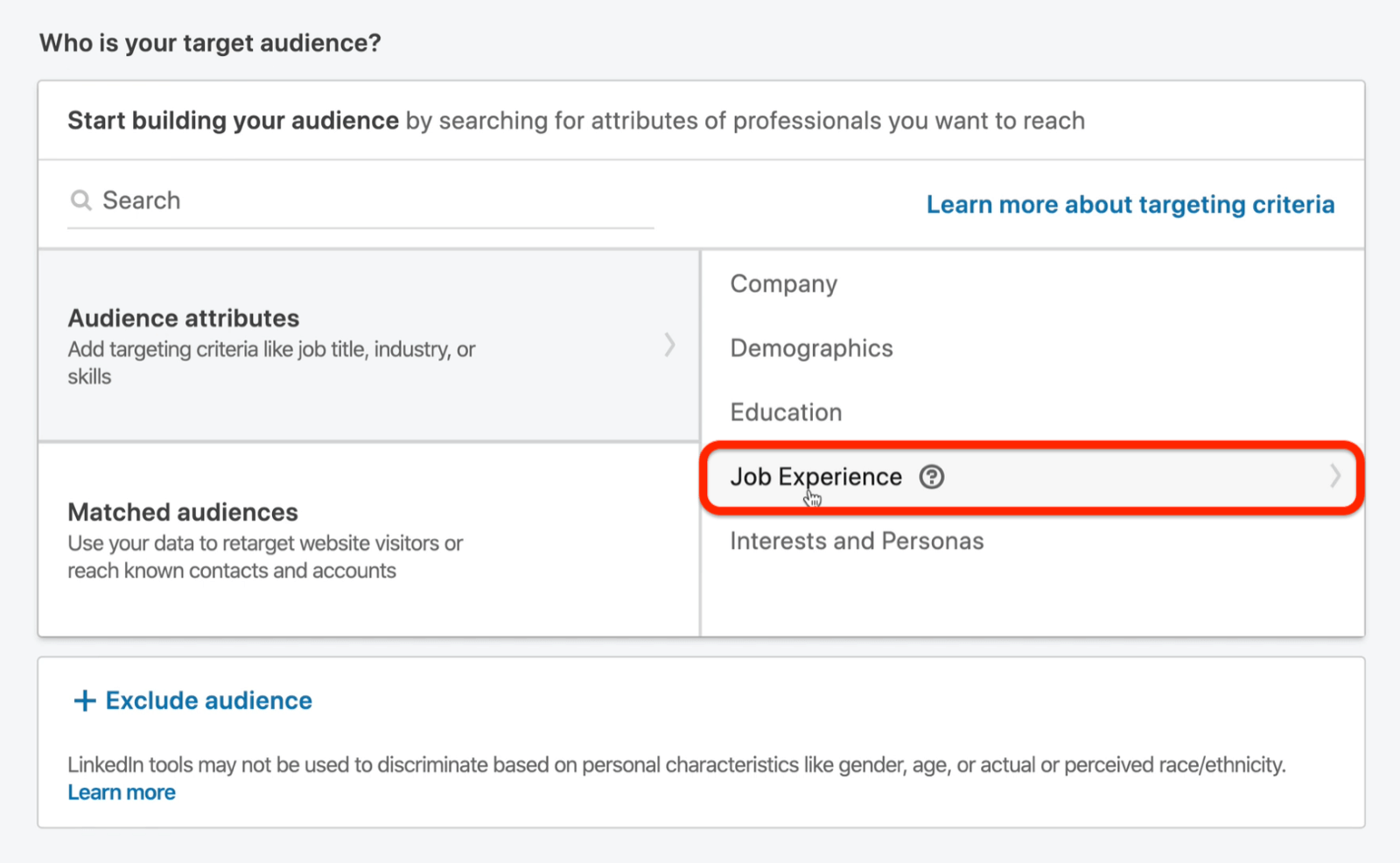 Next, type "social media marketing" in the search box. In the search results, you'll see both a Social Media Marketing skill and Paid Social Media Advertising skill. Those are both excellent for your purposes.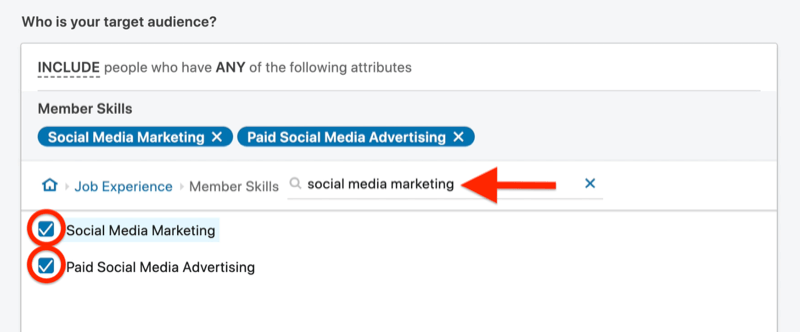 To chop this down a little bit, click Narrow Audience Further and add some additional targeting criteria.

Let's make some assumptions here. Maybe a company isn't willing to send an employee to a conference unless they have 50 or more employees. So go to Company > Company Size and select everything from 51 employees and above. This lowers the target audience size down to 4.1 million, which is better.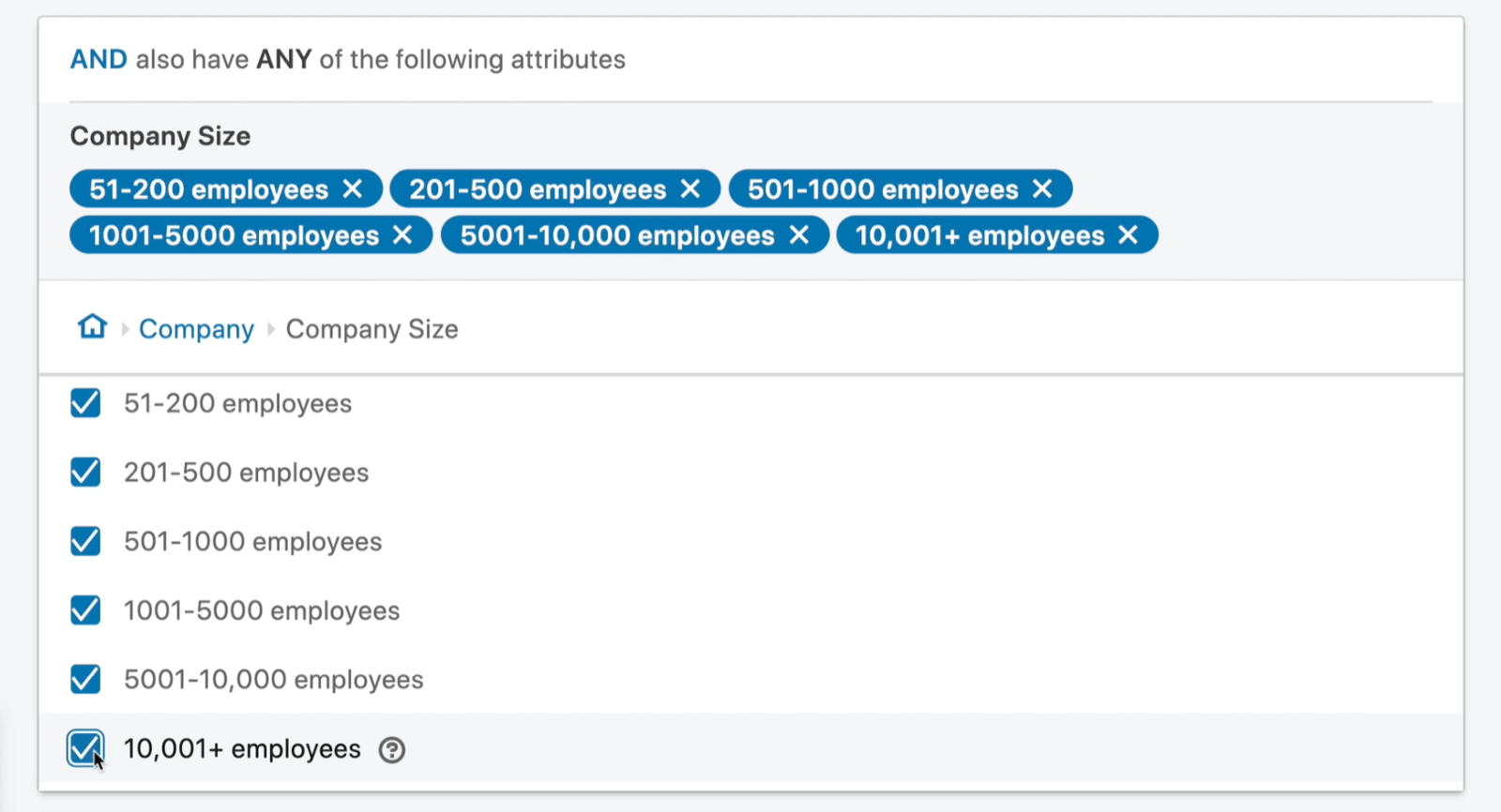 Let's take a look at Interests next. Click Narrow Audience Further and then choose Interests and Personas > Member Interests > Marketing and Advertising > Digital Marketing > Social Media Marketing. Social Media Marketing is a pretty solid interest for your audience.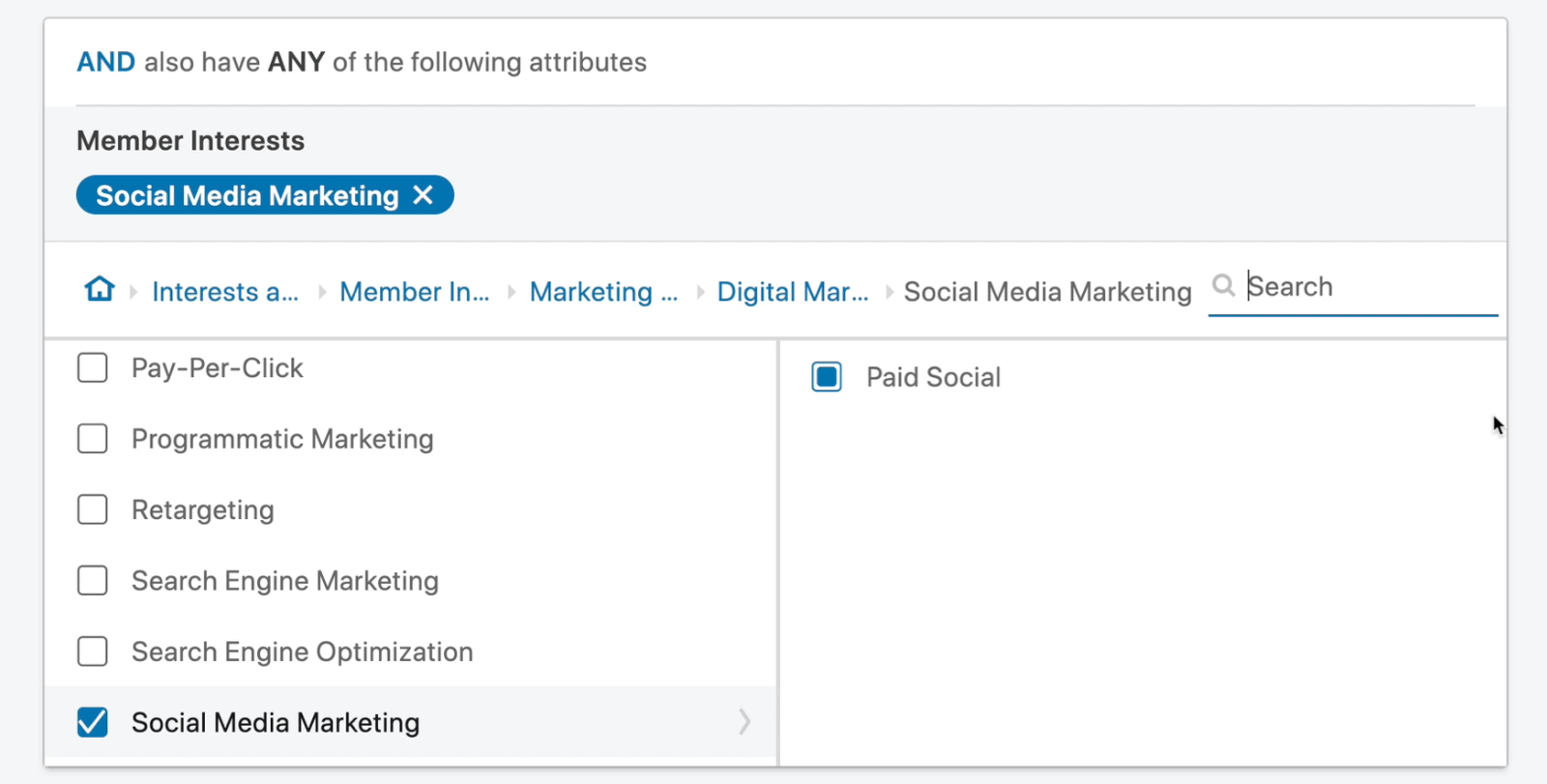 That takes you down to 360,000 people so you're almost there.
Next, let's look at seniority. Go to Job Experience > Job Seniorities and select Manager to target people who are managers.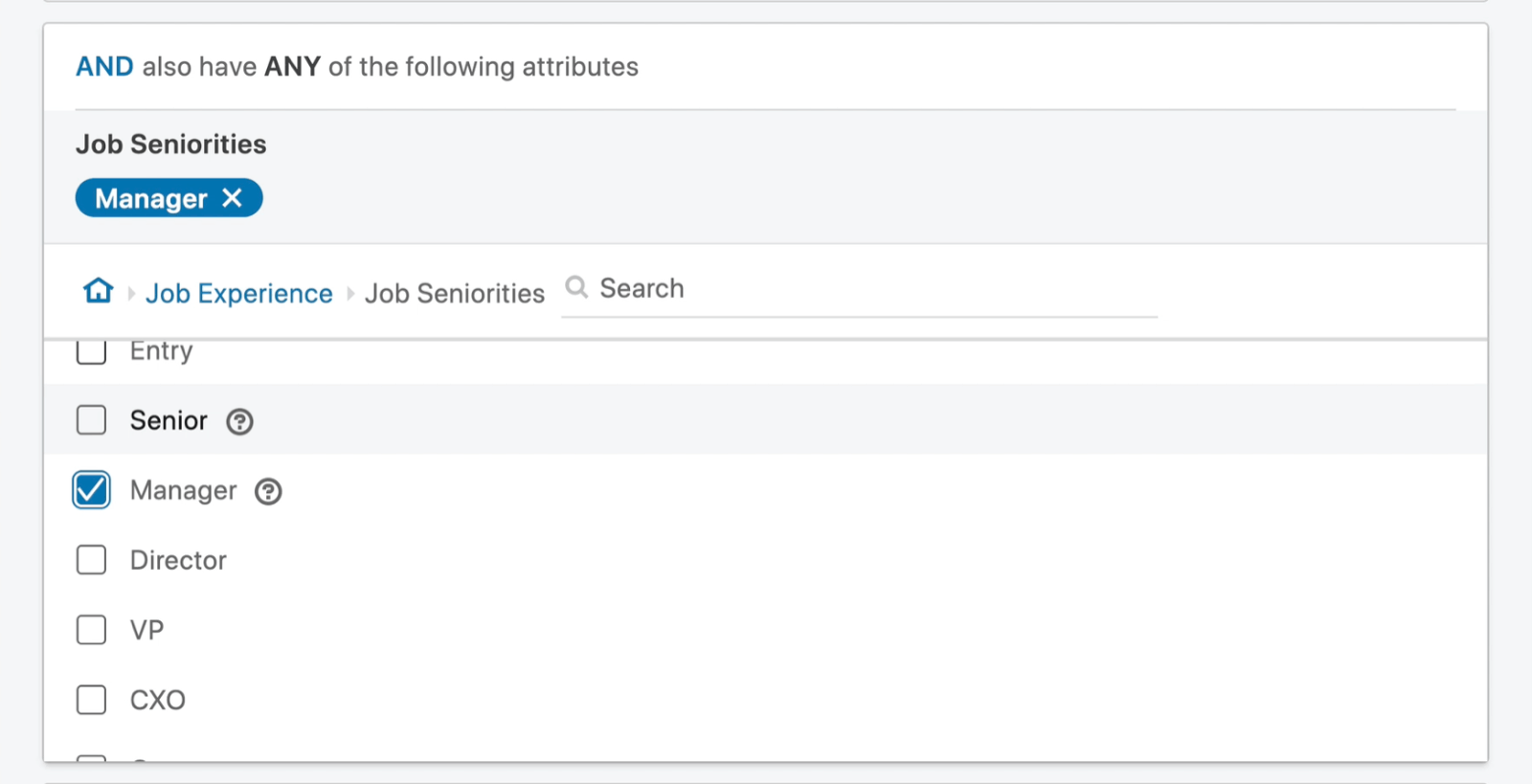 Put Google Analytics to Work for Your Business (Online Training)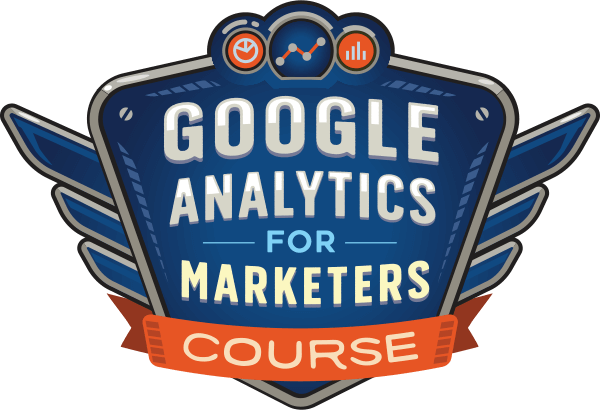 Ever thought, "there's got to be a better way" when it comes to tracking your marketing activities? Are you forced to make decisions based on limited data? With the right training, you can use Google Analytics to measure all of your marketing efforts with certainty.
You'll stop the leaks in your ad spending, justify your marketing spend, gain the confidence you need to make better marketing decisions, and know what's working at every step of the customer journey. Let the world's leading analytics pro show you the way. Check out our new Google Analytics for Marketers course from your friends at Social Media Examiner.
CLICK TO LEARN MORE: ANALYTICS TRAINING
That takes you to a target audience size of 50,000, which is right in the middle of where you want to be.
Now scroll down further and make sure you've unchecked the box for Enable Audience Expansion.
Below that, select Text Ad as the ad format.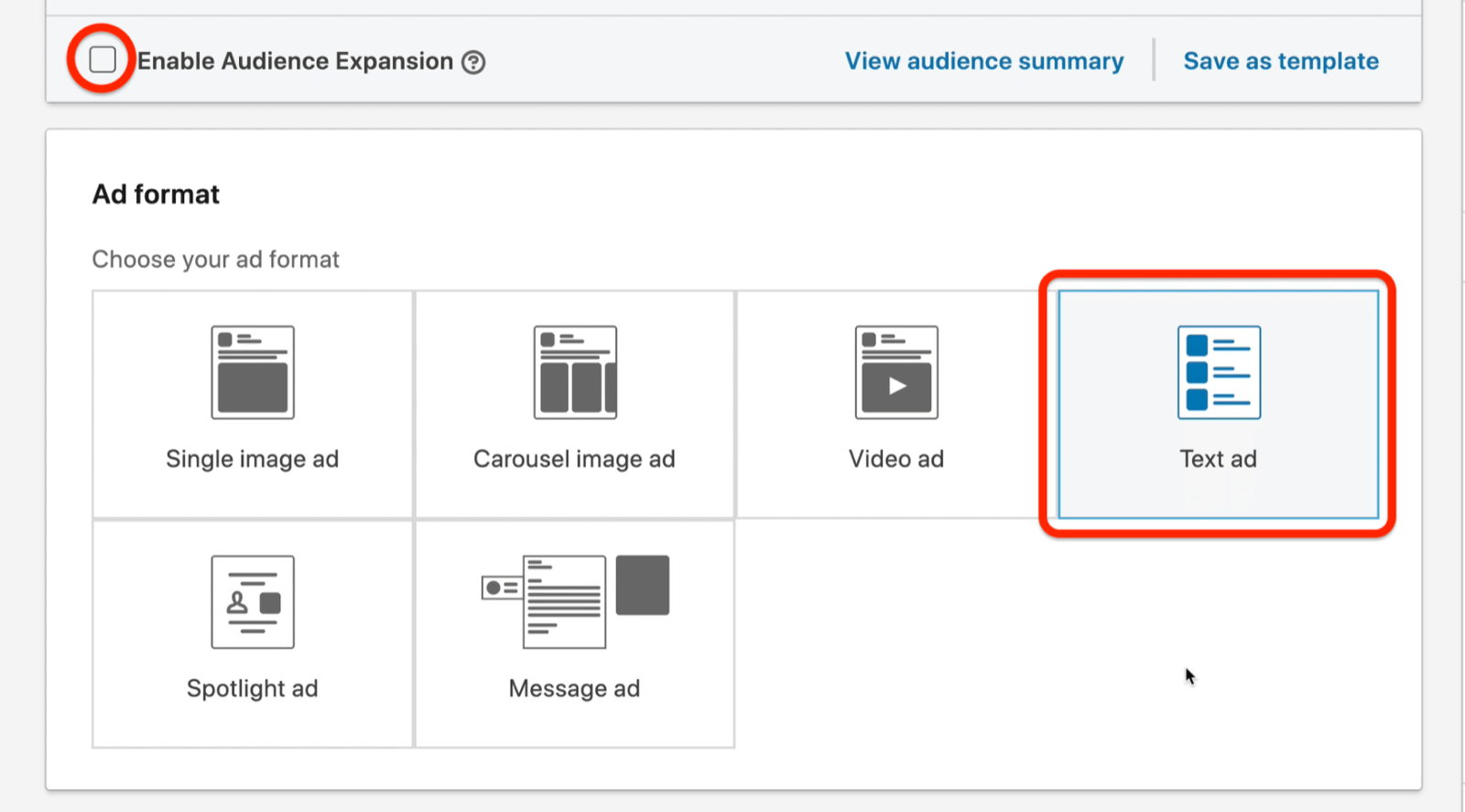 #2: Set Your Budget and Scheduling
The next step is to set the budget and schedule for your LinkedIn campaign. For the daily budget, let's go with $50 per day. A Maximum CPC Bid is selected for you, which is perfect; that's what you want.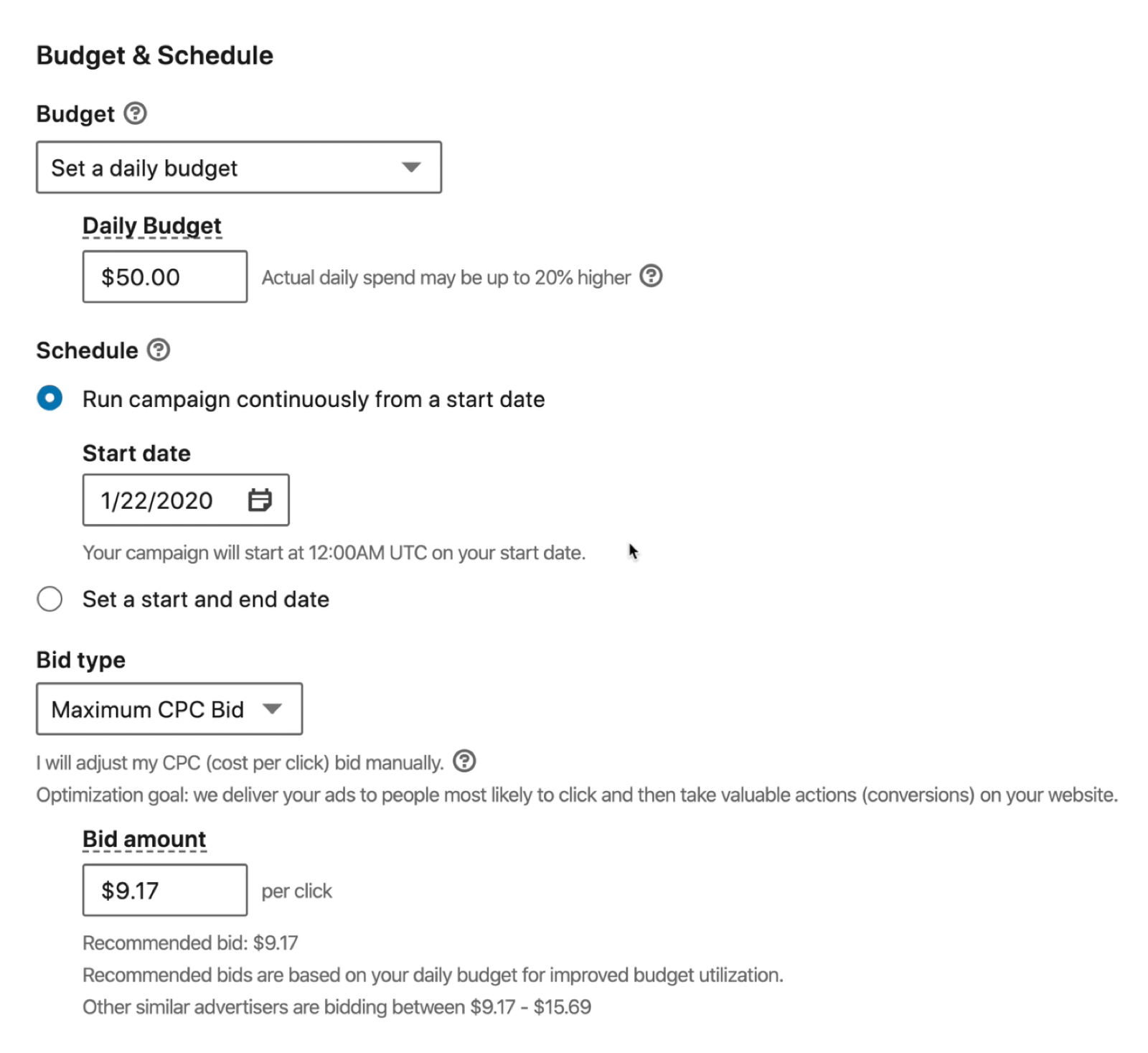 LinkedIn text ads have always had a floor of $2, so if you put in $1 for the bid amount, LinkedIn will always come back and say your bid needs to be at least $2.

You want to start at the floor because if you can spend the whole $50 during the day on the lowest bid amount, you just got the cheapest cost per click and cost per conversion possible from LinkedIn. And if you have $50 per day allocated for ad spend but are only actually spending about $20, you can always increase your bid every few days until you start spending what you allocated.
Before you leave this screen, I recommend that you change your campaign name to something descriptive of your audience. I like to name my campaigns after the ad format, objective, and audience. So for this campaign, I'd use TA (text ad), WV (Website Visits objective), SMM Skills (social media marketing skills), Mgr Sr (manager seniority), SMM Int (social media marketing interests), and US. Now if you see this campaign in your ad dashboard, you know exactly what it represents.

When you're finished, click Next to move on to creating your LinkedIn text ad.
#3: Create Your LinkedIn Text Ad
On the next page, click Create New Ad.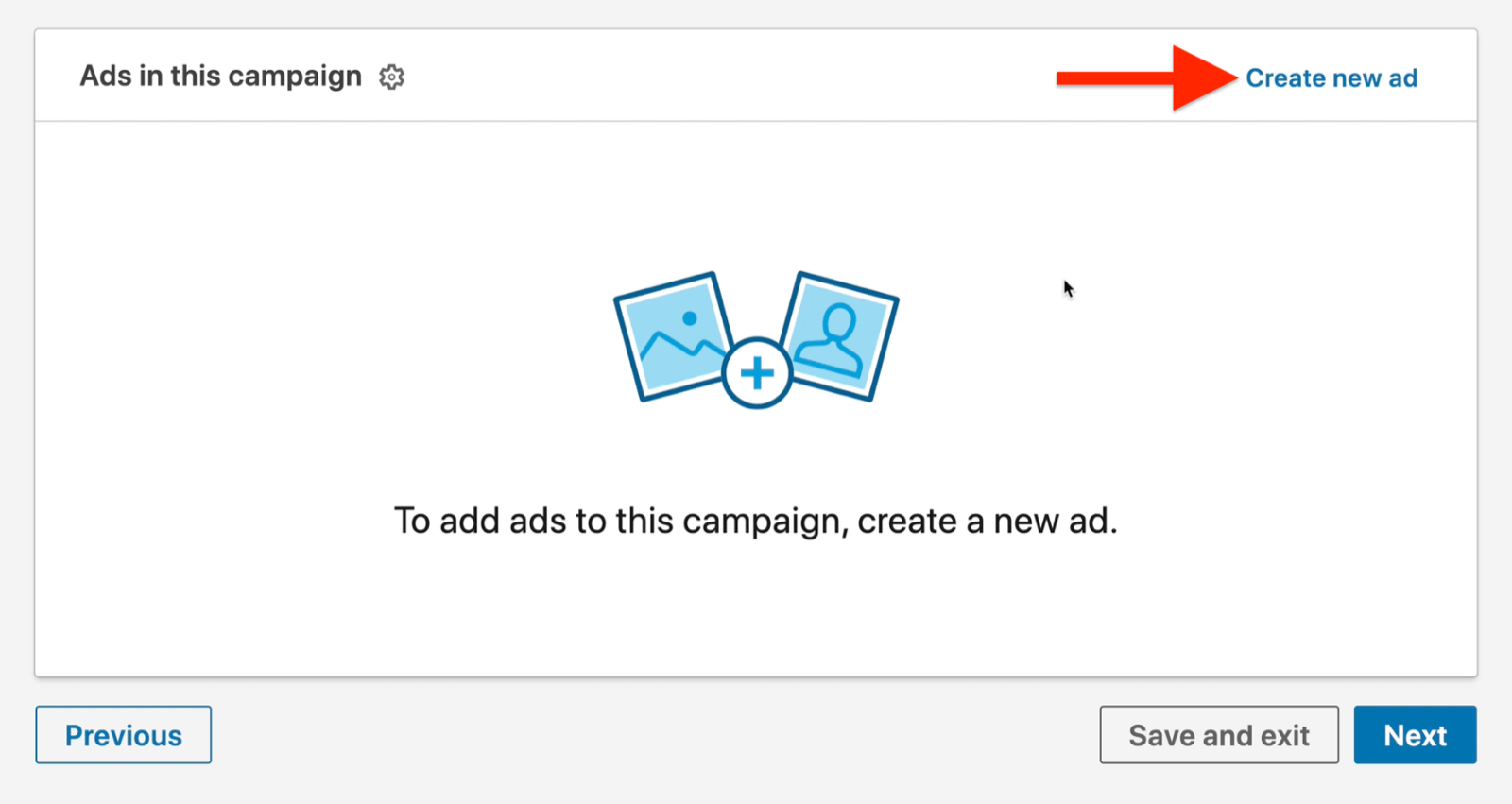 First, upload the image you want to use in your LinkedIn text ad. The image must be 100 x 100 pixels.
Then add a headline and a description. You get 25 characters for the headline and 75 for the description. For the destination URL, you can direct people to a link on your website so input your ad URL exactly as you want it clicked, with your UTM parameters included.
The headline for your text ad needs to grab your audience's attention, so for this example, you could use something like "Social Media Marketer?" For the description, let's use, "Attend the social media megaconference with the top speakers worldwide!"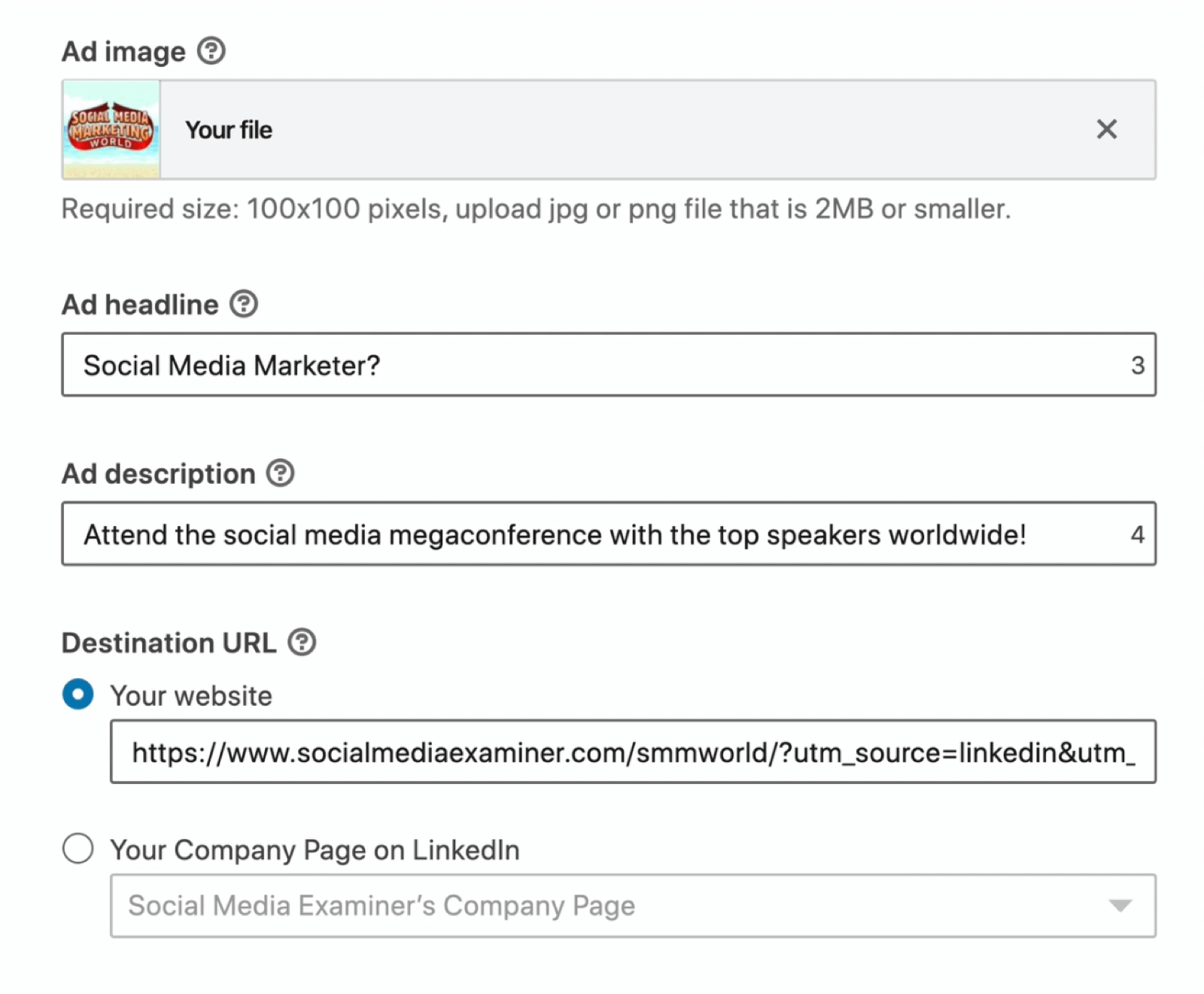 On the right, you'll see a preview of what your text ad will look like.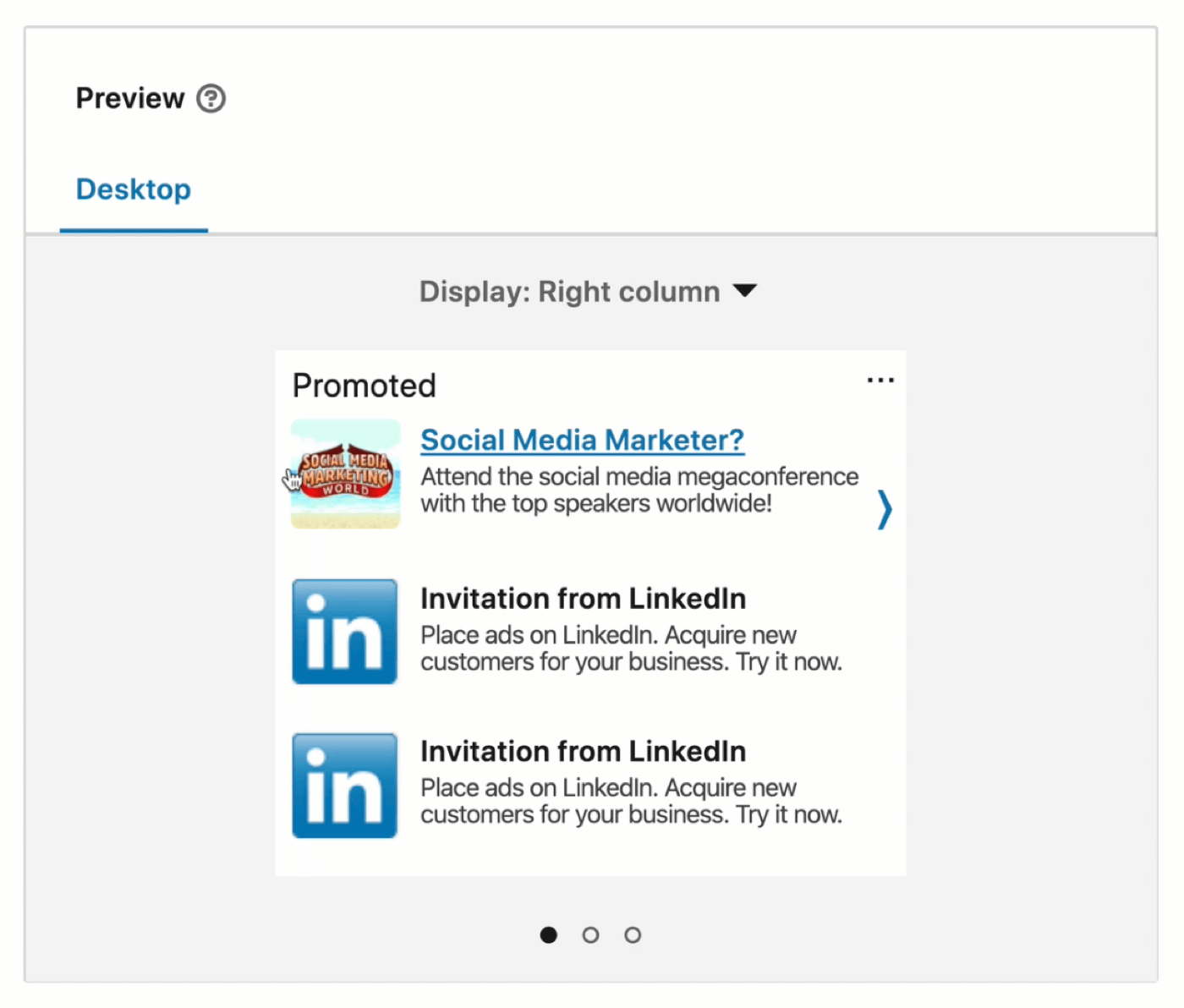 If you select Top Banner (Small) from the Display drop-down menu, you can see how the ad will look as the small top banner, which is what they used to call a one-by-one.
If you're happy with how your ad looks, click Create. The campaign is now in draft. Click Next and then click Launch Campaign.
Your campaign is now live and you can see it in your ad dashboard. You may want to flip it back to Paused, in case you have any questions.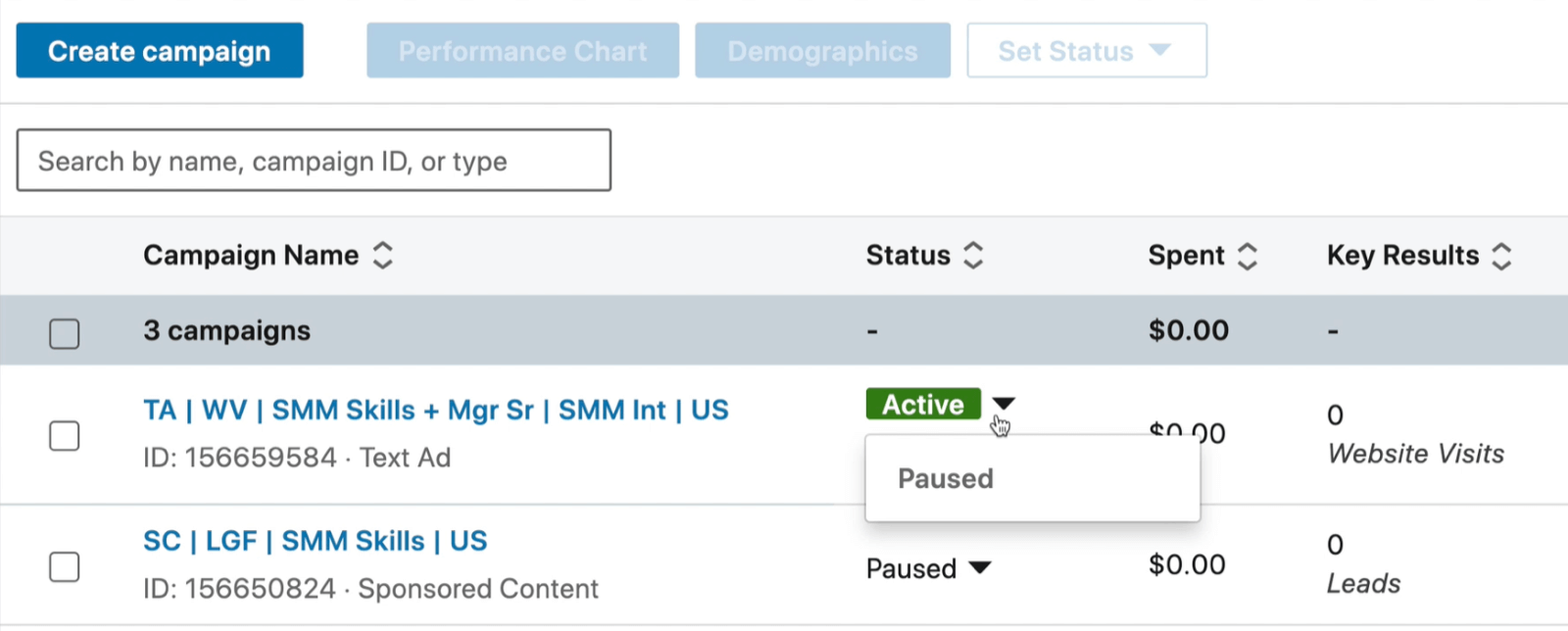 Keep in mind that when you launch your LinkedIn text ad, it may not get approved for up to 24 hours. So if you launch and you're not getting impressions immediately, that's probably why. Every ad on LinkedIn gets approved by a human.
Conclusion
Many marketers are missing out on the power of LinkedIn ads. Well, no more. LinkedIn's original ad format, the text ad, is the most cost-effective ad type on the platform. With costs as low as $2 per click, it's a low-risk way to dip your toe in the water with LinkedIn ads.
What do you think? Do LinkedIn text ads make sense for your business? Share your thoughts in the comments below.
More articles on LinkedIn ads: