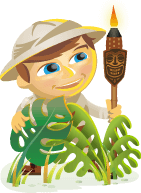 Do you rely on word of mouth to promote your business?
Are you wondering how to get more people to recommend your product or service?
To learn how to build a business that's highly recommended, I interview Paul Rand.
More About This Show
The Social Media Marketing podcast is an on-demand talk radio show from Social Media Examiner. It's designed to help busy marketers and business owners discover what works with social media marketing.
In this episode I interview Paul Rand, the CEO of Zócalo Group, an agency that specializes in digital, social and word-of-mouth marketing. He's also the chief digital officer at Ketchum and former president of the Word of Mouth Marketing Association. Paul authored the book, Highly Recommended: Harnessing the Power of Social Media and Word of Mouth to Build Your Brand and Your Business.
Paul explores how your business can become highly recommended.
You'll discover what motivates recommendations, the importance of targeting the right influencers online and the six steps to getting more positive recommendations for your business.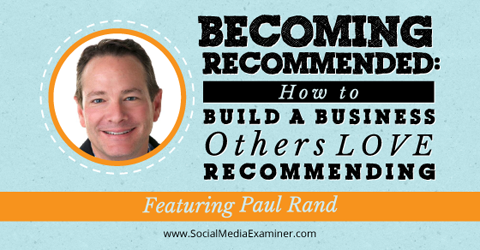 Share your feedback, read the show notes and get the links mentioned in this episode below!
Listen Now
Where to subscribe: Apple Podcasts | Google Podcasts | Spotify | YouTube Music | YouTube | Amazon Music | RSS
Here are some of the things you'll discover in this show:
Build a Highly Recommended Business
Know why your customers would recommend your business 
Paul tells a story in his book about his first encounter with a popular East Coast grocery chain, Stew Leonard's.
He learned about the company over dinner from clients who not only gushed about this beloved retailer, but also insisted on picking him up the next morning to take him to Stew Leonard's so he could marvel at it in person. What an incredible word-of-mouth recommendation!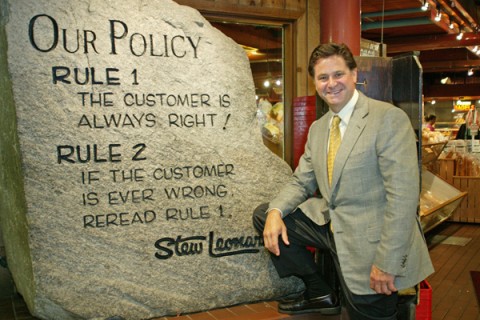 Paul discovered that Stew Leonard's does a great job connecting with people and that they built sociability into their business from the very beginning. He felt like he was truly part of a special experience when he was in the store.
There are some fairly consistent things, particularly in the age of social media, that companies should do to take advantage of this level of brand affinity. People love to share.
When people discover something that they think might help someone else, they really want to share it. If you can figure out why your customers would recommend your brand, you have great ability to help them to do it.
Listen to the show to discover what businesses should consistently do to become highly recommended. 
The power of online recommendations
Online recommendations have a dramatic influence and a bigger reach than face-to-face recommendations. Word-of-mouth recommendations have always been the Holy Grail for marketers. Social media basically puts that power on steroids.
Now when someone says something positive about your brand, that endorsement has the potential for reaching millions of people.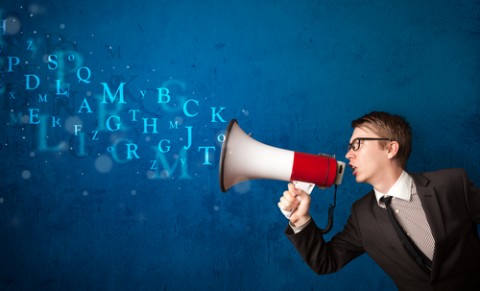 Paul describes two types of recommendations: implied or explicit. An explicit recommendation is told directly in person, through a post or from an online review that something is great. An implied recommendation can be as subtle as liking a Facebook page or sharing a post, yet it can be just as powerful and influential, depending on the source.
Listen to the show to find out how recommendations, even from complete strangers, can drive people to your product or brand. 
What drives recommendations
There are many reasons people are eager to accept and offer recommendations. Very simply, we humans take our cues from other humans. If someone tells us a product, brand or service is good and we notice them benefiting from it, we assume it will benefit us as well. However, it's all a matter of influence.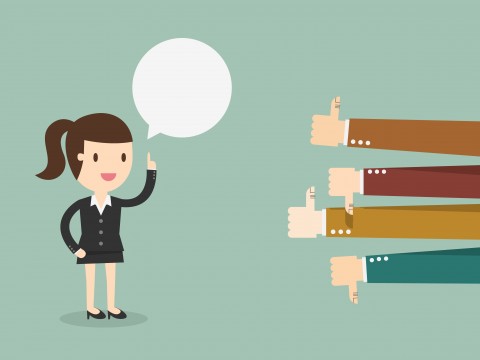 Most people have a certain degree of knowledge or passion for a specific topic or interest and tend to make recommendations around it. They often become the go-to person to ask about that particular topic.
Your challenge as a marketer or business owner is to target the most passionate and socially influential of these individuals and give them a great way to experience your brand.
Listen to the show to learn the one question you need to ask yourself to get more positive recommendations for your brand. 
What marketers can do to earn positive recommendations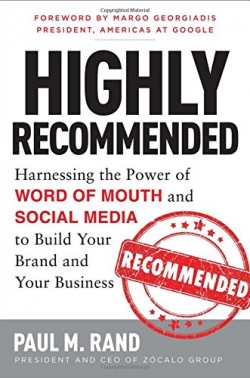 In his book, Paul lays out six key steps to earn more positive recommendations:
Develop a clear story about how people should talk about your brand
Live your brand
Be human and transparent
Stay engaged
Evaluate and evolve
Structure a recommendable organization from the ground up
Think how you want people to recommend your brand and give them the ability to do so. Set up your entire business operation to deliver on that promise. Then monitor and track what people are saying, with particular attention to where, how and why people are saying it.
Each function in your business or organization from HR to operations, to finance, to customer service, etc., has a crucial role in how your different partners will view and recommend your business. This is not just a marketing role or responsibility. Everyone in your company should be focused on how people talk about you in everything they do.
Listen to the show to hear the right balance between providing useful, relevant information related to your brand and promoting your products or services. 
An example of a business getting it right 
Paul shares the example of one of his clients, Nissan. After working with them to drive home the ideas of reliability and innovation and searching for ways to keep people engaged with their brand, they discovered a Craigslist ad selling a used Nissan Maxima. According to Paul, the seller put together a video that was campy and fun.
The team immediately saw this as a great content opportunity and bought the car from the owner, which of course garnered millions of positive conversations about Nissan and coverage by the press.
Listen to the show to discover how understanding your audience, messaging and content allows you to be spontaneous in a compelling and innovative way. 
Post-sale actions to encourage recommendations 
Paul advises not to jump in and ask for a recommendation immediately after a sale. The first thing you should do is make sure your customers are truly satisfied with their purchase or find out if they have any questions.
Once you are assured that they had a good experience, you can gently ask for them to share their great experience with others. Paul says that most people are flattered to be asked and would be willing to write a review for you.
Monitor what people are saying about you and acknowledge it. If someone says something nice about you or your company, find a way to say thanks. Encourage them to stay connected and engaged with your brand. Paul calls this "high-fiving" your fans and you will be amazed at the results when you do it right.
Listen to the show to discover more ways to encourage post-sale recommendations. 
Discovery of the Week
Do you create videos for your business or brand? Are you looking to get more exposure for your videos?
Have you heard about uploading videos directly to Facebook? Great exposure for your videos once meant getting the most views on YouTube. In the past, YouTube was highly optimized for Facebook. Facebook now gives preferential treatment to video directly uploaded to its feed as opposed to simply linked from YouTube or Vimeo.
A really cool trick offered with Facebook is the Embed Post feature. You can embed any Facebook post, including your video and accompanying text, into any website or blog. So your exposure and interaction transfer off of Facebook as well.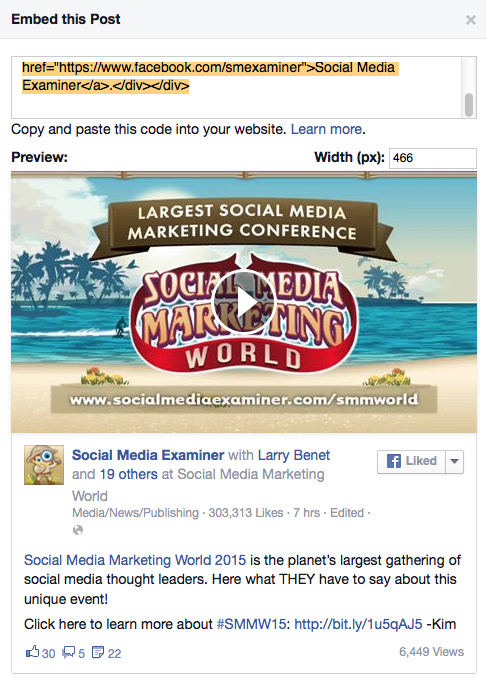 There are many other advantages to uploading videos directly to Facebook. The autoplay capability as you scroll through their news feed is one of the biggest benefits.
You can also tag other Facebook users in the video, which leads to greater exposure because your video is then shared on their personal news feeds and timelines too. You also can add a location or call to action to your videos within Facebook.
Listen to the show to learn more and let us know how uploading videos directly to Facebook works for you.
Other Show Mentions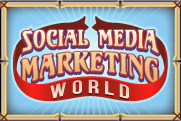 Today's show is sponsored by Social Media Marketing World 2015.
We are super-excited about Social Media Marketing World 2015. It's the world's largest social media marketing conference. By attending, you'll make connections with 100+ of the world's top social media pros (plus 2,500 of your fellow marketers) and you'll discover amazing ideas that'll transform your social media marketing.
See what attendees experienced at our 2014 conference.
The event takes place in sunny San Diego, California on March 25, 26 and 27, 2015. Hundreds of people have already secured their tickets.
Social Media Marketing World was designed to make networking organic and natural. One subtle thing we do at this conference is offer name badge interest stickers.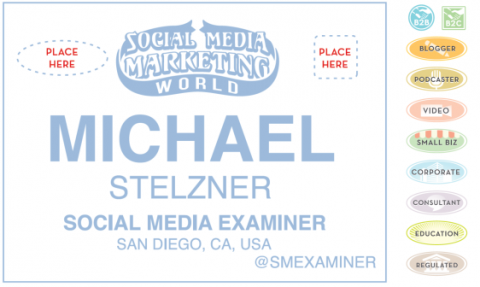 At check-in, you get a variety of stickers that you can add to your name badge. These are B2B, B2C, blogger, podcaster, small biz, corporate, consultant, regulated industry, etc.
When you meet someone new, you can look at his or her name badge to see if you have a shared interest. It breaks the ice and makes it easy to connect.
This is only one of the many things we do at this conference to facilitate social, face-to-face interaction. Click here to check out all of the speakers and the agenda and grab your tickets.
Key takeaways mentioned in this episode: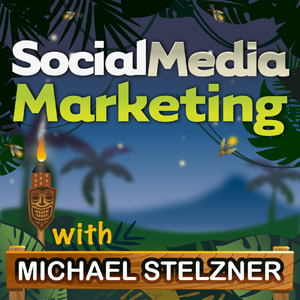 Ways to subscribe to the Social Media Marketing podcast:
What do you think? What are your thoughts on getting recommendations for your business? Please leave your comments below.