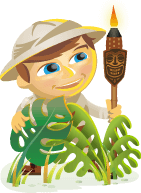 Do you use visuals in your social media marketing?
Are you wondering how you can use images to take your marketing to a whole new level?
To learn about visual social media, I interview Donna Moritz for this episode of the Social Media Marketing podcast.
More About This Show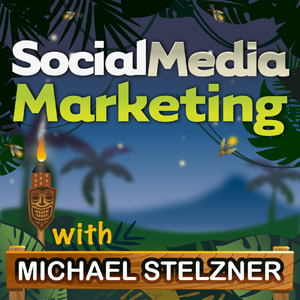 The Social Media Marketing podcast is a show from Social Media Examiner.
It's designed to help busy marketers and business owners discover what works with social media marketing.
The show format is on-demand talk radio (also known as podcasting).
In this episode, I interview Donna Moritz, who is a social media and visual marketing expert. She's also the founder of Socially Sorted, a blog designed to help small businesses achieve more with visual social media.
Donna shares the importance of visuals in your social media marketing.
You'll discover the types of images that work best and the tools you can use to create them.
Share your feedback, read the show notes and get the links mentioned in this episode below!
Listen Now
Where to subscribe: Apple Podcast | Google Podcasts | Spotify | RSS
Here are some of the things you'll discover in this show:
Visual Social Media
What is visual social media marketing?
Donna sees it as the use of some kind of imagery to communicate visually. You can use images or video to tell a story or share a message. This has been done in marketing for years.
As humans, it's in our nature to communicate visually. Images process quickly and people are drawn to them.
Listen to the show to find out why visual marketing has merged with social media.
Why do visuals matter so much?
Donna explains how most people started out with a blog, where they would write in long form and build a community around it. Then along came Facebook, where posts became shorter and then Twitter burst onto the scene with a 140-character limit.
People have moved from blogs to microblogs and now to multimedia microblogs. The only direction to go is to communicate with pictures. With Instagram and Pinterest, you can communicate purely with images. Sometimes words aren't even necessary.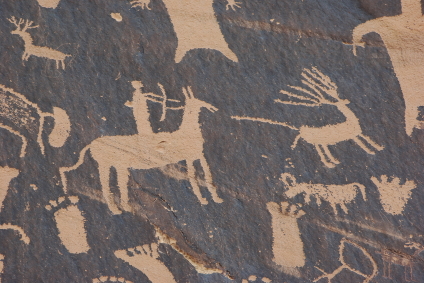 Images have become even more popular with the ability to take photos and video with the camera on a smartphone.
Detavio Samuels, who owns the marketing business Global Hue, said, "The only thing shorter than a tweet or a post is a picture."
Listen to the show to find out why all platforms are becoming image-centric.
Image options for marketers
Donna explains how you can use images in different ways in your marketing.
You can make a short, snappy video; use images and graphics; slides or a SlideShare presentation; infographics and text-based images.
You'll find out which one from the list below Donna discovered gets the most shares and responses.
Tips
How-to
Quotes
Checklists
Infographics
Jay Baer talks about being inherently useful in his book Youtility. If you want your image to be shared a lot, then you have to make sure it's helpful to your target audience.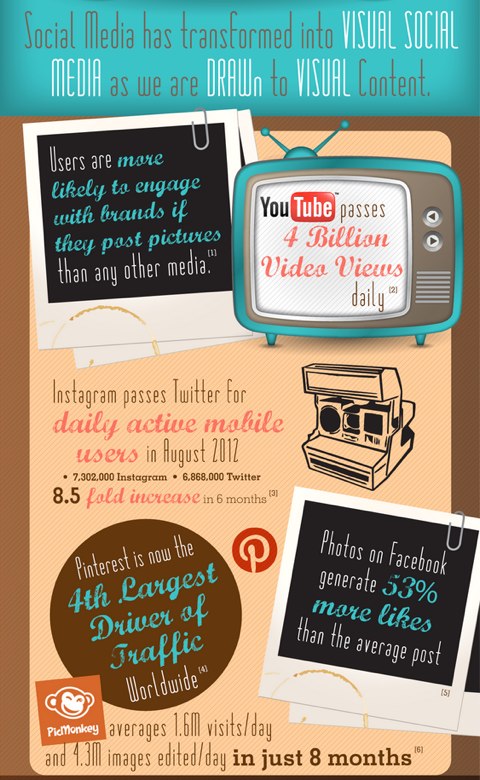 You have to remember that as humans, we connect emotionally to images more than video, audio or text. People make decisions and take action quicker when prompted by images, rather than by reading a lot of text.
You'll find out how you can use how-to images for your business and why it's easier than you think.
Another great option is to tease people with a graphic. You don't have to provide the whole procedure; instead add a call to action to get people to click through to your blog, Facebook page or Pinterest page.
On Facebook, you want to build engagement, so the image should be one that people will share, rather than click through to your blog. If you are clever, you can get some really great results.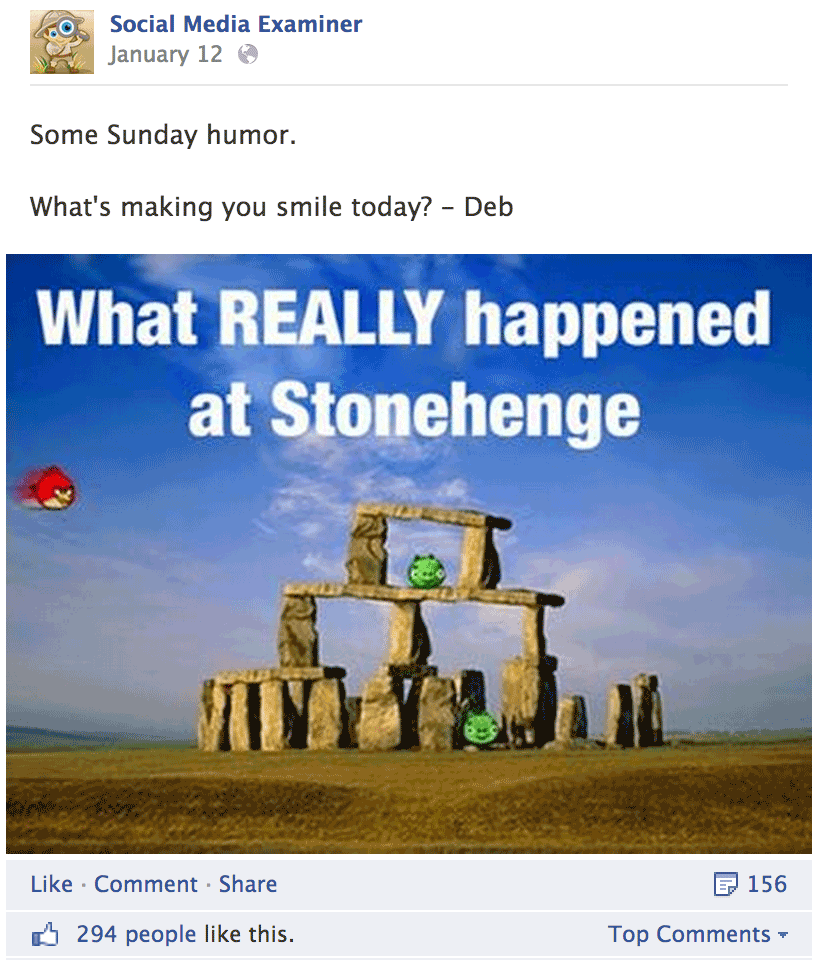 Listen to the show to learn why people feel compelled to click on an image, like it, share it, repost it or save it.
The elements of good visuals and what makes them sharable

Donna says that with any piece of content, you have to think about what you want it to do and where you want people to go.
A great place to start is with content that helps and inspires people. For a more shareable factor, you can make it timely content to coincide with breaking news, a celebration or an event.
Donna talks about when she worked with the team at Know Your Midwife, a private midwifery practice in Australia. They have about 1700 followers on Facebook.
They started to post images consistently that were shareable and relevant to their community. A lot of the images included quotes about natural birth and empowered birthing.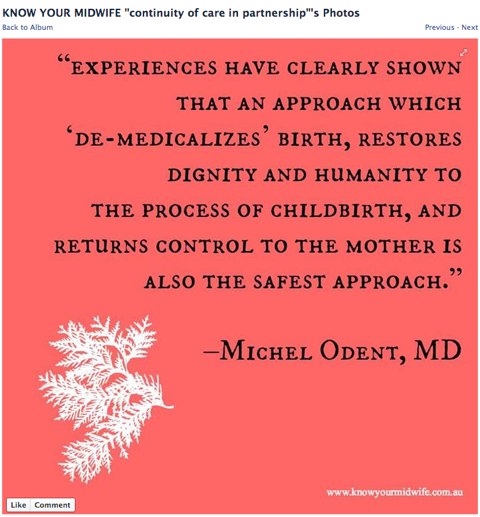 You'll hear about the people who started to share these images, and why it isn't just people in their community who look to them for content to share.
When it was International Midwives' Day, Donna quickly made up an image with a quote using PicMonkey. They had 1400 shares by the end of the day.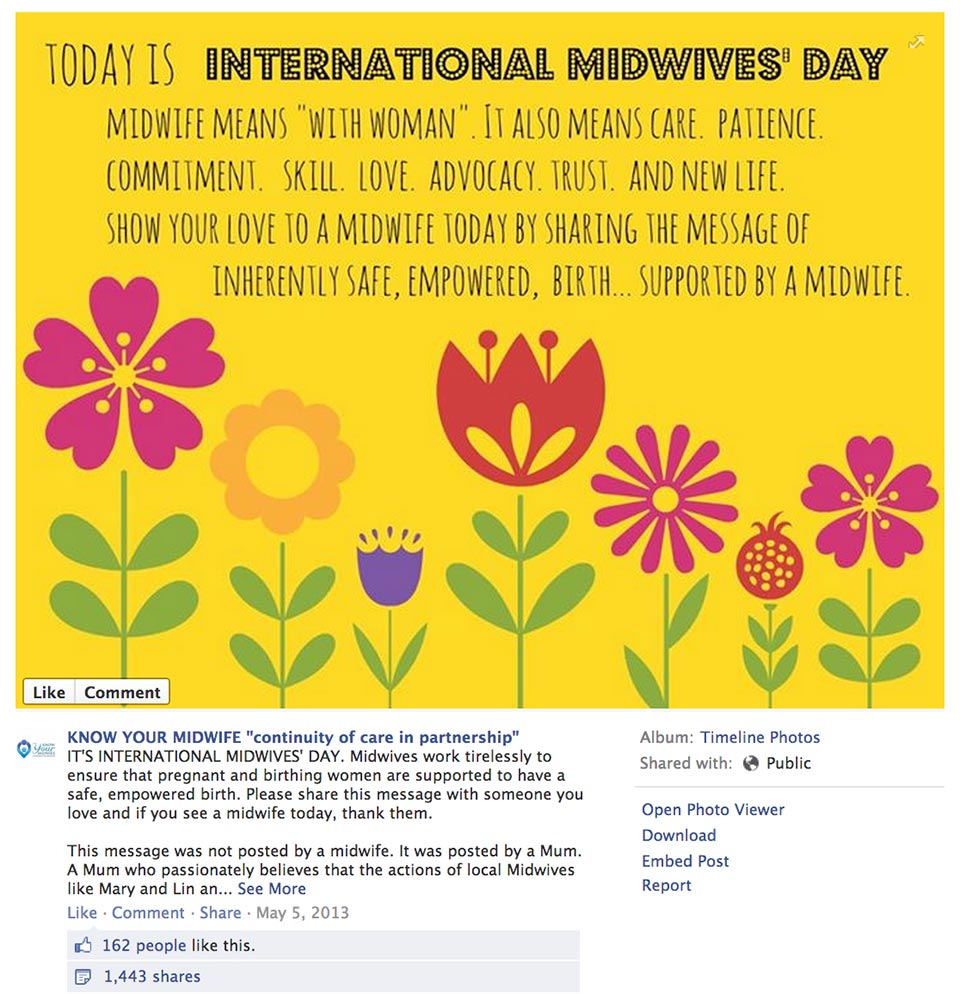 You'll hear the business benefits of using these types of images, and why it's becoming increasingly important with the new Facebook news feed ranking algorithm.
Donna believes that Facebook is like Pinterest, in that 80% of content is shared content and 20% is original content.
When you merge the power of imagery with original content, then it gets shared a lot. If you can create some of your own original content, you've got more chance of it being shared, versus having to share everybody else's. It's very powerful.
Another great example is a business owned by Caz and Craig Makepeace called yTravel Blog. It's one of the biggest travel blogs in the world. They have 4.35 million followers on Pinterest.
They have seen a 3- to 5-fold increase in traffic from Facebook to their blog, just from posting images with the overlay of a tip or a quote.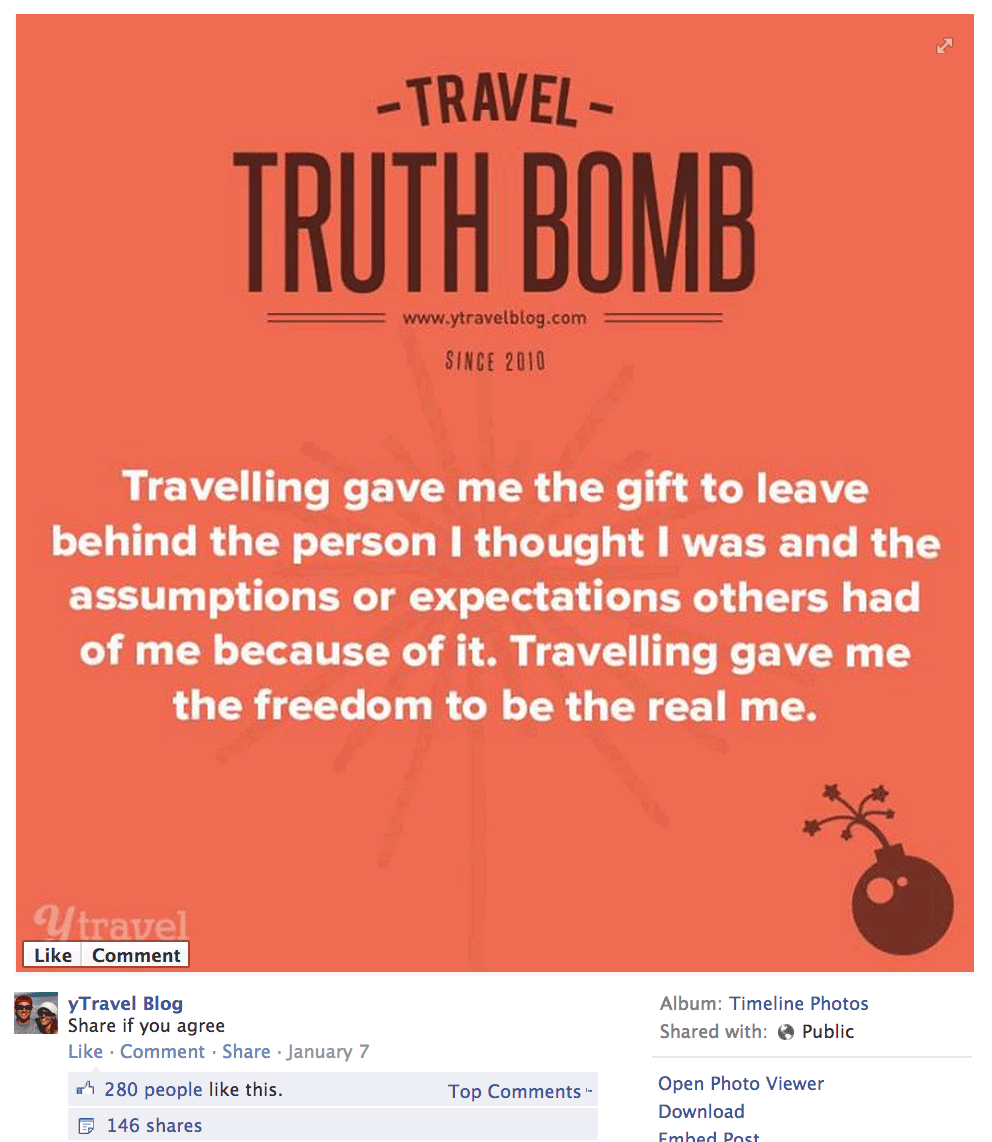 Templates were designed, so that text can be easily added.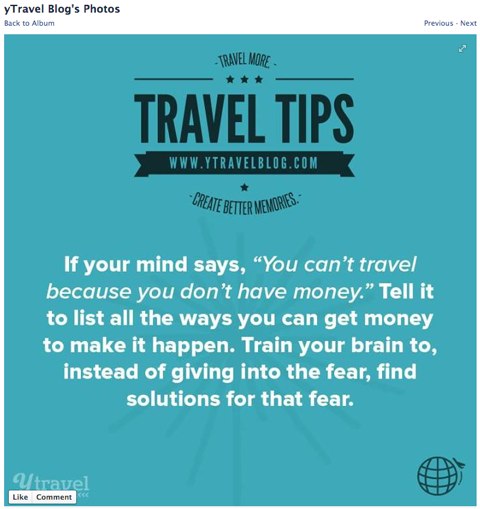 Listen to the show to find out why scheduling your images is so important, and the tools you can use to accomplish it.
How to get started and the tools to use
Donna says that although she isn't a graphic designer, she does do a lot of the images herself.
One of the first tools she discovered is PicMonkey. It's an image-editing tool that doubles as an image-creation tool. Donna says that it's very intuitive and there are a lot of templates to choose from.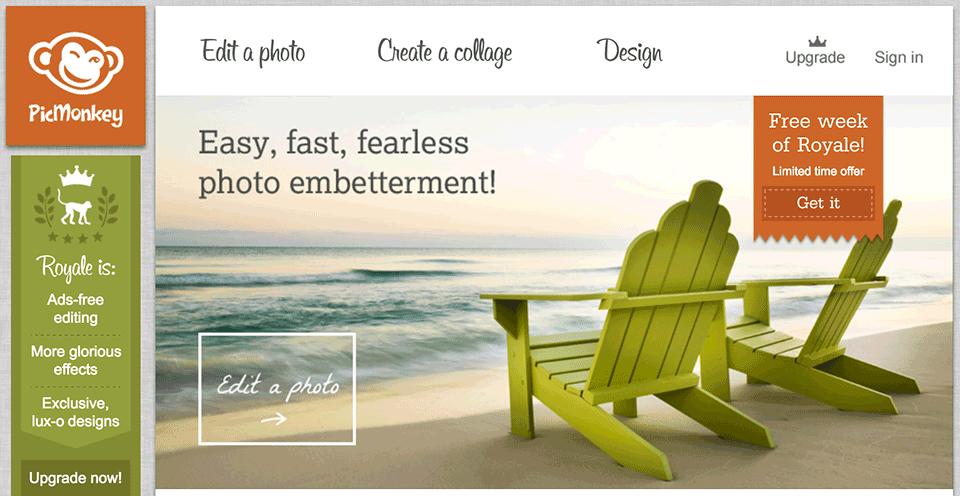 The other tool that Donna loves is Canva. You can now get your account and username very quickly. They are unique in that they have made graphic design very accessible to everyone.
They also have a stock library of one million photos that you can access and some amazing social media templates. Donna says that some of the updates that are due out from Canva will blow people's minds.
You'll hear how you can use screenshots with tools such as Snagit and Jing.
If you have a lot of images that explain information, then the best type of image to use is an infographic. It's a great way to help someone understand your message, story or concept.
Donna and her team have done a lot of infographics for her business and for clients. You'll hear different ways you can use infographics in your business, and the sizes that work best for Facebook, Pinterest and blogs.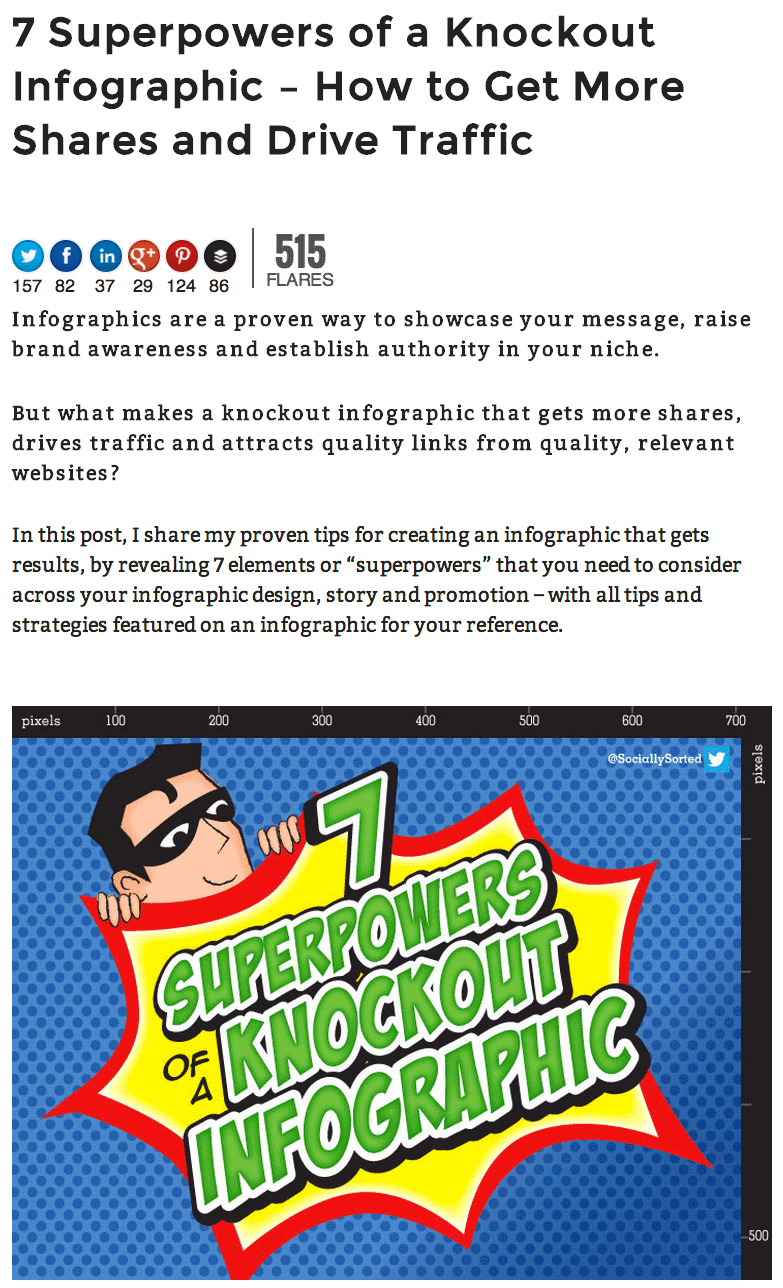 Donna recommends that you don't just put your infographic on Pinterest. If you have something more to say about it, then embed it in one of your blog posts. It's a fantastic way to get extra mileage out of it.
Listen to the show to discover the other tools that Donna uses to create infographics.
Discovery of the Week
I was recently in Las Vegas with Joel Comm, where he introduced me to a really cool app called Hang With. It's an app for your iPhone or Android that allows you to do live streaming with the push of a button directly to your Facebook page or directly to other people who have the app.
It's a live broadcast and when the broadcast has finished, the video is then available on YouTube.
Joel decided to do a quick 2-minute video of us at a buffet in the hotel. Everything was done seamlessly for him.
I think it's a really cool app, although I haven't used it myself yet. Maybe it's the direction we are heading with photography and video—the idea of a live component.
Be sure to check it out.

Call in and leave your social media–related questions for us and we may include them in a future show.
Listen to the show to learn more and let us know how this works for you.
Other Show Mentions
This week's podcast is sponsored by Social Media Marketing World.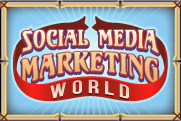 Social Media Marketing World 2014 is our physical mega-conference, which is set to return to San Diego, California on March 26, 27 and 28.
The conference features more than 80 sessions in four major tracks: social tactics, social strategy, community management and content marketing. These sessions are taught my leading experts in the world of social media marketing and content creation.
A small sampling of some of the speakers includes Ekaterina Walter (visual marketing), Ted Rubin (social relationship-building), Larry Benet (networking), Martin Shervington (Google+) and Lou Mongello (podcasting).
We are so excited about this conference! Make sure you check out our hashtag #smmw14.
The conference is heading toward a sellout. Be sure to check it out.
Key takeaways mentioned in this episode:
Ways to subscribe to the Social Media Marketing podcast:

What do you think? What are your thoughts on visual social media? Please leave your comments below.