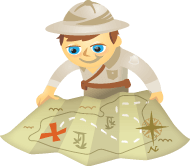 Do you want to enhance the appearance of your LinkedIn profile?
Are you looking for ways to get noticed and attract more business opportunities on LinkedIn?
In this article, you'll discover how to use LinkedIn's Professional Portfolio to make your LinkedIn profile stand out.
What is LinkedIn's Professional Portfolio?
LinkedIn launched Professional Portfolio to showcase your unique professional story using rich visual content.
It doesn't matter whether you're a photographer, a real estate agent, an interior designer or a marketer. By adding an interactive, rich media experience to your profile, you can leverage the power of imagery.
At present, the key features of Professional Portfolio are available on the following sections of your LinkedIn profile:
Summary
Experience
Education
Content can be added to your LinkedIn profile in the form of photos/images, videos, presentations and audio recordings.
You can also link a range of documents and content types with Professional Portfolio. These are either hosted by LinkedIn or linked through approved providers. For example, approved providers for presentations are Prezi, Scribd and SlideShare. You can view a complete list of approved providers here.
How to Get Started on Professional Portfolio
First, select edit mode on your LinkedIn profile: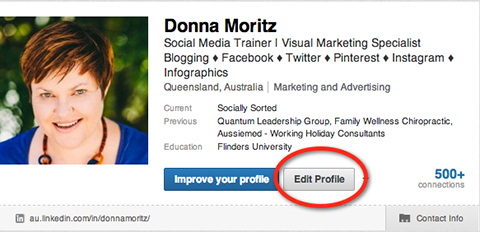 Next, follow the prompts in your chosen Summary, Experience or Education section. The first time you do this, LinkedIn will encourage you to add visual content.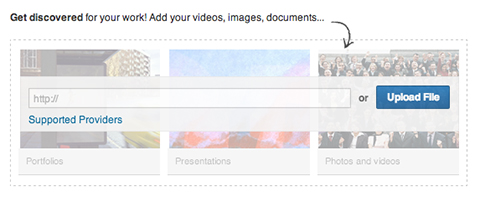 Now, you can easily click on the following symbol (while in edit mode) to add visual content to your LinkedIn profile:

To add a link, paste the complete URL into the field, and LinkedIn will grab the content for you, pull in an image, and prefill the fields for title and description.
If you want to go back and edit any of the media, simply look for the pencil icon at the lower right corner on any of your content, click on it and edit the fields.
It's as easy as that. In just a few steps, your profile springs to life!
LinkedIn created a SlideShare presentation showing how easy it is to add visual content to your profile, regardless of your profession. You can watch it here.

So let's take a look at 6 real-life examples of small business owners and marketers creatively using LinkedIn Professional Profile.
#1: Showcase Video on Your Profile
There's no doubt that video is an effective way to feature your business. Professional Portfolio lets you quickly and easily embed videos from a wide range of approved video providers.
Melonie Dodaro embedded not one but two videos from YouTube in her Summary section to showcase her social media services and provide an example of her speaking skills.

Hot Tip: Make your title "actionable" so the viewer clicks through to your Professional Portfolio. Once inside, they're instructed to click to play the video as follows: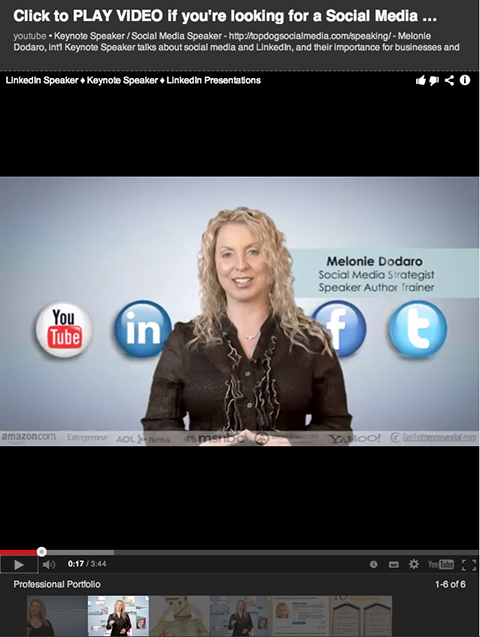 Professional Portfolio is about user experience. The user is encouraged to stay and explore other types of media from within the Portfolio, without having to go back into the profile. Melonie's scrolling menu of media includes other video, images and articles featured on her LinkedIn profile.
With so many people not using video in their portfolios, do you think video might help you stand out on LinkedIn?
#2: Embed SlideShare Presentations
SlideShare easily integrates with Professional Portfolio to provide another media-rich way to showcase your content.
When looking for an example of SlideShare presentations being used to showcase skills and experience on LinkedIn, I needed to go no further than Jesse Desjardins.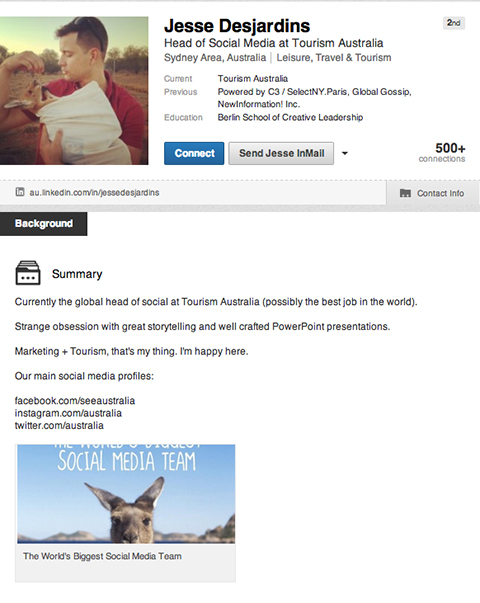 Jesse features a very powerful presentation called the World's Biggest Social Media Team.
By clicking on the image, you are taken to his Professional Portfolio, where you can view the complete SlideShare presentation, right within Jesse's profile.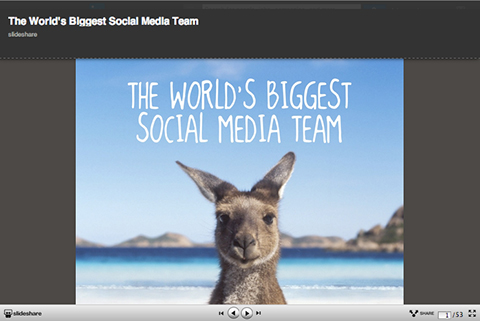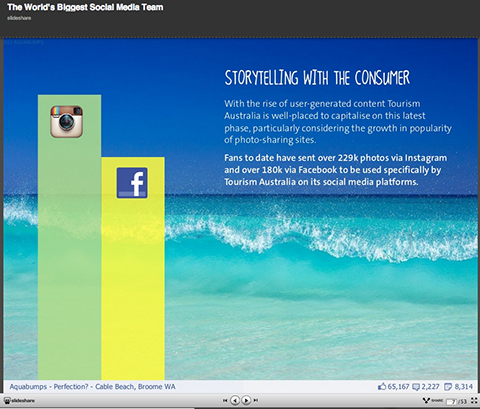 If you have content on SlideShare, don't miss the opportunity to feature it on your Professional Portfolio to showcase your authority.
#3: Highlight Your Achievements and Awards With a Visual Twist
Have you won an award? Published a bestseller? Been featured in a major blog or online magazine? Shout it from the rooftop with visuals.
Fiona Lucas is the author of the recently published book, Futureproof Your Kids. With Professional Portfolio, she can visually showcase her book as well as her recognition as one of the finalists in the Most Clickable Women Awards with the following images highlighted at the foot of her LinkedIn Summary section:

What award, recognition, project or achievement can you show on your profile?
#4: Add Photos and Images for a Media-Rich Experience
Photographer Belinda Fettke uses Professional Portfolio to showcase her work by featuring an image gallery of her award-winning photographs at the end of her LinkedIn Summary: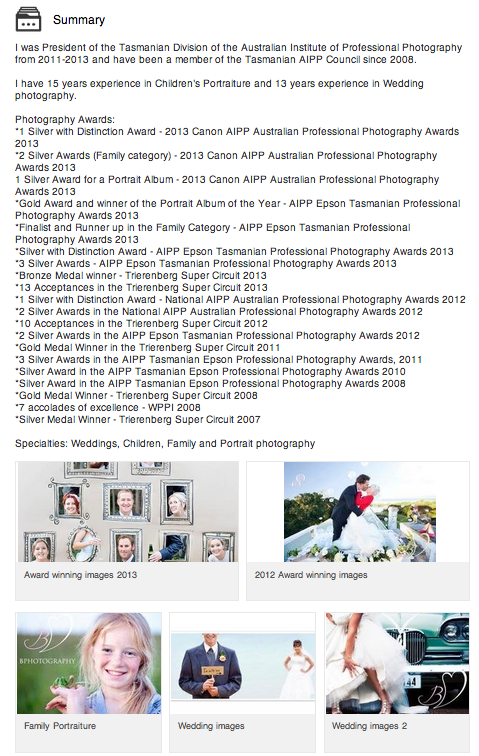 On clicking through, you're taken to Belinda's Professional Portfolio, which features photography from her multimedia account at Behance, a site for showcasing the work of creative professionals across a range of industries.
Linking to Behance is no different than linking to a normal article—just enter the URL of the Behance project you want to add while in edit mode.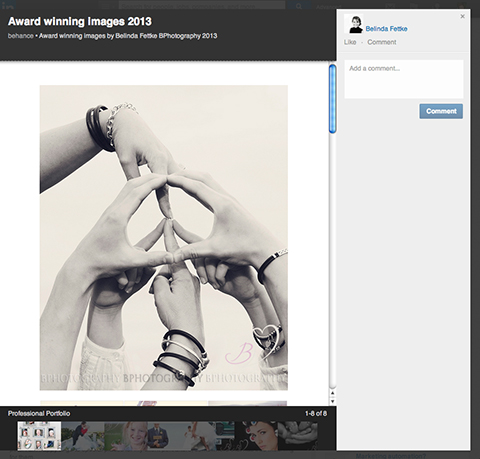 LinkedIn even offers the ability to like or comment on individual images or videos: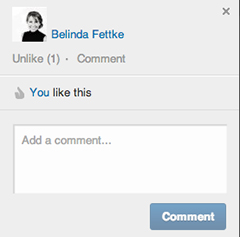 #5: Provide Social Proof With Screenshots
As outlined in #1, video is one way to showcase your speaking experience on LinkedIn. But a simple screenshot can add social proof by sharing the perspective of audience reaction or testimonials from other social platforms.
For example, to create a summary of your speaking experience on LinkedIn, start with simple images and screenshots from any recent and upcoming events to provide a snapshot of your experience. You can translate this idea to showcase any project, work history or "point of difference" on your profile.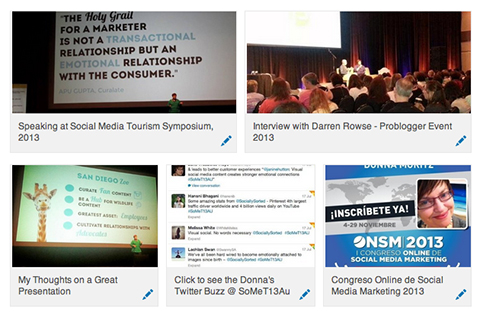 The sky's the limit when it comes to your creativity on Professional Portfolio.
#6: Link to Articles With Visuals
The simplest and quickest way to add visuals to your LinkedIn Profile is by linking articles with public URLs. Any live, public link containing an image, photo or infographic will upload instantly.
Cindy King has used this to showcase her articles in Social Media Examiner by adding a direct link to them on her LinkedIn profile.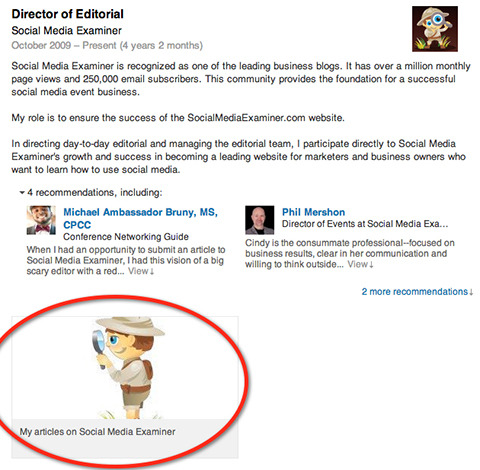 Link Tip: When you add a link to your Professional Portfolio, the image, title and description will autopopulate, which means that the image drawn from a multi-image article may not be the one you want.
One way to retain control over images is to upload an image and then enter the information manually. However, you don't get the benefit of the link being clickable or hyperlinked. It all depends on your priority between clickable links vs. having some control over the image that's populated.
For example, on my own LinkedIn profile, a suitable image wouldn't autopopulate from the link for an article on Forbes, so I used a screenshot instead. The image on the right autopopulated well and contains a clickable Read Original link to allow users to visit the original article.

Still need some inspiration?
LinkedIn produced this SlideShare presentation to feature users who've leveraged the power of Professional Portfolio—an executive chef, a TV reporter, a motorcycle adventurer, a makeup artist and a writer.
With Professional Portfolio, the ability to tell your professional story is really only limited by your imagination. I hope that these 6 tips will help you maximize your exposure on LinkedIn and better showcase your unique professional story.
What do you think? Have you used these features to showcase your skills and experience? If not, do you think you'll consider giving your LinkedIn profile a visual overhaul with Professional Portfolio? Leave your questions and comments in the box below.