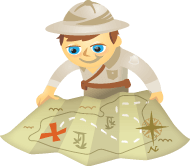 Are you looking for Instagram content ideas?
Have you considered repurposing your blog content into Instagram albums?
Grouping multiple images from a blog post into an Instagram album can bring engaging content to Instagram.
In this article, you'll discover how to combine blog posts into Instagram albums.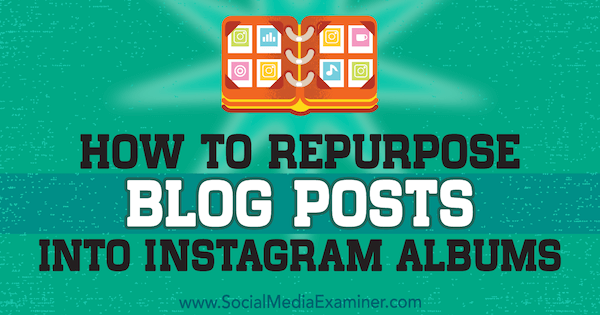 Why Use Instagram Albums to Repurpose Blog Content?
It's easy to share a link to your blog post on most social media platforms. But on Instagram, you have to get creative.
Often, uploading a simple blog post image and announcing your new blog post in the caption will work. As long as your Instagram bio links to your blog page, this can be an effective way to drive traffic.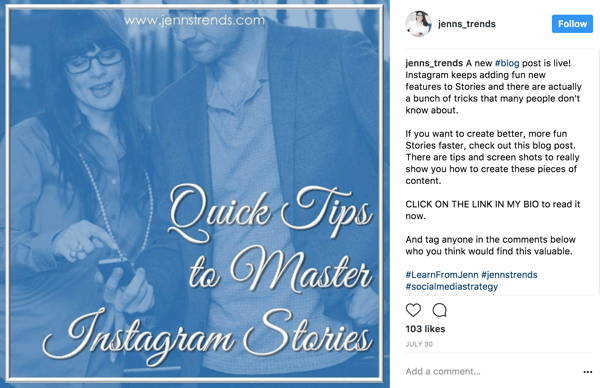 But if you really want to boost engagement with your blog content and get significant traffic from Instagram, you can repurpose it for Instagram and use albums (also called carousel or multi-image posts) to showcase your content.
Albums allow you to put more context in a single post, share extra tips, give out additional information, garner more interest in the blog post topic, and even encourage response to your CTA. If you're not familiar with albums on Instagram, read this previous post with steps to use albums effectively.
Now let's look at how to create Instagram album content from your blog posts.
#1: Create Multiple Images Based on Your Blog Post
The key to repurposing blog content on Instagram is quality images. You want to create unique images for each key point in your blog post. Where many bloggers include "Click to tweet" links, you want to create a visual image to share to Instagram.
Ana Hoffman published a blog post with quotes and input from various industry leaders. To produce shareable content, she designed a graphic with an image of each person, along with their quote. She also created graphics to showcase the details and stats in the post.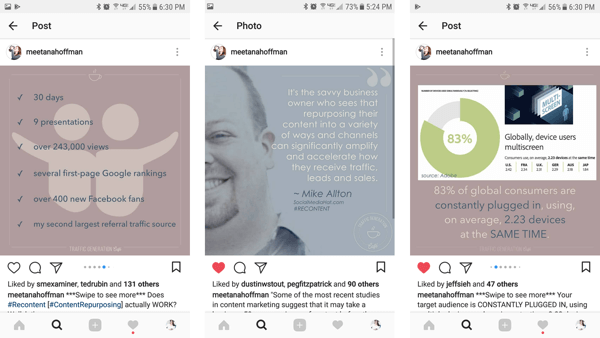 #2: Group Your Images to Tell a Story
You want each Instagram album to tell a complete story, plus be part of a whole collection of albums or posts. Once you've created multiple images for your blog post content, organize groups of 3-10 images that flow cohesively to tell a story.
The best way to achieve this is through careful storyboarding prior to publishing your campaign and Instagram album. Plan exactly the order of each of the images in the post. If you want to include a CTA, decide where to place the CTA in the album. It may even be in the middle, not necessarily the final image in the post.
In this album, Ana Hoffman introduces herself, her story, and the idea of content repurposing, telling a cohesive story. She finishes with a CTA.
For best results, the album should connect with your audience, have a purpose, elicit an emotional response, and make the viewer want to take action.
#3: Spread Out Your Content for Maximum Effect
To maximize opportunities to reach your audience, share your various images over multiple days or even weeks. If you spread out your campaign, more people are likely to see one of these posts. You'll also increase the chances that people will click through to your blog post if they see reminders about it more than once.
When promoting your blog post, include a CTA to click through to your website to read the full blog post. Whether you include the CTA in the post caption, in an album image, or both, be sure to include that directive to click the link in your bio where people can read the full blog post.
#4: Write a Strong Caption
As with all posts on Instagram, a strong caption is extremely important. This is even more true if you want to drive conversions. Your caption needs to convey the message your audience wants to read and get them to take action. It should be informative, entertaining, visually appealing, and easy to read. Also reiterate the CTA you put in the album content.
When you're using albums, it's helpful to include an announcement at the top of your caption to let your followers know to swipe to see more content. This way, if people miss that it's an album or don't understand how albums work, they'll see your caption and won't miss your additional valuable content.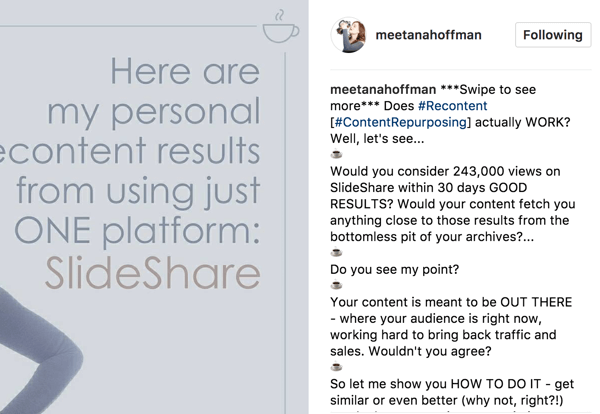 Instagram currently cuts off all captions around the third line of the text depending on the length of the first paragraph and inserts a clickable "…more" option to expand the text.
Because of this shortened caption, make the first sentence or two of your caption powerful. It should get people to click on the option to expand and read the whole caption. This is especially important if your caption includes a CTA because people will miss it if they don't expand the text.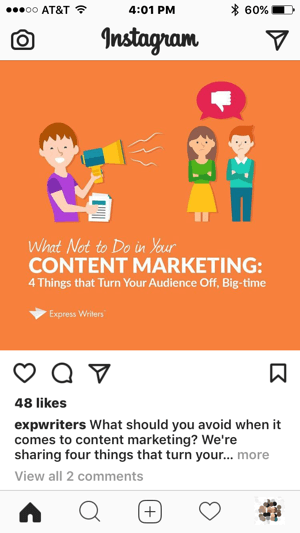 Best Practices for CTAs in Your Albums
Adding a solid CTA within your album can be powerful for driving traffic and conversions. Beyond asking your audience to read your blog post, you may encourage them to email you, send a text for a free download, or stop by your location for a limited-time sale. Be strategic with your use of CTAs though. Your audience has to see them and find value to drive results.
Include Your CTA in an Individual Graphic
Creating CTAs for Instagram is a little different from other platforms because the method of contact is different. On a normal Instagram profile, the only direct contact is the link in the account bio. On a business profile, there's the link in the bio, as well as the contact buttons set up on the profile (Call, Text, Email, Get Directions).
Once you decide how you're going to direct people to act, determine how to include that CTA in one of the images in your Instagram album. A great way to do this is to create a graphic or overlay text on an image that aligns with the other content in the album.
In this post, the graphics with the CTAs (see the final two images) are clear and perfectly aligned with the style and theme of the other posts in the album.
Remember: Your CTA should be clear, easy to follow, and valuable to your audience.
Repurpose CTA Content From Other Platforms
If you use conversion tactics and CTA graphics on other platforms like Facebook or Twitter, with a little creativity you can repurpose those campaigns for Instagram.
In general, bold graphics don't perform well on Instagram like they do on other platforms. Instagram users tend to prefer well-curated photos over graphically designed prints. However, if you have graphics with your CTA included already, create a series of additional images that align with the styling. Incorporate images and overlays to set the scene, and include the CTA graphic in an album.
Looking again at the example from Ana Hoffman, you can see how she took her graphics with bold text and added them to a whole album with more Instagram-appealing images for better results and conversions.
#5: Execute and Analyze Your Campaign
Once you have all of the above components, you're ready to execute your campaign to promote your blog post (or another conversion campaign). Schedule or manually post all of your campaign images and videos according to your content calendar.
Track the conversions from your Instagram campaign to determine how many clicks were generated, how much traffic you drove, or measure any other metric you're tracking. Compare these results to other platforms you've used for similar campaigns. Analyze the increase in conversions during this campaign compared with normal activity when a campaign isn't running.
If you post multiple albums with CTAs during the same campaign, analyze those individual posts to see which ones generated the most engagement and conversions. Knowing which factors within the campaign were most effective can help you plan future campaigns.
Want more like this? Explore Instagram for Business!
.
Conclusion
Getting creative and putting your marketing efforts in front of your audience in new ways can deliver significant results, including increased website traffic, higher opt-in rates, more click-throughs, and increased social media engagement.
However, you also have to condition your audience. If they aren't used to certain approaches, you may have to guide them or run multiple campaigns to see higher-trending results.
Using Instagram albums to encourage your audience to read your blog posts or follow through on a CTA is a unique tactic that many marketers aren't using. This approach may help you stand out and drive conversions for your business.
What do you think? Are you interested in using Instagram albums to augment your campaigns? Do you think you'll see better results for your CTAs? Please share your thoughts or concerns about this tactic in the comments below.