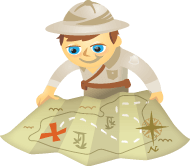 Do you use Instagram for your business?
Wondering if an Instagram business profile is right for you?
Making the switch to an Instagram business profile will give you access to a number of features that business owners may find useful.
In this article, you'll discover what marketers need to know about the new Instagram business profiles.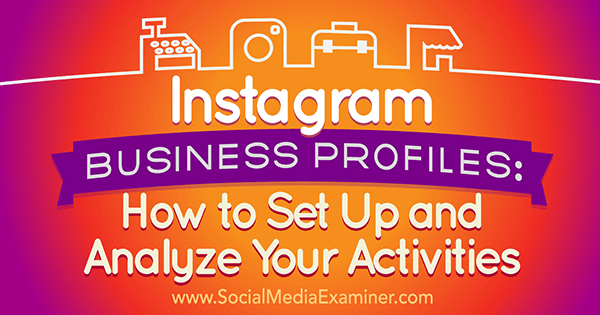 #1: Access Your Instagram Business Profile
To find out if you have access to the new Instagram business profiles, you'll first want to make sure that your Instagram app is updated to the latest version. Then go to your Instagram app and tap on your profile photo at the bottom right.
Next, tap on the settings wheel icon at the top right.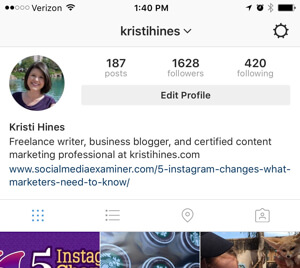 If you see Switch to Business Profile, you have access to the new Instagram business profiles.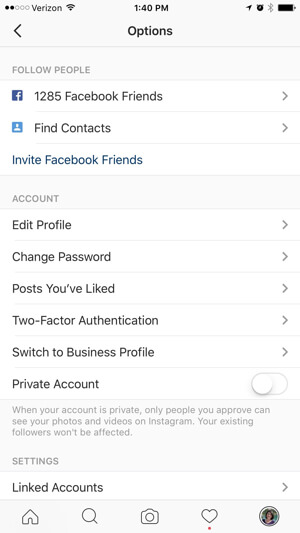 #2: Set Up Your Instagram Business Profile
Tap on the Switch to Business Profile option, and then the View Features link to learn about the features that come with switching to a business profile.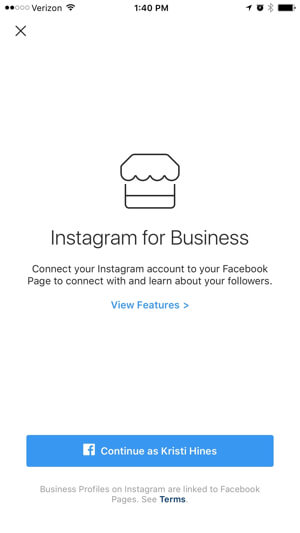 From here, you can flip through screens that tell you how you'll be able to use your business profile to:
Connect to your Facebook page.
Add a phone number, email, or location so customers can reach you directly from a button on your profile.
Learn about your followers and see how your posts are performing.
Create promotions on Instagram that help you grow your business.
Because Facebook tends to limit business pages from being seen in the news feed with their algorithm, it is possible that they will do the same in the future to Instagram business accounts. Instagram may require that anyone with an obvious business profile (i.e., Joe's Crab Shack) to switch to a business account, so there may be no getting around it. You may want to consider the benefits of a business account versus potential limitations, or having both a personal profile and business account.
When you're ready to make the switch, click the blue button to continue and connect to your Facebook business page.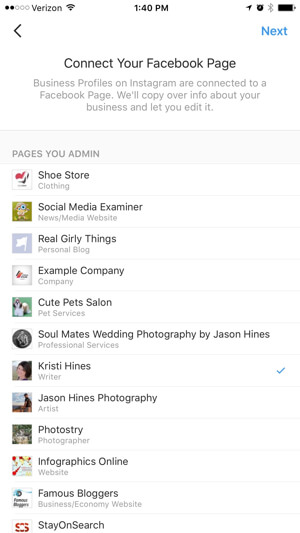 Now enter your business contact information, and Instagram will automatically pull information from your Facebook page. You can choose to use this information or remove it, based on your preferences.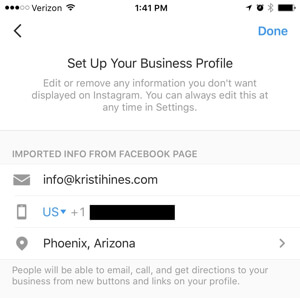 Once you're finished, you'll be taken back to your Instagram profile, which will now be a business profile.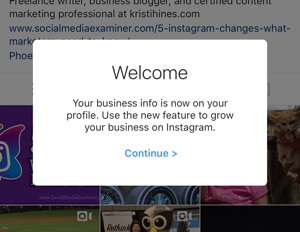 Explore Your Business Profile From a Visitor's Viewpoint
Your Guide to the Future of Business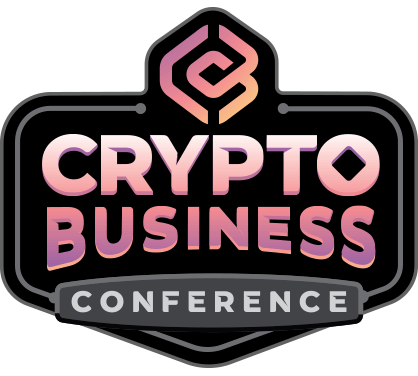 The Web3 renaissance opens up new opportunities for entrepreneurs, creators, and marketers who are ready to embrace the changes. But, who can you trust?

Introducing the Crypto Business Conference; a premium event for anyone who wants to learn how to put Web3 to work for their business.

Join us in sunny San Diego, California, for the first-ever crypto conference for business pioneers…not finance and tech nerds. You'll get actionable, business-building ideas from proven innovators—without all the techie jargon.
CLAIM YOUR SEAT
If you have another Instagram account, you can switch over to it to see how your new Instagram business profile looks.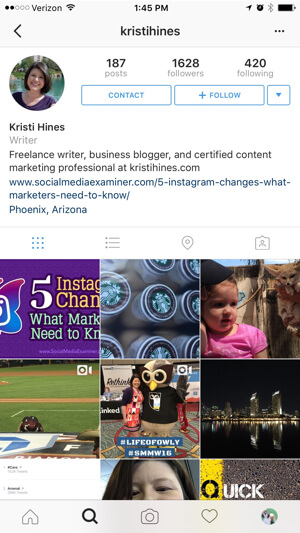 Or you can tap on the Contact button to see which engagement options your visitors will see when they view your profile.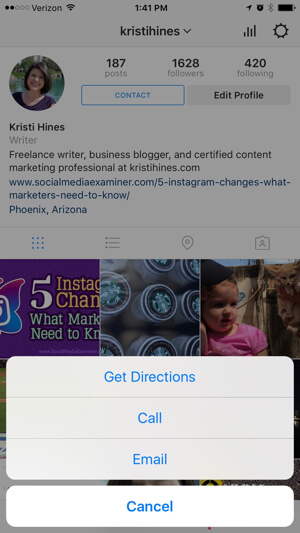 You can decide at this point whether you want to remove some information such as your location, for example, if it isn't complete or people don't need to visit your business. You can also edit your business profile to change the option from Call to Text.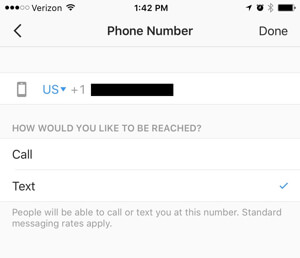 Note: Either option will show the visitor your phone number, so if you're a freelancer or consultant and don't want to share your phone number, you may want to remove it from your Instagram profile.
#3: Explore Instagram Insights
To access your Instagram Insights, look at the top right of your new business profile next to your settings wheel icon. You'll see a bar graph icon that will take you to your Instagram Insights.
Launch Social Projects Faster and Easier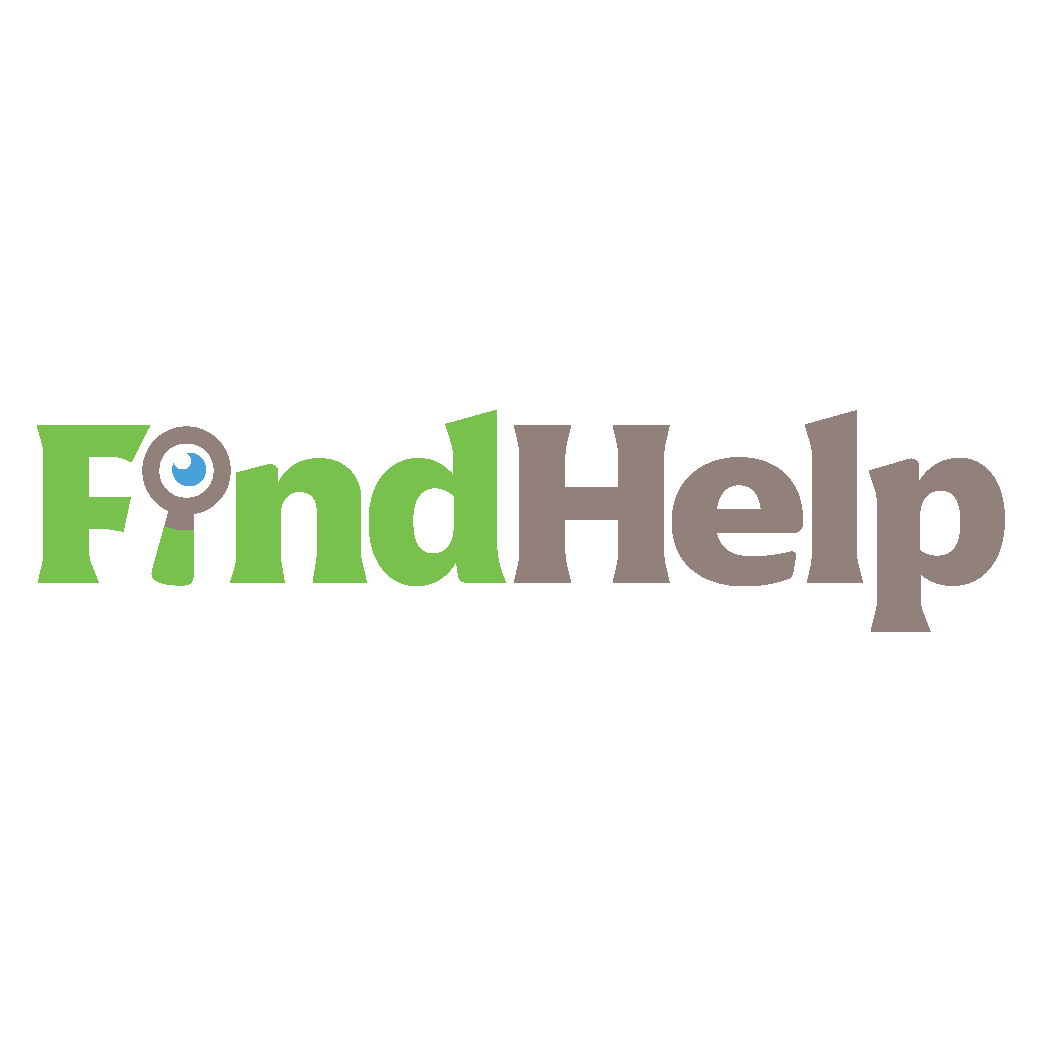 Looking for a content creator, campaign manager, or strategist for your social channels or a special project?

Find the right expert for even the most complicated project or campaign in just a few clicks with our new FindHelp marketplace. You'll have more time to focus on other areas of your business without sacrificing your social presence. Browse highly qualified Facebook and Instagram experts today.
FIND HELP TODAY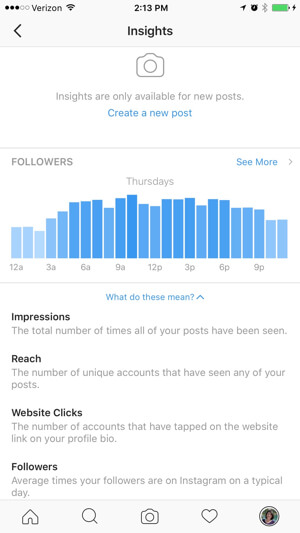 After you post something to your new business profile, you'll get details on the impressions and reach from your posts, plus the number of website clicks from your business profile.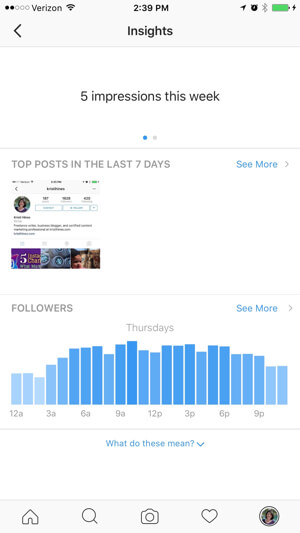 When you tap on the See More link for your top posts, you'll see a screen dedicated to your posts. Each post will show the image and the number of engagements currently on the post. You can also tap on any of the links for Impressions, Reach, or Engagement to bring up a filter to see posts based on that specific criterion.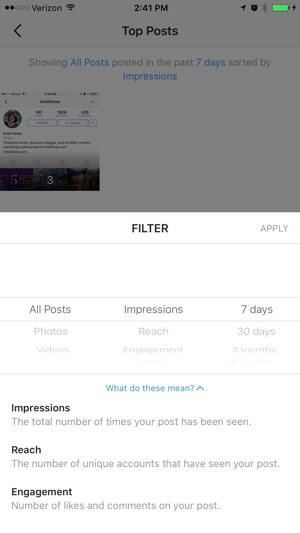 Go back to the original Insights screen, tap on the See More link for your Followers.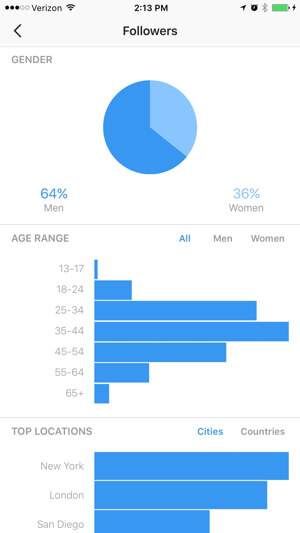 Here, you'll get a breakdown of your followers by gender, age range, location, and the times/days they're most likely to be online. The latter may prove useful when planning your Instagram posting schedule.
#4: Promote Posts With the Instagram App
Want to get more reach for your Instagram posts? You can now promote them in the Instagram app, similarly to how you boost a post from your Facebook page wall. Simply tap on a post and tap on the Promote link.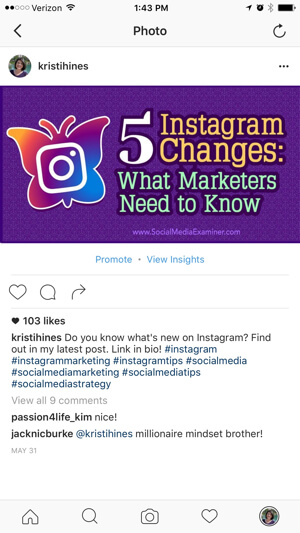 First, you choose your call to action button.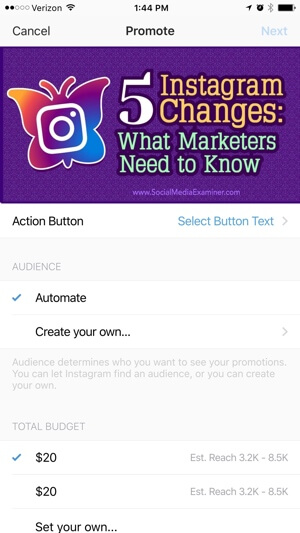 Then enter the link for the landing page that the button will take the visitor to.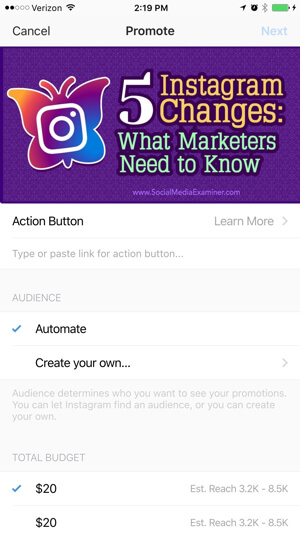 Now you'll set your audience, budget, and duration of the promotion. Note that the audience can be automated or defined by you with the following demographics.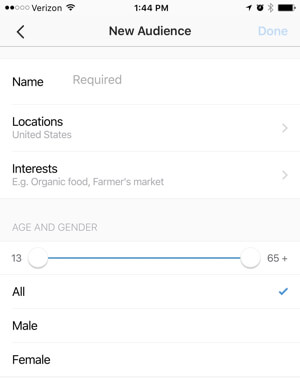 You can customize your own audience as opposed to letting Instagram take the wheel, or do a little testing to see which option gets the best results.
Once you're finished, you'll get a chance to review your promotion settings, add your payment method, and then submit your promotion for review.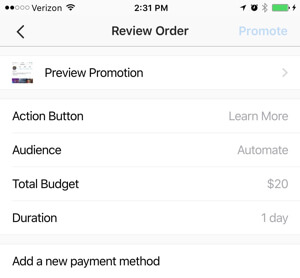 Once accepted, your promotion will begin running, based on your setup and configurations.
While your promotion is running, or anytime after, you can go to your post on Instagram and click on the View Insights link to see if the promotion is still running and what the results are.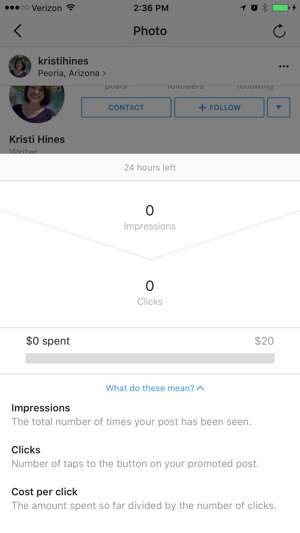 If you have multiple promotions going on, you can also click on the heart icon at the bottom of your Instagram app to see a quick link to all of your promotions.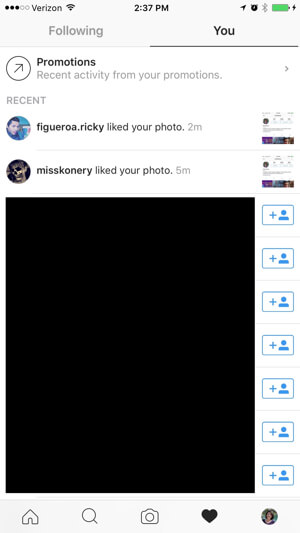 After You Switch to a Business Account
When you switch to a business account, you can still go to your settings and connect with friends on your personal Facebook profile. You also have the option to switch back to a personal Instagram account, which may or may not be available.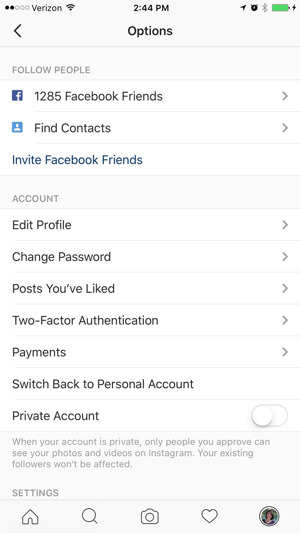 You also still have the ability to link to other social accounts (Twitter, Tumblr, Flickr, etc.) for sharing your Instagram posts across multiple platforms, and to add multiple Instagram accounts to your app.
Note that your Facebook page is linked to business accounts instead of your Facebook profile, and that can't be changed. Hence, if you want to share your Instagram posts on your profile, you'll have to go to your Facebook page and share the posts from Instagram to your profile.
Want more like this? Explore Instagram for Business!
.
What do you think? Do you have the new Instagram business profiles? What features are you most excited about using? Share your thoughts in the comments below.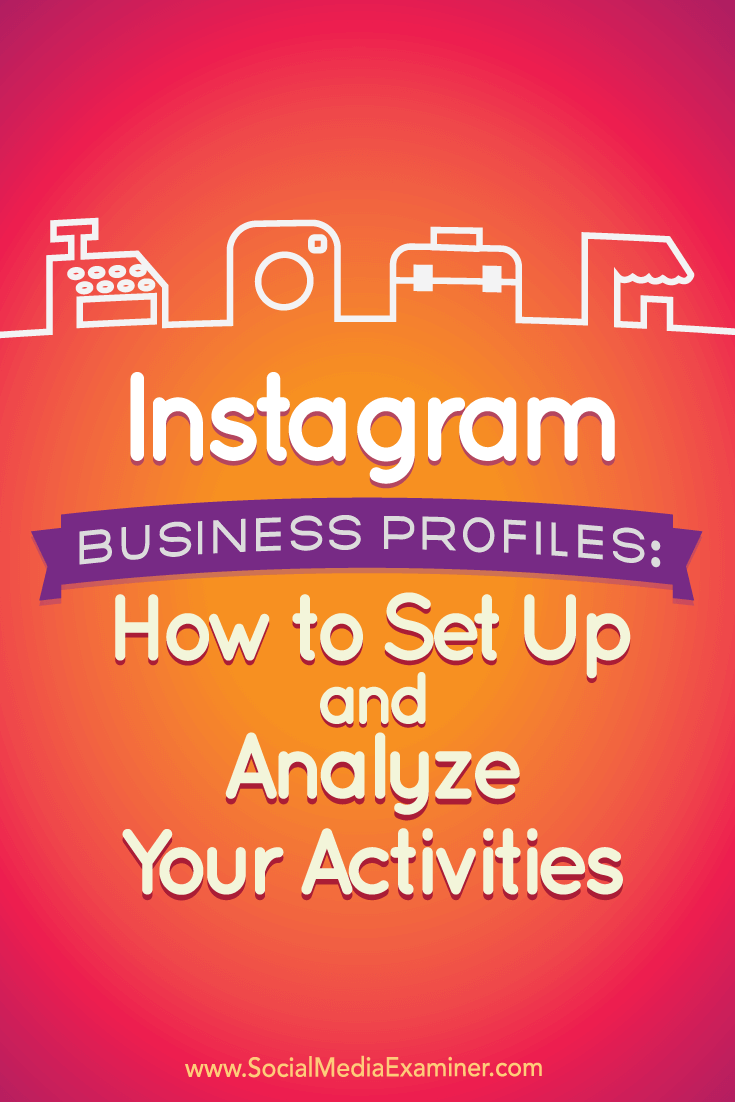 Curious about NFTs, DAOs, and Web3?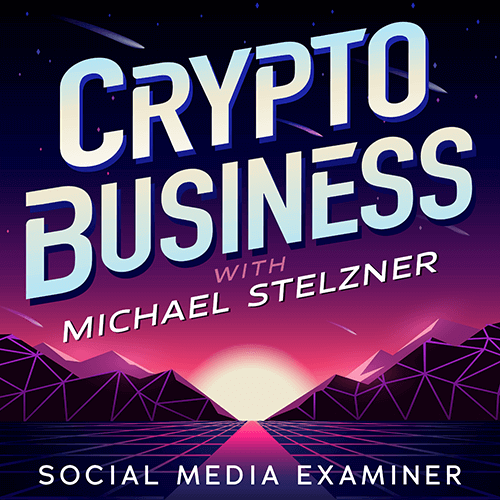 Follow the Crypto Business podcast to find out how NFTs, social tokens, DAOs (and so much more) will affect your business in the near future.

Every Friday, host Michael Stelzner interviews leading industry experts about what works right now in Web3 and what to expect in the future, so you can prepare your business for the shift, even if you're a total newbie.
FOLLOW THE SHOW