Want to create Instagram Stories ads but don't know where to start? Wondering how to make attractive Stories ads without a design background?
In this article, you'll discover how to create, set up, and run an Instagram Stories ad in Ads Manager.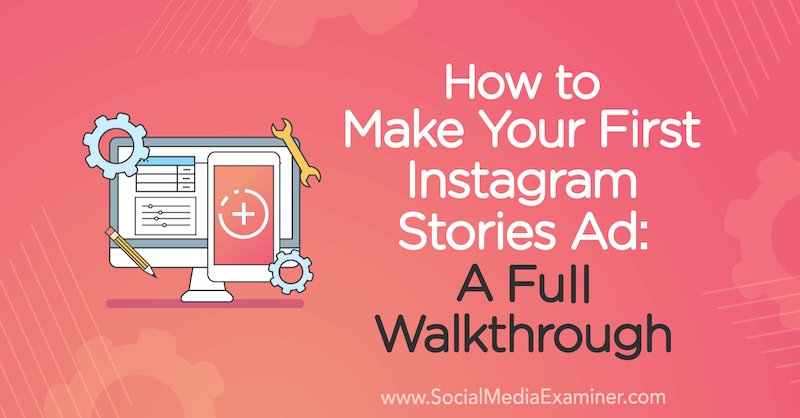 What Makes an Effective Instagram Stories Ad
First, let's talk about the differences between being a user who sees an Instagram story and a user who's just hanging out in the Instagram feed. Stories will automatically cycle through without your input, but the feed doesn't move until you do something with it.
Stories are a full-screen experience; when you're looking at a story, that's all you see. With the feed, you can scroll, so there are more distractions.
When you create Instagram Stories ads, be conscious of the medium you're in. Stories move quickly so your ads have to look like they belong there. When people watch a series of grainy, more amateur-looking stories and then all of a sudden there's a gorgeous image with high-quality graphics, it will stick out like a sore thumb—it's very obviously an ad. So people often will just discount it and immediately lose interest.
To make your ad feel like it's supposed to be a part of Stories, there are a few best practices to keep in mind.
First, the pesky 20-percent rule about text in Facebook ads doesn't apply to Instagram Stories. You can load up the text in your ad. However, the ad will be moving pretty quickly so make sure people have time to read it and use a font that's large enough to see.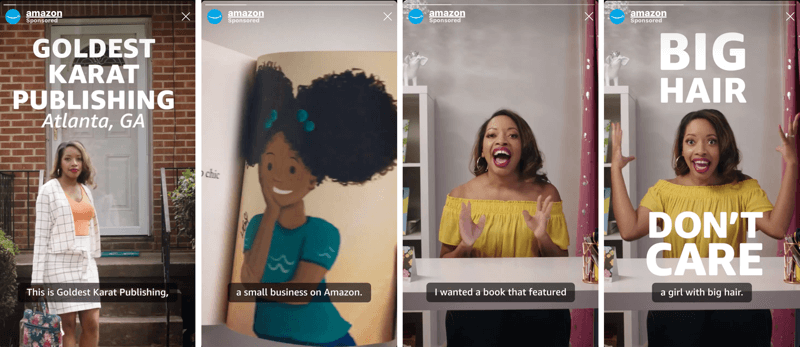 When you tell the story using text, do it minimally and make sure the text you do use will have the greatest amount of impact.
With story creative, it's only 15 seconds long. A lot of us are preconditioned to the classic way of storytelling: a nice big intro wind-up, the crescendo in the middle, and the payoff at the end. Social creative is the opposite. You show the hook first; tell them why they should care.
Finally, the more native you can make your video look to Instagram Stories, the better off it will perform—even if the imagery isn't necessarily something you would choose as a brand.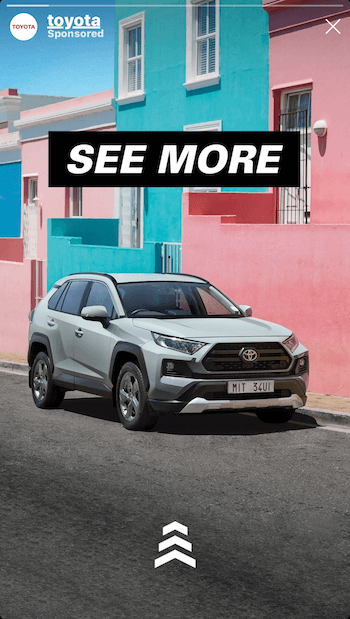 #1: Create a New Ad Campaign
To set up an Instagram Stories ad, go into Facebook Ads Manager and click Create. Name your campaign whatever you'd like. Under Buying Type, leave it set to Auction.
The campaign objective is where you have some different options. Most, but not all, of these objectives (like Traffic and Conversions) will be compatible with Instagram Stories. For this example, select Traffic.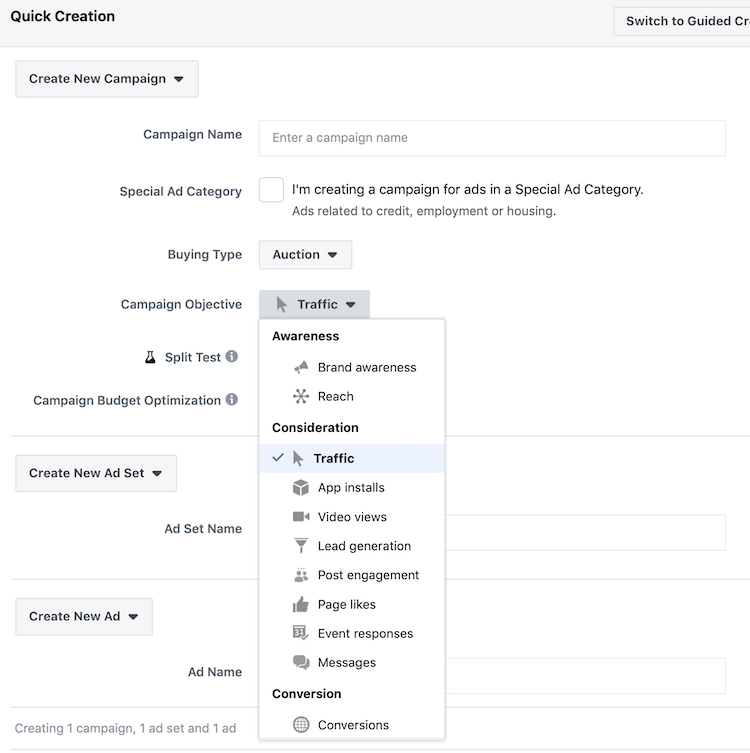 After you choose your objective, enter an ad set and ad name and click Save to Draft.
#2: Set Up Your Ad Set
When you set up your ad set, start by choosing where you want the traffic to go. Because you're in Stories, you want to drive traffic to your website. That's the default setting so you can just leave it there.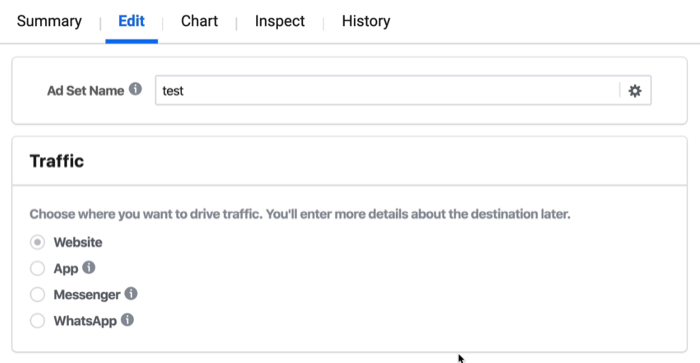 Budget & Schedule is where you can determine your daily budget. This is going to change in 2020. Historically, you've set up your budget at the ad set level, but Facebook is changing to something called Campaign Budget Optimization (CBO). If you're not familiar with this feature, this article explains what CBO is, how it works, and what it means for you.
In a nutshell, your daily budget is going to start pulling at the campaign level. So if you don't see what's shown below, don't panic. It just means you're in the next iteration of Facebook already.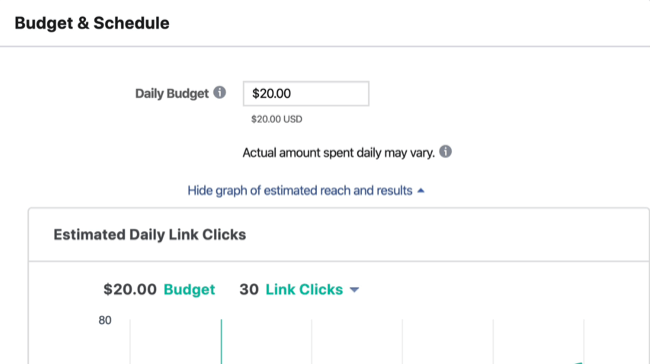 Next up is targeting. If you click into the Custom Audiences field, you'll see a drop-down list from which you can select a lookalike or custom audience you've previously created.
You can also set up exclusionary audiences. If there are people who have already converted, it doesn't make a lot of sense to show them ads for things that are meant to be top of funnel. When you click Exclude, you'll get another field with all of the same options as the top one. The only difference is you're saying you don't want these people to see your ad.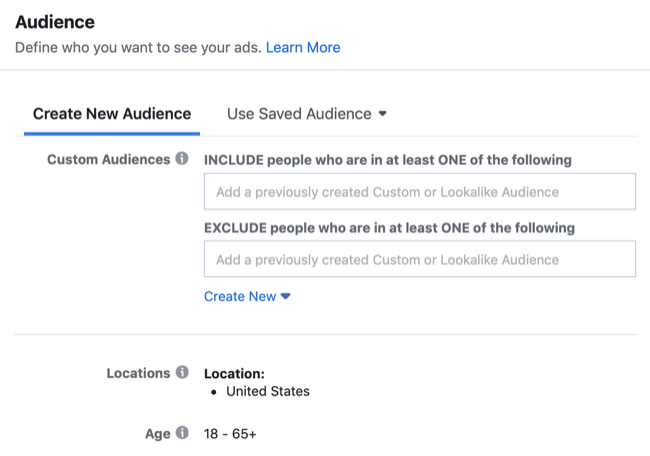 Next, pick where your users are located. The default is Everyone in This Location. This means whether people live there, are just passing through, or are traveling, you'll be targeting all of them in the location you specify.
But maybe not everyone in every location is whom you want to target. If someone's just traveling to your city for a day and your business does HVAC work, you don't want to show your ad to them for air-conditioned service because they don't live there. Or if you're a tourism bureau, you actually want to target people who don't live there. So choose the appropriate option from the drop-down menu.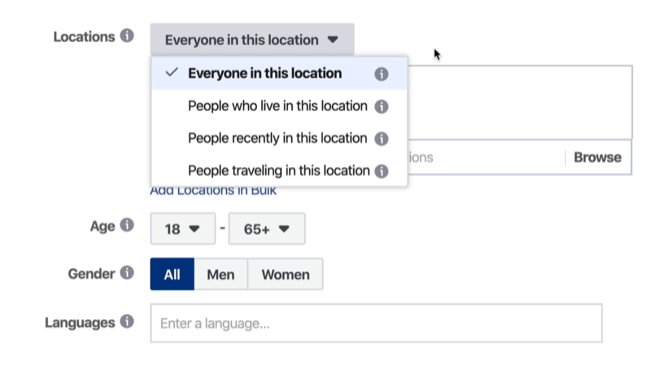 For location, you can pick a country, zip code, radius around certain areas, and DMA (designated marketing area) levels.
To further narrow your targeting, you can also pick specific age ranges, genders, and languages.
Detailed targeting is where you get into Facebook's own targeting. These are predefined user types, such as people who have just switched jobs or parents with a toddler. Based on the targeting you enter, Facebook will also give you suggestions. For instance, if you type in "new job" and click Suggestions, you'll see a bunch of other things under Interests, Employers, and Job Titles that you can also choose.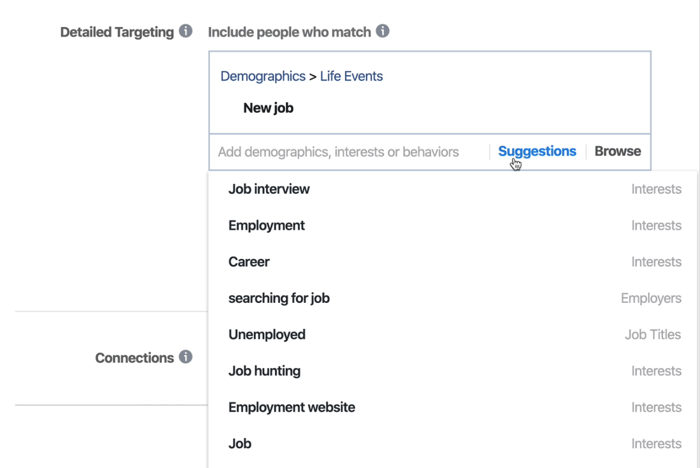 The next section is Placements. Facebook automatically checks off Automatic Placements. If you click Edit Placements, you'll see all of your placement options.
If you're just starting with Instagram story ads, my advice is to leave Stories and Feeds checked. This will create a little more efficiency when you're first getting started. However, be aware that Ads Manager will try to show your Facebook creative in the story creative.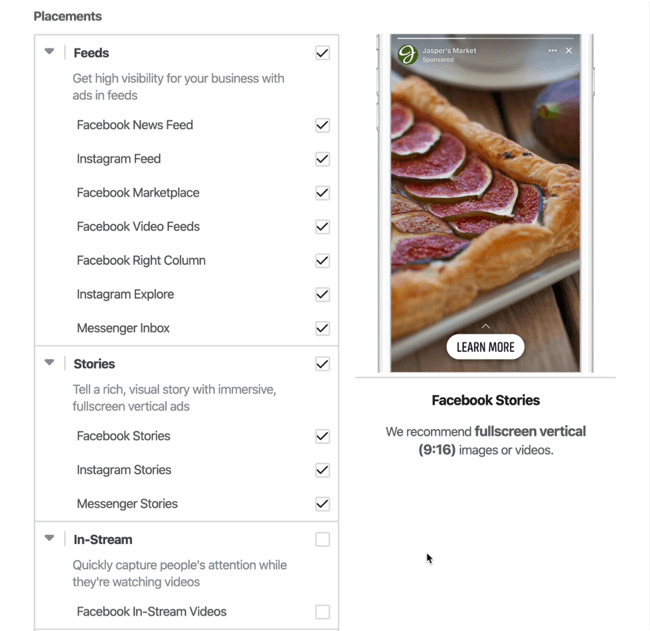 The final section of your ad set is Optimization & Delivery. To keep things simple, leave this set to have Facebook auto-bid based on what it feels the value of the traffic is.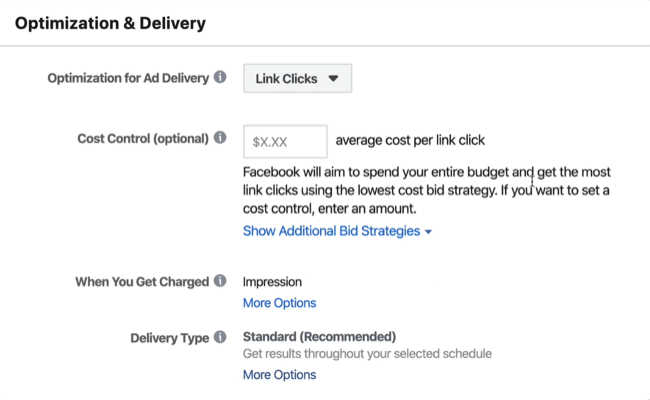 #3: Customize Your Ad Creative for the Instagram Stories Placement
Once you're done setting up your ad set, move on to your ad creative.
In this example, I got an ad started with a plain old picture, a basic headline, and some primary text. The default preview you see is what the ad will look like in the Facebook feed.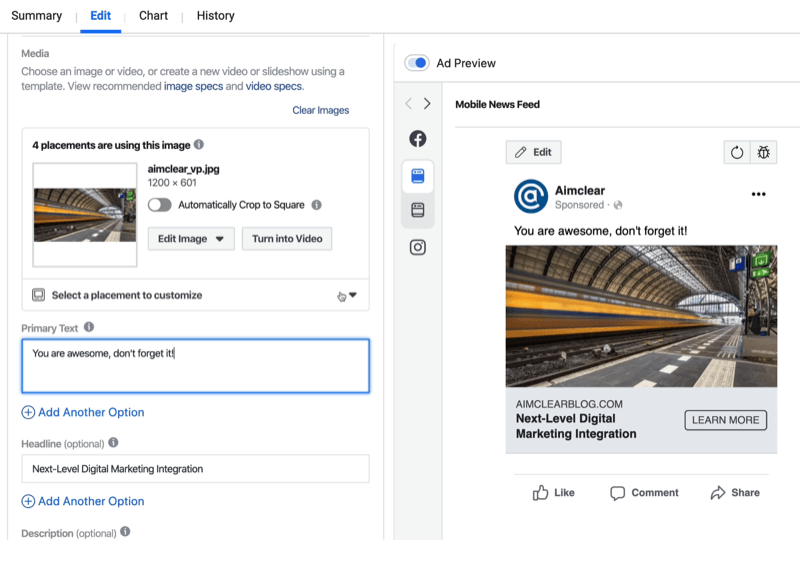 Now, let's look at what happens when you preview this ad in other placements. In the margin to the left of the preview, click the button for Instagram and then select Instagram Stories.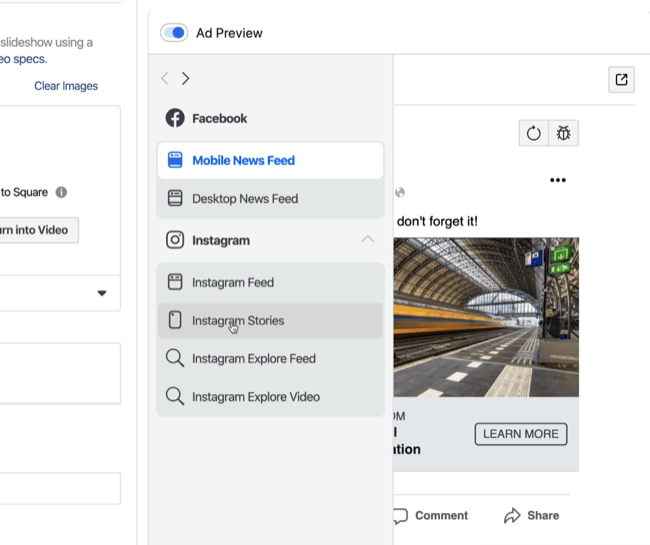 You can see that the ad looks very different for Instagram Stories. Look at all the space you're not using; it's a wasted opportunity. This is part of the reason why you want to specify different creative for Stories ads.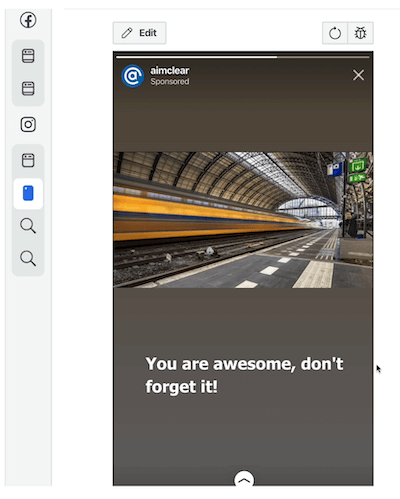 To the left of the preview is a helpful informational pane that tells you four placements are using this image. If you click Select a Placement to Customize, you get the option to use different creative. This way, you don't have to set up a whole separate ad set and choose all of your settings again.
Note: If you don't see this option, look at the objective you chose for your campaign. While Instagram story ads and placement customization are both available in most ad types, some campaign objectives—like brand awareness—don't support them.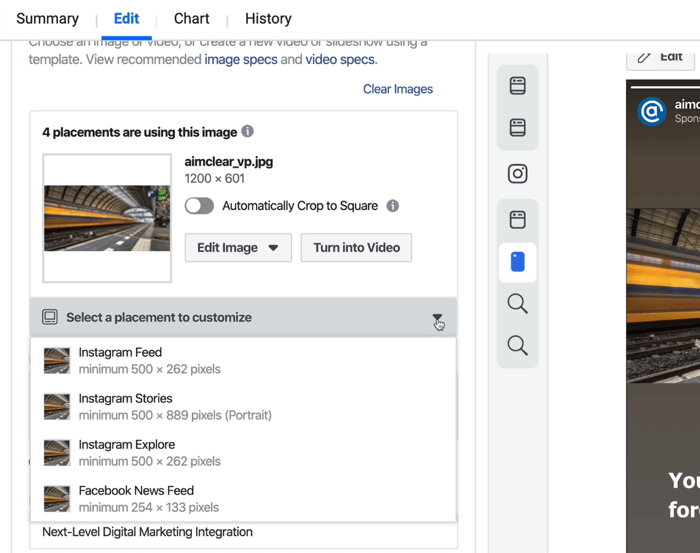 Now choose Instagram Stories from the drop-down menu to open a creation window.
One handy feature that Facebook added last year is templates. If you click Change Template in the upper-left corner of this window, you'll see a variety of templates (including full-screen ones) that you can use for your Stories ad.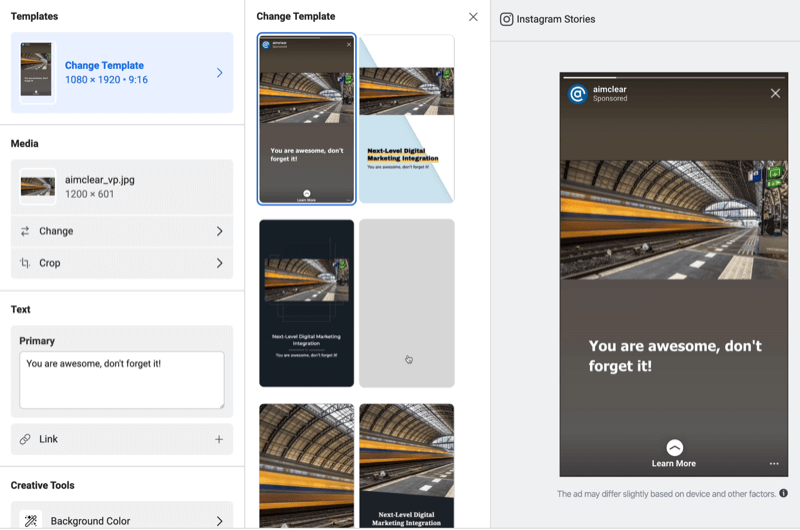 Inside of each template are even more options. While the template you select will default to specific colors and crop the image a certain way, you can make adjustments.
Select a Background Color
On the left side of the window, scroll to the bottom under Creative Tools and pick a different background color. Or enter a hex code to match your brand colors. These customization options will help you make this template feel a little less stock and a little more like you.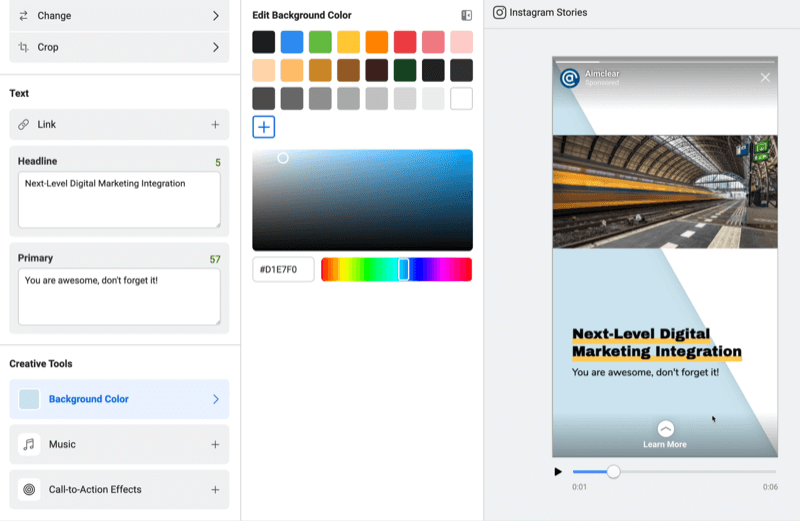 Add Music and Call-to-Action Effects
You can also add royalty-free music and call-to-action (CTA) effects. I like these effects because they're a lot more interesting than the standard "Learn More." You can pick graphics that will animate as well as choose different colors. These effects can make the CTA more interactive and stand out better to draw the viewer's eye to it.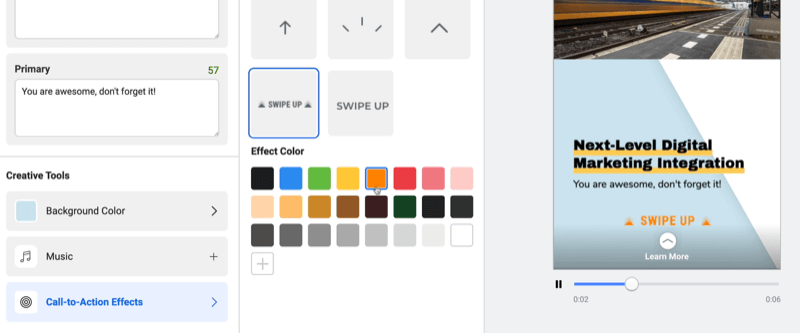 Crop Your Image or Video
If the image or video you're using is in landscape orientation, you might want to explore different cropping options in the Media section. For instance, maybe you want to focus more on the train in this photo.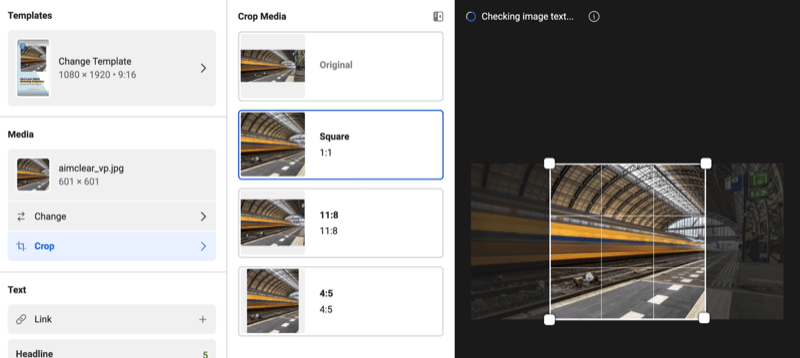 Cropping to a 1-by-1 square can help you do that. It draws the user's eye to the main focal point as well as uses more of the screen real estate.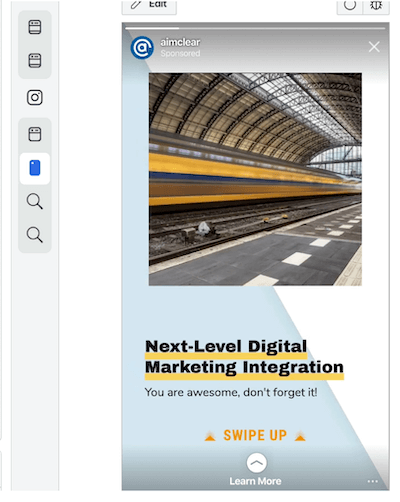 Add Multiple Text Options
Facebook also lets you add multiple text options. Click the Add Another Option button and add your text in the field that appears.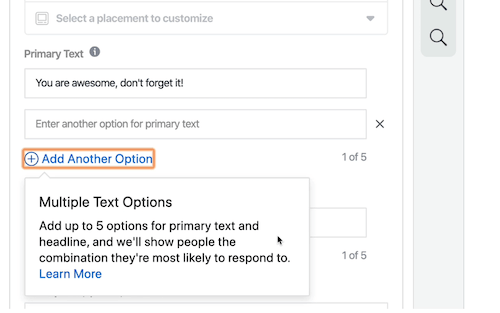 You can test different kinds of templates, ad copy, headlines, and CTAs without having to design a bunch of different ad creatives or make and upload them on your own.
Pro Tip: If you pick a template and decide you're not really thrilled with the picture you're using, it's easy to change it. Simply click Change on the left to access your full image library. In the middle of the screen, click the Images or Videos tab to cycle through your media and then make your selection.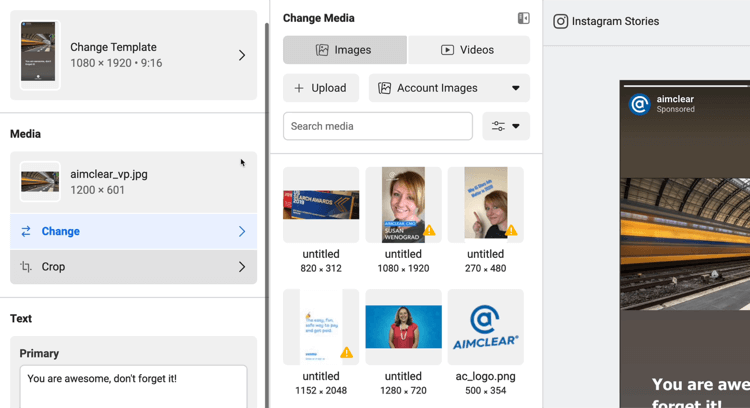 When you're finished setting up your campaign, click Publish.
Watch the video:
Conclusion
Did you know that story ad formats are one of the fastest-growing ad inventory placements on Facebook and Instagram? If you're not maximizing these placements, it's time to start.
Keep in mind that Facebook doesn't necessarily always do the best job at allocating your spend for Stories ads. They will tell you that they do but Stories is a little tricky for them because it's not the largest part of their inventory. There's a case to be made to break out Stories into its own ad set where it's not bundled.
This gives you maximum control over how your budget is allocated. So if the ad is doing well, you can just shove all of that money into that placement and maximize it. And if it's not doing well, it might help you to fine-tune it a little bit more. It also gives you a little bit more flexibility than just auto-applying everything for all placements to the Stories ad if you see that it behaves differently.
What do you think? What types of Instagram Stories ads perform best for your business? Share your thoughts in the comments below.
More articles on marketing with Instagram Stories: