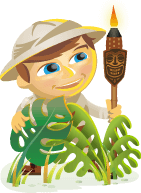 Want to attract more leads with Instagram?
Curious how a story arc on Instagram Stories can help?
To explore how to use Instagram Stories for business, I interview Tyler J. McCall.
More About This Show
The Social Media Marketing podcast is an on-demand talk radio show from Social Media Examiner. It's designed to help busy marketers, business owners, and creators discover what works with social media marketing.
In this episode, I interview Tyler J. McCall. He's an Instagram marketing expert who's focused on Instagram strategy. His membership community is the Follower to Fan Society. He also co-hosts The Recurrent Revenue podcast.
Tyler shares timesaving tips for repurposing content for Instagram Stories.
You'll also learn how to boost follower engagement by creating Instagram stories with a beginning, middle, and end.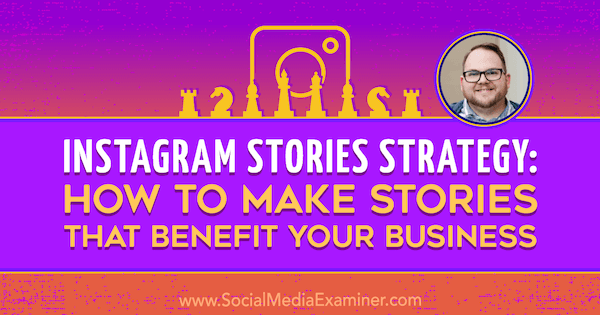 Share your feedback, read the show notes, and get the links mentioned in this episode below.
Listen Now
Where to subscribe: Apple Podcasts | Google Podcasts | Spotify | YouTube Music | YouTube | Amazon Music | RSS
Here are some of the things you'll discover in this show:
Instagram Stories Strategy
Tyler's Story
Tyler's love of Instagram began when he started a side business selling a room-and-linen spray called Mr. McCall's Fine Fragrances. Tyler made this spray on his kitchen table with essential oils and printed the labels on the copy machine at his full-time workplace. He turned to Instagram as a way to market the spray.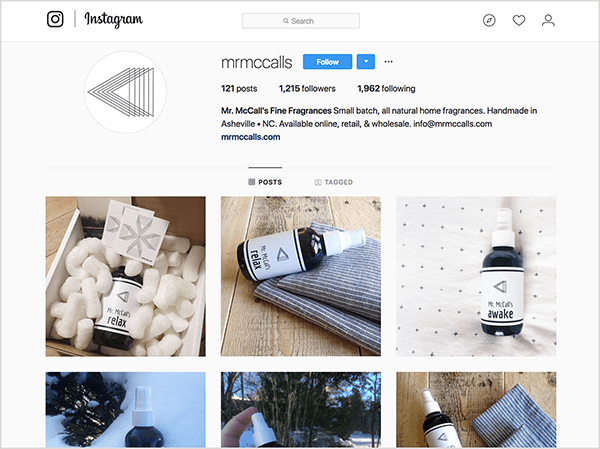 Tyler's marketing background was grounded in the non-profit world. For about 8 years he worked full time doing non-profit marketing management, such as volunteer recruitment, fundraising, sales, and so on. However, in 2014 and 2015, when he began marketing the spray, the influencer age of Instagram was also just beginning.
On Instagram, Tyler was following a ton of different people whose content he loved. Those people tended to be home, lifestyle, and travel bloggers. He communicated with people, built relationships, and commented on others' content.
When Tyler launched his product, he sent direct messages to the people he followed (who had tens or hundreds of thousands of followers) asking if he could send them the spray so they could let him know what they thought. They all said yes. Soon, Tyler was receiving product reviews, and they posted about the spray on their Instagram accounts. (This was before influencers charged for posts.)
For a year, Tyler built the business via online and in-person sales. Toward the end of 2015, he left his full-time job and started doing social media management with a focus on Instagram for other people. Through these initial jobs, he discovered he enjoyed the work and started a small agency with a close friend. They helped local businesses create Instagram content and manage accounts.
After Tyler and his agency partner went their separate ways, he focused on building an Instagram presence for himself, as well as local and national clients. He now teaches his clients how to use Instagram in an intentional way. When you grow the right kind of community, you can grow your business and sell more online.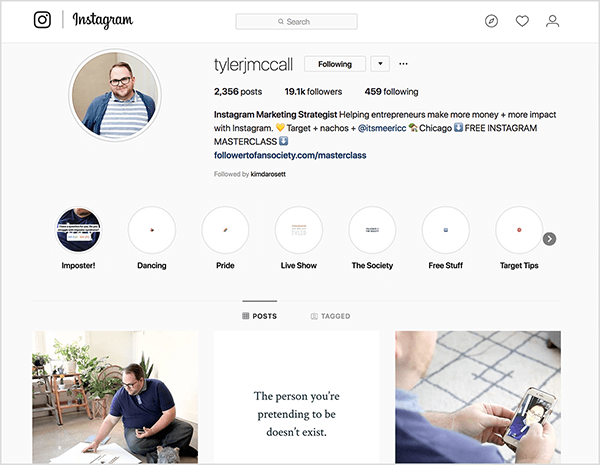 When Instagram Stories came out in August 2016, Tyler had just gone on Snapchat, which was really hot. The Snap Spectacles came out, and WOW airlines did a cool Snapchat marketing campaign for the whole summer. The airline let five or six influencers take over their Snapchat account and flew them around the world for the whole summer.
Inspired by the WOW campaign, Tyler focused on Snapchat but soon began posting regularly to Instagram Stories. He quickly realized the connections he made and relationships he developed helped his business. Instagram Stories helped him make sales. People joined his mailing list, Facebook group, and programs. He also booked coaching clients.
Today, Tyler is on Instagram Stories virtually every day, creating some kind of content for his followers.
Listen to the show to hear more about how Instagram Stories interrupted Tyler's plan for Snapchat.
Why Create Instagram Stories?
Within the world of social media marketing, and especially within the world of Instagram, Instagram Stories is an important place for your business or brand to show up. Among all the social platforms, Instagram is where people engage the most. Tyler also loves Instagram because you can easily and organically find your ideal customer or client.
Instagram and Instagram Stories are important because so many people use them. Currently, Instagram has more than 800 million monthly active users, and more than 500 million people are on Instagram every single day. Of those active daily users, about 300 million are on Instagram Stories. In other words, more than half of Instagram's daily active users are using Instagram Stories.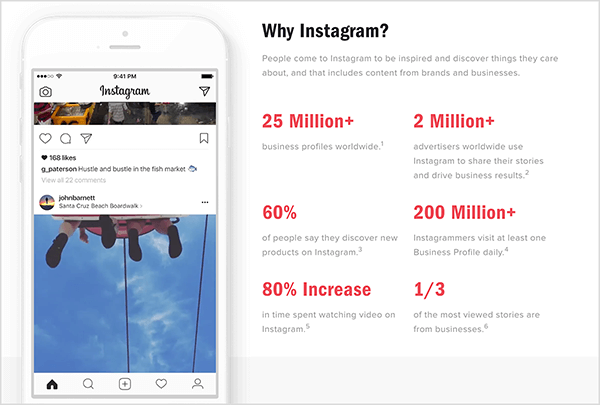 Tyler is especially interested in Instagram's report that one in five Instagram stories leads to a direct message. In other words, when you create some content, you have an opportunity to start a conversation with a potential customer or client 20% of the time. You don't even have to do any selling. For a business owner or marketer, that opportunity for dialog is a huge win.
Since Instagram Stories launched, users spend more time on Instagram and focus more on stories than the feed. Both Tyler and his students have seen user habits shift from scrolling through the feed to only watching Instagram stories.
Branded content is incredibly popular on Instagram. More than half of Instagram users (200 million people) look at a business profile every single day.
For any business, followers forgetting about the business is the biggest hazard. Because so many people watch Instagram stories, they allow your business to stay top of mind and open the door for conversation.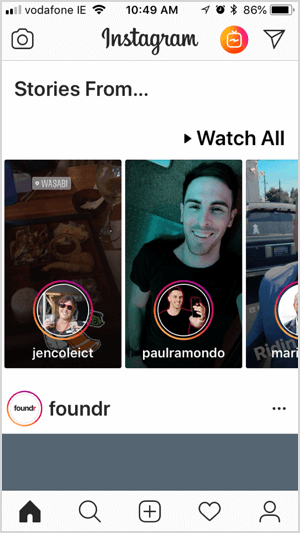 I ask whether Instagram stories allow you to connect with people a little more authentically because stories don't need to be as polished as other content on Instagram. Tyler says yes. In fact, in the entrepreneur, solopreneur, and personal brand spaces, highly curated Instagram stories don't get you as far because they need to offer an honest, genuine look into your business or life.
Listen to the show to hear Tyler predict how IGTV will grow the number of Instagram users.
Instagram Stories Algorithm
Although social networks don't give users the details about how their algorithms work, Instagram has recently been demystifying the algorithm because many users have recently expressed their dislike of it. Instagram says the algorithm creates a unique experience for each user.
Instagram's algorithm looks at a few key factors to determine when you're served content. Much of what you see depends on the way you engage with specific content. How much time you spend on the app also influences the content you see.
As an example, because Tyler is on Instagram for a couple of hours a day, he sees more fresh content than someone who logs on for only a few minutes a day. For the person who spends only a short time on Instagram, it shows only the top few things that interest them.
Tyler has noticed that different areas on Instagram (like Stories) and the feed speak to one another. To visualize this, if you watch someone's story, engage in their store, answer their polls, or reply to them via direct message, you'll likely see more of their posts in the feed. Conversely, if you engage with someone's content in the feed, their stories seem to be bumped up in your queue.
Also, Instagram Stories refreshes every time you open the app. Say someone adds new content to their story, and you always watch their stories. As soon as they add new content, their story is bumped up so you don't miss their content if you're away from the app for a few hours, or even a day or so.
Listen to the show to hear Tyler explain how you can test the way your engagement with different Instagram features impacts the content you see.
Timesaving Tips for Instagram Stories
For marketers who struggle with creating content for all the different platforms, Tyler offers tips for creating Instagram stories. For instance, you can repurpose content from other platforms. You might turn a quote from a podcast or captioned video into a fun graphic. Or repurpose a blog post into a talking-head video on Instagram Stories that highlights the bullet points from the blog post.
With an Instagram Stories takeover, someone else creates content for your Instagram Stories for a day. If you work for an agency or large business, takeovers offer an incredible opportunity to feature your employees or team members and their stories. You can also allow customers and clients to do a takeover.
User-generated content is another low-effort way to create Instagram Stories content. In fact, Instagram has simplified your ability to share user content. If someone with a public account tags you in a story, you can add that story to your own story. Instagram also recently released a feature that lets you share posts from Instagram to your story as long as the post isn't from a private account.
With these features for sharing user content, you can spend a few minutes per day sharing customer or client posts or stories in which they've tagged you or your business. When you share their content, a shortcut to their post appears in your story. You can also thank the user for the mention and point your audience to the product or service the original poster is enjoying.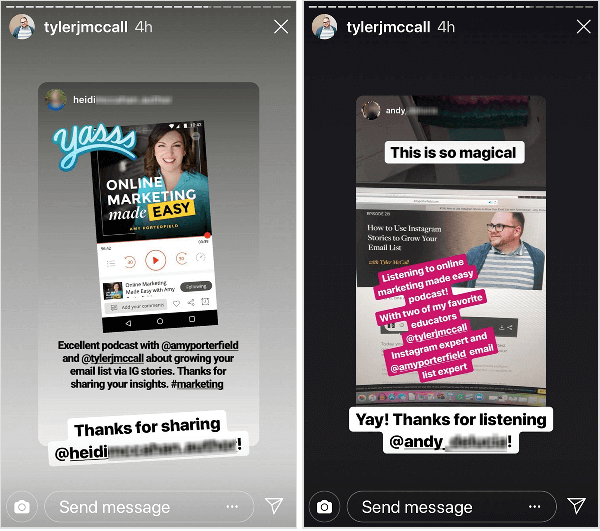 For example, to share a 60-second video that somebody posted on their Instagram account, you tap the little airplane icon and share that post to your story. Instagram creates a photo in your story that shows the user's post in the center and picks a color from the post as a background. Tapping the photo then takes you to the video post.
When you share user content to your story, you don't need to worry about people leaving your stories. Although someone who taps to see the user's full post leaves your story temporarily, Instagram removed the bottom bar that would allow someone to return home. The user has to return to your story before they can navigate elsewhere on Instagram.
In fact, Tyler says Instagram Stories users typically don't navigate away from stories. Some people who manage business accounts focus on getting 10,000 followers so they can get the swipe-up feature, which is the only way besides a link in your bio to take a user from Instagram to a website. However, given user behavior, swipe-up doesn't solve many Instagram marketing problems.
Listen to the show to hear why Tyler recommends sharing video via Instagram Stories instead of the feed.
Tyler's Story Arc Method
With the story arc method, Tyler follows the basic principles of a story arc that you often learn in school. Every good story has a beginning, middle, and end. Although the story arc concept is simple, Tyler finds people often struggle with putting the idea into practice. To help people create story arcs, Tyler teaches the purpose or intention behind each section of the story arc.
Beginning: The beginning of your story sets your audience's expectations for the rest of your story. You can explain what your story is about in all sorts of ways: a video, on-screen text, or a boomerang video with on-screen text.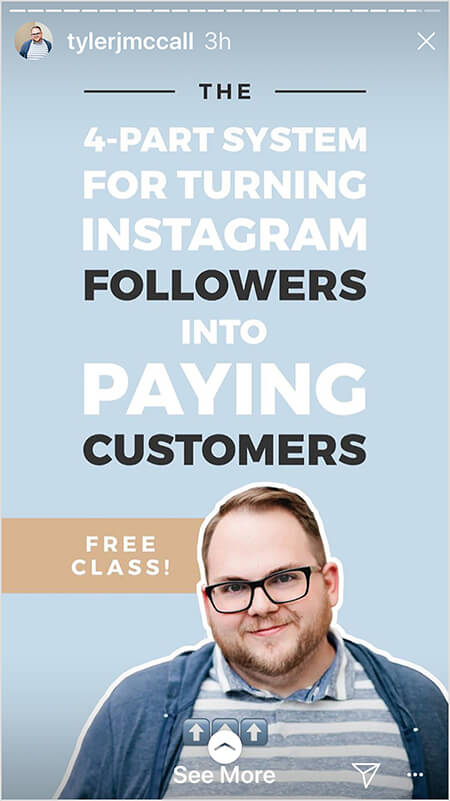 This introduction also gives anyone who's not interested the chance to swipe away at the very beginning. That's important because the key performance metric for Instagram Stories is viewer retention. You want the people who will stick around for the whole story.
To illustrate, day-in-the-life stories are great for someone selling a personal or lifestyle brand. The story might begin with a photo of a cup of coffee and the text "day in the life." Someone hosting a takeover of your account needs to offer an engaging introduction that sets the tone for the rest of the story. To announce a new product or service, start by showing the results people can achieve.
Tyler also offers tips on how to hook your audience so they watch the whole story. For a new product or service, you might invite your audience to "imagine if…" or "how would it feel if…." Teasers work well when you want people to check out your other content. As an example, for his weekly Facebook Live, Tyler teases an idea or a concept and then sends people to the live video or replay.
The beginning of your story must also provide context for what you're doing and why it's important to your audience. When a story begins in the middle of someone's day or the middle of a process or experience, your audience doesn't understand what they're watching and will swipe away. If you consistently confuse your audience, they'll learn to stop watching your stories altogether.
To provide context, you can simply explain what your story is about — whether it's your day, a process, a conference you're attending, or something else. If your story is for a multiday conference or experience, Tyler recommends ending the story each day and starting a new introduction the next day.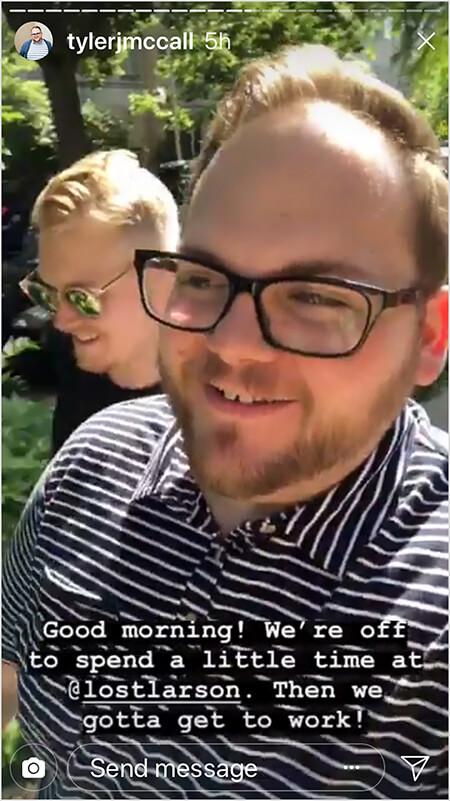 For instance, on the second day of a conference, you might post a photo of your coffee, a Danish, or the sunrise. You could even post a boomerang video of a dancing dog. Then you might appear on-screen to say, "Day Two of VidCon" or something like that. This way, viewers understand it's the second day of the conference and you're going to share what you do that day.
Middle: As you move to the middle of your story, your intention for the story becomes especially important, because even when you're promoting products or services, your content needs to connect with your followers in a way that's meaningful to them. When you're trying to sell something, you do that by educating, inspiring, or entertaining your followers.
For example, you might position your product by teaching your followers something that gets them ready for your product. Or you might inspire your followers with a personal story that sets the tone for the lifestyle they can have by purchasing your product.
To make the middle part valuable and meaty, make sure you deliver on whatever your intention is. A process story might inspire followers to create video for their own business. A story about a conference you're attending might share what you learn from the thought leaders there.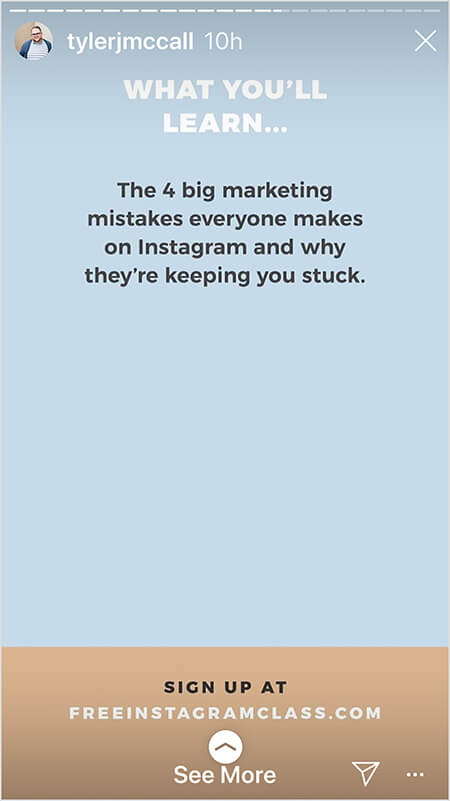 As you share a process or experience, you also want each story post to build on the previous one. To illustrate, in a day-in-the-life story, Tyler's posts might show him working on a podcast, taking a call, and so on. As he posts snippets from his day to his Instagram story, he makes sure the story has continuity so people know when something happens in the day and why it's relevant to them.
Throughout the middle part of the story, Tyler also recommends diversifying your content to keep it interesting. Don't post all video or all pictures. Instead, weave together different types of content. Instagram gives you almost every tool you need to create boomerangs, videos, photos, on-screen text, hyperlapses, GIFs, location and hashtag stamps, polls, and more.
After Tyler mentions using hashtags to provide context and vary the content, he notes that hashtags can also help increase your views, but those views typically don't lead to growth or convert to anything. The views are mostly vanity views.
The hashtags increase views because you can follow a hashtag or location tag. So anyone following the hashtag or location tag will see parts of your story. However, these views don't help your growth or conversions because people who follow a hashtag and location tag don't see your whole story.
To visualize this, if you put a hashtag on every single Instagram story post for the day, Instagram will probably show only a few pieces of your story in the hashtag story. Also, your content is mixed with other users' content. Most of the people who watch your story are probably following you already or have just found your profile and are checking it out.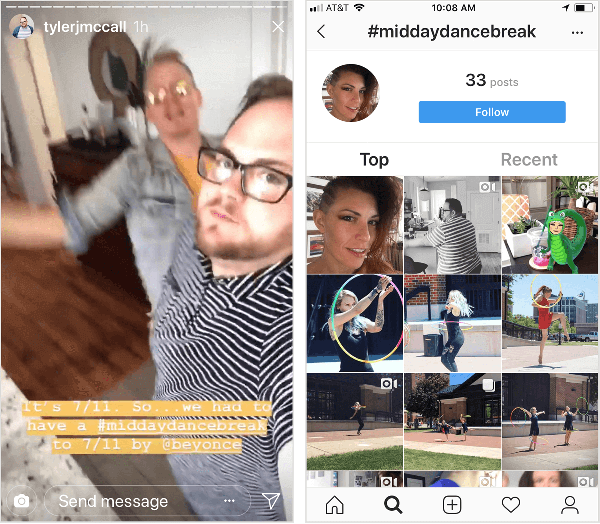 Tyler is a fan of polls because they encourage people to keep watching your content and engage with your brand. Instagram Stories has two polling options: an A/B poll and a slider poll. Someone who taps or slides a response is more likely to like your post, comment, send you a direct message, and follow you off of Instagram. In this way, polls encourage further engagement.
After your followers begin to engage, Tyler suggests using calls to action that ask people to send a direct message. Then you can start having conversations with people.
Ending: When you wrap up your story, build anticipation for what's next and make a clear call to action that reflects what you want people to do after watching your story.
For instance, you can ask people to send you a direct message if they want to know more about your story topic or want to find out what happened.
Or say you make a product and your feed features the finished product, while your story shows how the product is made. In this case, your calls to action can create a loop. In your story, the call to action is "Check out the latest post in our feed to see the finished product." In your feed, the call to action is "Check out my Instagram story to see how this product is made."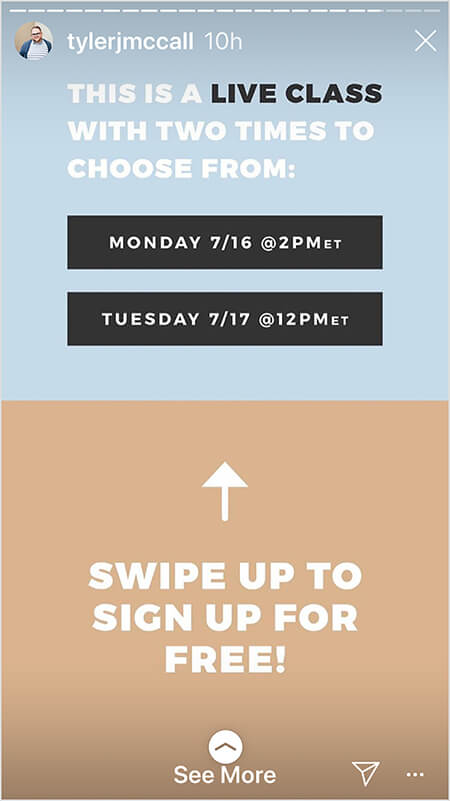 Another example is simply teasing your story for the next day. If your story is about an event, you can say, "Tune in tomorrow for day two." If your story is teaching how to do something, you say, "Come back tomorrow and I'll share the next lesson."
Teasing what's next is important, especially if you plan to create stories every day, because our brains can't handle a cliffhanger without some kind of resolution. Your preview for the next story builds your followers' ongoing viewing and engagement habits. The closure is also important so viewers know how you plan to finish the story, lesson, or experience that you've started.
If you don't know what you're doing the next day, you might wrap up with a summary of your current story and thank viewers for following along.
Timing: As you create your story arc, it's helpful to know the key Instagram Stories timeframes. Each Instagram story post appears in your story for 24 hours. A video post can be 14 seconds, and a photo post appears for only 8 seconds. You can make as many story posts as you like, but Tyler limits himself to 12 story posts per 24-hour period because that's all people tend to watch.
You can compose and post the entire story arc in one sitting or spread out your story posts over several hours. Your approach depends on the story you're telling. To illustrate, a process story that shows followers how your product is made might take a few hours. With each post, simply begin with a brief reminder such as, "Today we're taking you into the factory," so new viewers can catch up.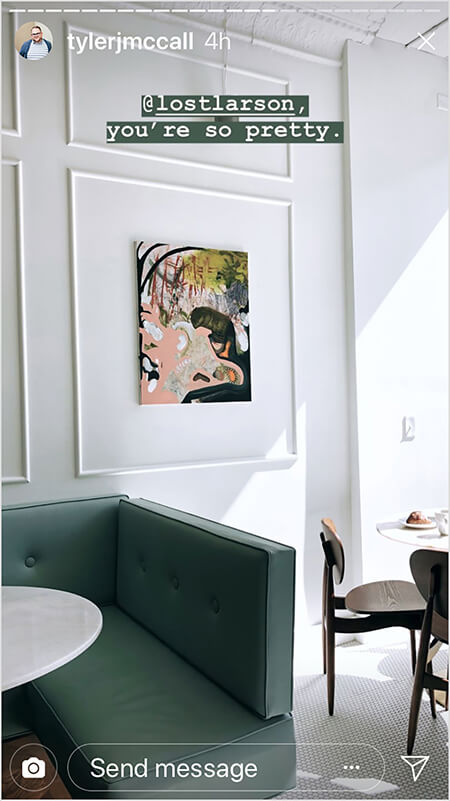 Because Tyler loves to talk, he's a big fan of talking-head videos. He'll do five or six videos on his phone and post them to his Instagram story all at once. You can also create the content throughout the day, save it, and then upload it all later.
To help beginners break a video into 14-second increments, Tyler recommends the Story Splitter app for iOS and says you can find similar apps for Android. The app cuts your video into the bite-sized portions that you can upload to your Instagram story. However, the app doesn't let you edit the segments. With practice, you learn to talk in 14-second increments and pause at the right point.
Currently, Tyler doesn't use the app. He records video for his stories in Instagram. When he messes up (which he does about 14 times per day), he deletes the video and records it again.
Listen to the show to hear my example introduction for a story about VidCon and how I might handle a story for an event where I don't know what happens next.
How to Measure Instagram Story Results
Tyler tracks a few metrics to determine whether his stories are working. Retention is a key metric that shows how many people are left at the end of a story relative to the number of people who started the story. This data indicates whether his content resonates with his audience.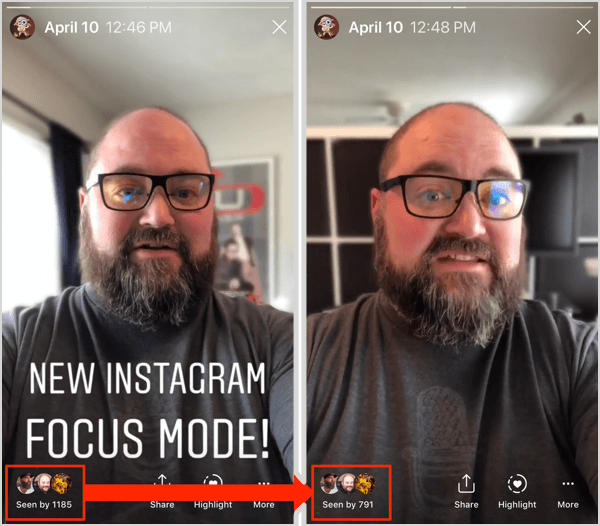 Because Tyler uses direct messages as calls to action, he also tracks how many direct messages he receives on a regular basis. Tyler uses direct messages to continue pushing people to his products and encouraging them to join his community. A concentrated direct message strategy gets you further on Instagram than any other strategy.
For a large business, direct messages can be unmanageable, and this metric may not be a figure for you. Instead, your call to action might ask followers to swipe up, and you can measure the traffic you get from Instagram.
You can access Instagram Insights whether or not you have a business account. (You do need a strong following to see insights on a personal account.) However, a business account provides in-depth insights about your stories. Specifically, you can see swipe-aways, exits, people who go back, and engagement. For more story metrics, you can choose from a ton of great third-party tools.
I then ask if Tyler ever deletes a clip from his story because a huge drop occurs between one clip and the next. When this happens, Tyler typically leaves the clip in the story so he can figure out what happened. A drop like this can happen for many reasons: time of day, a shift in the content, or something else.
Although Tyler almost never deletes content, he might archive a post with low engagement and repost it later or repurpose the photo or caption. By not deleting content, Tyler always has access to data about that content. That data helps him continue learning how to create better content for his followers.
After 24 hours, your Instagram stories are archived automatically. You can pull those stories out of your archive later or add them as highlights on your profile.
Listen to the show to hear Tyler share more reasons for not archiving a post.
Instagram vs. Facebook Stories
I ask Tyler how Facebook Stories compares to Instagram Stories. Tyler says he's waiting to see how Facebook Stories evolves. On each platform, the user culture is vastly different. Tyler finds that Facebook users are more interested in viewing long-form videos than stories. His Facebook stories might get a couple of dozen views, whereas his Instagram stories might have a few thousand views.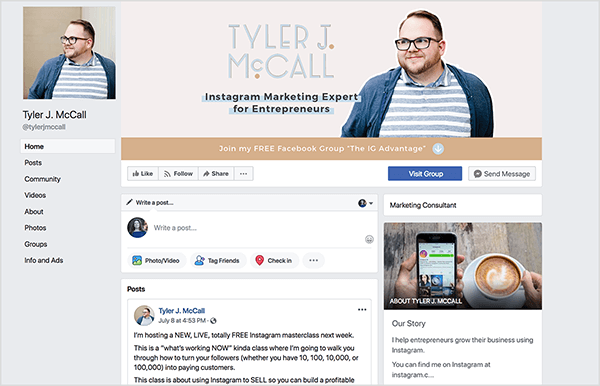 If your Facebook page has lots of fans, like the Social Media Examiner Facebook page, you might have more stories views on Facebook than on Instagram. To see how your Facebook stories perform, you can turn on Facebook Story Insights, which isn't very intuitive. First, open Insights for your Facebook page. Then, on the left, you'll see the option to turn on Story Insights.
Tyler also notes that Facebook stories don't have as many features as Instagram stories do. In Facebook stories, hashtags don't work and user accounts aren't clickable. If you add these features to an Instagram story and then share it to Facebook, most of those things are stripped out of the Facebook story.
Listen to the show to hear my thoughts on Facebook Stories.
Discovery of the Week
If you need a handy way to repurpose content, Lumen5 can turn your online articles into videos.
After you enter an article's URL into the Lumen5 discovery engine, it quickly converts the article into slides with pictures and text. You can then edit each slide by replacing images, editing text, and choosing video transitions. When you're done, you can export the slides as a video. In this way, you could create a customized video in half an hour.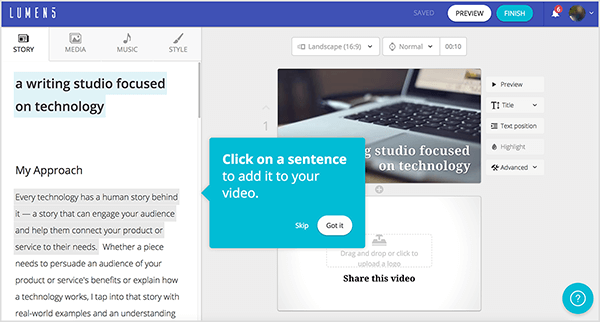 The toolkit for customizing the slides is powerful. Your editing options include all kinds of effects, copyright-free music, and media. For instance, you can make a word look like it's spelled out in Scrabble tiles. The automated system can choose relevant background images, but you can also change them.
Lumen5 is a free, browser-based app you use on a desktop computer. With the free version, video quality is limited, but you can create unlimited videos. With the Pro version ($49 per month) or the Business version ($99 per month), you can export higher-quality video and access additional tools.
Listen to the show to learn more and let us know how Lumen5 works for you.
Key takeaways from this episode:
What do you think? What are your thoughts on Instagram Stories? Please share your comments below.