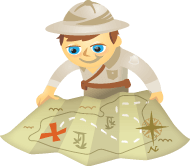 Are you using Instagram Stories in your marketing?
Wondering where to find metrics and key performance indicators (KPIs) for Instagram Stories?
In this article, you'll discover how to use Instagram Insights for Stories.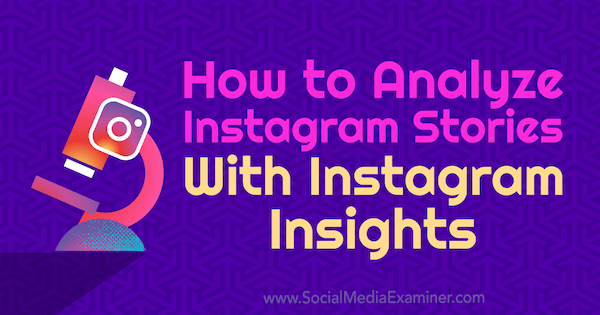 Why Track KPIs on Instagram Stories?
Stories have become an integral part of the Instagram experience. In fact, out of 800 million active Instagram users, about 300 million are daily Stories users as well. As such, it's no surprise that brands and businesses are also making use of Stories.
Because stories are instant and ephemeral (unless you're using Highlights), it may seem that setting KPIs for measurement is unnecessary. However, if you're investing your time and effort in stories, you need to have a clear idea of how to measure their performance.
Here are four KPIs to help you gauge the effectiveness of your Instagram stories using the Insights on your Instagram business profile.
#1: Reach and Impressions
These two metrics will help you estimate the size of your stories' audience. Typically, more people will watch your stories more often than they like your pictures.
What's the difference between reach and impressions? Reach is the number of actual people who have seen the story, while Impressions is the number of times your story has been viewed. So if you posted a story and reached one person who viewed your story five times, Insights would show one reach and five impressions.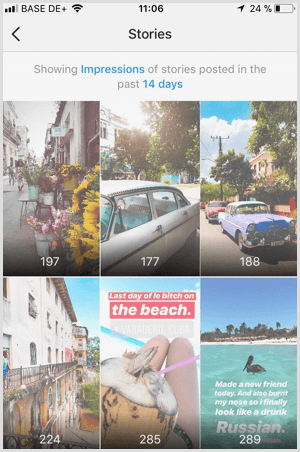 This is why stories normally have higher impressions and lower reach numbers.
How high should your reach rate be? While this depends on the size and engagement of your audience, the more followers you have, the lower your stories' reach rate will be. This rule of thumb applies to most metrics on Instagram: the more followers you have, the lower your engagement rate, your reach rate, and so on.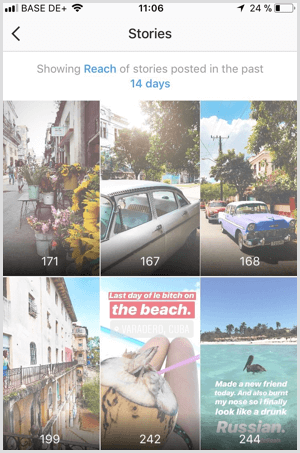 For instance, I have approximately 3.2K followers on my personal Instagram account and my engagement rate is 8.57% per photo. Kim Kardashian has approximately 108.5M followers and her engagement rate is 1.97%.
How Can You Use These Metrics?
If you see a drop in reach, take a look at the frequency of your story publication to be sure you post stories on a pre-determined schedule each day or week. You'll also want to capitalize on the use of geotags and hashtags, and tag a featured user's username in your stories when appropriate.
If you see a drop in impressions, consider the quality of your stories. If your stories are blurry or bouncy, you may need to upgrade and improve the production so they're easier to watch. You'll also want to make an effort to publish stories that give users a reason to view each one repeatedly. Include elements of humor, surprise, or insider perspectives.
#2: Story Features
Using geolocation stickers or hashtag stickers in your stories can do more than increase reach that's tracked via Reach and Impressions. Using these elements can also help you get featured in the story for a particular location or hashtag.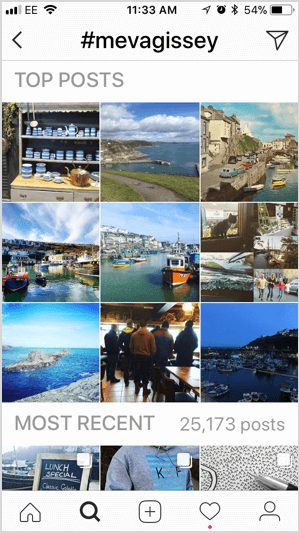 Where can you see this metric? If your story got featured, you'll see a message like the one below in that story's analytics.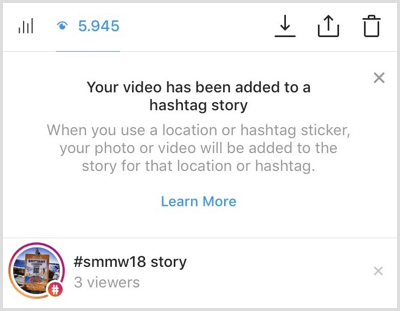 How Can You Use This Metric?
If your story does get featured, track the number of additional viewers you acquire. Take note of the number of new viewers each hashtag or sticker brings in, and then use the best-performing element in posts designed to reach new audiences.
#3: Taps Back, Taps Forward, and Exit Rate
Taps are interesting, albeit a bit ambiguous, metrics that leave the quality of your content open to interpretation. However, you can get some clarity from your analysis by looking at the exit rate.
Taps Forward is the number of taps users made to see the next photo or video in your story, while Taps Back is the number of taps users made to see the previous photo or video in your story.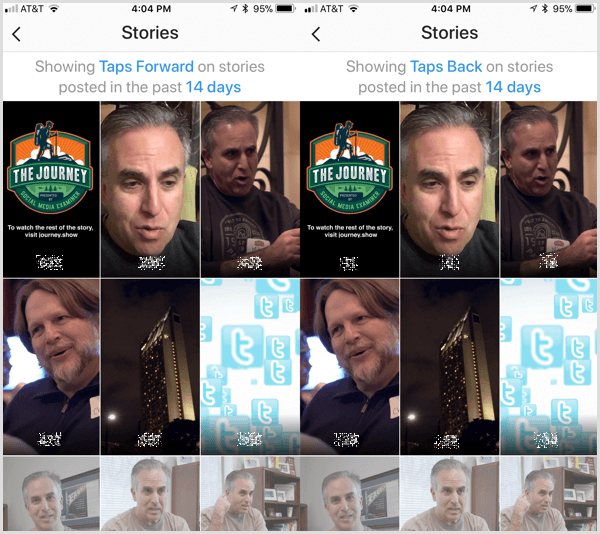 A high number of taps forward isn't ideal. Use this as a warning sign that your story wasn't interesting, was too long, or wasn't cropped properly. A high number of taps forward could also mean that the composition of your story is off. For example, placing stickers or calls to action (CTAs) too close to the right side of the screen could lead to false taps forward.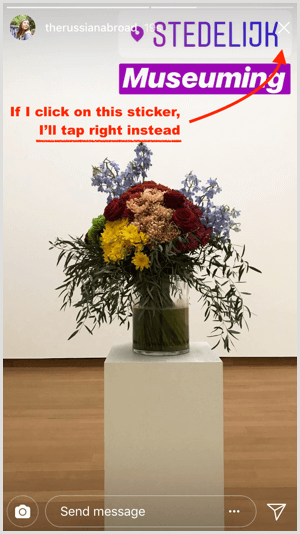 A high number of taps back is a better KPI, signaling that people liked the story enough to re-watch it or that the story almost came to an end, so they quickly tapped back and then tapped forward to watch it again.
Exits, or 'swipes away' as Instagram itself calls the metric, tell you whether users watched your story to completion or if they exited before the story ended. Exits happen when:
Users swiped left (not tapped back or forward) to move to another user's story.
Users closed Instagram while viewing your story.
Users have clicked on the X on the top-right corner of your story.
Users have swiped down the media, thus going back to the main feed.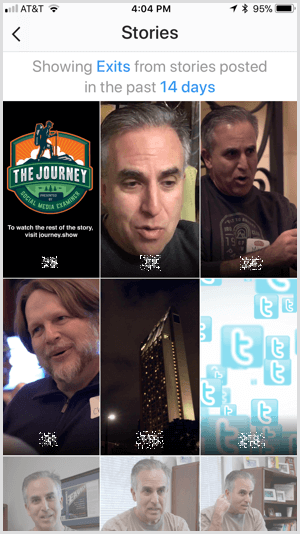 How Can You Use These Metrics?
To accurately analyze taps and exits, it's important to deliver a sequence of coherent stories rather than a series of sporadic singular stories. Use taps to discover which types of media are most interesting to your audience. The fewer exits you get, the better. If you see a rise in exits, add elements that make your stories more interactive.
#4: Actions on Location and Hashtag Stickers
Aside from boosting your reach rate, a hashtag sticker can also show how successful you are at engaging your audience and driving traffic. While Instagram doesn't let you track clicks on actual user handles, Insights does show you the number of taps on stickers, making it easier to evaluate their performance in stories.
How Can You Use This Metric?
Track the clicks on every sticker you add to stories to see which are most effective at generating the engagement you're after.
Conclusion
Using Instagram Stories is great for interacting and engaging your audience, but it's important to work from a defined objective and a carefully laid-out plan that includes KPIs.
Use the tips above to make adjustments to your own stories and improve the return on your efforts.
What do you think? What other Instagram Stories KPIs do you track? How do you use the data? Share your thoughts in the comments below!