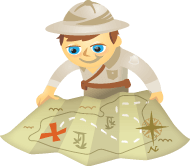 Want to lower your Facebook ad costs? Looking to improve your Facebook ad targeting?
In this article, you'll discover three ways to build highly targeted Facebook audiences based on niche interests.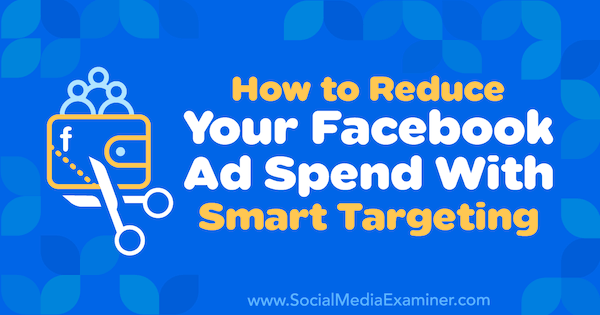 How Researching Audiences Improves Ad Conversions
Facebook is one of the biggest drivers of consumer spending/purchases online. In fact, the power of Facebook for eCommerce is growing year over year. Yet 62% of small businesses say Facebook ads don't work for them. So why are a small portion of the online advertisers scoring huge but the majority are struggling?
It all starts with the audience. Anyone can go into Facebook's Business Manager, create a new saved audience, and add Detailed Targeting interest criteria. Most marketers will start there, diving straight into creating a new Facebook ad audience from scratch. While custom audiences are ideal, you sometimes can't access them initially or you can't use them to reach more top-of-funnel people.
Facebook often requires tons of testing and audience finagling to find targeting success. Standard interest and exclusions aren't niched enough in most cases. Or sometimes they're too niched.
Take a look at the search engine optimization interest, for instance. There are more than 25 million people in this audience. Even sorting by demographics and excluding segments barely narrows your search.

But when you start to target more niche sectors and industries that aren't as popular, you don't get very far. Not only are these industry segments too broad or too niche, they often aren't accurate or specific enough.

You may also be targeting old interests. Consider this scenario: Target X lands a job at a PPC agency and likes multiple PPC pages on Facebook. Two years later he quits his job to pursue another career, but he doesn't take the time to unlike pages and deselect interests. Now you're spending precious dollars to target someone who'll never convert.
According to AdStage, more small- to mid-sized brands are now advertising on Facebook, driving up prices as a result. In the first 6 months of analysis, they found a CPM increase from $4.12 to $11.17 and a CPC increase from $0.42 to $0.99. That's a 2x increase in both cases. Also, the more users you target, the more your costs go up.
That means it costs you more money to get the same results. So the old-school tactic of basic interests and exclusions to reach millions isn't friendly to your acquisition costs anymore. Unless you have extremely high lifetime values for customers, you can't afford the CPA anymore.
Starting from a baseline instead of jumping into random interests might sound difficult, but think of audience building as a future sales machine, where CPAs fall as campaigns age. Now let's look at three ways you can start building highly targeted Facebook audiences based on niche interests and keep your Facebook ad campaign budgets on track.
The Conference You've Been Waiting For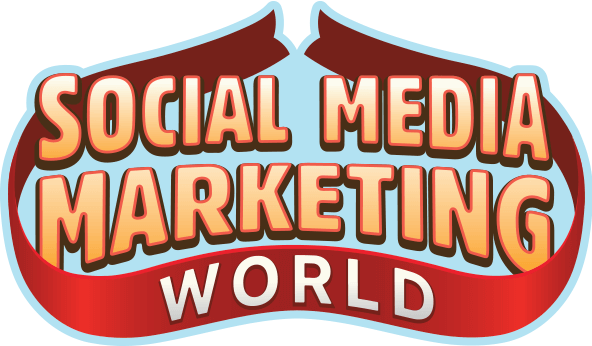 As a small business marketer, you can probably only pick one or two events to attend each year. Get back into the game with an unbeatable conference experience and expert training at Social Media Marketing World in sunny San Diego, California—from your friends at Social Media Examiner.
🔥🔥 As a valued reader, you can save $640 if you act now! Sale Ends Tuesday!
CLICK HERE TO LEARN MORE
#1: Reveal External Domain Ties With Google Analytics Conversion Reports
Google Analytics can give you basic insights into interests related to your business. It offers a powerful report that shows multichannel attribution and specific sources. To access this report, open your Google Analytics and click Conversions > Multi-Channel Funnels > Top Conversion Paths.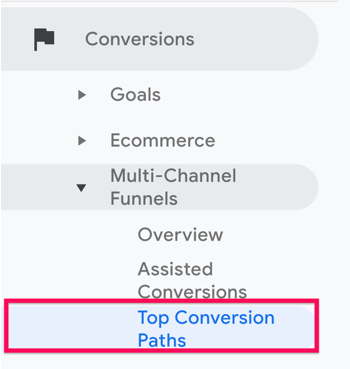 Next, select Source Path as your primary dimension and choose Landing Page URL Path as your secondary dimension.

Move your date range back a few months to gather enough data for your analysis. Now check out your report. Look for anything that hints at interest patterns or trends such as websites, referrals, and where your traffic is coming from.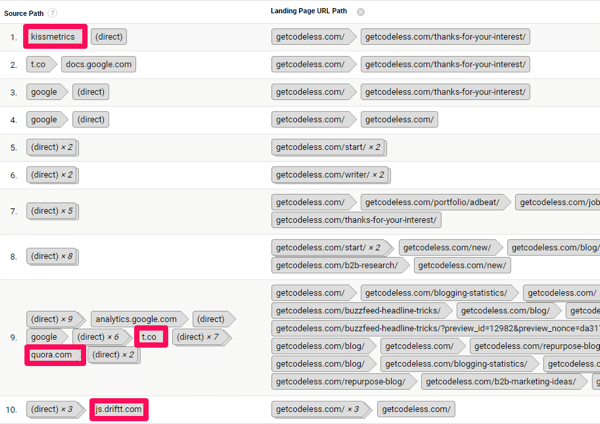 You've compiled a list of related interests, companies, and groups all stemming from your inbound website traffic. You can plug these referrals and specific landing page interests from your multichannel report into a saved audience for your Facebook ad campaigns.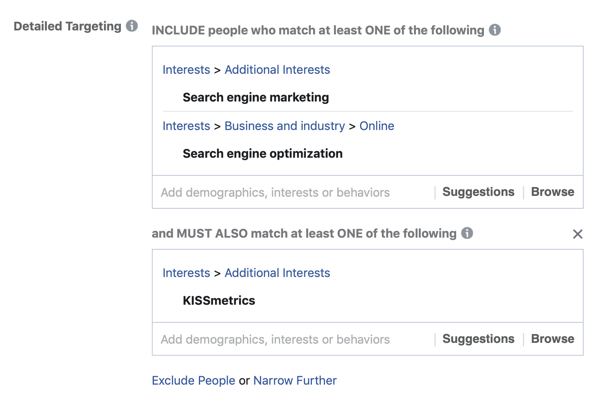 So now you've narrowed your audience and double-layered your interests to MUST ALSO match, ensuring a hyper-targeted audience.
#2: Mine Quora for Niche Keywords
Quora is a goldmine of data. In fact, Google queries in the B2B space often take you directly to Quora threads for the answer. Experience is the best teacher, as they say. And most of the answers to hot-button industry topics on Quora are from experts with decades of experience.
Sure, Quora is often used as a simple marketing tool to spread brand awareness and get link clicks on answers. But it's also helpful for finding answers, and more importantly, interests in a potential customer's own words.
After you sign in, search for a related topic (like PPC), problem, or solution and start to pick apart each post. You'll quickly notice keywords within the topic, such as "negative keywords". These are highly specific direct interests that you can use to narrow your audience beyond that topic.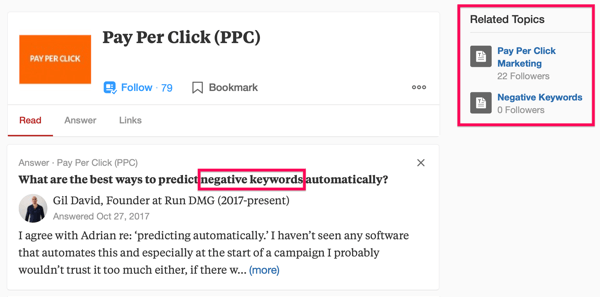 If you scroll down, you'll uncover pages of valuable data. To illustrate, the two posts below shed light on possible revenue streams and customer information. In the first post, you can see high engagement for people who are into SEO but want to learn PPC. That's a direct angle for interest targeting and shows an overlap between the two.
Get Expert Social Media Marketing Training from the Pros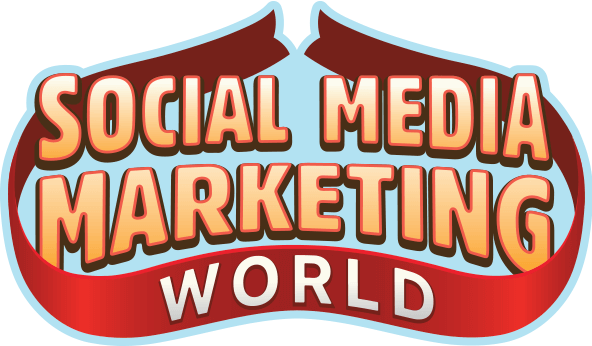 Want to get ahead of the competition and learn how to diversify your social marketing strategy?
Learn from the industry's most trusted experts, rub elbows with other smart marketers, and take your marketing to the next level during this 3-day event in sunny San Diego, California.
CLICK TO LEARN MORE
In the second post, you find a thread discussing specific PPC pain points. That's curated interest targeting and ad copy for a Facebook ad campaign around the woes of PPC (and how your company can help).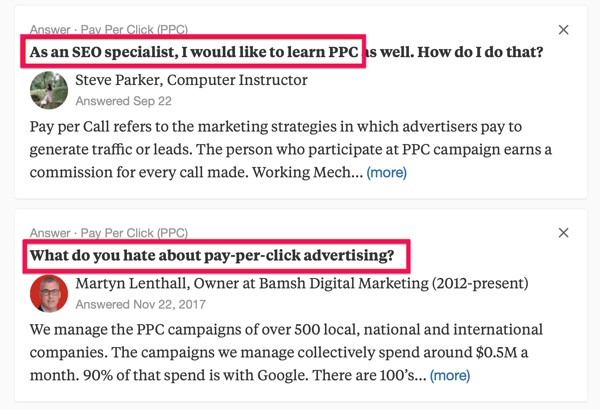 #3: Uncover Relational Interests With Facebook Audience Insights
Another easy way to uncover audience data is within your Facebook Audience Insights.
On the left side of the dashboard, add a new interest such as "search engine optimization." Then at the top of the page, click the Likes tab to see a list of page likes from people who like search engine optimization. This info gives you a second targeting layer, and it only took a few seconds.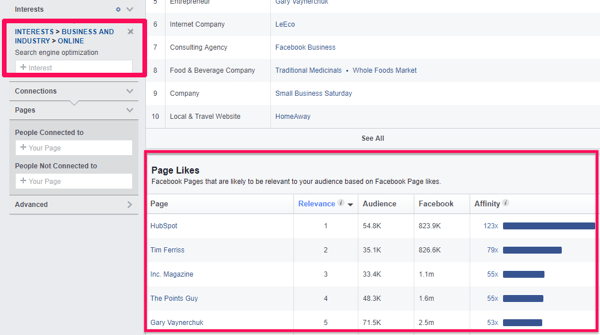 Find pages with high affinity levels and repeat the process. For example, add HubSpot as an additional interest and see what you get.
Using this process, you can double- or even triple-layer your interest targeting to ensure you're getting the most current, active, and up-to-date users in your audience.
Now repeat the process with the Analytics for your Facebook page. Navigate to People > Page Likes to see a report that ties specific page likes to categories.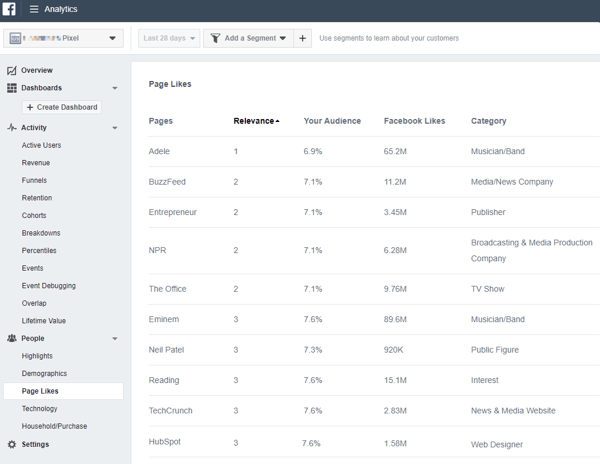 Go back to your saved audience builder and layer those interests as MUST ALSO Match and you can quickly narrow your audience.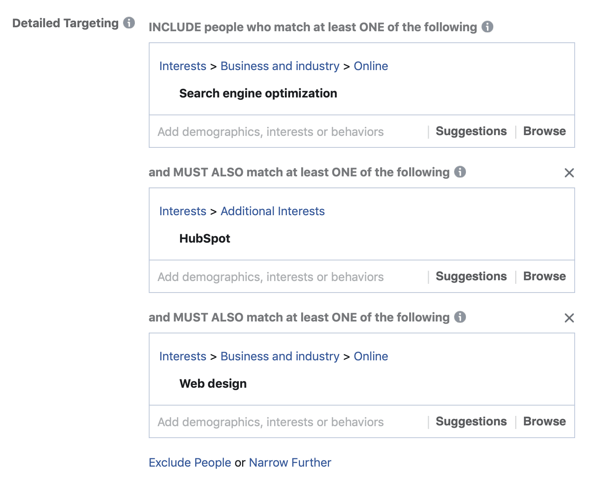 #4: Test New Audience Performance With Different Creative and Page Variations
After you've created your Facebook audiences, you'll want to test them for performance to see which gives you the best results.
But skip the standard A/B testing methods (like testing two headlines or different images in your ads) because A/B testing doesn't always work. Often, you'll need 1,000 or more conversions a month before the results are statistically significant.
Instead, try an A/B/N test that delivers different creative and page variations to your audiences. While an A/B test might change only a single variable like the headline, an A/B/N test is more general, allowing you to test entire offers or messaging across different pages.
Kinsta does this by running Facebook ads based on different value propositions. They get incredibly specific, zeroing in on each benefit their product provides. This WordPress hosting on Google Cloud ad directs users to a specific landing page: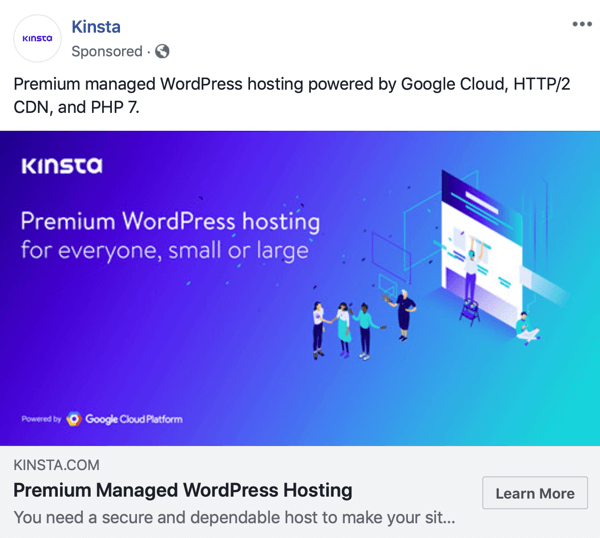 The landing page is modeled around a very niche interest.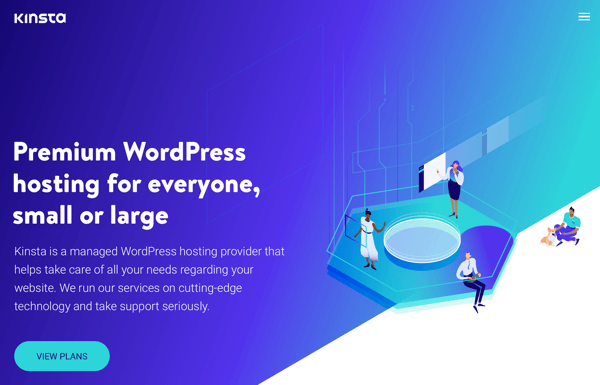 Kinsta runs multiple ads to multiple landing pages based on other interest-based audiences as well, such as enterprise-level hosting.

Then they simply wait for people to visit their pages. At the end of the test, they do a basic analysis to see which audience resonated with each interest.
One way to analyze the results of your A/B/N testing is to look at your return traffic after a campaign to see that history on-site.
To do this, open Google Analytics and navigate to Audience > Behavior > New vs Returning. Then sort the data for when you ran your campaign and look at the pages the return traffic visited.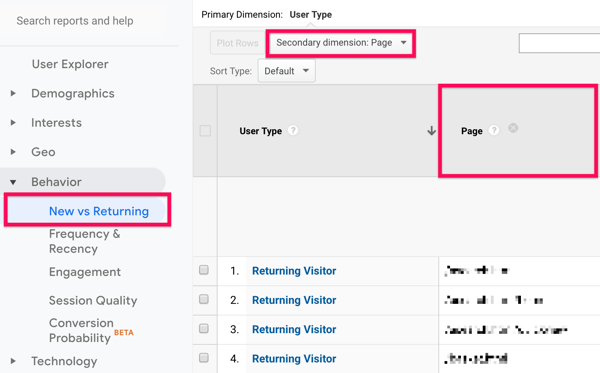 Did any of those visitors return? What pages did they look at? What was the time on page and bounce rate? How many days after your campaign did they return?
These are small signals that your audience could be vastly off or perfectly on target. If it's not matching up, continue to refine it through the steps above.
Conclusion
No platform matches Facebook's demographic targeting. It has everything from interests to behavior to income and job seniority—it's an advertiser's dream. You can craft personas on the fly to target new audiences in just minutes.
But the problem is, they aren't all that accurate. Generalized interests can be vastly outdated or misrepresented. Just because someone visits a cosmetics Facebook page doesn't mean they're interested in makeup and want your product. Just like a person visiting a PPC page doesn't mean they want generalized PPC tips.
You have to narrow interests because Facebook lacks intent. You can't just stop at page likes and call it a day. You have to go beyond general Facebook interests to get more clicks, leads, and conversions.
The pitfalls of interest targeting on Facebook are extensive, but that doesn't mean Facebook is a waste of time or should be abandoned. It's still a cost-effective platform to reach amazing new audiences.
To get better results from your Facebook ad targeting, double- or triple-layer your interests, benchmark off other related companies, and get answers directly from prospects using Quora. Then test your different value propositions to sift past the dust and dirt, striking gold on your next ad campaign with a hyper-accurate audience.
What do you think? Do you use some of these tactics to build highly targeted audiences on Facebook? What Facebook interest targeting tips can you offer? Please share your thoughts in the comments below.
More articles about Facebook advertising:
Curious about Web3?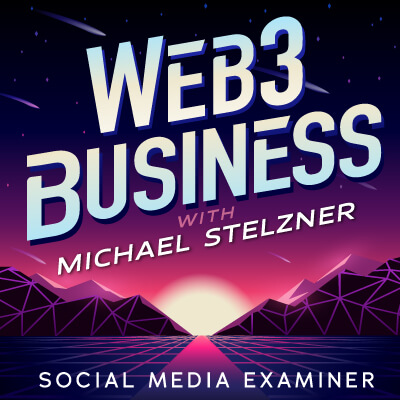 Follow the Web3 Business podcast to find out how Web3 will affect your business in the near future.

Every Friday, host Michael Stelzner interviews leading industry experts about what works right now in Web3 and what to expect in the future, so you can prepare your business for the shift, even if you're a total newbie.
FOLLOW THE SHOW