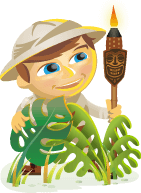 Do you want your fans to help market you?
Are you wondering how to include fan content in your social media?
To explore how fan content can enhance your social media, I interview Jesse Desjardins for this episode of the Social Media Marketing podcast.
More About This Show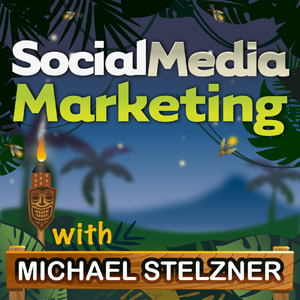 The Social Media Marketing podcast is a show from Social Media Examiner.
It's designed to help busy marketers and business owners discover what works with social media marketing.
The show format is on-demand talk radio (also known as podcasting).
In this episode, I interview Jesse Desjardins. Jesse is the head of social at Tourism Australia, where he manages a small team that oversees large Facebook, Instagram and Google+ communities. Working with fans, Jesse's team receives over 1000 images from fans a day!
Jesse shares how he and his team leverage fan content–specifically photos–to promote Australian tourism.
You'll discover how Jesse and his three-person team have grown Facebook to 6M fans and Instagram to 800K fans to reach 3M to 6M people a day.
Share your feedback, read the show notes and get the links mentioned in this episode below!
Listen Now
Where to subscribe: Apple Podcast | Google Podcasts | Spotify | RSS
Here are some of the things you'll discover in this show:
Fan Content
How Jesse got started at Tourism Australia
Jesse shares that while he was working at a small advertising agency in the U.S. in 2004, he went to Australia on holiday for a month and fell in love with the country. He ended up getting a job and staying.
After four years, he returned to the U.S. and was working in advertising doing campaigns for celebrity perfumes when he realized he'd left a brand he loved—Australia and travel.
For the next two years, Jesse spent time on SlideShare doing things like You Suck at PowerPoint.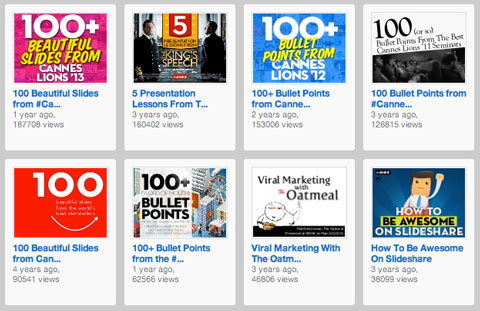 During that time he also put up proposals for people to send him money to attend festivals like SXSW and Cannes Lion in exchange for his notes and photos. Jesse says that gave him a good foundation for how to build community.
When he saw a job open up for social media manager at Tourism Australia, he sent his résumé, but he knew he needed to do something more. He put his résumé on SlideShare that night and the next morning, it had 40k views and a lot of supportive comments.
Listen to the show to find out how Twitter helped Jesse get his résumé into the hands of Tourism Australia's managing director.
What Tourism Australia's job is and how promoting tourism has changed
Jesse explains that Tourism Australia is basically the marketing agency for tourism in Australia. His team promotes tourism to the country as a whole and also works with the different states and international offices.
He says that advocacy and word-of-mouth have always played a role in promoting any industry, especially travel. Tourism Australia had started a Facebook page before he joined the organization; however, it took them three years to hit 1M fans.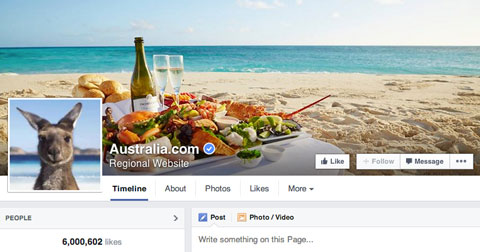 Jesse shares that he took a look at what had already been done and made the decision to launch Instagram, Google+ and Twitter as well and he's ramped it up ever since.
Listen to the show to hear how Jesse views the return on social media for Tourism Australia.
The strategy behind Tourism Australia's social media
Jesse's social media strategy has a couple of components.
He says the first component is to build something that gets bigger over time. Jesse explains that in traditional advertising, the work tends to focus on big campaigns that you work on for 6 months, then launch. His approach for Tourism Australia is different. His team works on the small things that add value every single day.
As an example, he explains that instead of running a big campaign or contest to grow Instagram quickly, they've grown the account slowly over the past two years by posting consistently. He says this has been a good way to use the small resources they have to perfect the system to reach more and more people.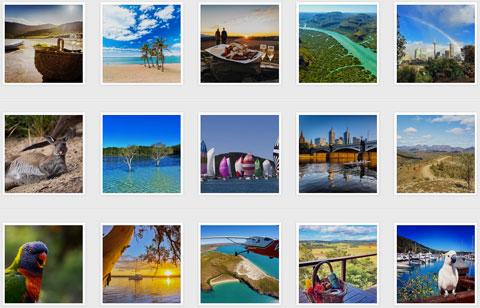 Jesse describes the second component as "making someone else the hero." He says when a fan sends an image taken with an iPhone and it gets 1000k likes in a day, that's an amazing experience for the fan. He explains that his team tries to create that experience for someone every single day, so the vast majority of images on Tourism Australia are from consumers.
Listen to learn why Jesse thinks GoPro is the best example of this on YouTube.
How Tourism Australia sources fan photos
Fans post images to social profiles, email photos or mail them. He says Tourism Australia accepts content any way the user wants to send it. Jesse shares that the team goes through every photo they receive every day, but they only use those photos half of the time. The other half of the time, they go online and find photos on their own.
The team encourages fans to use the #SeeAustralia hashtag and post the photo to their own platform, instead of sending it in hoping to see it published. That encourages everyone to be a part of the team.
Listen to the show to hear why Tourism Australia doesn't rely on a sit-and-wait approach for content discovery.
What Tourism Australia does when they find a good photo
First, Jesse explains the organization uses a permission process to make sure they have the rights to use an image.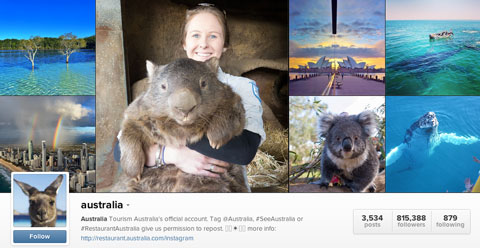 He explains Tourism Australia is very attuned to the differences in community platforms. The message they share on Facebook is slightly different from the message on Instagram, as it is on Google+.
Jesse shares this is why the team doesn't often publish images across platforms.
How Jesse and his team choose the photos they share
Jesse knows that like any destination, Australia can be too familiar. People think about the beaches, the wildlife and nature. Jesse believes his job isn't to post a familiar picture of the Sydney Opera House, but to show a new way to see the country.
He says rather than storytelling, Tourism Australia's job is to give their fans a story to tell. All of their photo posts are engineered to make a reader say, "I've been there, I've done that, I've experienced that."
Jesse shares how taking a calculated risk with a censored image generated a week of global PR coverage for Tourism Australia.
Listen to the show to discover how Jesse believes most social media managers short-change themselves.
How Jesse's team engages with fans
Jesse explains that he's not a fan of setting up campaign pages with a form. He likes to do the work. He picks up the phone, sends an email and talks to people.
His team also provides an @mention or a tag for contributors 100% of the time because he always wants readers to be able to click through and learn more about what they see.
Jesse attributes the team's relationships with professional photographers to these tactics. He says photographers who wouldn't give his tourism board permission to use a great photograph just a few years ago now view the opportunity as a stepping-stone.
Jesse shares how often Tourism Australia posts to its social profiles. He says that half of his time is spent off of those social profiles, working across the organization on assets like the website because that's where a consumer takes the next step.
Listen to the show to learn how Jesse uses calls to action and Zendesk to move consumers along the path to purchase.
How Tourism Australia uses fan content
Jesse believes that the context around his content is more valuable than the content itself. It's the comment replies and the fan shares that keep people coming back to Tourism Australia's social platforms.
He shares that while most pages see a reach of approximately 6%, Tourism Australia sees a reach of 29% every day; he says that's due to context provided by spending time on the phone, doing presentations and sharing the love.
Every Friday, Tourism Australia posts 20 of their best fan photos to their Facebook page. Jesse describes how it presents a weekly opportunity to inject their brand message into other people's content.
Listen to the show to hear where Jesse got the idea for Facebook Fan Fridays.

Discovery of the Week
Do you spend all day at a computer? Do you look up and find your eyes are bugging and just can't look at the screen anymore? I've got a solution I've been using for years.
Gunnar Optiks designs great-looking glasses for gamers and people who stare at a computer all day long.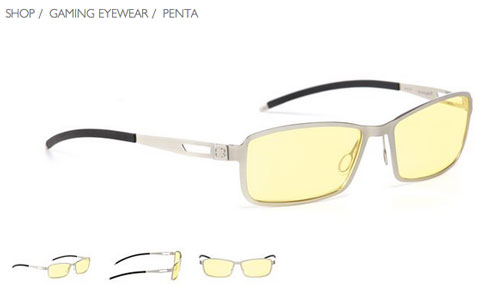 The glasses have a slight yellow tint that counteracts the blue light a computer screen gives off. The lenses curve around to fit your head and help your eyes retain moisture so they don't dry out. The lenses also have a subtle magnification to reduce eyestrain when you read text.
You can buy a pair for $79-$99 from Amazon or Gunnar Optiks. They can even be made with prescription lenses!
Listen to the show to learn more about Gunnar Optiks and share your thoughts in the comments.
Other Show Mentions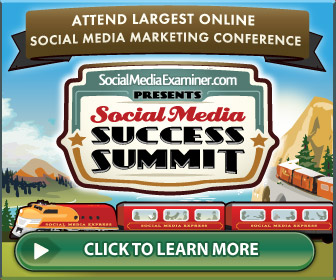 Today's show is sponsored by Social Media Success Summit 2014.
If you're looking for professional development, we have 45 sessions on LinkedIn, Google+, Twitter, Facebook, Pinterest and other networks to help you take your social media marketing skills to the next level.
The entire event is online, so there's no travel involved and each day has three sessions from social media professionals like Nichole Kelly, Arsham Mirshah and Jon Loomer.
Nichole Kelly, CEO of Social Media Explorer and SME Digital, will be joined by Arsham Mirshah, co-founder and technical director of marketing at WebMechanix, to present How to Measure Social Media ROI with Google Analytics.
Jon Loomer, Facebook marketing coach, author, speaker and strategist, presents Advanced Facebook Ad Targeting Techniques Used by the Pros.
Nichole, Arsham and John are just three of the experts who will teach you how to improve your social media marketing and networking.
If you want to learn more, visit here where you can check out all of the speakers and the agenda. Make sure you grab your ticket before the price goes up.
Key takeaways mentioned in this episode:
Ways to subscribe to the Social Media Marketing podcast:

What do you think? Are you using fan content in your social media? What are your thoughts on how it helps your marketing? Please leave your comments below.