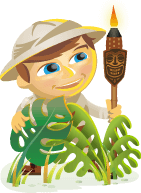 Do you use visuals to market your business?
Are you wondering how you can tell a story with visuals?
To learn how your business can benefit from visual storytelling, I interview Ekaterina Walter for this episode of the Social Media Marketing podcast.
More About This Show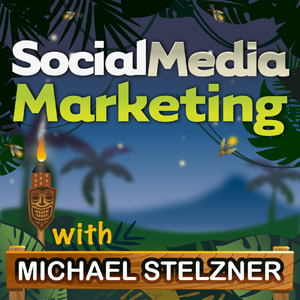 The Social Media Marketing podcast is a show from Social Media Examiner.
It's designed to help busy marketers and business owners discover what works with social media marketing.
The show format is on-demand talk radio (also known as podcasting).
In this episode, I interview Ekaterina Walter, chief marketing officer at Branderati and author of Think Like Zuck. Her newest book is called The Power of Visual Storytelling.
Ekaterina shares why storytelling is important for your business.
You'll discover how to get started, the type of visuals that work and brands that do it well.
Share your feedback, read the show notes and get the links mentioned in this episode below!
Listen Now
Where to subscribe: Apple Podcasts | Google Podcasts | Spotify | YouTube Music | YouTube | Amazon Music | RSS
Here are some of the things you'll discover in this show:
Visual Storytelling
How did you fall into visual storytelling?
Ekaterina explains how her job at Intel for the last 5 years was building social business, and it was during her final 3 years there that she started to notice the perfect shift to visual storytelling. So for her, visual storytelling was a natural progression.
Several years ago, she started to look at the data and usage of visuals versus the usage of just text and links. This led to her first blog post on Fast Company, called The Rise of Visual Social Media.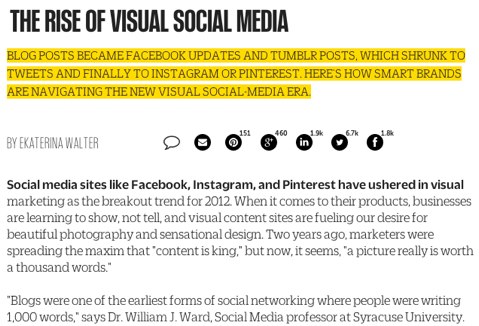 You'll hear why this particular article led Ekaterina to write more on this subject.
Ekaterina believes that the reason why visuals are so well-received is that we are moving into a world that is inundated with information. There are filters that allow us to stand out from the noise. One of them, in Ekaterina's view, is visual marketing and visual storytelling.
Listen to the show to find out what term Ekaterina uses for the world we are moving into.
What is visual storytelling and why should marketers consider it for their business?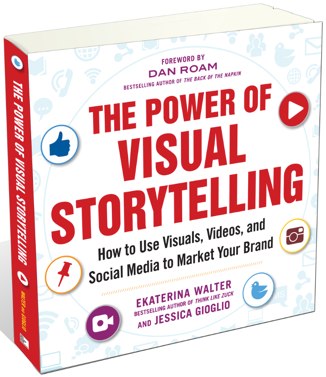 The way that visual storytelling is defined in Ekaterina's new book, The Power of Visual Storytelling, is the use of images, video, infographics and potentially presentations and other visuals in social media.
The use of visuals on social media platforms can help you craft a graphic story around your brand's key values and offerings. It helps show who you are as a brand and makes consumers want to connect with you.
With the rise of millennials (digital natives and the younger generation), it's essential that they not only know what you offer or how useful a product is, but also how they can be part of the movement and fit within that tribe. It's what visual storytelling allows you to do. It's how you reach that emotional connection with your customers.
Recently, Jason Miller of LinkedIn created a widely shared infographic titled, A Well-Balanced Blog.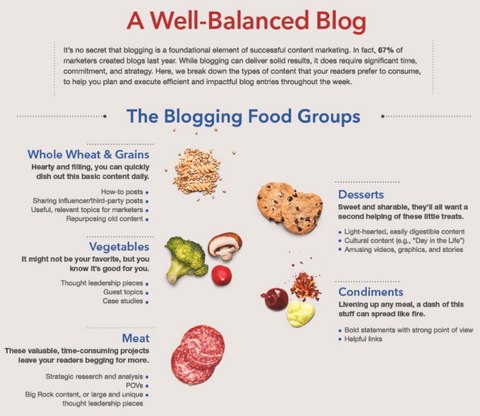 The reason why this type of content works is that it's simple thinking. Our brains process visuals 60,000 times faster than text. About 93% of all communication is nonverbal.
You'll hear an example of how you can gather a story from an image, rather than a word on its own. The emotional connection is critical.
Studies show that blog posts with visuals drive up to 180% more engagement than those without. This means that a visual image can allow people to digest your content, then decide if they want to continue to read the article.
The amount of information that is produced every 48 hours is the same amount that was produced from the beginning of time up until 2003. Every year, our attention span becomes shorter. Now it's about 3-8 seconds. Therefore you need to grab people's attention immediately.
Sephora is a great example of a brand that uses images very well. They released data stating that their Pinterest followers spend 15 times more on Sephora merchandise than their Facebook fans.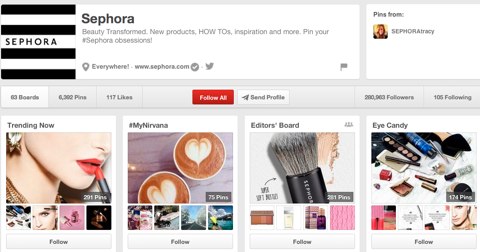 Listen to the show to find out what impacts sales in a positive way.
Examples of businesses that do visual storytelling well
Ekaterina explains that there are some really interesting case studies in her new book.
For example, Red Bull's success is not just due to being highly visual, it's also the way they use visuals. Red Bull always creates content that's very much in line with the brand. The use of images before, during and after an event is fascinating. They are storytelling masters.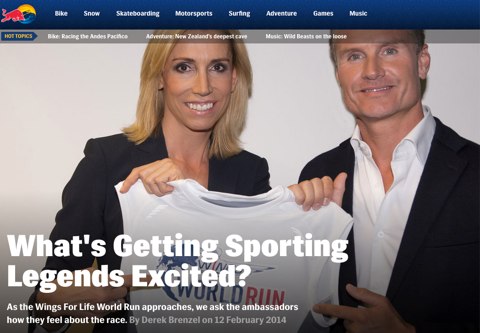 Another example is Dunkin' Donuts. Although they don't have a huge budget, they are masters of behind-the-scenes content. You'll hear how Dunkin' Donuts works with their Facebook fans, which helps to tell the brand's story.
Dunkin' Donuts uses Instagram and Pinterest masterfully. Even employees participate in fun ways.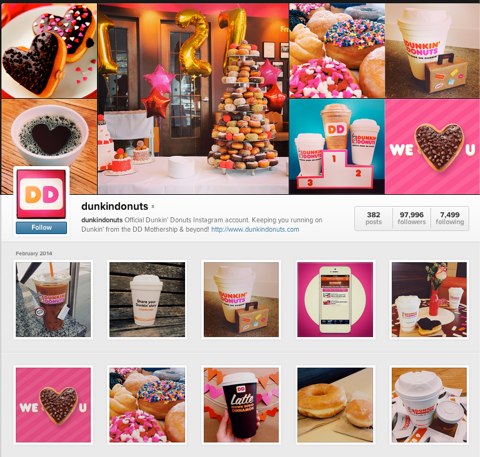 You have to remember that sometimes it's about real time and real sharing. It proves that sometimes photos from a mobile device are good enough in the moment.
A great way that Dunkin' Donuts used Vine videos was during advertisement breaks on ESPN Monday Night Countdown. The series was called #DunkinReplay. You'll hear the reasons why these videos worked so well and how they involved storytelling.
Listen to the show to find out how many impressions each Vine replay delivered.
Some of the core elements that go into visual storytelling
In Ekaterina's book there are seven elements, one of which is design. As you build your visual strategy, you need to think about design and the relevance to your brand.
When Ekaterina worked at Intel, they had to think about how they could use more of their brand's images in a recognizable way.
You have to figure out how to tell a fun and interesting story with your visuals, and at the same time make sure that people will recognize it as your brand. The design helps to continue to tell your story. You also need to ensure that it has some sort of real-time amplification.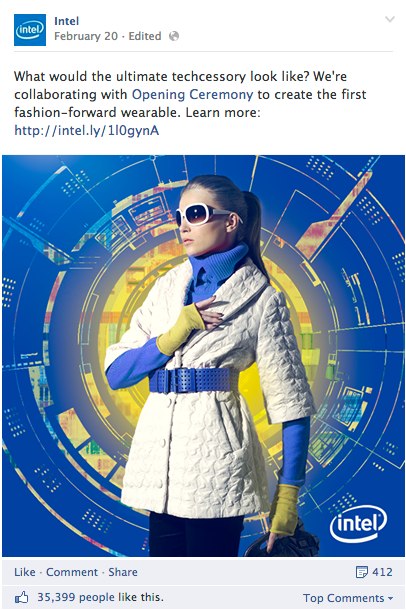 In the past it would take weeks or even months for a brand to work out a strategy; today, however, brands need to become more responsive and agile.
For you to be able to catch the conversation in the right context, you need to be relevant and stand out from the crowd. Sometimes it can just be for pure entertainment.
Listen to the show to hear how smart car turned an opportunity from someone's tweet into an entertaining infographic.
Tips to help visuals gain maximum visibility
Although Facebook in the past has said that it won't show as many memes in the news feed, Ekaterina says that she still sees them a lot.
She doesn't think they will go away because of the continued popularity of sites like Pinterest, Tumblr and Twitter. On Twitter, one-third of links shared are images and 50% of posts on Tumblr are photos. People are always looking for things to share and pin.
If you write a blog post with a generic image, you need to have an image that is valuable. There will be an overlay of the continued use of imagery that has useful information or is entertaining or funny because of other usage.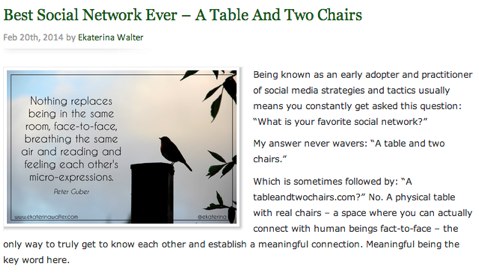 Every time you produce content, you need to understand how it will be used. You'll hear Ekaterina explain one of the bigger things you need to look at as a marketer, and why so many marketers have missed the boat.
When it comes to distribution, you need to think about who your audience is, how you respect them and the context in which they get your information. You'll hear different examples for various platforms.
Listen to the show to find out why it's important to be mindful of what you do and how you do it to avoid damaging your brand.
Where to start with your visual story
Ekaterina states that you need to start with your brand. It's about telling the story of who you are, and not just about your latest product.
You can start with how your company was created, the key messaging and what initiatives you push. For example, the environment, local kids, communities, etc.
As a marketer, don't just focus on a specific product you have, think how you can market your brand, the why and the people behind the brand.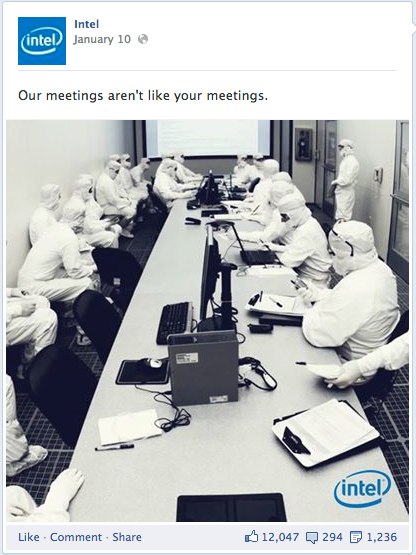 You'll hear an amazing story of what happened at Intel about 3 years ago when they used a behind-the-scenes photo on their Facebook page, and how it has remained one of the highest commented on and shared posts.
Listen to the show to discover how behind the scenes images can help with your story.
Discovery of the Week
I've recently come across a really cool tool called GPlusData that allows you to track Google+ data.
The site allows you to run a bunch of interesting reports, pretty much in real time. For example, you can look at:
People who are most active
Pages that are most active
What parts of the country or the world that are most active
The top posts on Google+
What time of day people are most active
The growth of your followers and a daily breakdown
How many updates and shares you have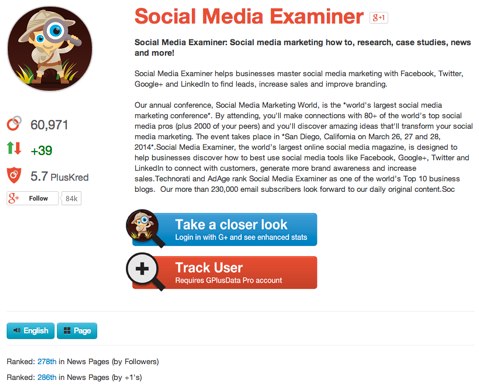 It's publicly available for just about any page. So not only can you look at your page, you can also look at your competitor's page to see what they are doing.
With the click of a button, it allows you to identify the largest communities on Google+. The largest at present is Amazing Places to See.
Although there is a limit to the amount of data provided for free, you can sign up for a paid version to get more detailed analysis.
I think it's a really cool tool. Make sure you check it out.
Call in and leave your social media–related questions for us and we may include them in a future show.
Listen to the show to learn more and let us know how this works for you.
Other Show Mentions
This week's podcast is sponsored by Social Media Marketing World.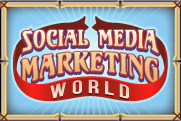 Social Media Marketing World 2014 is our physical mega-conference, which is set to return to San Diego, California on March 26, 27 and 28.
The conference features more than 80 sessions in four major tracks: social tactics, social strategy, community management and content marketing.
As part of the networking, we have recently added a free evening cruise of San Diego Bay on March 27! This is an experience you'll never forget.
We are so excited about this conference. If you look at our hashtag #smmw14, you'll see all of the people who are excited about attending this conference.
This event is coming up soon. Be sure to check it out.
Key takeaways mentioned in this episode:
Ways to subscribe to the Social Media Marketing podcast:

What do you think? What are your thoughts on visual storytelling for your business? Please leave your comments below.