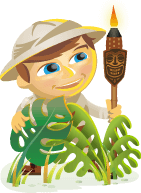 Do you use Instagram for marketing?
Are you wondering how you can grow an Instagram following that will build your business?
To learn how Instagram can help you engage your audience, I interview Jenn Herman for this episode of the Social Media Marketing podcast.
More About This Show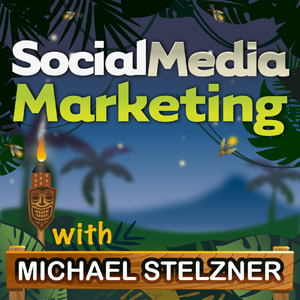 The Social Media Marketing podcast is a show from Social Media Examiner.
It's designed to help busy marketers and business owners discover what works with social media marketing.
The show format is on-demand talk radio (also known as podcasting).
In this episode, I interview Jenn Herman, who blogs at Jenn's Trends and is one of our top 10 social media blog winners for 2014. Her blog focuses on social media management. She's author of the ebook, The Ultimate Beginner's Guide to Instagram.
Jenn shares why marketers should consider Instagram for their business.
You'll discover the types of images that will engage your audience, how to drive traffic to your website and examples of marketers who are successful on the platform.
Share your feedback, read the show notes and get the links mentioned in this episode below!
Listen Now
Where to subscribe: Apple Podcast | Google Podcasts | Spotify | RSS
Here are some of the things you'll discover in this show.
Instagram Marketing
Why marketers should consider Instagram
Jenn explains how a lot of people use Instagram for personal communication. Many people believe that it's a platform for selfies and pictures of food. However, Instagram is much more than that and goes a lot deeper.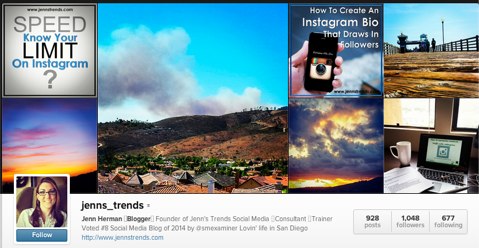 The marketing aspect is so much stronger now, and will only continue to grow.
So far this year, the main buzzword has been visual marketing, with Facebook and Twitter embracing visual content.
Not only is Instagram a visual platform, it also gives you the capacity to create visual content for other sites. With the Instagram tools available, you can create fun artwork to use on your blog, website, Facebook and Twitter. It's very useful for cross-promoting.

Right now, 65% of the world's top brands use Instagram and Jenn says the number continues to grow.
There are 200 million monthly active users on Instagram, 70% of which log in daily. This is a huge base of people for marketers to reach. No matter who your target audience is, some of them will use the platform.
You'll hear why you can reach people more clearly through Instagram than you can with any other platform.
As a marketer, you should aim to create original images for Instagram. There are many different ways to incorporate your products and services into an image to make it look more native and get better engagement.
Listen to the show to find out what our 2014 Social Media Marketing Industry Report revealed about visual marketing.
Marketers who use Instagram well
The first brand example that Jenn talks about is fashion designer Michael Kors. The way they do product placement on Instagram is amazing.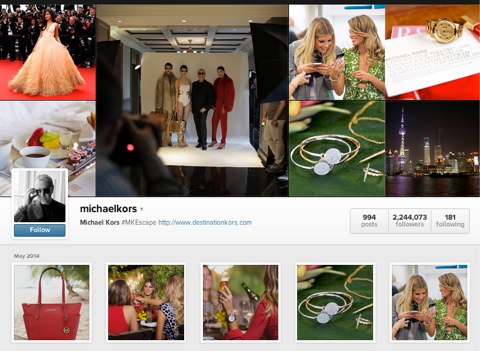 The images they create for their fans are behind the scenes at fashion shows, photo shoots and great shots of their products. These types of images can help you to connect with your audience.
Although Jenn loves the images, she says it's their lack of engagement that lets them down. Instagram is a highly engaged and active environment.
Jenn advises marketers to be aware of this, and make sure that you're responsive to your followers.
Listen to the show to hear the type of images we used to create some buzz prior to Social Media Marketing World this year.
Engagement on Instagram
Jenn states that engagement is considerably higher on Instagram than it is on Facebook, Twitter and Google+. When Jenn tests her blog posts on all of the different platforms, Instagram almost always comes out ahead.
One way to create engagement on Instagram is to ask a question in the caption. This encourages your readers to start or join the conversation.
When they start to respond, you receive a trail of comments. To respond to somebody, you have make sure that you @mention them, otherwise they won't get a notification.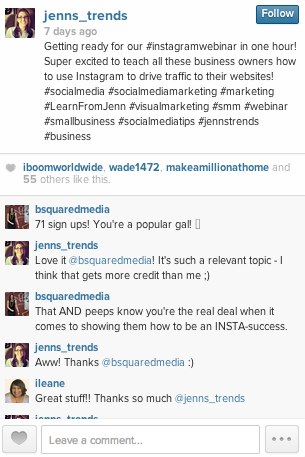 If you receive a lot of comments, it's hard to reply to every one, but you should at least respond to a few. This is what Michael Kors should do with their followers. They have hundreds of comments on each of their images from people saying they love their products, but don't reply back to any.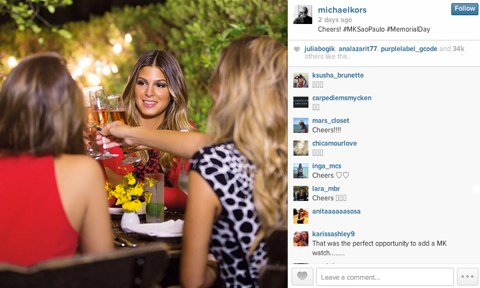 You'll hear how you can respond in general to your followers to acknowledge that you're listening to them. You need to take the time to respond to your audience because the people who love your products are likely to become your brand advocates.
General Electric is another great example of a brand that uses Instagram well. They share sneak peeks, engage well and take people on tours around their facility via Instagram. You probably wouldn't expect a company like this to use social media, but they're always top of the list and are very active with their audience.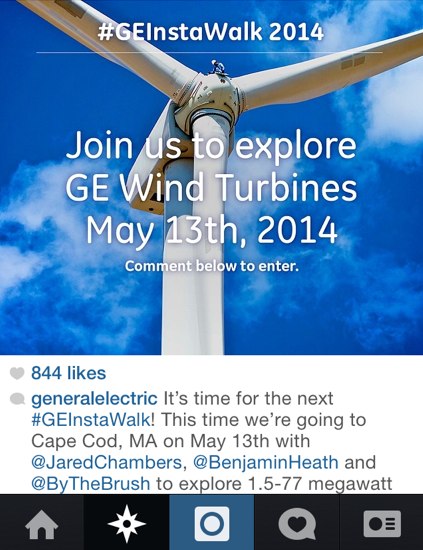 You'll discover how you can run successful contests on Instagram and the benefits you gain from them as a business.
Although Instagram doesn't allow you to repost somebody's content, there are third-party apps you can use such as Regram and Repost. These apps allow you to repost an image and they lay a watermark over it to give original attribution. You can then @mention people to let them know that you have showcased their image.
Listen to the show to find out the best type of prizes you can give away.
How marketers can use the network to drive users to action
Jenn explains that the only place where you can put an active hyperlink on Instagram is in your bio.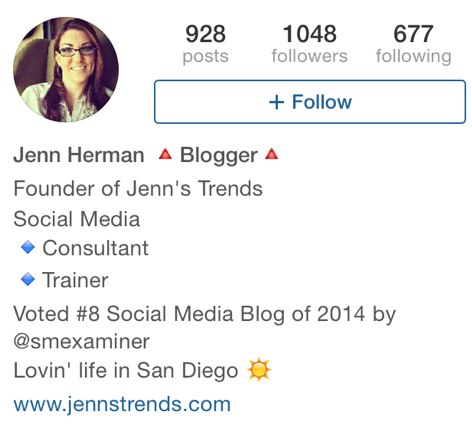 With this being the only option right now, you have to get creative with calls to action within the images you create and your captions.
When Jenn has a new blog post, she creates her own blog post images in a square format specifically for Instagram. Within that image she includes a caption that explains what the post is about and then clearly states, "Click on the link in my bio." This takes them through to the homepage of her website.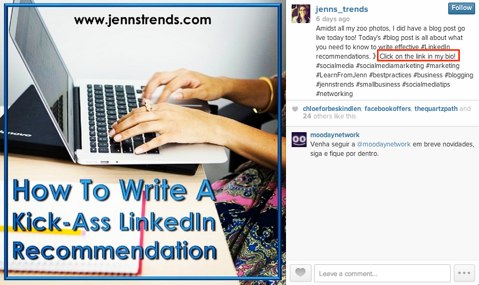 The link you provide in your bio is the one that you want to drive people to. You want to make it easy for them once they arrive at that specific page.
Although you have to work hard to get traffic, the upside is that if people have gone all the way through to your landing page, they are more than likely ready to convert. The quality of traffic you get is much higher than any other social media platform.
Listen to the show to hear why simple links work best.
Tips to optimize your Instagram profile to encourage followers 
Jenn says that the most important thing is the URL in your profile. It has to be active so people can click on it. Whether it's your business name or your name, it has to be one that people recognize.
A little trick that Jenn likes to use is to put a keyword in your name. Jenn has included "Blogger" in her name, so that when people search for "blogger" or "blog" on Instagram, her name will show up in the search engine result.

The only searchable items are your username and your name. That's why you have to make sure they're relevant and people will recognize them.
Listen to the show to find out how many characters you can have in your bio.
How to be strategic with hashtags on Instagram
Jenn says that the only platform she likes to use hashtags on is Instagram, and that's because they work. They can make a huge difference to the number of likes you receive on a post.
With this in mind, you need to choose hashtags that are in a category relevant to your post or your business.
For example, Jenn uses #socialmedia and #socialmediamarketing, as they relate to her industry and niche. The hashtags she uses that relate to her content are #blog and #blogging.
Instagram will allow you to use up to 30 hashtags per post, although Jenn recommends that you don't use this many.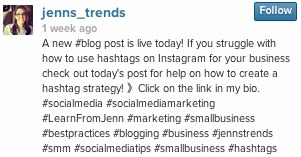 You'll hear how you can discover what hashtags are popular right now so you can incorporate some into your post.
Although popular hashtags are great for visibility, you also want to mix in some that are low popularity.
Listen to the show to find out why the use of hashtags is one of the best ways to get new followers.
Photos vs. "created images" 
Jenn explains that traditional Instagram users don't tend to like images that people create with text over the top. A lot of people create these type of images with Canva or PicMonkey. Instagram users prefer to see native photos.
However, as more people start to use memes and inspirational quotes, maybe more people will start to accept them on the platform.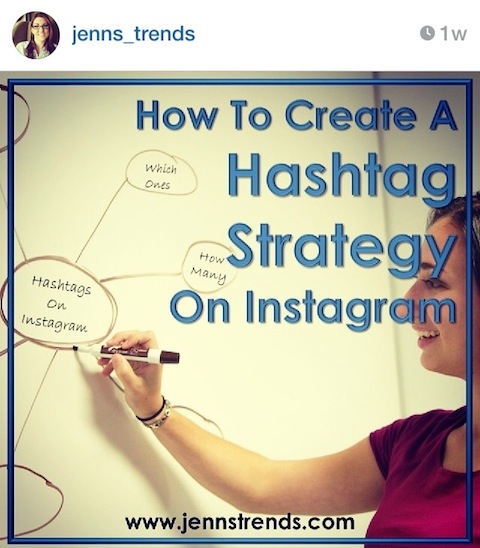 Jenn invites marketers to get more creative with images. You'll hear ideas you can apply to your images to make them more native and still include text within them.
Canva offers a pre-formatted square that you can use for Instagram, and some of their templates allow you to make things look more organic and less like a meme.
Listen to the show to find out how to cross-promote your Instagram images to Facebook.
How marketers should use Instagram Direct
Jenn says that when Instagram Direct first came out, a lot of people were hesitant about it and weren't really sure how to embrace it.
Instagram Direct is a direct message connection through Instagram. You can invite or speak to up to 15 other Instagram users at a time. There are no restrictions on whom you invite. They don't even have to be your followers—you just need to know their username.
It's an opportunity to take your conversation off of the public forum. You can use it to reach individuals or groups of employees and it's also great when you have to deal with customer service.
When you start an Instagram Direct message, you have to use a photo or a video. It can't just be text. You can then share it to the people you have invited. Once the image or video has been shared, you can continue with text. You can't add any more photos or videos. These would have to be shared in a new message.
Listen to the show to find out how you can use Instagram Direct for promotions and VIP members.
How to simplify the desktop management of Instagram
The two tools that Jenn recommends and uses herself are HootSuite and Iconosquare (previously known as Statigram).
With HootSuite, you can actually have an Instagram tab on your dashboard. However, it's considered an app. You can like, comment and see your feed from Instagram within your dashboard.
You'll hear Jenn explain why this tool is great if you manage 3 or 4 Instagram accounts.
Iconosquare is all about analytics. It tells you everything you need to know about your Instagram account. For example, the best times of the day to post, when you post most often, what gets the most engagement and who's following you.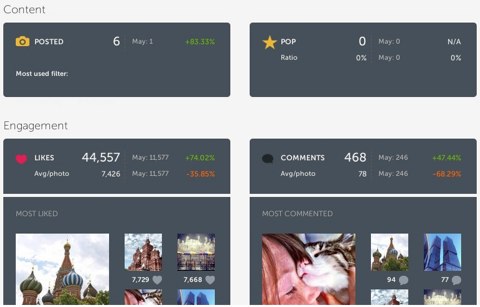 This also works within the dashboard and allows you to like, comment, follow and unfollow.
Neither HootSuite nor Iconosquare allow you to upload photos or schedule posts.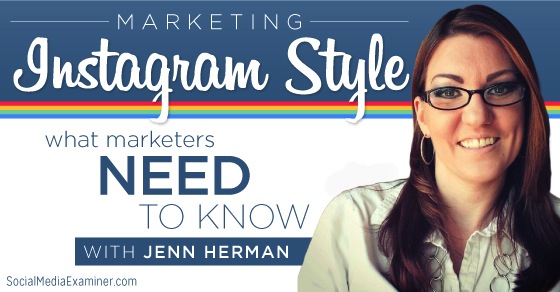 Listen to the show to discover why you should be wary of any app that allows you to post outside of Instagram or schedule posts.
Discovery of the Week
I've recently discovered a really cool new website called Thunderclap.
If you have a cause or are launching something in particular, this site allows you to have a bunch of your fans and followers come together and help you make a big noise all at the same time.
Watch their video below for a great demonstration.
https://www.youtube.com/watch?v=wvPfuV00-1k
The concept is similar to KickStarter, except it's for launches, events or causes. I have even seen podcasters use this to help them get the word out about their launch.
I've participated in a Thunderclap and it's very easy. You visit the website and say that you want to participate. It will then ask you if you want to use Twitter. Once you confirm this option, you have to give authorization. On that specific day, it will put an automatic tweet out along with everybody else who is behind the cause, launch, etc.
Here's an example of a ThunderClap campaign I am currently running.
I think it's a really cool concept and I recommend that you check it out.
Listen to the show to learn more and let us know how this works for you.
Key takeaways mentioned in this episode:
Ways to subscribe to the Social Media Marketing podcast:

What do you think? What are your thoughts on marketing Instagram-style? Please leave your comments below.