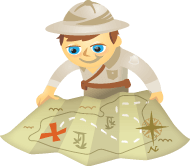 Do you want more organic visibility in the Facebook news feed? Wondering what types of posts and content are working for others?
In this article, you'll find 13 ways to create Facebook posts that generate meaningful interactions and improve organic news feed visibility.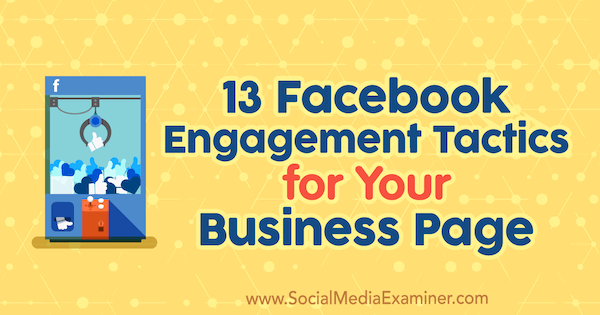 Why Is Facebook Engagement So Important?
First, let's recap why engagement is so important for successful Facebook marketing. Engagement on a Facebook post happens when the post makes a sufficient impact on people (and often sparks an emotional involvement) that they feel compelled to respond. Regular moments of impact and emotional involvement with a target audience are obviously at the heart of successful social media marketing.
Human nature being what it is, seeing reactions and comments on a post will trigger curiosity and therefore more attention and impact.
However, for many businesses, the ultimate goal is to have their posts shared because the content (and the business name) will reach a whole new audience and the sharing itself adds an endorsement, or social proof, to the post.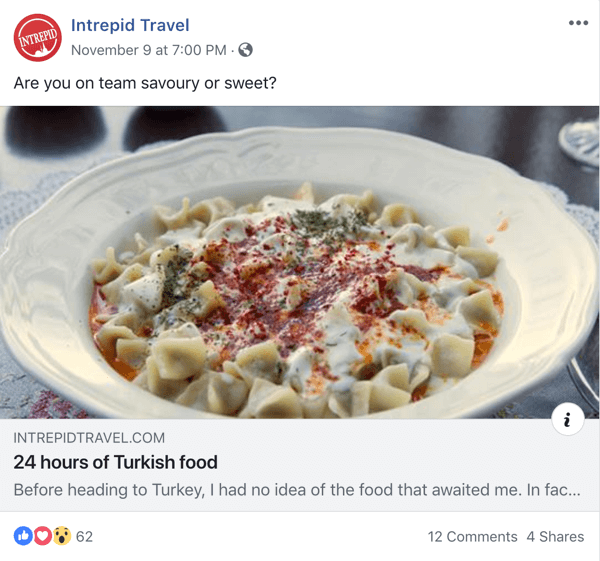 Attracting engagement is also central to the visibility of your posts in the Facebook news feed. In January 2018, Facebook announced big changes to the news feed algorithm, giving priority to posts from friends and family. Facebook explained, "posts that inspire back-and-forth discussion in the comments and posts that you might want to share and react to" would now get more visibility in the news feed.
To get your business content ranked in the news feed, you need to create posts that attract long comments and/or encourage sharing or discussion. So creating engagement is central to successful Facebook marketing.
Note that Facebook continues to demote posts that use engagement bait as a way to beat the algorithm. These posts encourage responding with a single word or an emoji, or ask people to tag friends in the comments.
So how can you ensure that your posts will attract engagement? The first step is to do a little research about what's working for you and others.
What's Working for You Now?
Facebook offers in-depth analytics of all of the activity on your Facebook page on the Page Insights tab. Navigate to Posts in the left navigation and check the time that your audience is most likely to be online. Use this information to help you plan your posting schedule.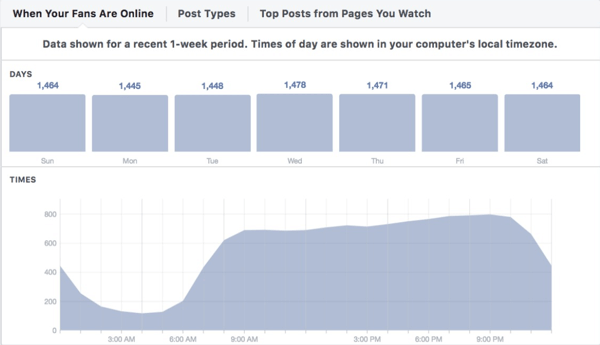 Scroll further under the Posts tab and review whether you're:
Posting consistently (to stay top of mind with your audience and allow you to make the most of the algorithm)
Sharing a mix of different content types, both in terms of topic and media (even your most ardent fans will get bored if you share the same stuff all the time)
Next, analyze your recent posts to see which have received the most engagement. Focus on the numbers of comments and shares received because these interactions will impact the Facebook algorithm and your Facebook marketing results the most.
You can also find out which posts reached people who aren't yet fans of your page.

Pro Tip: If you want to review your information in more depth, you can download your data from Insights and import it into Excel, where you can then segment and analyze it.
On the People tab of Facebook Insights, you'll discover information about your audience and the people who are engaging with your Facebook posts. Review these details regularly to ensure that your content is optimized to attract the right people for your business.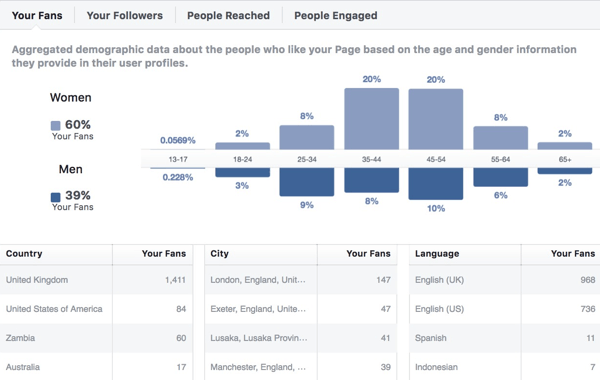 What's Working for Other Businesses?
To get inspiration for new types of posts, scan the pages of other businesses that appeal to a similar audience and see which posts are generating engagement. Pay particular attention to the type of media (images, video), format of the media (multiple images, images with text, video length, with captions or without), type and length of copy, tone of voice, and frequency of posting.
Alternatively, use a tool such as BuzzSumo to research your competition on Facebook. If you have the Large BuzzSumo plan ($299/month, paid monthly; available as a free 7-day trial), you can use the Facebook Analyzer tool to search for posts that attract the most engagement. Filter your search results by engagement type to get in-depth insight into what's working for other pages.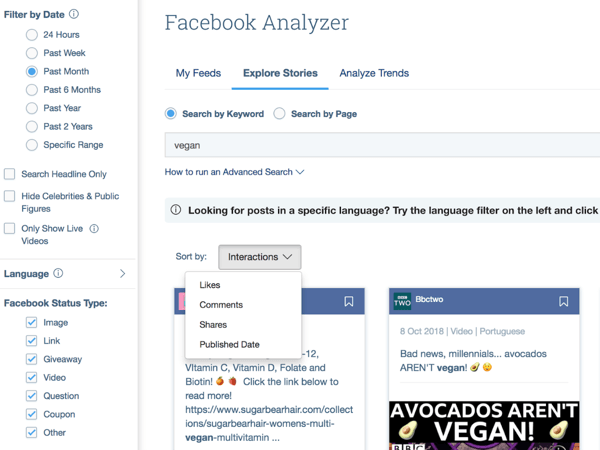 Depending on which type of engagement you're aiming for, you can also see the best times to post content relating to a specific keyword.
It also gives you insights into the type of media to use and the amount of text to include in your posts for maximum engagement.

You can even check the optimal time of day to share your post to attract specific types of engagement.
Although every audience is different and you'll only find the best posts for your audience by testing content on your page, BuzzSumo's insights give you a great starting point to work from.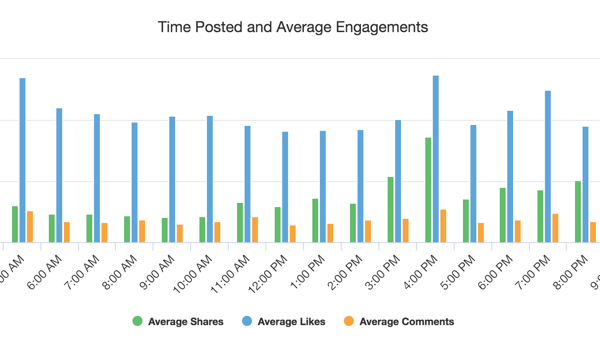 Armed with knowledge you've gained from your research, here are 13 tactics you can use to create Facebook posts that generate meaningful interactions.
#1: Collect Questions via Comments for an AMA
Encouraging your audience to ask you questions is a great way to attract engagement and responses. This tactic works best if you designate a theme or topic for the questions, set a cutoff date, and explain when the questions will be answered and by whom.
Get creative about whom you put in the spotlight to answer questions. It could be your staff, suppliers, experts you work with, colleagues you've met at an event, or others you partner with. You can either share the answers on your page as a video or document or answer the questions via Facebook Live to generate even more engagement.
The York Minster cathedral ran a series of Q&A sessions involving stonemasons who were visiting as part of a stone-carving festival. To broaden the scope and potential reach of the Q&A, they shared the call for questions on Instagram and Twitter, as well as on their Facebook page.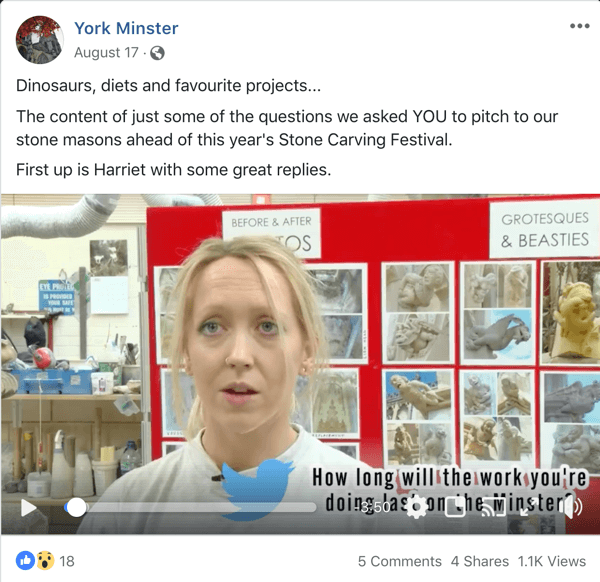 If resources allow, consider running a regular Q&A session so fans can touch base with your brand and gain valuable insights on a consistent basis.
#2: Share an Offer in the News Feed to Generate Messenger Connections
Facebook Messenger bots are an increasingly popular way for businesses to amplify the results from their Facebook marketing. Many bot solutions designed for small businesses, such as ManyChat, let you provide an automated response to comments added to a post. You can ask people to comment on your post and explain that they'll receive a freebie in their Messenger inbox when they do.
This tactic works well if you have a value-based lead magnet to offer and want to build a list in Messenger. You can also use it to share an offer or a voucher and build a list. Once the bot tool has been created, the voucher will be delivered to the Messenger inbox of whomever comments on the post.
An offer post like this one will attract lots of comments, which (provided the comments are longer than a single word) will signal to the Facebook algorithm that you're sharing quality content and more of your audience should see your posts: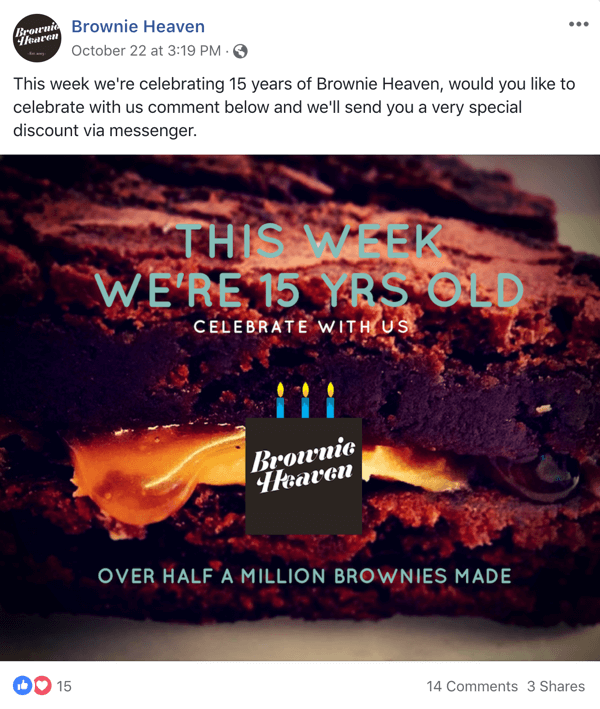 #3: Illustrate Sentiment With Emojis
Posts that include emojis generally have higher like, comment, and share rates than those that don't. Using emojis also helps you portray your business as friendly and makes your content more memorable.
But not all emojis are equal. Check out this emoji guide to make sure you use the top-performing emojis for click-throughs and engagement.

#4: Share a Shout-Out for Content Created by Your Fans and Customers
Sharing photos or content sent or posted by fans is a great way to show how much your community and customers matter. Just remember to ask permission and credit the creator.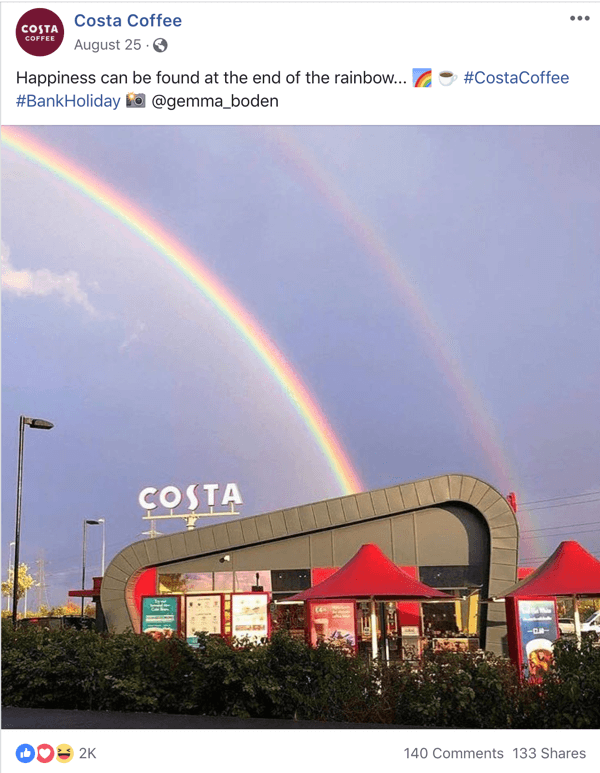 That feeling of goodwill is likely to result in more engagement overall, as well as on the individual Facebook posts.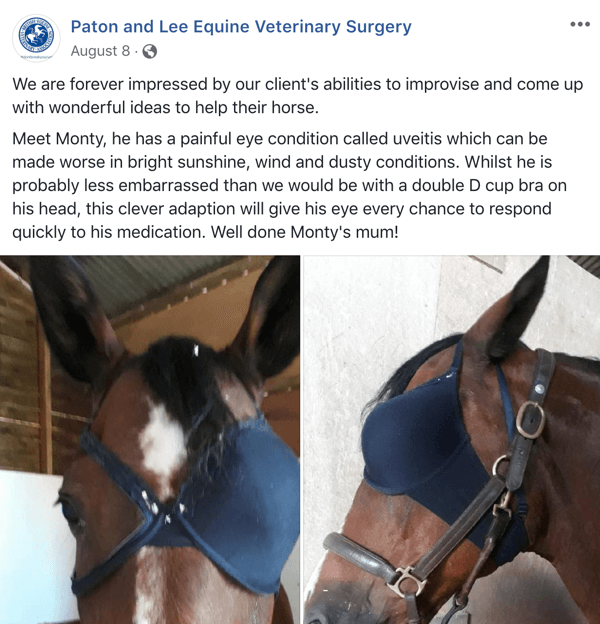 #5: Run a Comment Contest
A fast and effective way to increase engagement is to run a contest or giveaway on your Facebook page and ask people to comment on a post to enter.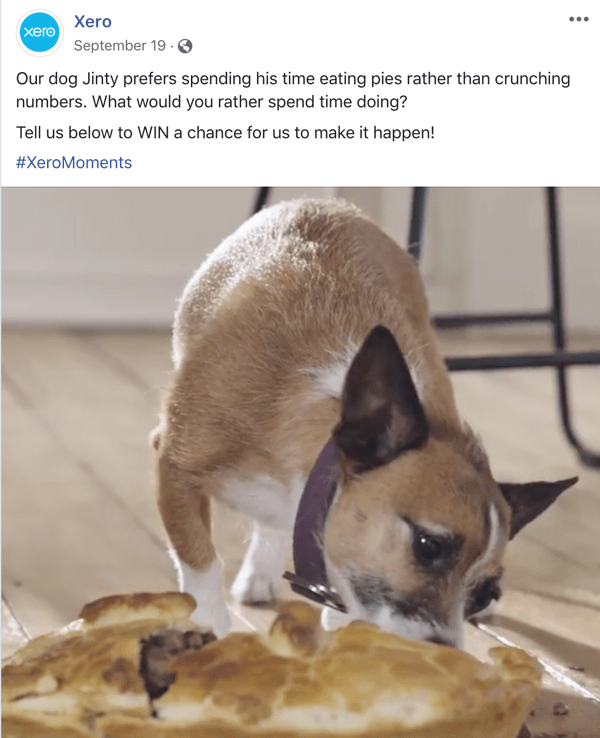 If you ask entrants to also share a photo, your contest can supply you with a stack of user-generated content to share, provided you clearly state that you intend to do this.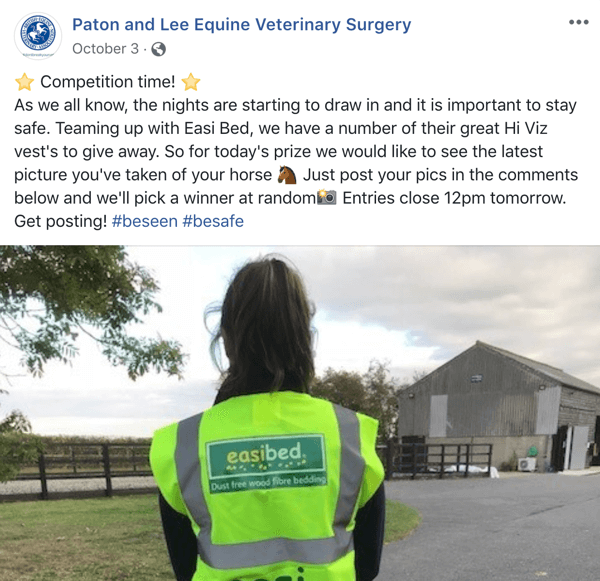 Remember that you can only ask participants in a Facebook contest to like or comment on a post, post to your page, or message your page to enter. You should also make it clear that "the promotion is in no way sponsored, endorsed, administered by or associated with Facebook."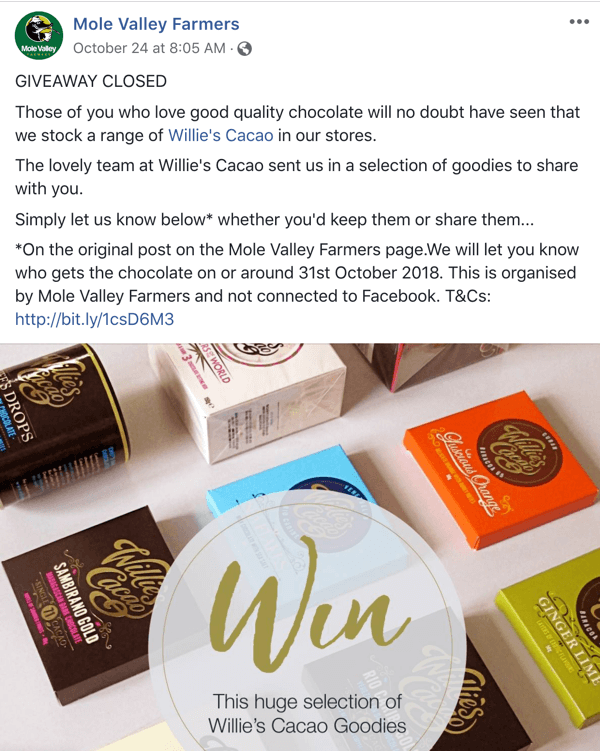 Even a simple question can be turned into a fun giveaway, but if you're stuck for ideas for a fabulously engaging contest, check out this article.
#6: Ask for Audience Feedback
People love to be included and feel like they matter. How better to make the most of this human trait than to ask your audience for feedback or help with making choices in your business? This tactic can work wonders for increasing engagement.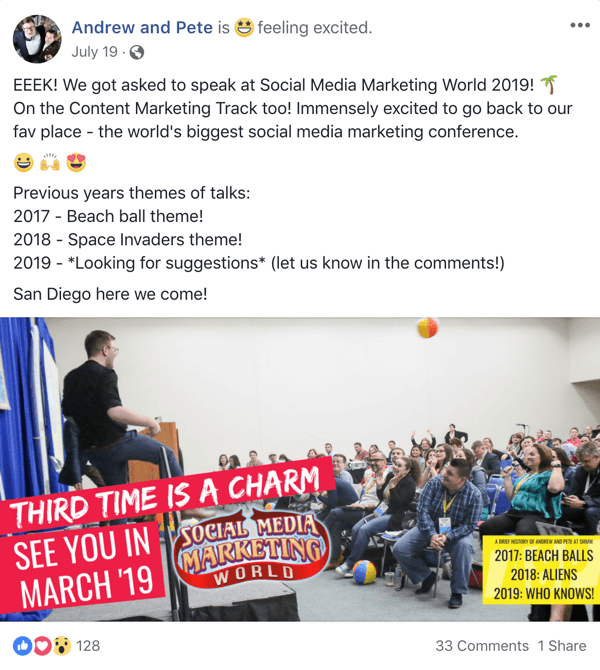 #7: Anticipate and Meet Your Community's Needs With Content
Providing information your audience wants and finds helpful not only attracts comments and shares, but it's also the third most common reason consumers decide to buy from a business. (And that's why we're all here, isn't it?)
While this veterinary group's Facebook page has fewer than 1,000 likes, sharing useful and timely information about an outbreak of parvovirus helped this post generate loads of engagement from their audience.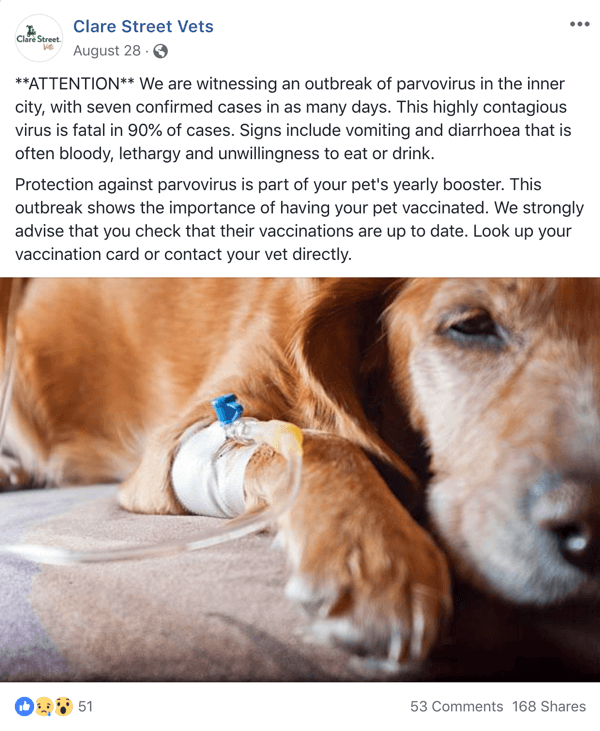 The better you know and understand the people you want to attract and interact with, the easier it is to share information they value. This post from a supplier of premium carbonated mixers absolutely nailed what their audience needed: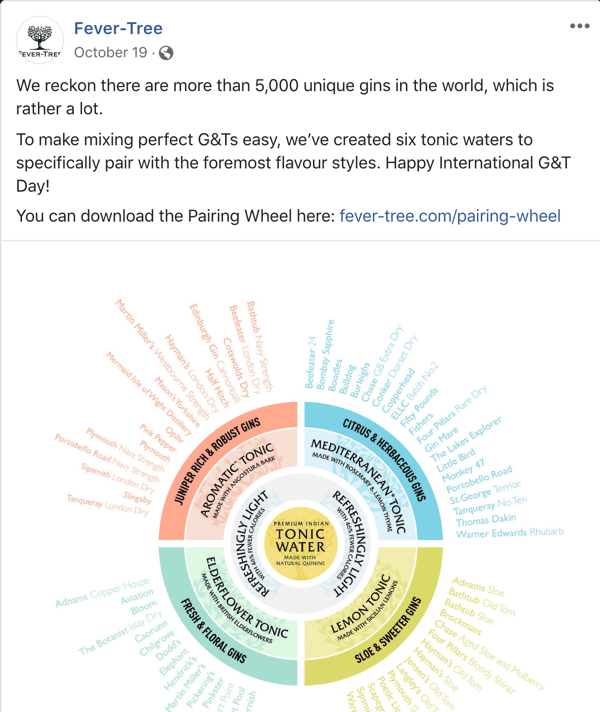 And don't think you have to create all of this information yourself. You can get great engagement from sharing content created by others too!
The social team for York Minster knows they're a tourist destination so this post supplies their audience with the relevant information they need: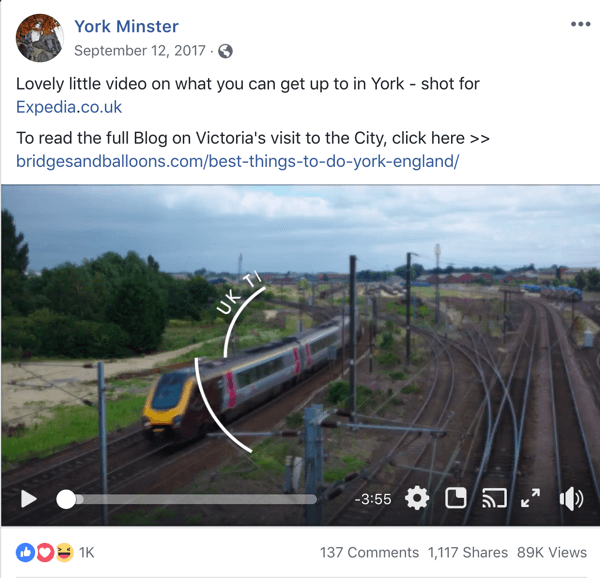 #8: Pose Open-Ended Questions
What better way to get someone talking than to ask them a question? While you want to avoid engagement bait tactics, asking a question in your Facebook post is a quick and easy way to attract responses.
You can make the question lighthearted and fun, as in this post: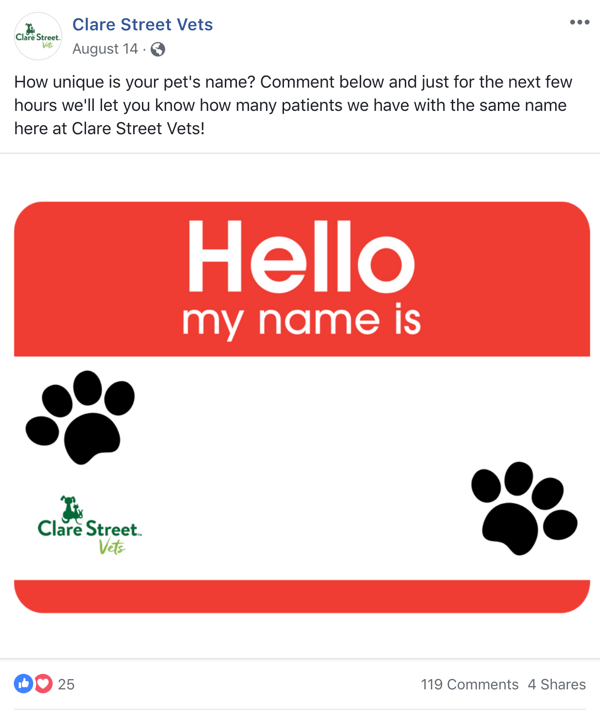 Or use it as a great opportunity to share behind-the-scenes details about your business.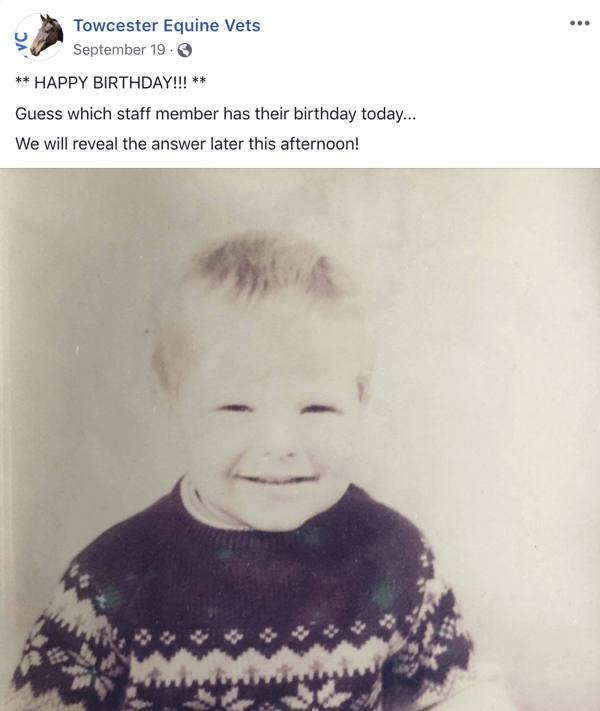 If you're feeling brave, dive in and ask about a topic you know is slightly contentious. Questions that evoke strong feelings can work very well—just make sure the ensuing discussion stays polite! Note that the business below responded in a friendly way to all of the answers and added value by referencing extra information on the topic.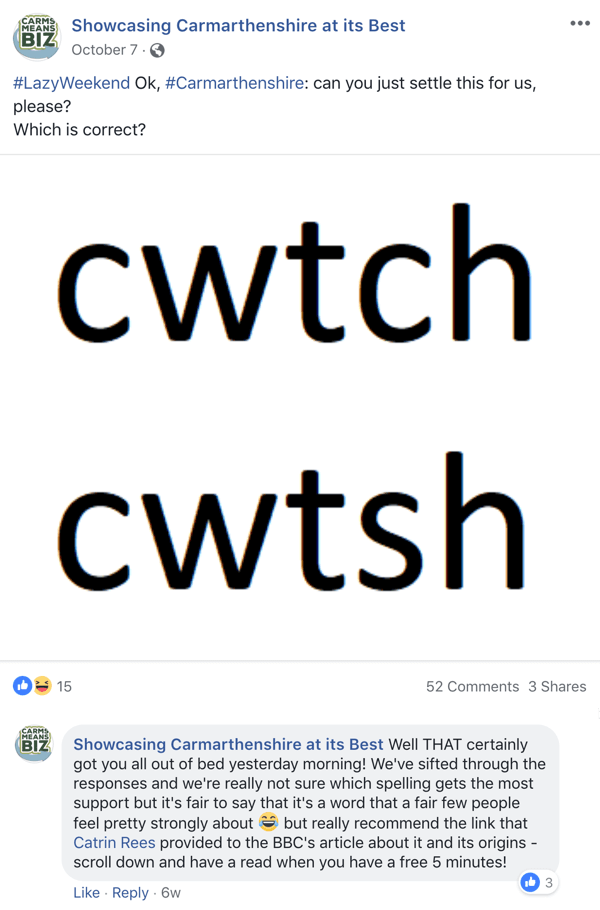 You may even find that asking a simple question helps you accumulate user-generated content (if you ask for it).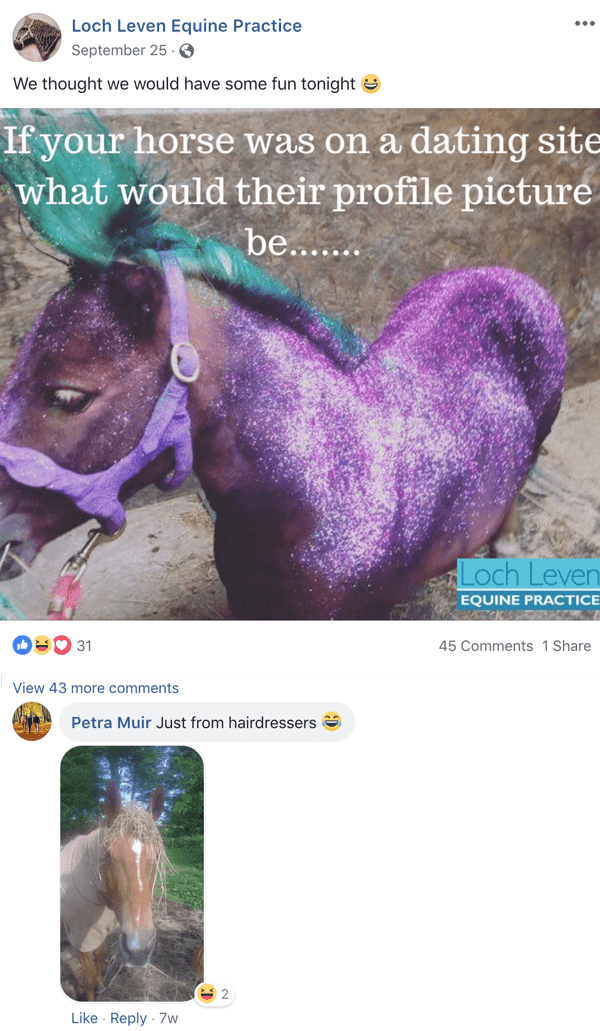 #9: Tap Into What's Topical
Sharing Facebook posts that discuss what's happening in your audience's world is a great way to encourage responses. This lets you join in the conversations that people are already having, so your presence becomes more like that of a friend than an entity that's trying to sell. And humans respond much better to friends than salespeople.
All businesses talk about the seasons and key moments in every marketing calendar. To really stand out, create posts that align with news that you know your audience cares about or that affects them.
One of the remarkable happenings this year in England was that the national team did uncharacteristically well in the World Cup, and all of a sudden most of the country turned into fervent supporters. York Minster shared a video of their organist playing his version of the football anthem and it was a hit.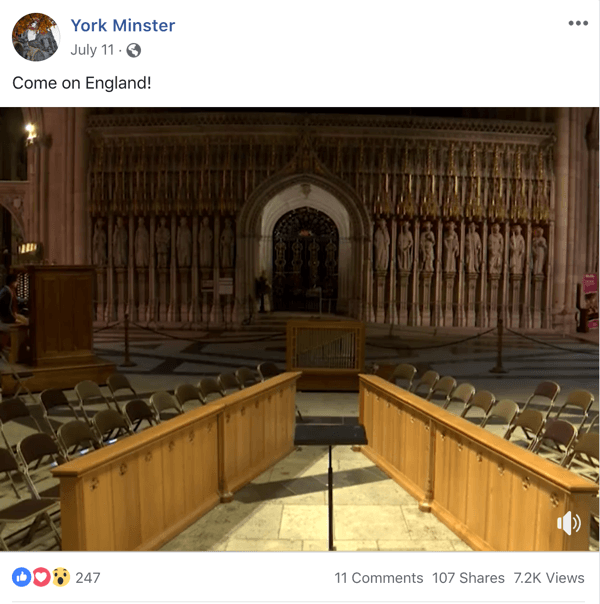 If you're stuck for ideas, check out calendars of national days and international days for inspiration.
For local businesses, you might want to talk about events and issues that affect your community.
Another approach is to chat about the TV shows your audience will be watching. In this Facebook post, beverage company Innocent refers to the Great British Bake Off TV show, which they know a lot of their audience watches. Notice that their fun take on film titles inspired by the show encourages fans to comment with their own versions, even though they weren't asked to!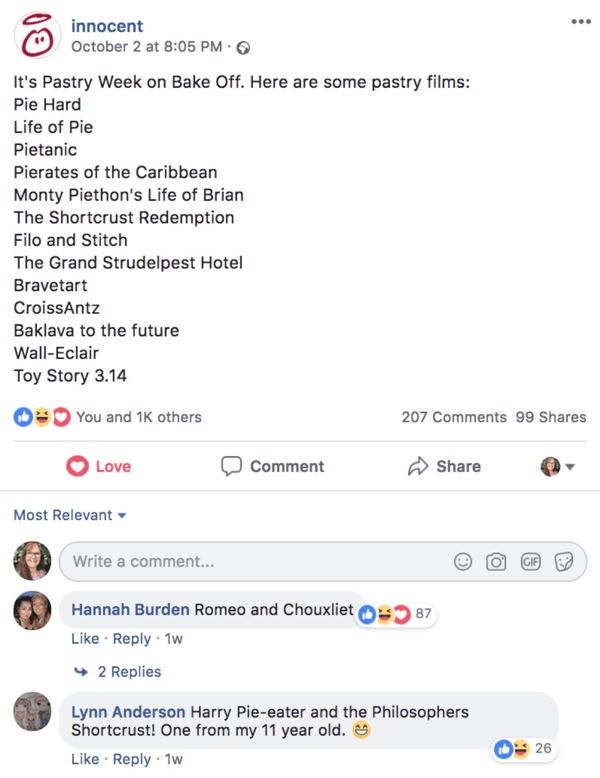 An extension of this tactic is newsjacking, where you create a post referring to a big, current news story. To do this well, you need to be able to act fast to capture the moment before too many others do (and while it's still relevant). A good tip is to monitor what's trending on Twitter.
#10: Talk About Community Involvement and Impact Beyond Business
People love businesses that stand for more than just making money. On your Facebook page, share updates about non-profits you support, fundraising activities you're involved with as a business, or any community projects you're working on.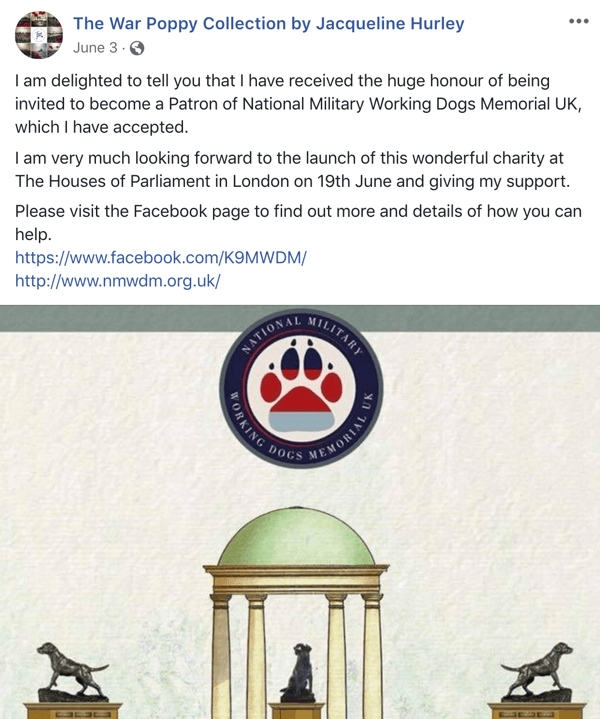 Sharing news about the positive impact you're having beyond your business (even if it's only on a small scale) will often attract more engagement than your other post types.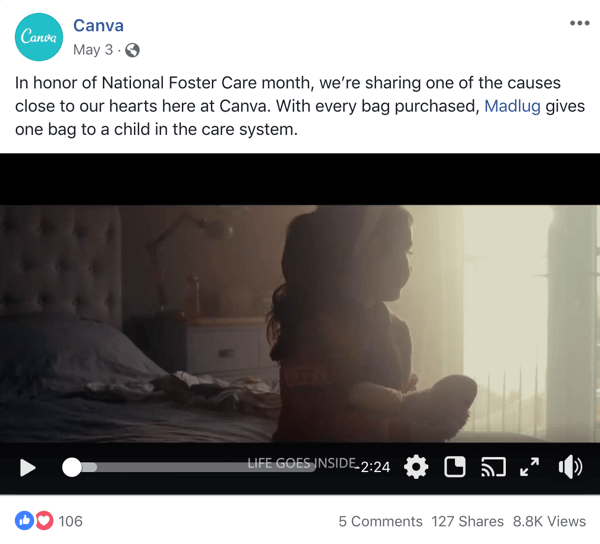 #11: Invite the World to Laugh With You
Share a human moment or something mildly frustrating and turn it into a funny post to attract responses from everyone who can relate. The key here is to know your audience really well so you understand their pet peeves.
In this post, Benefit makes lighthearted fun of themselves and all of the other Instagrammers who have tried to create the perfect Boomerang clip: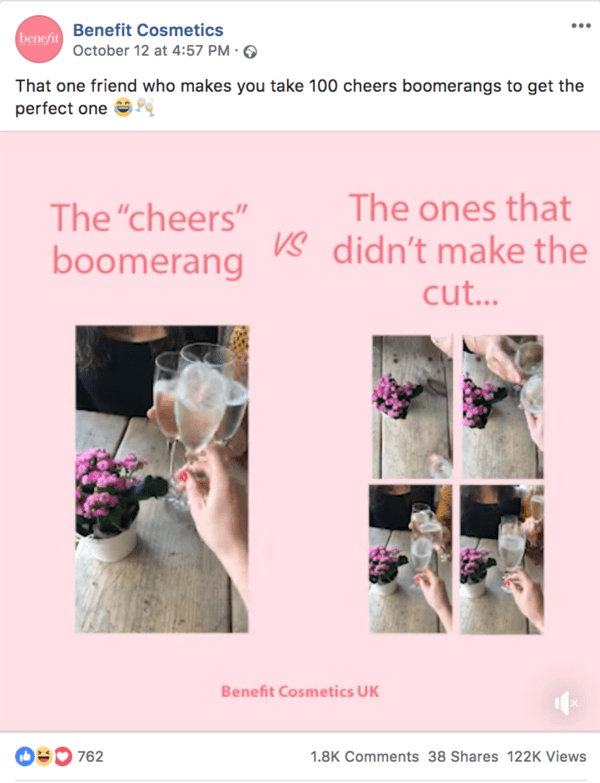 People want to connect with people and feel understood. When you create a post that your audience identifies with, your engagement can go through the roof.
To illustrate, Innocent attracts comments and shares by tapping into the favorite British subject—the weather—in their own inimitable way:

You don't have to be a professional comedian to make people laugh. Funny things happen every day in business, so just telling those stories can attract a load of comments and shares.
Alternatively, why not pass comment on the ridiculous things that are a part of everyday life for the people in your audience? This is a trick that professional comedians use over and over again. And it's something that Innocent does incredibly well.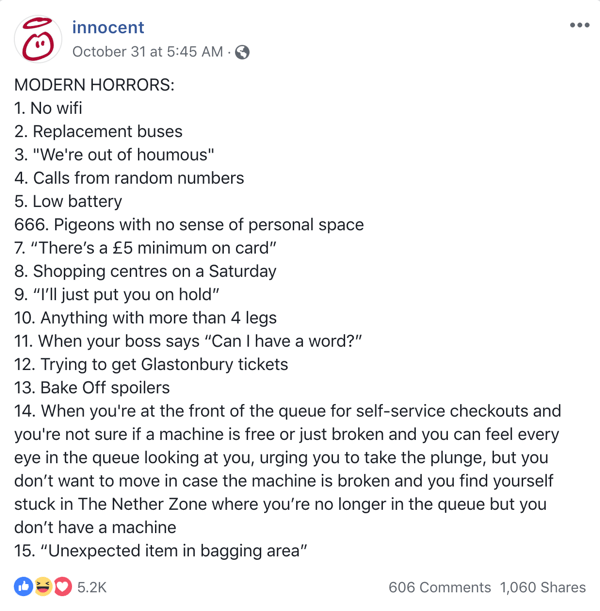 It goes without saying that the better you know your audience, the easier it will be to make them laugh.
#12: Use Scroll-Stopping Media to Attract Attention
The first stage in creating engagement is to attract attention to your posts in the Facebook news feed. Using images and video that stand out without being garish and speak to your target audience is essential.
However, not all images and video are created equal. Overused stock photos won't draw eyeballs to your posts, so it's much better to use photos that you've taken yourself.
News Feed Images
Your images don't have to be professional or perfect. Get into the habit of taking quick snaps on your phone, maybe add an interesting crop or filter, and you'll soon build a gallery of unique visuals.
To add extra pizzazz, consider creating a collage or adding a frame, overlay, eye-catching effect, or text. You can use web-based tools such as Canva, PicMonkey, or Easil; or apps such as Wordswag or FrameMagic (iOS only).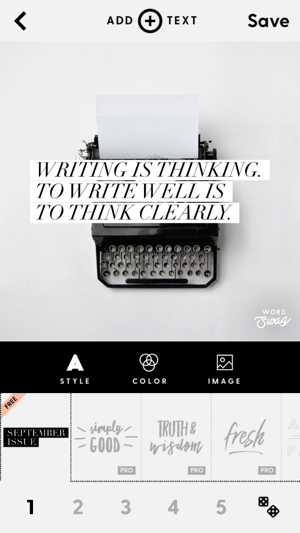 If you're wondering what to include in your images, remember that we're instinctively drawn to human faces in the news feed. This may well be because facial expressions are universal, across all cultures.
Also remember that you're not restricted to sharing just a single image or video in a Facebook post. Try adding more than one image or using a carousel format to attract more eyes to your content.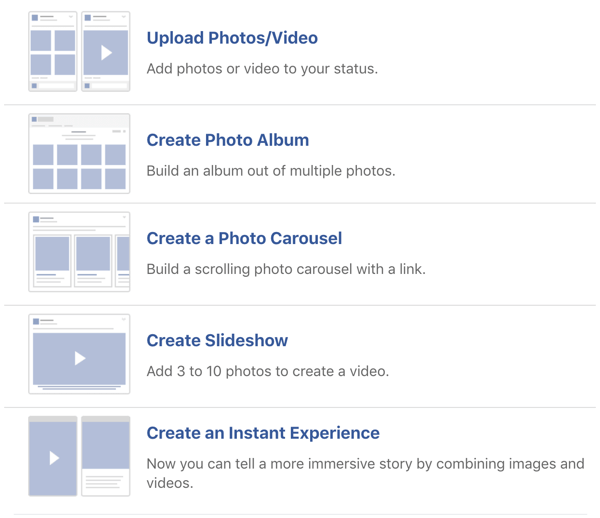 Facebook states that ads using the carousel format deliver a cost per click that's 20%-30% lower than standard link ads. There's every chance that this uplift in effectiveness translates to organic posts too.
Alternatively, consider creating animated visuals and/or creating GIFs as an eye-catching alternative to static images. There's a whole raft of tools and apps available that make this a viable option for even the most non-techie marketer.
Post Native Video
It's long been an accepted truth that Facebook video posts attract more attention than any other type of post. One BuzzSumo study found that of the top 20 most shared Facebook posts in 2017, only three weren't video posts.
However, certain types of video perform better than others. One factor that influences the amount of engagement on a video post is the length of the video. Another factor is the amount of text in the post itself.
The takeaway from BuzzSumo's review of 100 million Facebook videos is to aim to create videos that are 60-90 seconds long and post text of 84 characters for optimum engagement.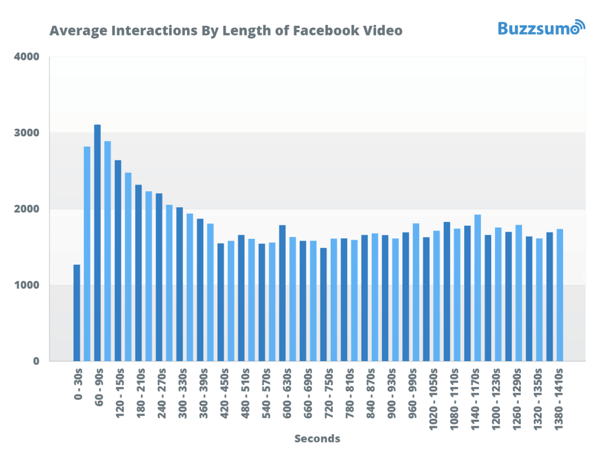 If you're stuck for video topics, the same BuzzSumo study found that people on Facebook share and engage the most with these video types:
Music videos
How-to videos demonstrating hacks and tips
Food and recipe videos
Inspirational or heartwarming videos
Political, sports, and opinion-based videos
Videos sharing news or findings from studies
Cute animal videos (no surprises there!)
But don't just settle for the standard landscape video presentation. In a study of more than 33,000 Facebook videos, Wochit found that square videos get 275% more views, 482% more shares, 523% more comments, and 349% more reactions than the average landscape video.
And 2018 has seen a massive increase in the sharing of vertical video, with the majority of vertical video viewers agreeing that the format is more engaging than landscape video. These tips from Facebook will help you make the most of the vertical format.
To craft an attention-grabbing headline for your video, check out the Wochit study, which includes analysis of the most common three- and four-word phrases used in Facebook video headlines and the number of views attracted. It seems that titles suggesting we need to know about something will motivate us to watch more videos than other titles will.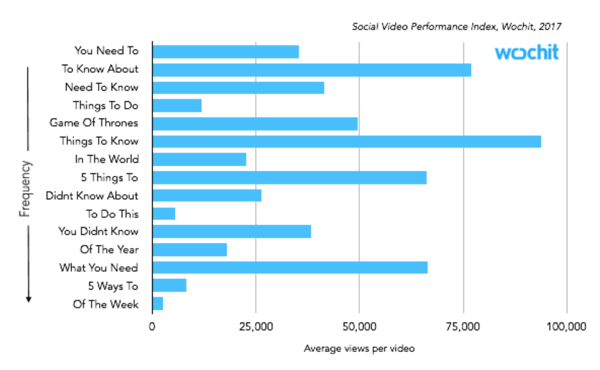 If you want to use video and even the thought of creating one using your phone puts you off, use Facebook's slideshow feature and splice several images together for a quick and simple solution. You can even download it when you're done to share on other sites too.
Another option is to use a tool such as Lumen5 to create a video from your Word document or blog post, or Wave.video for simple video creation.
However you create your video, make sure it has captions to cater to the high percentage of Facebook users who watch video with the sound off. If your video doesn't already include captions, Facebook will generate them for you.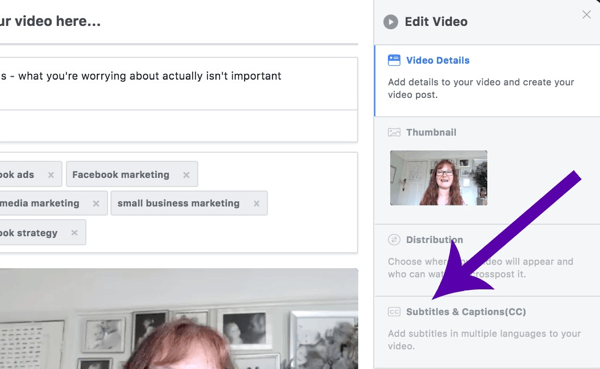 Keep in mind that although accepted marketing wisdom says a post with a video will get more engagement than a post with an image, that's not always the case. This Buffer study found that posts with images attract the most engagement.
How well your visuals work depends on your audience and the image or video in question. Plus, people like variety. So use a mix of both!
Here, two similar posts attract very different amounts of engagement. The post created with multiple images attracted many more views and much greater engagement than a similar post containing a video.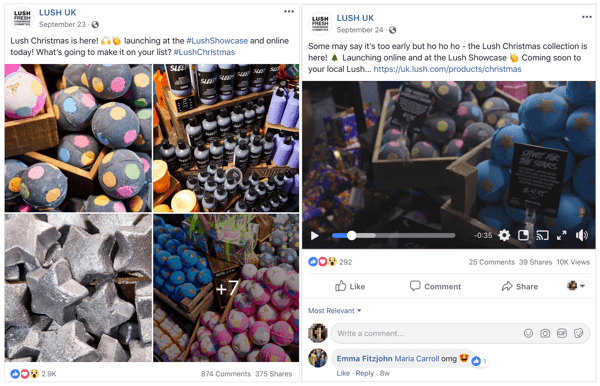 Go Live
One of the quickest ways to ramp up your Facebook engagement is to go live on your page. According to Facebook, live videos on average get six times as many interactions as regular videos. In a separate Agorapulse experiment, the Facebook Live videos analyzed attracted over 1,300% more comments than the uploaded video posts.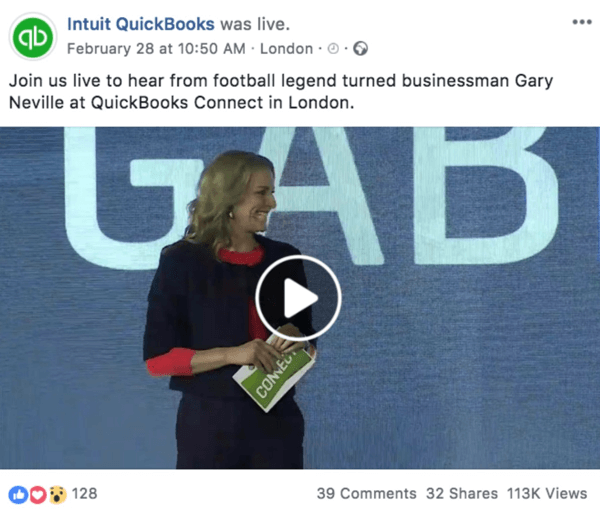 Whereas shorter uploaded videos seem to generate the best response, it's important your Facebook live streams are long enough to allow people to join and engage. A BuzzSumo study found that Facebook Live videos should be a minimum of 15 minutes long to gain maximum engagement.
To get the most engagement, make sure to promote your Facebook live in advance. If your audience doesn't know you're live, they won't join the stream and you'll miss the opportunity to engage with them. Doing a thorough job of promoting will also make sure you bring new people to your page who've never met you before.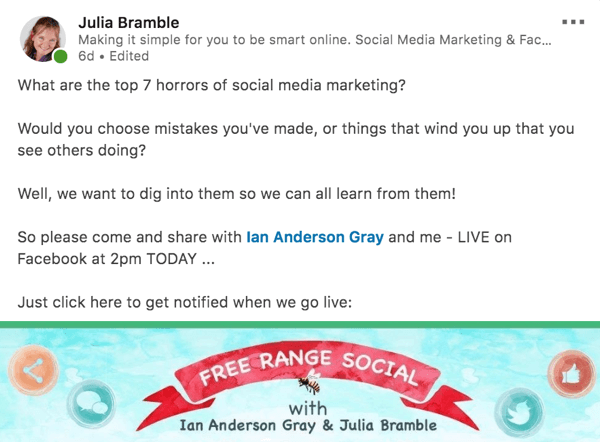 For maximum results, go live at regular times every week so your live show can become a diarized event for your followers.
If you want to create extra buzz and engagement around your live video, consider running a contest based on comments posted during the live stream, or share a special promotion for the duration of the live broadcast only.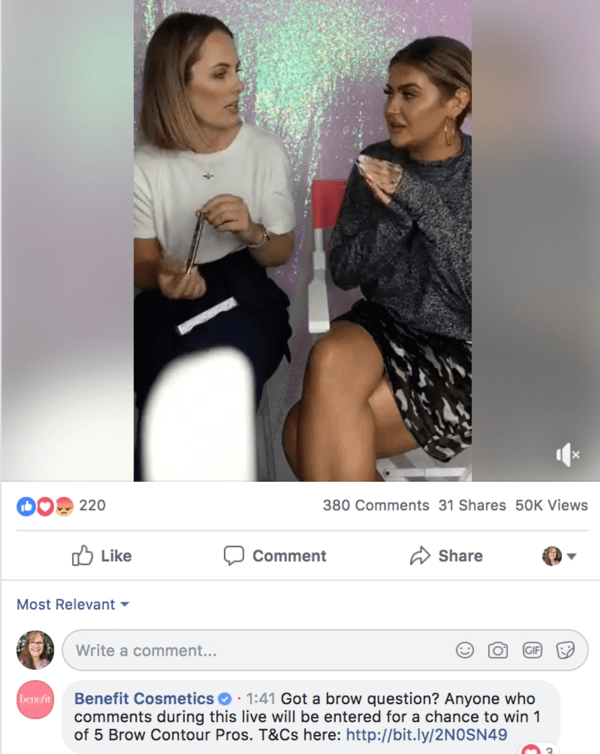 #13: Tell a Significant Story With Emotional Context
We all know that marketing and storytelling are a match made in heaven, but sharing a story on your Facebook page, preferably one that tugs at the heartstrings, can also be fantastic for engagement and shares.
It doesn't have to be a long, drawn-out tale to be effective. Just a simple story that's relevant to your customers or community can work. This veterinary practice shared a sad story with a happy ending, and attracted masses of comments and shares as a result: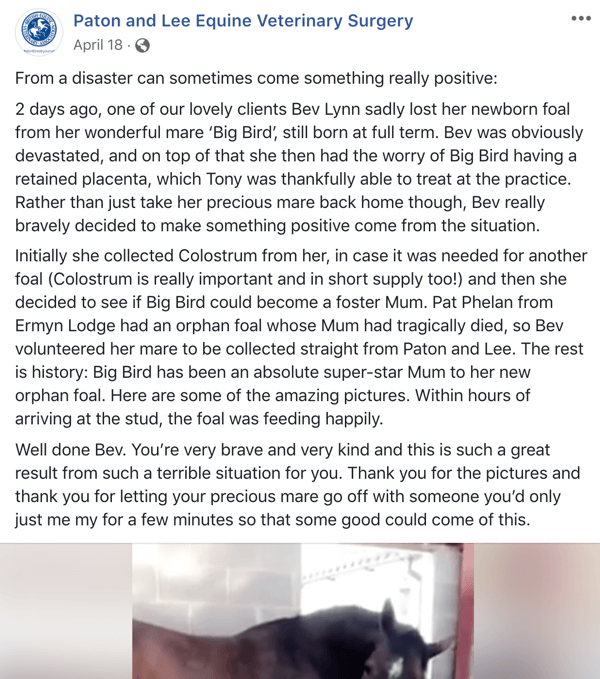 Conclusion
Be sure to consistently check what's working by reviewing your Facebook page Insights. It's likely that the Facebook posts you predict will attract a ton of engagement may not end up performing as well as other posts. At the end of the day, it's your audience that decides what's engagement-worthy, not you!
Be ready to try different tactics too. If you notice that your link posts get very little engagement, try posting the link that you'd love your audience to click on in the comments of a post that's designed to maximize engagement.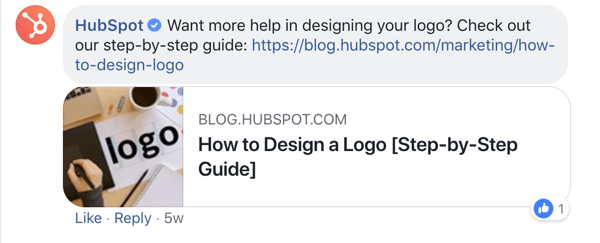 This could be a great way to send interested people to your website without sacrificing engagement on your posts and therefore losing any advantage you may have gained with the Facebook algorithm.
Remember that what's at the center of attracting more engagement on Facebook is being human. Humans go on Facebook to interact with humans. So the more human your business can be, the better results you'll get.
What do you think? What Facebook post engagement tips will you try first? Do you have any tactics you'd like to add to this list? I'd love to know!
More articles about Facebook marketing: