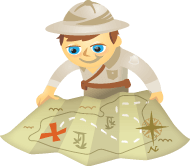 Want more people to comment on your Facebook posts?
Looking for ways to encourage meaningful discussion on Facebook?
In this article, you'll find three ways to get more comments on your Facebook page posts.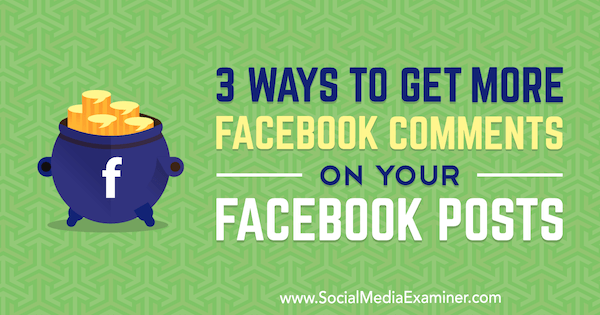 Why Facebook Comments Still Matter
In the fast-paced world of social media, it's not easy to get people to stop and engage with your business on Facebook, especially now that organic visibility is being limited for businesses on the platform.
Yet organic engagement is crucial for a Facebook page's success because Facebook uses it as the quality signal — the more people who engage with the page, the more people will see the business's next update on Facebook.
Comments are the most effective method of Facebook engagement, thanks to the "queuing up" psychology: more and more people feel inclined to engage when they see an already active discussion in the thread.
So how do you attract more comments to your Facebook page posts and page post ads? Here are a few effective tactics to try.
#1: Post Open and Closed Questions to Spur Responses
Asking questions is the most efficient method of engaging someone, be it your blog reader or Facebook follower. Questions trigger the natural human reflex called instinctive elaboration. This reflex forces people to pause and start looking for or formulate an answer.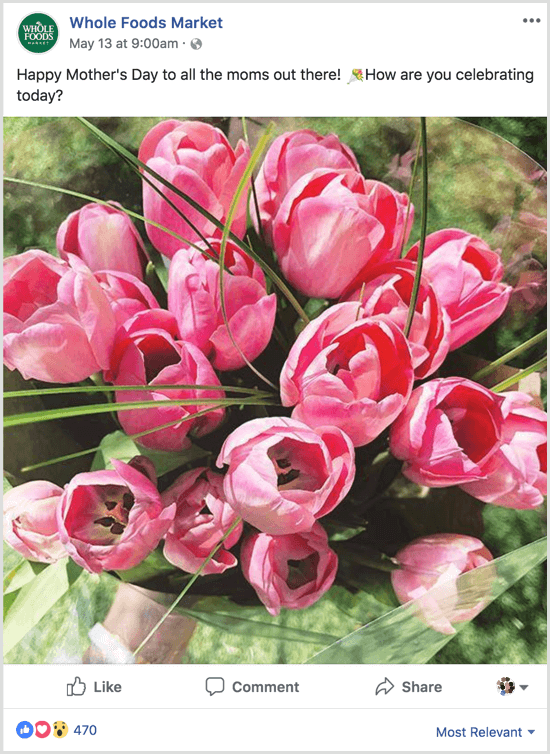 Getting always-moving Facebook lurkers to stop for a second is half of the deal. Now, it's up to your question to engage them.
Because every audience is unique to the page it's attached to, there's no single recipe for a good engaging question to ask on your Facebook page. That said, keep the following guidelines in mind while you brainstorm, play, and experiment to find the right formula to engage your community.
A good question typically has some of these qualities:
Open — It promotes an open-ended discussion.
Timely — It revolves around a current trend or a hot topic.
Easy — It doesn't require too much thinking and invites an impulsive or emotional answer.
A bad question tends to have some of these characteristics:
Loaded — It contains an answer.
Political — As a brand, you'll be accused of either taking a side or failing to do so.
Complicated/philosophical/rhetorical — It requires some research and much thinking.
Mashable uses the question tactic a lot. Almost every other update from their page is a question and those posts also noticeably attract the most comments. It works well because all of the questions are based on a hot trend.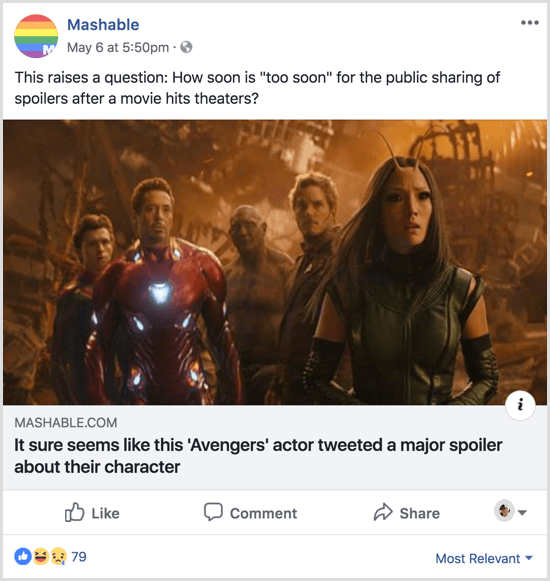 Asking questions on your Facebook wall will also help you understand your audience better and create buying personas.
#2: Structure Posts to Elicit Quick Comment Replies
The best way to get people to do something is to ask. This rule works like a charm in marketing, too. If you want more comments, ask people to comment and make it easy for them! But don't forget to make it fun and entertaining.
Note though that you should only ask for authentic engagement. Facebook doesn't like "engagement bait" and it has threatened to penalize updates that explicitly ask for likes or comments. So instead of actually asking users to comment, use the following update types to promote discussion:
Caption this — Post a funny picture and ask your followers to come up with funny captions.
Fill in the blank — Come up with a funny or edgy sentence and invite your audience to fill in the blank.
Multiple choice — Ask your audience to help you choose something. To illustrate, give them the power to choose your next banner or marketing creative.
National Geographic is one of the most commented-on pages, thanks to the "Caption this" tactic, which they use on a regular basis to engage fans with animal pictures.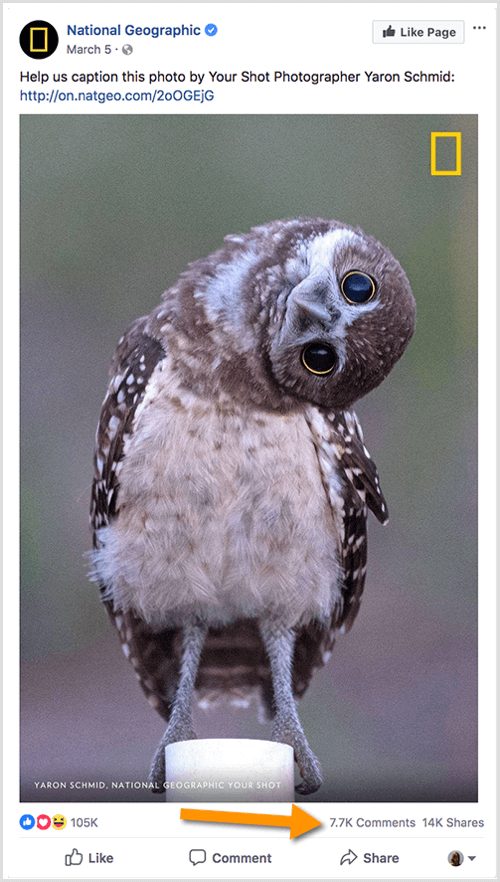 Here's a good example of an engaging update that plays on people's emotions: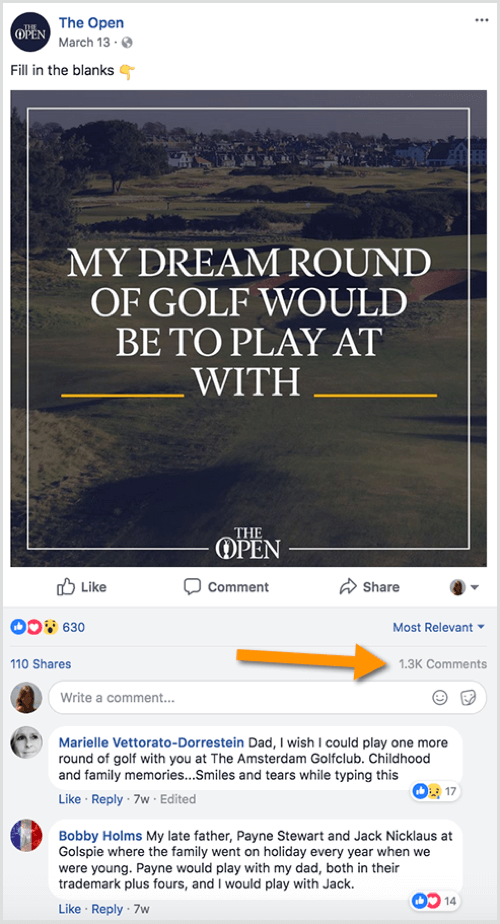 Another example is this post from Class, which is one of the most commented-on updates from their whole Facebook stream: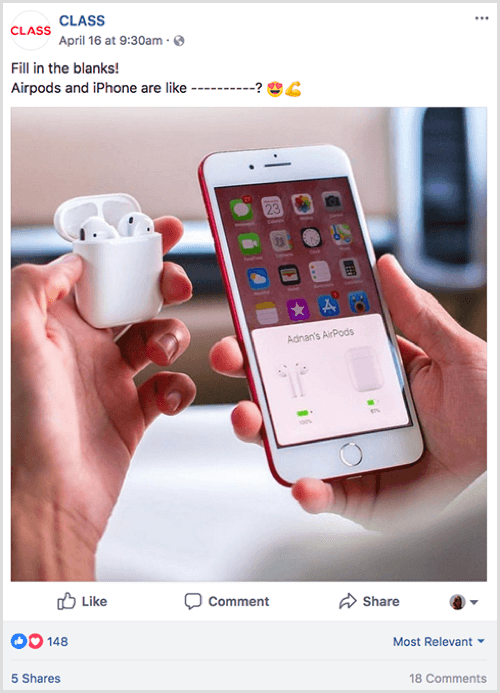 #3: Use Comments as a Conduit to Your Opt-In
If you have a valuable offer your followers would like to receive, why not use your comments to shorten the opt-in cycle?
Mobile Monkey is an innovative Facebook Messenger marketing platform that lets you turn your page comments into leads. It offers both free and paid plans. Here's how it works.
First, sign up for an account and authenticate your Facebook account. Then choose a page (and then a thread) for which you want to enable the auto-responder.
Craft your auto-responder so that it's both generic (will work for any comment) and authentic. The tool will send an auto-message through Facebook Messenger each time someone comments on your thread that encourages them to engage further with you.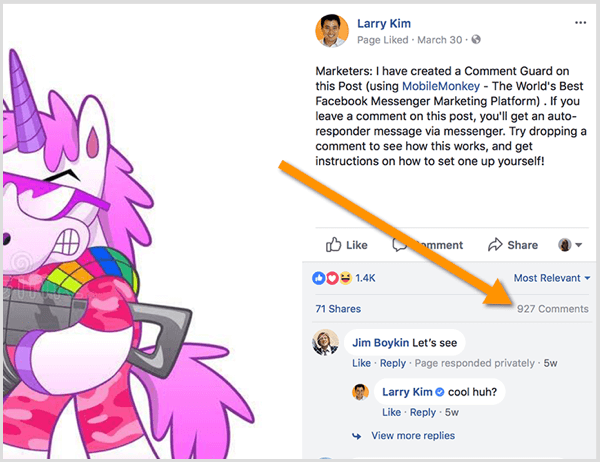 Conclusion
While the tips above can help you bring more discussion to the posts on your Facebook page, remember that individual interaction from your personal account can help build that engagement, too. People are more likely to join in when they see other people commenting!
What do you think? Do you use some of these tactics to encourage more comments on your Facebook posts? What techniques work best for your business? Please share your thoughts in the comments below.